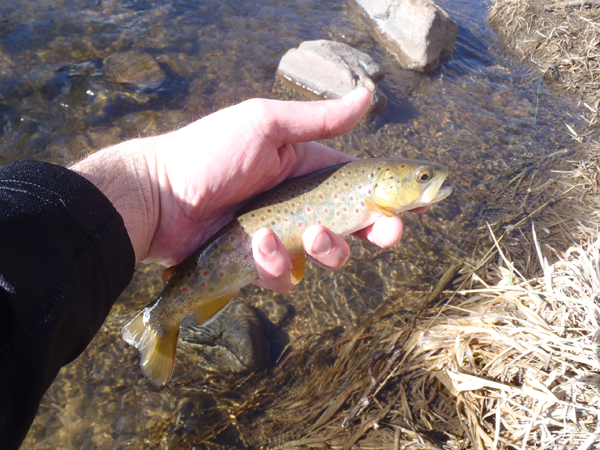 Just got back from Bear creek where I finally caught my first fish of the year.  I can't believe I went this far into 2012 without catching anything but to be fair, this winter's fishing conditions haven't been great and I've been going to some tough places like the S. Platte.  But today made up for it with gorgeous weather, nice water, and lots of fish…I started the day fishing sakasa kebari in the traditional presentation with my Nissin Prosquare rod and the new # 4.5 yellow line from Tenkara USA.  It wasn't windy but until now, I had only fished the # 3.5 version of this line and just wanted to see how the heavier line cast.  I like it!  Might be a little overkill on windless days but it's extremely easy to cast.  I wasn't getting any hits on sakasa kebari so I switched to a Utah Killer Bug.  As soon as I did, the action started.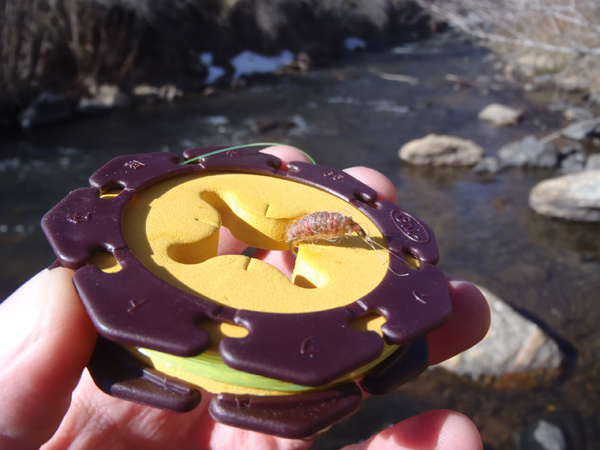 I'm not a big fan of nymphing, but I am a big fan of catching fish.  So when when I started hooking fish left & right with the Killer Bug, I decided to stick with it the rest of the day.  The pattern definitely lived up to it's legendary status and you can believe that I will be tying some more up tonight to restock my fly box.  All in all, I landed about a dozen fish in the span of about two hours and lost about half a dozen to ineptitude.  Even though I didn't catch them with the traditional tenkara technique, coming off the heel of three fishless months, I was ecstatic!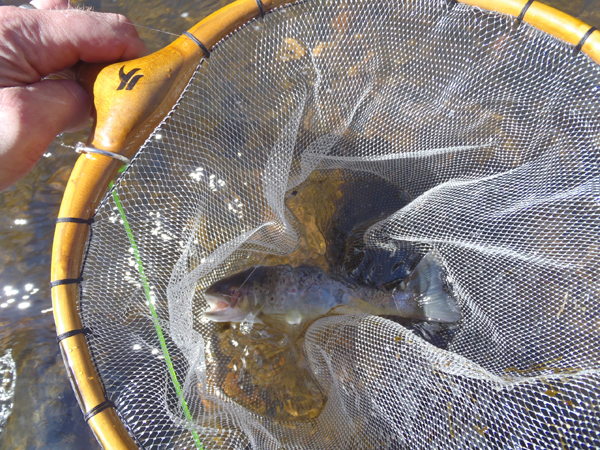 On one run, I set the hook on what felt like a really big fish.  But then, I saw it flash and it was no more than maybe 10 inches or so.  I was confused as to how such a small fish could be putting such a deep bend in my rod.  Then, I saw two fish flash and struggle side by side that were clearly attached to my line.  What the heck was going on?  How could I possibly hook two fish when I was only fishing one fly?  Soon, the sad truth became clear.
As I pulled harder, I could see that the two fish were attached to each other by a tangle of line which was snagged on the bottom.  I freed the line from the bottom and pulled them in to discover that one fish was a sucker that took my Killer Bug, while the other was a brown trout tangled in the line and connected to a cast of flies hooked into the body of the sucker.  The two had been attached to each other and bound to the bottom for who knows how long.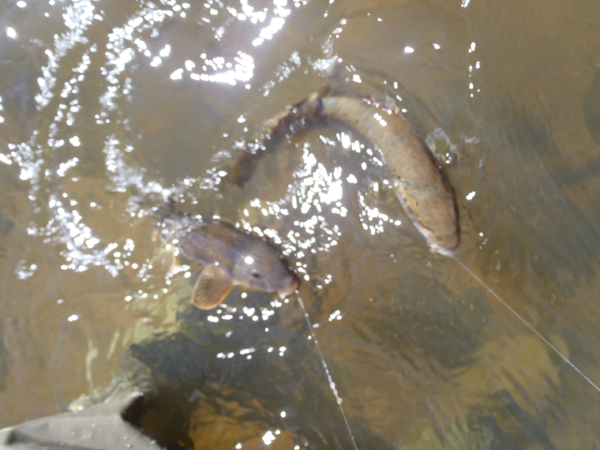 It was a sad site but a reminder that no matter how careful we are as anglers, fly fishing is still a blood sport. I knew if I didn't separate them, they would die so I did my best to unhook and detangle them. Unfortunately, the angler who rigged this cast up used three midge flies and didn't crimp down the barb. While the fish struggled, they dug one of the hooks into my finger.  That was not fun to remove.  I can't tell you how difficult it is to stand in running water with two fish on the line, rod under your arm, and trying to remove a barbed hook from your finger while preventing two wily fish from getting even more tangled up than they already are.  Somehow, I managed to pull it off and set both fish free.  The sucker seemed fine but the brown looked like he had some damage to his mouth from the line.  I hope he makes it.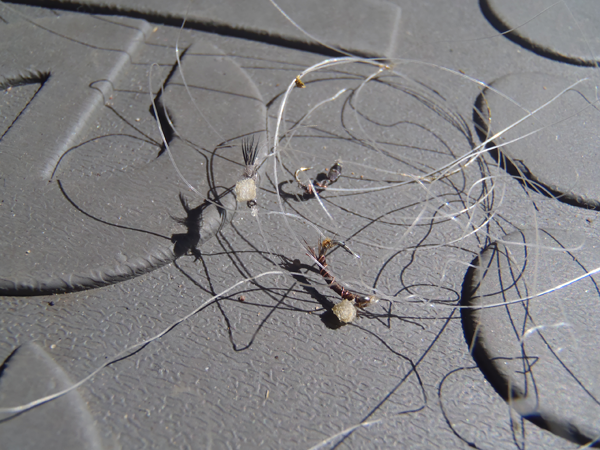 I'm sure the angler didn't mean for this to happen but c'mon–three barbed flies?  Might as well just use a gill net.  That's not good fly fishing in my opinion.
Later in the afternoon, I headed back to the car for lunch and met up with Karel Lansky from Tenkara on the Fly.  I switched to my Tenkara USA Ayu with a Tenkara Bum # 4 level line just to mix it up.  I planned on fishing with Karel for a few hours but had to bail due to a previous injury to my Achilles tendon that was acting up.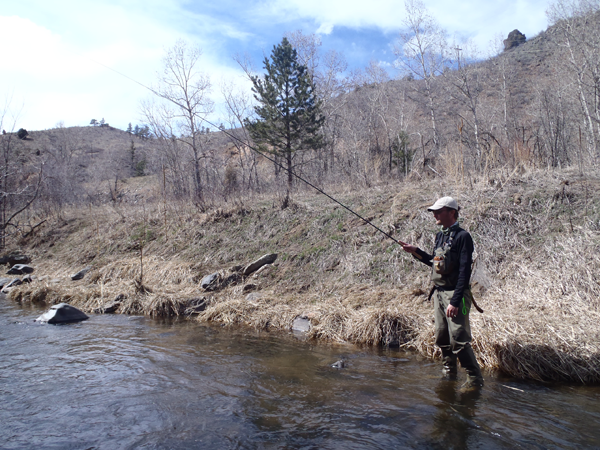 Overall, it was a great day.  I didn't catch any monsters but the weather was beautiful and it was really nice to finally feel some life on the end of the line.  Plus, I think I learned a thing or two.  Can't ask for much more than that.