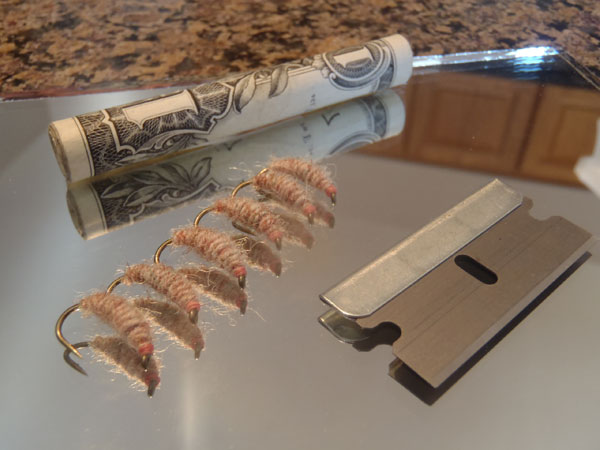 It wasn't supposed to be like this.  I came from a good family.  I grew up fishing dry flies with bamboo rods on spring creeks.  I learned all the latin names of aquatic insects and could tie patterns that imitated them right down to the last abdominal gill.  I filled Wheatly after Wheatly with beautifully intricate flies made from exotic feathers and fur of animals most people never even heard of.  But somewhere along the line, something went terribly, terribly wrong.
In the glory days of my fly fishing career, it was easy to "just say no" to vulgar synthetic materials and weighted nymphs.  I enjoyed "pure" fly fishing with traditional dries made of natural materials.  But soon, it wasn't enough.  My cravings for catching trout began to get the better of me.  It started innocently enough.  At first I used weighted nymphs socially (but not every day).  I couldn't ignore the fact that the added weight did help me sink the fly faster and catch more fish.  But from there, it spiraled out of control until one day, I woke up in a pile of pearlescent Krystal Flash with chartreuse beads scattered all over my tying bench and no recollection of the last several hours of tying.
They say bead heads and brassies are gateways to more hardcore nymphing and crude flies.  I knew I had to stop before I entered the seedy underbelly of tying egg flies or (even worse) sucker spawn.  So, I got help from my local chapter of Nymphers Anonymous.  With the support of the group, it wasn't long before I kicked the beads and synthetics altogether and got my fly tying back to a sense of normalcy.
Years later, after I got into tenkara, I began to dabble with the more socially acceptable use of reverse hackle wet flies.  They're weren't exactly the traditional, gossamer dry flies the purists back home sanctified, but at least I was off the weighted flies.  That is, until Chris Stewart came along (or as I like to call him, "the enabler").  Chris was already a prominent tenkara angler in the US by the time I stumbled on to his site.  At first glance, he seemed nice enough.  With wire rimmed glasses, a grandfatherly beard, and a genial manner,  Chris didn't look anything like the burnt out glo bug junkies lurking in the shadows of the Salmon River.  Little did I know that his moniker "Tenkara Bum" probably meant that he had lost everything to a life of hardcore killer bug use.
Nearly everywhere I looked on the internet, Chris was pushing the killer bug.  At first, I ignored it and just stuck to my sakasa kebari.  But it became harder and harder to resist.  Curiosity started to get the better of me.  Could any fly really live up to the mythical fish catching abilities he preached about?  One day, in a moment of weakness, I broke down and tied some.  I limited myself to just three.  After all, I could handle just a few, right?  I mean, it's not like I'm going back to nymphing or anything.  But the first time I fished them, it was all down hill.
The killer bug caught fish after fish when other patterns didn't produce and I was immediately hooked.  It was better than any weighted nymph I had ever tried.  The legends were true!  I began to tie more.  Rather than starting the day with a dry or a sakasa kebari, I would immediately tie on a killer bug because I knew it would catch fish.  Why bother taking a chance on anything else?  Soon, I began to lose faith in all other patterns and the concept of a "one fly" philosophy didn't seem so crazy anymore.  Yet I had hoped that if I ever did convert to the one fly approach, it would be with a pattern far more elegant than a shapeless lump of yarn on a hook.
Since I'm known as a "tenkara angler", maybe you can imagine the shame of having to carefully hide a stash of killer bugs beneath a layer of sakasa kebari in a dark corner of my fly box to avoid the scorn of my fellow anglers.  It's a shame I carry with me every time I set foot in the stream.  That is, until the moment I hook that first of many fish for the day.  🙂
Cooking your Own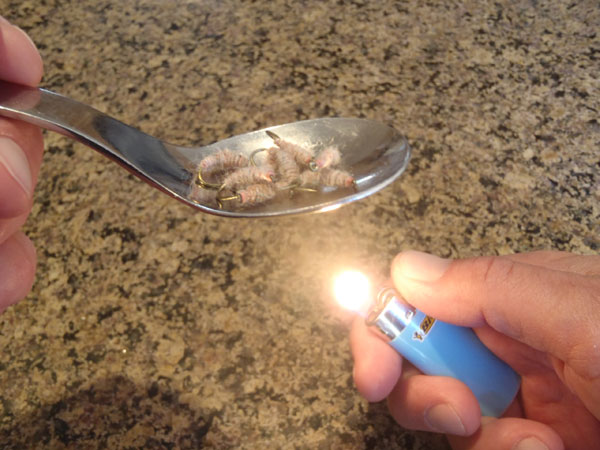 The Killer bug is tied in many variations.  For instructions on how to tie the original pattern invented by Frank Sawyer (or to purchase some), visit Tenkara Bum's killer bug page.  One very effective version of the pattern is the Utah Killer Bug invented by Tenkara Guides LLC.  I tie mine a little differently than either of these.  Below are instructions for my take on the killer bug.
Materials
Hook:  TMC 2457 (I only tie them is size #10 but you can tie them in any size)
Thread:  Pink Uni 6/0
Weight:  Medium Lead Wire
Body:  Jamieson's Shetland Spindrift Yarn Color #290 (oyster) Available here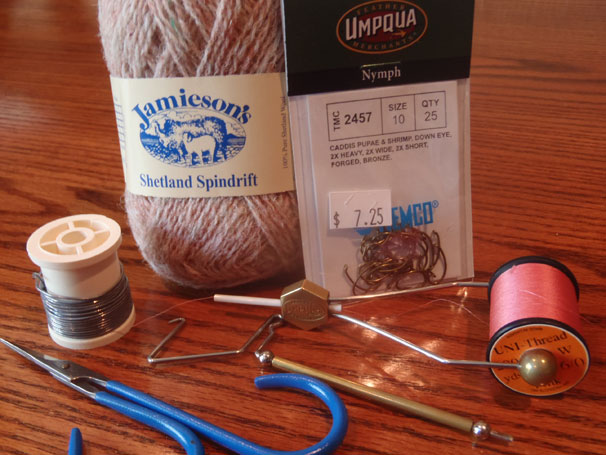 Step 1
Lay a base layer of thread on the hook.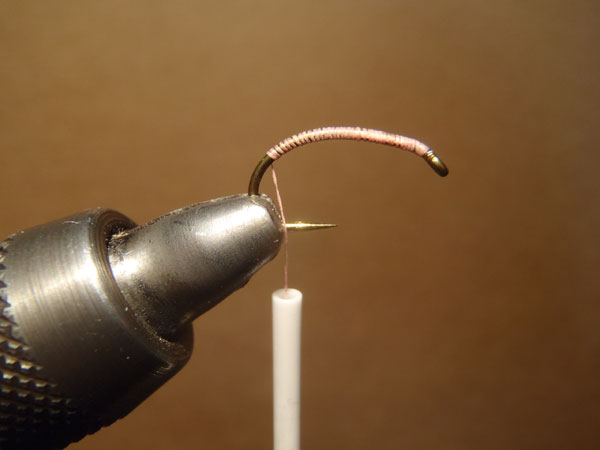 Step 2
In the center of the hook, wrap about 4-5 turns of lead wire.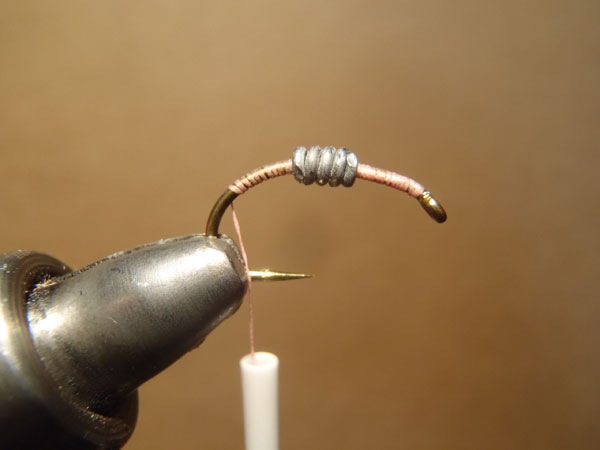 Step 3
Tie in about 6 inches of yarn at the bend of the hook behind the lead (you might use less or more depending on the size of the fly you're tying).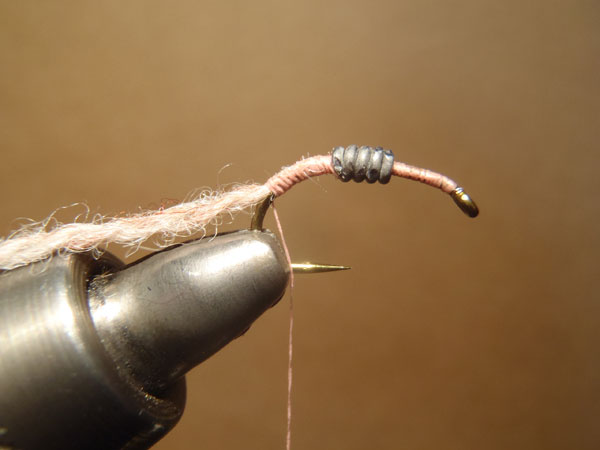 Step 4
Make a tapered underbody of thread that completely covers the thread.  The yarn is translucent and when wet, the pink underbody will show through which I feel is an important part of the fly's attraction.  Notice that I like to tie mine with a very thick thorax.  I also feel that fatter killer bugs are more effective than slender ones.  When you've got a taper you like, advance the thread to the hook eye.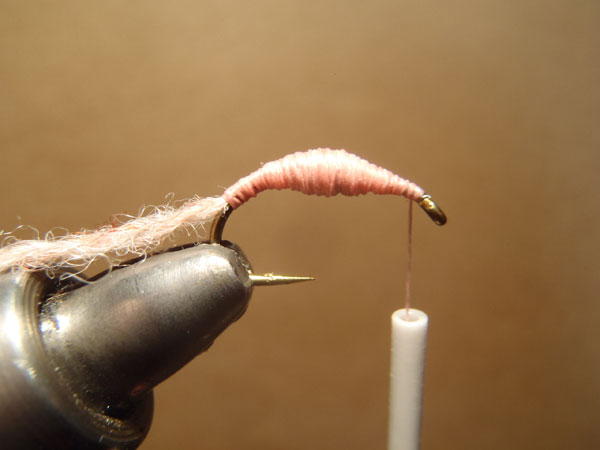 Step 5
Grab the yarn with your middle and index finger and twist it into a tight rope.  You should notice that if you relax the tension, the yarn will want to twist up on itself.  You only need to twist a few inches or so.  You will twist more in the next step.  Twisting the yarn not only adds durability to the fly, but also gives it a segmented look making it even "buggier".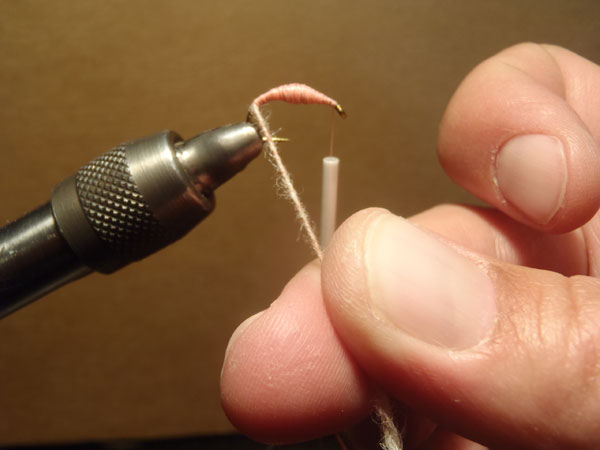 Step 6
Now, wrap the twisted yarn over the under body toward the hook eye.  As mentioned above, you may have to keep twisting the yarn as you go.  Tip:  as you get closer to the eye, you may notice that the yarn wants to slip forward because the tread under body is slick.  To prevent this, simply add a little dubbing wax to the underbody to make it tacky.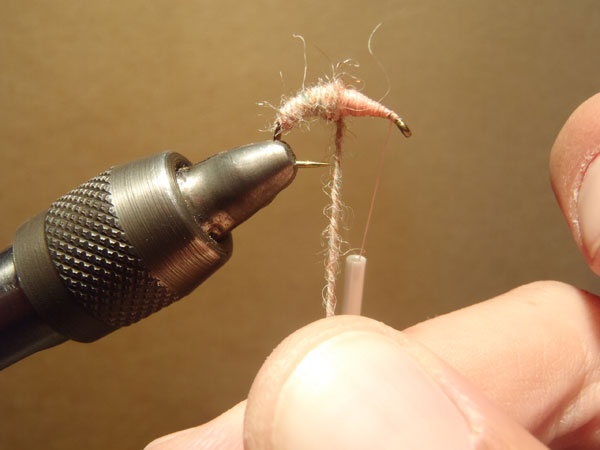 Step 7
When you get to the hook eye, tie off the yarn.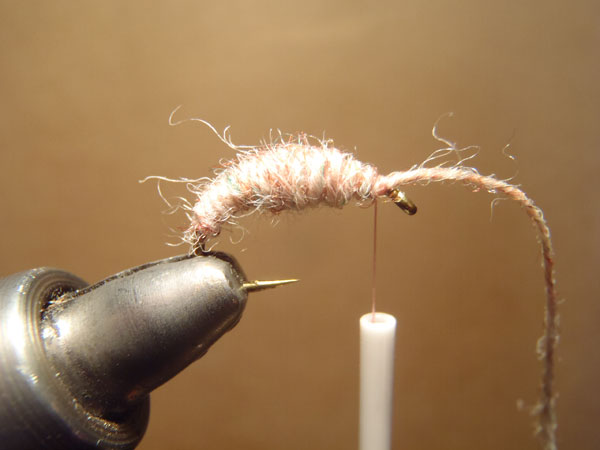 Step 8
Cut off the tag end of the yarn, build a head, whip finish and you're done!
DISCLAIMER:  These instructions are for educational purposes only.  TenkaraTalk does not endorse killer bug use or abuse in any way, shape, or form.
WARNING:  The use of killer bugs can be addictive.  Side effects can include fishy smelling hands, tired arms, or broken rod tips.  Discontinue use if wading becomes difficult due to a full creel or an overwhelming sense of euphoria.  If you experience any of these symptoms, consult a British limestone dry fly purist immediately.
Like this article? You might also like these ...