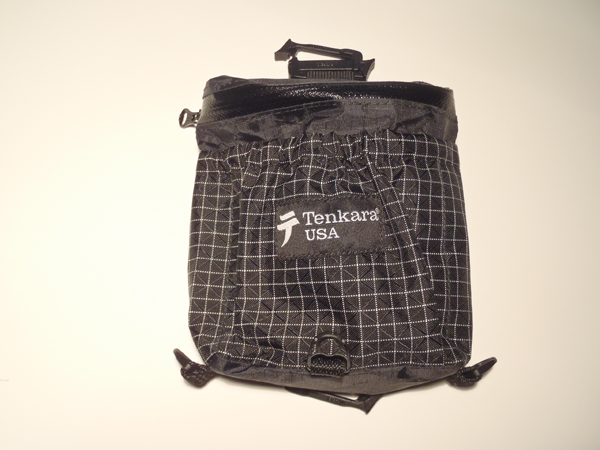 Tenkara USA recently introduced their first minimalist fishing pack and I got one this weekend at the Denver Fly Fishing Show.  Here is a brief review…
The pack immediately reminded me in many ways of a UL pack I designed years ago called the Trico.  It's compact, lightweight, and designed to be carried multiple ways, but the Tenkara USA Pack is made of Gridstop Dyneema that is much more durable than the 1.5 oz. nylon I used in my design.  Having used this material on several backpacks, I can tell you it's pretty much indestructible so I can't see the strap pack wearing out in one's lifetime.
It features a main compartment that is just right for a medium sized fly box with room left over for extra lines or other small gear.  It's accessed from the top via a water resistant zipper.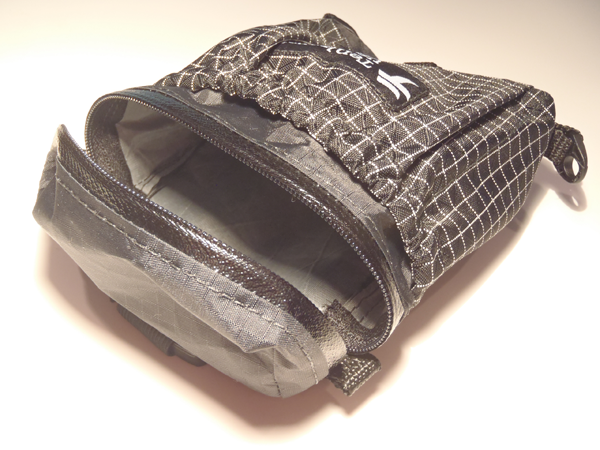 There isn't any organization on the inside, but there are plenty of pockets on the outside for that.  On the front, there is a large bellows pocket that is perfect for storing your tenkara line spool or tippet spools.
The pack is flanked by two tall side pockets that could be used for floatant bottles, chapstick, etc.
And on the back, you'll find a thin pocket that is the full width of the pack to store flat items such as coiled lines, fishing licenses, a note pad, etc.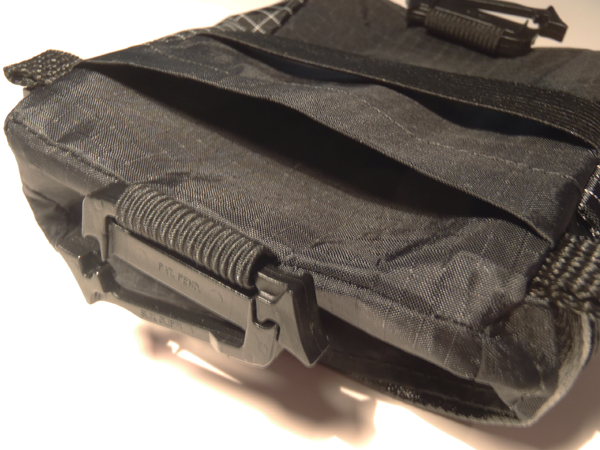 Along the bottom, there are three plastic rings for attaching zingers, line clippers, hemostats, or any other tools you want to keep at the ready.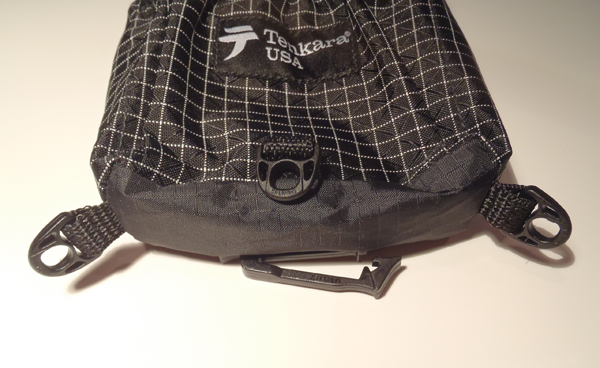 According to the Tenkara USA website, this pack can be attached to a backpack strap using the clips on the top and bottom or attached to a belt.  I see how it attaches to a backpack strap but couldn't figure out how you would attach it to a belt.  On my Trico pack, I had a belt loop that ran vertically along the back so you could slide your belt through.  This pack has a similar strap but it runs horizontally so I don't think that is for attaching it to a belt.  Maybe you're supposed to clip the pack to a belt loop, not the belt itself?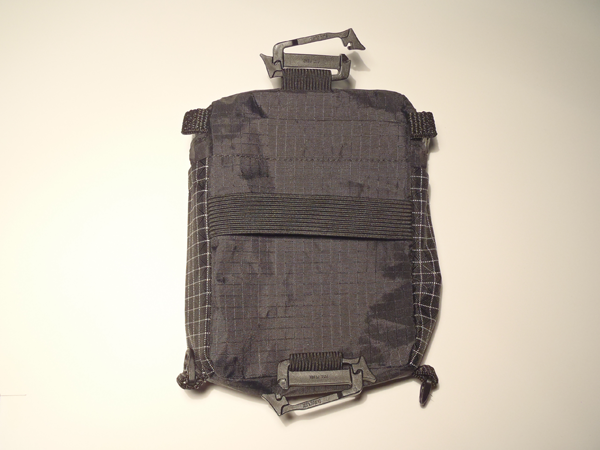 While that part is kind of a mystery to me, it's irrelevant since I would never attach it to my belt anyway.  The way I would prefer to carry it (and this is something that is missing from the description on the website) is to attach paracord to the two small loops at the top to hang it around my neck.  More on that in a minute.
Tenkara USA also offers a full kit that includes the pack, a line holder, a spool of level line, and a fly box with 12 flies.  This kit would be a great gift for someone just getting into tenkara.
What I'd Change
If I were designing this pack, I would only do one thing differently.  In my opinion, the side pockets are too tall.  If you put something short like a bottle of floatant, it's kind of hard to dig it out.  I thought they might be better for tall items such as hemostats, but that puts the rings facing up, making it awkward to grab (I like the rings facing downward). For the items I think most people would stow in these pockets, I think a height of 60% of the front pocket would make them more accessible.  It's not a deal breaker by any means–just a suggestion for improvement.
What I Added
Being an ultralight backpacker and and an incurable DIY tinkerer, there aren't many packs I use out of the box without making some of my own tweaks.  The first thing I did was to attach paracord to the top loops with some clips so I could hang it around my neck as described above.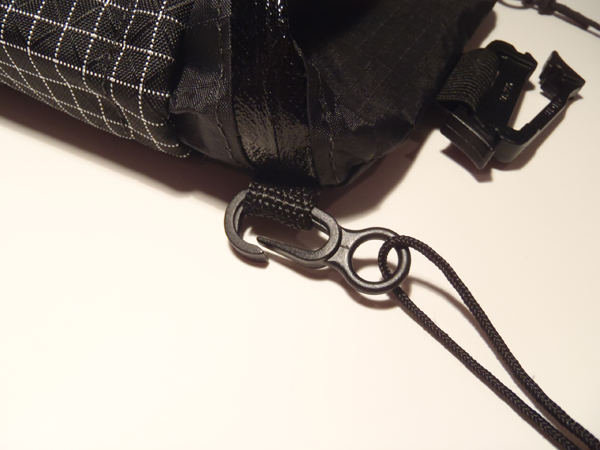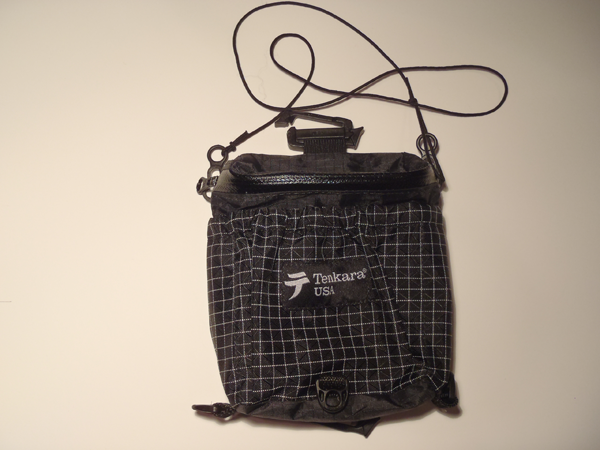 The other thing I did was add some cord to the zipper pull on the main compartment.  The tab on the zipper is kind of small and hard to grab.  I like a longer pull that is easy to grab with cold fingers or gloves on.
Before: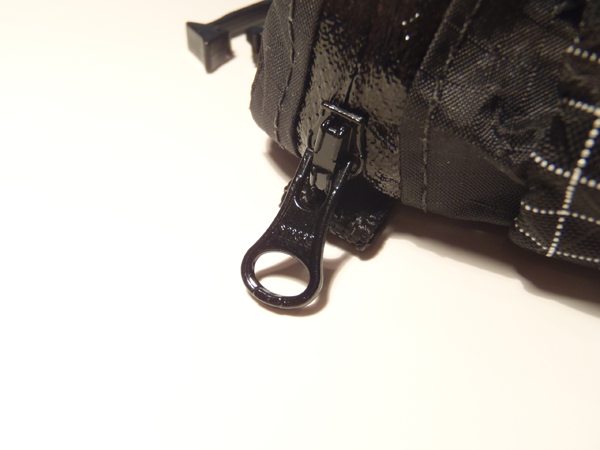 After: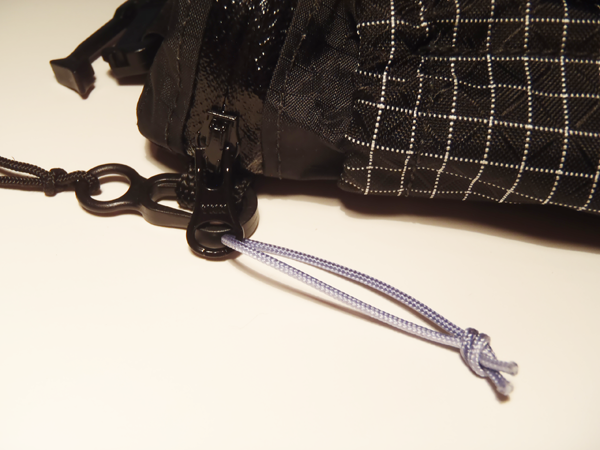 Conclusion
Overall, this is an excellent pack and perfect for tenkara (or any minimalist fly angler for that matter).  It will easily hold everything you need for a day of fishing and has smart organization.  I also like the fact that it attaches to a backpack for extended backcountry trips.  Yet even with all its features, it's still extremely lightweight which UL backpackers will like.  But the real shocker is the price.  I expected the price to be much higher given the design and materials but I was pleasantly surprised.  I think you will be too.  For more information or to buy one, click here.
Specs
Dimensions: 6″ x 4.5″ x 2″
Weight: 1.5 oz
Fabric: Dyneema Gridstop
Price:  $30 for the pack alone, $76 for the full kit.