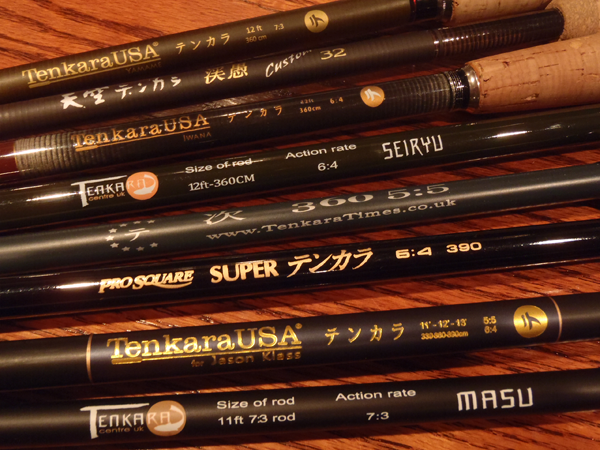 For as long as I can remember, describing fly rod action has always been problematic. The typical adjectives used such as "fast", "medium" and "slow" are not only inadequate, but also subjective. What does "fast" mean? And does it mean the same thing to you as it does to me? At some point, there was a push to further parse the meanings of these adjectives by combining them (eg. "medium-fast"). But the subjectivity problem remained so that didn't really help. Now throw tenkara rod ratings into the mix and the confusion escalates. But I think we can do better…
When tenkara was introduced to the West, the strange numerical rating system might as well have been an alien language to those used to simple adjectives. What does 7:3 mean? 6:4? Does it depend on the length of the rod? If you think about it though, the Japanese rating system might seem more objective because it tells you where the rod flexes–a measurable quantifier. While that's true, it's still not completely accurate. Rod action is more nuanced than just where the rod flexes. It is also influenced by how much the rod flexes in that section.
Here's an example. Take the Tenkara USA Ito and the Tenkara USA Ayu Series II. Both rods are 13 ft. and rated 6:4. But they are completely different animals. While both might flex at the same position, the Ito is far "softer" than the Ayu. Overall, the Ayu will feel a lot stiffer. Yet on paper, the action of these rods looks the same. We need a system that not only addresses where the rod flexes, but also how easily that portion of the rod flexes (i.e. loads and unloads).
Probably the closest thing I've seen to a "perfect" system is the Orvis Flex Index. It uses both of these parameters to more accurately describe rod action. The first part of the designation uses the words "tip flex", "mid flex", and "full flex". That gives a good initial basis that a human can use to filter their general preference.  This is then further refined with a number such as 5.5, 6.0, 9.0, etc. to give you a better idea of how soft or stiff the part of the rod that flexes most is. So for example, a mid flex 6.0 and mid flex 9.0 both flex in the middle of the rod, but the 9.0 recovers (unloads) faster than the 6.0 so it will feel "faster". Get it? If not, read a more eloquent explanation on the Orvis blog here.
Some people have talked about doing away with the Japanese numerical system used to describe tenkara rod action. But I propose we keep it and just refine it closer to the Orvis model. So maybe something like "6:4 – slow", "6:4 – medium", and "6:4 – fast" would give a more accurate description of the nuances of a 6:4 rod. The same would apply to 5:5 and 7:3 rods.  The number tells you where the rod mostly flexes and the following word tells you how soft or stiff that specific section of the rod is. I'm sure we could use an even more detailed numerical designation for the second part as Orvis does, but that just might turn choosing a rod into a mathematical nightmare (isn't all math a nightmare?).  I think the best option is to adopt a system that combines something measurable and objective with something human and accessible.  Something we can interpret without having to have a phd.
Ultimately, the only way to tell if you'll like a rod action is to actually cast it. But when that's not possible, or when you need to convey tenkara rod action on paper or in conversation, I think a system like the one outlined above gives enough information to paint a more accurate picture of how a given rod will cast without ever touching it.
Do you have suggestions for a better tenkara rod rating system?