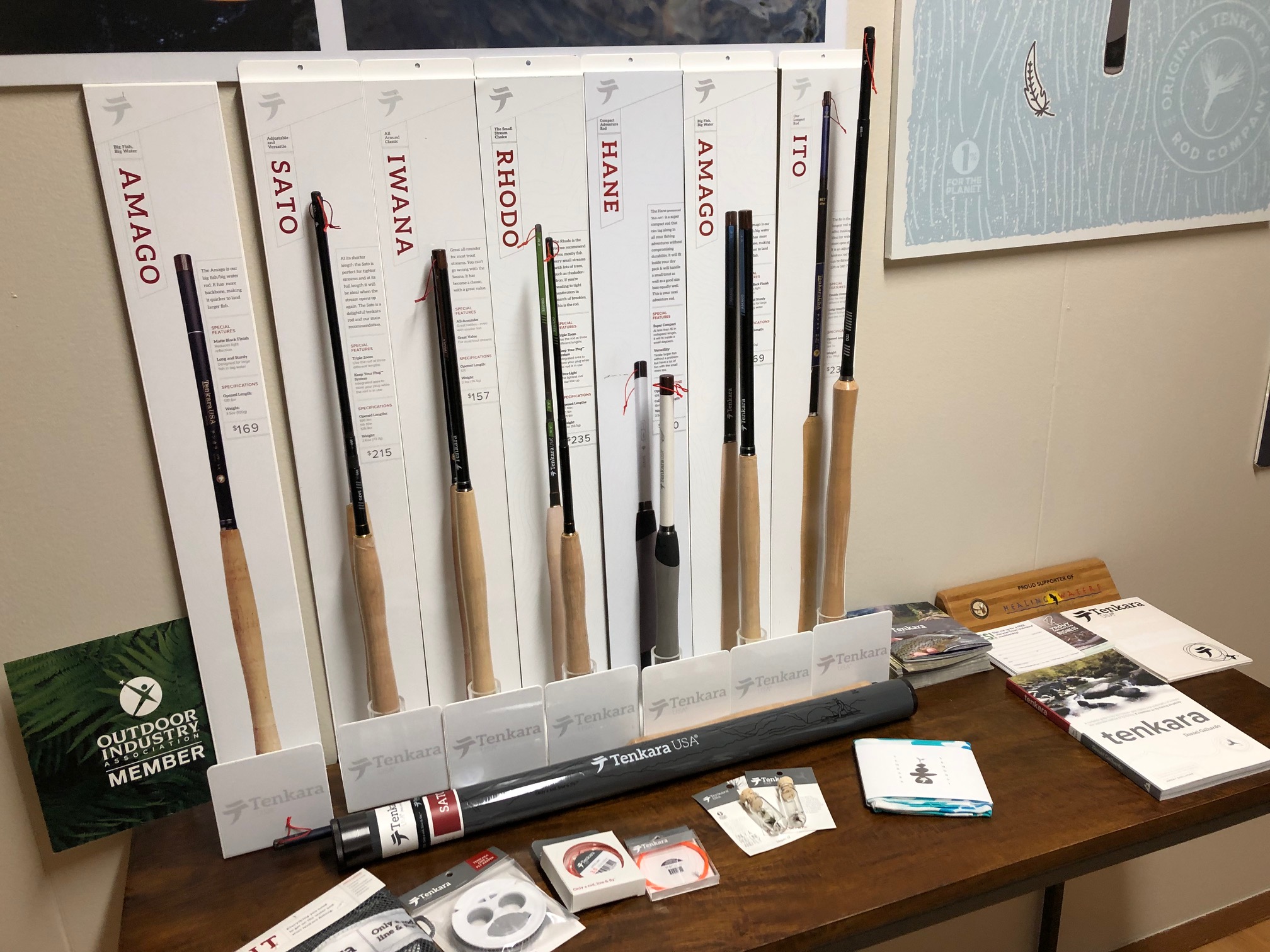 For years, I've dreamt about walking into my local fly shop one day and seeing a section specifically dedicated to tenkara gear–they way they do in Japan. Well, it's been well over a decade now and it still hasn't happened. Buying a rod (especially if it's a first rod) is a big decision for most people. They want to be able to make a tangible decision and be given advice from a trusted source face-to-face. Who's going to buy a $1,000 Sage unless they can take it out for a test cast and compare it to an Orvis while getting the lowdown from an experienced fly shop employee? It's an experience you can't really get online, and so far, choosing a tenkara rod has remained a cyber roll of the dice.
Some companies have tried to break into retail but haven't really been a success. Many gave up and decided to just keep selling online. And fly shop owners aren't exactly beating down the doors of tenkara rod makers begging for their business. So what's going on here?
As both a customer and as someone who's worked in the fly fishing retail industry for many years, I believe it's based on a phenomenon that is rooted in reluctance and self-fulfilling prophesy. It's a self-feeding cycle that perpetuates itself and will be unbreakable until one thing changes to stop it (I'll reveal that later).
Let's look at 2 personas:
The Fly Shop Owner
"We heard about this 'tenkara' a few times but it doesn't look worth trying. A couple of our customers asked about it so we decided to stock a couple rods and see what happens–a trial basis. I don't want to invest in inventory that won't sell when it looks like a fad. Those rods have a low profit margin too, so I'd rather sell a Winston. Plus, none of my employees know anything about tenkara and aren't interested in it. I don't want to waste time training them on it. And don't get me started on what our serious customers would think of our shop image if we started pushing tenkara. It's just not worth it. It's not even real fly fishing. So I'll just stock a couple of rods and see if they sell; then make a decision from there. But hopefully, the buzzword will bring a few people in and they'll buy something else I can actually make a profit from."
The Tenkara Customer
"I was excited to see that one of my local shops is now a tenkara dealer! I've been looking for my first tenkara rod and have done some research online but thought that it would be great to go cast some side-by-side (that's what everyone told me). I drove down there and sure enough, they had a tenkara sticker in the window! I went up to the clerk and asked where the tenkara rods were. He moaned, 'I think we have one in the back' and begrudgingly trudged towards the stock room. He came out and laid one rod tube on the counter without saying a word. One rod. One model. One brand. 'That's it?' I said. 'Yep. We don't sell many of 'em.' I could already see I had wasted my time. They guy knew absolutely nothing about tenkara. He couldn't answer any of my questions and didn't even know which knots to use to set it up. I thanked him and as as I walked out he said desperately, 'I have some nice Sages I could show you.' 'I don't want a Sage. I want a tenkara rod!' I replied, letting the bell slap the back of the door as an exclamation mark to my utter dissatisfaction."
The Cycle
Imagine being the customer in the scenario above. You might think I'm exaggerating or embellishing to prove a point. But this has actually happened to me play by play! And I've had countless others tell me nearly identical stories. I get constant reports of not being taken seriously as soon as the word "tenkara" is mentioned and being condescended to. The employees have stamped a scarlet "W" on your forehead ("waste of time") and you'll quickly be abandoned for the customer over there peeking into the reel case. Or worse, you'll hear the employees snickering as you're halfway out the door (this has happened to me too).
So it should be pretty obvious what's happening here. The fly shop owners know nothing about tenkara, aren't interested in it, don't believe in it, and don't want to invest in stock because it's "risky". Therefore, they try to ride on the coattails of a hot new buzzword but end up providing the worst possible customer experience.
The customer goes in with high expectations but soon has their excitement extinguished by apathy, ignorance, and a feeling of being misled. The shop views them as someone who isn't serious and probably wouldn't have bought anything anyway–contributing to the negative "tenkara-as-consumer" stereotype. So now the owner's decision to not stock tenkara is reaffirmed. And the cycle goes on and on …
So who is to blame?
The fly shops? That might be one's first instinct. But look at it from the owner's perspective. Buying any new inventory is a risk (multiplied if it's a completely new genre of products). If a new dubbing came out, and you wanted to see if it would sell or not, you wouldn't order just color. You'd order a few of every color offered–it wouldn't be a true test otherwise. Now think about trying to break into tenkara. To provide the best customer experience and to run an accurate experiment, you can't just have one rod sitting under a pile of dust in the back. You'd want to order every model of at least the top 6 or 7 brands. That turns into a very substantial upfront investment quickly. What if it fails? Not only are you stuck with a sizeable amount of unprofitable product that's taking up valuable real estate on the sales floor, but you'll have to pay inventory tax on it. From a business perspective (and let's not forget that fly shops are businesses), it 's simply not worth the risk.
So is it the consumer? I highly doubt that. Ever since I can remember tenkara anglers have been chomping at the bit to see tenkara gear in brick and mortar stores. Of course, it's easy to be enthusiastic about such a thing when it's of no risk to you.
No, I think the key to breaking the cycle is this: growth. Think about this … You're a fly shop owner and have heard of tenkara but casually dismissed it. Maybe 1 in 10 of your customers have even heard of it, let alone tried it or actively fish it. It's not your demographic. Plus, the margins aren't worth it when you could sell one Orvis rod and make 3X the profit.
Now, what happens if more and more people start coming in asking about it? After a while, you realize that segment is growing and every time someone walks out the door empty handed, you not only lost the sale of the rod, but also of potential add-on items: flies, fly boxes, tippet, tools, waders, wading boots, etc. I'm not sure what the tipping point would be, but if I were a fly shop owner and 3 or 4 people were coming in asking about tenkara every day, my ears would perk up.
All it takes is for the right mindset to believe in tenkara not only as a credible form of fishing, but also as a viable product segment. But that will never happen without growth. It has to be there first before inventory buyers have confidence to make the leap. And if it succeeds, there could be a chain reaction as there typically in in a competitive space like fly fishing. One shop sees their rival succeeding with tenkara so they start looking into giving a try. And so on … If the snowball effect works, it could mean that one day, a customer could walk into many fly shops to find themselves with a decent selection of tenkara gear and (hopefully by then) knowledgable staff.
What can we do?
If you want to be able to run to your local shop and pick up some last-minute fluorocarbon level line you just ran out of instead of paying shipping and waiting for it (and afford others the same convenience), there is only one thing you can do: help grow the sport! Many of us have already been doing this altruistically, but I'm pointing out that we have a clear benefit in spreading the word. Wouldn't it be great if you could hop over to the shop and test cast that new rod you just saw online 10 minutes ago? Or grab some spare lilian for the one you just noticed was broken 5 minutes before you left for a 3-day trip? Want to see it happen? You can make it happen!
Start a blog, offer to write guest posts on non-tenkara sites, make videos, start a group, give lectures or seminars, start a local club and invite outsiders to come, leave free tenkara stickers on the counter at fly shops, talk to fly shop owners and tell them the tenkara story, do podcasts, live video, Q & As for beginners, take a friend tenkara fishing, talk to local fly fishing groups and offer to give a free demo … There are probably hundreds of things we could all do to promote tenkara to the exent that it would ultimately benefit everyone: beginners, experts, and, yes, even fly shops.
I can't say where I got the data from but I happen to have a pretty good estimate of the number of extant tenkara anglers in the U.S. right now. Doing some rough math, if even 50% of us converted just one or two people per year, the growth of our sport would be unlike anything we've ever seen–enough for the industry to take earnest notice.
Tenkara has given us so much in so many ways. I know anglers whose lives have been transformed by it far beyond the stream banks. And whether we consider our motives selfish or altruistic, I think only good can come from fostering its growth. So please think about what role you can contribute. No matter how large or small, it all makes a difference. It all adds up. It all matters. And the world could certainly use more things that truly matter.