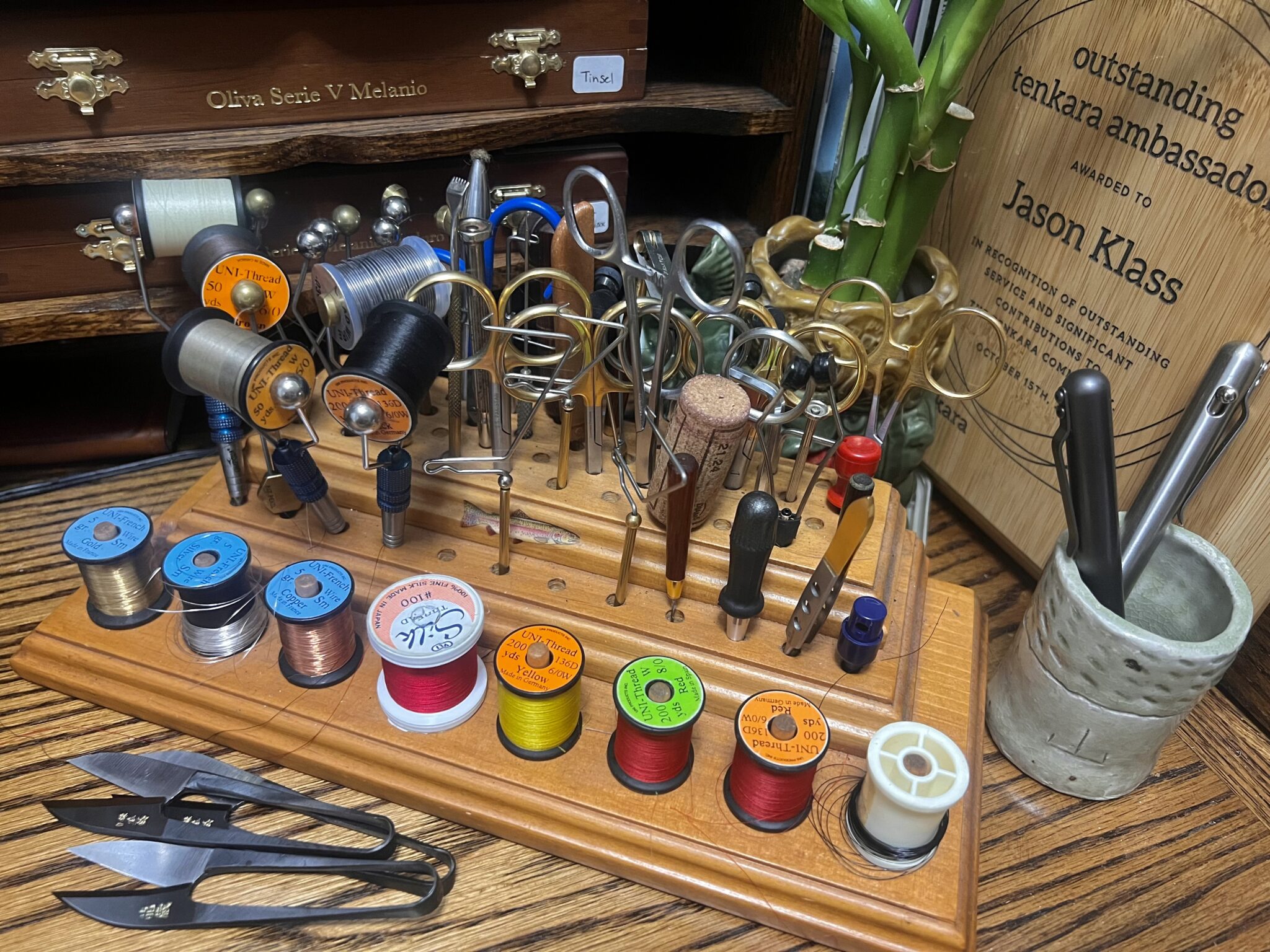 This article is inspired by a recent post on Tenkara Angler entitled "The Unsuspecting Minimalist and a Review of Sorts" by Anthony Naples. 
It was a few years ago at one of the Tenkara Summits. I was giving a tying demo and had my tools and vise laid out at the table. As I was preparing my materials, a small crowd gathered around and I could hear someone behind me commenting on my tool caddy (the very one in the photo), saying, "so much for tenkara being simple!"
It's in situations like these where I find myself conflicted. Should I unleash a verbal evisceration? Or should I bite my tongue and be diplomatic? Regrettably, I chose the latter.
American pop culture seems to have little appreciation for nuance. It likes things bifurcated, clear cut–it's either "this" or "that", and anything else is a contradiction.
What this person failed to recognize is that the amount of tackle one owns is not what determines or undermines the implied "sanctity of simplicity". It's what they take on the stream and how they participate in the sport–their appreciation for a more direct connection to the river and the fish without distraction. It's not the number of material possessions, nor the love of them!
If you're wet wading in sandals, fishing with one rod, one line, and one fly, but have 45 rods, 16 fly stuffed fly boxes, 30 lines, 3 pairs of waters, 2 turtle doves, and box full of tippet spools at home, does that mean you're somehow NOT the S-word‽  Egads!
The other thing this person wrongly assumed is that since I happen to be giving a tenkara-specific demo in that moment, that, surely, that must mean I only fish tenkara and tie tenkara flies. He couldn't possibly imagine that I also tie saltwater, salmon, streamer, and dry flies that require tools in different sizes, or with different functions for specific applications.  It was inconceivable to him. He sure extrapolated a hell of a lot of information from a 5-second observation!
And so what if it (gasp) isn't simple? What's wrong with that? Perhaps most people find the simplicity of tenkara appealing, but others might find appeal in making it more complex. The word "complex" doesn't have an intrinsically negative connotation–only contextual. So why is it used that way in tenkara so often? It's almost become a passive aggressive hashtag. #notsimple
Like Anthony, simplicity wasn't what initially attracted me to tenkara. I was specifically looking for backpacking rods to sell in my online store. At the time, I thought I'd use tenkara solely as a backpacking rod, never as my primary method.
What ultimately sold me on tenkara was that it was perfectly suited for the high-gradient, pocket-water streams I fish which are similar to many Japanese watersheds. All romance and tradition aside, from a purely technical angle, tenkara is just easier, more efficient, and (in my opinion), more fun!
I never took an oath to simplicity or any particular style of tenkara, again like Anthony, the appeal of it snuck up on me. And stuck!
What was it about tenkara that sold you?