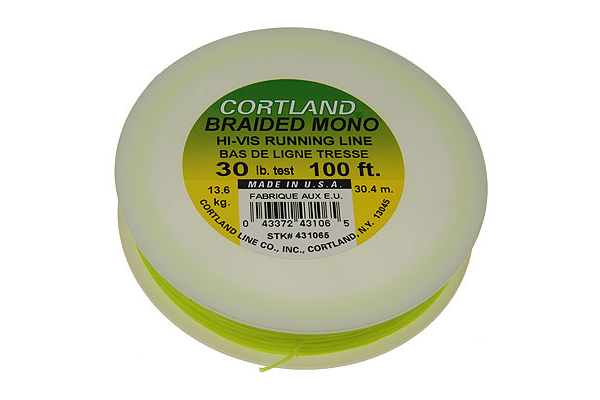 While there are plenty of tenkara lines I really like, when the opportunity presents itself, I will always jump at the chance to try out something new.   I've cast everything from dental floss to dacron in search of the perfect line, and have always found myself coming back to fluorocarbon tenkara lines because of their durability, versatility, and ability to cut through the wind.  So when Tenkara Talk reader Mike W. sent me some of the new Cortland braided mono running line to try, you can bet I was pretty skeptical.  That was, until I actually cast it…
This line was developed for conventional fly rods to be used behind a shooting head.  It was not intended for tenkara.  But that didn't mean it wouldn't work.  Tenkara anglers are a crafty bunch and are good for spotting outside-the-box opportunities. So, I thought I'd give it a fair shake.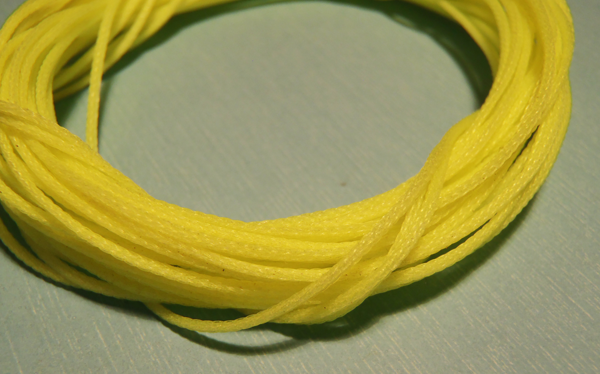 Still, the physics didn't seem to add up.  How could a bulkier braided line without a taper cast as well as a sleek, single strand of denser fluorocarbon?  It would seem like the line transfer would succumb to air resistance after just a few feet and wouldn't generate enough line speed to turn over well.
Castability
But after just a few practice casts in the backyard, I knew Mike was on to something.  The line turned over way better than I expected–pretty much as furled tenkara line does–with good control and delicacy.  And even in the wind.  Even with a soft action rod like the Ito, I was able to lay the line out no problem.  It kind of goes against my general instincts, but the braided Cortland running line is really easy to cast with a tenkara rod.  It loads the rod well without being too whippy or wimpy.
Visibility
OK, so the most important thing is out of the way (castability).  But why choose this line over the plethora of currently available fluorocarbon level lines that cast just fine?  In a word: visibility.  Fluorocarbon tenkara lines are thin and even the brightest ones can be difficult to track in certain lighting conditions.  But this braided line is much thicker in diameter and is just a lot easier to see.  It's about as easy to see as a conventional fly line. If you can't see this line, you need to think about signing yourself up for beginner Braille classes right away.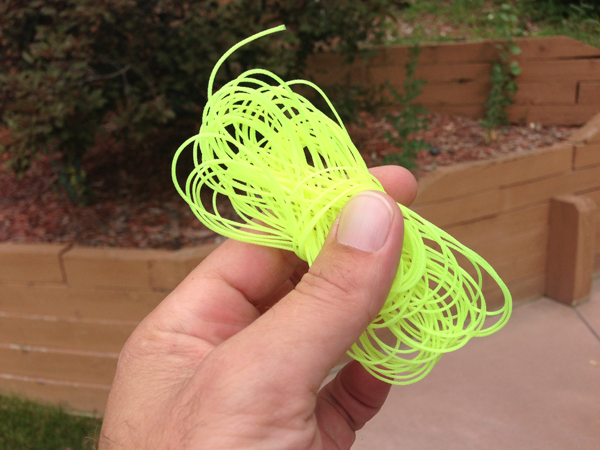 Connections
I made a 16′ line out of the 30 lb. test and added simple overhand knot to the end to connect the tippet with a slip knot.  At the end that attaches to the lilian, I made a simple loop to connect it with a girth hitch knot out of 30 lb. orange dacron backing. But there are multiple ways you could make these connections.  Those are just the ones that seemed to make the most sense to me for this type of line.  Click here to see how to make these knots & connections.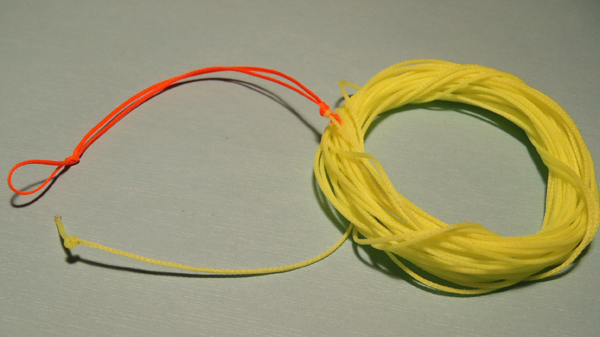 Caveats
So, I really like this line and am going to experiment with it a lot more and give you updates (I haven't actually had it on the water yet).  But, here are two things you should be aware of before you buy this line:
1.  It's kinky.  No matter how much you stretch it, you will still have some mild kinks.  The good news is that this doesn't seem to affect castability.  So it's a non-issue for me.  But just be prepared for it.
2.  Because it's a braided line, cut ends will fray.  Burn them with a lighter to melt them together.
Conclusion
This is a good alternative that overcomes the visibility problem that is typically associated with fluorocarbon lines. It still needs some exploring, but seems to be promising if we can put our heads together and figure it out.  If you try this line for tenkara, I'd love to hear your experiences (as I'm sure would others).