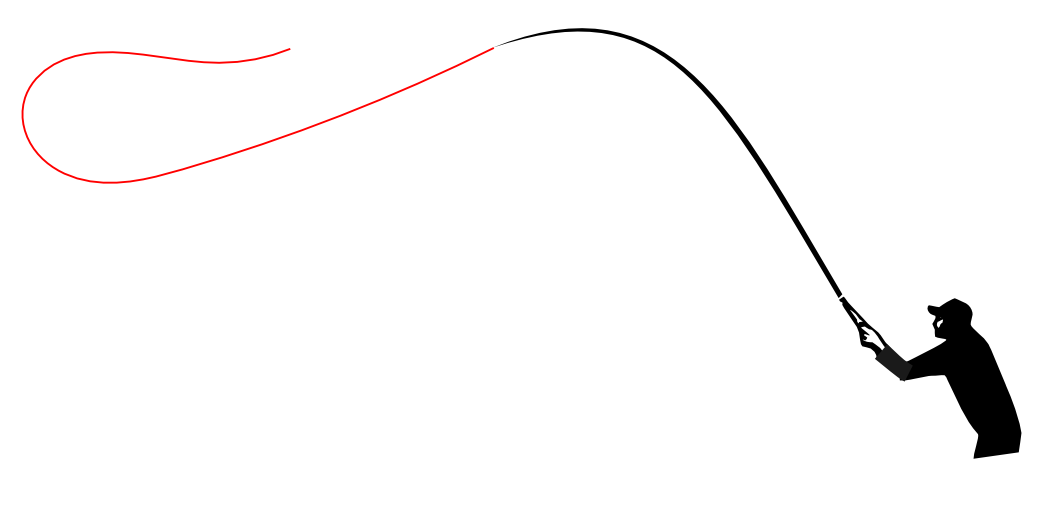 graphic by Anthony Naples
I was struck recently by a comment I read from Chris Stewart in a Facebook group. I can't remember the exact wording, so I'm paraphrasing. It was to the effect of, "remember in western fly fishing when we were all concerned about having a well-tapered leader? Whatever happened to that?"
It might seem like an innocuous insight, but it got me thinking. For the last ten years, I have been fishing a tenkara rod with a level line, level tippet, and have not even questioned the fact that it lacks any semblance of a taper. To put a finer point on it, I followed up with Chris and while neither of us could remember exactly what he originally said, he clarified:
Western fly fishermen are obsessed with tapered lines and tapered leaders. Before knotless tapered leaders, there were literally dozens of complex leader forumulae – so many inches of this diameter, then so many inches of the next smaller diameter. The step from one diameter to the next was never more than .002″. Whatever happened to all that? In tenkara, we happily fish a level line and tie our tippet directly to the line, going from a Japanese size 4 line (.013″) to 5X tippet (.006″), a .007″ reduction in one step.  Our flies turn over beautifully. Instead of 9′ or even 12′ of leader and tippet from the end of the line to the fly, we fish with 3′ or 4′ from the end of the tenkara line to the fly. And most of us catch more fish than we ever did when we fished with a Western rod and line. 
Back east where I cut my teeth on fly fishing, we did indeed obsess over leaders. There were plenty of commercially available tapered leaders, but they weren't "good enough" in my circles. No angler was worth their salt if they didn't tie their own. The formulas were complicated, and the more complicated, the more respectable. One of the prevailing ones was the George Harvey leader. I diligently tied many of these and because of the turnover-to-delicacy ratio, they became one of my favorites. Fast forward to my tenkara fishing career and something seemed amiss. Where were the formulas? Where were the discussions about turnover, transfer, and taper? They were non-existent in my tenkara world. No one was even talking about it. We were fishing 13′ level lines (not meticulously-tapered 9′ leaders) and catching fish left and right without a thought to tapers. So, what happened to that?
Whenever I'm confronted with an interesting paradox like this, I can't help becoming fixated on it until I find a plausible answer. And after putting some serious thought to it, think I have come up with an explanation. My contention is this:
No tapered leader is required in tenkara because the soft, flexible tip of the rod essentially acts as the butt end of what we consider a traditional leader, giving a level line the backbone it needs to transfer mass along its length and turn over with the same efficacy as if it were a tapered leader.
Essentially, the soft tip of the tenkara rod "becomes" the butt of the line, incorporating itself fluidly into the cadence of the turnover. It's easy to see right now if you take your tenkara rod out, connect a line and pull it to the side. See how the tip section just morphs naturally into the line almost as if it were part of it? I think that's the answer. Any transfer of energy is more efficient when you have a material of more mass propelling a material of progressively less mass. This is exactly why tapered nylon leaders turnover so well, and exactly why a level line with the flexible tip of a tenkara rod behind it turns over. It's really the same thing!
I'm not a physicist, but I'm satisfied with this explanation. While I love philosophy and science, I always give my empirical evidence credence over textbook answers because sometimes, reality defies academia.
What do you think about this theory?
Am I right? Am I mad? I'm sure there's someone with formal training in physics who will correct me on this or at least shed some insight. And I invite it. Let me have it!