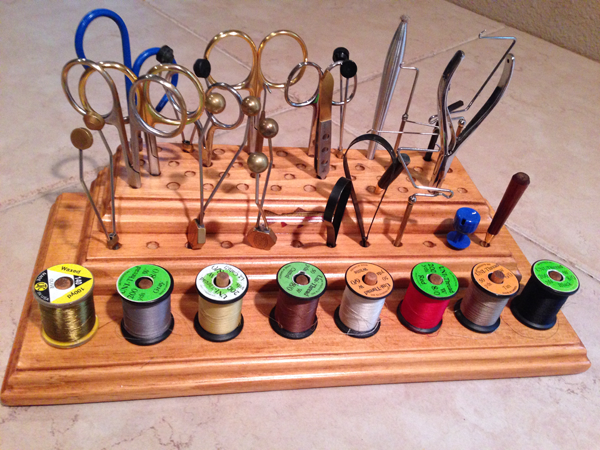 Probably like many of you, I don't have nearly as much time to tie flies as I'd like.  But when I can sneak in those precious few minutes to lash some feathers and fur to a hook, I like it to be organized so I can maximize my time–whether it's preparation of materials or getting the necessary tools laid out ahead of time.
Until recently, I've been keeping my tools in a simple clay teacup I made years ago while I was in Japan under the guidance of a direct descendant of Sen no Rikyu …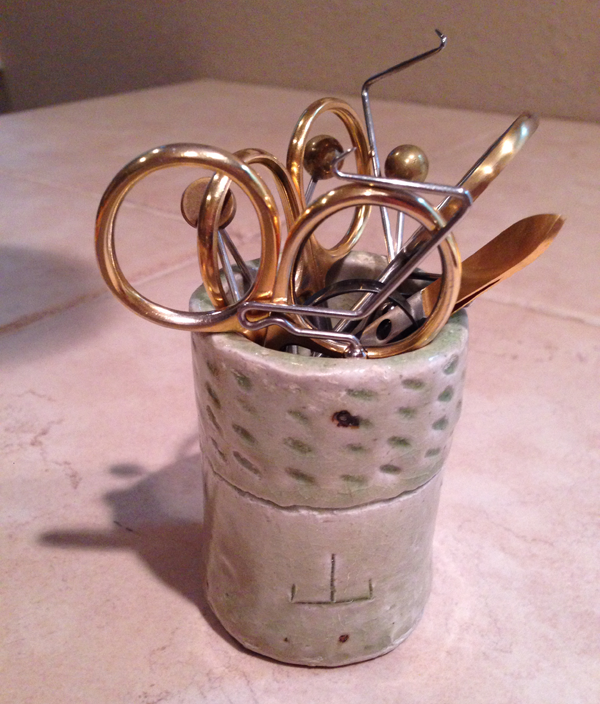 Cool factor aside, the small pottery just wasn't a very practical fly tying tool holder.  Every time I reached for one tool, two or three others inevitably got snagged and came along for the ride.  Whip finishers, hackle pliers, and scissors don't really play well together in a crowded space like that.
I needed something that would spread out my tools, giving them breathing room for easy identification and access.
A quick eBay search lead me to the Middle Stream Tool Caddy from Little Village Fly Tying.  It's an attractive, classic looking tool organizer that holds 56 tools and 8 spools of thread.
What appealed to me most was that instead of having all my tools in a tangled mess, I could spread them out in a way where I could easily see and access them without hinderance.  I don't have 56 tools, so the extra holes give me a lot of flexibility in terms of organization.  A welcome change.
At 12″ long and 5.5″ wide, it takes up minimal space on my fly tying desk yet has the capacity to hold more than I'll ever need so it's scalable (another bonus).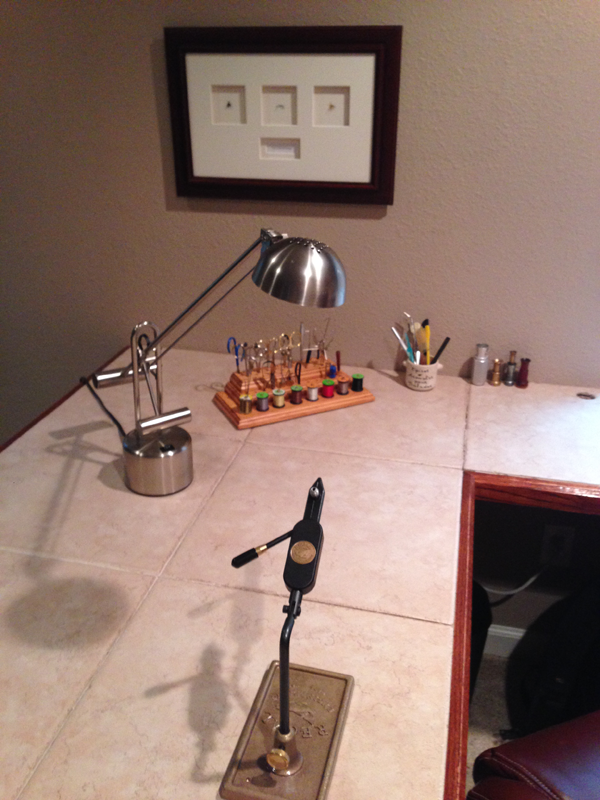 I store all my threads in sewing racks but since this caddy has spindles for 8, I decided to load it up with my most-used threads just to make it a little more convenient.
Now, when I walk into my fly tying room, I'm as confident as a surgeon who knows that all the right tools will be laid out properly before an operation.
If you're looking for desktop organization with some character, check out Little Village Fly Tying.
Tip:  I'd search them on eBay first because they sometimes offer their products at a discount there.
How do you organize your fly tying tools?