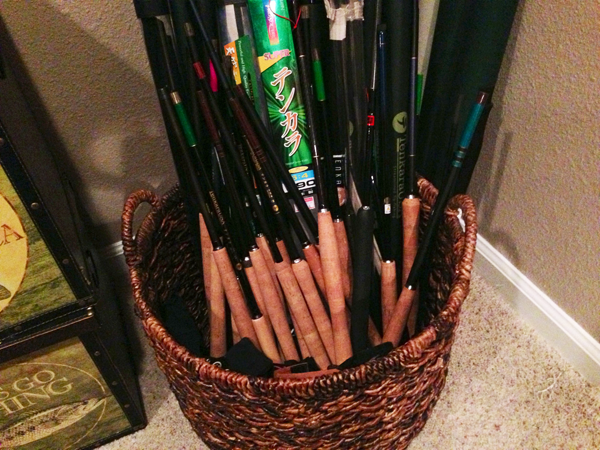 In tenkara, a fairly esoteric group of anglers subscribe to the "one fly" approach where they strictly fish only one specific pattern (or slight variations of the same pattern).  A  larger group adheres to the more liberal "any fly" approach, meaning that they don't necessarily restrict themselves to one particular pattern, but feel that any fly they pull out of their box at random will work.  Both philosophies seem to be founded on the same principle:  the fly matters far less than what you do with it.  Or, in other words, a skilled fly angler can make just about any fly work in just about any situation.
I've tried both the "one fly" and "any fly" approaches and they both worked for me (though I'm not really interested in committing to either philosophy).  Yet, it did get me thinking.
All the "one" whatever discussion always seems to focus on the fly.  But what about rods, lines, and other gear?  It would seem to me that if one of the great things about tenkara is that it pushes the angler to do more with less, why has only the fly been singled out?  Shouldn't (or couldn't) the same minimalistic philosophy be extended to all gear?
I'll admit that I'm probably not going to reproduce this faithfully but I recall an anecdote where someone gave the great fly fishing legend Lefty Kreigh a cheap, Walmart-quality fly rod setup.  He proceeded to cast the line into the backing with just a couple of double hauls and then handed it off to someone saying something to the effect of, "here, now take this piece of s**t away from me".
The point being that with enough skill, the tools almost become irrelevant.  With skill, you can adapt to any situation.  And perhaps the very things that seem to limit us actually make our sport more challenging and interesting.  I think that's one of the appeals of tenkara for many anglers.  The gear didn't catch the fish–we did.
So, why do we spend so much time agonizing over rod action, line diameter, and all the other minutia? I love to try out new gear and compare and experiment with new designs.  I think it's part of the fun.  But if I subscribe to an "any fly" approach because it tests my skill and makes me a better angler, why am I not doing that with my other gear?
We all have our preferences when it comes to rod action or lines.  For me, it mostly comes down to feel.  Let's face it, there are a ton of "good" tenkara rods out there today.  And I've cast a lot of them.  If you blindfolded me and handed me three or four similar ones to cast, I probably couldn't tell you which ones were which.
There are a few though that stand out.  You can not only blindfold me, but also wrap duct tape around my eyes and ears and I'd still be able to tell you when I'm holding an Oni rod or a Tenkara USA Ito in my hands. The actions of those two rods are truly unmistakable.  But most other rods on the market (in their respective lengths and actions) are so similar that I have a hard time even describing the differences between them other than ergonomics or aesthetics.  That's not to say they're bad–just similar.
Right now, I'm staring at a basket of tenkara rods that are all really, really good. They're well designed and well finished and you can get them for a very reasonable price.  I've fished all of them and I can't think of a situation in which in which I couldn't get any one of them to work.  I could probably pick any one at random and catch fish (in fact, I have).  I've never been on the stream and said, "oh, I'd be catching more fish if only I had brought XXXX rod".
But they each have their own personalities and I definitely like how some feel better than others. Sometimes, I choose to bring a particular rod with me because I just feel like fishing that action that day–not because I think it will help me catch more fish.  I wonder if this is the real reason we favor one rod over another.  Sure, there are some technical restraints to what certain rods or lines can do versus others but I think those are fairly limited and a savvy angler could easily overcome them.
There is only one time I can recall where I thought the line actually made a significant difference.  I was fishing in Rocky Mountain National Park and it was so windy, that I just couldn't get my #4.5 level fluorocarbon line to turn over. I switched to a titanium tenkara line and was finally able to slice through the wind.  I probably could have found a way to make the level line work (maybe with a blow-line presentation) but it just felt better to be able to make a real cast through the gales.
I've got a pile of unmarked spools that store lines of which I've long forgotten the length and diameter.  But on countless occasions, I've just grabbed one or two in haste, fished them, and also caught fish.  Were they #3 or #4?  I have no idea.  And I wasn't about to pull out the micrometer to figure it out. I made it work somehow and that's good enough for me.  While ideally, I like to think about where I'm fishing and dial in the correct rod and line size, it never really seems to matter as much as I think it will (like the fly).
So with a raft of "good" rods and lines out there, I'm wondering if anyone out there takes an "any rod" or "any line" approach just as they employ the "any fly" approach.  It doesn't seem so far off from the spirit of tenkara.  I've got my favorite tenkara rods but could also make a piece of s**t work if I wanted or had to.  Given the choice though, I think I'll take my Oni rod along.
What about you?  Do you think rod choice & line make a difference?