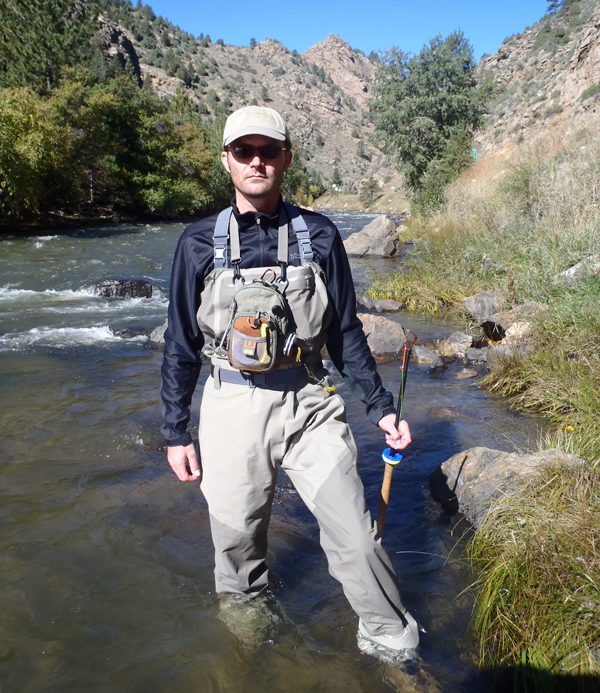 For my birthday my wife surprised me with new waders!  But not just any waders.  The new Silver Sonic Convertibles from Orvis!
These new waders feature Orvis's patented SonicSeam Technology.  Most waders are sewn together with traditional stitching (i.e. a needle and thread). This creates holes in the fabric that have to be later sealed to make them waterproof.  But Orvis uses an advanced welding technology that eliminates the need for stitching, meaning the seams are waterproof the moment they're assembled.
A welded seam …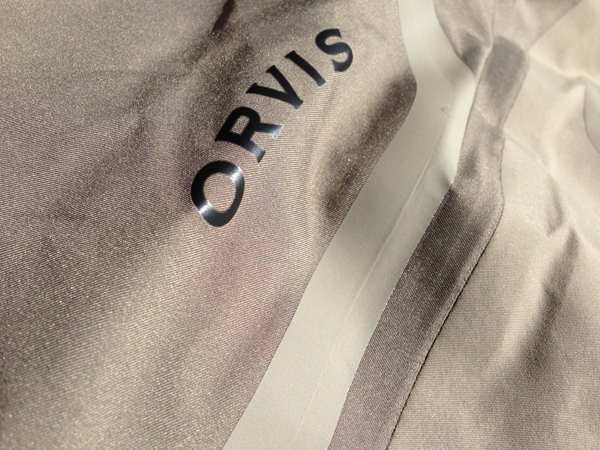 According to the company, this not only makes for a more waterproof seam, but an overall more durable wader.  While I haven't had the waders long enough to attest to their long-term durability, I can show you some of the features I really like about them (and one I don't like).
Fit & Comfort
The first thing I noticed when I slipped into the breathable beauties is that they are really comfortable.  I'm 5′ 10″ and 145 lbs. and the size medium fits me perfectly.  The neoprene stocking feet and legs are ergonomically sculpted to conform to the contours of an actual human body (unlike some waders I've had that fit more like a garbage bag).
The cut is still generous enough and things stretch in all the right places so that movement isn't restricted.  Some waders feel like a straightjacket.  The feel like comfy pajamas.
Breathability
"Breathable" is a term that has been thrown around very loosely in the wader game.  And words "waterproof and breathable" has always seemed to be an oxymoron to me.  But the Silver Sonics appear to be the real deal.  After some field testing, I had zero condensation after peeling the waders off and water just beads up on the outside as if it were repelled by Never Wet.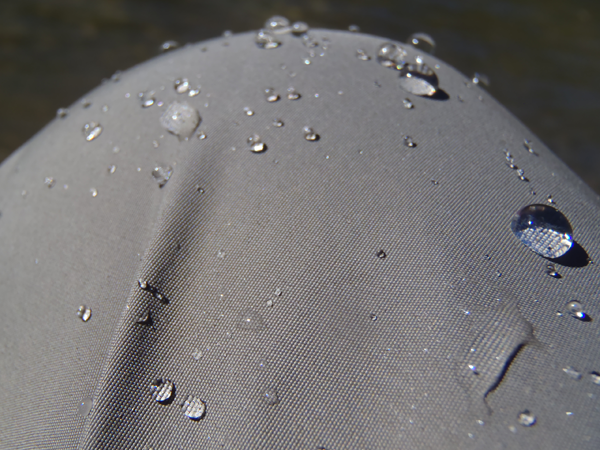 I usually expect at least a little condensation, but was surprised when my REI Sahara cargo pants were bone dry. I hope that lasts and is not just an out-of-the-box bonus.
Storage
In terms of pockets, the Silver Sonics get an A+ in my book.  I am really impressed with the organization.  The front features a generous chest-high external pocket with a water-resistant zipper: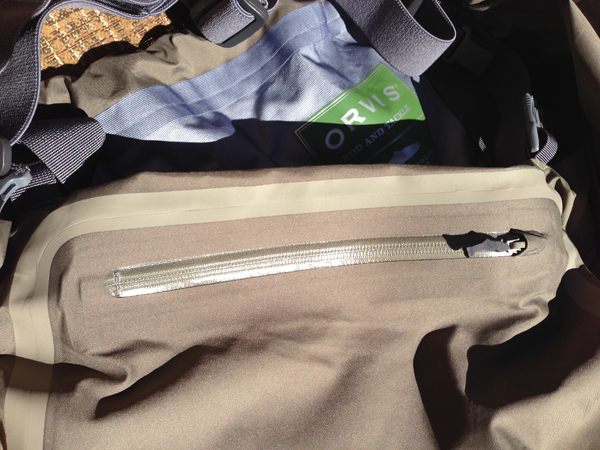 The pull tab is even shaped like a fish (nice touch Orvis).  But there's more. There's also an internal pocket AND a flip-out, removable dry pouch for things like you iPhone or other things that wouldn't survive a dip in the water.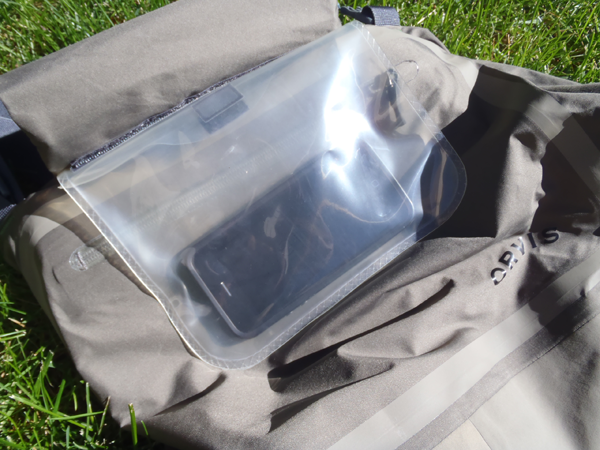 With three big pockets, a tenkara angler or minimalist fly fisher could easily carry everything they need for a day sans the vest or chest pack.
Special Features
These waders are convertible, meaning you can quickly switch between full chest waders and waist-high waders.  The suspenders have a threaded buckle system that allows you to instantly flip flop between the two modes without removing the suspenders and adjusting a bunch of buckles, etc. On the left, you will see the buckle connected in "chest" mode.  On the right, you'll see it in unbuckled "convertible" mode.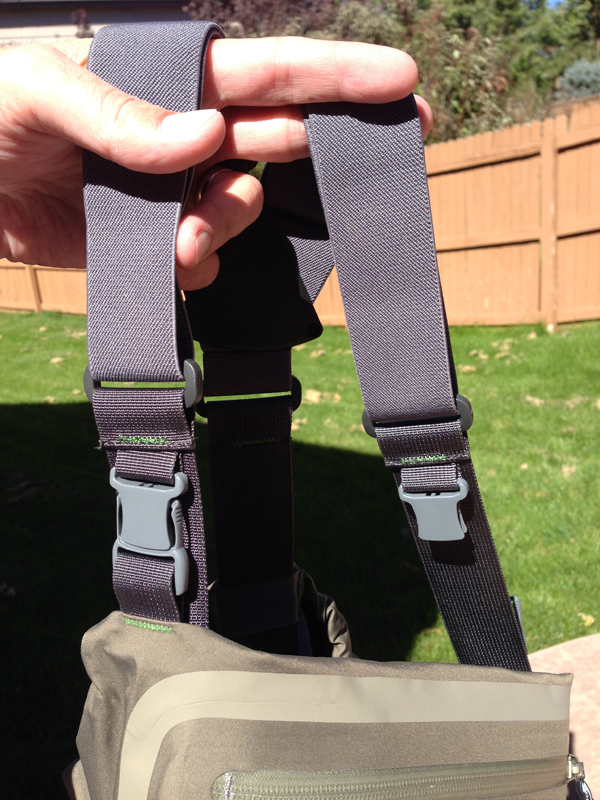 What you do is unbuckle the clip and then slide the waders down to go to waist mode.  The suspenders will still be on your shoulders, but the waders will easily slide down to waist height.
I don't see myself using this feature a lot because I like having full coverage, but it could be a nice option to have on really hot days when you need to vent.
If you want to see how easy it is to convert, watch this video at 01:16:
A side benefit of this design is that it makes them easier to put on.  When you have buckles that completely detach, it can be a pain to try to find them when you want to put them on.  There's always that awkward dance of twisting around and reaching around your back, trying to catch a rogue buckle.  But with this system, you just slip the waders on, gram the big loops of the suspenders, slide them on your shoulders, and buckle them in.  I know this wasn't the main intention of the design, but I really like it.
There are lots of other little details I like about the Silver Sonics.  They definitely paid a lot of attention to detail (even some things I never would have thought of).  One example is that the built-in gravel guards have drain holes in the back so they don't carry water: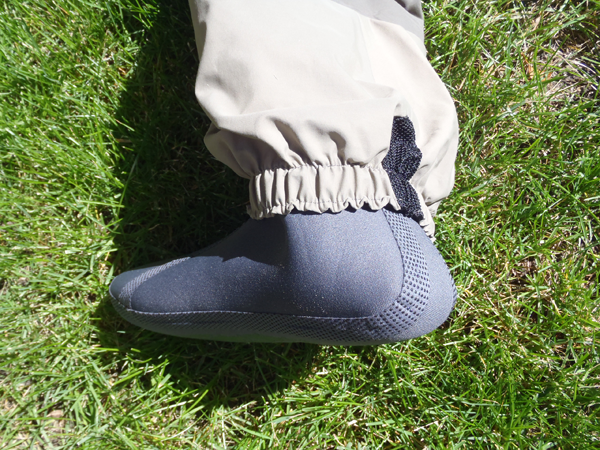 And the included wading belt is secured with built in belt loops, meaning you'll never have to chase down your belt again.  And notice that they sewed the loop onto separate panel of fabric, then welded it on, staying true to their "needless" seam philosophy.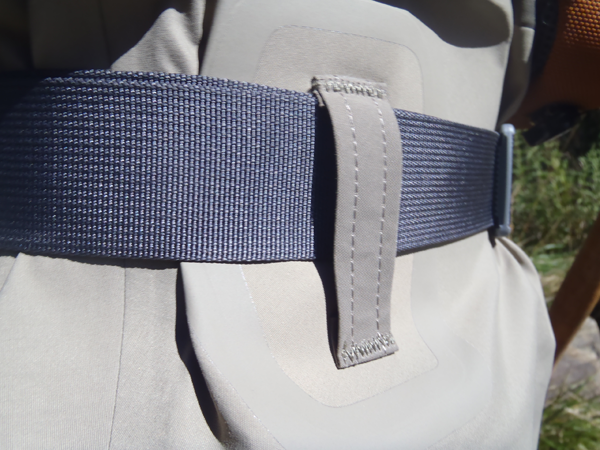 Complaint Department
My one small complaint with the Silver Sonics is that the foot is lined with rows of small, sticky rubber beads.  While this really gives you good footing between the stockingfoot and wading boot, it also sticks to the inside of the boot, making it difficult to slide the feet in and out.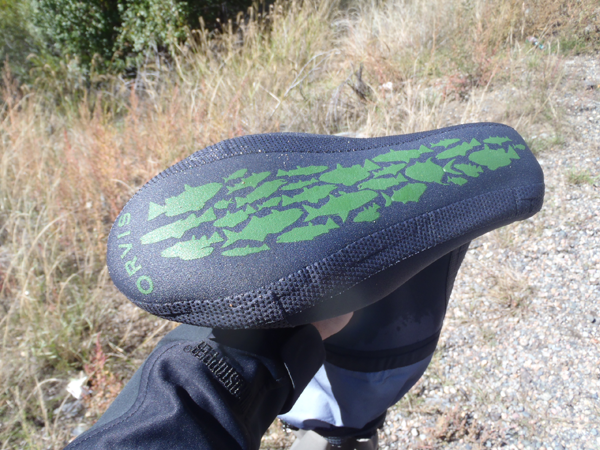 It could be the Simms boots I'm using but I was surprised at the number of yoga poses I had to wriggle through just to get me wader's feet out of my boots.  Not a deal breaker but a noteworthy annoyance.
Conclusion
Overall, I'm very impressed with the fit and features. Back in the days when I worked in a fly shop, waders like these would have easily cost $400+.  But technology has gotten so good that Orvis is able to offer them at a much more reasonable $260.  That's still more than I like to pay for breathable waders, but if the durability is as good as they say it is, then I'd call them a good value.  Only time will tell.  And you can be sure I will be reporting back on the log-term durability.
For more info on SonicSeam Technology and the full lineup of Silver Sonic waders, click here.