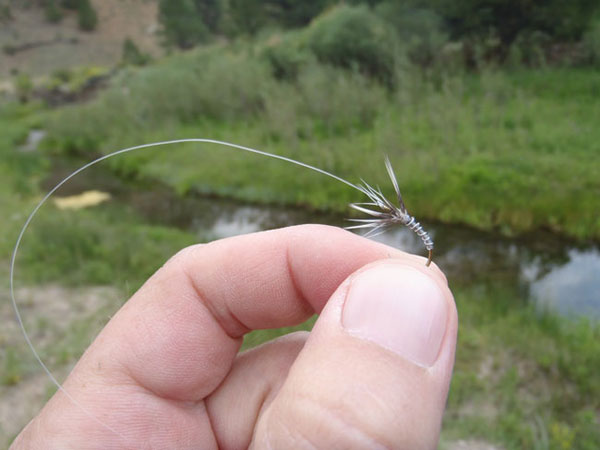 I just had an interesting exchange with a friend who is heading down to the San Juan River soon.  He told me about how he was planning to fish a tandem rig with the river's namesake pattern (the San Juan Worm) and a beadhead dropper.  I relayed the story of how when I fished the San Juan years ago, everyone told me how I absolutely had to fish San Juan Worms.  Literally everyone.  So before the trip, I tied about three dozen of them in various colors ranging from the standard crimson red, to the more "earthwormy" browns and pinks–and about every shade in between. As of today, I still have all of those worms untouched and perfectly preserved in the museum of their dedicated fly box because I ended up catching all of my fish on dry flies.  It just goes to show you that you can only trust local advice so far and that at some level, it's better to trust your own judgement in fly selection (even on unfamiliar waters).
Aside from reaffirming the need to trust my own instinct, it got me thinking about why people fish multiple flies and if they're really more effective than fishing just one fly.  When I lived back east, I never fished more than one fly. The rule was that you either saw fish rising and tied on one dry fly to match the hatch or you didn't see any fish rising and you tied on one nymph with a strike indicator.  It was very focused.  But when I moved out west, it seemed like almost everyone was fishing a dry fly with a nymph behind it.  Probably the most popular combo I saw was a hopper with something like a Copper John dropper.  The logic seemed to be that two flies are better than one.  After all, doesn't that increase your chances of catching more fish?  I argue that it might, but probably doesn't.  And it definitely doesn't catch more fish the way I want to catch fish.
I never fish a tandem rig and catch just as many fish (and sometimes more) that my fishing companions who are using a dropper.  So I'm a little skeptical that fishing more than one fly really increases your chances of catching fish.  Plus, fishing multiple flies has some clear disadvantages.
You can't fish two flies as effectively as you can fish one
The times I've used tandem rigs or casts (and by "casts", I don't mean "casting", I mean having three or more flies on the end of my line), I've almost always caught the fish on the point fly (the one at the very end). Why? Maybe because that's where the tippet is the least conspicuous. Even the finest tippet is visible to fish with the sun glaring off the tippet between two or three flies looks unnatural to fish.  At least with a single fly, you have a chance of presenting without a parade of tippet between your flies signaling that they're impostors.
Not only that, but depending on if you're imparting action to the fly or not, different fly patterns act differently in the water.  You have to match them and that doesn't really work if you're using different patterns.  You can't really dead drift a hopper and at the same time give action to a caddis pupa.  Of course, you could pair them up and tie on an adult caddis with a pupa dropper.  That might work.  But why bother?  You're still not going to be able to get either fly to behave exactly as you want it to.
And then there's the fact that multiple flies can create unwanted drag on each other.  A nymph near the bottom is flowing at a slower rate than the dry fly on the surface because of the friction on the stream bed.  Thus, you can't really get them to both be in a perfect dead drift at the same time.  They're in different speeds of water.  So in my view, it's better to fish one or the other without them competing against each other.
You get more Tangles
Anyone who says they don't get more tangles with multiple flies is either a magician or a lier.  You just do.  It's the nature of the beast. Some are willing to put up with it.  I'm not one of those people.  I'd much rather spend more time with my fly in the water than untangling monofilament spaghetti.
You run the risk of foul hooking more fish
I've foul hooked too many fish with a tandem rig.  This often happens when a fish takes one fly, and then is snagged by another fly in either the initial hookset of the subsequent chaos of the fight.  Sometimes, it's just a superficial snag in the scales, but other times, it's in the eye or gill. There's also the possibility of hooking two fish at the same time which will probably result in a horrible tangle, and two beat up fish.  Since I release all of my fish, one hook to remove is much easier than two and not only reduces injury, but means I'll be able to get the fish back to the water faster–both increasing the fish's chance of survival.
Fishing is not a numbers game
Well, it may be for some, but not for me (anymore).  Casts of flies seem like trotlines to me–where you're just trying to increase your chances and catch as many fish as possible.  That's not why I go fishing and to me, fishing multiple flies almost seems like cheating.  I'm out there for the challenge and feel more of a sense of accomplishment when I catch a fish on the one fly I've chosen rather than throwing a catch-all smorgasbord.
So while they say that "two heads are better than one", I say in fly fishing, one fly is better than two.  You just can't present multiple flies as well as you can one when you're fully focused on it.  I for one, would rather present one fly well than two flies poorly.
What is your experience fishing multiple flies?