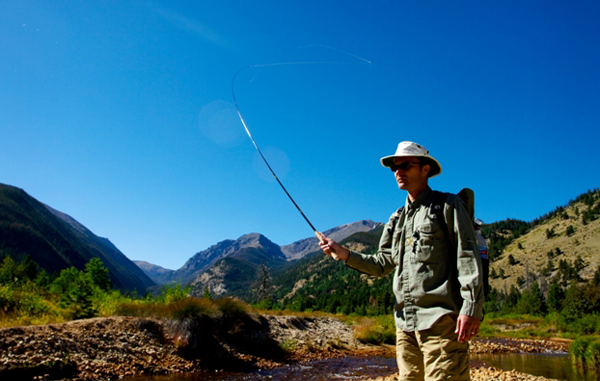 Whether out of habit carried over from a fly fishing background, or from some ill-gotten advice, I tend to see a lot more false casting being used by tenkara anglers than I would expect. False casting is necessary in conventional fly fishing because you need to shoot line. So, you use false casts to build momentum and launch out lengths of line until you have the distance you need, then drop the line on the water. But since tenkara is a fixed-line method, false casting really isn't necessary. In fact, not only is it not necessary, but I'd go so far as to say that false casting actually nullifies one of the major advantages of tenkara.
One of the things that immediately appealed to me about tenkara was that it eliminated a lot of the "drama" of a conventional fly cast. I didn't have to make a bunch of false casts to get enough line off the tip to load the rod, then strip line of the reel, make more false casts to get some distance, then repeat, etc. I could literally make a cast, pick it up, and immediately make the next cast. My fly spent more time in the water than in the air, and (as we all know) trout don't swim in the air.
This was a huge advantage for me. My fishing instantly became more efficient and I liked being able to concentrate on my presentation rather than shooting line, trying not to step on it, and keeping it from getting tangled up in the reeds. Not only that, but I could also make more presentations in the same amount of time that it would take me with a rod and reel.
Now, before people think I'm "putting down" fly fishing with a rod and reel, I'm not. In fact, I still fish with a reel where it's appropriate. But for my local trout streams, tenkara is just a better method, so that's what I use. Why would I add distraction if I don't need to?
I think many other tenkara anglers like the efficiency of tenkara too. Which begs the question, why would you throw it out the window by using unnecessary false casts?
Notice I used the word "unecessary" above. What I'm really referring to is false casting on every cast. That, to me is unecessary. But, I will conceded that there might be at least two situations where you would want to false cast with tenkara:
1. You're dramatically switching the direction of your cast and need a false cast or two to get the line in the correct position to make the presentation.
2. You want to fish your fly on or in the surface and need to shake the water out of it to help it float.
Other than those two situations, I can't see any justification for making false casting a part of one's casting modus operandi. All it's doing is wasting time you could have your fly in the water (and maybe tiring out your arm).
When do you feel the need to false cast with tenkara?