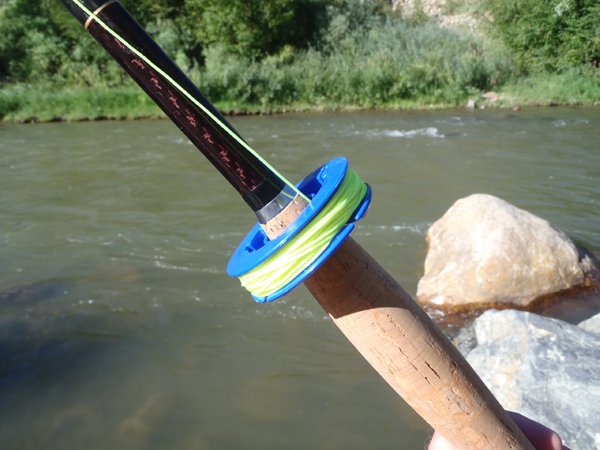 A few weeks ago, I wrote a post about using Cortland braided nylon level line for tenkara. I liked how it cast in my backyard, but hand't had it on the water. That is, until today. And the verdict is in…
While it seemed to be a pretty a good candidate for tenkara, I had some questions that I couldn't answer in the backyard. Would it float or sink? Would it spray water and scare fish? Will it sag and create drag on the fly? Will it turn into a bird's nest if I pull it out of a snag?
Today, I got all of those questions answered (and a few I didn't even anticipate).
I already knew that the line casts well and is much more visible than typical tenkara fluorocarbon level lines. That's no surprise since it's a lot thicker. But I was a little surprised at just how visible it really is. It's basically as visible as regular PVC fly line and is easily trackable against a variety of backgrounds: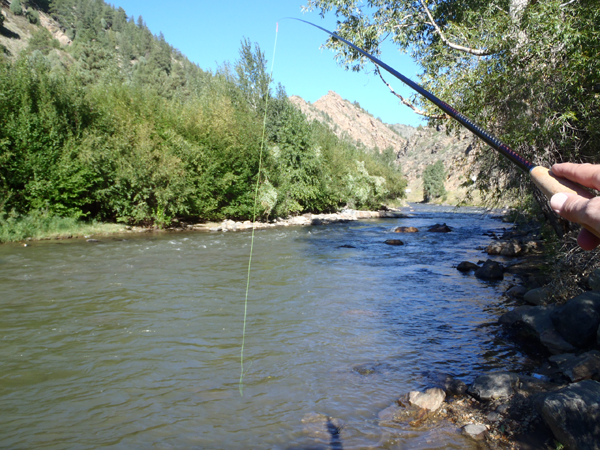 It doesn't spray as I thought it would and it floats temporarily until it becomes water logged when left in the water for a long time. This isn't a big deal for me since my regular fluorocarbon lines sink anyway and I usually fish subsurface.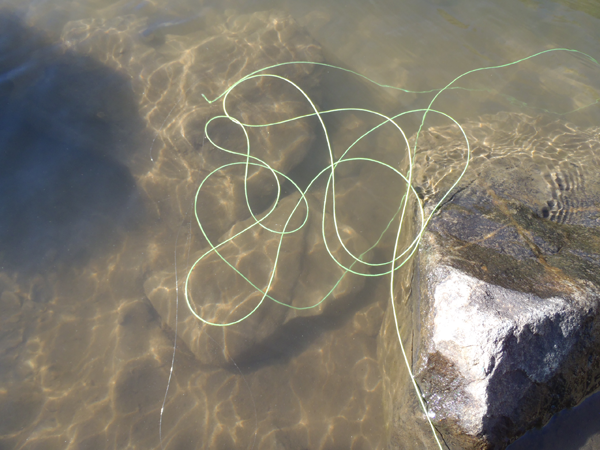 Since the line isn't as light as most tenkara level lines, it is a little more difficult to keep off the water to reduce drag (and to be fair, I was fishing a 16′ line with mostly 13′ rods so a shorter one might have been better). But the extra weight also means it casts really well in the wind. I thought that the thicker diameter would actually be a hindrance in the wind since it would create more resistance. But it turned out to be an asset. I think part of that might be that the weave soaks up some water to make the line heavy enough to punch through the gusts.
The water was high today and I fished a weighted fly for the first time in a long time. And, as you can imagine, weighted flies mean more snags. Despite pulling out three or four snags, the line didn't recoil into a bird's nest like most nylon tapered lines. This doesn't make sense to me and I can't explain why, but I'll take it. It's "snag friendly".
To connect the line to the rod, I tied about three inches of 30 lb. Dacron backing to the line with an overhand knot, then tied a figure 8 knot in the other end to attach the tippet with a slip knot. I was worried about the rough texture of the braided line not cooperating with the smooth tippet sliding down to meet the stopper knot but it actually worked out perfectly.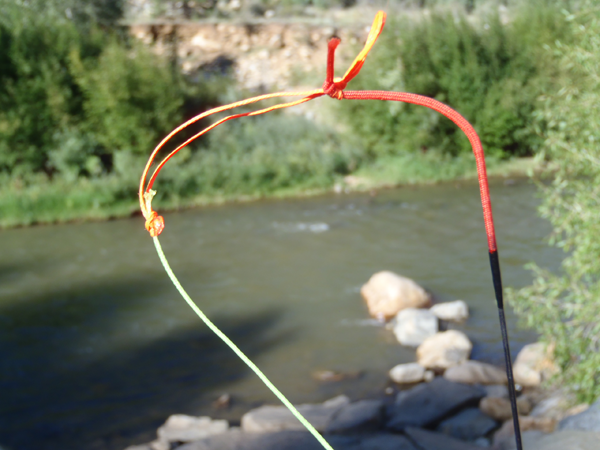 One unexpected benefit of this line is that it's really ergonomic. Fluorocarbon lines are thin, and sometimes hard to grab when handlining a fish in. But the braided line is easy to get a firm grip on because of its textured surface. You might also think that that same textured surface makes it difficult to let a fish run. But it's actually the opposite. If you just relax the tension a little, the wet line actually has less surface area and slides easily through your hand, creating a highly effective artificial drag system that's easy to instantly adjust as the battle changes.
Overall, the Cortland braided level running line is a good choice for tenkara. Will it replace your favorite level fluorocarbon lines or furled lines? Maybe not. But it should be added to the mix. Everyone has their preference. And I say for $15 for 100 ft., this line is definitely worth a try to see if it becomes yours.