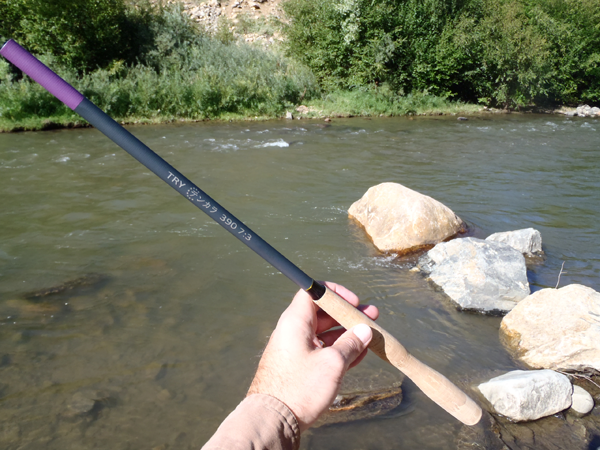 Right out of the box, I knew the new Try 390 rod from Tenkara Times was a winner.  For one thing, I've reviewed several of their rods already and upon initial inspection, the overall quality seemed in keeping with the attention to detail and consistency I've come to expect from them. But it wasn't until I fully extended the rod that the magic happened.  
This 13 ft. (390 cm) rod was LIGHT!  Some rods are heavy on the scale but light in the hand (or vice versa).  But the Try lives up to its 2.5 oz. (72 g) expectation with an almost antigravity feel wen telescoped out.  Even my wife (who knows nothing about rod design) was amazed at how light it was when I let her wiggle it in our living room before taking it out for a field test.
Not only was the rod light, but the 7:3 action was crisp and responsive.  I used to stereotype 7:3 rods as "too stiff" but the Try isn't at all.  Instead, the tip easily loads right at 7:3 but with enough backbone right behind it to deliver pinpoint casts with a range of line diameters.  I tried the rod with everything from a 2.5 fluorocarbon level line to a 4.5 and it handled all of them well (keep in mind that you still have to adjust your casting stroke accordingly).  I would say that the sweet spot for a level line is probably somewhere between a #3-4 level line.  

Overall, the rod is just pleasant to fish and because the backbone is closer to the tip, makes it really sensitive for strike detection.
While the action itself is enough to sell me on the Try, there are some hardware components I'd like to point out that I think are icing on the cake.
One is the grip.  Previous Tenkara Times rods I've tried had a grip that was mostly shaped like an isosceles triangle.  But now it seems they're moving to a more democratic ergonomic design.  The contour of the grip offers two positions:  one that is more choked up on the rod toward the winding check, and the other is a bulge at the butt of the rod.
I know different tenkara anglers prefer to hold the handle in different places (and some switch throughout the day or between different situations) so this is a nice touch. Amazingly, the comfort and balance of the rod doesn't seem to change when switching positions (at least I can't tell).  So, whether you like to choke up on the rod or hold it right at the end, you'll probably like this grip.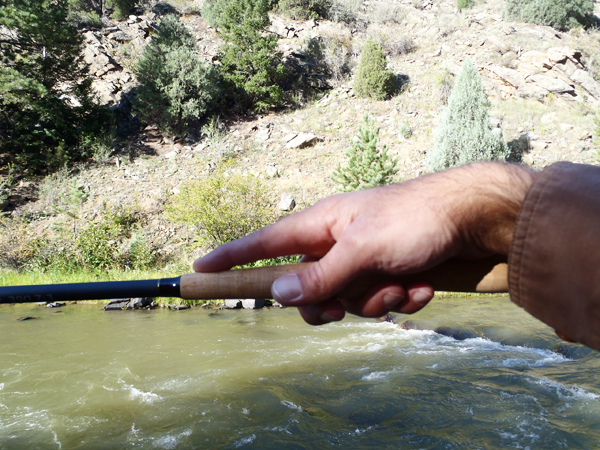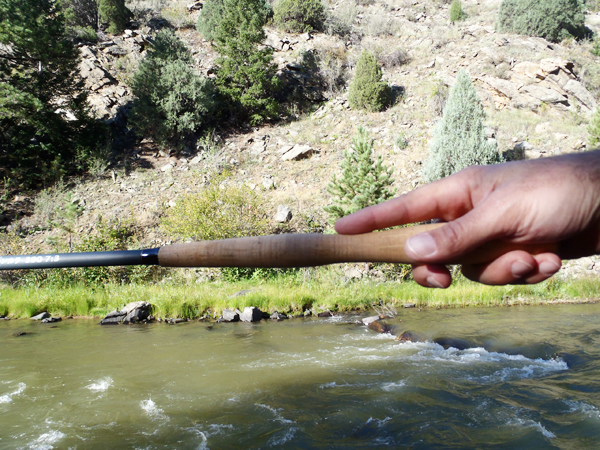 The rod comes with a clear plastic tube and a rod sack.  Normally, I wouldn't even remark on the rod sack, because, well, they're typically just not sexy.  But this one is.  Rather than your normal drawstring or Velcro-closed bag, this one is truly unique.  And as a lover of good design, I need to point it out.
The sack is made of a black, stretchy material (I don't know what it is).  Instead of a "bag" design, the tips are sewn shut, but there's a slit toward the top in the side.  To remove the rod, you pull up on the top of the sack, stretching the material enough to poke the tip of the rod through.  Then it easily slides out.  To stow the rod, just place the butt end of the rod through the same slot and stretch the tip of the sack over the tip of the rod again and let go. Here's a short video showing you how it works:
You might think this is pedestrian, but I think this is one of the increasingly few innovative designs I see coming out across the overwhelming amount of new tenkara manufacturers today and is worth a mention.  No doubt, others will eventually copy this.  Kudos to Tenkara Times for being the first to implement it.
My one nitpick with the Try rod is that unlike many others, the end cap isn't knurled so that you can remove it by hand.  It's a smooth, flat cap with a slot to tighten or loosen with a coin or other flat object (like the back of a knife or a screwdriver).  To be honest, I've never done a field repair and probably never will because I always carry at least two tenkara rods with me.  Still, for those who only carry one rod and bring a spare tip in anticipation of a field repair, remember to also pack something with a flat edge to unscrew the end cap.
If I break a rod in the field, I just grab another one.  The last thing I want to do during the precious few times I get to go fishing is fix a rod so for me this is moot.  It's more of a heads up for those of you who only carry one rod.
I can't say I'm newly impressed with the new Try rod because Tenkara Times impressed me a long time ago.  Every time they send me a new rod to try out, I pretty much know what I'm going to get:  a rod with a great action, good hardware, and at a great price.
To learn more about the Tenkara Times Try 390 or to get one, click here.