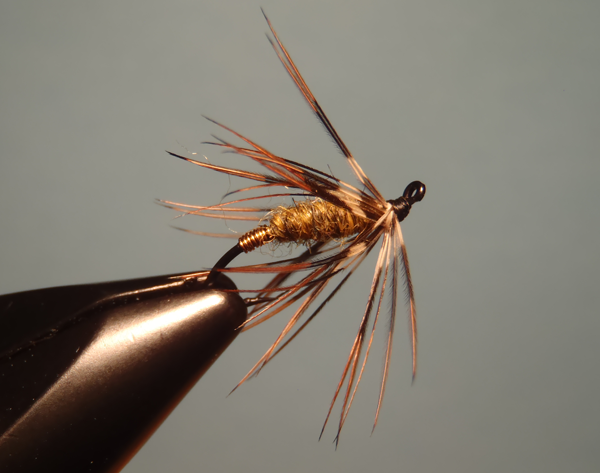 I haven't tied a lot of tenkara flies with yarn bodies but Chris Stewart of Tenkara Bum certainly has.  In fact, he's inspired a whole subculture of yarners with his recent blue fly challenge.  Chris sent me some samples of some of the yarns he sells and I can immediately see their advantages:
1. Yarn is easy to tie with.  You can easily build up a bulky body if you want, or separate the strands to make a more slender body by untwisting the strands.  That's pretty versatile.
2.  Yarn absorbs water.  That means your fly will sink faster without having to add weight.
3.  It's Buggy.  The stray strands of most yarns just make a fly look "buggier" underwater.  They suggest legs, antennae, tails, and all other sorts of accoutrements aquatic insects are decked out with.  Plus, many fibers become translucent underwater and trap air, suggesting many characteristics of emergence that are also attractive to trout.
4.  Yarn is very durable.  We've all had flies that have been chewed up  by trout, trees, or forceps.  Yarn bodies are much better at fending off these offenders.
5.  It's cheap.  I can buy a lifetime supply of yarn for about $2.  Compared to the going price of a small packet of fancy dubbing at $5 or $6, I"m sold.
I could go on and on about the virtues of yarn-based flies but I think you get the point.  If you like the look of the fly in the picture above, the recipe is below.  Let your imagination substitute different materials and different colors of materials to make it your own.
Recipe
Hook:  Orvis Up-eye Nymph (discontinued)
Thread:  Uni 8/0,  black
Tag:  Small Gold Wire
Body:  Bracken Yarn
Hackle:  Pheasant
Like this article? You might also like these ...