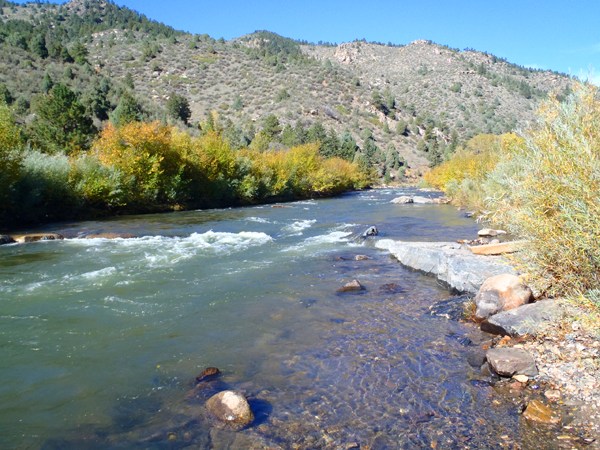 I took the day off from work today to hit Clear Creek thinking the water levels might have come down a little since I was there last weekend.  Nope. Still running high, but fishable.  I also wanted to check out what condition the recent flooding had left the stream in.  Unfortunately, two of my suspicions might have been confirmed.
When I first saw pictures and videos of the flood, I had two concerns:
1.  Would there be a large fish kill?
2.  Would the floods wash out the insect life?
The good news was that there were plenty of fish still around.  But what I found strange was that both days I fished the creek, I was only catching really small fish.  On any give day, I usually catch 9″-10″ fish on average. But post flood, I was only catching 4″-6″ fish.  Not even one above 6″.
Could the flood have have somehow killed off the creek's average-sized fish?  I have no idea.  I'm just reporting my observations.  I would love to hear more about the effect of flooding on fish populations from a fisheries biologist to see if there will be any long-term consequences.
Today, I also caught a rainbow trout.  This was unusual for me as I mostly catch browns on Clear Creek.  Like all the brown trout I caught today and last weekend, this rainbow was also smaller than average.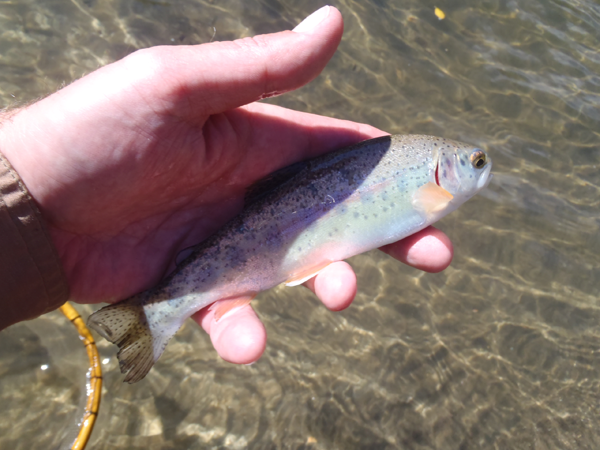 But it was #2 that concerned me the most.  Clear Creek has (or had) a very healthy aquatic insect population.  Today, nearly every rock I turned over was barren.  There were no mayfly nymphs to speak of and I could only find a few case caddis–the kind that secure themselves to the undersides of rocks as stubbornly as the people who defy evacuation orders during a hurricane.
Was the insect population washed out?  It sure looked that way.  I'm not an aquatic entomologist so I can't say for sure.  But the lack of insect life under rock after rock was pretty depressing.
It wasn't all doom and gloom though.  I still caught plenty of fish today. But it just wasn't my usual "Clear Creek experience".  Things were noticeably different.  Still, I also know that nature always finds a way and in time, it will probably get back to normal.
Tackle Used
Line:  18 ft. Tenkara USA 2.5 fluorocarbon level line
Fly:  #12 grey sewing thread sakasa kebari w/ grizzly hackle