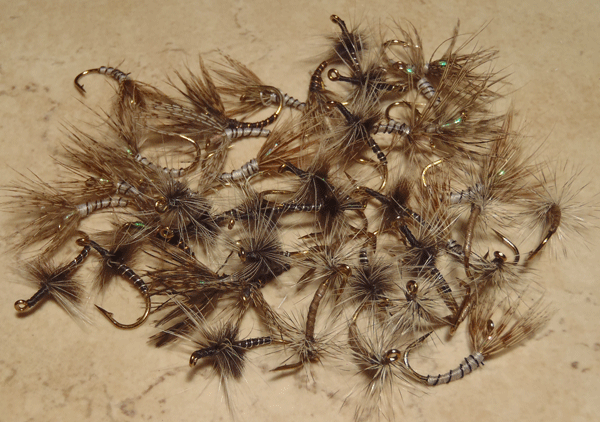 In my last post, I put up some pictures of my tenkara office.  Shortly after, fellow tenkara angler and Holga Master Brian Schiele suggested that it would be fun to see pictures of how other tenkara anglers store their gear or where they tie their flies.  I agreed, and thought it would be even more fun if we made a little giveaway out of it. So, here it is…the Tenkara Talk Fall Fly Giveaway!
Rules
All you have to do to enter is post a picture in the comments section below (i.e. on the Tenkara Talk blog, not on Facebook or Twitter) of your gear room, tenkara office, fly tying desk, or man cave.  The winner will be chosen at random by a cold, heartless robot on October 30th, 2013 and notified by email.
Prize
The winner will receive 40 sakasa kebari style flies (pictured above).  These are a mix of of my own designs (but not tied by me). They're all highly effective patterns and surely more than enough to get you through the fall fishing season.
So, let's see some pics and good luck everyone!