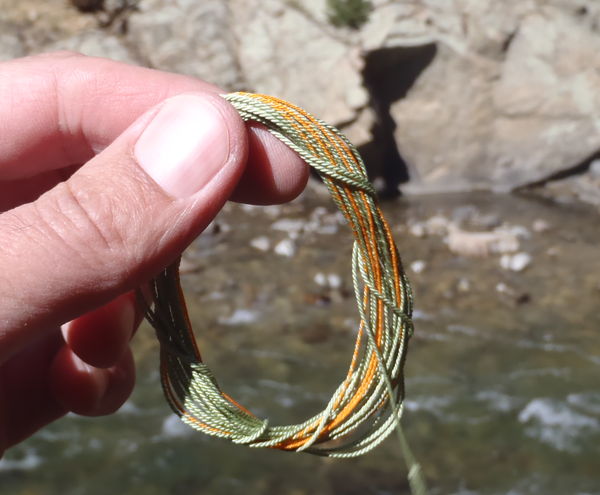 The first thing I think of when I hear "silk fly line" is bamboo. Some say that there is no smoother combination than a bamboo rod and silk line. And since the action of tenkara rods is often compared to bamboo, it would seem like silk and tenkara would go hand in hand. After my recent field tests of the new silk tenkara line from Moonlit Fly Fishing, I can tell you that they certainly do.
Performance
The first thing I noticed when I took the line out of its package was how supple and light it felt compared to a nylon furled line.  I don't have a scale accurate enough to do a weight comparison, but I was struck by how airy it felt in the hand–almost like I was holding nothing. It wasn't until I got the line on the water that I put two and two together and realized that these characteristics are actually great advantages.
The more supple nature of silk creates less resistance in the water, allowing you to get a better dead drift. The line literally "goes with the flow".
The lightness produces less line sag than other, heavier furled leaders I've used making it easier to keep line off the water. This also prevents drag.
However, it also means that it's not a friend of the wind. When the wind really kicked up, I had a very difficult time casting and switched to a level line until the gusts dies down. This was to be expected. In my experience, level lines are just better in the wind by nature since they have less bulk than furled lines and can more easily slice through the wind.
My first fish on a silk tenkara line! Probably not my last …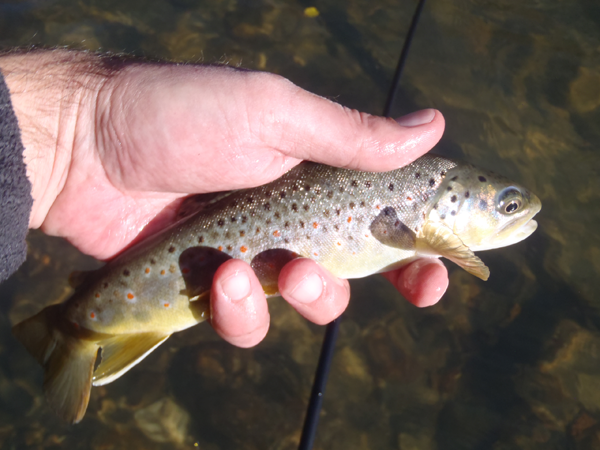 Wind limitations aside, this line casts line a dream. The turnover is…ready…wait for it…smooth as silk! The feel of the smooth turnover is magical and you immediately understand why some purists sing the praises of silk lines. You can make very delicate presentaitons with pinpoint accuracy with minimal effort.
I test cast this line with a few different rods but concluded that it it probably best suited to softer rods (just as silk lines were developed for bamboo). Again, since the line is so light, there isn't enough mass to load a stiff rod. For that reason, I chose to pair it with my Tenkara USA Ito for my field test. And that proved to be a perfect combination.
I tried the line with both weighted flies and unweighted sakasa kebari and would say that it's much more suited to unweighted flies than weighted. I didn't try it, but I imagine this would also be an excellent line for dry fly fishing (but you'll probably want to dress it to prevent it from sinking).
Construction
It's probably obvious by now that this line is made of furled strands of silk with a taper.  What really stood out to me was how tight the furls looked.  The strands seem perfectly married together with no flaws or inconsistencies throughout the entire length of the line.  The overall quality is impressive.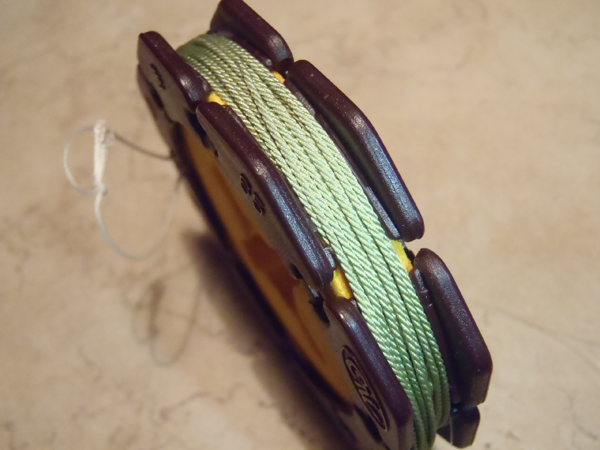 At the business end, there is a pretty standard loop to attach the tippet with a loop-to-loop connection.  At the butt end, there is a dacron loop to attach the line to the lilian with a girth hitch connection.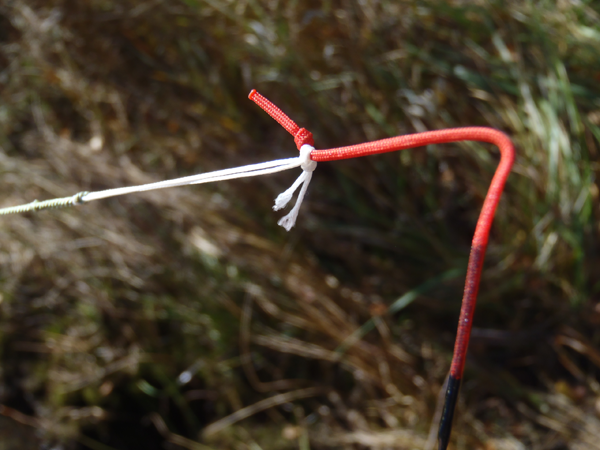 Visibility
Because they're thicker, furled lines tend to be easier to see than fluorocarbon level lines–and this one is no exception.  The majority of the line is a mint green color, but transitions to a bright orange tip to make strike detection easier.  One thing that surprised me was that the orange tip kind of disappears once it sinks. It's hard to portray this in photographs but in the picture below, the tip is underwater and I wasn't able to see it at all.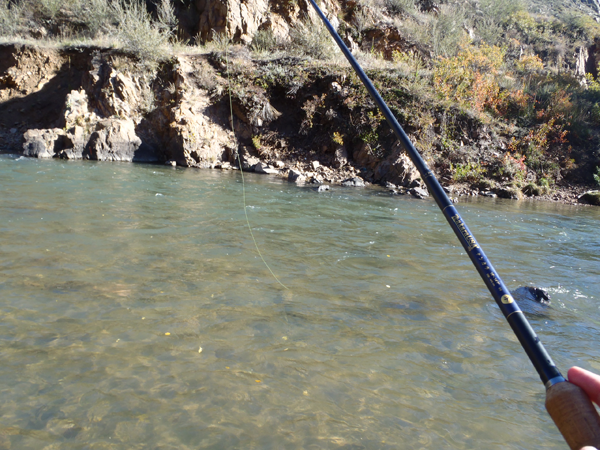 But once the tip is out of the water, it magically becomes high vis again: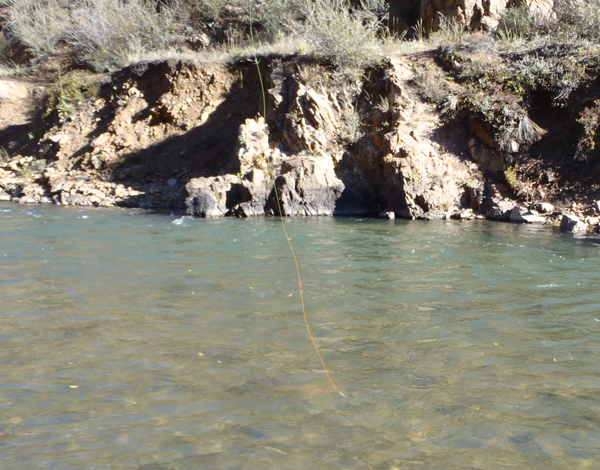 I don't know what causes this phenomenon. You'd think that I'd still be able to see some of the submerged tip. Maybe the water makes the silk translucent?
At any rate, most tenkara anglers I know (myself included) strive to keep most of their line out of the water so the point is probably moot. It was just an interesting observation.
Care & Maintenance
I've fished with regular silk fly lines with my bamboo rod before and remember the ritual of having to take the line off the spool, letting it dry, dressing it, then putting it back on the reel. That's more work than many are comfortable with. But luckily, since there's no reel to deal with and this line is so much shorter than a conventional fly line, it's easy to dry out. Just take it off the line spool, set it somewhere, and let it completely dry.
As for dressing, I'll ask Brandon from Moonlit to chime in with what he recommends. But periodically coating it with red Mucilin is probably the best way to care for this line.
Anyone who has preconceived notions about silk line being a nightmare to care for will be happy to know that this silk tenkara line is much less work than a full-length conventional line.
Conclusion
Overall, I really liked the way this line fished more than many other furled lines I've tried. And for that reason, I'd like to explore using silk more. I'd really like to try out a longer version, so I've asked Brandon from Moonlit to make me some 16 ft. and 18 ft. lines. I'll be sure to report back on those.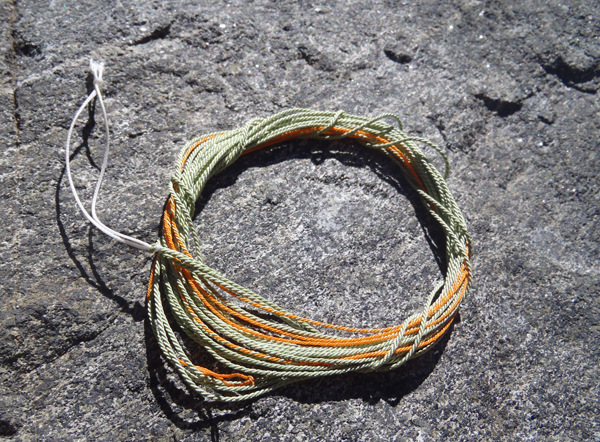 Since these lines aren't officially out yet, I don't have any information on which lengths will be available or pricing. If you're interested, keep checking the Moonlit website for more information.
Have you tried silk line for tenkara?
Like this article? You might also like these ...