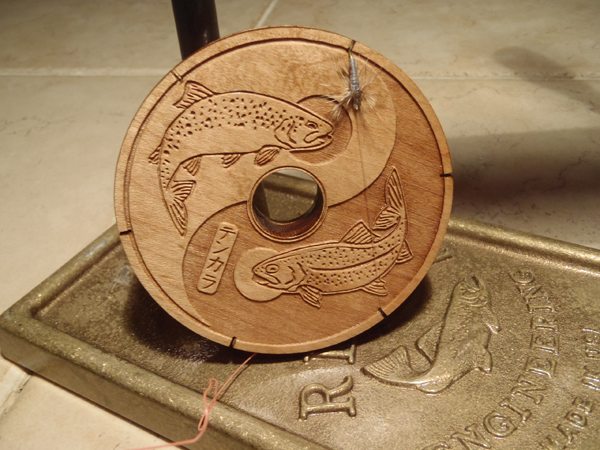 I've always been drawn to unique gear and have a special penchant for interesting tenkara line holders. I have a wooden line spool that I got at the Tenkara Summit that was handmade by Dr. Ishigaki's friend. It's gorgeous (see it here) but there's one small drawback. The hole in the center is too large to carry on a tenkara rod (the rod slips right through). If it weren't for this one detail, I'd probably use it a lot more but most of the time, it sits on my tying desk as a muse.
So I was pretty excited when I came across another beautiful wooden line spool from a company called Zen Flyfishing Gear. After getting over its aesthetics, I realized that this spool has a smaller hole that would stop at the rod grip, allowing me to carry it on the rod! The hole is just big enough to fit on even the thickest tenkara rods I own.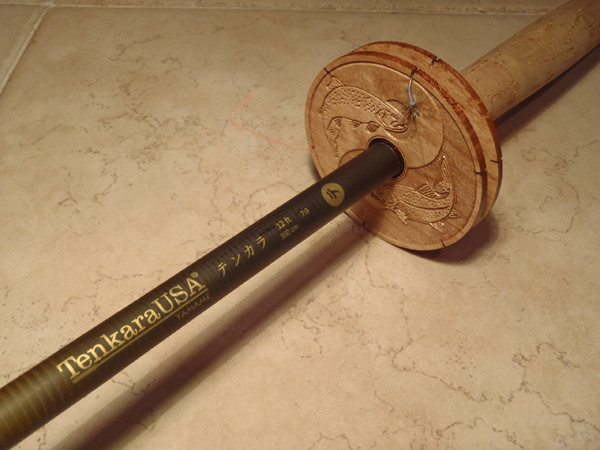 The spool is 3″ in diameter with a 1/2″ groove. At first, I thought it was a little too deep and the smaller inside diameter would slow down the winding process. But it didn't to any noticable degree. Then, I read on the company's website that it's actually intended to store two lines, so then it made sense. One application I can see for this is to leave a "backup" line on the spool and just wind your main line over it. That would increase the diameter of the inside hub while giving you a plan B in case something catastrophic happens to your main line.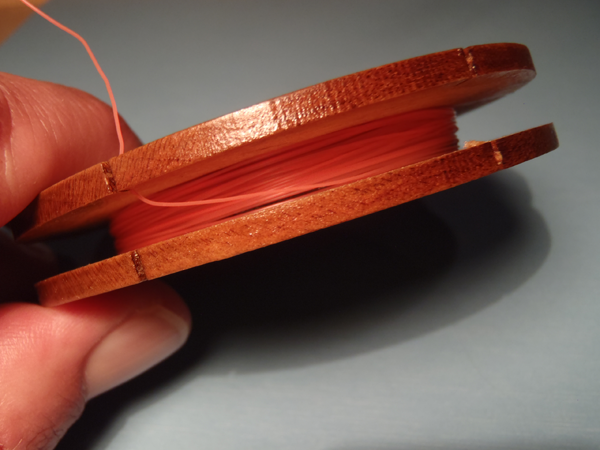 The are notches around the rim to hold your fly and secure the end of the line when you're finished winding up. The notches are spaced out perfectly to accommodate any line length. One thing to note is that the notches seem to hold the ends of furled lines better that level lines (probably because the girth hitch connector is thicker). It will hold a level line, just not as tightly as a furled line.
Now, the best part. This is probably one of the most beautiful looking tenkara line spools I've ever seen. It features a "yin-yang" inset with two leaping trout and the word "tenkara" written in katakana.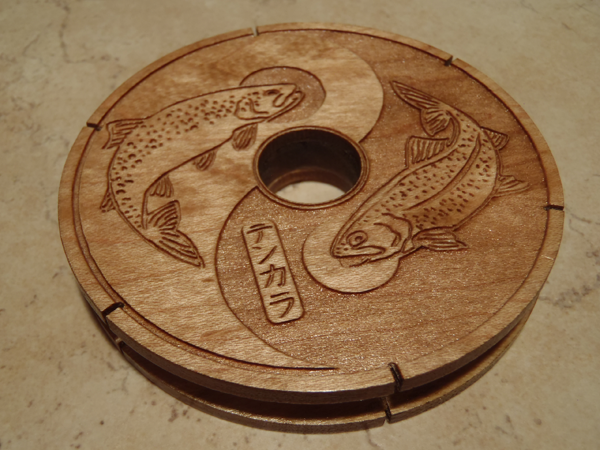 It may be laser engraved, but this spool still looks like it stepped right out of the ancient mountain fishing villages of Japan.
Now, I finally have a spool that is both beautiful and practical. And, at only $20, I can actually use it without having to treat it like a Faberge egg.
To get one, visit the Zen Flyfishing Gear website.