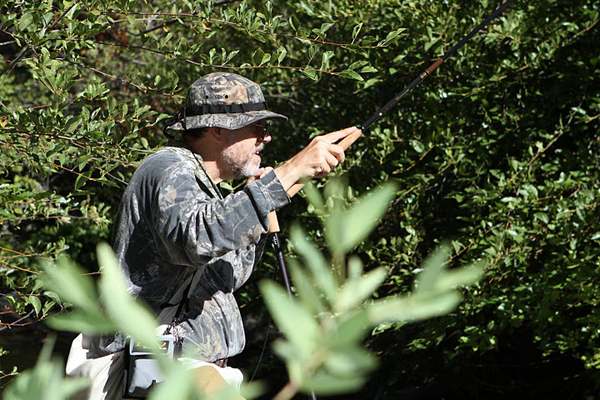 You won't get far in your research on tenkara without coming across the Tenkara Bum website.  It's one of the best resources for learning about tenkara and one of the most popular online stores with a wide range of gear. But many might not know much about the man behind it. Chris Stewart was one of the earliest adopters of tenkara in the U.S. and has since become a highly respected figure in the sport. He is also one of only a handful of American anglers to make the journey to Japan and fish with the tenkara legends in tenkara's birthplace. I recently had the opportunity to ask Chris a few questions to get to know more about the Tenkara Bum himself, his business, and his travels.
Hi Chris. I'd like start off by asking you about your site, Tenkara Bum. You sell a pretty extensive range of not only tenkara gear, but also other styles such as keiryu and even microfishing. Tell us a little about the history of Tenkara Bum–how you got started and and how you expanded over the years.
Chris: My initial plan was to start a blog rather than an online store. I started working on the website in January 2010 and I think it went live sometime in February. I started out reviewing the various Tenkara USA rods and writing about different types of tenkara lines and what line would go well with what rod. Pretty much from the beginning I was a big proponent of Hi-Vis lines and I gave away lines to anyone who asked. At that point I was using a bright pink fluorocarbon line I'd bought from Cabela's. By the time I found it, it was already discontinued but they still had some spools left.
Later that spring a German tenkara angler told me about and Australian fishing shop that carried a Japanese line he though looked interesting. I checked it out and didn't care for the line he pointed out but did see another one that I though looked very promising. That was the orange Sunline. As soon as I got my hands on a spool of it I knew it was much better than anything out there and I decided to go into the line business.
Interestingly, my first sale was not one of the orange lines. I used to make a line that I called "artificial horsehair" which was a tapered twisted fluorocarbon line that was really very much like the line that Eddie Yamakawa demonstrated at the 2012 summit – except this one was made from Hi-Vis pink fluorocarbon – and that was my first sale. I also sold a few horsehair lines and then started selling flies. I sold a TenkaraBum fly collection in a Morell fly box, and then started selling the boxes. I started selling tippet that December, but by far, the first year was just lines and flies.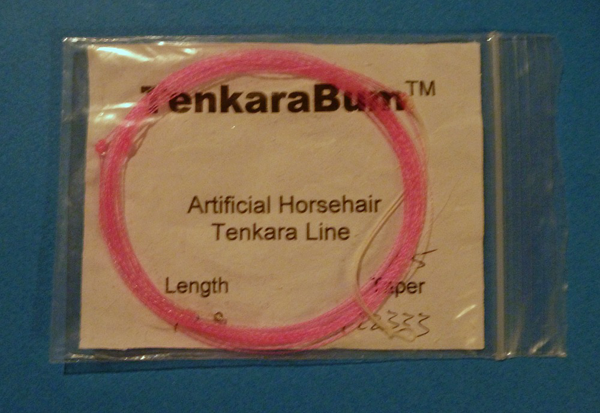 In the spring of 2011 I started selling backpacks and the Tippet Fly Pouch, and hemostats and nippers. I got caps in about then. Also, that's when Keven Kelleher and Misako Ishimura published their Tenkara Radically Simple Ultralight Fly Fishing book so I sold  that. And the Tenkara DVD from Dr. Ishigaki's visit to the US was out then so I sold it. I started selling fly tying materials in May. I just added things one by one that seemed to make sense and fit well with what I already had.
Actually, May 2011 was a pivotal month, but not because of the fly tying materials. That was when I took my first trip to Japan. I saw Dr. Ishigaki again and met Tenkara no Oni. When Dr. Ishigaki introduced me to the people who were attending the Itoshiro Fisher's Holiday, he said that I had Sebata-san's beard but not his skills. Sebata-san smiled. Everyone else laughed.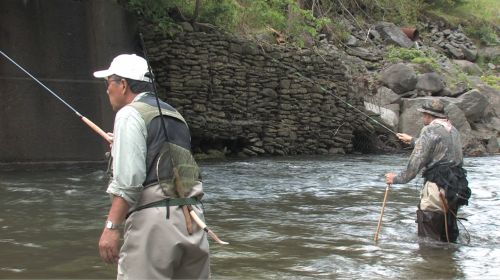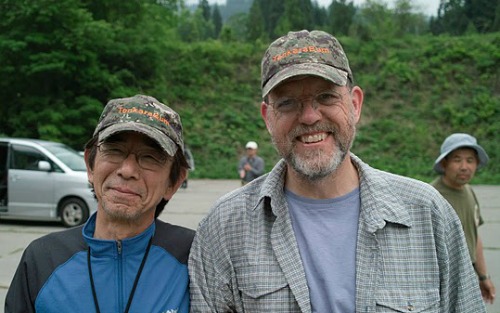 It was on that trip, though, that I made the connection that really allowed me to expand, and through whom I was able to buy lines in greater quantity, and the Tenkara Line Holders and eventually even the rods. When I got back from Japan in June I decided to go full time with Tenkarabum. That summer I was getting really busy and couldn't keep up with the fly orders so I worked out deals with Jeff Smith, Kiwi and Anthony Naples to tie flies for me.
Later that year I added the One Fly tying kits as well, which are kits with the materials for just one pattern of fly – enough material for the 25 flies you can tie with one package of hooks. (Great stocking stuffers, by the way.)
That was also the year that I found out that Tenkara USA was planning to sell a Hi-Vis fluorocarbon line.  Hi-Vis line at that point was the very heart of my business. It became pretty clear that this was not going to be a case of live and let live, I sell this stuff and you sell that stuff.
Oh, one thing I left out. When I was in Japan in May, I bought a Shimano tenkara rod – not one of the Mainstream Zoom rods or even one of the really nice LLS36NX rods that Dr. Ishigaki had with him when he was here in 2010, but their entry level LLS36NB.  For an entry level rod I was surprised how nice it was.
With the help of my contact in Japan I started looking at the specs for some of the other Japanese rods. Late in 2011 I ordered a Daiwa LL41SF and was just blown away when I got it. It was just so nice.
That was it. I decided if Tenkara USA was going to sell Hi Vis lines, I had to sell rods to make up for the business I knew I would lose in line sales. However, rather than go after the very heart of their business, I decided to sell rods in niches that Daniel had already told me he wasn't interested in – the high end rods – like the Daiwas, and the low end rods like the Soyokazes. Actually, when I got in the first Soyokaze rods I wasn't even thinking of tenkara. I was already thinking of micro fishing. I ordered the first few because they were rated for a tippet as light as 1# so I thought they might be good for small fish.
As surprised as I was about the sweet casting of the Daiwa LL41SF, I was even more surprised by the Soyokaze. I did not expect it to be able to cast a tenkara line, but I found out that it did, and very nicely – and that it was really a fun little rod. And it's not just me, the guys who have them love them. Well, with the Daiwa tenkara rods and the Soyokaze I figured I was two for two, so I started really combing through the catalogs to see what other rods would work in niches that were not being filled here by the Tenkara USA rods. I really didn't want to compete with Daniel, I wanted to sell rods that he didn't want to sell. Well, one rod that jumped out at me was one that sounded a lot like the Backpacking Light Hane, which by then was already discontinued. I got a few in, and although they are a bit stiffer than my favorite rods, they weren't as stiff as the Hane, and they were lighter and more compact. I thought it would be great.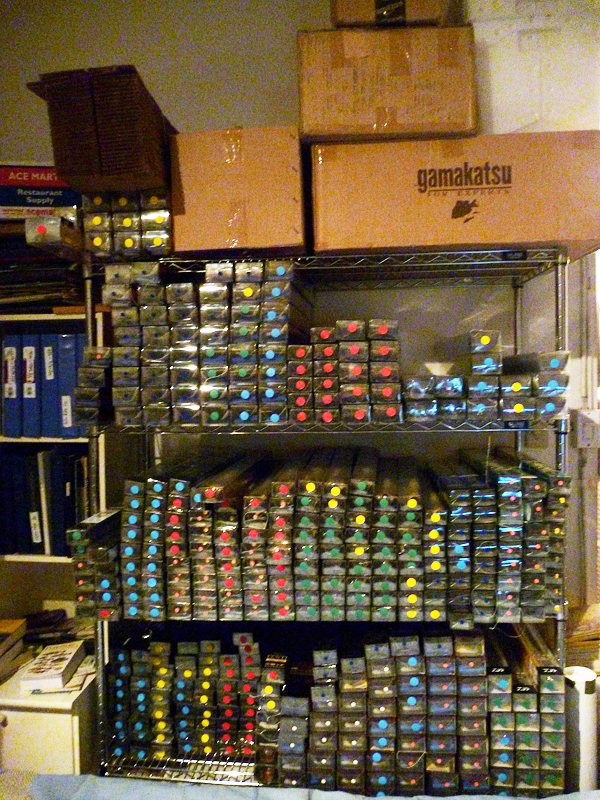 So, you know, since then I've kind of been thinking of how I like to fish, and trying to keep a finger on the pulse of what people here are asking for and how they actually fish. From the very beginning, they asked for rods capable of handling bigger fish and everyone who gets a tenkara rod tries to Czech nymph with it. It turns out that Keiryu rods are better at both  of those things than tenkara rods are. Hey, by then what have I got to lose, so I started getting in more keiryu rods.
One thing I've learned from the first time I tried the orange Sunline – which by the way was a saltwater spinning line, not a tenkara line – was that just because something doesn't say TENKARA on it doesn't mean it can't be used for tenkara. I'm not a missionary. I'm not trying to spread the word. I'm trying to find the best gear to let people fish the way THEY want to fish.
So, you mentioned your trips to Japan. Can you tell us more about that?  What were some highlights of your trips and did you learn anything there by interacting directly with Japanese tenkara anglers that surprised you?
The highlight of every trip is always the food. It turns out that the bento boxes (packaged lunch or dinner that comes in a shallow compartmented box and  consists of small portions of quite a few different things) that are available at all the train stations are really good! Plus, it seems the ground floor or the basement of all the department stores have lots and lots of different food counters with all kinds of pastries and delicacies. Wonderful. And there's this restaurant in Takayama that serves wagyu beef (like Kobe beef) that you grill at your table. It really does melt in your mouth. Outstanding. Oh, you wanted to talk about fishing.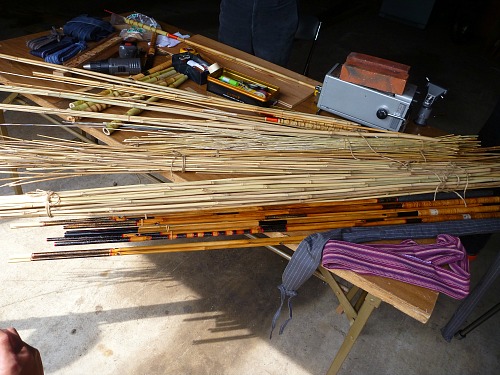 The only thing that really struck me was when I got to fish with Tenkara no Oni. He was almost adamant about getting into the proper position so that your first cast could not only hit your target but also get the proper drift. So many people (myself included) seem to spray casts all over like a shotgun, but his casts were like a rifle shot – not so much that the cast itself was straight and flawless, which of course it was, but because he moved to get to the proper spot to not only make the cast but to get the drift he wanted. He spent a lot more time fishing downstream in the eddies behind rocks than I would have expected. I've been taught to fish upstream, particularly on small streams, but even on pretty small water (a small side channel from a larger stream) he directed me to fish downstream in an eddy that we had already walked above. I would have surely thought that any fish there would have seen us and not been interested but sure enough, I put the fly where he directed and moved it as he directed, and the fish was there. I didn't catch a lot of fish in Japan, but that one was special.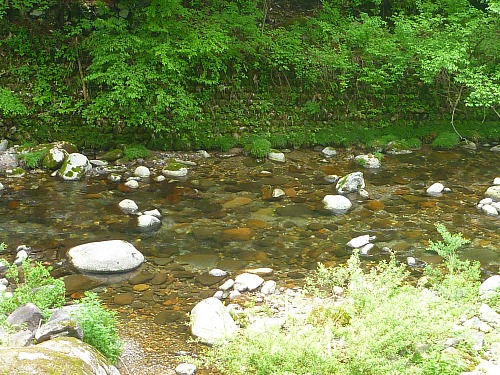 I also fished a bit with a guy whose name I am embarrassed to say I have forgotten, but his nickname was "one cast, one fish." He was also very precise in his casting, and although not every cast produced a fish, if he were fishing the average American stream I think he would have done very well indeed. The stream we fished was just below a dam and so the streambank was not scoured like many of the Japanese streams you see in the videos. It could have been any small stream in the Catskills or Smokies. After that day I think my nickname was "one cast, one tree."
All the tenkara anglers I met were universally extremely friendly and more than a little surprised that a couple Americans were even interested in tenkara, let alone have traveled halfway around the world to fish with them. Deep down, though, they were just fishermen like any group of guys here. It was fun.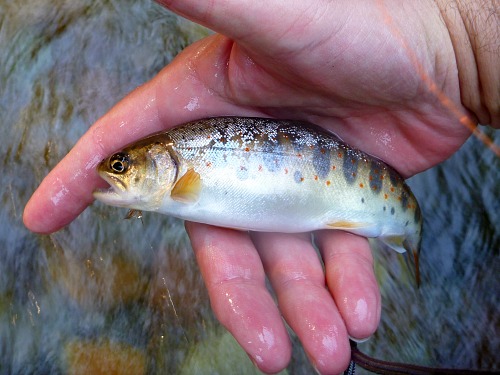 On my second trip to Japan I didn't fish at all. I went in February, when  the season is closed, in order to see the Osaka Fishing Show. There are two big fishing shows in Japan, one in Tokyo (maybe Yokohama) which is geared more to retail customers, and you can buy gear there, and the one in Osaka which is geared more to dealers and nothing is for sale. From looking through the catalogs from Daiwa, Shimano, Nissin, Gamakatsu, etc, I already knew that tenkara is  really a pretty small sliver of fishing in Japan, but the Osaka show really underscored that. There were lots and lots of booths, and innumerable rods of all kinds, and almost no tenkara rods to be found.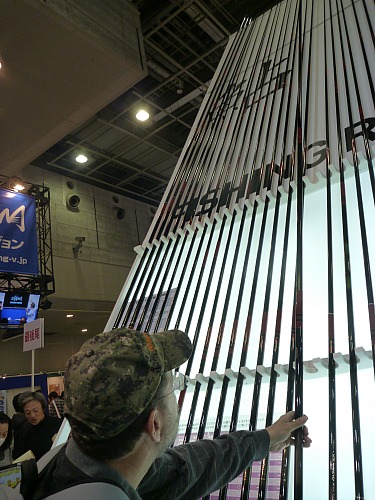 Daiwa didn't have one tenkara rod at the show. Shimano had one but it wasn't on display, and when the guy got it out it for me it wasn't the new Tenkara 34-38ZL, it was the Mainstream ZE, which I had already seen and even fished with. Nissin had the 6:4 and 7:3 Zerosum 360s and the 6:4 and 7:3 Pro Specs because my supplier had specifically asked that they bring them for me to look at. Gamakatsu had one each of the two tenkara rods they make, but they were lost in a sea of keiryu rods and an even bigger sea of ayu rods. Tenkara is big to all of us here, but there is small compared to keiryu fishing.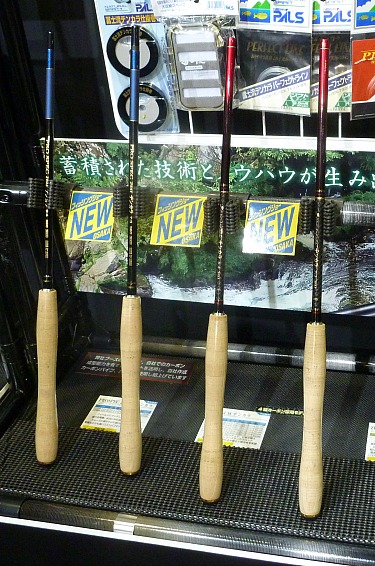 And the crowds! Wow. It was much, much more crowded than the fishing shows I've been to here. They say the Somerset, NJ fishing show is the biggest in the country. The Osaka show must have been twice as big with four times as many people.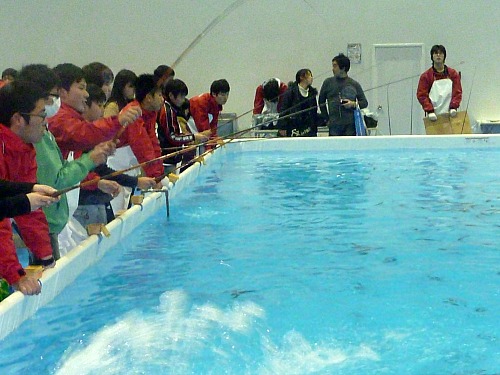 You're located in New York City, which doesn't strike me as an easy place to get out of and find a trout stream. How do you get to your local streams?
Chris:  Oh, it's very easy to find a trout stream. The Croton Watershed chapter of TU, which is the chapter I belong to, has published a booklet on fishing the Croton Watershed, which is a series of tailwaters running between the New York City reservoirs in Westchester and Putnam counties, the two counties just north of New York City. Also, the neighboring states, New Jersey and Connecticut, publish all the trout streams in their states on their websites.
For the last few years, up until last March, I always rode the commuter trains to go fishing, because the trout streams in the Croton Watershed, which is where I usually fished, are within the New York City suburbs. I would get off at the closest train station and walk to the stream, which was anywhere from a half mile to three and a half miles from the station. Last year I started renting cars, though. I was fishing with a friend in early March and fell in. I was soaked up to my neck. I was extremely lucky I was not alone, and had access to a car with a heater, and even better, the guy was with had a change of clothes, which I hadn't ever thought about. If I'd been fishing where I normally fish alone, I would have had a mile walk to the train station and then had to sit outside in the wind for up to an hour before the next train came. Hypothermia is not something to take lightly – certainly not as lightly as I had. From then on, my wife was adamant that if I went fishing alone in cold weather I rented a car.
What are your local streams like?
Chris:  I fish both tailwaters and freestone streams. The tailwaters are all in the New York City water supply system, running between reservoirs in the next two counties north of New York City. There are five that I fish, and four of them are really pretty small. The one that was my favorite before the last hurricane dropped so many trees into the stream was a steady 11 CFS all year. The largest one generally runs anywhere from 75 to 150 CFS. The other three seem to be in the 15 to 30 CFS range. None of the five are really high gradient although they do have enough rocks to create good eddies and seams. Not really any plunge pools, though.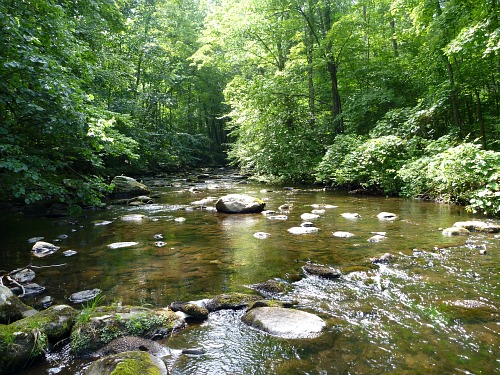 I fish a couple freestone streams in New Jersey. I have never checked to even see if they have a gauge that reports the flows. I would guess one averages about 20 CFS and the other, which is a high gradient wild brookie stream has to average less than 10 CFS.
The largest of the streams is big enough to fish 4.5 meter rods without a problem. The smallest fishes best with a 2.9 meter rod although even that's a bit long in some spots.
I'm a couple hours away from the Catskills, but I almost always fish closer to home. I catch more fish and see fewer fishermen. It truly is amazing how much good water people drive past to go fishing further away.
Do you have a few go-to rods & lines or do you tend to fish with a lot of different gear to do product testing?
Chris:  I have a few rods that I dearly love but it seems like I fish with different rods each time I go out. I am sure people know that any of the rods can and will catch fish, but for the website I like to have photos of fish with the rods. So, whenever I have a new rod that I'm considering carrying on the site or a rod I've recently added, I want to fish with it enough to get some good pictures. Of course, considering the small streams I fish, most of those fish are going to be only 7-12" long. Also, I do get questions about all the rods and how one compares to another, so I really do have to fish with all of them. So what happens is that as much as I love the Daiwa LL36SF, which is an absolutely wonderful rod – I don't remember the last time I fished it – other than very briefly one day to compare it with the Nissin Zerosum 6:4 360.
Because most of the fish I catch are modest fish, I really love to fish with the seiryu rods. They're just so light. All these people that have very recently started talking about light rods have no idea. The seiryu rods range from probably .7 to 1.6 ounces. That is a light rod.
For lines, my go to line is the orange Sunline in a size 3. I can't tell you how upset I am that Sunline stopped making the size 2 line because it would be perfect for the seiryu rods.
Basically, I want to fish the lightest line I can get away with. In my view, the essence of tenkara is the light line. If you are going to fish a heavy line that you can't keep off the water – in moving water this is, where you have drag to contend with – if your line is laying on the surface you are giving up the biggest single advantage that tenkara offers. On still water that's not so important and other factors come into play, so a floating line really does make sense if you are fishing poppers or bass bugs.
People say they love tenkara because it's simple, well, fly fishing with a rod and reel doesn't have to be complicated. The advantage of tenkara isn't simplicity, it is that you can keep so much more of your line off the water than you can with a fly rod and PVC line.
I know you're not a one fly guy, but if you had to choose only one fly to fish with the rest of your life, what would it be and why?  I think I have a suspicion of what it might be.
Chris:  If you are thinking I'm going to say the Killer Bug I'm going to surprise you. No question that's a great fly, but if I could fish with only one it would be the Killer Kebari. Most of the time, the hackle doesn't matter, but it seems like sometimes it does.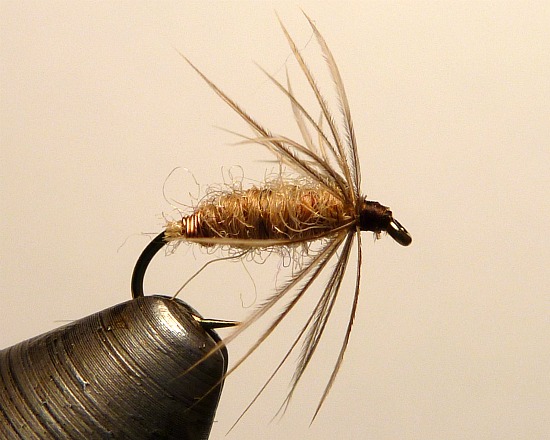 Actually, I was going to say Killer Bug, but I guess I'm not surprised that you'd choose the Killer Kebari.  🙂
In just about every fishing picture I've seen of you, you're wearing camouflage. What lead you to that decision and how much of a difference do you think it makes?
Chris:  If the surface of the water isn't broken, the fish can see you. They can see colors. Dr. Ishigaki's research suggests that they cannot see details or they can't get a sharp focus. If you move slowly and if you wear muted colors that match the background, you're better off. Those sky blue fishing shirts, though, the only background they match is blue sky. They're great for fishing the salt flats, but with a dark forest behind you, or a rocky canyon, you are going to stand out and it will be easier for the fish to see you. Look, we know camo works. Soldiers and hunters have worn camo for decades. Since fish don't have the visual clarity to see fine details, camo should work even better when hunting fish than when hunting deer or turkeys, which have great eyesight. Most anglers probably think – obviously think it isn't necessary because almost no one else wears camo. Look at it this way – it can't hurt. You have to wear something, it might as well be camo. I keep thinking I should carry camo shirts. I already have the slogan – Fish close. Fish camo.TM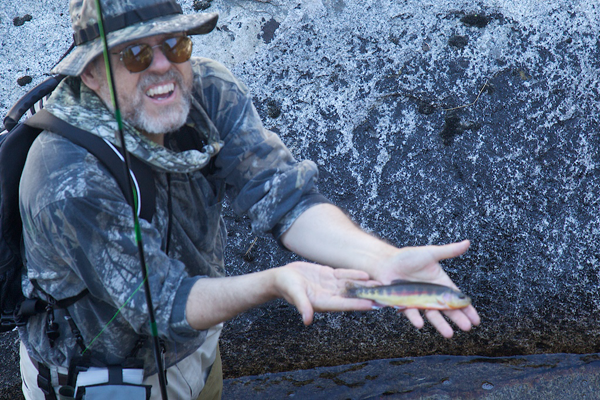 We've mentioned microfishing a couple of times. I've never tried it but as I understand it, this is an ultra-niche sport where you try to catch the smallest fish possible or the widest variety of species of chubs, minnows, etc. I think most anglers probably get more excited about catching big fish. So what do you think the appeal of micro fishing is?
Chris:  Just like there are ten colors of Tenkara, there are ten colors of micro fishing as well. Different people have different reasons. Some are indeed trying to catch the widest variety of species. It's like bird watchers who want to see as many species as possible – not just the big ones.
It turns out that most of the species of fish in the US are pretty small, so once someone working on a life list catches all the game fish and other large fish –  they pretty much have to become micro fishermen. A few guys are trying for extremely small fish, but that is really a goal of the Japanese tanago fishermen, where they are catching only a few species of tanago, but they want to catch the smallest ones. Here it's more a goal of different species rather than smallest fish.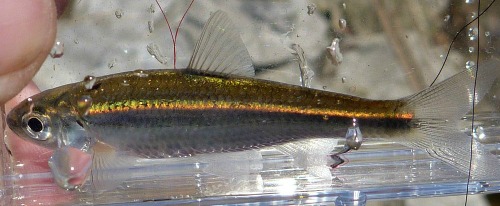 For a lot of guys here, it isn't lots of species or smallest fish, but just local fish –  the brook at the end of the road or the pond in the town park. It probably has fish and probably doesn't get fished much. Micro fishing will never be the elbow to elbow combat fishing that you see on opening day in PA or when the steelhead are running in NY. For them it's not a case of "I need to catch an Orange Throated Darter, where does it live" but more "there's a body of water, what lives there and how do I catch it?" For them, I think going to the same stream every weekend and catching the same trout (and maybe the exact same trout) would get a little old.
And of course, for some it is just a complete rejection of the whole mine is bigger than yours competition aspect that has enveloped fly fishing ever since (probably even before) the cover of every fly fishing magazine started showing some guy holding this huge fish in the exact same pose. In a sense, tenkara is a rejection of that, but micro fishing is even more so.
I've had more than a few customers tell me that micro fishing has been the most fun they've had fishing since they were kids. It brings a whole new meaning to the word "play" in fishing.
What is your proudest micro fishing accomplishment? The smallest fish? Rarest species?
Chris:  Nothing to do with pride. The catch that meant the most to me was last spring in Arkansas. There is a fly tying gathering there every spring called the Sowbug Roundup that I've been to a couple times. I did some research before going down this last spring and found out that there is a species of darter (the Strawberry Darter) that only lives in one stream in north central Arkansas (the Strawberry River). It wasn't too far from the Mt. Home, were the Roundup was, so one day I decided to go and try to catch this darter. I think I did, but it's another case where two species look almost exactly the same, so I can't be sure. Based on the preferred habitat within a stream of the two different species, I think I caught the one I was after. That was the rarest, but not the one that meant the most.
For some time, I've thought it would be an interesting challenge to have a road trip where you had to stop at every stream the road crossed – no matter how large or how small – and catch a fish from it before you could keep going. I first thought about it when I noticed how many streams I crossed on the way to the famous rivers in the Catskills. I've never really done it, but that day after I'd caught the Strawberry Darter I was driving to another spot much further downstream when I  happened to cross what was barely a trickle coming over the road – so small they didn't even put in a culvert.

I can't drive over or next to a body of water and not wonder what lives there and how do I catch it? When I drove over that trickle I slowed the car and looked at the little pool at the side of the road – and saw fish. I had to stop and I had to catch a fish – and I did. It was just a  creek chub – neither rare nor remarkable. It was the first time, though, that I had taken up that challenge – even if it was just one very little stream.
One other memorable catch was also a creek chub (creek chubs are underrated, you know). I was fishing a very small stream for little wild brookies and I hooked a creek chub that probably went 7" – big for a chub but certainly small for most trout anglers. The rod I was using, though, was actually designed for catching chubs (a Japanese fish called a Pale Chub). Wow, what a fight. I almost couldn't land it because the rod is soft and it tried mightily to get into the branches of a downed tree. It was one of the most memorable fights I've ever had with a fish. To catch a seven inch fish and have it be one of the most exciting fights I've ever had – that's one of the attractions of micro fishing. Match the gear to the fish, and very mundane everyday fish can be very exciting and very memorable. One man's dink is another man's trophy.
Last month, you exhibited at the International Fly Tying Symposium where it sounds like some big names like Gary Borger stopped by your booth. What was the general reaction to tenkara at the show?
It was good, but it was actually better last year. This year there seemed to be fewer people at the show and more of the people there were shopping rather than buying. People are concerned about the economy and some are very concerned about health insurance (I lose my insurance and next year it's going to cost almost exactly twice as much – that's a lot of money coming out of the "toy" budget). As one woman said at the show "No one has any money this year." Also, more people have heard about tenkara now, and so more of the people we spoke to either had already decided tenkara wasn't for them or they had already bought a rod. Of course, a lot of the people at the show were at last year's show, too, so some of the people who had bought rods did so at last year's show.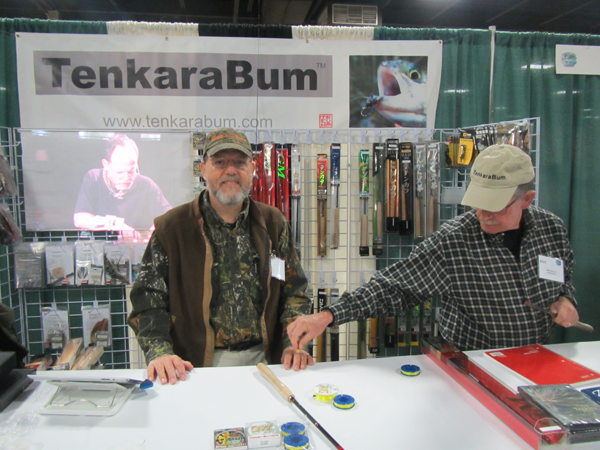 So my last question is what do you think the future of tenkara looks like? 
The early origins of tenkara weren't documented so they remain mysterious. The technique was pioneered by commercial fishermen who were likely illiterate and probably wouldn't have felt the need to document the day-to-day activities of their mundane livelihood (after all, how many of us come back from the office and write down what we did that day?). But now that we live in the Information Age with so many new technologies such as social media prevailing, it seems that we're now the writers of history that future generations of tenkara anglers will refer back to 10, 20, 30, or even 100 years from now.
Well, I don't think a lot of what we are writing, particularly on social media, is going to be around in 10 or 20 years. I'm sure everyone has been warned to be careful what you say online because once it's out there it's out there forever, but I don't think that's true. I think the half life of online content is about two years. One of the early forums where the first tenkara discussions took place changed their servers and all the old threads just disappeared. Blogs come and go, and when they go who's going to archive someone else's blog? Even photos – if  they're hosted on one of the sites like Photobucket and you delete the photo from your account or close your account – poof.
I think twenty years from now tenkara as practiced in Japan will be about the same. The technology will continue to improve, but tenkara there will be pretty much the same as it is now. In the US, though, it will broaden tremendously. It will be like the finches in the Galopogos. Tenkara in Japan is practiced only in a relatively small area where there are small mountain streams. It's pretty analogous to Colorado and Utah. Tenkara in the US is not going to be limited to Colorado and Utah. It will be practiced from Maine to Hawaii and from Florida to Alaska. From trickles at 10,000' to sea level – in the sea, for that matter. Everything from very high gradient cascades to glassy smooth ponds. From sakasa kebaris to San Juan worms. From midges to muddlers. People will catch trout, bass, crappies, carp, even steelhead. And it will all be tenkara. To all those people want to keep tenkara here the way it is in Japan, all I can say is the genie has left the bottle.