Another sign that tenkara is continuing to grow–we now have 3D printed line spools! Michael Hackney of The Eclectic Angler has been taking advantage of the latest in 3D printing technology to produce some really interesting tenkara line spools.
Specs
Diameter: about 50mm/slightly less than 2″
Center hole diameter: 20mm/.78″
Width between flanges: 5mm/.2″
With a wide range of colors (as well as color combinations) available, these spools are not only unique looking, but are unique in their composition. Unlike most plastic spools, these are "biodegradable". That's both a comforting and scary word for someone purchasing gear that they want to last. So, let me allay any fear. They won't degrade under normal use so you'll get plenty of mileage out of them (yes, it's OK to get them wet). But because they're made from cornstarch, once lost or tossed, they won't sit on a stream bank or landfill for 10,000 years. That's comforting.
The spools are a little smaller than I thought they would be. Here's a side-by-side comparison with the familiar Meiho 2.73″ "blue spools" sold by Tenkara USA.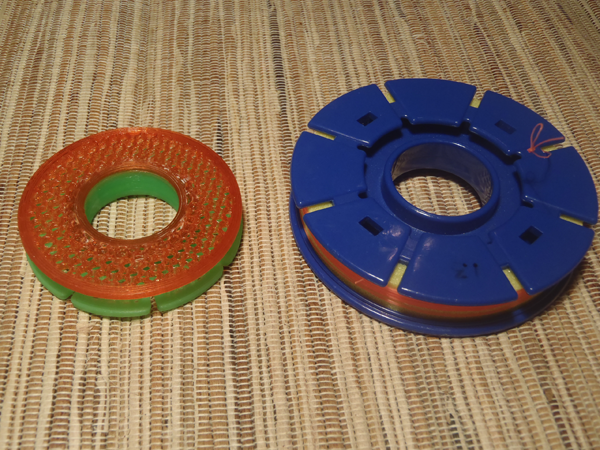 What I like
The center hole on these new spools is large enough to fit through any tenkara rod (as well as your finger for more comfortable winding) and the perforated side plates create friction, making it easy to securely grasp. Overall, the spool is very ergonomic and I like the way the material feels. Plus, the different color options give you a chance to devise your own line identification coding system.
What I'd Change
The spools are small in my opinion. I'd like to see at least an option to choose a bigger diameter spool closer to the size of the Meiho one. Also, the grooves cut into the side plate work fine for furled leaders with a girth hitch loop, but are too wide to hold the end of a a comparatively thinner level fluorocarbon line.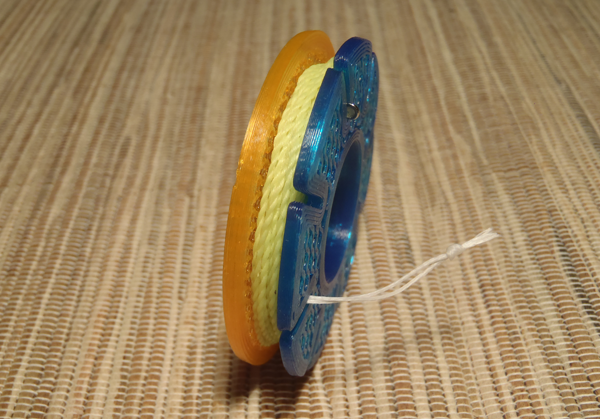 An easy work around is to thread a level line through one of the holes. It actually holds pretty well but, in my mind, is not ideal since it takes a little more work.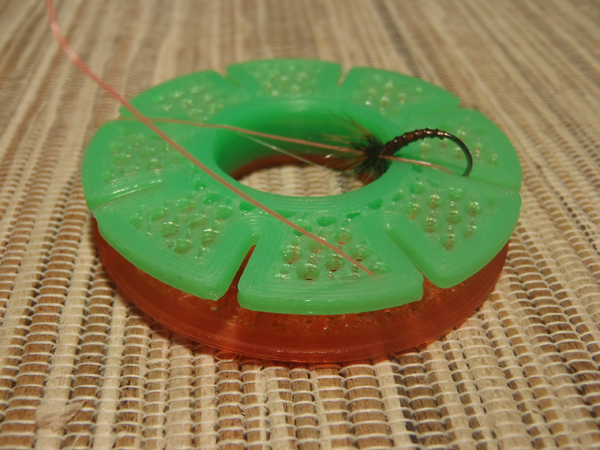 If I were making this spool, I would do alternating thick and thin grooves so that no matter where then line ends up after winding, and no matter what the material or diameter, I'd always have a place to secure it. I'm not sure that's possible with the current state of 3D printing but I'm sure it will be.
One more thing. Because the Meiho spools have a foam insert, it's possible to wind and store just a line on it (i.e. with no attached fly or just a tippet). But with these 3D spools, I simply could not figure out how to wind a line with no fly. I would like to see Michael add a foam core or some other friction-based feature to start winding a line without a fly. Many of us store our tenkara lines that way so I think it would be a great addition.
Conclusion
Overall, I'm really excited about these spools and think that Michael is a true visionary. He's taken an emerging technology and applied it to an emerging sport in our country. You have to have some guts and some foresight to do that! And, given his background in fly fishing ingenuity, I have the feeling that this is not the last we'll be hearing from Mr. Hackney on tenkara innovations.
If you want to try out some of these new 3D printed spools and choose your favorite colors, click here.