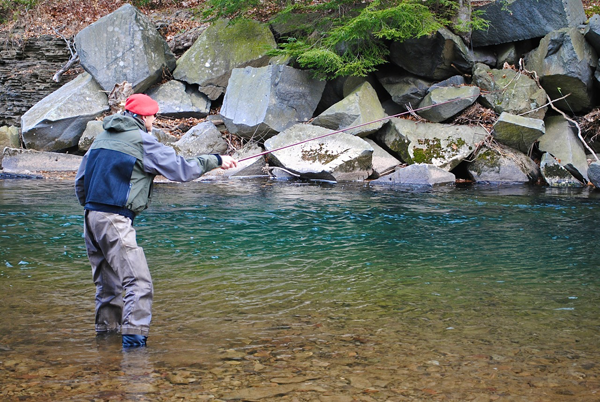 If you're an American angler and love bead head flies, you have one man to thank: Theo Bakelaar. While bead head flies have been fished in Italy for as long as 100 years, Theo was the first person to introduce them to the United States, earning him the nickname "Mr. Goldhead", and sparking a revolution in fly tying. Since then, Theo has become a world renowned angler, tier, and author. When I heard he also fishes tenkara, I was curious to know a little more about what tenkara looks like through the eyes of such a prolific sportsman so I was grateful that he agreed to do the following interview.
Jason: Hi Theo, thanks for doing this interview. First, can you tell us a little bit about yourself?
Theo: Theo Bakelaar is the name and live in the Netherlands. Maybe I should say, "I live close to the city of Amsterdam". Now you all know where my home is.
When I was a young guy I had to fish for our food at home…that's how it was. After moving to the Royal Dutch Marines for 7 years and working for 35 years as a sports teacher in a Dutch state prison, I retired at the young age of 58.
My passion for fly fishing started during that time when I worked in the prison. It was more a way of therapy for me. A way to forget all the shit over there and feel the freedom of nature without bars and prisoners.
It was about 25 years ago that a couple guys in jail tried to shoot me down but I escaped. After that I, took a plane to the USA for 6 weeks to forget and fish each day. That was also the time that I introduced the goldbead flies into your country at the conclave in West Yellow Stone. Painted in gold I tied those flies and become Mr Goldhead.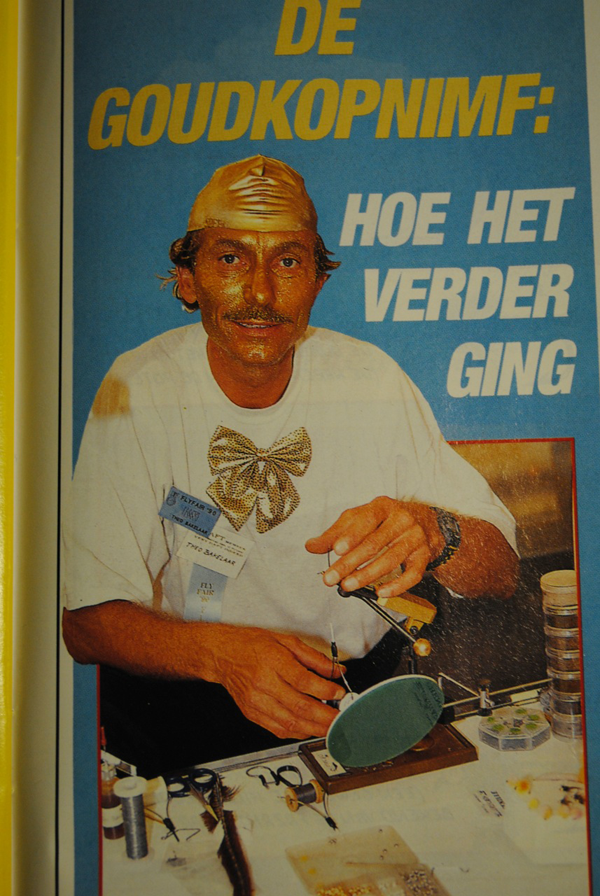 Flyfishing and tying is my passion. I have fished in a lot of countries all over the world and made a lot of friends. I was a guide for 18 years in the Scottish Highlands and tied at many shows around the world. For me is it more to be free and enjoy nature with my fly rod.
I like to fish in countries where the wind of love is blowing and hope that there is a lot of wind.
After visiting the USA and its great fishing waters I decided to go back every year and travel around for fishing. I met Mr. Chuck Furimsky, the director of your famous International Fly tying Symposium and came back every year to tie flies there and fish with him for a couple weeks.
I have raised 2 nice daughters and adopted two new young Chinese girls who are still in my house and are ready to fly out in 2 or 3 years.
Oh yah…I wrote for a couple of books and magazines about my experiences with fly tying and fishing stories.
Well thats all…the best thing is that I met beautiful people around the world and fished many nice waters with a lot of good memories.
Jason:  How and when did you first hear about tenkara?
Theo: I saw it in magazines for the first time but didn't spend to much time on it. I was tying in Belgium and saw a guy selling these rods and we start talking about it. I had a lot to say about my way of fishing and told him that I would miss my casting work/pleasure if I don't have a reel on my rod with a fly line.
Jason: Please describe your first tenkara experience. Where were you? What did you think of tenkara after your first time trying it?
Theo: When I was in your country last November for the fly tying symposium, that man I had seen in Belgium gave me a rod for free to test it. It was completely new for me but we have enough knowledge to handle a rod like tenkara. I tried some different ways of casting with it and have to say…easy job.
Jason: Do you typically fish tenkara flies or western flies with your tenkara rod?
Theo: I didn't fish with Tenkara flies at that time…. didn't have them and used my own flies that I believe in. It's what you want with your fly…. drifting, jumping on the water and so on. I let my Beetle fly walk on the surface because I like that and think it's a good way to do it. If I had a small nymph I should wiggle it a little with my long rod to let it move in a natural way.
Jason: What are some of your favorite flies?
Theo: Like I said, dry flies like a Beetle, a caddis foam fly with rubber legs that can walk on the surface or mayflies with wings and use the dapping technique you use with a silk line (blow line) like I did in the Highlands for dapping wild brownies. There are so many flies you can use…it depends on the time in the year you fish. I like to fish with spent flies too.
Theo's Goldhead Stonefly …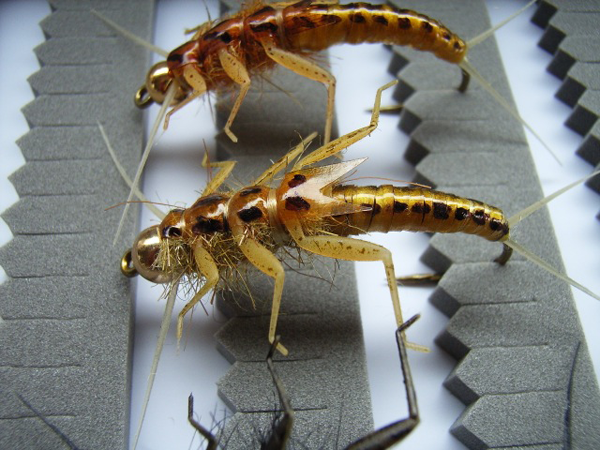 Theo's Goldhead Black Stonefly …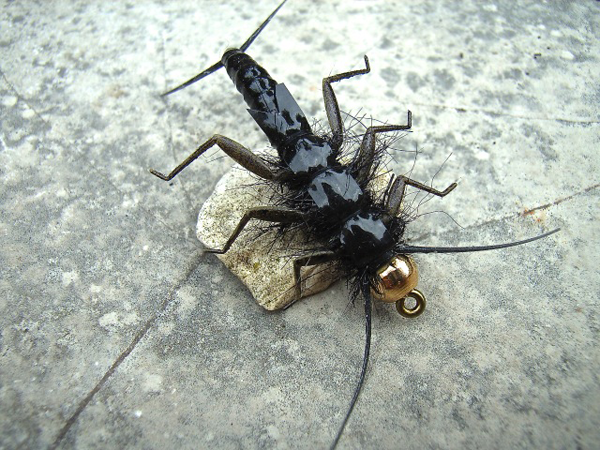 Theo's Damselfly …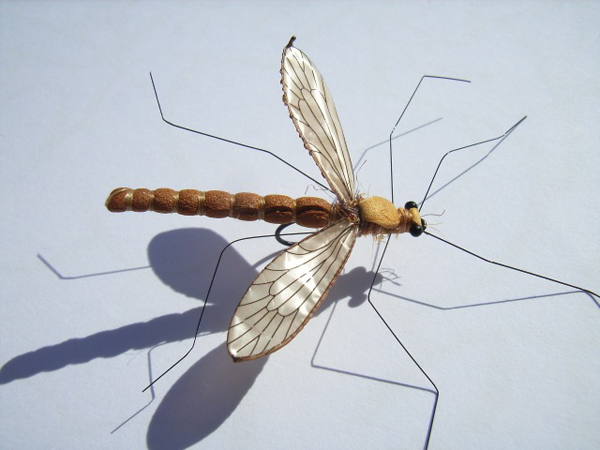 Theo's Caddis Pupa …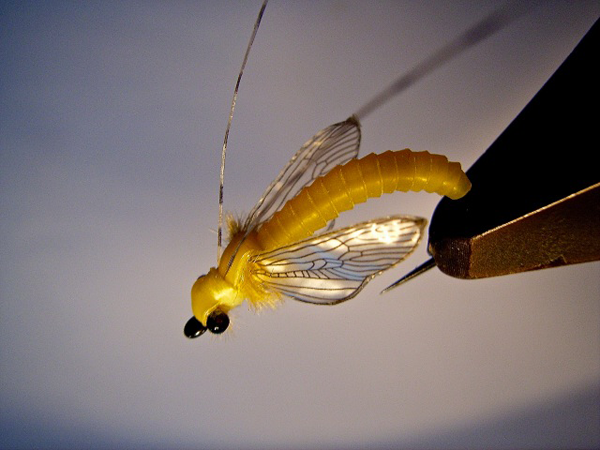 Theo's Blue Damsel …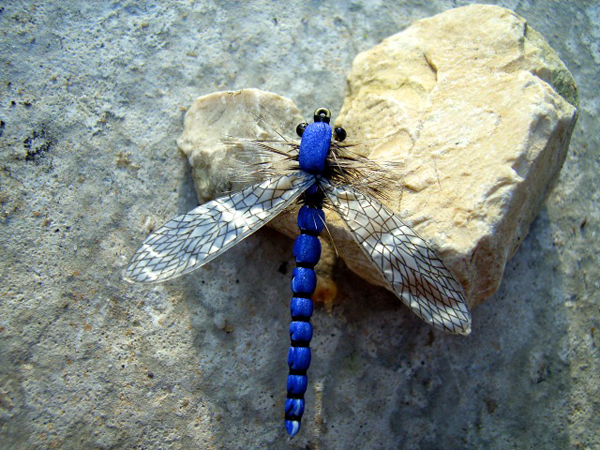 Jason: What kind of tenkara rods and lines do you use?
Theo: You have my rods as a photo so you can see that. I have twisted leaders and some spare tops for my rods. Remember that guy gave it all to me to find out how tenkara works.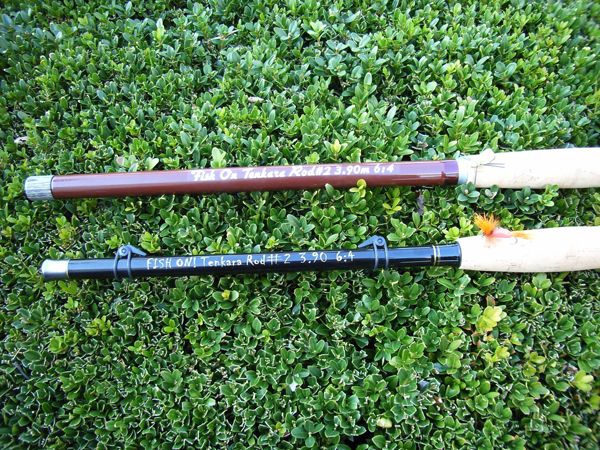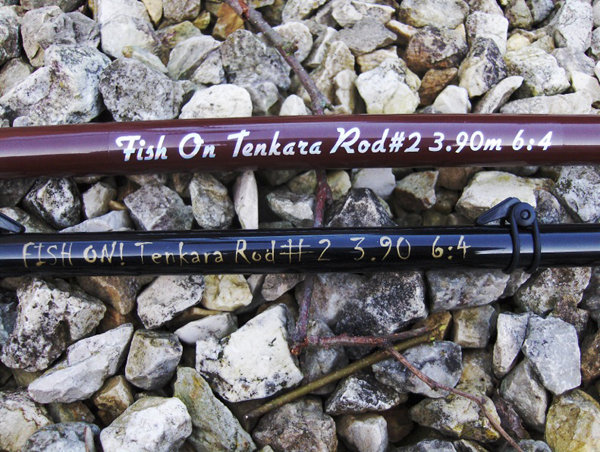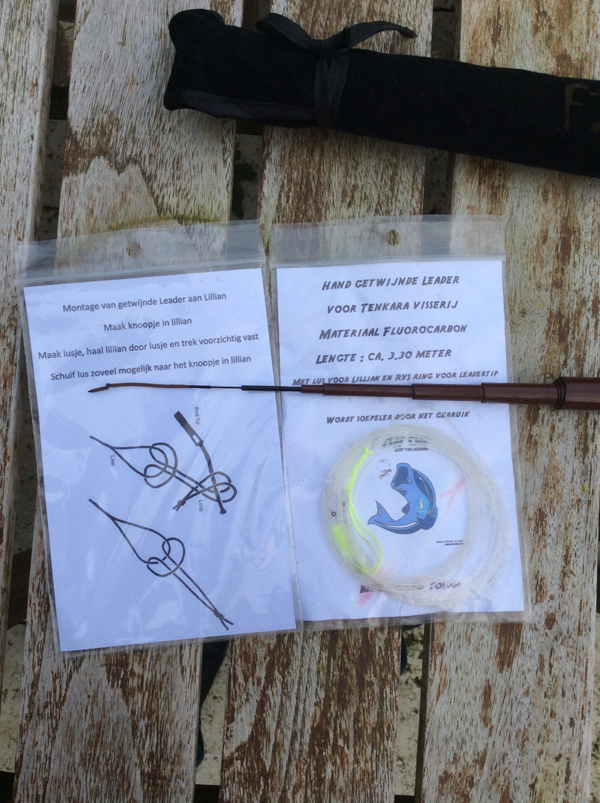 Jason: Do you have any favorite tenkara techniques?
Theo: I use techniques I use with my salmon rod….like to shoot my fly like a catapult in difficult situations (under trees), or a dapping system with caddis flies or mayflies and so on.
Jason: You recently landed a 9+ lb. rainbow on a tenkara rod. One of the first questions many new anglers have is how to land a large fish. What advice or tips could you give about landing a big fish on tenkara?
Theo: Hooking a big fish like I did…drill with two hands at your rod. Give it a lot of pressure, left and right. Keep the rod high and use the power of your rod. If you can beach your fish…..do it. If you are in the water and the fish is ready take the leader then pick up the fish with a net.
If you cannot hold the fish and you cannot run anymore…I have an extra rubber/elastic band at the end of my rod about 2 meters long . It gives an extra 6meters when I drop the rod and keep my arm high up. Never let my rod swim…. don't make the drill too long.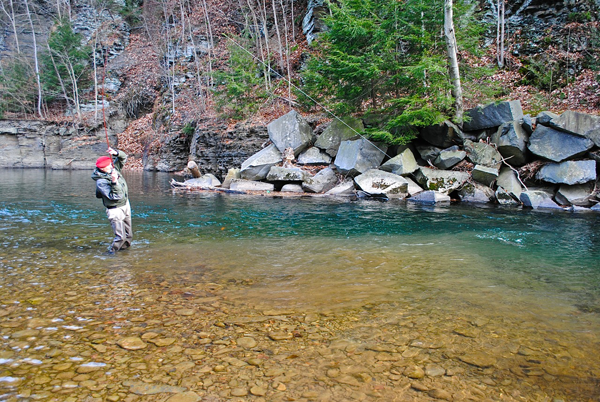 Jason: Do you only use tenkara for trout or other species as well?
Theo: I have fished it for large mouth bass in a lake, and here in the Netherlands I'm trying now to fish for pike in our small canals. Why take all those risks to break my rod? It's more to find out if it works or not.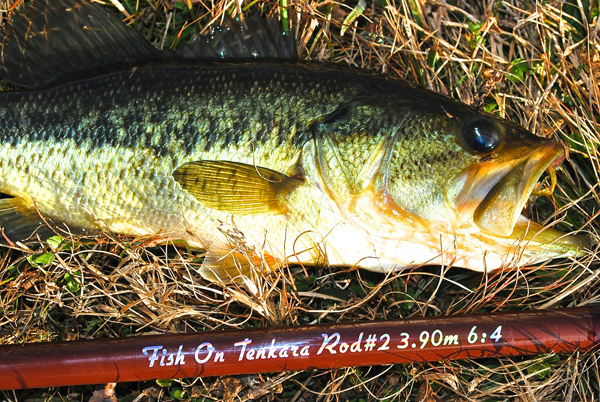 Jason: I know you mostly fish with a conventional fly rod & reel but what are the determining factors that make you decide when to fish with a tenkara rod?
Theo: Yah…. that's my life…fishing with a rod and reel. I like casting and a yelling reel. I like to go deep with sinking lines in the ocean and so on. For me, the tenkara rod a new way and find out where I could us it in special waters. To use it in waters were you cannot fish because of rocks or trees behind you. In a way you can fish tenkara with your fly rod also, right? That's how we did it before we knew tenkara–a Czech nymph system.
Jason: Anything else you'd like to add?
Theo: The only thing I have to say is that I fished with tenkara to find out a new way in difficult waters. It's a fast way to fish a river, that's what I like about this rod. If I have muscle problems with my shoulders and cannot cast my fly line …..I always can use my tenkara rod. Maybe you can interest people in our life of fly-fishing and let them start with an easy way of casting and have the fun to hook a fish. Think of young kids or maybe your lady at home!
Jason: Thanks Theo! And thanks for introducing us to bead head flies. Your contribution has dramatically influenced fly fishing and tying in the U.S. Many anglers would not have their go-to patterns today if it weren't for you!