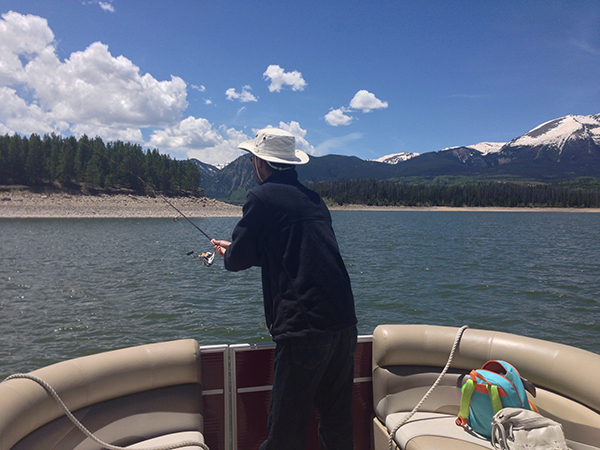 It might not be accurate to call it a "non-tenkara" day. It might be better described as "the opposite of tenkara" or even "Bizarro World". With all the local streams totally blown out, I decided to try to sneak in a quick fishing opportunity on a nearby lake. My family and I were planning to head to Breckenridge, CO for the weekend and rent a boat on Dillion Reservoir. So I figured, why not dust off the old spinning rod and try something different?
Here's a picture of Clear Creek – one of my local haunts. To give you an idea, that slide usually empties out onto a sidewalk, not into the water …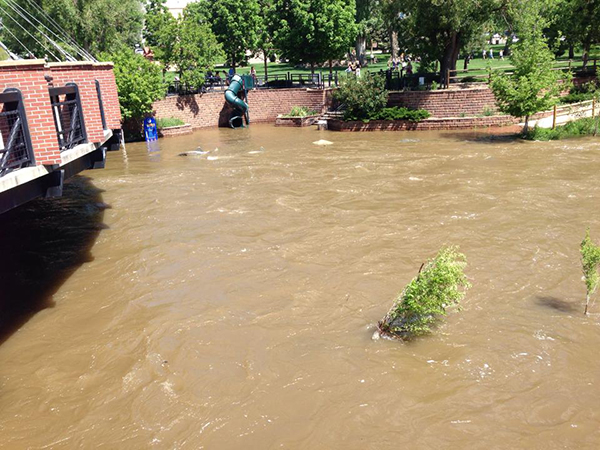 It's funny. A long, long time ago, on a waters far, far away, this style of fishing was my norm and everything about it just felt natural. But after 20+ years of fly fishing and 5 years of fishing tenkara almost exclusively, returning to this once familiar tackle and technique felt strange. Yet I did come away with a few interesting observations…
1. A 6 ft. rod is really short! Having grown accustomed to 13 ft. tenkara rods, a 6 ft. spinning rod feels like an ice-fishing rod or Popeil Pocket Fisherman. I used to consider a 9 ft. fly rod or 6 ft. spinning rod "long" but tenkara has completely reversed that perspective. It took me a little while to get used to the seemingly diminutive length and not overpower casts. But, as they say, it's like riding a bike, so I got back into the saddle pretty quickly.
2. 10 lb. test feels like a rope compared to 5X. I pretty much only use 5x tippet for all of my tenkara fishing. So it was weird to tie knots with 10 lb. test. Since it's so much thicker, it was a lot easier to see and work with–almost too easy. The kind of "easy" you're suspicious of when you have the false pride of believing you're actually thinking like a fish.
3. Wind is still an adversary–even with a spinning rod and heavy lure. At over 9,000 ft. on an open reservoir, high wind is to be expected. Even with heavier spoons, jigs, & plugs, casting was a challenge. In order to hit the best spots, it seemed like I always had to cast directly into the wind and the boat being pushed in the opposite direction certainly didn't help me gain any distance (no anchor on board). It was pretty interesting to see a big metal spoon spit back at me as if it were origami paper. I tried wind trolling but that doesn't really work so well in a pontoon boat when you're trying to be both the captain and the angler at the same time.
4. I hate treble hooks. Being used to simple, single-hook kebari, Rapalas and spoons with sinister treble hooks seems barbaric (almost as bad as those Japanese squid lures). Having 6-9 hook points on a single lure now seems unfair. Not to mention that they get tangled on everything else that shares a compartment in your tackle box and can cause a lot of unnecessary damage to the fish (and fisherman). I handled these lures as if I had amnesia about the constant threat of their sting and with all the naive caution of someone holding a razor-sharp samurai sword for the first time. I smashed down the barbs on each point just for good measure. If I had had the time, I would have replaced all the trebles with single hooks seeing as (if memory serves), the fish are almost always hooked by a single point and all the other points seem superfluous and as gratuitous as a Tarantino film.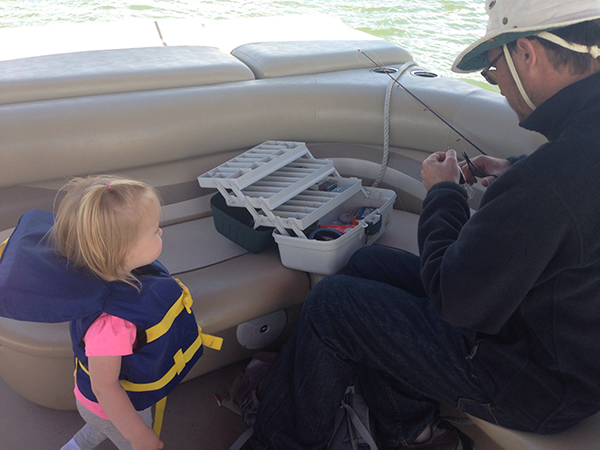 5. Setup is nearly as simple as tenkara. Surprisingly, I was reminded that getting gear together and setting up a spinning outfit is about the same as tenkara. I just grabbed my rod and tackle box, and had everything I needed. On the water, I put the rod together, strung it up, and tied on a lure within just a couple of minutes. Much simpler and faster than setting up a fly rod.
6. Modern spinning reels are engineering marvels. My spinning reel is a Shimano Sahara. It probably sees action only once every few years. But when it does, it performs flawlessly. Every time. The infinite anti-reverse, bail, and drag system are as smooth as the day I bought it despite never getting any TLC such as cleaning or lubrication. I remember when reels were more high maintenance than a mobster's mistress, but today's reels are really care free and run like Ferraris even when neglected.
7. Idiot baits can be fun too. When I tenkara fish, I'm mostly imparting action to the fly and really focusing closely on watching the line for a strike. Catching a fish this way gives me a great sense of satisfaction, but it also gives me tunnel vision and doesn't afford a lot of time to take in the surroundings. With idiot baits (the kind that you just cast out and reel back in), you have the luxury of looking around, relaxing, or just having a conversation while waiting for that tell-tale tug on the end of the line. It might not be as skillful as sasoi, but it was kind of a refreshing, no-pressure diversion.Spinning gear can give you the luxury of enjoying the scenery behind you or the beautiful girls right in front of you!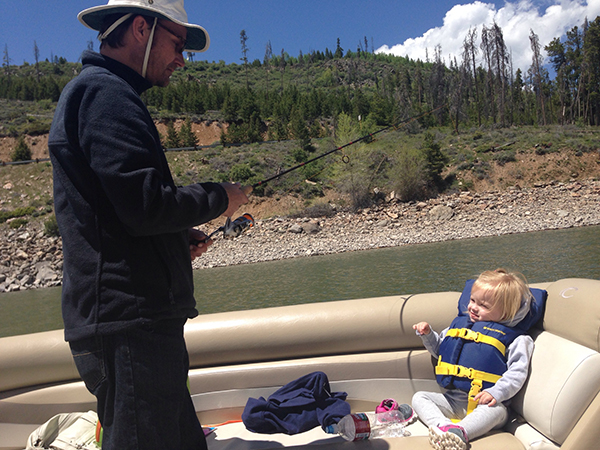 8. A 2-year old can drive a boat! Either she's really smart or her daddy is an idiot but I let my 2-year old daughter take control of them helm several times and (with a little coaching turning left or right to avoid collisions with other boats) she was a natural. I'll probably be more nervous about the first time she drives a car than I was with her navigating this massive body of water.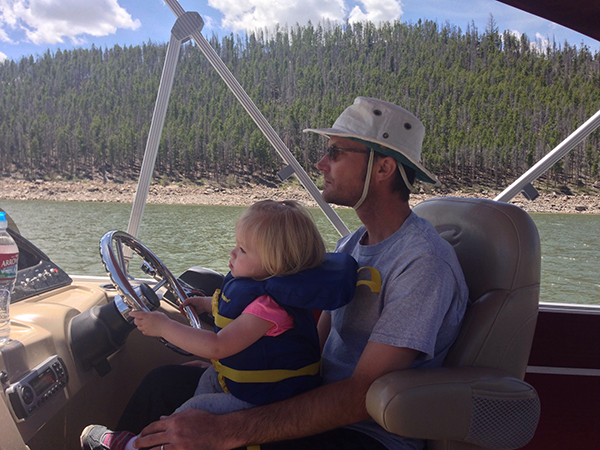 OK, turn that way honey. Honey, turn! NO, TURN THAT WAY!!! HONEY, NOW!!!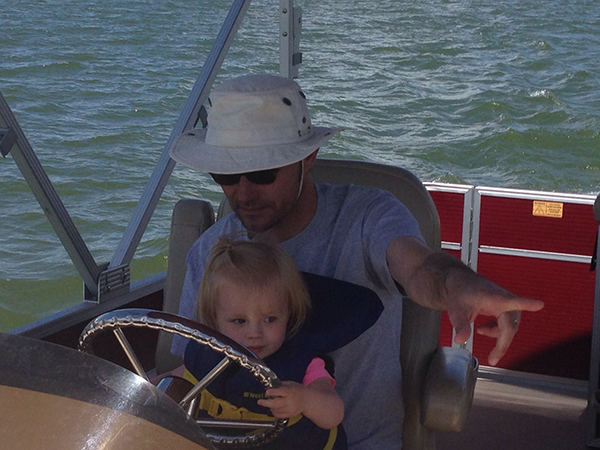 9. I want a boat! I've always wanted a boat. Since my teenage years when my grandpa used to take me saltwater fishing in Florida and New Jersey, I've always felt at home on docks and in marinas. I love the intimacy in wading and stream fishing, but there's something magical about the waves lapping up against a hull, the squeaks of buoys against weather-worn docks, and the sound of seagulls in the air while you're loading a vessel to prepare for a long day out. It's a different kind of adventure. I miss that. And I miss the lull of being out in open water where you can't see the shore. That sense of isolation has always been both precious and scary to me at the same time. One day, I want to make that a part of my regular life instead of just dreaming about it.
10. You can't always get what you want. Yep, the Rollings Stones were right (again). Sometimes, when you feel that you've "mastered" one genre of fishing, you get cocky and think you can nail another one. But either the fish or the weather can mercilessly humble you. Well, this time, I learned that no matter which fishing method we choose, we're all still subject to nature. And many times, when we catch fish, it's more a matter of luck or timing than our skill. I like to catch fish and am disappointed when I don't, but am much happier being on the water and going fishless than being in the office and not being on the water.
I try to learn something every time I go fishing. While this wasn't my "ideal" outing, I feel like it put a lot of things into perspective for me. Oh, in case you're wondering, no, I didn't catch a damn thing. But I did land some insights. And, sometimes, getting a handful of perspective is more valuable than coming away with a stringer full of fish.