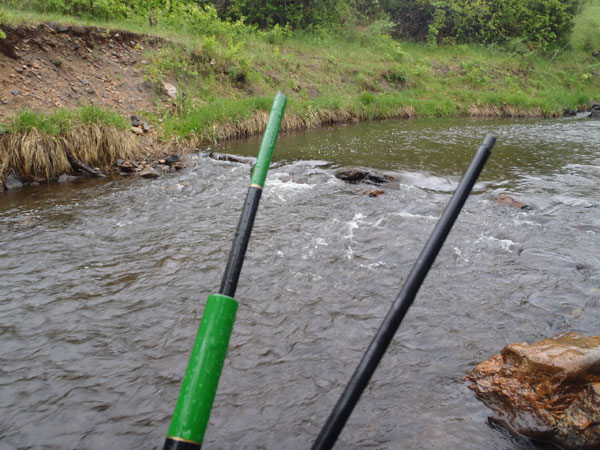 A few weeks ago, I went fishing with my good friend Dennis Vander Houwen. Neither of us had been out in a while so we were really looking forward to a much-needed day on the water. Everything started off fine–we were in good spirits, the weather was good for February–all indications pointed to smooth sailing and a great day of fishing. But both of us agreed on one thing: we were sick of fishing Clear Creek and Bear Creek (the two closest streams to Denver). We really wanted to fish somewhere different but didn't have a full day to drive too far. Dennis had a show that evening and I needed to get back pretty early. But we both agreed that even though it's considerably further away, we'd probably have time to do Boulder creek which we don't fish that much. So, we headed off to Boulder with high expectations.
Somewhere right before we got to Golden (where the turnoff is for Clear Creek), I reneged on our pact, opened my big mouth and said, "you know what? Why don't we just hit Clear Creek. It's right here and I'd rather spend more time fishing than driving." Now, I want you to remember this statement because it will come into play later in the story: "I'd rather spend more time fishing than driving". Dennis agreed so I hit the turnoff to go up Clear Creek Canyon. First mistake.
As we passed by familiar spot after familiar spot without pulling over, I could sense that deep down, we both still really wanted to fish new water and weren't really excited about the prospect of fishing the same holes we always do. It seemed to put a damper on the trip. But about halfway up the canyon, Dennis mentioned something about some stretches of Clear Creek along a frontage road that we've never explored. Suddenly, my interest was piqued again. "Yes! Let's do it," I said with renewed enthusiasm. Second mistake.
We drove past the point where we usually turn around (where the water runs out) and got on the highway. After driving for a few minutes, we hit a traffic jam. Anyone who knows Denver knows about the ski traffic on I-70, and we were in the thick of it. For 20 minutes, all I could do was anxiously tap the steering wheel and repeat the mantra in my mind, "I could be fishing right now, I could be fishing right now …" It eventually cleared up … until we hit the next one.
Finally getting back up to highway speed we drove for what seemed like an eternity. I asked Dennis if he knew where we were going. He said, "Yeah I know". But I didn't believe him.
After what seemed like an eternity, he told me where to turn and we eventually found ourselves on the promised frontage road which ran right alongside the stream. It was beautiful water that I had never seen before and there was not another angler to be found! I thought, "Ok, things are starting to look up now." There were tons of good runs and pools pretty much everywhere. There was only one problem. It was private property. But being unwittingly doomed optimists, we kept telling ourselves that there were still miles of water to explore and surely there must be some access somewhere along this new stretch. Third mistake.
After another 20 minutes or so of driving, we actually did find some water that wasn't on private property. But it was flat water with no structure and not even worth getting out of the car to inspect. We moved on. More private property, more private property … until … finally, a great looking stretch with no posted signs or fences! Perfect! Until I tried to park. This is a narrow road. You can't just park on the shoulder or other cars wouldn't be able to get through and there were no pull-offs. So, we reluctantly moved on.
Private water … private water … then, aha! Another good stretch that was public. And there was even a pull-off! Finally, we thought our luck had changed. After all, we'd suffered enough at this point and were due for some kind of redemption, right? Fourth mistake.
I started backing into the pull-off which was just big enough for one car (which was perfect since it would block out other anglers from our spot) when I saw it: "No Parking Anytime". Why the hell would there even be a pull-off if you can't park there? After a few frustrated grunts and forehead slaps, we moved on (again).
The next few miles were more of the same before we surrendered and decided to head back down the canyon to fish our normal spots. By this time we'd probably spent 2 hours just scouting and hadn't even put our waders on yet. We were desperate to get our boots wet and conceded that it was better to fish an underwhelming, familiar spot than to keep torturing ourselves like this.
Once we started hitting the public access water, a grim realization started hitting us as we passed each pull-off. Earlier, on the way up, there were no anglers. We literally could have had our pick of any spot we wanted. But now, later in the day, every spot had filled up with cars. Clear Creek is one of those watersheds where you can't really park in one spot and fish all day. The fishable stretches are usually pretty short (especially for two anglers) and you typically have to fish one for a while, then get back in the car and drive to the next one, and so on. It quickly became clear that our timing had done ourselves in and our plan B probably wasn't going to work. So, on to plan C.
By now, I've gone from having high hopes to taking anything I can get. I just wanted to be in the water. So I told Dennis we should hit Bear Creek since we're running out of time and we know there are fish there. That is a place where you can park and fish all day so instead of driving around, we could just park and maximize what little fishing time we had left. What mistake are we up to now? Oh yeah … 5. And running out of letters of the alphabet for backup plans. Remember that decree about fishing more than driving now?
Lair O' the Bear campground is usually packed on the weekend and I was prepared for the worst. I've been there several times when I couldn't even find a parking spot. But to our surprise, it wasn't crowded at all. Maybe this was the good omen we'd been waiting for?
We suited up and quickly got on the river (probably due to pent up anxiety), leapfrogging over each other on the best holes. The water was OK for this time of year–some ice but plenty of open water. At least it was better than being in the car for 3 hours.
We started fishing all the usual spots but after a while, I noticed something was missing–the fish. The water was gin clear and with polarized glasses, I can usually spot the fish on Bear Creek. But I didn't see one fish anywhere. I know this stretch of water like the back of my hand. I know where the fish are and where to catch them. But nothing. Not one bite, not one sign of life.
I met up with Dennis to compare notes and he confirmed the same. To make matters even more depressing, I took a quick entomological survey and found almost no aquatic insect life under the rocks. Under a flat stone where I'd normally expect to find a healthy caddis larvae and mayfly nymph population, I only found one or two small clingers. You probably heard about the floods we had in Colorado last year and how much damage they caused to our watersheds. I surmised that they had washed out much of the local insect population, leaving a severely depleted food base for the trout.
That was pretty much the last straw. You know that quote from Einstein, "insanity is doing the same thing over and over and expecting different results"? After hours of driving and minutes of fishing with nothing to show for it, we had far surpassed insanity. It was time to go home.
Fiascos
Back home, after a shower and a beer, I reflected on the day and realized that I've actually had worse fiascos in my fishing career. I think most of us have them at some point. It seems inevitable the longer we fish. While it's always nice to have those outings where everything goes perfectly and the fish practically jump in the boat, those days are probably only special because they don't happen every day–we appreciate them all the more because sometimes, you just have a trip that just goes sour. Here are a few others that stand out in my memory …
Costa Rica
It was my first time in Costa Rica. My company had sent me down there for a month to run a training course and I was excited to do some saltwater flyfishing on the weekends on the company dime. It was to be a regular gig a few times a year so I really wanted to make this an exploratory trip to make the most of future stints. In the weeks leading up to my trip, I Googled the hell out of fishing there. I really just wanted to find a place I could wade, or at least hire a guide to get me into some backwater Snook or Jacks, but there was nothing. Every guided trip on the Internet was for offshore big game like billfish. I was definitely not interested in that. So, I decided to take a boots-on-the-ground approach and hit up the locals. After all, Quepos is a fishing village so, surely, there must be some local fishermen who could point me in the right direction.
After being there for a full week, I pretty much interrogated every local at every shop, restaurant, and bar with no good leads. Aside: there are a surprising number of prostitutes in the small town of Quepos. I basically got solicited everywhere I went on any given night and it was getting pretty annoying. One night, I was at a bar and a woman started pretty aggressively flirting with me and offered to buy me a drink. I assumed she was a prostitute. I turned to the bartender (who was an American) and said, "I'm so sick of these prostitutes hitting on me!", to which he replied, "she's actually a cop". At which point, she pulled out her police credentials and showed them to me. Turns out she understood English and was NOT amused that I assumed she was a prostitute. Extremely embarrassed, I paid my tab and left with my tail between my legs.
After enough Jeremy Wade style investigation, I did get some insider info that there was a small spit of sand on the Pacific right at the mouth of a river. It sounded like exactly what I was looking for–I could easily flyfish it and when the tide was coming in, all the fish would be funneled into the mouth of the river to follow the baitfish. All I had to do was get someone to take me there. So, I found a local fisherman who had a boat and actually agreed to be my chauffeur. $20 to drop me off on the tiny island, $20 when he comes back to pick me up. It was definitely a sketchy deal, but most deals in Costa Rica are and my philosophy when traveling is always "when in Rome …".
I can't exactly remember the guy's name, but I think it was Alfonso, so let's use that. I came to the docks the day of and Alfonso seemed to have everything ready. It was just a simple shuttle back and forth so I didn't expect too much. We started out toward the island. It was a beautiful day (the first one that hadn't rained since I'd been there) so I was pretty happy to see some blue sky. After 15 or 20 minutes, the island started coming into focus. It was a stereotypical tropical fantasy … nice white sand with just a few blades of long grasses poking through and a bunch of driftwood washed up on the shore. No structures, no people, nothing. You could see the entire island from less than a mile away.
It seemed like a perfect fishing spot. On one side, the ocean. On the other, the mouth of the river. And we timed it perfectly so the tide was coming in. I was ready!
During the boat ride, I rigged up my 9 wt. and was ready to start casting by the time we made shore. Alfonso gave me a salute as he pushed off and I was ready to enjoy some isolation and hard fights over the next 4 hours. This was paradise!
After about 4 or 5 casts with a Clouser Minnow, I hooked into my first Jack. He put up a really good fight and along with the incoming tide, dragged me down the shore quite a bit. I was concentrating on palming the screaming reel, but out of my peripheral vision, I could see that I was about to trip over one of those pieces of driftwood scattered about the island that I saw from the boat. So, I held my position and muscled the fish in.
Not bad–about a 20 lb. Jack. I unhooked the fish, let him go, and then picked up my rod to get prepared for the next cast. That's when I turned my head to the right to look at the driftwood I almost tripped over only to discover … it was a 10-ft. crocodile. About 5 feet away from me. I had almost stepped on it. I was pretty shocked it didn't move or make a grab for the fish, but was unbelievably thankful to still have two legs attached. I don't know the first thing about crocodile behavior, but I was kind of surprised the beast didn't either slip into the water or attack when it saw me approaching.
Feeling like I had cheated death (or some kind of gruesome dismemberment), I slowly backed away from the croc and moved down the shore. That's when I scoped out the rest of the island and realized I was pretty much surrounded by crocodiles. North shore, South shore, East shore, West shore. They might have been waiting for the same thing I was–all the fish to come in with the tide.
There's no way off this island until Alfonso comes back (which is in about 3 hours and 45 minutes) and there's no one else here. I'm completely by myself. Crocodiles on the land, sharks in the water … Pretty much a lose-lose situation.
It's about this time I'm wondering, "hmm, is $20 enough of an incentive for Alfonso to actually come back and pick me up or is he just going to take the money to the bar and leave me stranded here to be devoured by crocodiles?" I was really wishing I had offered him double or even triple–though you have to admit, that would make for a pretty good obituary.
Luckily, over the next few hours, the crocs and I seemed to have come to an unspoken understanding: "I won't bother you if you don't bother me." We kept out respective distances from each other and there was not one swipe at a fish being reeled in nor a snap at a leg.
Still, I was relieved when I heard Alfonso's boat approaching in the distance. Somehow, I managed to catch several nice fish and keep all my fingers and toes.
Mexico
And then there was my first bonefishing trip. Again, my company sent me down to Playa Del Carmen, Mexico to run a course and I'd have the weekends free to swim, snorkel, or party. Of course, I just wanted to fish. Unlike Costa Rica, I was actually able to find some inshore guides on the northern tip of Cozumel (just a short ferry ride from the mainland). I quickly learned that gringos can't fish from shore (unless you want to get your hands broken by the local fishermen). So I hired a guide. It was ridiculously cheap–like $250 for a full day on the flats. I had planned on going twice while I was down there and was really excited.
The night before the trip, I was in my hotel room and decided to give my gear a once-over. I religiously cleaned the line, meticulously reorganized my fly boxes, and even waxed the ferrules on my 3-piece Sage 9 wt. Then, it happened. In one split second, I heard a horrible noise–like a weed whacker hitting bubble wrap. And my reel started screaming like I've never heard it before.
Now let me tell you that the ceiling fans in Mexico rival B-52 airplane props. They're not the wimpy faux wood or wicker blades we have in the U.S. They're solid steel and the motors probably have more horsepower that most Hondas. This was a serious fan that did serious damage.
So, the fan basically reduced my rod from a 3 piece to a 20 piece. But to make matters worse, the sheer power of the fan's rotation pulled the fly line deep into the shaft in between where it meets the blades. So, not only did it short out the fan, but the friction melted the fly line and turned it into a messy goo that eventually solidified once it cooled down–effectively arresting the entire fan (after the smoke cleared).
Now, here I am stuck with a demolished $700 rod and Chernobyl-style fly line meltdown on my first chance at bonefish with no fly shop in sight. And I'm probably going to have to pay for the damage to the fan (which I know they're going to gouge me on). It's quickly becoming the script for a Seinfeld episode.
So, deciding to cut my losses, I headed down to the registration desk and asked for a ladder. They asked what I needed a ladder for and I told them I just wanted to change a light bulb. They offered to do it for me and I had to convince them to let me just do it myself. Somehow I did. I spent the next two hours digging out melted PVC from the shaft of the fan with my knife–all the time wondering when I'd hit some little circuit or wire and electrocute myself.
Costa Rica Round 2
This one probably tops the list. On another work trip, the director of the center I was working at, Mauricio, heard I was looking for places to fish. He told me his cousin had a boat and could take us out on a trip over the weekend. This seemed perfect so I was happy to accept the offer.
That Saturday, Mauricio picked me up and we headed over to his cousin's place. I had all my gear ready and was looking forward to getting into some nice Jacks (and away from crocodiles).
We picked up his cousin and headed off. I thought we were going straight to the boat, but we made a stop at someone's house. I asked, "where are we going?" To which Mauricio replied, "oh, we have to get the motor". "The motor?" This is the point where I begin to realize I'm not exactly dealing with a well-oiled organization.
We picked up the motor from some guy in a garage (still have no clue who he was). Now, I'm not a maritime engineer, but I can tell whether an outboard is seaworthy or when it belongs in a museum. This thing looked like it was from the 60s, was all rusted out and the prop was really banged up. It looked like something you'd pick up at a garage sale for parts–not something you'd trust your life to in open water. Nevertheless, the three of us heaved it into Mauricio's trunk and headed to "the boat". I put "the boat" in quotation marks for a reason.
So, we finally get to a small lagoon and wrangle the motor out of the trunk. I didn't see any boats around so I asked, "where's the boat?" Mauricio pointed to a spot but all I could see was a rope tied to a tree going into the muddy water. "Where?", I asked. "There". Turns out, the boat was under the water. We had to pull the rope to drag it to shore, and spent the next half hour removing all the water and mud. And just to make scooping out Costa Rican lagoon sludge even more enjoyable than it already is, the boat was filled with hundreds of shrimp that would jump out of the water and slide down your shirt neck (or, if you're lucky, only hit you in the face).
Once we got the boat cleaned (using that term loosely), we mounted the motor and packed up "the boat" with our gear. Finally ready to go!
The motor wouldn't start. Mauricio's cousin spent the next 45 minutes or so tinkering with it while I was sitting in a pile of mud, engulfed in a cloud of white smoke and dejection. But finally, he got it going and my hopeless optimism got the better of me once again. "This is it! Let's go get some fish"
And we were about to. But not the kind I thought. We went up river for a while and then pulled off in a small bay where Mauricio's cousin shut off the motor. I asked why we were stopping and not going right to the ocean. "We need to catch bait", he said. Seriously? I was really frustrated. We spent half the day just getting ready, and now we have to catch bait? The next hour was spent watching Mauricio and his cousin throw nets to catch baitfish and being tortured by the fact that my fly rod was all rigged up beside me to go catch some big Jacks. I really wanted to point out that we could have saved a lot of time by grabbing the dozens of shrimp that were sliding down our shirts when resurrecting the sunken S.S. Piece of S**t but I held my tongue. Probably only because my Spanish wasn't good enough to convey sarcasm.
After they caught enough bait, we finally headed a few miles upriver to the ocean. I was really stressed out and anxious to get my line in the water so I asked them to drop me off on a shoal opposite of where they wanted to fish. They did and it was about 15 minutes before I got into my first Jack–a nice one. I held it up so they could see it, then promptly returned it to the water. Mauricio's cousin freaked out. He couldn't believe I would catch a fish like that and let it go. He wanted me to give it to him. Catch and release isn't a concept in Costa Rica. It's "catch & keep". So, I made it a point to make sure he clearly saw every fish I caught and released. Let's call it revenge for all the debacles I had to endure that day.
I did end up having a good day with several nice Jacks landed, but after a few hours, it was time to head back. There was only one problem. The motor wouldn't start again. Actually, there were two problems. In addition to having no motor, we were out of water and all of us were getting pretty dehydrated. You know how easy it is to forget to eat or drink water where you're preoccupied with fishing. We weren't in a good situation–miles from nowhere, no power, and no water. Oh, and true to the saying, we didn't even have a paddle.
We finally decided to float back down the river to Mauricio's friend's place on the bank to regroup and figure out what to do. We were all baked from the sun and really, really thirsty, so we knocked down some coconuts to drink.
Mauricio hacked them open with a machete and we voraciously starting drinking from them. It was the most disgusting thing I've ever tasted–very acidic and bitter. I'd rather drink vinegar, but at that point, our only other choices were saltwater or giardia-laced river water. My body needed fluid, so the coconuts were really the only option.
We eventually got the motor started and made it back to the lagoon safely. There were times I thought we'd have to spend the night in the Costa Rican jungle (which is not fun if you don't like spiders). Yet, even with all the setbacks and drama, I still remember this as a good trip. In fact, maybe the very reason I remember it so vividly is because things went awry.
Fiascos are never fun at the time, but they sure make for great stories later. And anglers are known for being great storytellers. I'm going fishing tomorrow. Who knows … maybe that will be my next one. But I could live without the crocodiles.