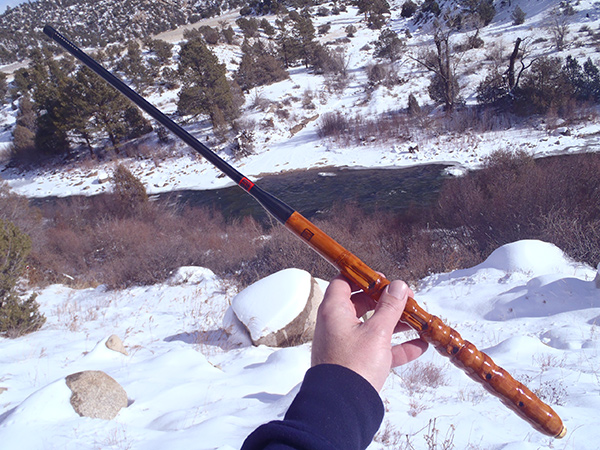 The Tenkara no Oni Type I has long been my favorite tenkara rod. It's incredibly light in the hand and has an action that suits my casting style perfectly. I've been fishing the original model with the straight foam handle (not the current models) for a couple of years now, but ever since I heard Masami Sakakibara made one with a bamboo handle, I've wanted (OK, lusted after) one.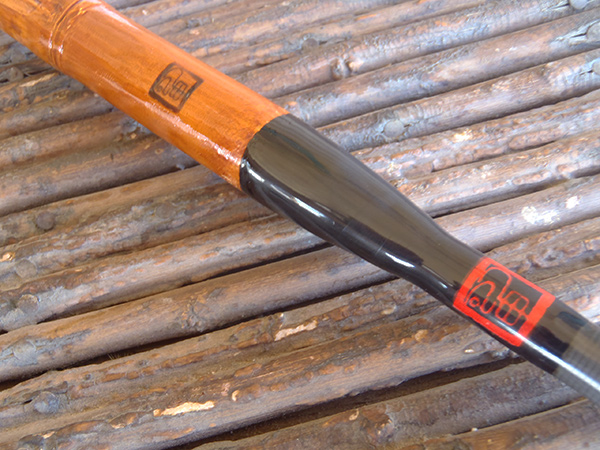 Masami-san hand carves each handle himself, and because finding the right-sized bamboo is difficult, they're produced in small batches–only 2 or 3 at a time. The handles are finished off and lacquered to a beautiful caramel color that make the Type I instantly recognizable on the stream. The timing finally worked out where I had a little play money and there happened to be some in stock, so I finally got one.
Secrets of the Oni Handle
One thing I didn't know about the bamboo handle (and you may not know) is that it isn't just a plain round grip. From pictures, it's easy to see that there are indentations kind of like the ones on the steering wheels of older cars. But what I've never noticed (and no one's even told me) is that the ergonomics are a lot more sophisticated than that.
There are actually several other notches carved into the handle in strategic places to more comfortably hold the rod in different positions.
Right below the winding check, there is a long groove for your finger tip and further down on the opposite side of the rod is a notch for your middle finger. These are used for when you want to choke up on the rod.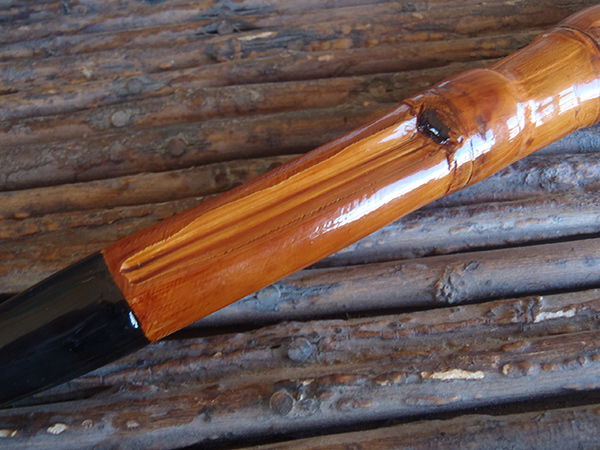 The corresponding middle finger notch on the opposite side …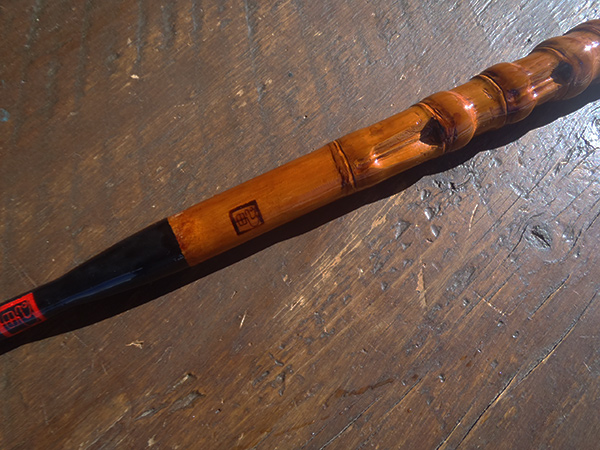 Gripping the rod using the fingertip configuration – the groove is at the tip of my index finger and the notch is on my ring finger …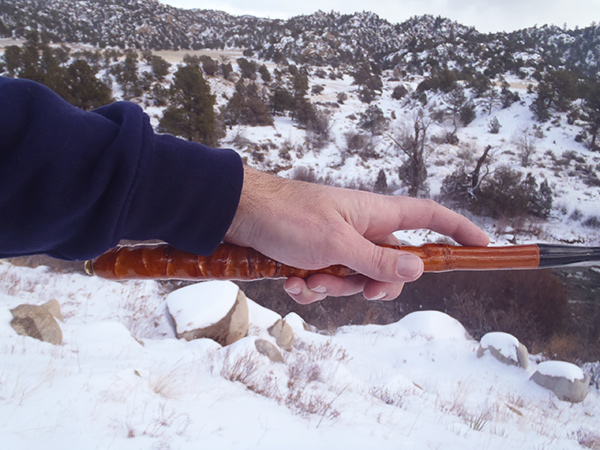 There are also several other configurations to hold the rod in different ways. For example, there is a similar one for gripping the rod mid-handle.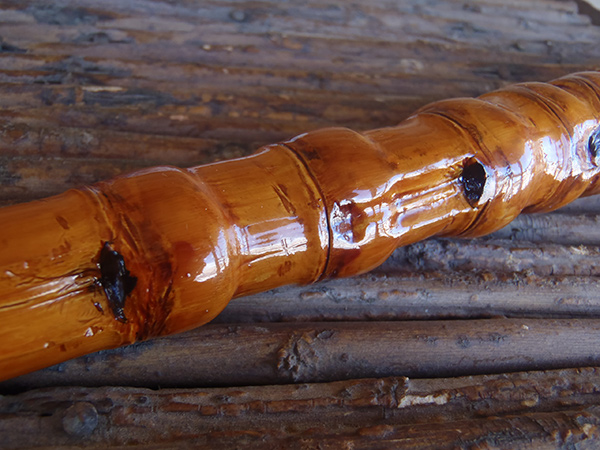 Mid-handle grip – the notch is where the tip of my index finger is and there is another on the opposite side where my ring finger is …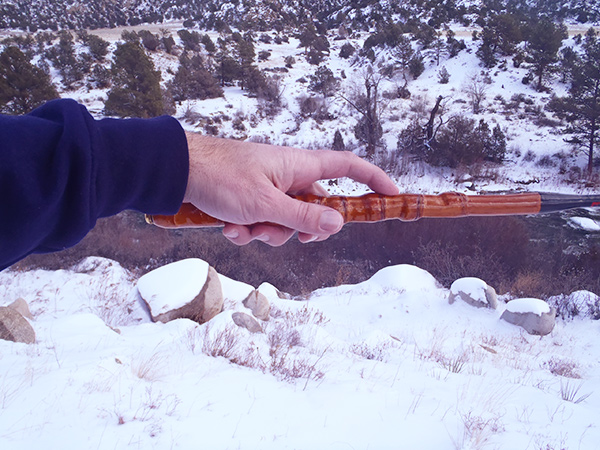 When I discovered this clever design, I have to admit, I couldn't believe I hadn't heard about it before. Beyond mere aesthetics, it seems to me that someone would have mentioned the superior ergonomics of this handle. Of course it's entirely possibly someone has and I just missed it.
A nice touch…
One other small design element I wanted to point out is the end cap. Typically, tenkara rods either have a knurled cap or one with a coin slot. The Oni bamboo Type I has both. So it's easy to remove in the field, but if it's too tight, you can unlock it with a coin, the back of a knife, or other flat object. Some people don't like metal end caps because they're cold when you grip the rod at the very end but if it's cold enough for that to be a problem, I'm usually wearing gloves so it's not an issue for me.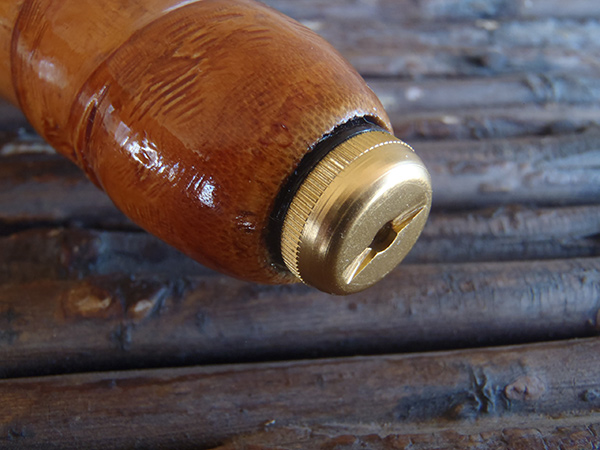 This rod comes with a cloth sack identical to the ones shipped with the current production foam-handled rods.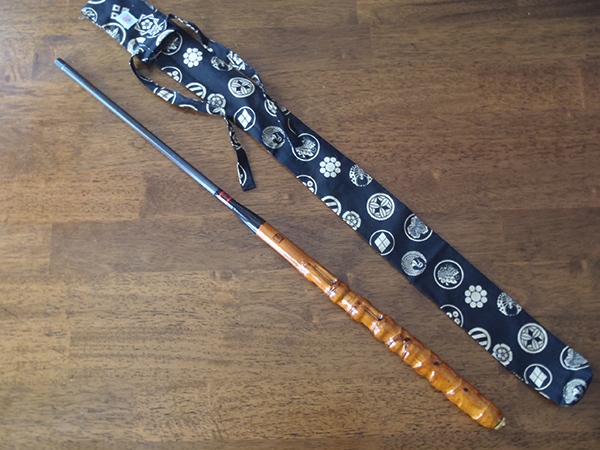 Being the generous person he is, Masami-san was nice enough to also send along a few surprises including a fishing towel, Japanese fan, a trout pin, and even an Origami swan!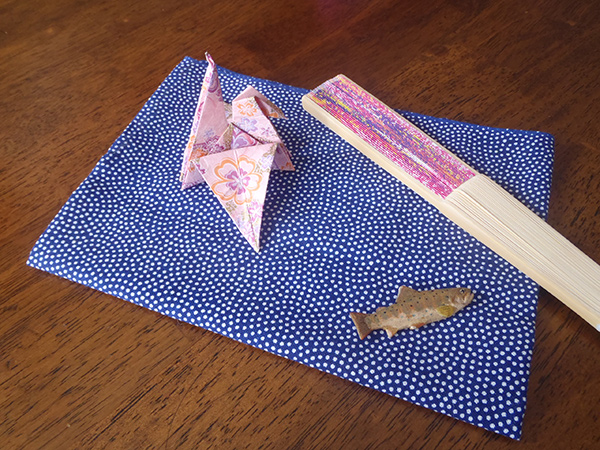 This rod is an anachronistic gem–a nod to tradition with gorgeous aesthetics, clever ergonomics, and a high-tech taper design. I will cherish every second on the stream I get with it.
Get more info or order one here (if it's not listed on the site, they're probably just temporarily out of stock. Keep checking back)