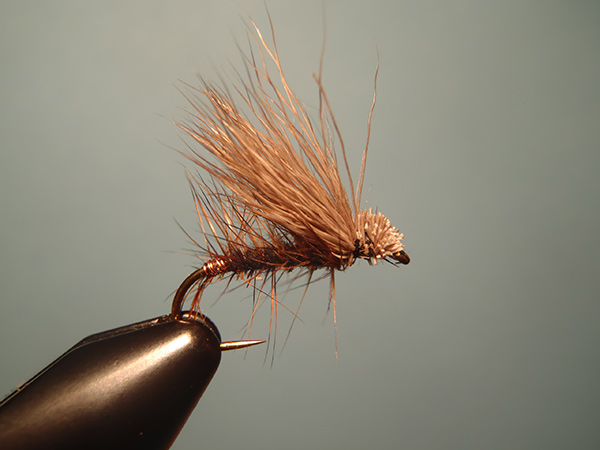 The other day, I found myself thinking about a forgotten fly introduced to me by its creator, Gordon Wickstrom. I can't remember how we first met, but I do remember our meandering chats in Boulder coffee shops talking fly fishing history, fly design, language, and how Garrison Keillor is a great storyteller but should never, ever, be allowed to sing. True to his thespian and literary background, Gordon always spoke with theatrical intonation and gesticulation which made even the most pedestrian conversations seem like you were in a modern-day Shakespearean play.
I never followed Gordon's literary or theatrical career–we were really only connected by fly fishing. But what really surprised me was that I could not find any information about his signature fly: The Caribou Captain (see picture above). It doesn't look like much at first–pretty similar to an Elk Hair Caddis. But there are a few design elements that make this fly unique and I've had tremendous success with it. So in an effort to not lose a great contribution to his fly fishing legacy, I'd like to pay a small tribute to this great fly…
Recipe & Tying Instructions
Here is Gordon's recipe in his own words with my notes added in italics:
Hook Size: 16-18 (I've also tied this in larger sizes to mimic stoneflies or larger caddis)
Tail: None
Body: Thin, finely dubbed black (I use beaver since it's fine and builds a slender body but you can also use peacock herl)
Hackle: Palmered Whiting dyed brown grizzly saddle (In the pic, I'm using the actual hackle Gordon gave me)
Wing: Light Gray Caribou Hair (Caribou flares a lot more than deer hair so it will create more of an upright wing)
Head: Stubs of wing hair a la Elk Hair Caddis (the head won't be as neat as an Elk Hair Caddis since the hair doesn't stack as neatly)
Omitted: The tying thread wasn't mentioned. I believe Gordon used 6/0 black (can't remember) but I use 8/0 black Uni thread. Also missing–the copper wire used for the butt and to secure the hackle.
An important note is the technique that is used to secure the hackle which is different than the way most modern elk hair caddis are tied. Basically, you tie in the copper wire down to the hook bend. Then, you start the dubbing at the bend and wind it up toward the eye. Next, you tie the hackle in where you left off on the dubbing and palmer it back to the bend. Then you make a few touching wraps with the wire to secure the hackle.
Get Wickstrom's full tying instructions here
Since the Caribou hair flares upright more than deer or elk, the fly can easily be mistaken for either a caddis or a mayfly (I've successfully fished it through both types of hatches). I also feel that the clipped hackle on the bottom allows it to sit more naturally in the water than a standard elk hair caddis. Its versatility and simplicity is in keeping with tenkara philosophy (which Wickstrom embraced), yet is just as applicable to western fly fishing.
While writing this post, I remembered that I had a copy of his book "Notes from an Old Fly Book".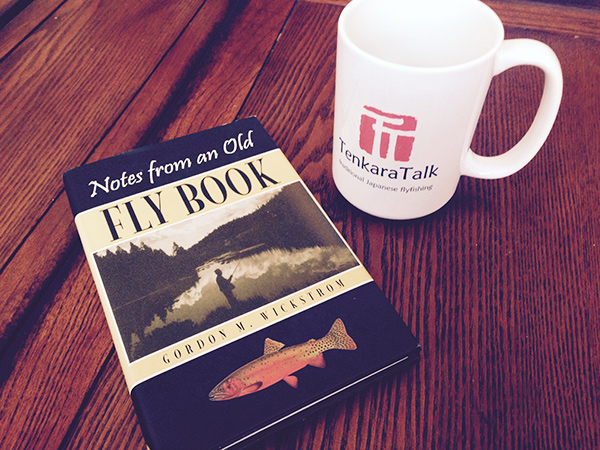 I opened it and found this inscription in the inside cover. Even though he's gone now, he's still giving me a ribbing for studying Sanskrit in grad school. And rightfully so–what was I thinking?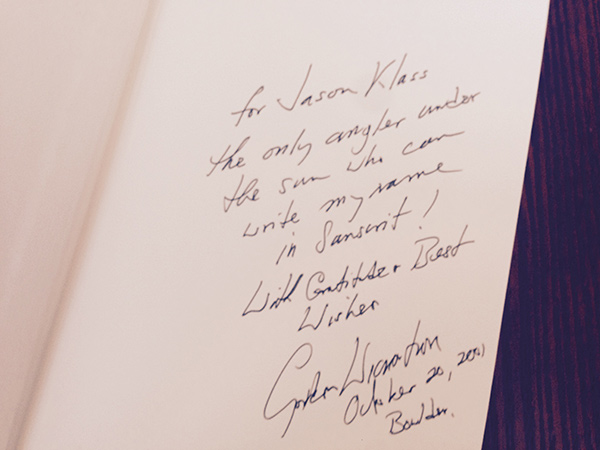 Gordon Wickstrom was one of those larger-than-life characters and I'm glad I got to spend some time with him (even as brief as it was). I don't know much about the probably vast legacy he left behind in the world of literature and theatre, but I think the Caribou Captain is a great gift to the fly fishing community that has largely been undeservingly invisible. I hope this post will help give it a little bit of the spotlight.
If you can tie an Elk Hair Caddis, you can tie a Caribou Captain. And even if you didn't know the man or the story behind it, I think it's worth a try in the vise and certainly on the stream. Thank you so much Gordon! You are missed!
Like this article? You might also like these ...