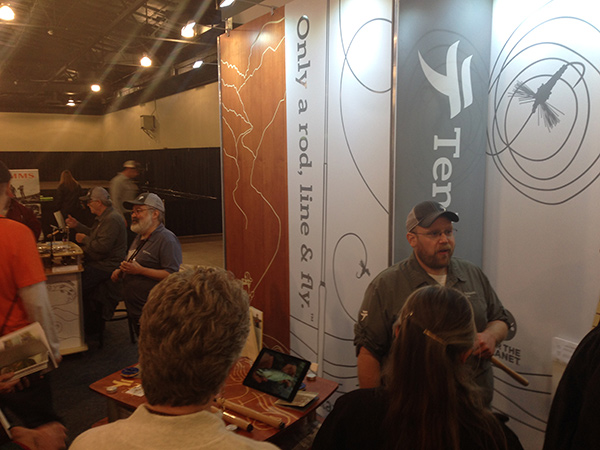 Yesterday, I made my annual pilgrimage to the Denver Fly Fishing Show and came away with two impressions. First, it was PACKED. In all the years I've been going, I've never seen a crowd this big. You had to fight just to make it through the aisles and I had to park a mile away. If fly fishing is a "dying industry" as many proclaim, you'd never know it by the attendance this year.
Second, tenkara was much more prominent that ever before. There more vendors and demonstrations and the interest was huge. Every booth was packed and this year, rather than people walking up and asking, "what's that?", they were saying, "oh, that's tenkara". I think this is the first year where if you mentioned the word "tenkara" to someone, they knew what it was rather than making a puzzled face.
Tenkara USA
Of course, Tenkara USA was there with their biggest team to date–and every one of them was pretty much busy non-stop answering questions and demonstrating casting. Founder Daniel Galhardo gave a few official demos in the casting pool to a big crowd.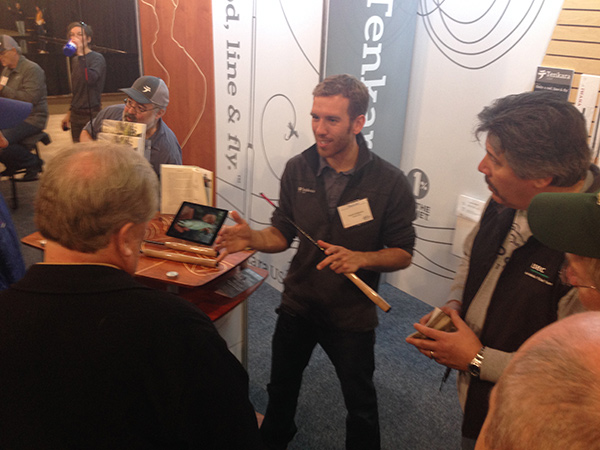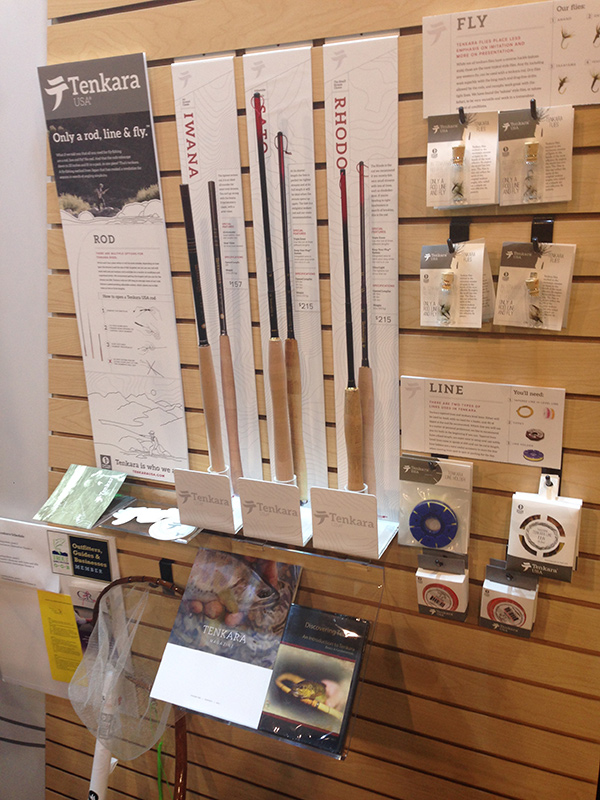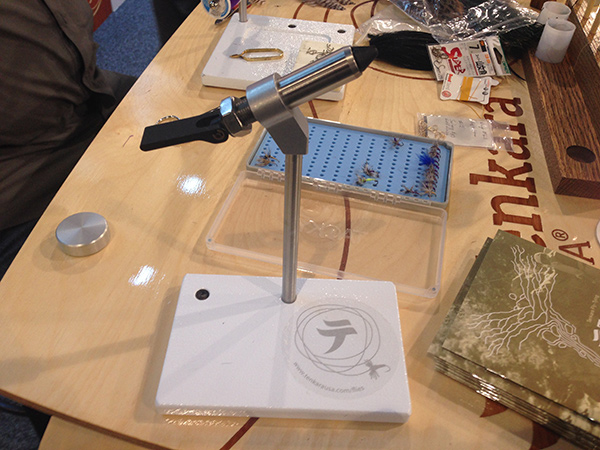 Zen Fly Fishing
Zen Fly Fishing Gear made their debut with two booths. Mike McFarland gave tying demonstrations in Tier's Row while Owner Adam Omernick manned their main booth.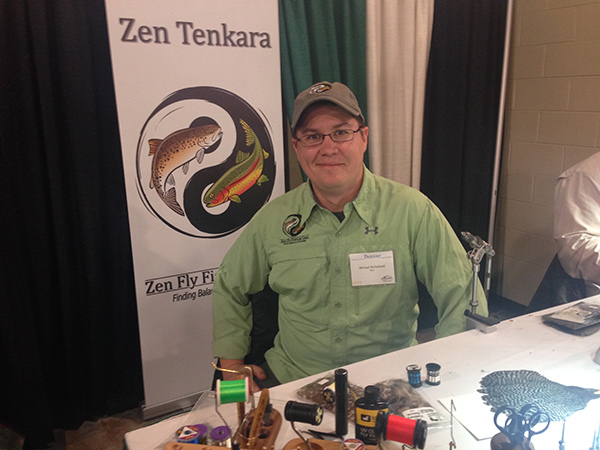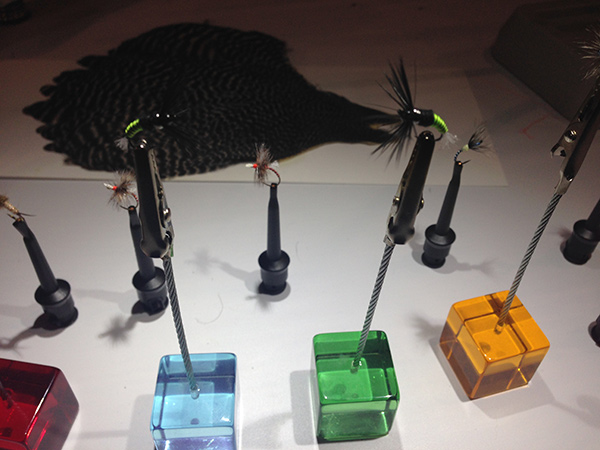 I also got a chance to wiggle one of the company's new rods–the Kyojin. Everyone (even people in the company) fondly refer to this rod as "the beast" and as soon as I got it in my hands, I knew why. It's a 12 ft. 8:2 rod and has all the flexibility of a pool cue. This is a true "big fish" tenkara rod. And by "big fish", I don't mean a 20 inch trout–I mean really big fish like a 30 lb. carp. I can definitely see this rod capable of turning fish that would snap a typical tenkara rod in one wave of the tail and according to reports, people have already landed some huge carp and redfish on it. If Jeremy Wade fished tenkara, this is the rod he'd use.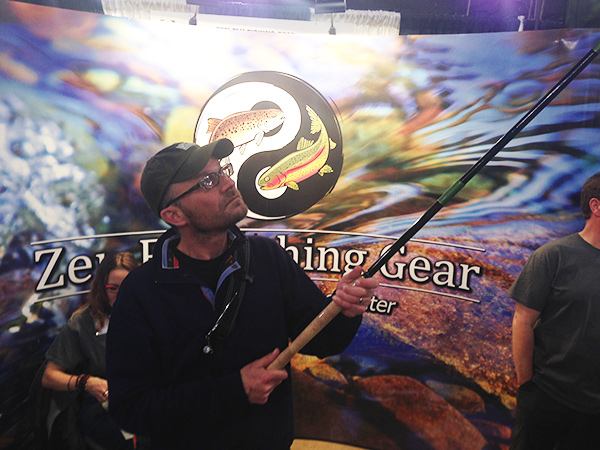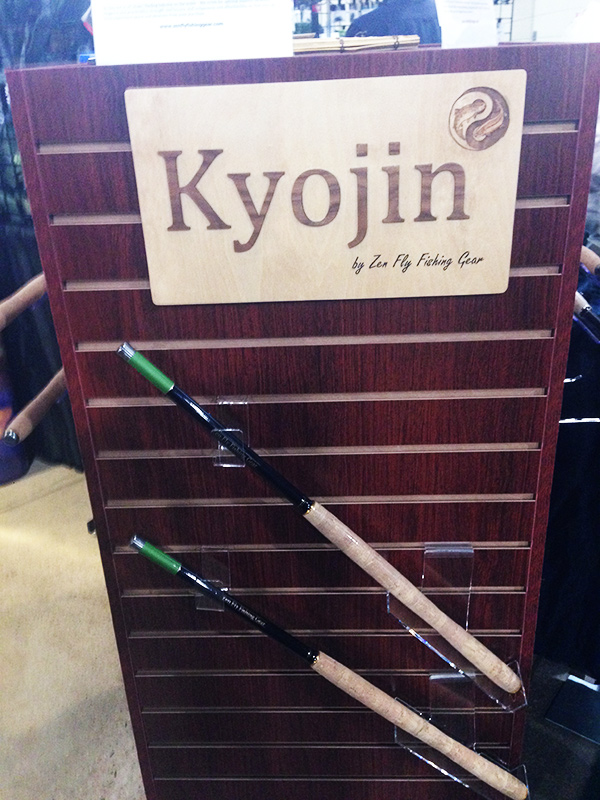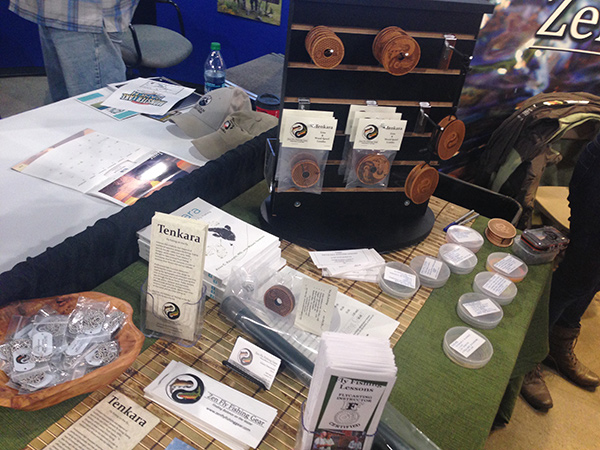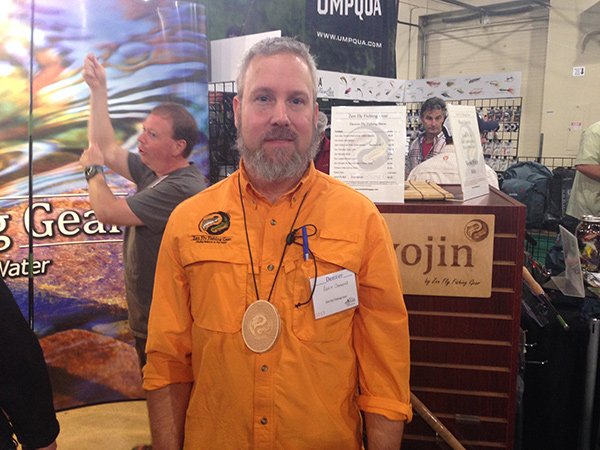 Dragon Fly Fishing
My friend Joe Egry of Dragon Fly Fishing was also in Tier's Row as he is every year tying up some beautiful sakasa kebari.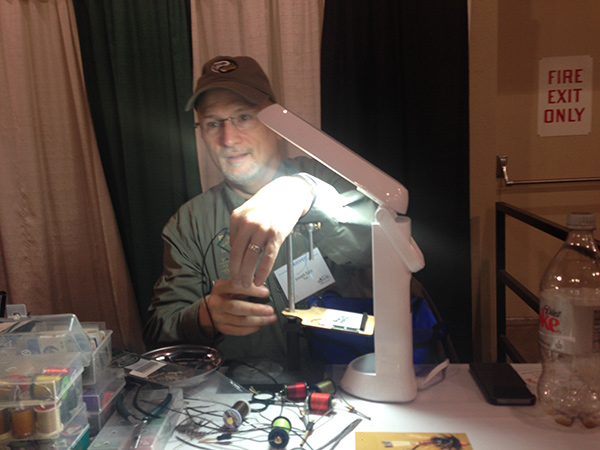 Finest Fly Tying Benches of Colorado
Dave Burchett of Finest Fly Tying Benches showed off his lineup of fly tying benches, wooden fly boxes, and handmade tenkara line spools. Dave does amazing work and has some of the most unique designs I've ever seen. It's one of my favorite booths to visit every year and apparently, I'm not the only one because his booth was so crowded, I could barely get in to talk to him. For a minute, I wondered if I had accidentally wandered into the line for the iPhone 7.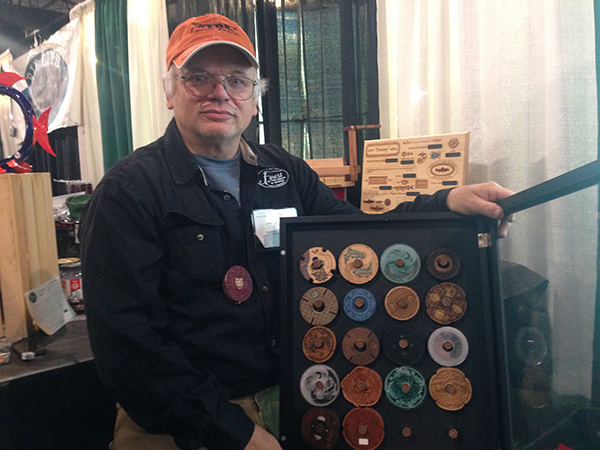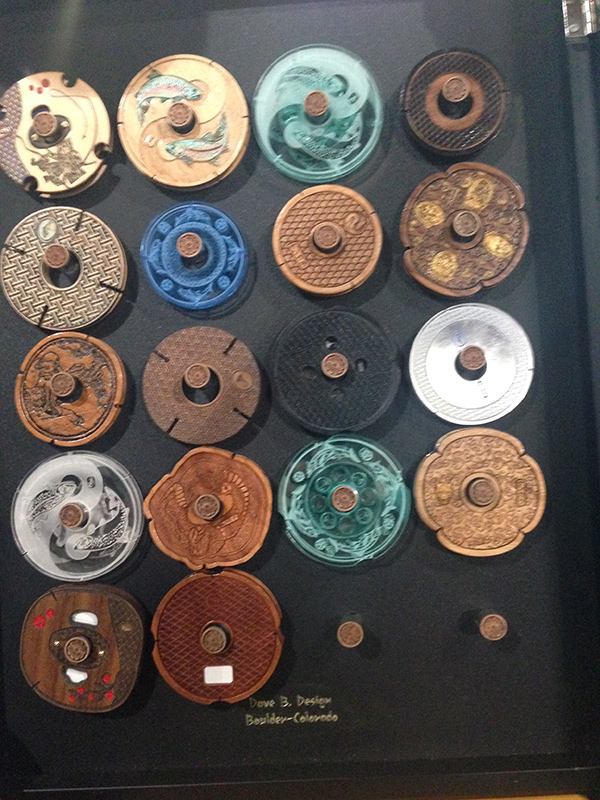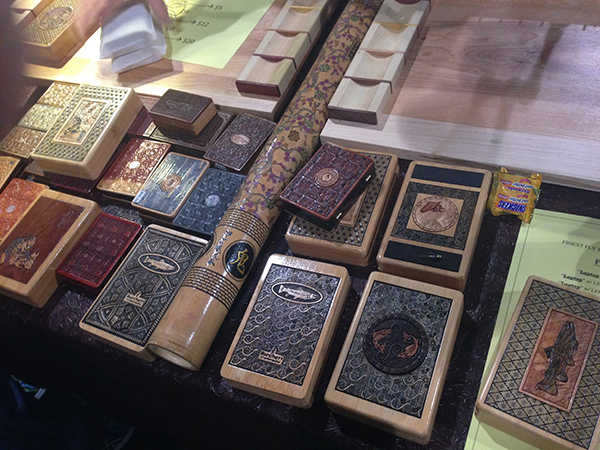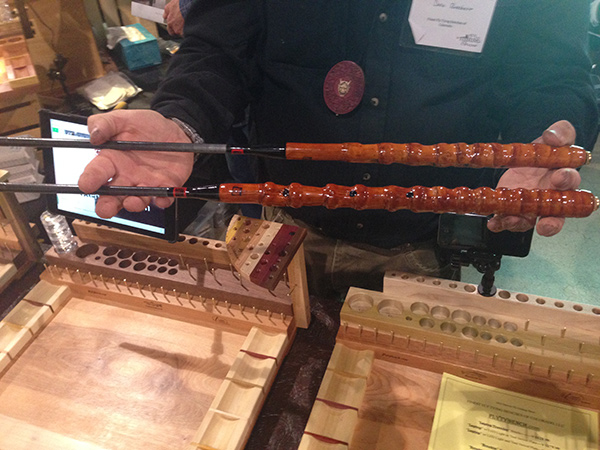 Tenkara Grasshopper
I also ran into my friend Graham Moran of Tenkara Grasshopper. It was good to catch up since I haven't seen him in a long time even though he guides out of the fly shop right around the corner from my house (jeez Graham, swing by and say hello once in a while!).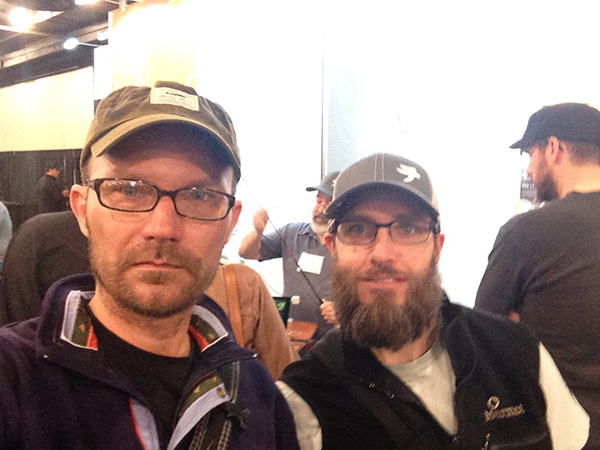 Tenkara Fly Girls
New this year was a tenkara presentation by Tenkara Girls, a group out of Boulder, Colorado. The presentation was given by members Sasha Barajas and Allie Marriot. You might have seen them mentioned on the Tenkara USA website or have seen some of Allie's tenkara fly tying videos. It was good so see a crowded room and so many women interested in tenkara–yet another sign of how much the tenkara community has grown.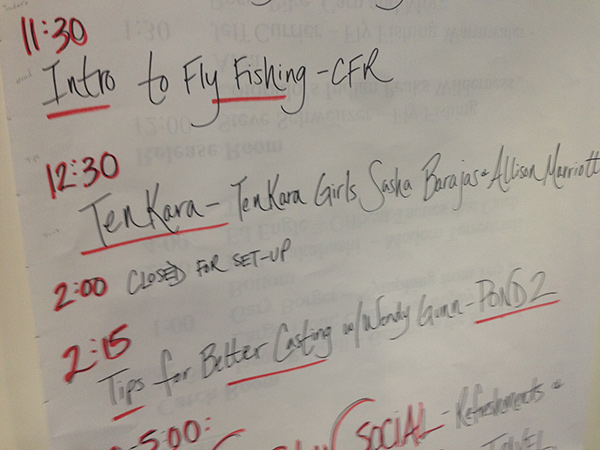 Rigs Fly Shop
The official vendor for Tenkara USA at the show was Rigs Fly Shop and was also able to catch up a little with my friend Paul Vertrees. I don't get to fish with Paul much but when I do, it's epic.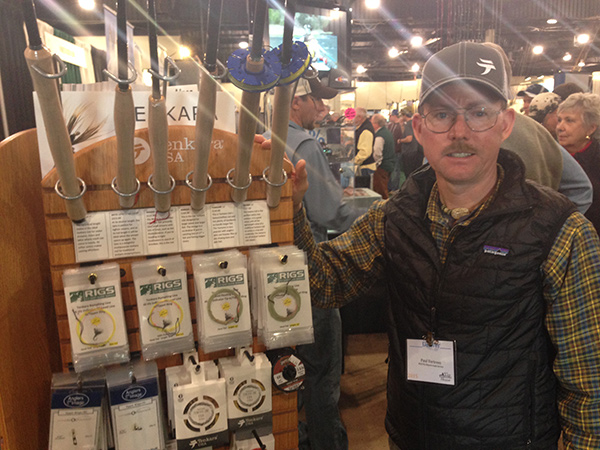 I also got to hang out with my friend Karel Lansky of Tenkara on the Fly and many great people in the tenkara and broader fly fishing communities. Overall, it was a high-energy show and I was impressed by the strong tenkara presence. I wouldn't exactly call 2015 "the year of tenkara", but I might be saying that at the 2016 show. See you next year!