Whether it's a job, hobby, or mandated endeavor, starting anything new can be frustrating. Everything's different, strange, unfamiliar. And even if you genuinely want to do it in your mind, there can be roadblocks that make you question your now seemingly idealistic intentions. Tenkara is no exception.
When I first started tenkara, I faced many challenges that almost made me give up. You might feel this way too sometimes. But I didn't give up. And I hope you don't either. Because the challenges are not endemic to tenkara–they're just part of the natural learning curve of expanding your horizons.
You might be a seasoned fly angler, or you might be a complete newcomer to fly fishing looking to make your entry via tenkara. But either way, you will undoubtedly hit a few bumps in the road that might make you question if tenkara is a good fit for you.
The point of this article is to show you that it probably is and to make you think twice before throwing in the towel.
1. The first time you see a "lilian"
A "lilian" is that typically red or brown cord on the tip of a tenkara rod where you're supposed to attach your line. Coming from a Western fly fishing background, the first time I saw one, I thought, "how the hell do I connect my line to THAT?" Indeed, it seemed foreign to the loop-to-loop connections I was accustomed to, but luckily, there are now (weren't back then) several great videos showing you how to make the connection easily no matter if you're using a braided line or a level fluorocarbon line.
For a really comprehensive video on all the knots you'll probably ever need for tenkara, check out Tenkara USA's video on the One Knot.
2. Getting segments stuck
While I've never had this problem, I know plenty of others have. Modern tenkara rods are telescopic and with so many moving parts, they lend themselves to seizing up due to any manner of grit working its way between the locking segments. Luckily, there is this video that shows you what to do. All you need is a rubberband …
3. Losing your end cap or rod plug
The rod plug is exactly what it sounds like–a plug at the tip of the rod that keeps the segments from accidentally extending (and possibly breaking) during transport. Unfortunately, many manufacturers employ rod plugs that are wood colored and/or black, ensuring the perfect camouflage once dropped on the trail. The solution? Add a high-visibility cord to the plug. This could be any material–bright red monofilament, yarn, a length of old, brightly colored Dacron backing. Anything garish that will stand out from the backdrop of twigs and leaves on the forest floor. Simply slip it through the hole in your plug, and tie it off in a loop with a surgeon's loop knot. If your plug doesn't have a hole, you can simply drill one.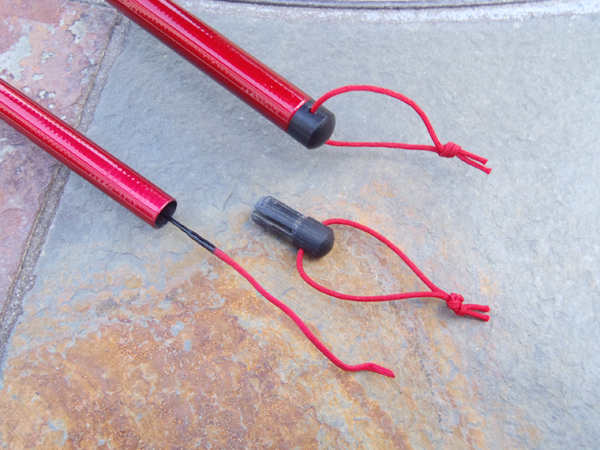 And, BTW, you can kill two birds with one stone by using lilian cord for the loop. So you always have a spare just in case your lilian detaches …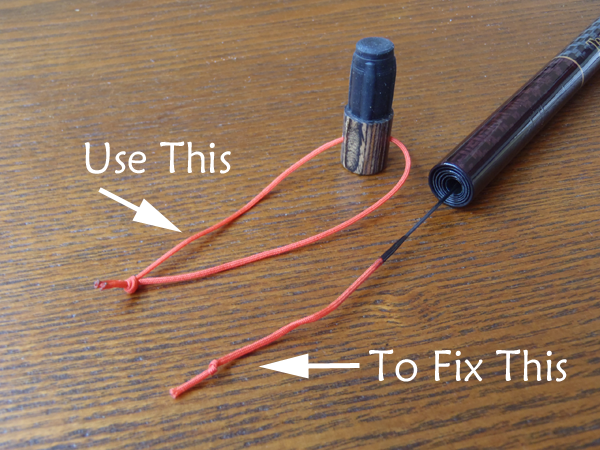 End caps are at the opposite end of a tenkara rod (at the bottom of the handle). They're there to keep the telescopic segments from sliding out the other way. But in order to work, they have to be secure. Most end caps are machined with thread and screw in. But if you're not careful, they can come loose leaving you in the lurch on the trail. The obvious solution is to check the end cap every time before you even make your first cast to make sure it's tight (or in some cases, multiple times throughout the day).
A more foolproof solution it to add a short length of plumber's tape to the threads. This will give the threads more grip and mitigate the likelihood of the end cap coming loose. Plus, it's easy to remove and add back again if you need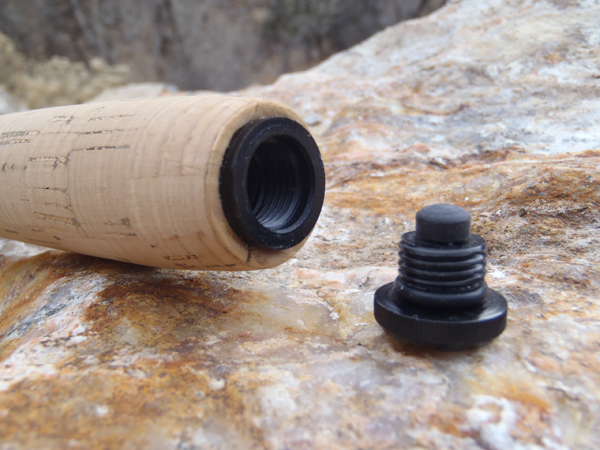 4. Casting in the wind
This is not strictly a tenkara problem, but one that all fly anglers face. Wind sucks. We all know that. But did you know it can be used to your advantage? I'm not talking about putting the wind at your back so your forward cast looks better than it really is. I'm talking about USING the wind to "cast". Most modern fly lines are too heavy to take advantage of this technique but it works perfectly with tenkara because the lines are so much lighter and have better aerodynamic properties for pulling it off. Simply raise your tenkara rod, let the wind blow your fly slightly ahead of where you consider the "strike zone", the the fly drift, and hook that fish! Of course, in this technique, you're at the mercy of the direction of the wind and whether you make an upstream or downstream preso will be dictated by that. But here's a graphic anyway …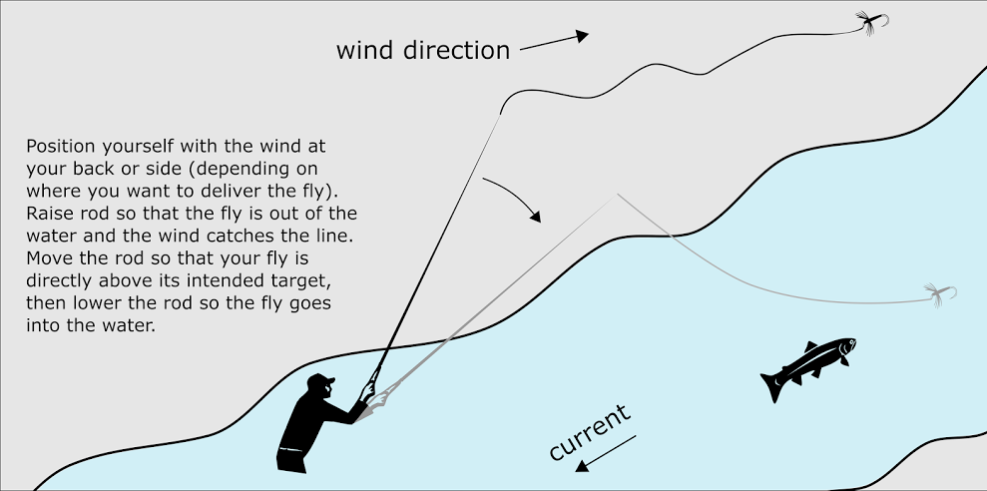 5. Not catching fish on traditional tenkara flies
You've taken the plunge and you want to catch fish on traditional-looking Japanese flies like this: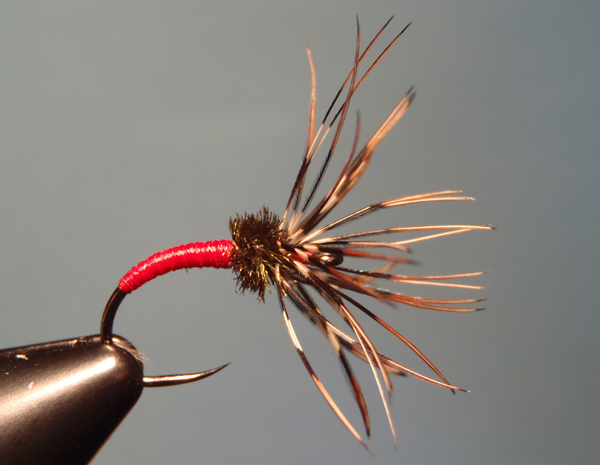 But you're not, right? Don't fret. Take my simple approach …
After you get your tenkara rod and set out on the stream for the first time, tie on your "confidence patterns"–the ones you know will work like an Adams or Elk Hair Caddis. Catch a few fish and get used to the method. Then, at the end of the day, tie on a traditional sakasa kebari.
First of all, there's nothing that dictates that you have to use "tenkara flies" in "tenkara fishing". So let go of that. Sure, it might be nice to, but isn't it better to feel that tug?
Fish with confidence first, then work your way up to fishing with traditional flies. I have used the same methodology for years for everything from steelhead to saltwater species and have learned that confidence is always the best pattern to use.
6. Being made fun of online
This doesn't happen so much anymore, but in the early days of tenkara in the West, tenkara was pigeonholed as "dapping" or "cane-pole" fishing. Nothing could be further from the truth.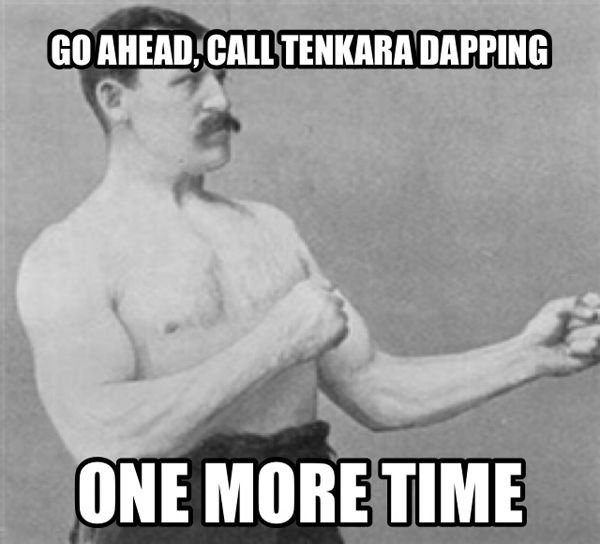 The handful of early tenkara adopters hopefully bore the brunt of ridicule, but I would not change it. If you've made it this far in my post, you're intrepid, progressive and insightful. You're about to embark on the angling adventure of a lifetime. Don't let a few complications nor naysayers discourage you. There is fun, love, community, and fish in your future!