The following is a guest post. I almost never do them, but when someone as prominent in the tenkara community asks for one as Jason Sparks, my ears perk up and I listen. Here are a few more of his great theories on fly design and presentation …
There have been several points of conversation in the tenkara community over the years about the origins, practice and practicality of having one single fly pattern in your box. Of those points discussed, one of them struck my fancy and I have practiced it several times in recent years. That was to use a "one fly" approach to learn a few things about fishing. What did I think I was going to learn from tossing the same fly over and over for a few thousand casts?  I guess that for starters, I'd get really good at casting that fly. I'm not sure I thought much past that when I did this the first time around.
I said that I have practiced this several times now. Let me share that my parameter for this was to use the same fly exclusively for a thirty day period, every time I went out.  At the time, I was putting in about 35 hours a month or more in wild trout waters of the Blue Ridge mountains. I never counted them, but it was tens of thousands of casts and I quickly learned how to cast that fly. It was all the other stuff I learned that I never counted on. Those are the things that truly improved my angling skill.

A quick word about the things I learned for casting the same fly a thousand times. I learned how to pinpoint cast the wet weight of that one fly. There was the sink rate I got comfortable with. There was the hackle movement in micro-currents of the dead drift that I noticed. How specific manipulations imparted specific movements to the fly. How hook size (#10 vs. #14) and wire gauge (light vs. heavy) helped me keep the fly high in the water column or sink it faster to the depths.  Sling-shot casting it… and much more.  
Having this "one fly" already selected eliminated the option to change the fly pattern for the day. Because if I wasn't catching fish, it was the flies fault right? This protocol allowed me to focus on all the other aspects of angling. I can't change the fly, so what else should I be considering? I was completing self-learning exercises in my own stream side clinic. I was teaching myself to be a better angler. I strongly encourage you to undertake this at some time, in some fashion that fits you.  You will become a better angler for it.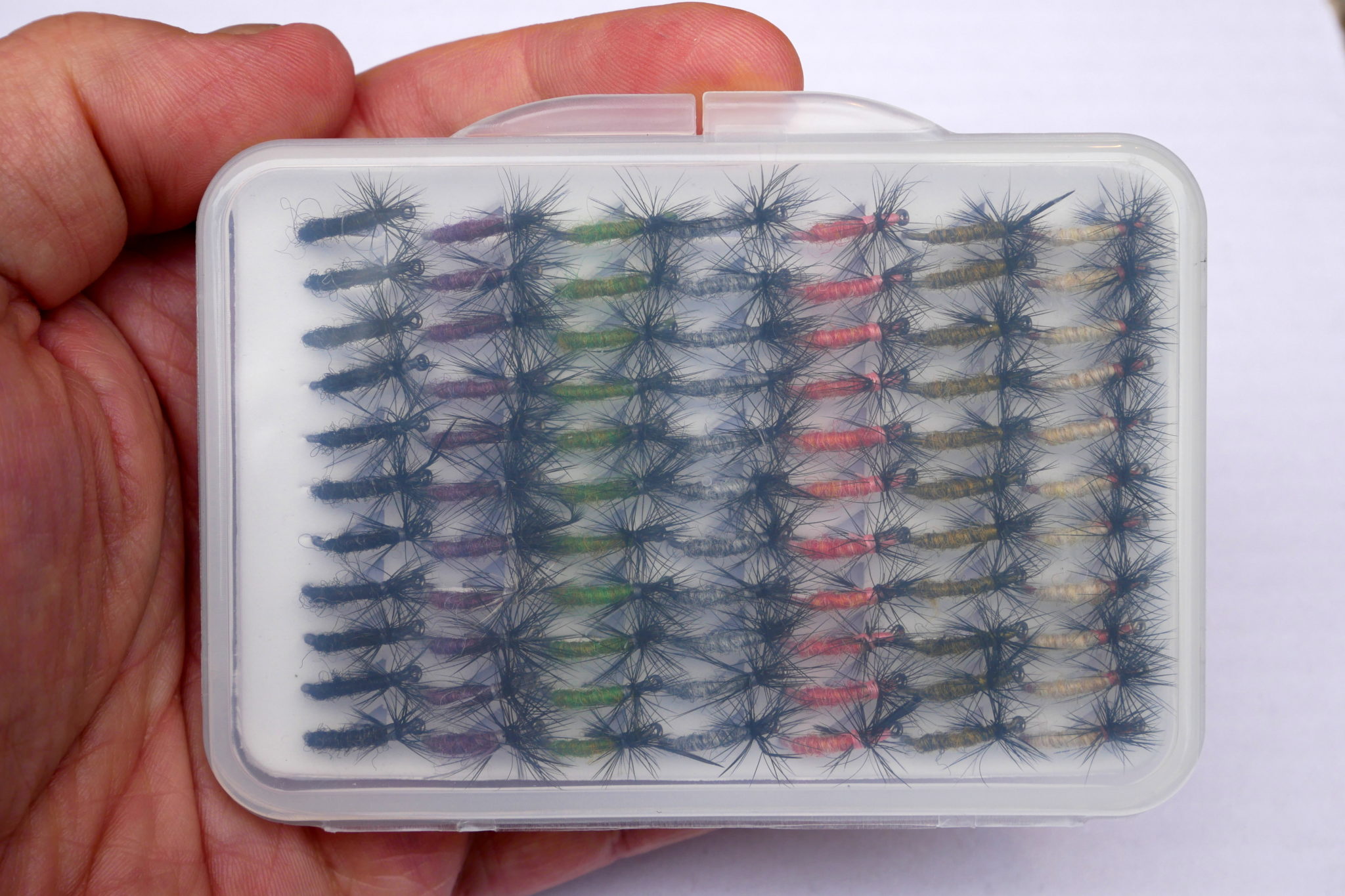 So, what do we understand about the importance of color in our flies? I can almost see the wheels turning in your head as you are recalling memories of things you read about effective colors for fishing. I'm not asking about what you know about fly pattern coloring because you read it in a prestigious rag, trusted your dandy-pandy hatch chart or some Pennsyltucky anglers gospel blog.  I'm asking what do YOU know about fly colors? How did you learn it? Have you practiced it? Have you verified your conclusions? Do you know this because you have tried and true experience on the water with these color choices? Maybe it is about time you found out for yourself.
I had this idea to tie up another "one fly" box and incorporate colors into it. I chose to use a short stiff hackle version of my GnarlyFly pattern. Let's face it, this is my confidence pattern and I know how to fish it. I know what it does. I've cast it tens of thousands of times and caught a thousand fish on it. This choice gives me the most "known" aspects so that my change variable is color. That is probably as scientific as I can get it. Seven rows of eleven flies in seven different colors with black hackle.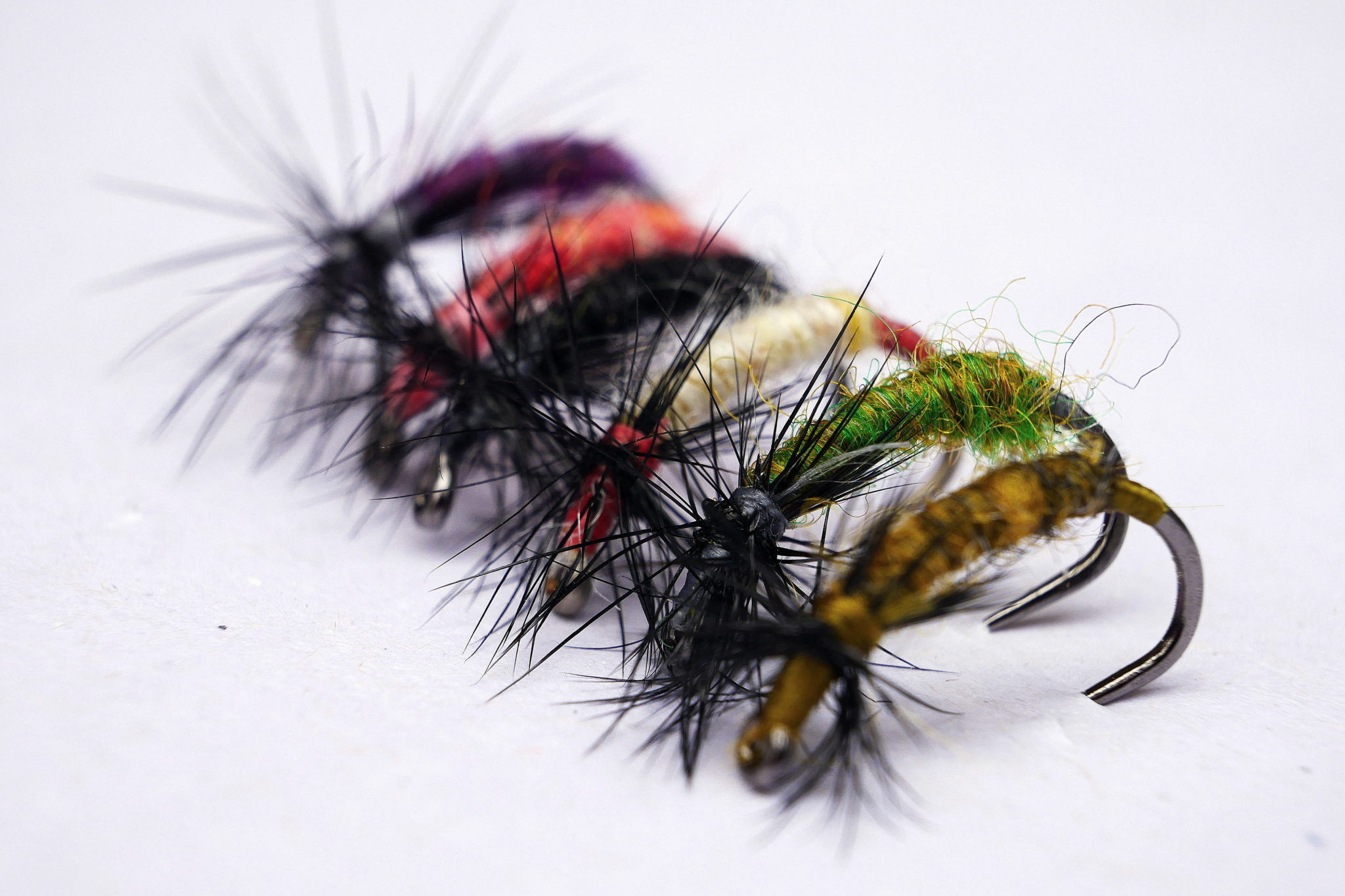 For those that are interested, I've used the Allen N203BL barbless scud hook in a size 10. The yarns I used are Shetland 100% wool yarns in colors from Jamieson's Shetland Spindrift of: bracken and salmon; and Jamieson & Smith (2 ply jumper weight) of: black heather, medium purple, green/yellow, grey and burnt cream. These are weightless. I used two turns of a short stiff black rooster feather from Whiting.
I hope to learn for myself how fly color affects strike count related to species choice, water clarity, available light and expect to uncover a few things I haven't even though of yet. If I am lucky, this will be another round of self learning with successful results. It is the "outside of the box" thinking that runs through my head most days that drives my exploration in fly tying ideas and fly fishing tactics. What will I learn here?
If you have read one book about fishing, then you have read one book about fishing. You may know everything about fishing that one book shared, but what else are you missing? Read several books and learn from them all. That is a smart plan. Let me challenge you to some self discovery when it comes to fishing. There is no paycheck involved and eventually you learn that your catch rate is not measured by anyone but yourself. Press your knowledge on what "you know you know", and discover the things that "you didn't know that you didn't know". You are your own best mentor sometimes.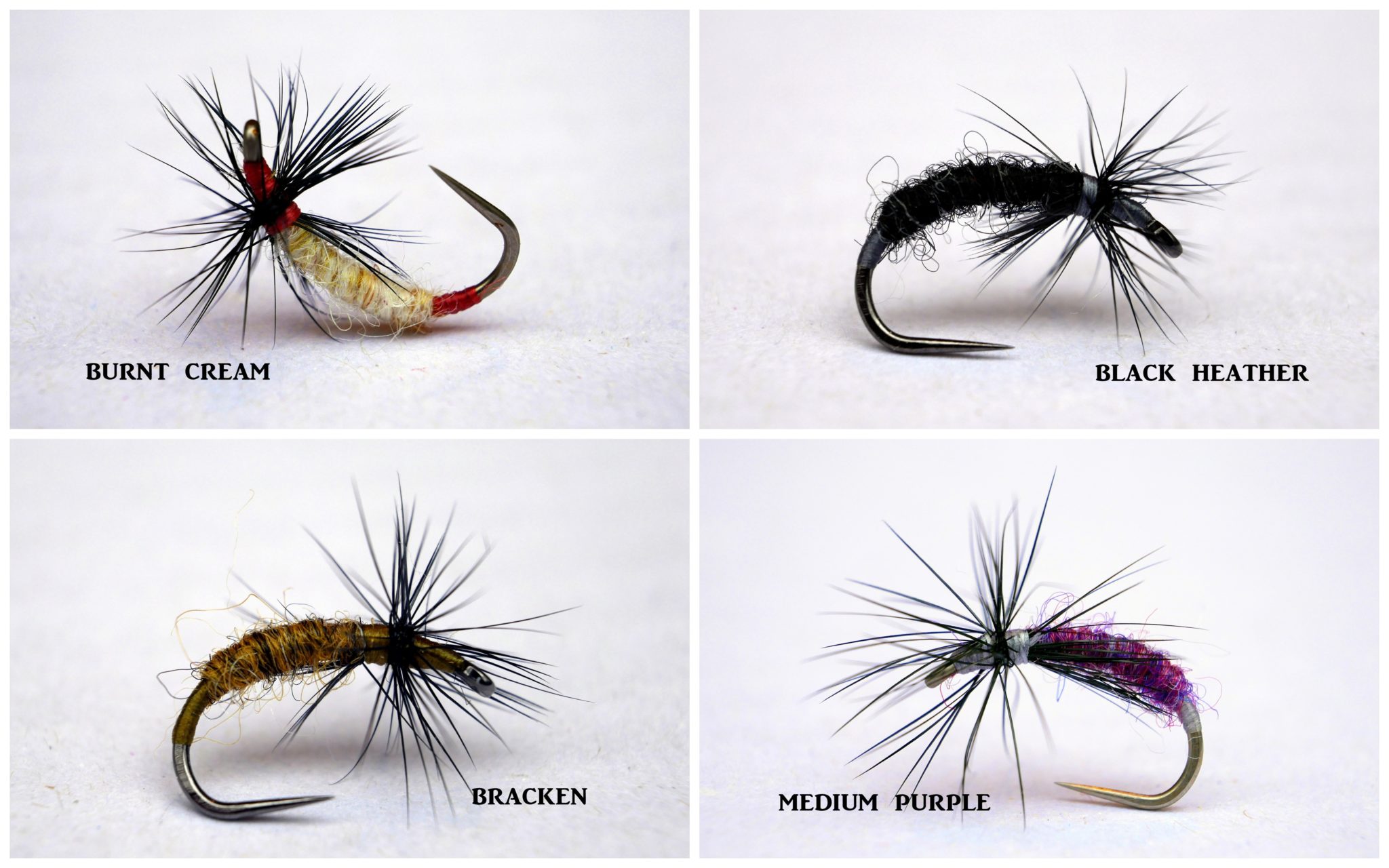 The idea for this multi-color one fly box came from a random thought one day that I managed to grab before it escaped. Sometimes those fleeting thoughts offer a lot of opportunity. If you haven't spent focused time learning to control and successfully use one fly pattern, I encourage you to do so. If you have, you might try a multi-color effort like this. Take the opportunity to challenge yourself in some fashion next time you get your toes at the edge of the water. Do something different and do it long enough until you learn something from it. Take control of your own angling skill set and develop it in ways and exercises that make sense for you.
I'd love to know what you think of my idea here for the little 77 fly box.  Better yet, I'd love to hear what ideas popped in your head while you were reading it. How are you going to take that idea and find a way to practice it until you learn with it?  What are you going to try this season to increase your angling skill?