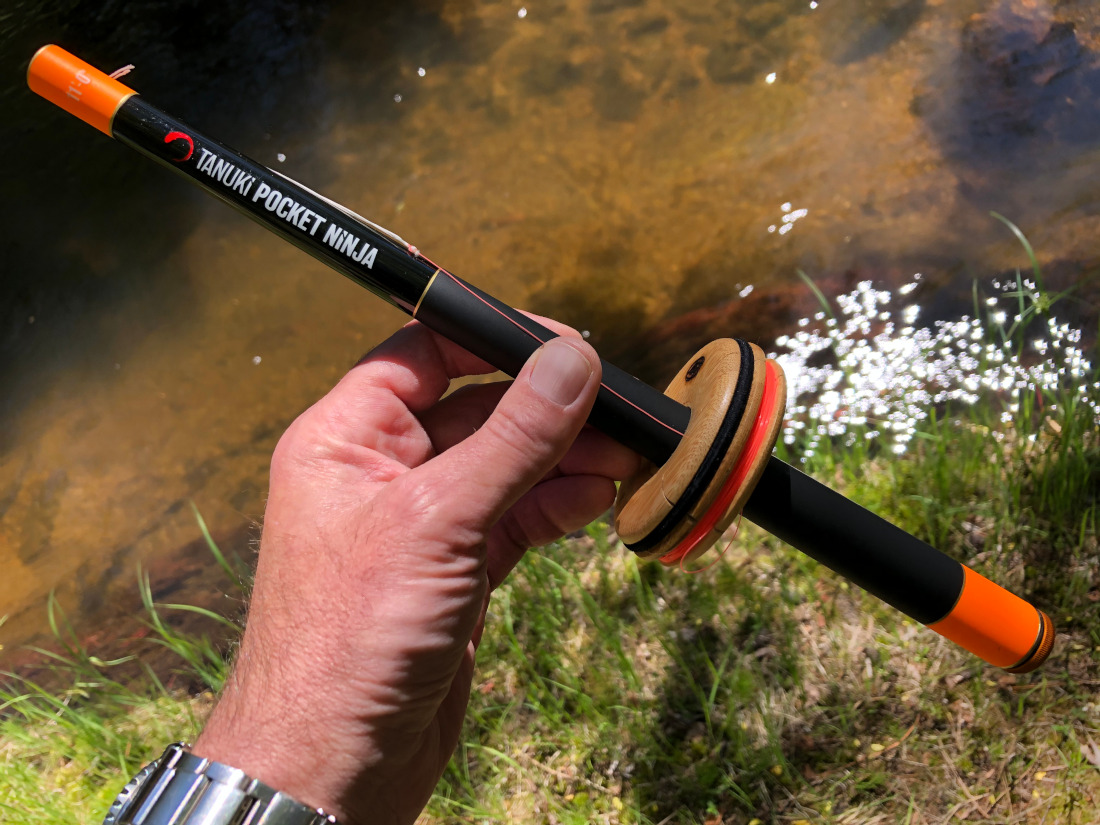 So you've heard about this "tenkara" thing, but haven't tried it yet. Maybe you've heard dismissive or even disparaging remarks about it in social media or at your local fly shop. So, is it legit? Why bother trying it when your conventional fly rod works just fine? Well, here are 10 good reasons …
1. It's easier to learn
I've worked in several fly shops over the years and was a guide and casting instructor. The #1 comment I got from beginners is that fly fishing is so complicated. They tend to really struggle with the cast and end up getting frustrated. But tenkara simplifies everything. I can put a tenkara rod in someone's hand who has never fished a day in their life and almost instantly, they can cast it. They're amazed at how easy it is. This removes a huge barrier-to-entry to the sport. You can catch fish the first time you go out instead of spending hours or months practicing your timing, shooting line, and line-management techniques with a rod and reel.
2. It's inexpensive
Currently, premium fly rods are going tor $900 or more. Then, there's the reel (tack on another few hundred for a good one), the fly line, etc. This is another intimidating barrier to entry. How many times have you heard someone say, "fly fishing is too expensive"? Mainstream companies and marketers would have you believe that the more gear (and more expensive gear) you have, the more fish you will catch. This is simply not true. The good news is that you can get a great tenkara rod for $150-$250 and spare yourself the cost of a reel and expensive fly line. This means if you try tenkara and don't like it (but you will), your initial upfront investment won't break the bank. But if you end up liking it (and you will), you're going to get a huge ROI on your initial purchase and probably find a new life-long passion.
3. It's compact
Modern tenkara rods are telescopic and collapse down to mere inches. This means they can go anywhere you go conveniently–in your hiking backpack, on your bike, in your suitcase, or in your car. In fact, some tenkara rods will even fit in your glove compartment! Since they're so compact, there's really no excuse to leave your tenkara rod at home. The next time you happen to drive by a good looking piece of water, you'll be ready for it instead of wishing you had brought all of your bulky conventional gear in the trunk.
4. It's light!
With most tenkara rods hovering around the 2 oz. mark, this is another reason they're so popular with hikers and backpackers. And the weight savings of not having a reel is even better. This is why it's become so popular with ultralight backpackers.
5. It gives you a better presentation
Fly anglers are always trying to achieve a perfect "dead drift". The problem with conventional fly line is that it's heavy and thick so when on the surface, it can create drag on the fly giving it an unnatural presentation. Conversely, tenkara uses an extremely light line and because you're using a much longer rod (12′-14′ let's say) it's much easier to get a dead drift because you can keep just your tippet and fly in the water, thus minimizing drag more easily.
6. It's more efficient
Whenever I fish with friends using conventional rods and reels, I notice their flies spend more time in the air than in the water. First, they have to strip line off the reel, then make a series of false casts to shoot line out to the desired distance before they can even make their presentation. Then, they have to strip all that line back in and repeat the process to make their second one. I can easily make 2-3 presentations in the time it takes them to make just one. You just cast, follow the line with your rod, pick up the line and cast again. With no false casting or shooting line, my fly is in the water more. You're not going to catch a fish in the air! See my video about this here
7. Repairs are easy!
While many fly rod manufacturers offer a "guarantee", there are hidden costs. If you break your $900 Orvis or Sage, you're going to have to pay a fee (think $60) and might be without your rod for weeks. If you break your tenkara rod, you can repair it yourself. Pretty much all tenkara rod manufacturers sell replacement parts (averaging $20 or so). Since the rods are telescopic, you can just order the segments you need online and replace them by taking the rod apart and inserting the new ones. It's far less expensive and you can get your rod back up and running in just a few days rather than weeks.
8. No frozen guides!
For those who fish in winter, frozen guides are a huge burden. Interrupting your fishing time to clear ice out of your guides every few minutes can be frustrating. There are products on the market that are supposed to help with this but I've tried them and they don't really work. With tenkara, there are no guides so this hassle is eliminated. You can keep fishing unencumbered and (again) with your fly spending more time in the water.
9. Better tippet protection
Since tenkara rods are longer and more limber than their conventional counterparts which are shorter and stiffer, they offer excellent tippet protection. Even though tenkara was originally designed to be for smaller trout on small streams, there are many anglers who have pushed the envelope and have landed very large, hard-fighting fish including steelhead, salmon, and bonefish. While I'm not a big advocate of using tenkara outside the realm for which it was intended, it can be done–even sans reel. This is just a testament to how the softer action gives you maximum tippet protection.
10. It's fun!
While most of what I've written about above is practical and technical, I don't want to ignore the fun factor. Playing even a small fish on a tenkara rod is just plain fun. You can feel every movement of the fish and feel a more direct connection without a bunch of complicated equipment getting in the way. When you land a fish with tenkara, you will feel the satisfaction of knowing YOU caught it because of your skill and not because of a $500 reel. To me, it's just more gratifying.
11. Bonus reason: It's a quick setup
While my rod-and-reeled friends are still sitting on the bumper of the car stringing up their rods, I'm already on the river and may have already caught a fish. The beauty of tenkara is that you can leave your rig set up so you're ready to go at a moment's notice. Watch my video here to see what I mean. And of course, less time spent in the parking lot and more time on the water = more fish!
So if you're on the fence about trying tenkara, hopefully, some of the 10 reasons above (well, actually, these go to 11) will encourage you to give it a shot. The overwhelming number of people who criticize tenkara have never even held a tenkara rod in their hands, let alone actually fished with one. Don't listen to them. Try it for yourself and see. I think you'll be pleasantly surprised. And if you have any questions about how to get started, feel free to contact me. I'd love to help!