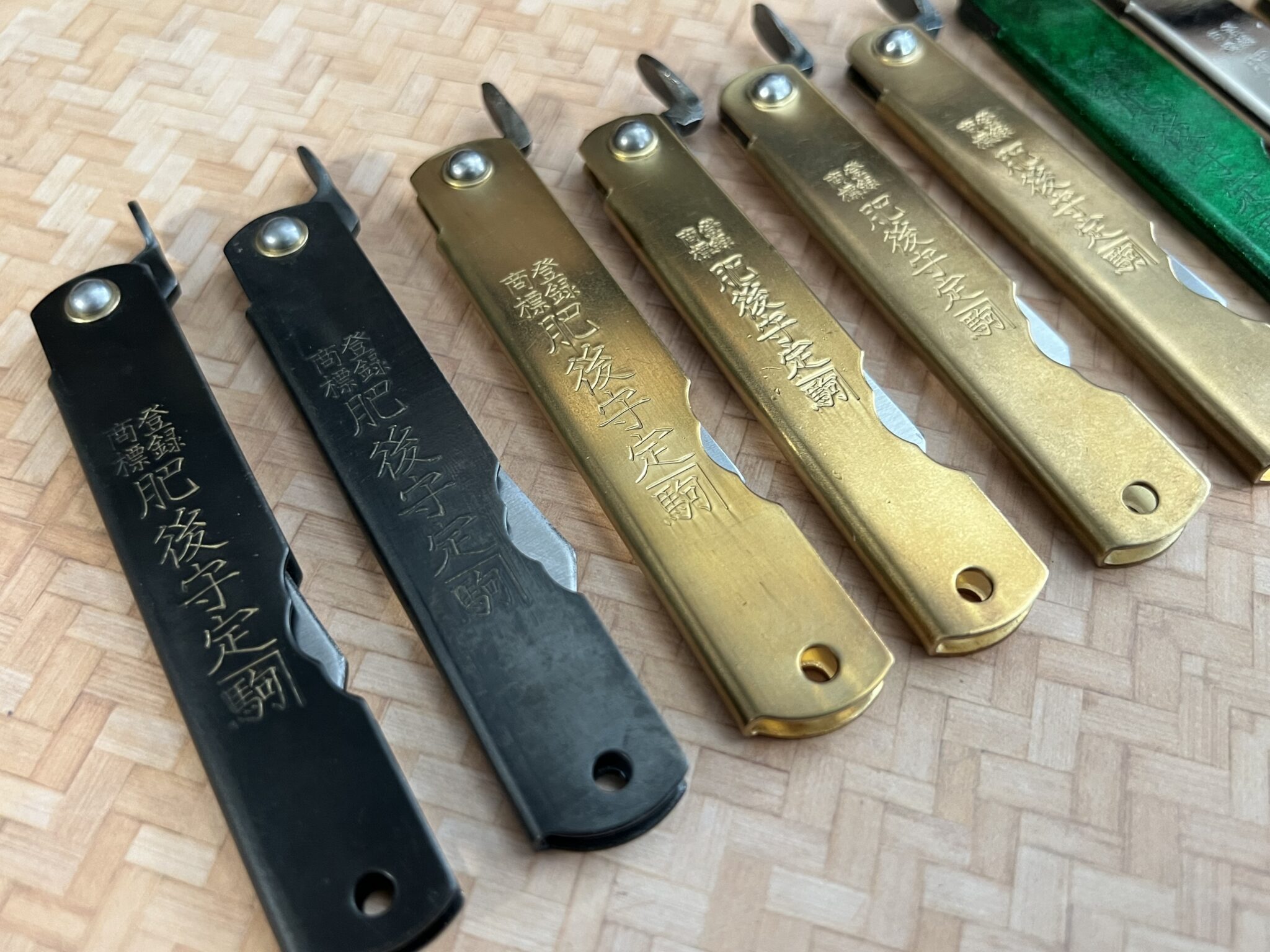 If you visit my tying desk, you'll notice two gadgets that have taken up permanent residence on the base of my vise: my scissors, and a Higonokami knife. The former would certainly make sense at a tying desk. The latter might seem a little odd, yet it's nonetheless just as utilitarian (and certainly more storied).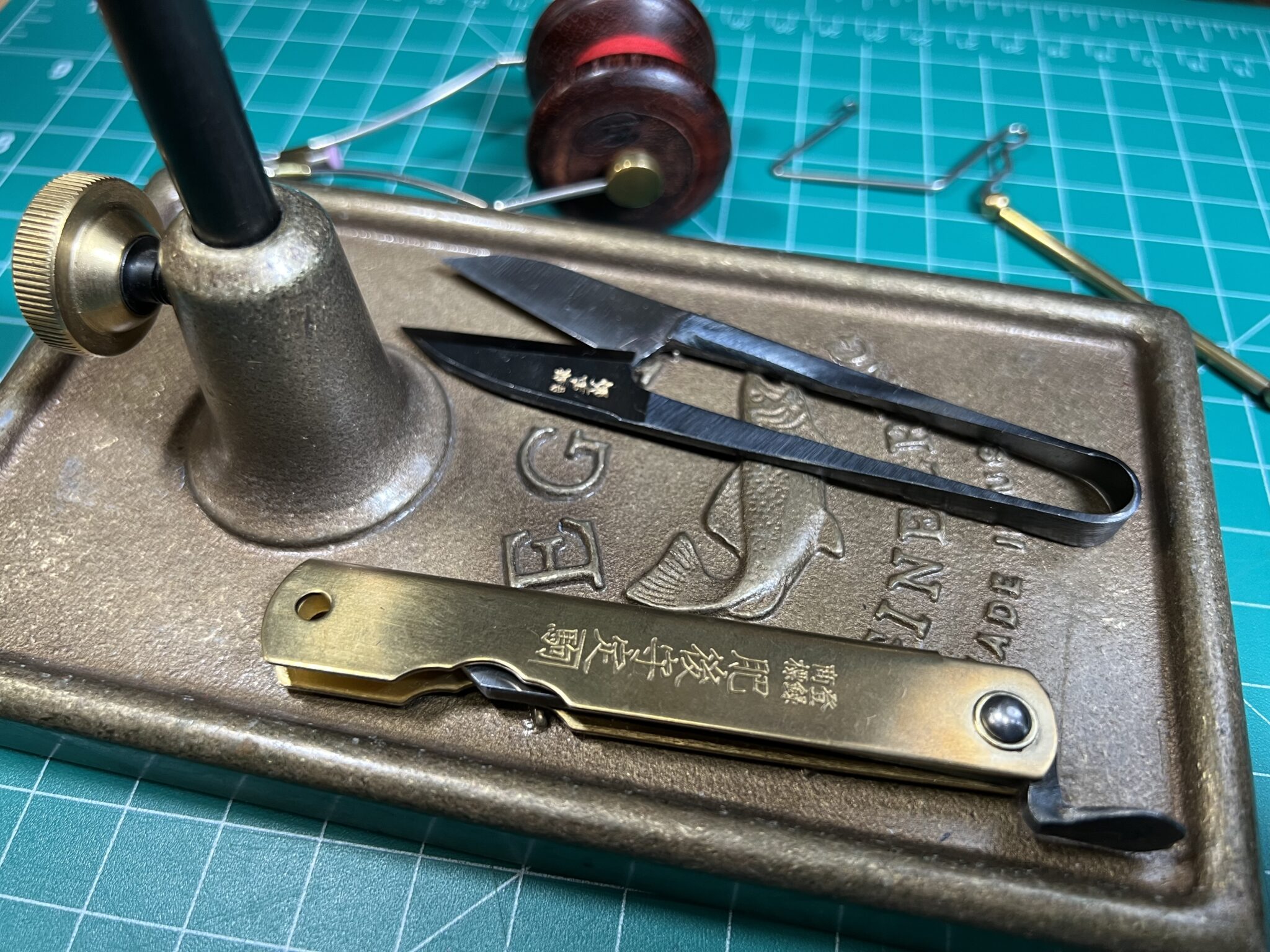 What is a Higonokami Knife?
Essentially, it's a simple, yet very clever little utility pocket knife from Japan. Ask any Japanese person about the Higonokami and chances are, they own one, have owned one, or are at least aware of it by name. You might say that the Higonokami is to Japan what the Opinel is to France.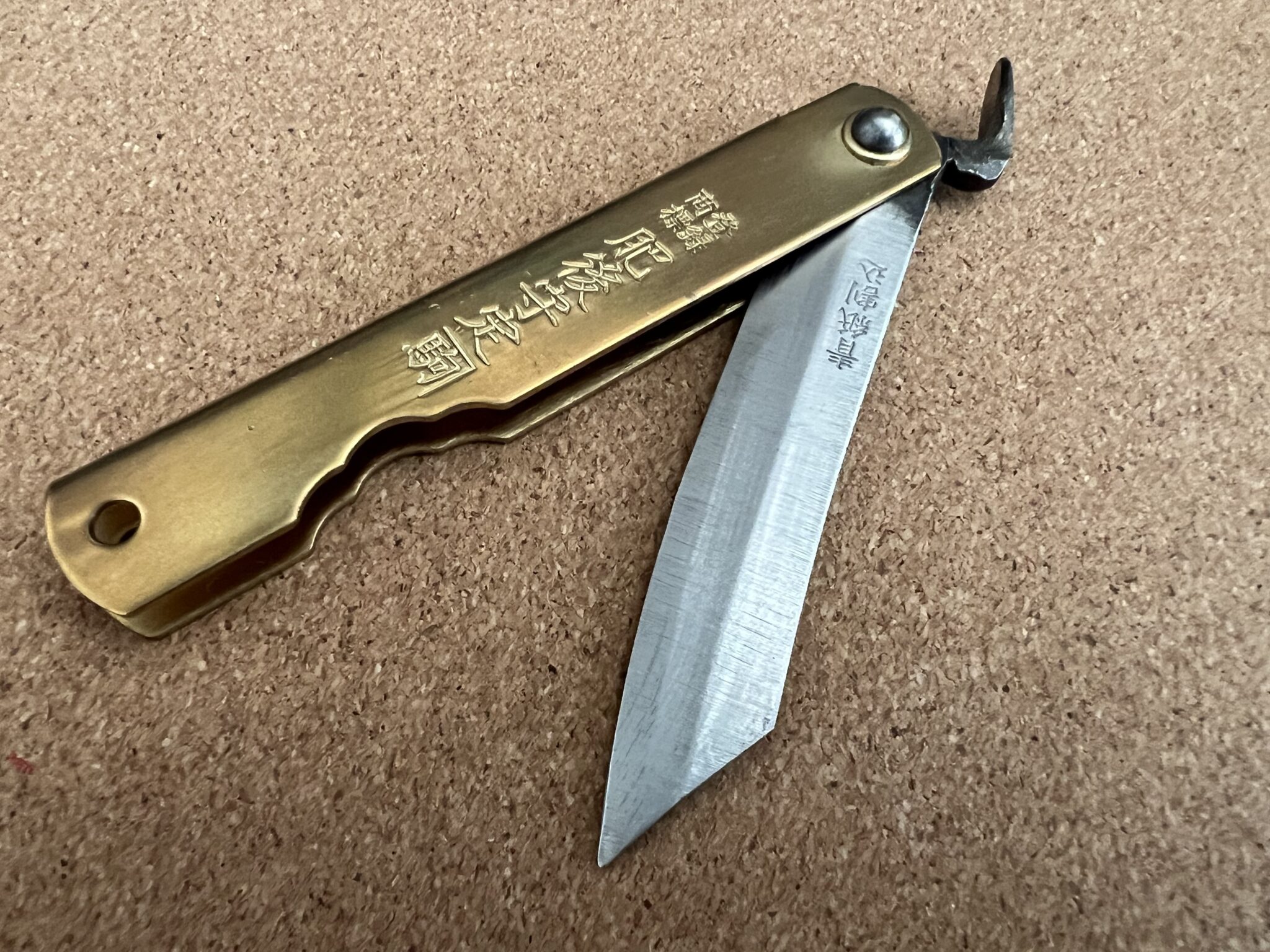 It's opened by a little iron flipper at the end but it's not what we would call a "flipper knife"–the kind that opens with one hand at lightning-fast speed like a switchblade. This is decidedly a two-handed open/close. Like tenkara, the lack of mechanical embellishments forces you to slow down and be more mindful when opening and closing it.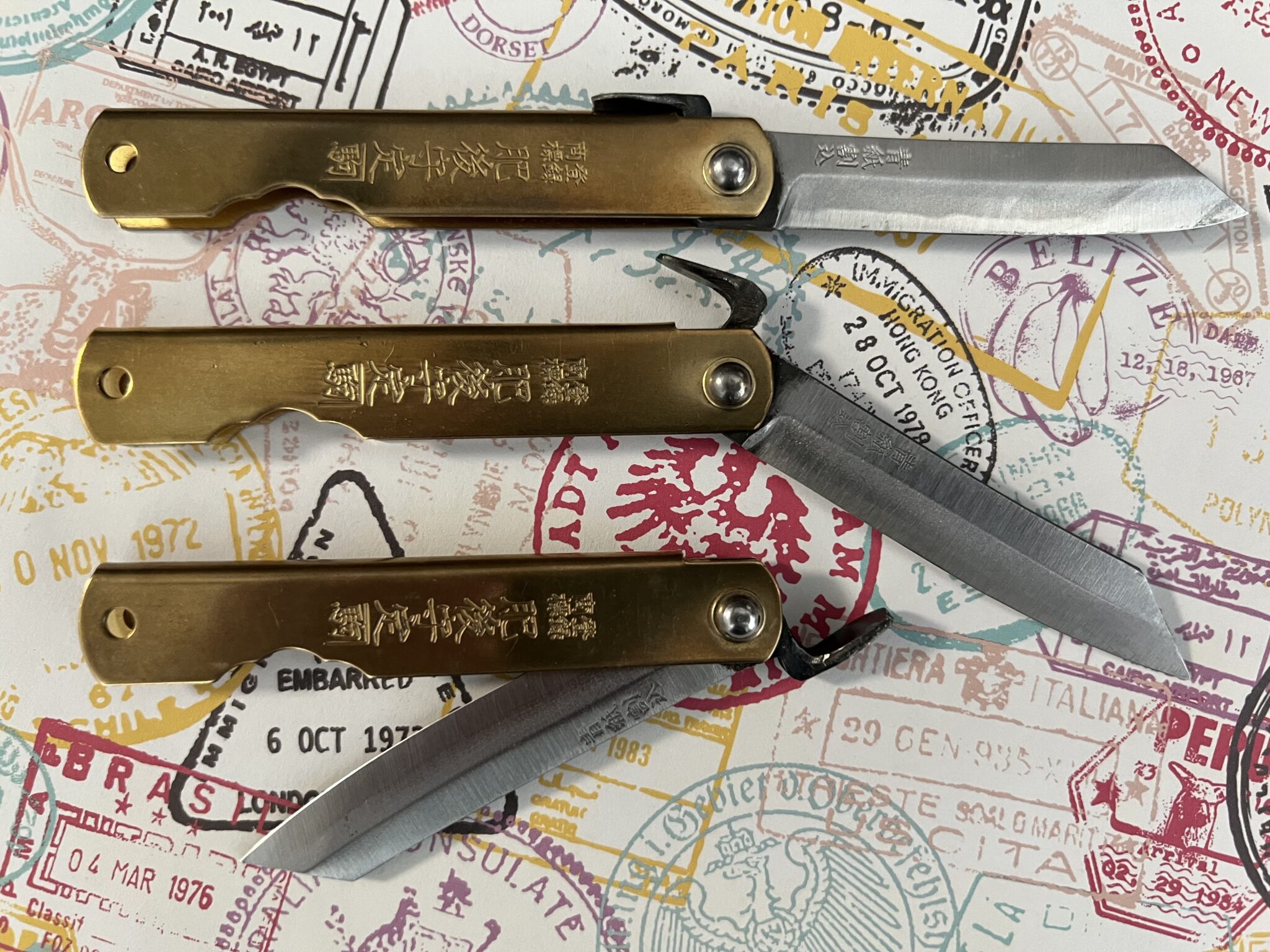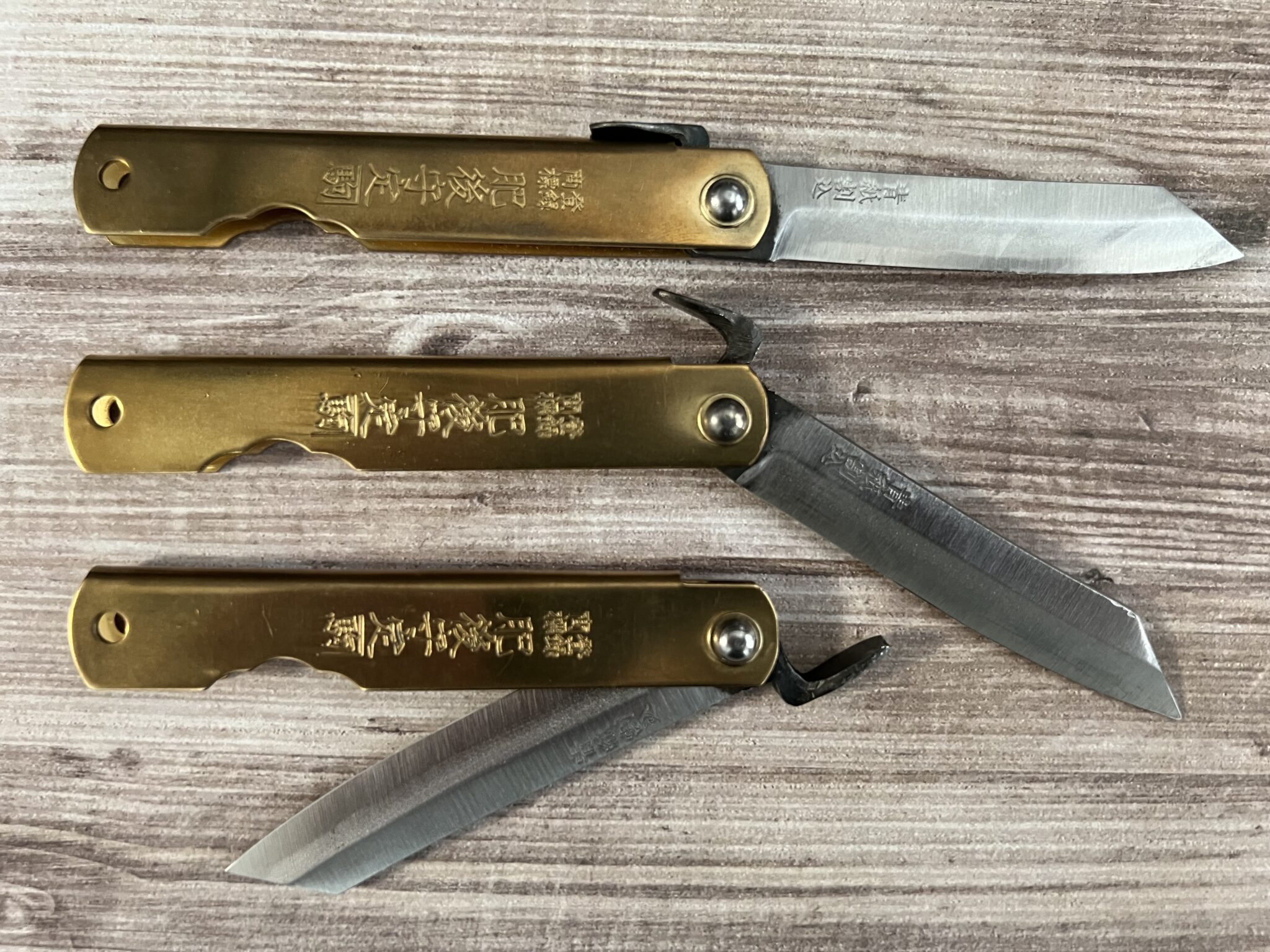 Aside from aiding in opening the knife, the "flipper" tab has two other benefits. Since there is no locking mechanism, when holding the knife, you press down on it with your thumb against the top of the handle to keep the blade from accidentally closing.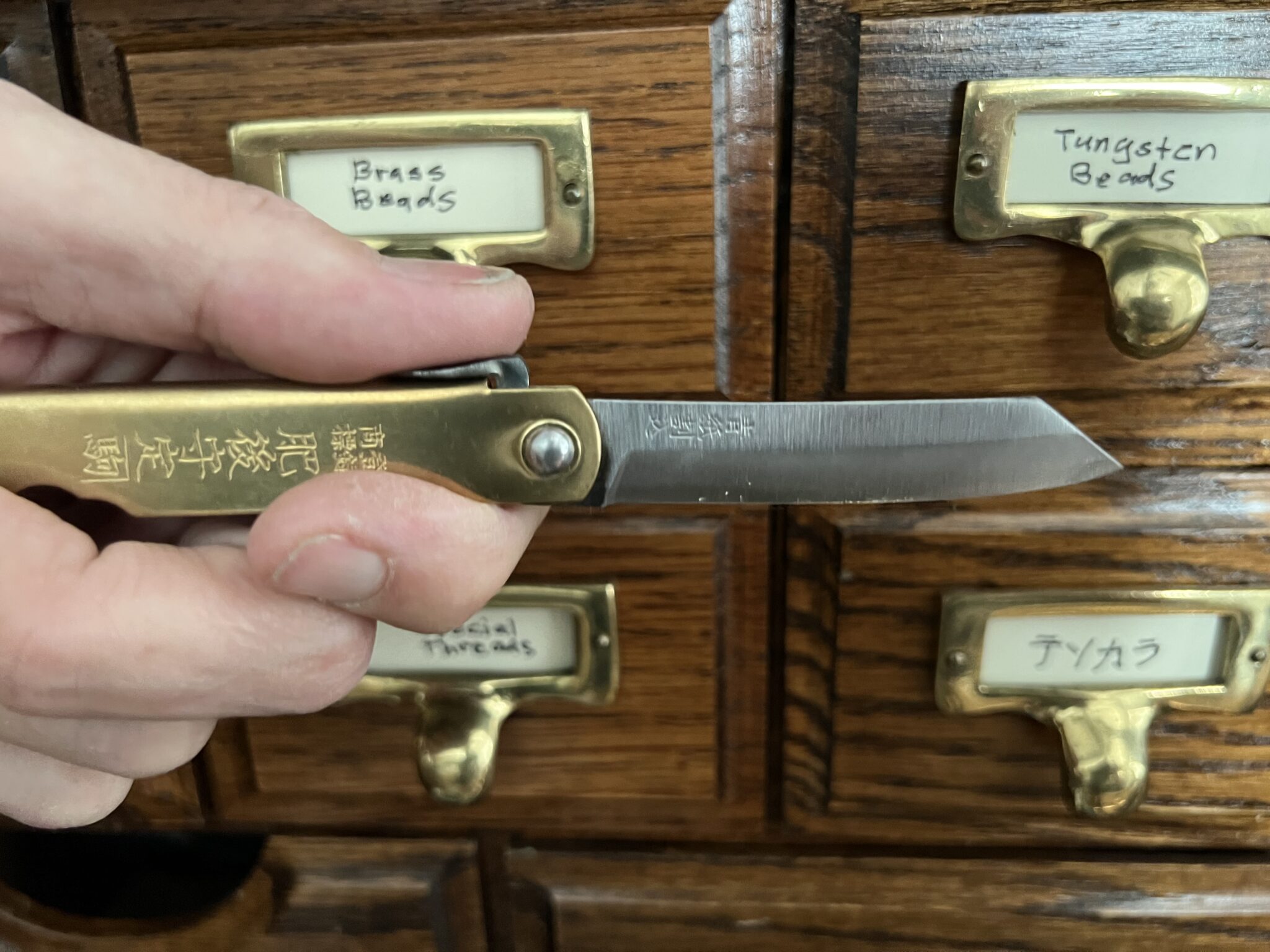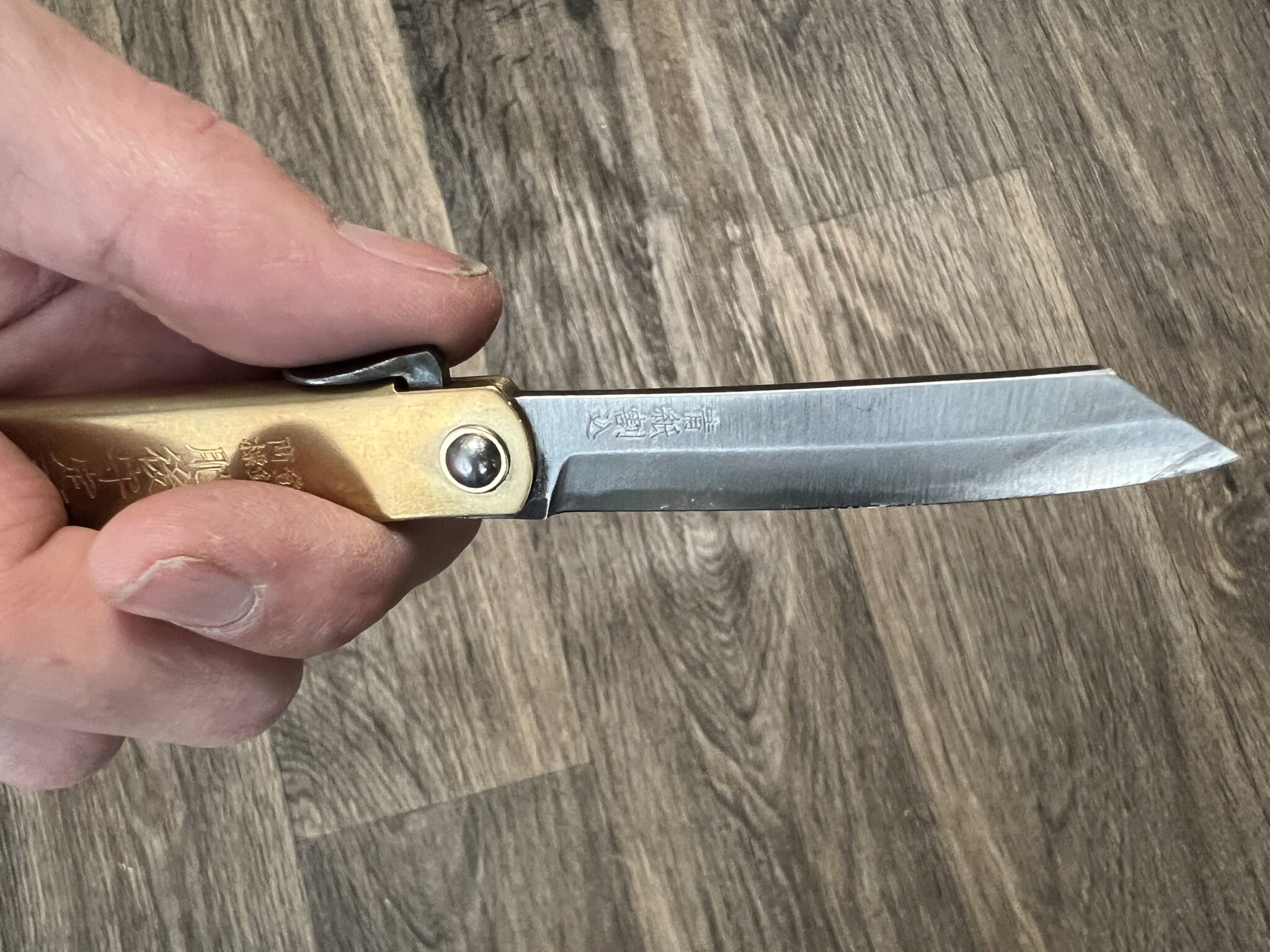 As you'll notice, it's a riveted design, meaning there is no adjustment on the the opening or closing inertia of the blade though I suspect you could tighten it up by squeezing the folded steel together.  I haven't tried it nor have felt the need to yet.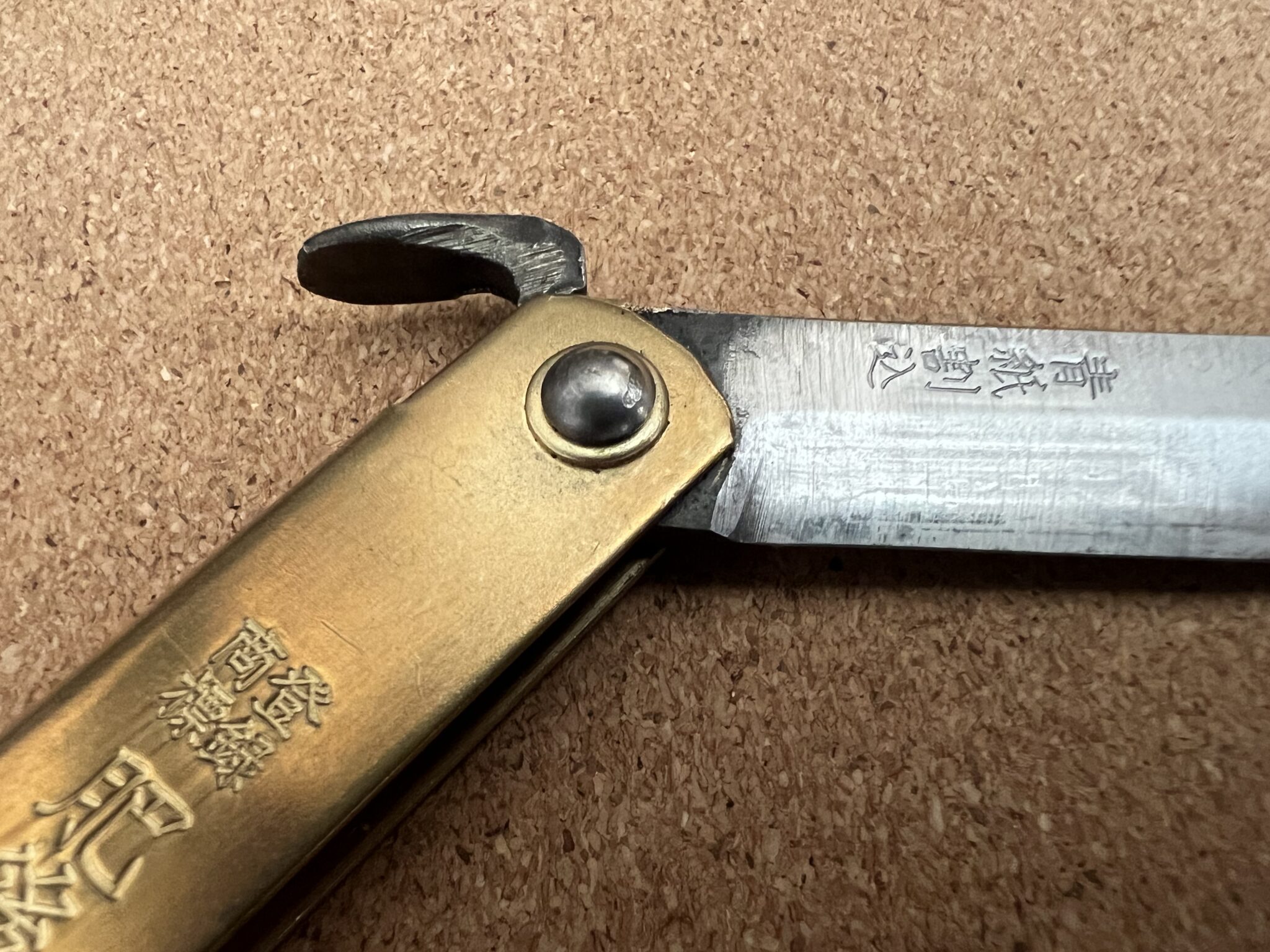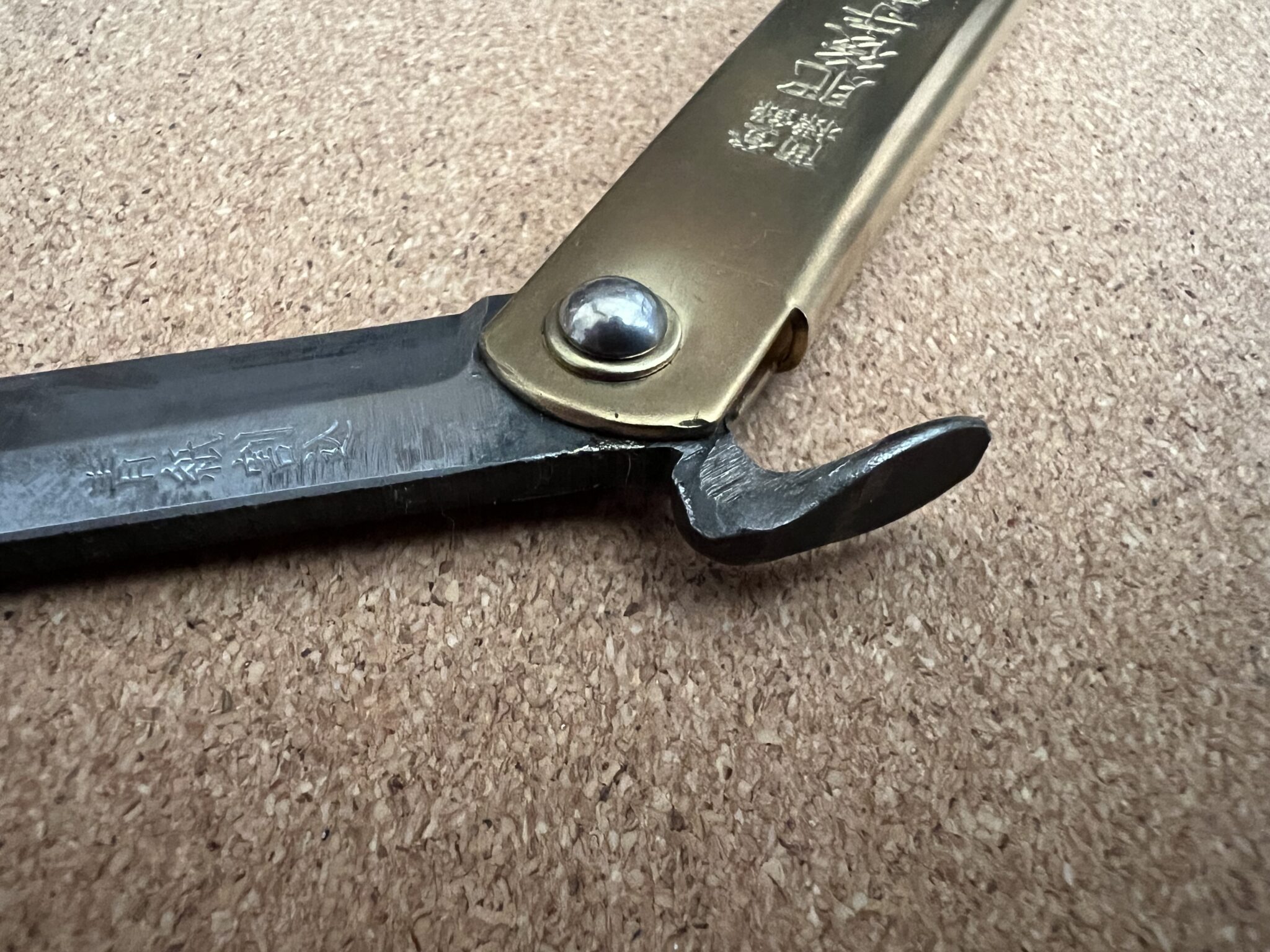 The blade is a "warikomi" sandwich of steel and iron which we in the West would commonly refer to as a "Scandi grind". In other words, the edge is not bevelled–it tapers straight from the spine to the edge. This creates a slimmer blade profile which makes the Higonokami a slicing tour de force. It's available in a few different steels but I prefer what they call "blue paper", which is a high-carbon steel that is extraordinarily sharp, yet still very easy to sharpen. See more about the higonokami blade here.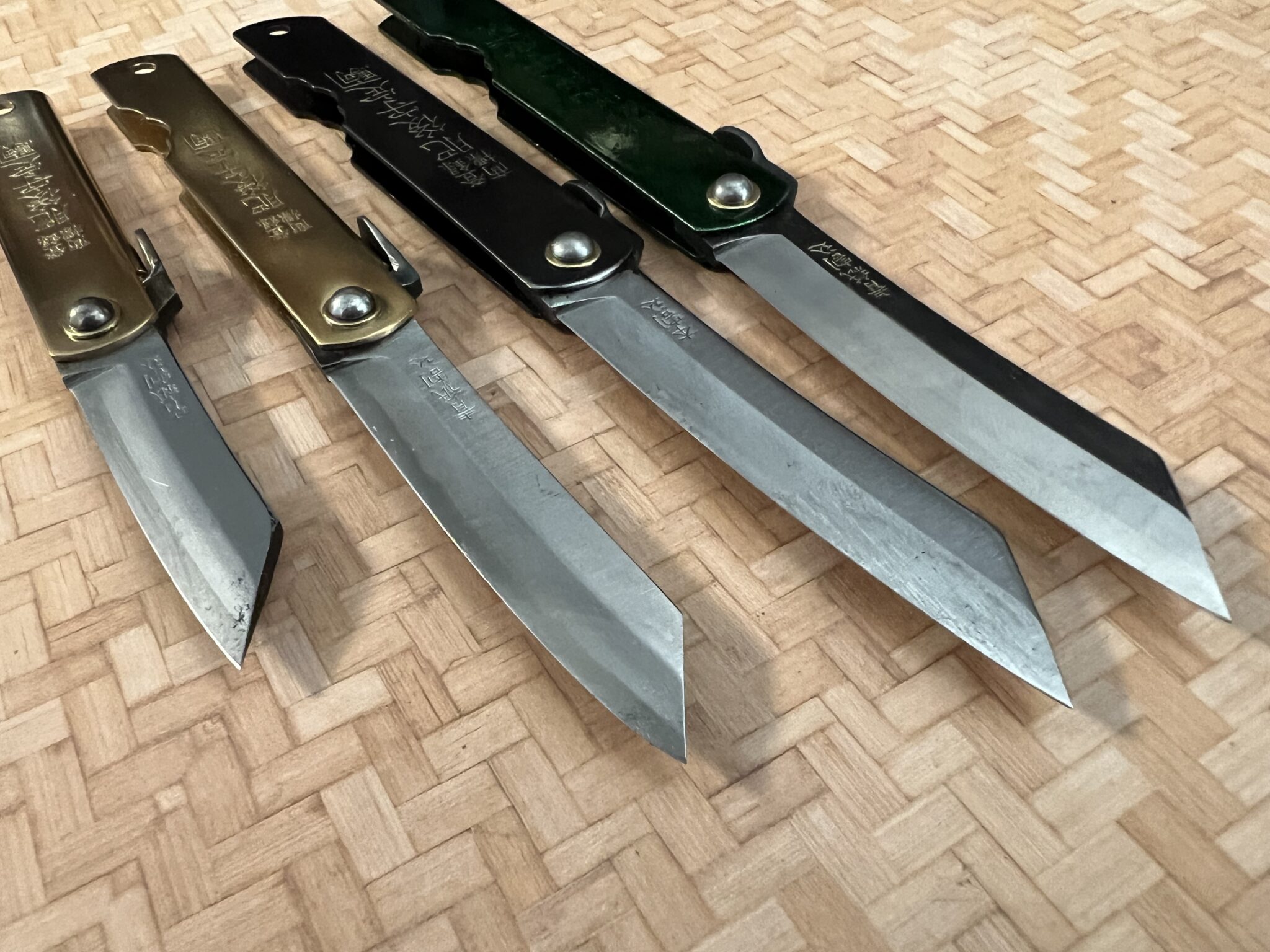 Here's a video showing the construction process:
Sizes & Styles
The Higonokami comes in three sizes. The most popular is the 100mm, but they also make it in 75mm and 120mm. I own several in brass, stainless steel, and black, but tend to favor the 100mm brass because I feel it's the most versatile size.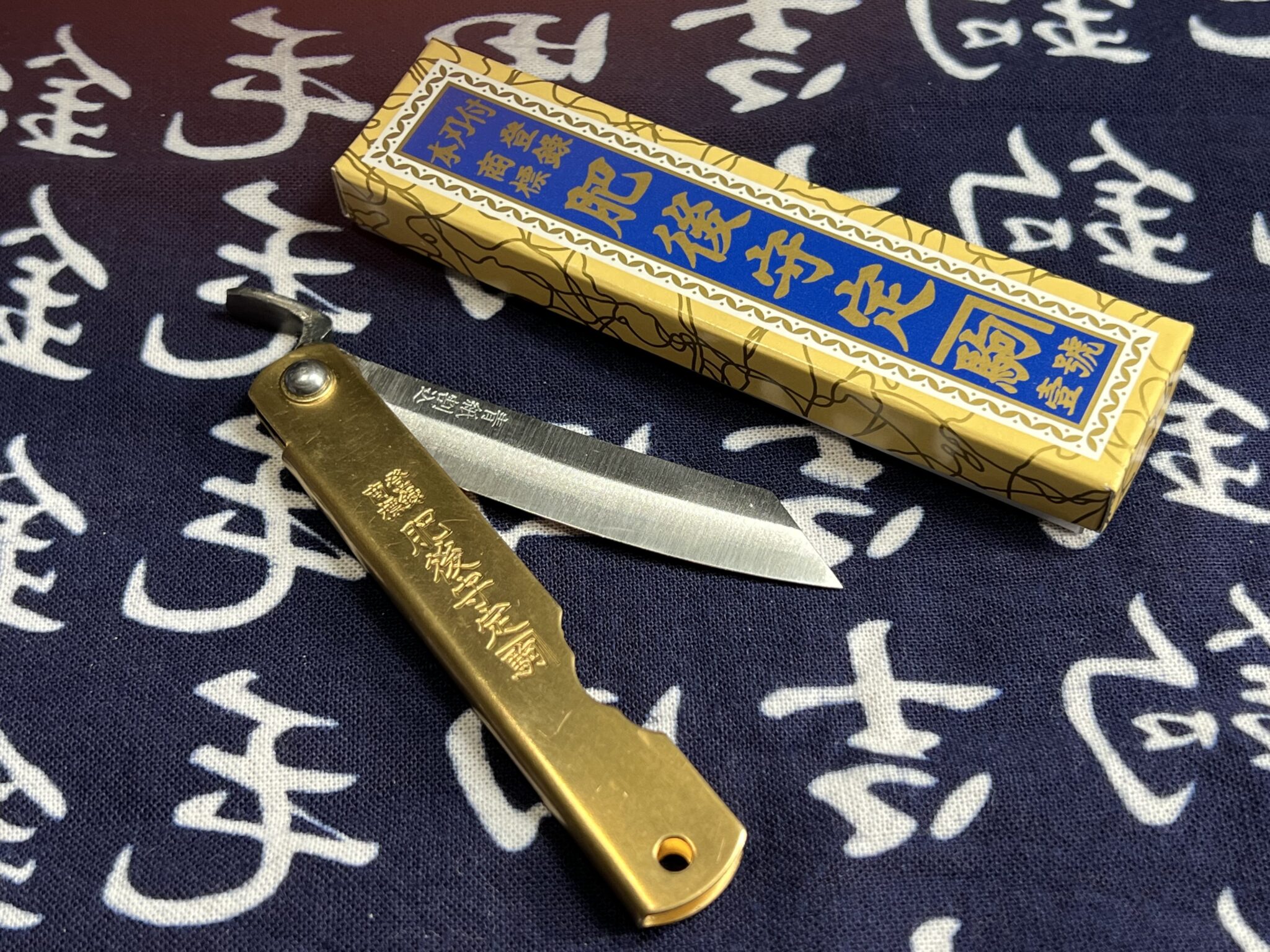 But I do carry the 75mm in my leather EDC pocket organizer/wallet along with a mini flashlight, pen, and cards. Aside from coming in handy when out and about, it's great conversation starter if you learn a little of the history behind it. And if you need to do a small cutting task within the company of polite society, it's much less intimidating to pull out a 75mm Higonokami than a 4″ Spyderco.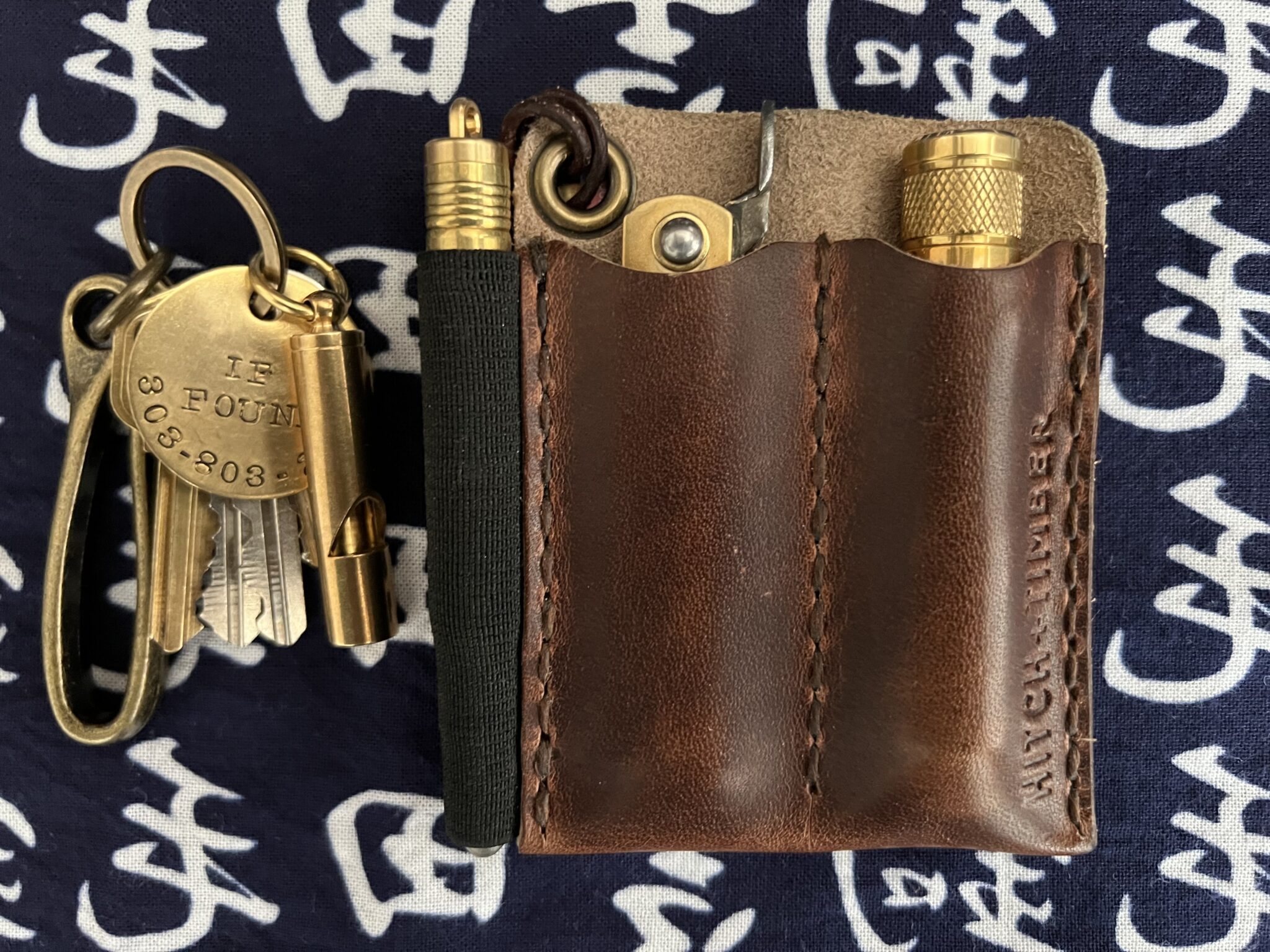 I also like the brass handled version because along with its carbon steel, it develops a gorgeous patina that compliments my other brass EDC gear well. Here's a side-by-side of the 75mm and 100mm: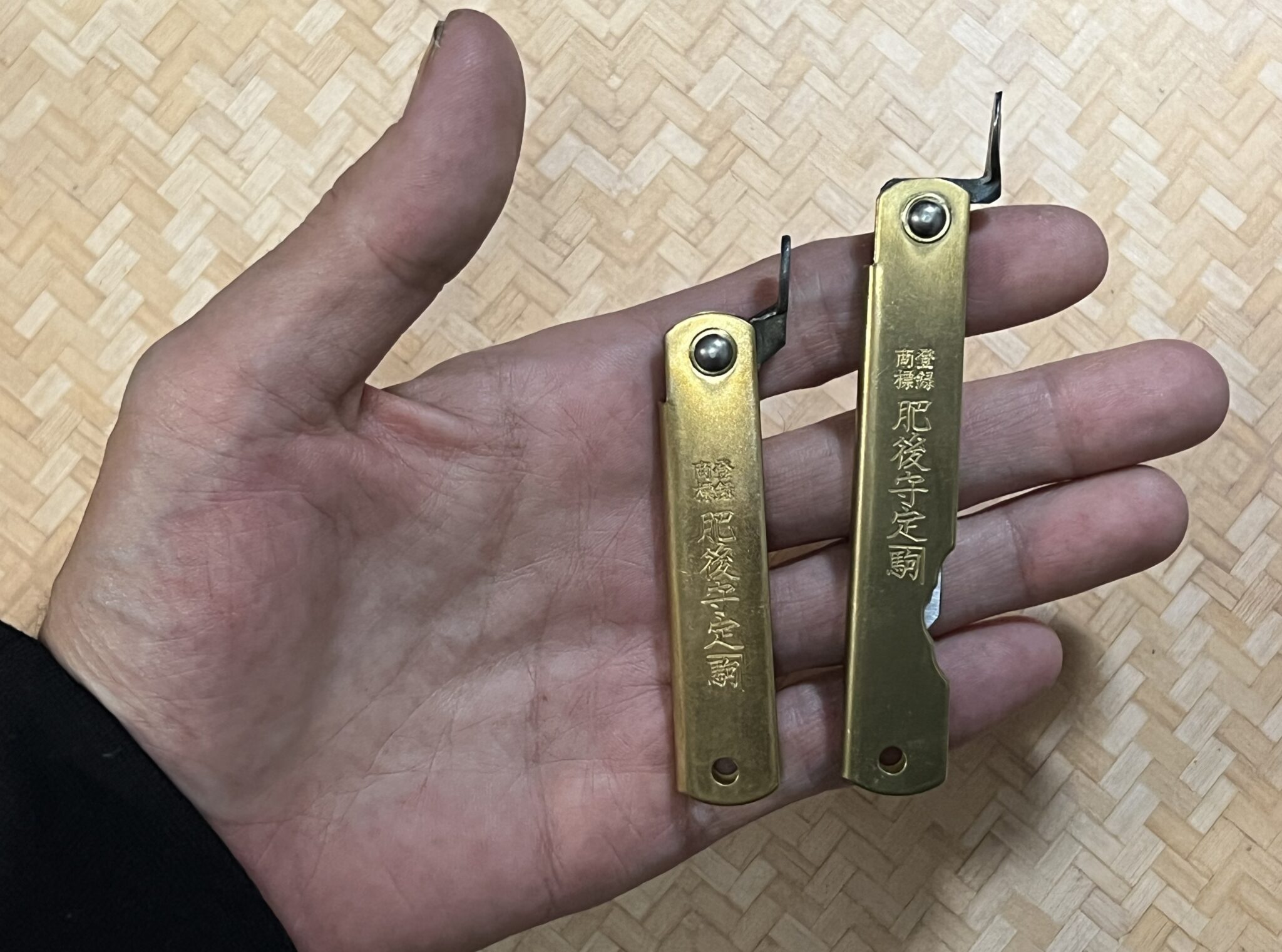 Some of the 75mm versions come with a little faux leather case so you can attach it to your keychain.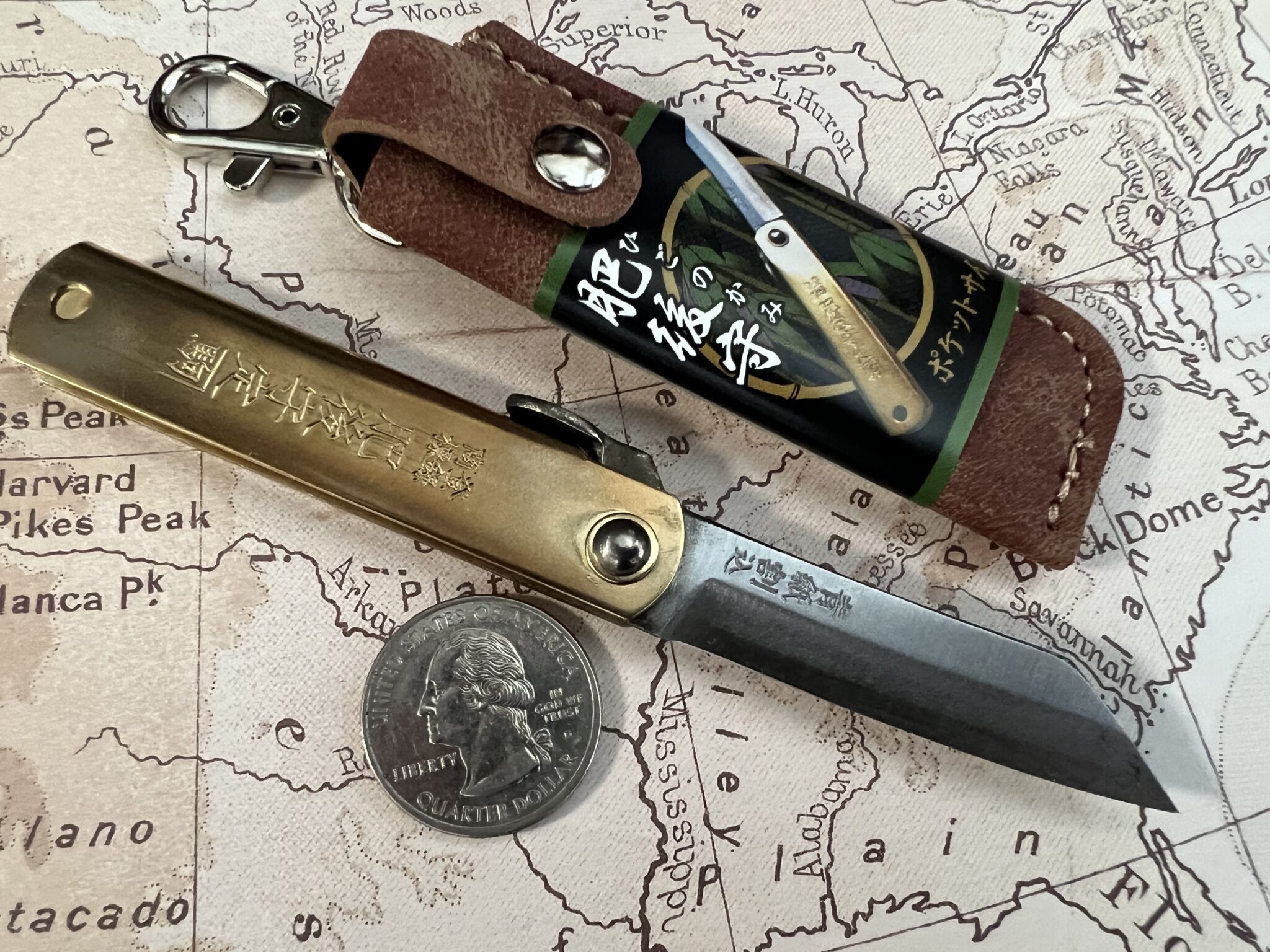 I even own a limited edition one in Jade that's almost too beautiful to use!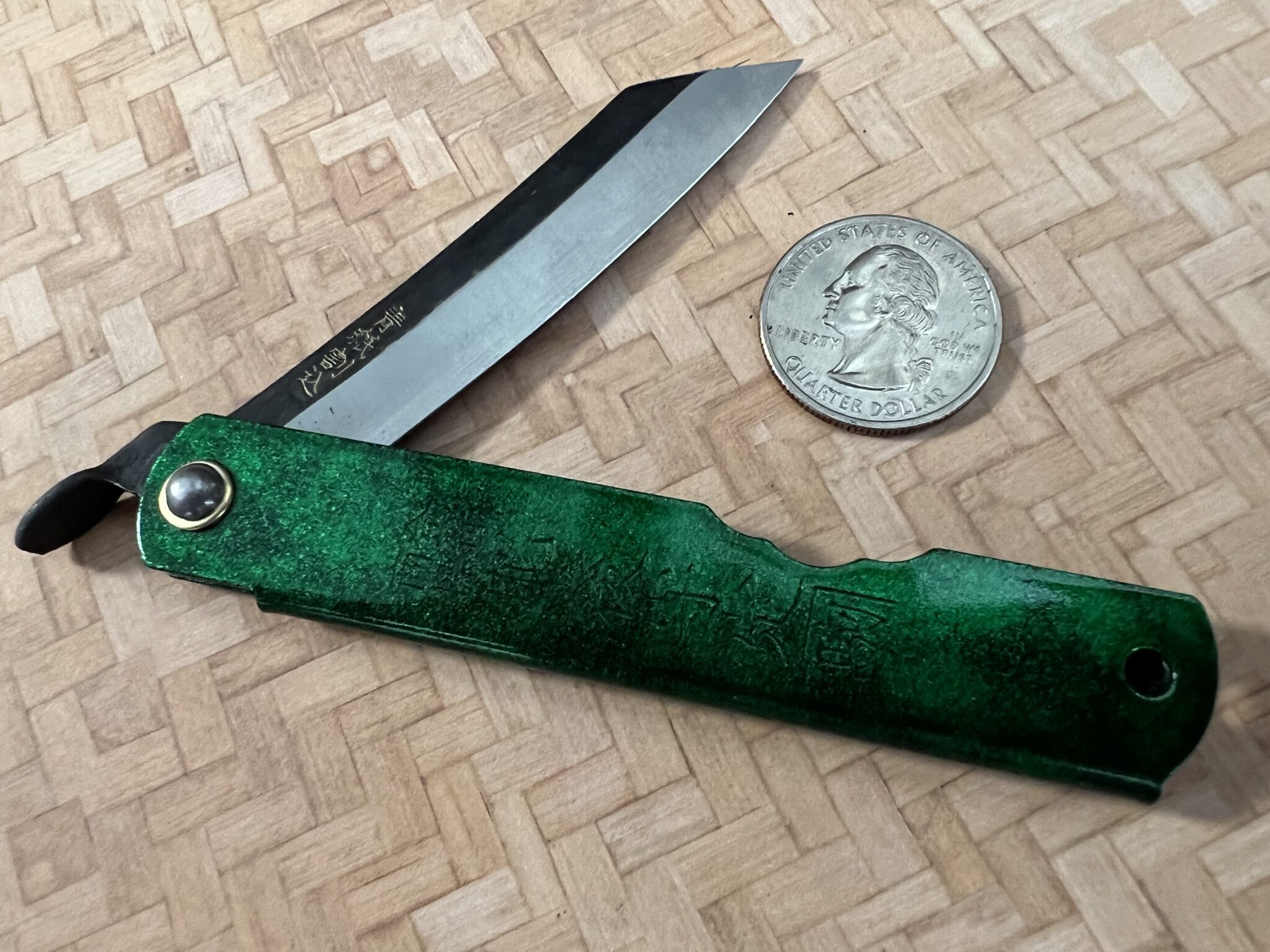 Here's my entire collection at the moment: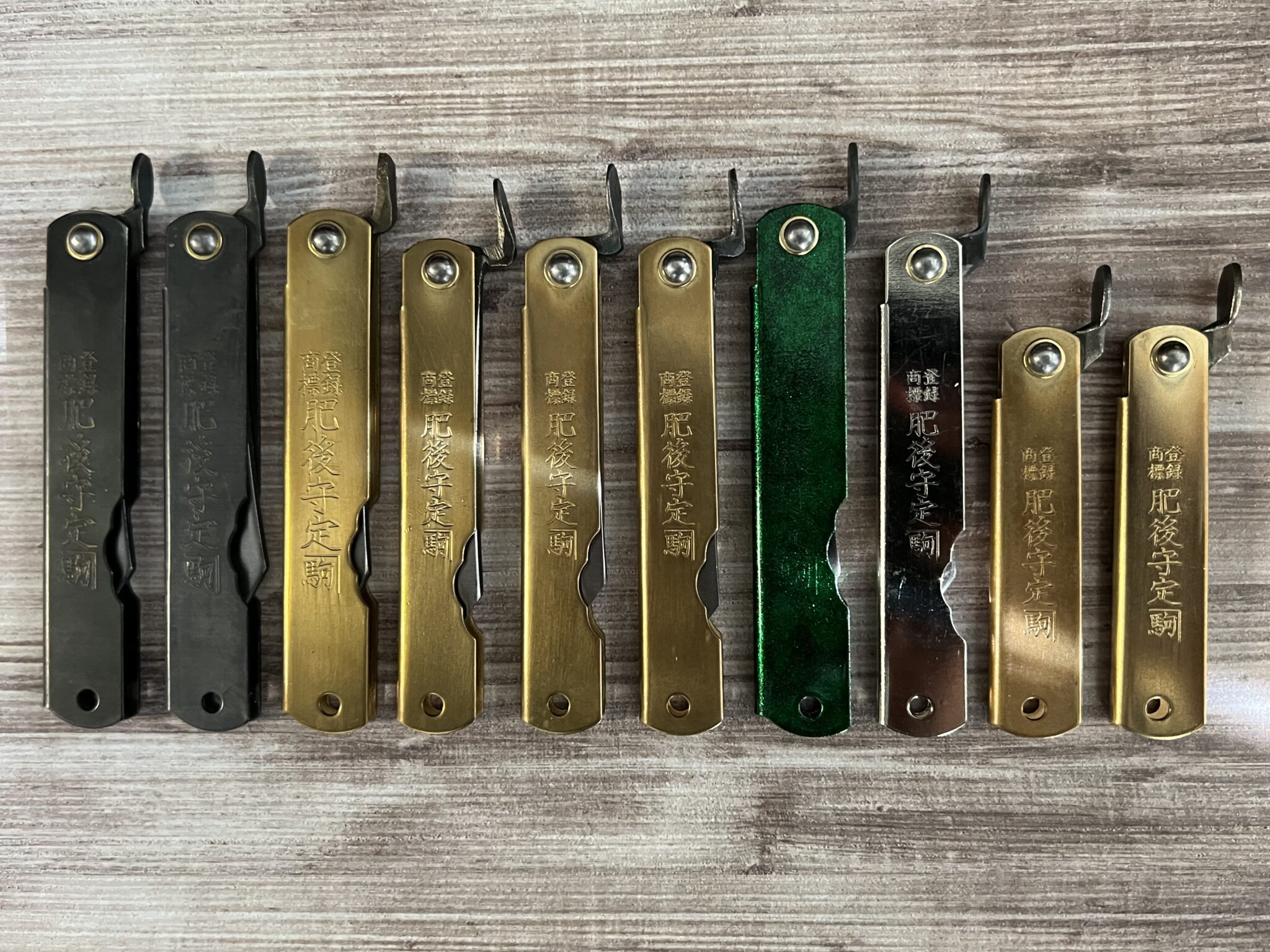 Multi-Purpose Design
I don't know if this was intended or not, but I also use the little flipper as a mini pry bar. I intended to use it to open tins of pipe tobacco (I often smoke a pipe while I'm tying), but soon discovered it comes in handy a lot more than I thought: removing staples, opening keychain split-rings, lifting stubborn can tabs, scraping off labels, or any myriad of tasks around my desk that could benefit from prying. I think most tenkara anglers have an eye for design and would instantly recognize that this seemingly mundane little flipper is actually a very clever multi-purpose feature.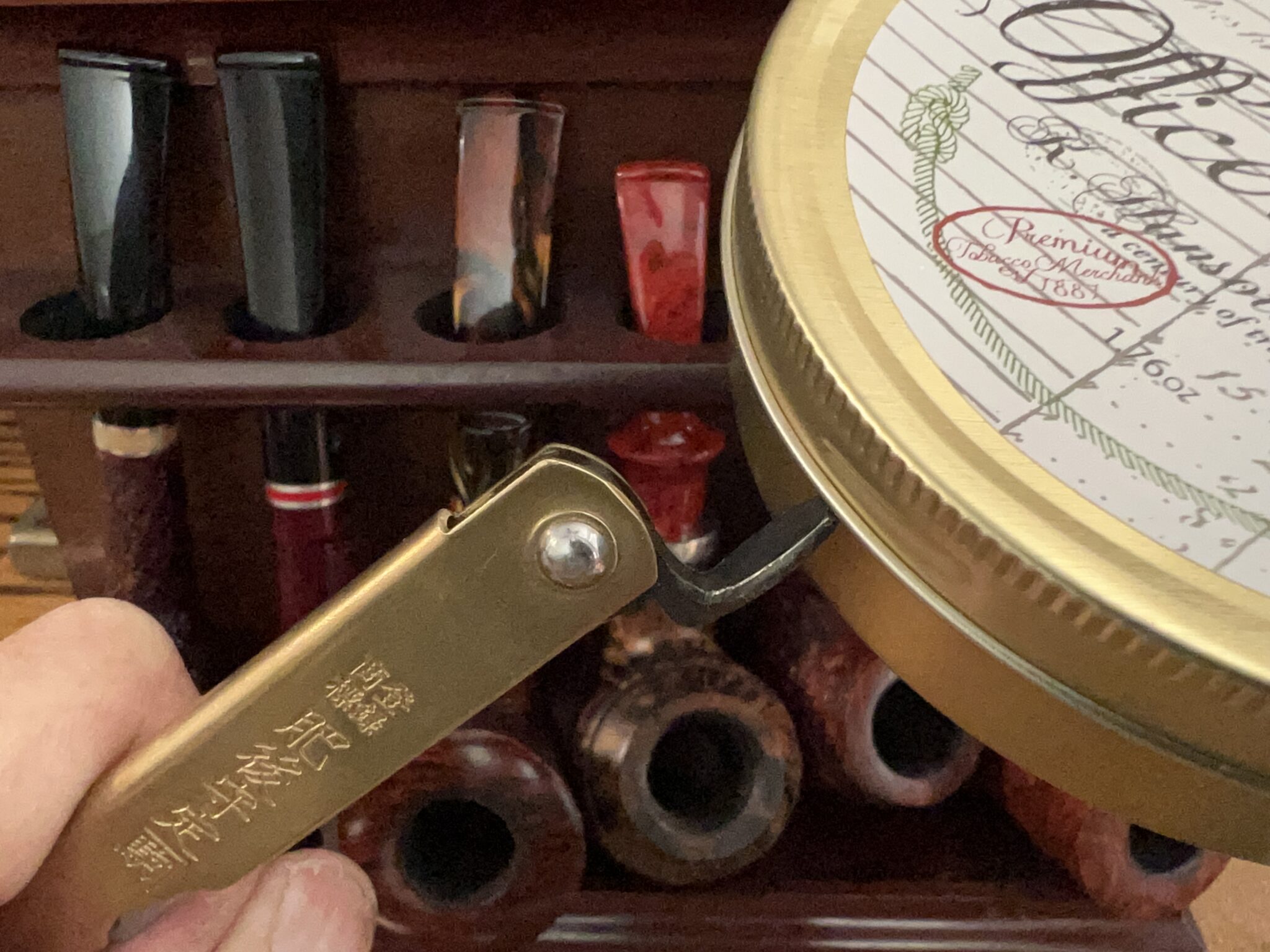 A word on the sizing … this is where it gets somewhat tricky. Since it's 100% hand made, the length can vary due to anomalies in both materials and the construction process. And to make it even more confusing, some sellers refer to the blade length, while others measure the length of the closed size (including the little flipper). The latter seems to be more common, so that is measurement I use. Still, just like the stated length of most tenkara rods, don't expect the measurements to be totally accurate–a 100mm is not exactly 100mm and a 120mm is not exactly 120mm. But if you have a wabi-sabi state of mind, the inconsistencies just make each knife even more unique.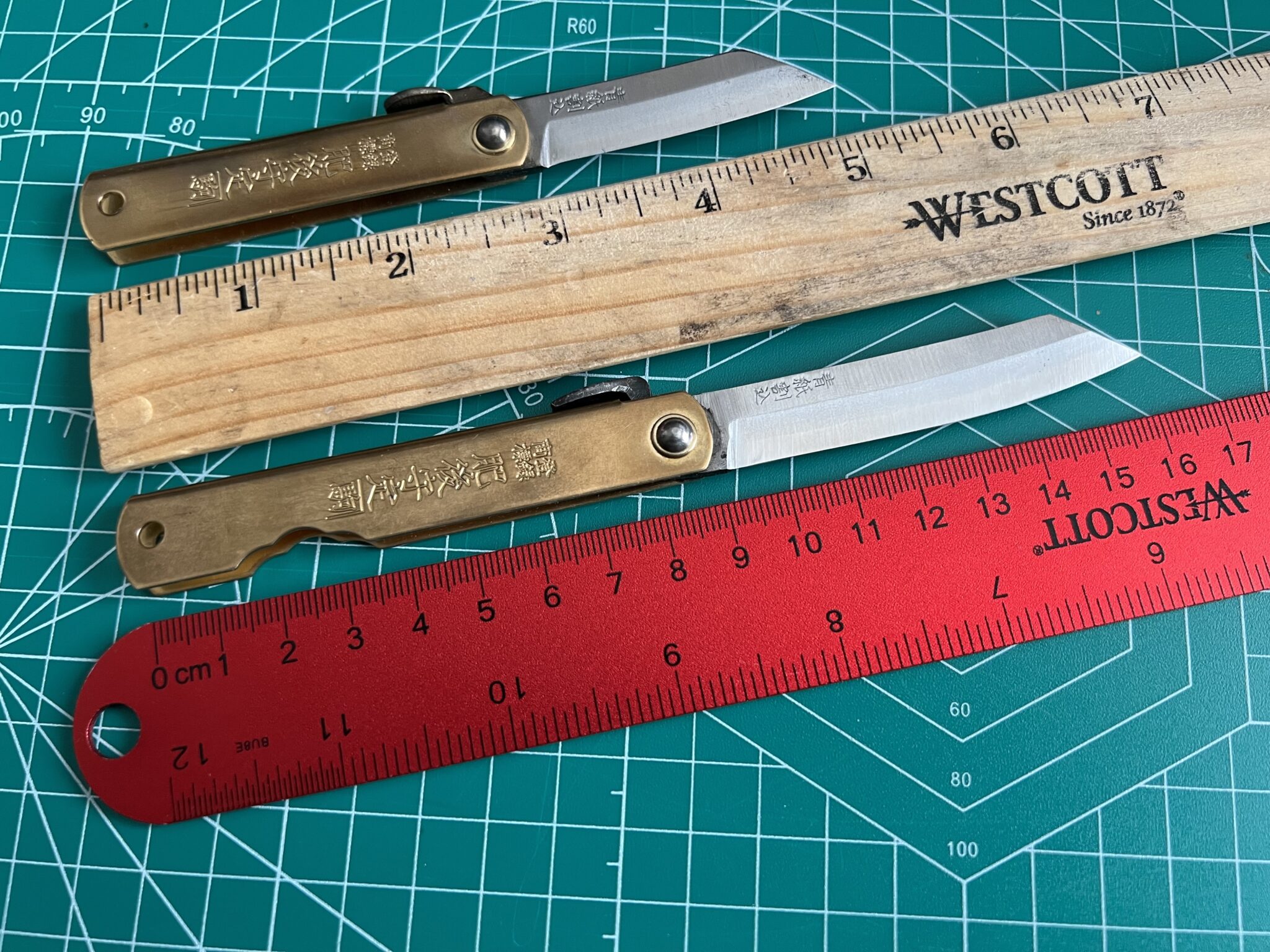 And just like the sizing, the weight can also be a little inconsistent. For example, in my collection, the 100mm knives can vary anywhere between 1.4 oz. to 1.7 oz.–even for the same model in the same material.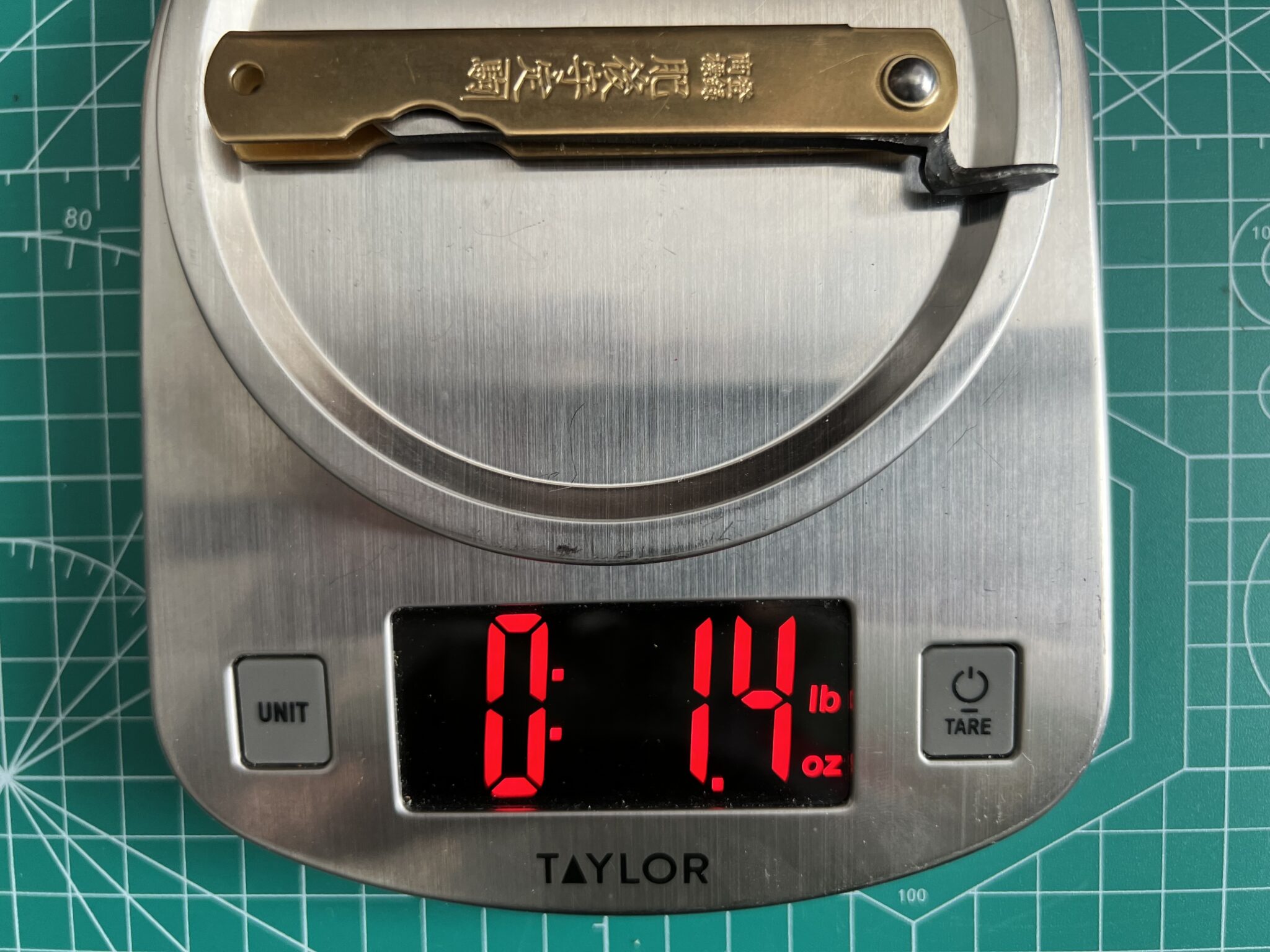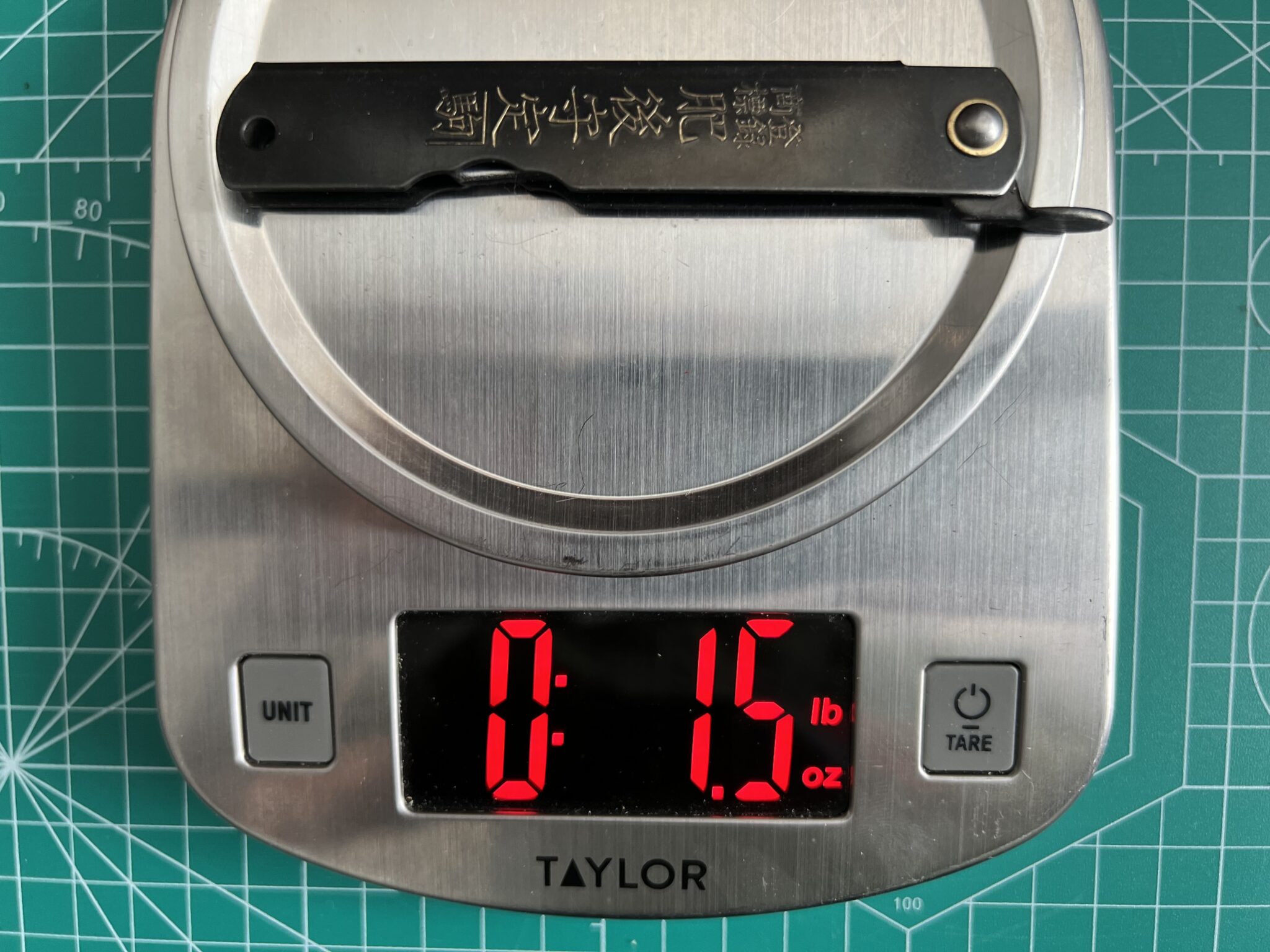 It might seem a tad heavy for such a diminutive knife, but for my application, weight is not a factor. I'm using it for EDC, not ultralight backpacking where "every ounce counts". Plus, I like the reassuring feel of holding a solid brass knife in my hand.
In case you're wondering what the handle and the blade say, I haven't bothered to get the translation, but I know it is stamped with the name of the maker and the type of steel used (VG-10, D2, etc.).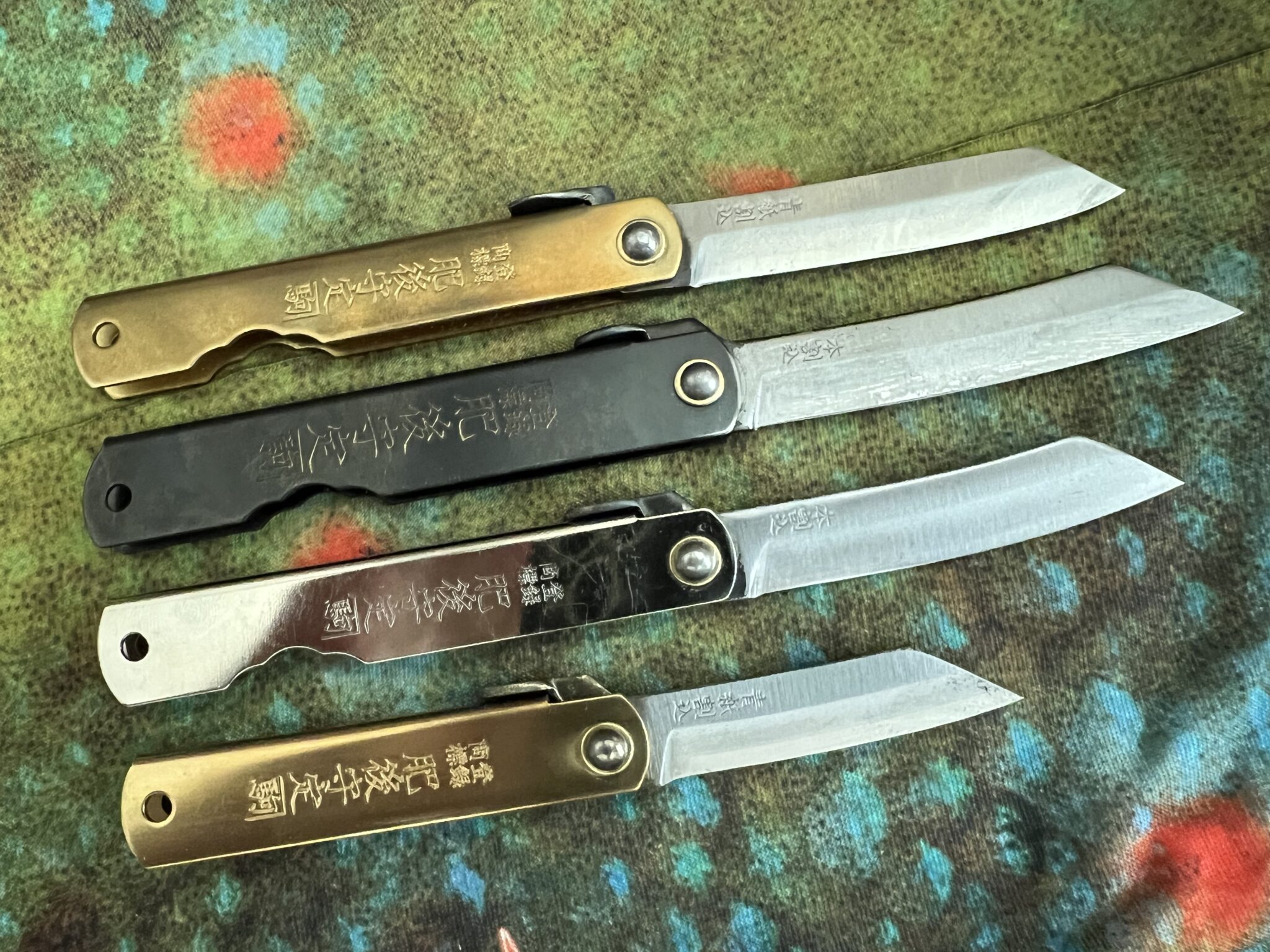 History and Lore
The best inventions always have an interesting story behind them. The history of this knife is fascinating and I urge you to spend some time Googling the backstory. I don't have space here to give it justice, but here's a little appetizer …
The first knives were invented by Komataro Nagao–some say some say in 1894, while others say 1896, but either way, it was born some time in the Meiji Era after the samurai were decommissioned.
The name "Higonokami" (means "lord/god" of Higo, the old name of the Kumamoto area in modern-day Kyushu. Ironically, "Higonokami" was also an honorific title given to samurai. But the knife actually got its moniker from a hardware wholesaler who carried Nagao-sans's knives and thought such a name would increase sales since many of his customers were from Higo. And it did.
The knives became so popular in Japan that at one point, all schoolchildren were issued one to use as a pencil sharpener. That, like many other of the old ways ceased when modern inventions such as the mechanical pencil sharpener were being ushered in during the Meiji Resotration
Then, shortly after the turn of the century, it gained another lift in popularity when its design was said to have been admired by the prince who would eventually go on to become Emperor Taisho.
Five generations later, Higonokami are still handmade today by Komataro-san's descendant Mitsuo Nagao at the Nagao Kanekoma Factory in Miki City. It's said that Mitsu-san still makes each knife personally, producing over 2,000 annually. Either this is an exaggeration, or another interesting addition to the Higonokami's lore.
If you search online for "Higonokami Knife", you'll get a good day's worth of interesting reading. The backstory is too vast for me to cover but I think you'll find it's worth spending a little time investigating–especially if you're planning on buying one so you can entertain your company with trivia every time you pull it out.Here are just a few links toto get started if you're interested:
https://www.higonokami.jp/en/history.htm
https://www.japaneseknives.eu/c-2495966/information-on-higonokami/
https://www.higonokami.jp/en/pg143866.html
Authenticity
Earlier, I mentioned the term "higo". This is used for any knife that employs a similar flipper mechanism but that doesn't mean it's a genuine Higonokami made by Nagao-san at the Kanekoma Factory. To combat knock-offs, the design was trademarked in 1910 and today, the way to tell if it's authentic is if it comes in a box with a blue label like these: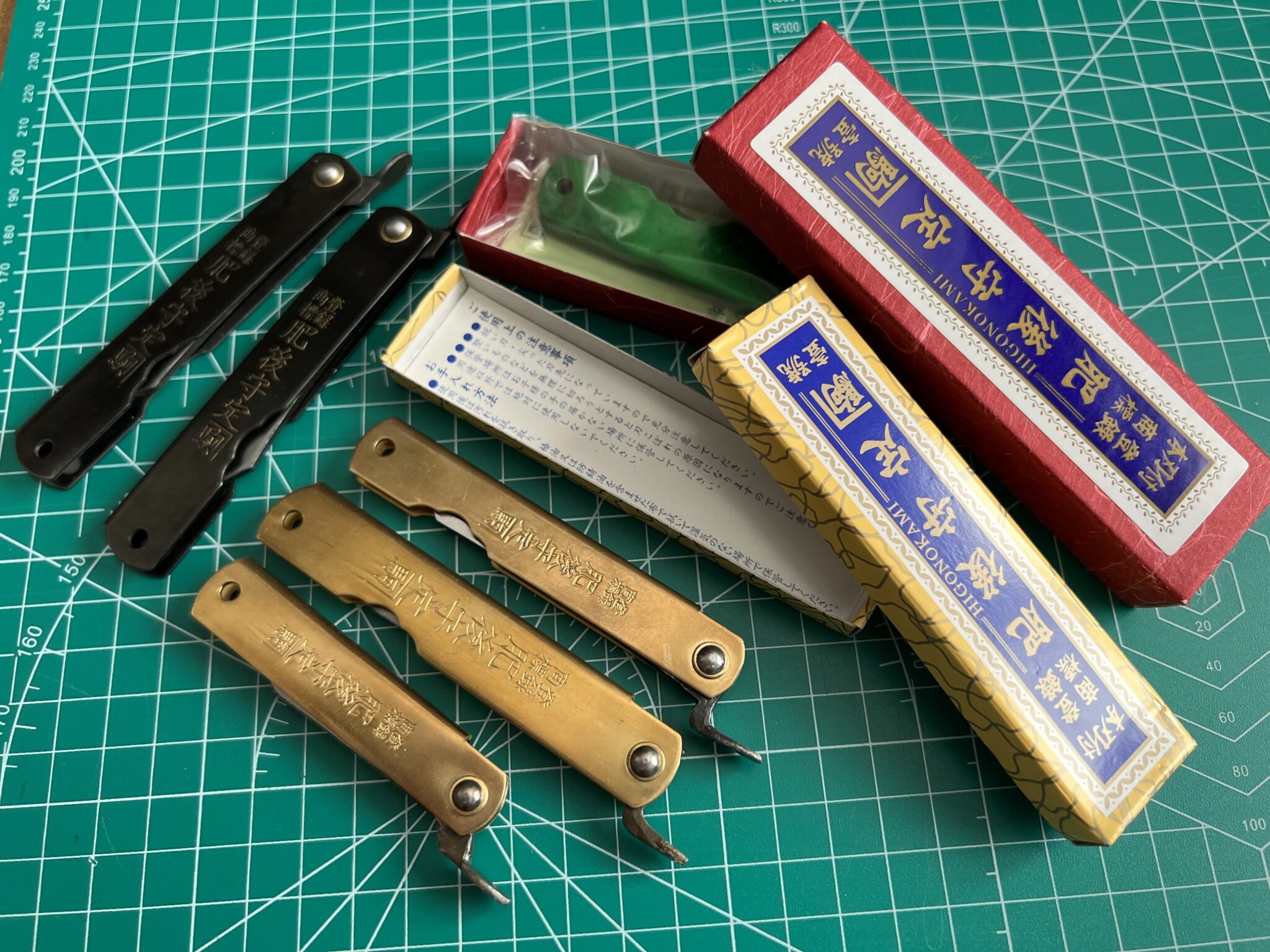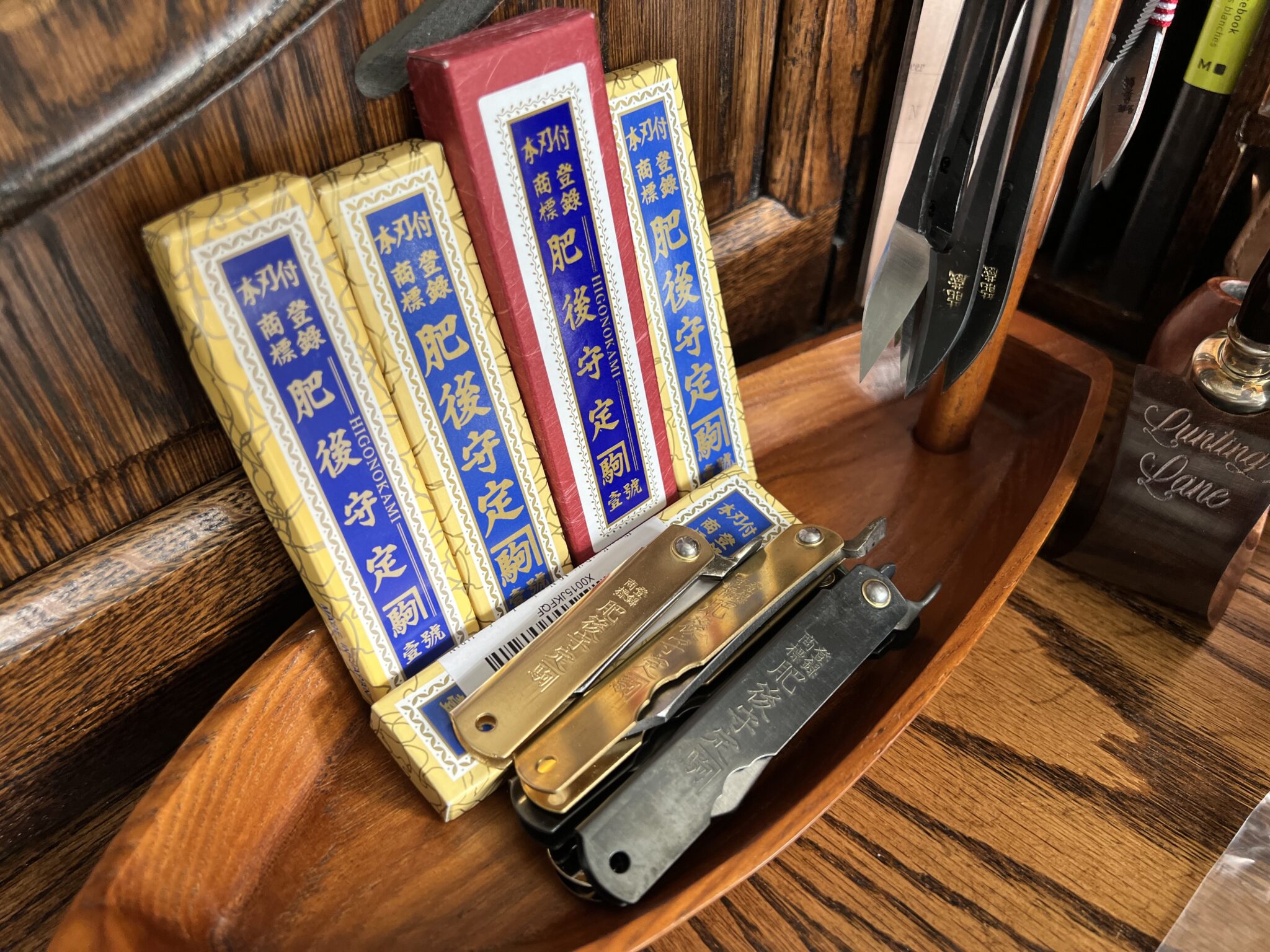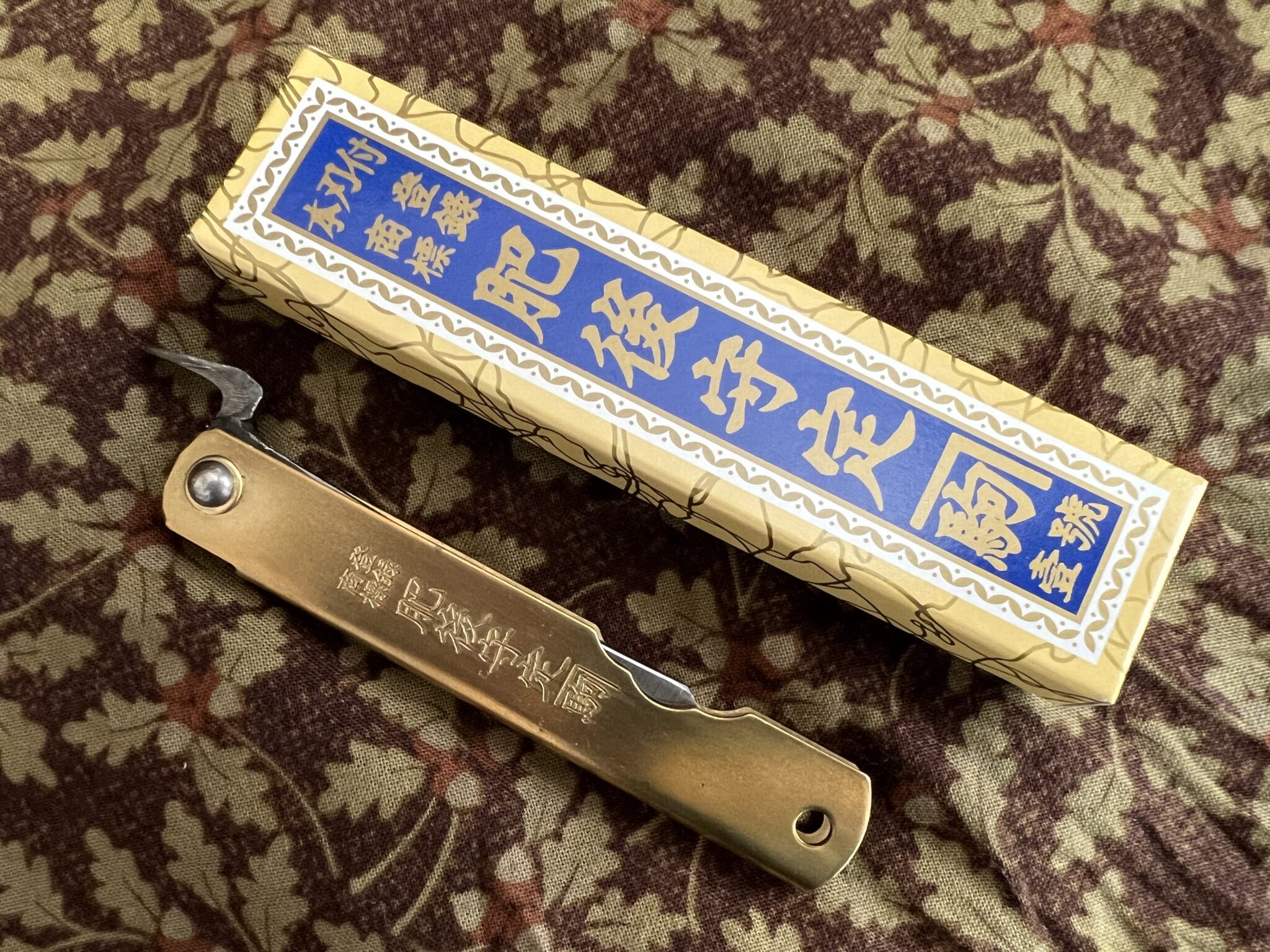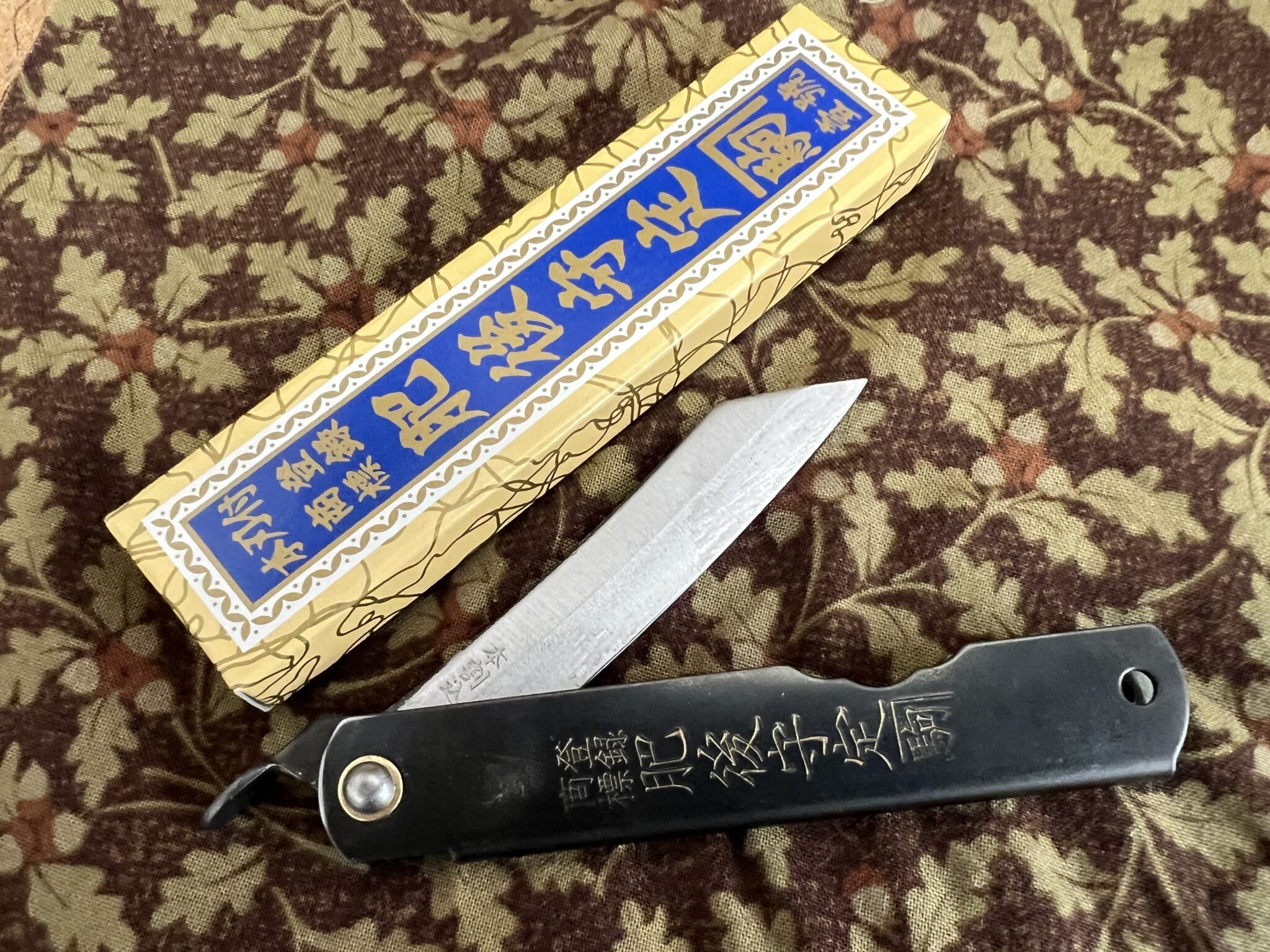 Uses
Knives have a 1,000 uses.  I use my Higonokami at the tying desk for cutting all manner of materials that I might not want to punish my more expensive blades with. But where it really shines is opening packages and mail (which I do several times a day). In the field, it's great for carving up food for shore lunch, cutting line and tangles (to save your clipper blades), etc. Plus, don't forget the multi-use flipper! And being so compact, it takes up almost no space in even the the most minimalistic packs.
Price & Where to get Yours
Again, like tenkara gear, Higonokami are relatively cheap (some would consider disposable) and given their quality, the value is very attractive. You can easily find them online with the usual suspects:
Overall, Amazon seems to be the best in terms of stock, selection, price, and shipping. I've paid anywhere from $11 to $40 but the typical price for a 100mm is typically around $15 (that 75mm above with the case was $36). There are some limited editions that cost upwards of $100, but to me, the humble $15 100mm brass is beautiful enough (Not to mention that I can buy 10 of them for the price of one limited edition :))
What about sharpening?
I haven't had to sharpen any of mine yet, but they take an edge very easily because of the high-carbon steel. Here's a good video that shows how easy they are to sharpen (even for an amateur):
In this age of mass production, computer automation, and 3-D printing, it's a welcome thing to find there's still a place for old-world craftsmanship and heirloom quality in modern society.
As with so many things in tenkara, the Higonokami is simple, utilitarian, and quirky, but has a certain understated dignity and beauty to it. Being so compact, it's easy to carry anywhere and embraces the tenkara philosophy of minimalism in form and function. Like Picasso wielding his Opinel to create sculpture, I believe the tools we use to pursue our craft should reflect its beauty and ethos. And the Higonokami embodies the core values of tenkara better than any knife I know.