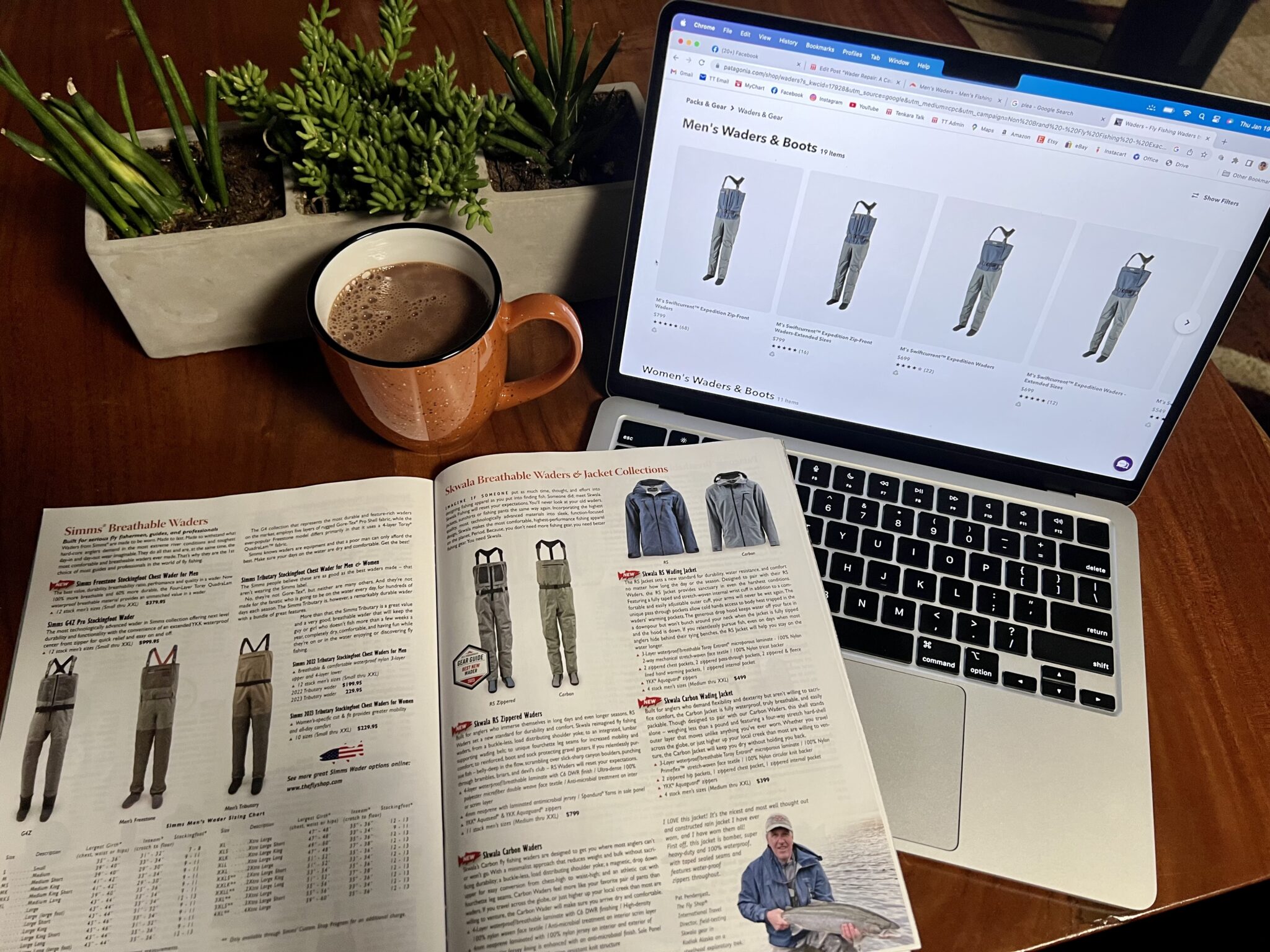 Recently, a friend of mine sent his waders in to Simms to be repaired. Two weeks after he mailed them, he got a message saying it would be another 2-3 weeks before they'd be ready. So that's a total of at least 4-5 weeks that he'll be without them. De facto, it will probably be more like 6 weeks. Like many, he wasn't thrilled at their turnaround time, but unfortunately, this is pretty much par for the course and it's something most people don't think about until they're in the situation and it's too late.
Understanding wader guarantees can certainly be confusing as some manufacturers have gotten very clever in their wording. So here are some things you should understand BEFORE you purchase any waders with a guarantee …
It's Not Forever
The so-called "lifetime guarantee" doesn't mean what it sounds like. As one Simms representative explained to me, "the guarantee is for the 'lifetime of the waders', not the lifetime of the user. Well, that just about knocked me right off my Christmas tree! What does "the lifetime of the waders" mean? What is the average life expectancy of a pair of waders? I protested saying that Simms are expensive and people expect to have them last a long time. He pointed to his jeans and said, "I bought these jeans and I don't expect them to last forever." I said, "yeah, but you didn't pay $500 for those jeans". He shrugged his shoulders, gave no answer, and just staunchly stood by the policy.
If you expect waders you bought today to be covered 20 years from now, you're setting yourself up for disappointment. This is one reason I only buy cheaper waders like Cabela's. I could replace them four times before it adds up to the price of one pair of Simms. I've had the same pair of Cabela's waders for years and they work just as well as more expensive ones. Plus, big box stores like Cabela's and Bass Pro Shops have such liberal return policies that if your were able to get any company to replace or repair your 20-year old waders, you'd have the best chance with them. But my own policy is that waders are disposable. They're all eventually going to leak whether you paid $100 or $1,000. In general, I don't expect any gear to last forever, but waders are an especially bad investment. That's why I don't buy high-end anymore.
It's Not Free
When Orvis introduced their "unconditional 25-year guarantee", it was free. People loved the policy and it wasn't long before they started taking advantage of it. It basically gave them license to mistreat their gear thinking that they'll be covered–no questions asked. And for a while, it was like that. But people started abusing the policy so much, Orvis decided to start charging not only to cover costs, but to give an incentive for people to take care of their waders.
The last time I worked for Orvis a couple of years ago, customers were shocked and appalled when they'd bring their waders in and I'd tell them there's a $60 handling fee. Of course, this lead to the predictable last-ditch ploy of the irate and disgruntled customer: "let me talk to your manager" (which didn't get them very far).
Orvis took a stand and and I applaud them for it. I can't tell you how many times I've heard the statement,  "Who cares? Orvis will replace it for free." And so we had customers doing things like fishing for salmon with a 4wt., not drying out their waders after trips, throwing their rods on the ground, etc.. People almost took pride in their gear abuse as if it were a sign of how good of an angler they were. "I'm really hard on my gear" was the mantra, letting us all know they're a pro. They're serious. But  in reality, all it really let us know was how stupid and careless they were. In those cases, I was more than happy to ring up their fee, smirking as I swiped their credit cards. 🙂
It's Not Fast
My friend's experience above is typical. Most companies will tell you the turnaround time is 4-6 weeks. For many people, 6 weeks is almost their entire season! You can try to make a plea with them if you have an upcoming fishing trip or something, but that doesn't change the fact that they're backed up with piles of waders ahead of yours. It's possible you might get them back sooner, but that's the exception, not the rule. Be realistic, and plan on a good two months sans waders. If they come back earlier, it's a nice serendipity.
My Advice
I never have this dilemma because I can replace my cheap waders quickly and easily. But if you really do want that fancy pair of overpriced waders, make sure you read the entire return policy so there are no surprises when you bring them in. For most manufacturers, pleading ignorance will get you nowhere and they'll be quick to point out what the policy "clearly" states in the fine print. So here are some questions you should be asking yourself as you search for your next pair of waders:
How long does the guarantee last? If the company claims a "lifetime" guarantee, exactly what does that mean? Is there an expiration date?
What exactly does it cover? A lot of companies have cracked down on abuse so things you consider normal wear and tear might not be what they consider normal wear and tear. For example, if you normally fish in a place with brambles and thorns, will they cover a puncture or tear in the fabric? Which types of damage disqualify you from the guarantee?
If the waders are beyond repair, what are my options? This happens. Some waders are so trashed, there's no way to salvage them. In this case, will they offer a discount on a new pair? Many companies will do this if you ask.
Is it free? Is there a shipping or handling fee? Is there a registration fee?
Can I pay more to get a repair expedited? At least you might be able to pay extra for shipping to get your repair back a little faster. It probably won't bump you up in the queue but still, a few days can make a difference.
Back in the old days at Orvis, we didn't even send some rods and waders in for repair because it was too laborious and it was honestly cheaper to hand them a new rod or pair of waders off the shelf and just RMA the damaged ones. Those days are over. Policies today no longer sycophantically pander to the customer–especially the high-end companies. And don't expect to get any special treatment if you come at them like a karen on Tik Tok. You'll be challenged, get frustrated, probably end up a little embarrassed, and will still have to wait 6 weeks for your waders.
Another option is to try to circumvent the repair process entirely by just fixing the waders yourself. Many come with a small repair kit and if it's a relatively minor leak, it should be pretty easy even if you've never done it before. But for a major failure, you're going to have to bite the bullet and either send them in or buy a new pair.
If you're going through the repair process right now, I feel for you. Being without your beloved waders for so long is definitely frustrating so that's why it's important to make sure you inform yourself before you buy. But the best piece of advice I can give you is this: take care of your waders!  I could write a whole article just on wader care, but most of it is just common sense. If you just bought a Ferrari, you're probably not going to want to take it off roading. Care is the best prevention and can avoid (or at least delay) the inevitable. 
I hope you find this helpful in your next purchase. Be savvy, wade well, and respect your gear!