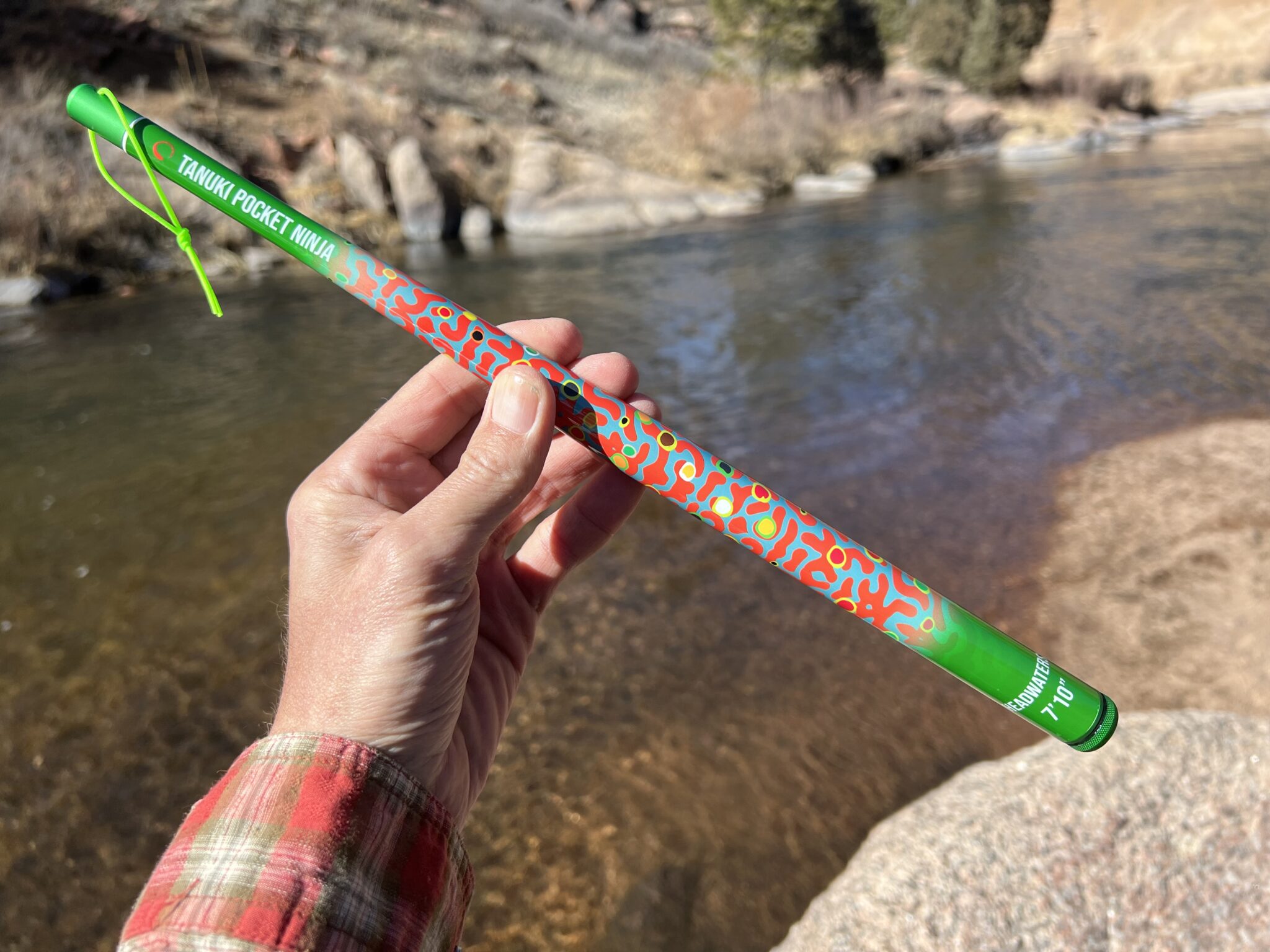 It's no secret that I'm a fan of Tanuki rods. They've become an icon in the tenkara industry and I own several, including a Pocket Ninja, Snow 325, and Ninja. Their rods are known for being incredibly light, sensitive, and visually unique–instantly recognizable from afar.
I'm also a good friend of the owner, Luong Tam, as our fishing styles and thoughts on gear design align well. So, it was great to see him at the Denver Fly Fishing show this year, where I got to check out some of his newer rods in person. Until then, I'd only seen them online.
Now I'll be the first to admit that prior to this, I thought these new rods were too garish. I know most people don't care so much about aesthetics. But I do. I tend to prefer plain, more traditional looking gear over modern and these were just too flashy for me. But in person, it was a completely different story.
Holding them in my hand, they didn't look gaudy at all. In fact, they looked beautiful, sexy even! And of course, the action was typical Tanuki: light, crisp, and responsive. Within 2 seconds of wiggling the Headwaters model, I had to have one.
Aesthetics & Hardware
Specs
Action: 6:4
Extended Length: 240cm (7.9 ft.)
Closed Length:  34cm (13.39 in.)
Zoom? No
Weight: 53.86g (1.9oz)
The first thing you'll notice about the Headwaters is its striking graphics. It's available in two versions: a swimming brown trout painted by legendary angler and artist Charles Jardine, and the other, an abstract bright orange and green fish graphic designed by Luong.
Both are beautiful, and given my inclination toward plain-jane-ism, you'd think I'd choose the more subdued, refined Jardine model. But for some reason, I was really drawn to Luong's fish pattern model and the more I played with it, the more the graphics grew on me.
The handle is where the art is, but the rest of the rod is a pleasant solid green with dark red bands as accents. The final tip segment is black. All Tanuki rod tips are unpainted to prevent them from sticking.
As expected, the hardware is top notch and well thought out.
The lilian is an unusual bright green/chartreuse (as opposed to the ubiquitous red) and the rod plug has a small lanyard which not only serves as a spare lilian, but also makes the plug easier to find when dropped.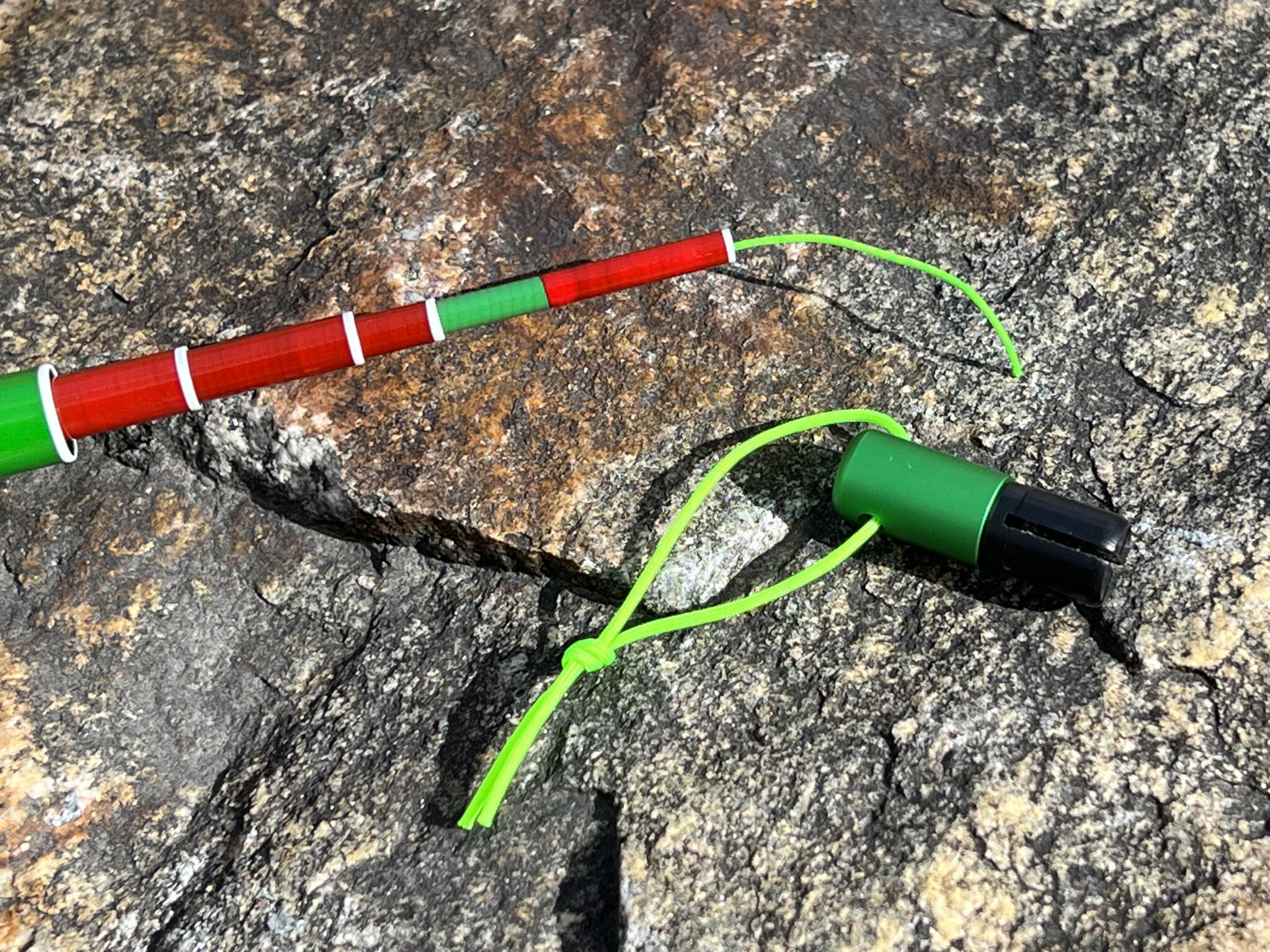 The end cap is a very well-machined knurled aluminum with a rubber pad to reduce clanking noise while collapsed. There's also a small drain hole.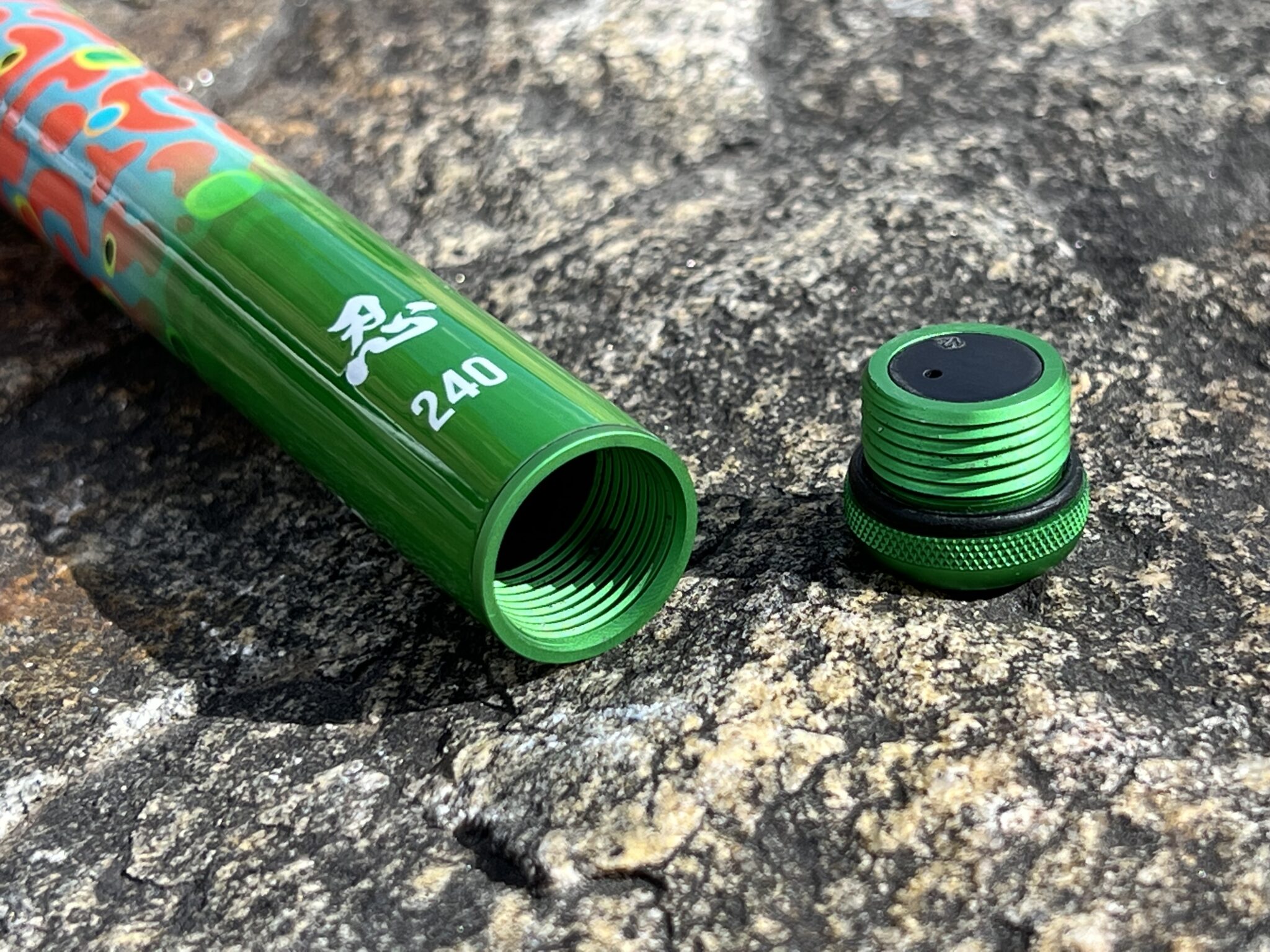 I once heard someone refer to the Headwaters as "art you can fish with", and I think that's a stellar way of describing it.
Action & Personality
Love or loathe the looks, there's no denying that this rod just delivers!
I've always liked the Pocket Ninjas. I've been carrying one in my pack on nearly every trip just in case I get into a tight space. But it also doubles as my backup rod since it takes up no room in my pack and weighs practically nothing. I don't even notice it's there anymore.
And sometimes, I just feel like taking it out for dry fly fishing because it's so fun! It's been a staple in my arsenal for years–a trusted, invisible companion always at the ready. So, aside from the lavish paint job, this new incarnation is already very familiar to me.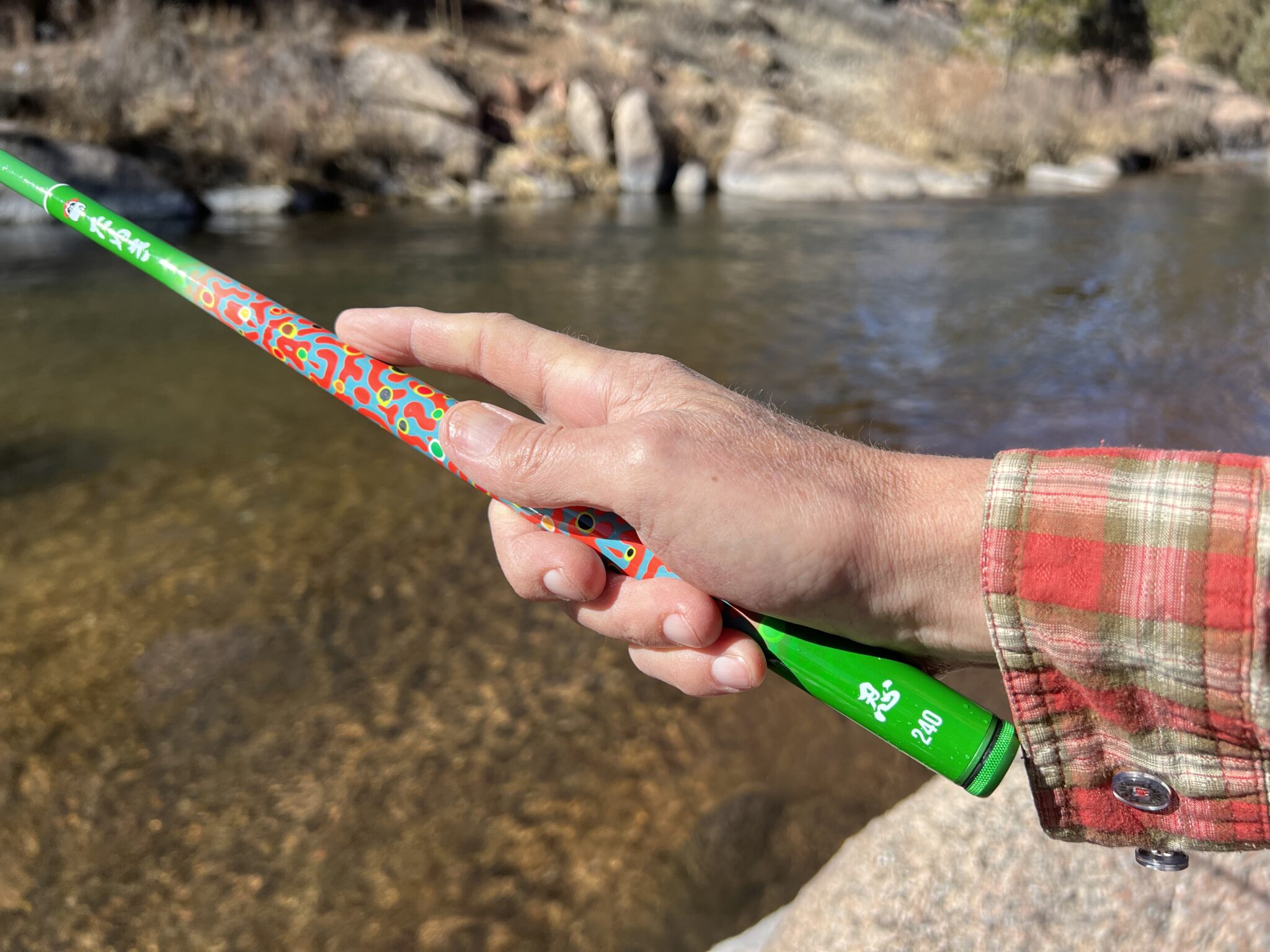 Earlier, I said the first thing you'll notice is the graphics. The second will undoubtedly be how incredibly light in the hand it feels. At only 1.9 oz, the swing weight is so minuscule that you can fish it all day and your last cast will feel as good as the first. My arthritis appreciates this!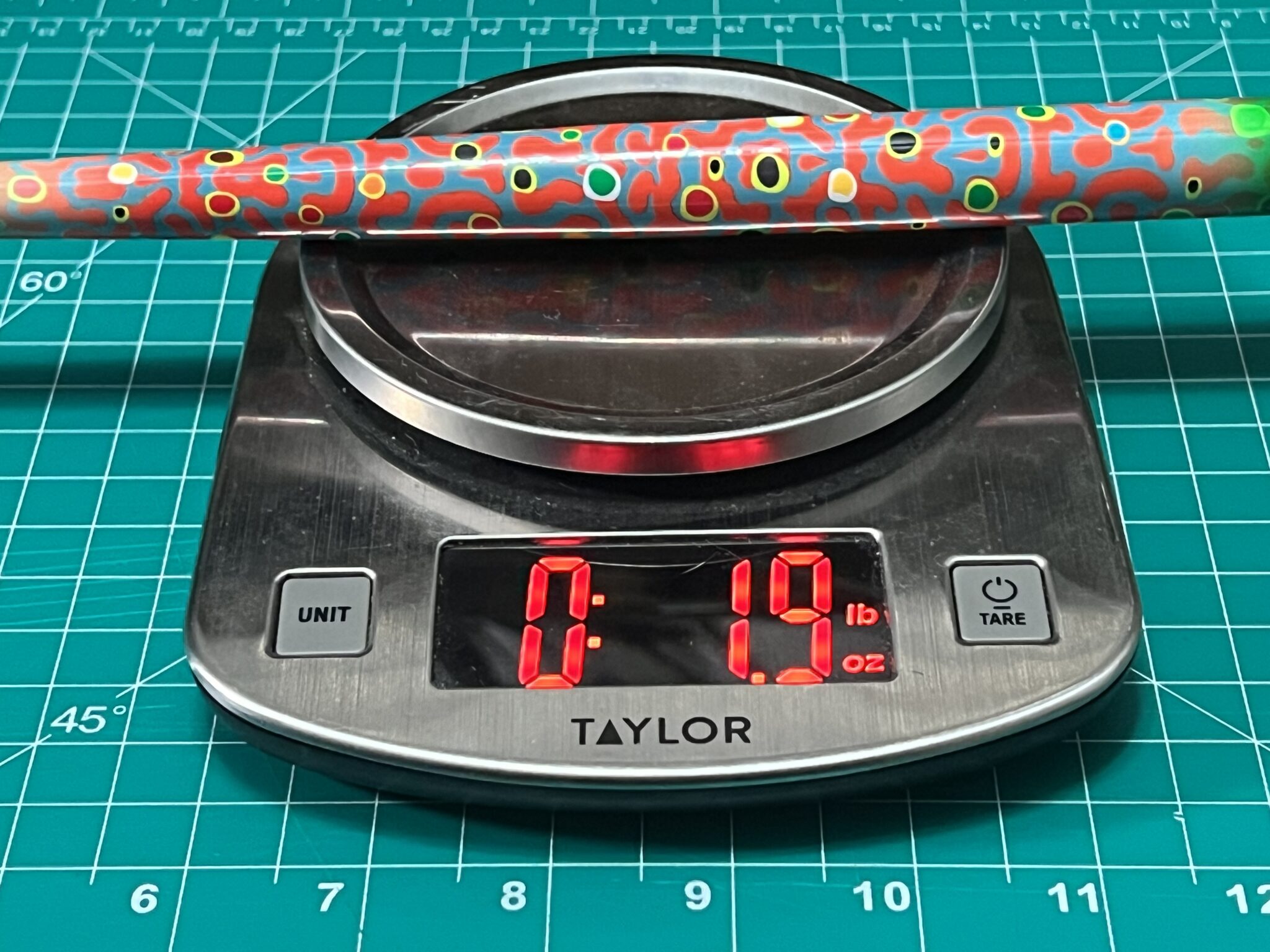 One characteristic that's always on my checklist when evaluating a rod is tip-heaviness (this is often a dealbreaker for me). But the Pocket Ninja's tip almost feels like it's floating–as if some hidden Jedi were lifting it with the Force.
My other Ninja is the same and that's why they get a gold star in my book!
Aside from its impressive specs, the real standout is the tip recovery. The rod unloads extremely fast and recovers with imperceptible tip bounce. This gives you more precision when you need it most: in tiny pockets or tight spots. This doesn't mean it's "stiff" per se. It's still a 6:4. It just straightens out your line faster and gives you more accuracy. I'd use the adjective "snappy".
This (along with its shorter length) make it a great choice to shoot bow-and-arrow casts under rhododendron canopies, tree branches, bridges, or any other tight spot. But for me, this is a dry fly rod at heart. I've spent many days with my Pocket Ninja and a Caribou Capitan just sniping tiny cutthroats and browns on my favorite small streams.
And being so light and compact, I have no excuse for not having it with me when the fish start rising.
Imagine this is your entire fishing kit …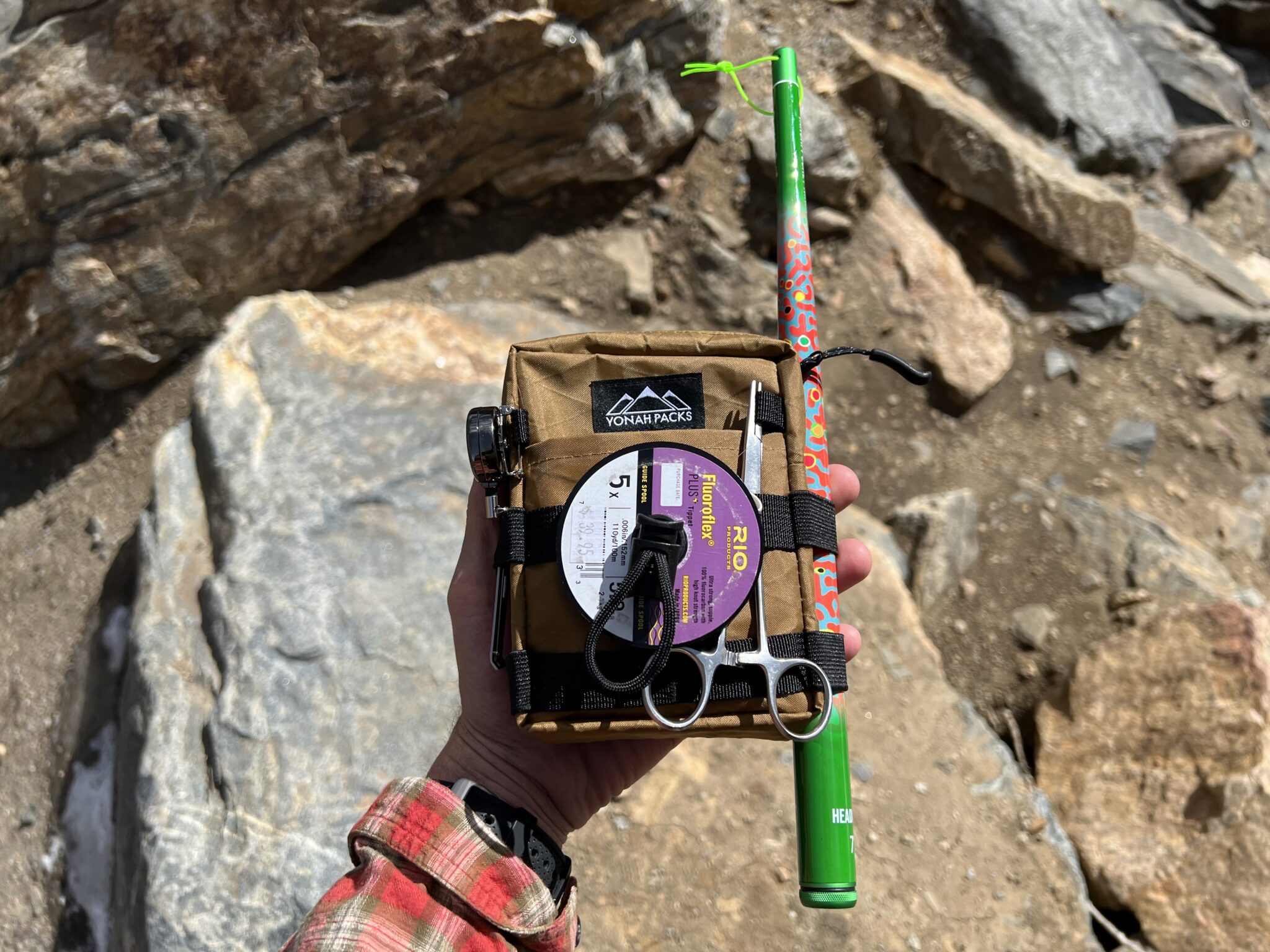 The kit version (see below) comes with a floating line, but I don't really use floating line so I just stick with my usual 3.5 level fluorocarbon and the Headwaters handles it as expected. I'm  able to perform all of my usual presentations with ease.
I haven't fished the Tanuki floating tenkara line yet so I can't speak to that. But I did lawn cast it. And as you can guess, it makes the rod practically cast itself (like all floating PVC lines do simply because of their increased mass). But where I fish this type of rod, I need a fluorocarbon line.
Since I mentioned floating line, in the back of your mind, you might be thinking "bluegill." And so am I! I think this rod paired with a floating line would be the ultimate bluegill rod.
I rarely fish for bluegill but my daughter recently expressed a renewed interest in going fishing with me. When I handed her the Headwaters, her eyes lit up and as she wiggled it, she repeated over and over, "dad, I sooooo want to catch a fish with this!". Well that's enough for me. So off to the bluegill pond we will go this Spring and she'll be armed with the Headwaters and a handful of foam beetles.
Tenkara Tanuki Pocket Ninja Case & Kit Options
The case is available separately or, you can get a full package with options to add a floating line, line spool, 5x tippet, and a dozen sakasa kebari in a small fly box.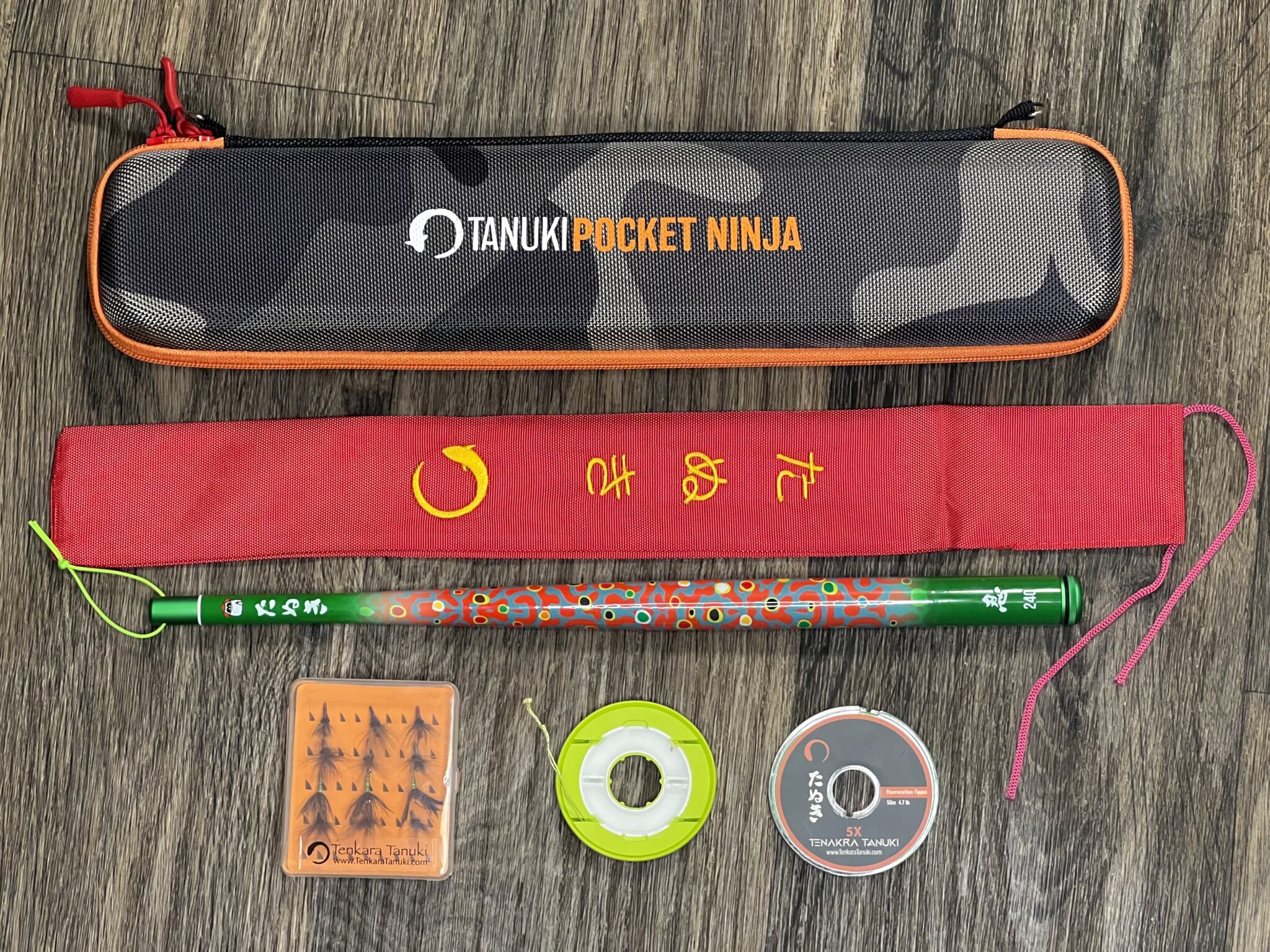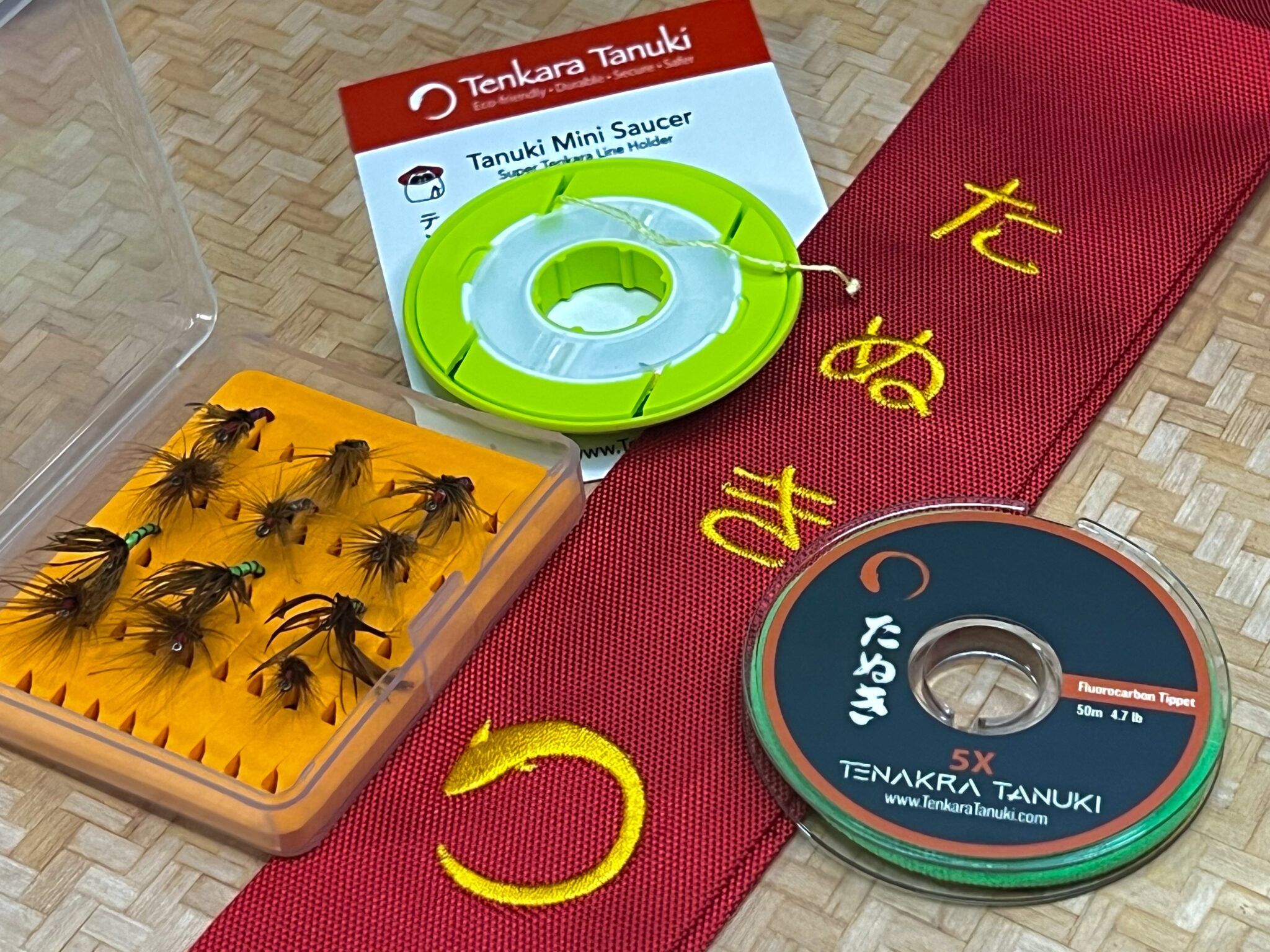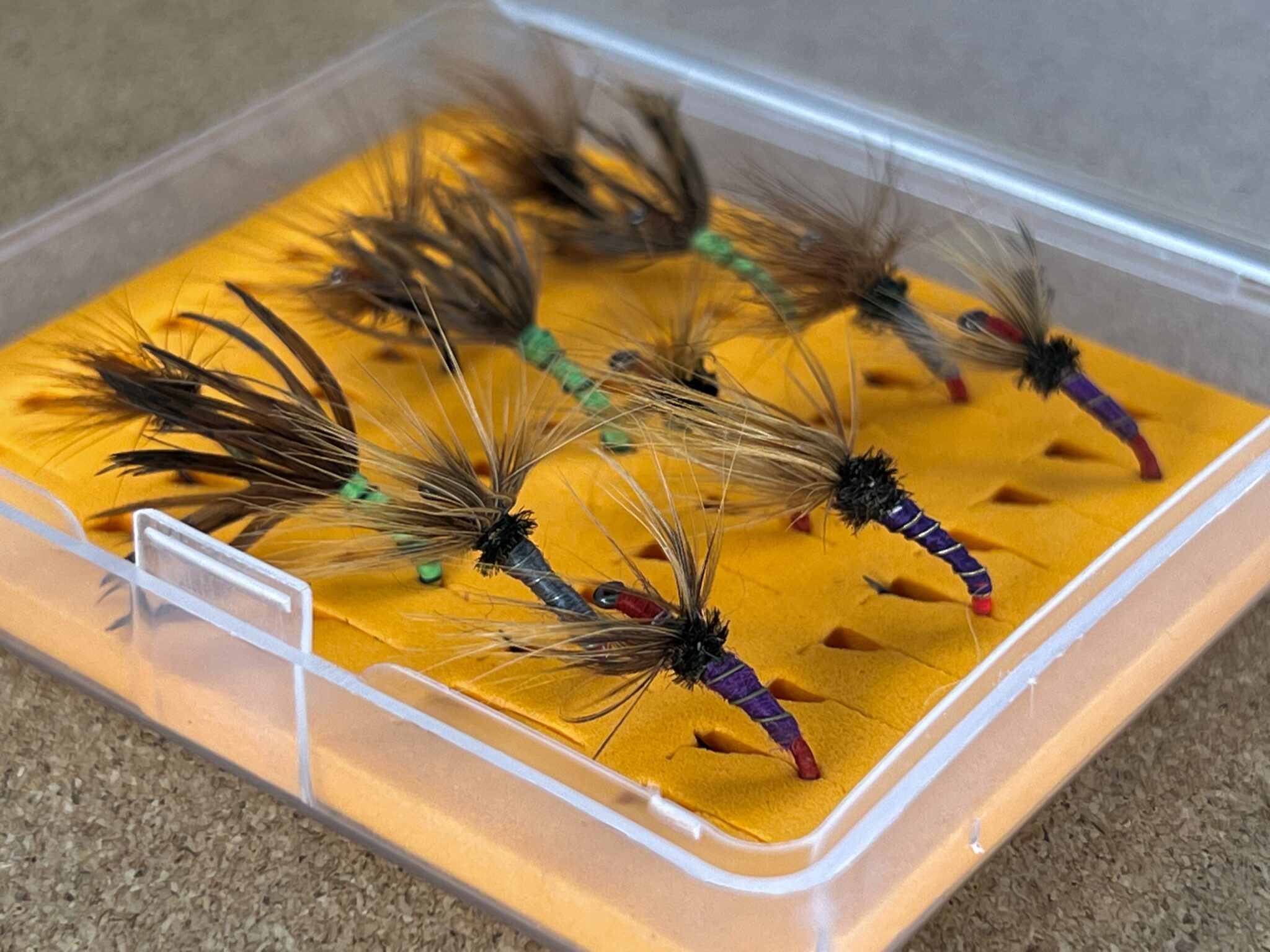 The inside of the case will fit any rod in the Pocket Ninja series and features a zippered compartment in the lid to stow gear. You could literally pack this up with everything you need for a day fishing and throw it in your pack, trunk, or glove box and be ready to go at a moment's notice.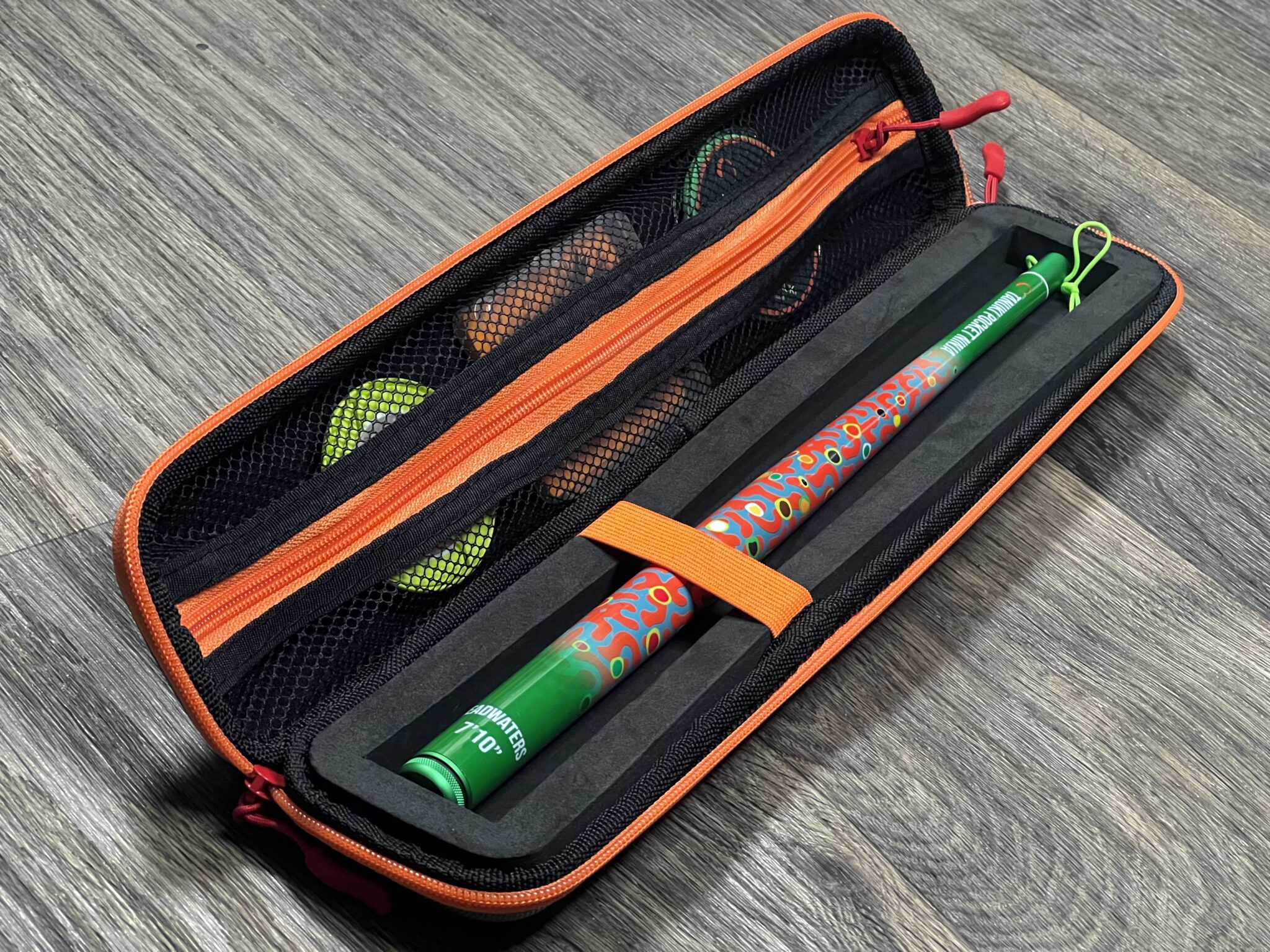 Closing Thoughts
The Headwaters will replace my current Pocket Ninja as my "tight-spot/backup rod" in my pack but I'm really looking forward most to using it on some specific spots I have in mind with dries. I'm making it a point to fish more dry flies this year so I'm excited to tie on a caddis or small stimulator and pickpocket some teeny pools for teeny wild trout.
If you're looking for an ultra-compact, ultralight, high performance tenkara rod, the Headwaters is a great choice. You'll either love or hate the graphics, but I'll bet you'll love the action.
---
To learn more, buy one, or see the package options, visit the Tenkara Tanuki Headwaters page.
Get 5% off any Tenkara Tanuki order if you use promo code TENKARATALK at checkout. 
If you like everything about the Headwaters but want something a little longer, there's also the Outbound Adventurer Pocket Ninja which is 320cm (10.5ft.), has all the great qualities of the Headwaters, and still fits in the above-mentioned case.