Yesterday, I was lucky enough to fish with Chris Stewart of Tenkara Bum and Brian Flemming of Learn Tenkara in Rocky Mountain National Park.
[/caption]
We started out on the Roaring River near the Fall River Entrance in the alluvial fan.  My favorite part of the Roaring River is actually the upper section (the part you have to hike into on your way to Lawn Lake) because it has some of the most beautiful cutthroats you've ever seen.  Chris and Brian had already fished that part of the stream earlier in the week so I decided to take them to the alluvial fan for something different.  This section of the stream is pretty much browns with a few brookies thrown in.
Most of the fish were in the 8″-10″ range but I did get one nice 12″ brown.  I fished a black & partridge sakasa kebari with my Suzumi tenkara rod and was having pretty good luck in the larger pools, including one brook trout–the first I've ever caught on the Roaring River.
Brian and Chris took a little time to get some footage for the instructional tenkara videos they're working on while we were there.
I don't know how he did it but Brian sacrificed prime fishing in order to get photos and video footage of Chris and me.  Given our surroundings, I'm not sure if I'd call that dedication or insanity!
After a while, we decided to try something different and head out to a stretch of the Big Thompson.  This is a meandering meadow stream with a lot of undercut banks making it quintessential hopper water.  I switched to a Tenkara USA Iwana 12′ but stuck with my sakasa kebari (only this time a brown & partridge version) while Chris immediately put on a hopper.
I had mild success with my tenkara wet fly (a few fish, a lot of refusals) but Chris was killing them on hoppers.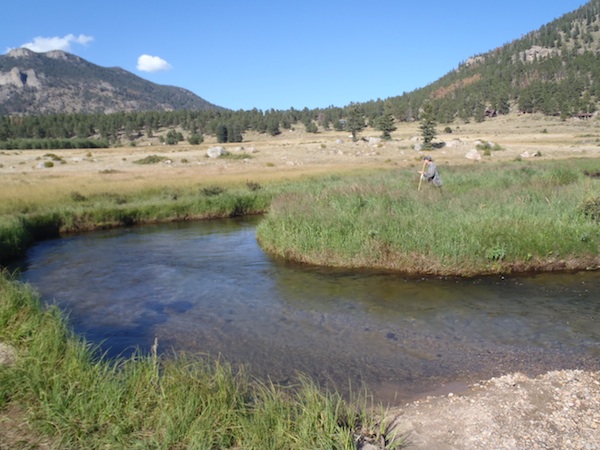 After Brian interviewed me for the upcoming tenkara documentary we had a quick lunch at Brian's truck which was brimming with both tenkara and photography equipment.  We decided to stay at the Big Thompson rather than move on to a different stream.  But this time, I swallowed my kebari pride and asked Chris to borrow a hopper.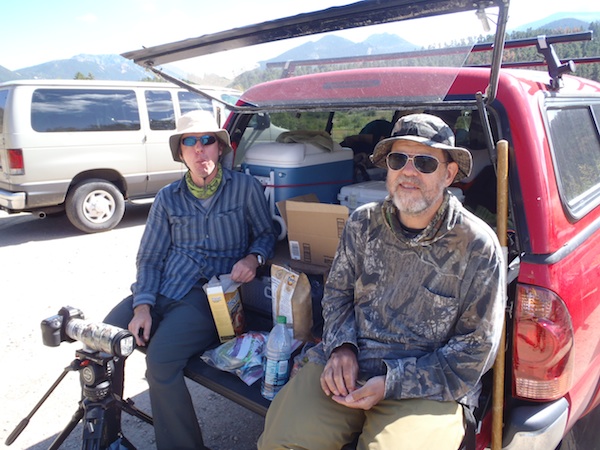 I'm glad I did because after I switched to a hopper, I starter catching fish left and right.  I was splashing down the hopper as hard as I could on the surface and this was an irresistible trigger for these meadow fish.  A strike would come 2-3 seconds after splash down or it wouldn't come at all.  The fish rarely followed the fly.  It was obvious they were conditioned to hear the splash, check out the silhouette and decide a.s.a.p. if it was a hopper or not (before another trout did).  It was fast and furious fishing.
I didn't keep track of how many fish I caught.  It was one of those days where you didn't feel the need to.  Everything just aligned to make for a perfect day of fishing and numbers had no place.  With perfect weather, amazing scenery, beautiful fish, and great camaraderie, stats somehow become irrelevant.  Sure, I caught a fair number of fish.  But when I look back on this day, it won't be about that.  It will be about the big picture–the totality of a great tenkara experience I shared with two truly exceptional anglers I can now call friends.
Like this article? You might also like these ...