Not too long ago, I wrote a post about my preference for wet wading when tenkara fishing.  While it's great in the summer, with fall fast approaching (even faster in the high country), it's time to break out the waders for the colder temperatures ahead.
Every angler who uses waders has their own system for storing and transporting their wading gear so I thought I'd show you mine. It's a simple system, yet a very practical one that gives me a lot of versatility in wading options from the trunk to the bank.
The container
Many people carry wader bags, and these are OK but I prefer hard-sided plastic containers.  They're easy to hose mud and sand out of, dry quickly, and will never let wet waders or boots leak into your car.  Plus, they're dirt cheap and last forever.  I use a Rubbermaid Roughneck 10 gallon storage box because it has plenty of room to fit everything I need, yet is still compact and flat so I can stack other gear on top of it in the trunk (like my gear bag).
The lid even doubles as a nice place to step on to protect your stocking feet from anything that might puncture them on the ground while you're suiting up.  Here's how I pack it:
Layer 1
First, I put in my Simms wading boots and Keen Newport wading sandals.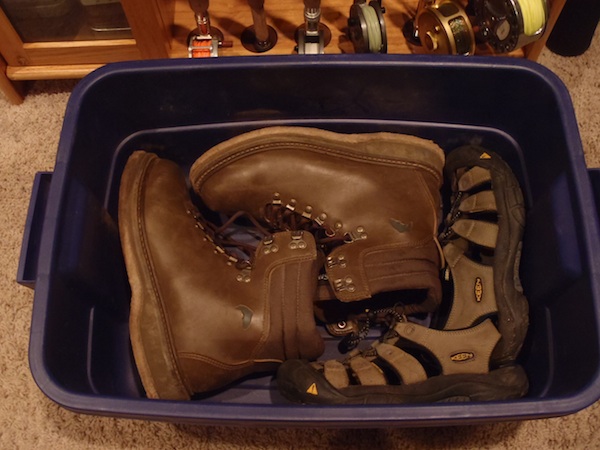 Layer 2
Then, I put in my wading socks and spare wading belt.  In case you're wondering, I keep a wader repair kit in my gear bag so no need for that here.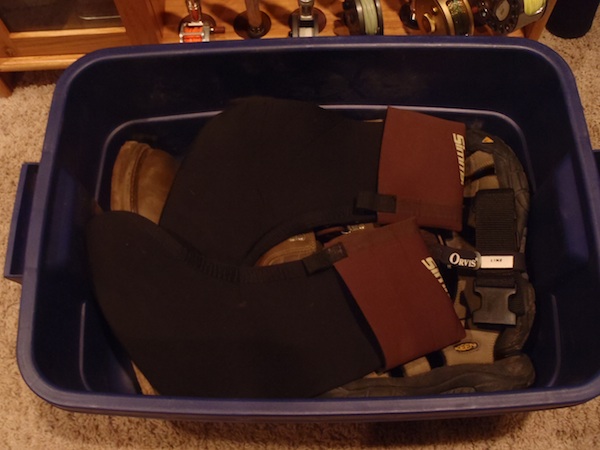 Layer 3
On top of all of that goes my neatly folder waders.  Since the waders are the biggest item and the easiest to take out and put back in, I can access the smaller contents below without having to dig through a lot of gear.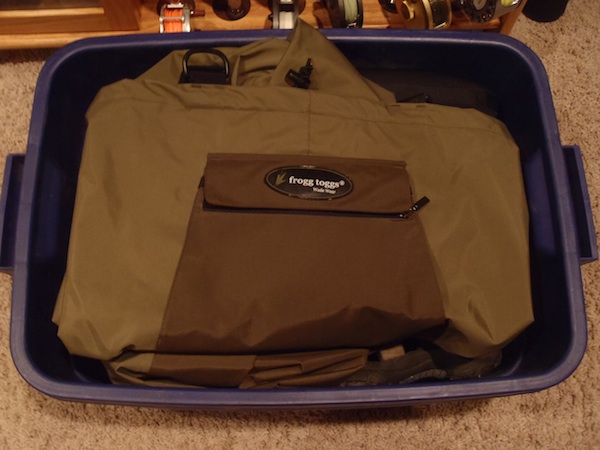 This system allows me to quickly choose the most appropriate wading gear according to the conditions:
In hot weather in a relatively easy-to-wade stream or when I primarily fish from the bank and only need to do occasional water crossings, I can just use the sandals.
If it's warm but I need to be in the water more or am in a stream with a lot of toe-stubbing boulders, I can wear the wading socks and wading boots.
In colder weather or where I need wade deeper, I've got the option of wearing the full waders and wading boots.
Of course, if I only need to fish from the bank, I just wear whatever I drove to the stream or lake in and leave everything above in the car.  You never really know what wading gear you'll need until you get there.  It's just nice to have options.
What is your wading gear system?