An Unexpected Journey …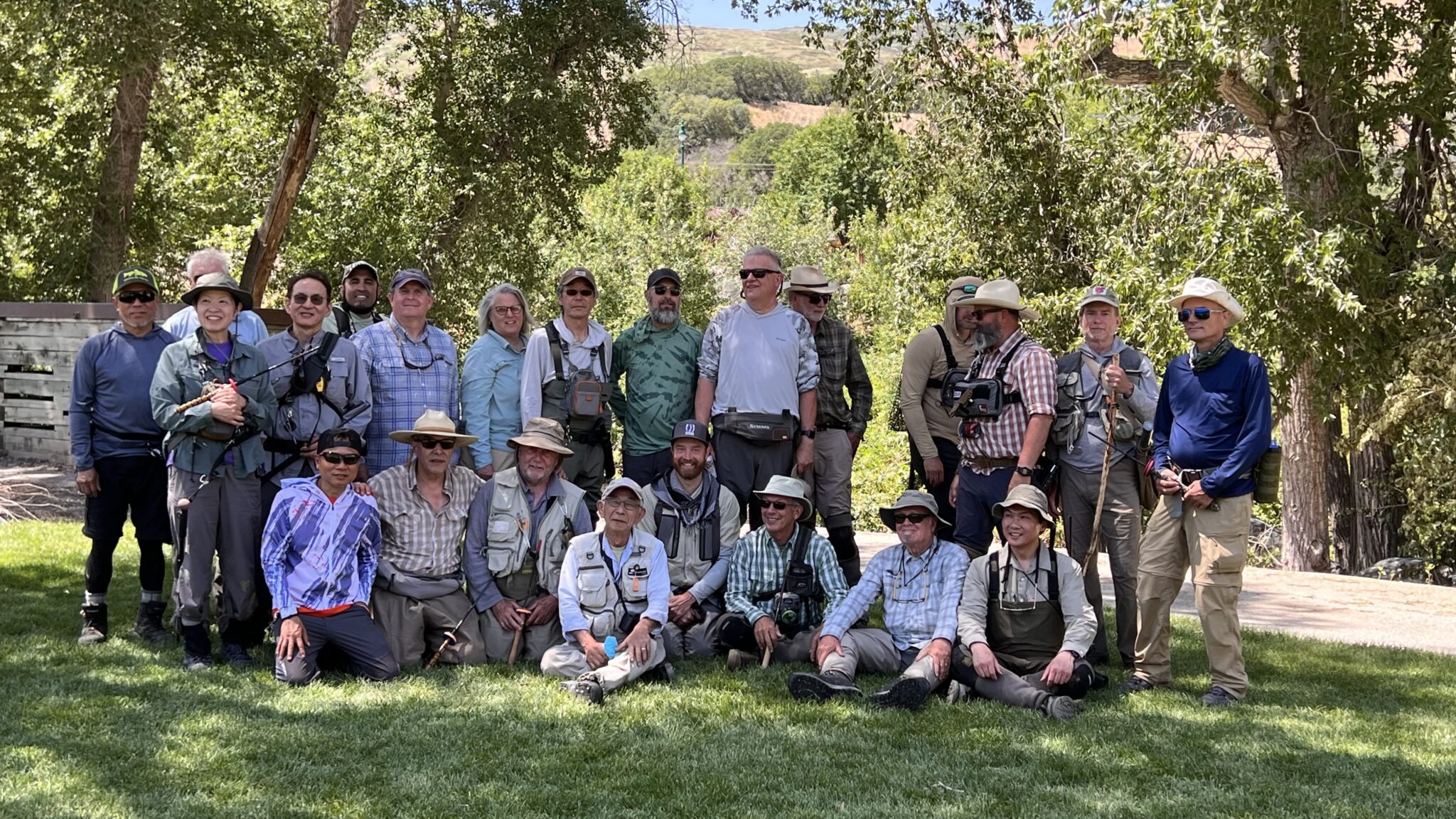 "What the hell, why not‽" That's as good of a reason as any for justifying a spontaneous fishing trip. It's Mid-July and I was planning a trip to the Frying Pan the following week.
But that was looking more and more like it was going to fall through and a thought that had been lurking in the back of my mind kept slowly creeping forward, nagging (almost imploring) me. I knew my fishing hero Sakakibara Masami was going to be in the States to teach the Oni School in Utah. What if I rented a car and just drove out there to meet him?
If I did, I'd only had 5 days to get a car, hotel, finish up my Etsy orders, and tie up a lot of other loose ends, but it seemed feasible. Knowing that this is likely his last trip to the the U.S. and it's not likely I'm going to Japan anytime soon, it seemed almost ridiculous not to do it. So I packed up and headed west!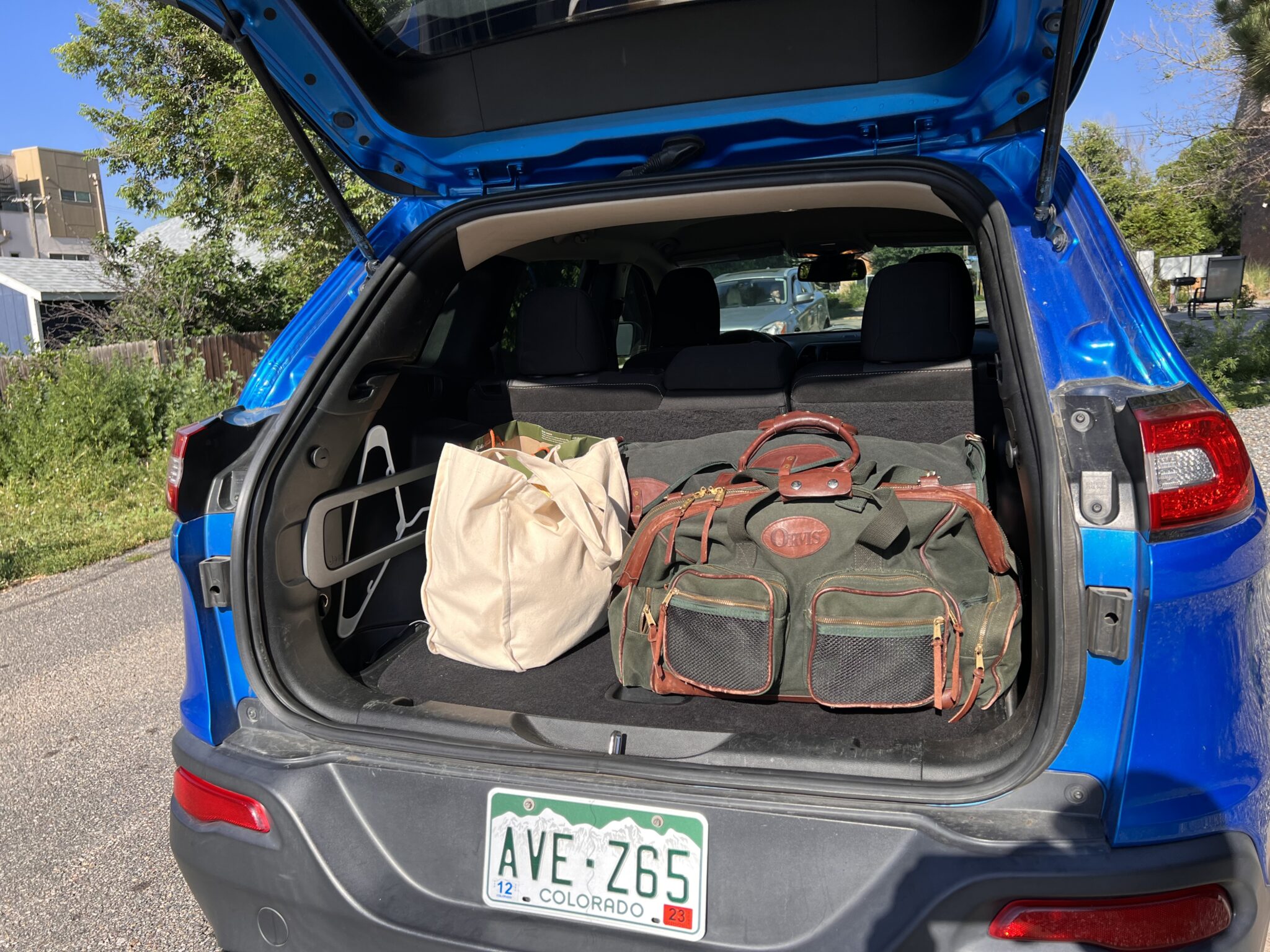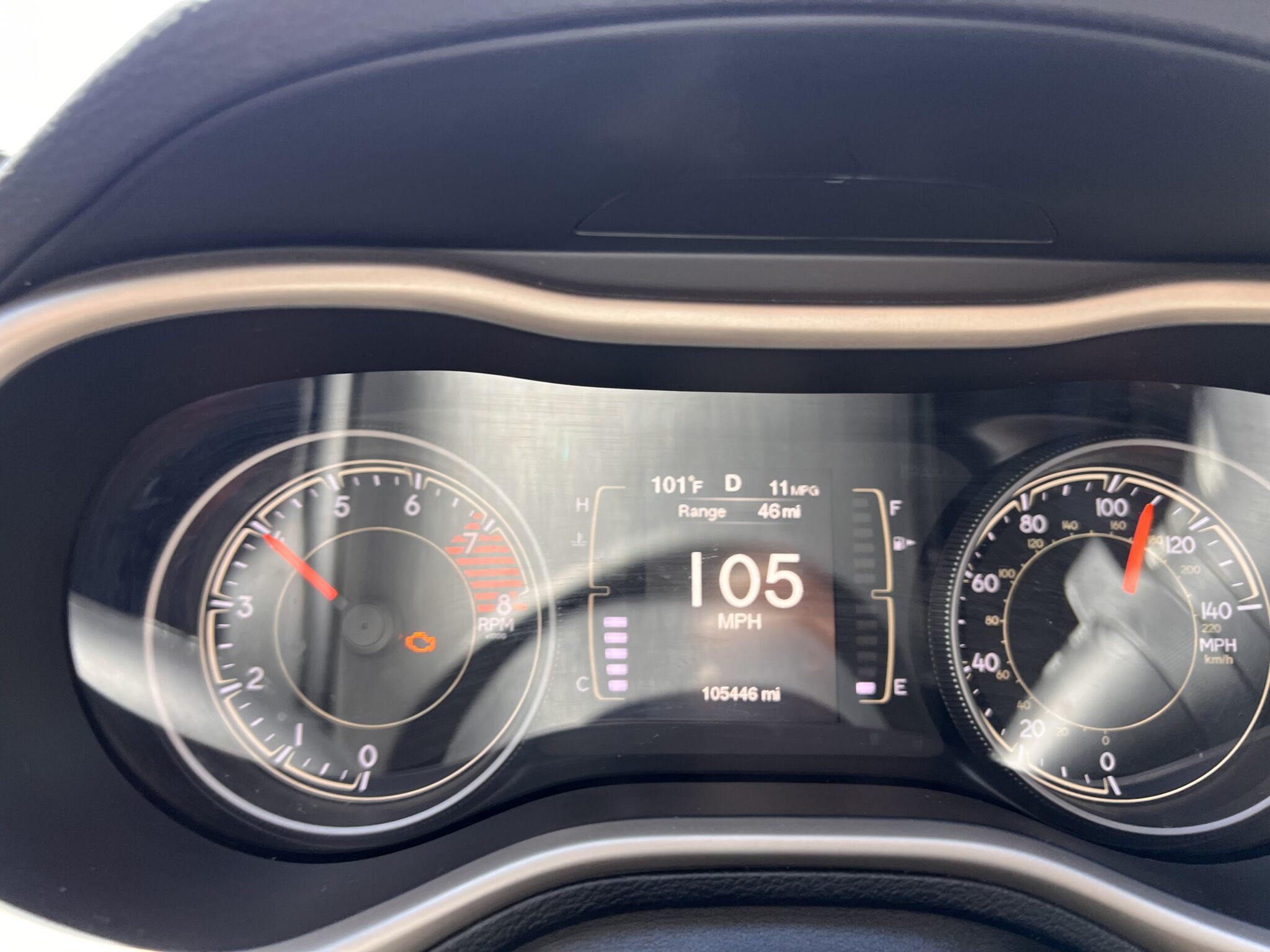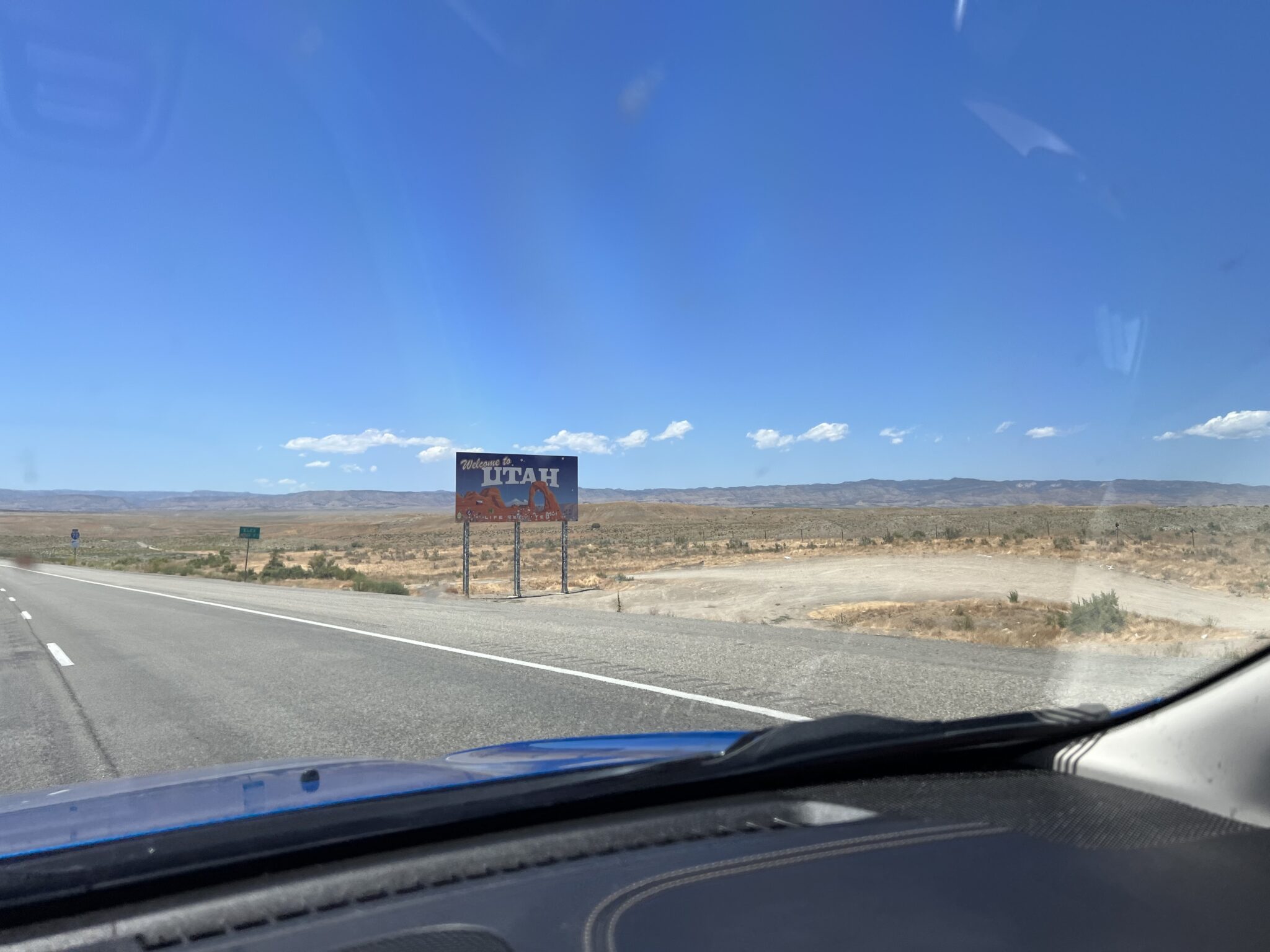 Thanks to long, lonely highways, I was able to get there expeditiously! The eight hours flew by and before I knew it, I was in my hotel and ready to see what I had gotten myself into.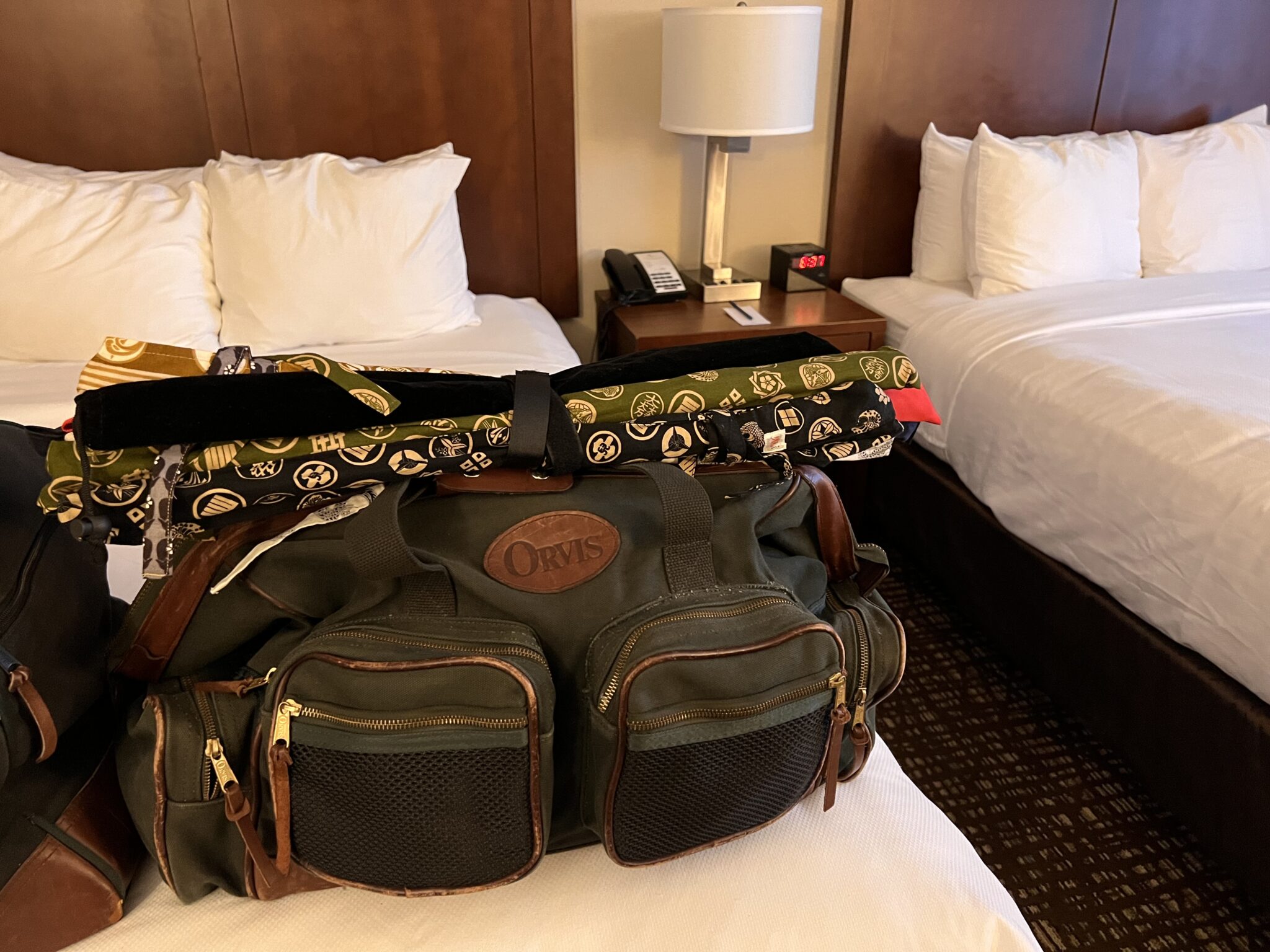 I'd never been to an Oni school before so I was excited to see what it's all about. Mainly, I was there to meet Oni and Coco (his wife). I chat with Coco on Messenger all the time and I've been doing business with Masami-san for years, so it was high time I met them.
But, I was also tasked with getting promotional photos and video for EriK, Rob, and John of the Tenkara Guides.
Since they're always the ones running the show, they never have time to get any footage or photos themselves, so my job was to wander around and get as much content as I could.
I still managed to wet a line (well, "dampen", really, as it was maybe half an hour total). But that's OK. This was more of a social event than a fishing trip. And it was great meeting all the people who I only know as a mere screen name on Facebook.
The three days were intense and I don't think I could have comprehensively have covered it even with two extra cameras and two clones of myself. But I did get some good shots to document what is sure to be a trip I'll remember for life.
So, here are some photos and my commentary on my impressions of the 2023 Oni School.
---
The 7th Annual
Tenkara Guides Oni School
Day One:
07/10/2023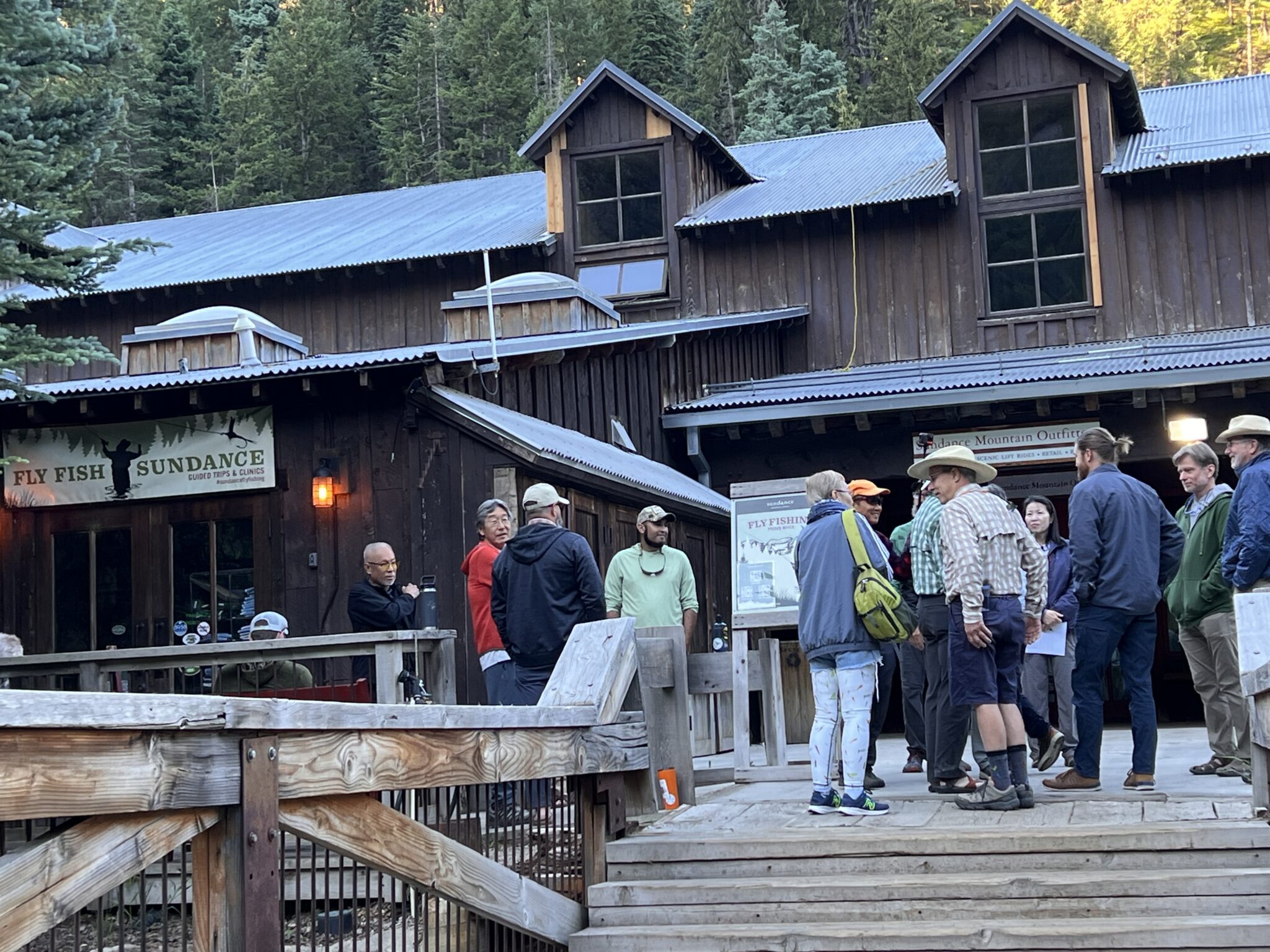 Our meeting point each morning was at Robert Redford's  Sundance Resort. It's gorgeous, with quaint, rustic mountain architecture and beautifully crafted grounds against a idyllic scenic backdrop.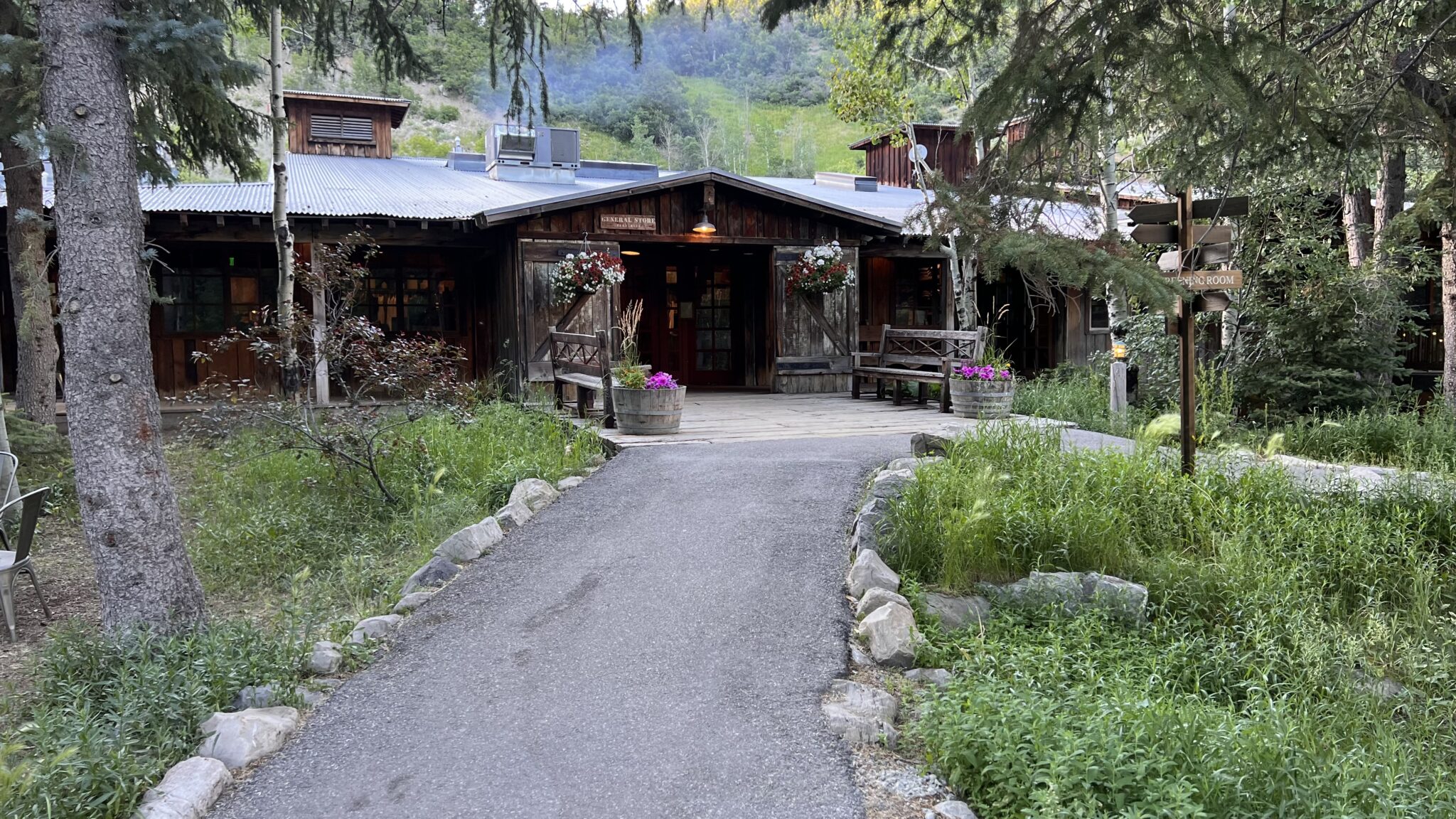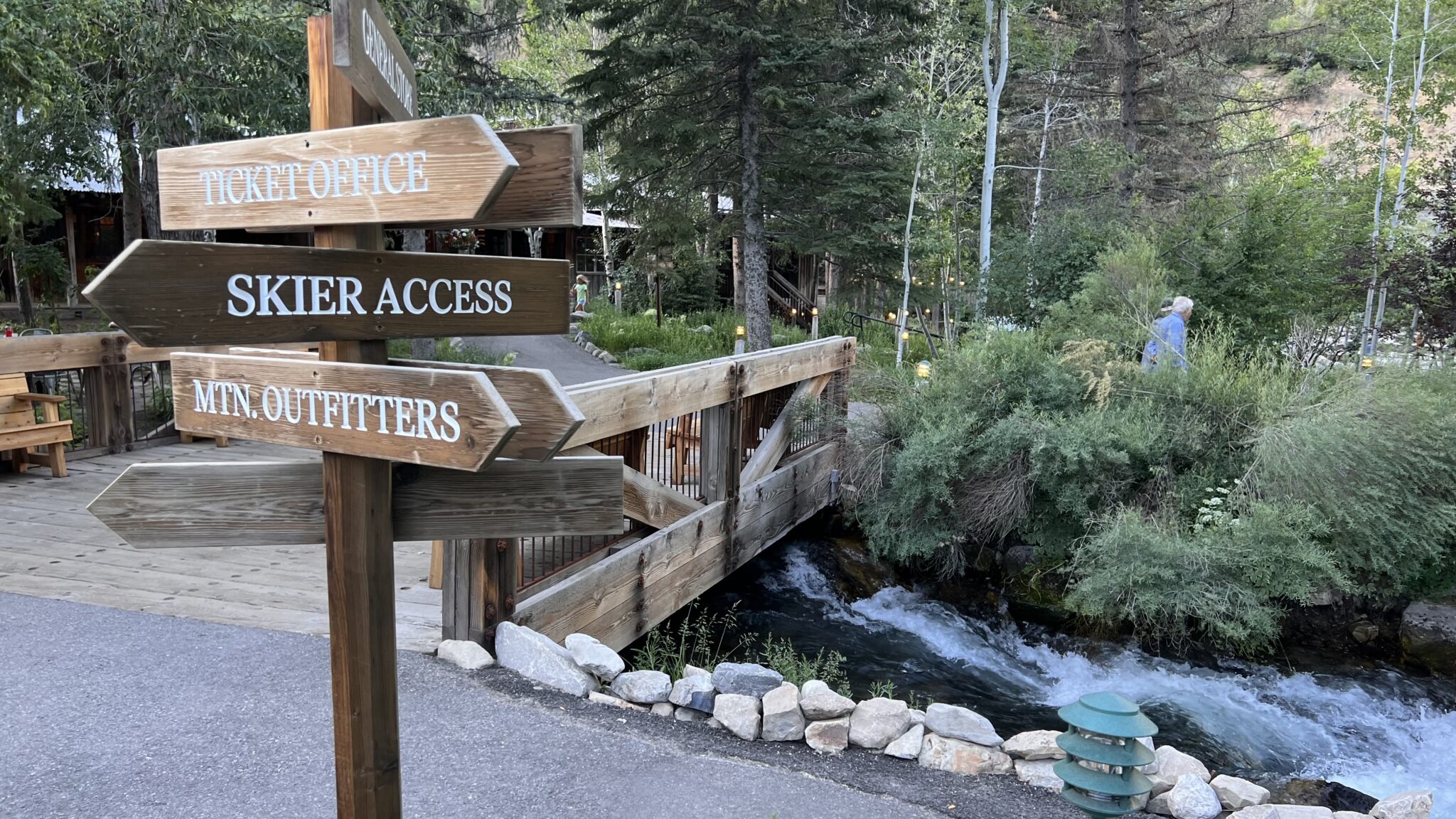 There's a small fly shop and even a tiny stream meandering throughout the property!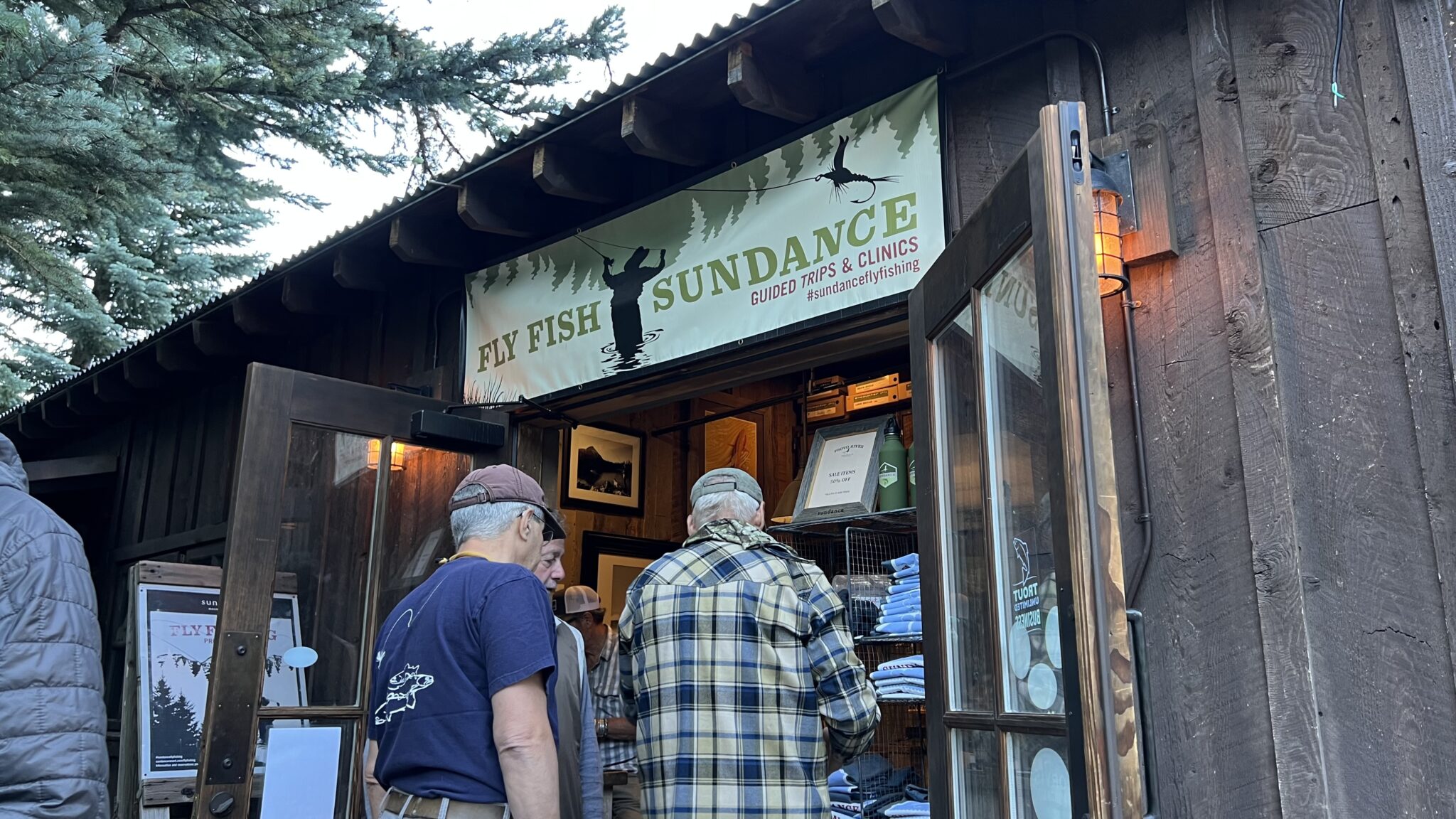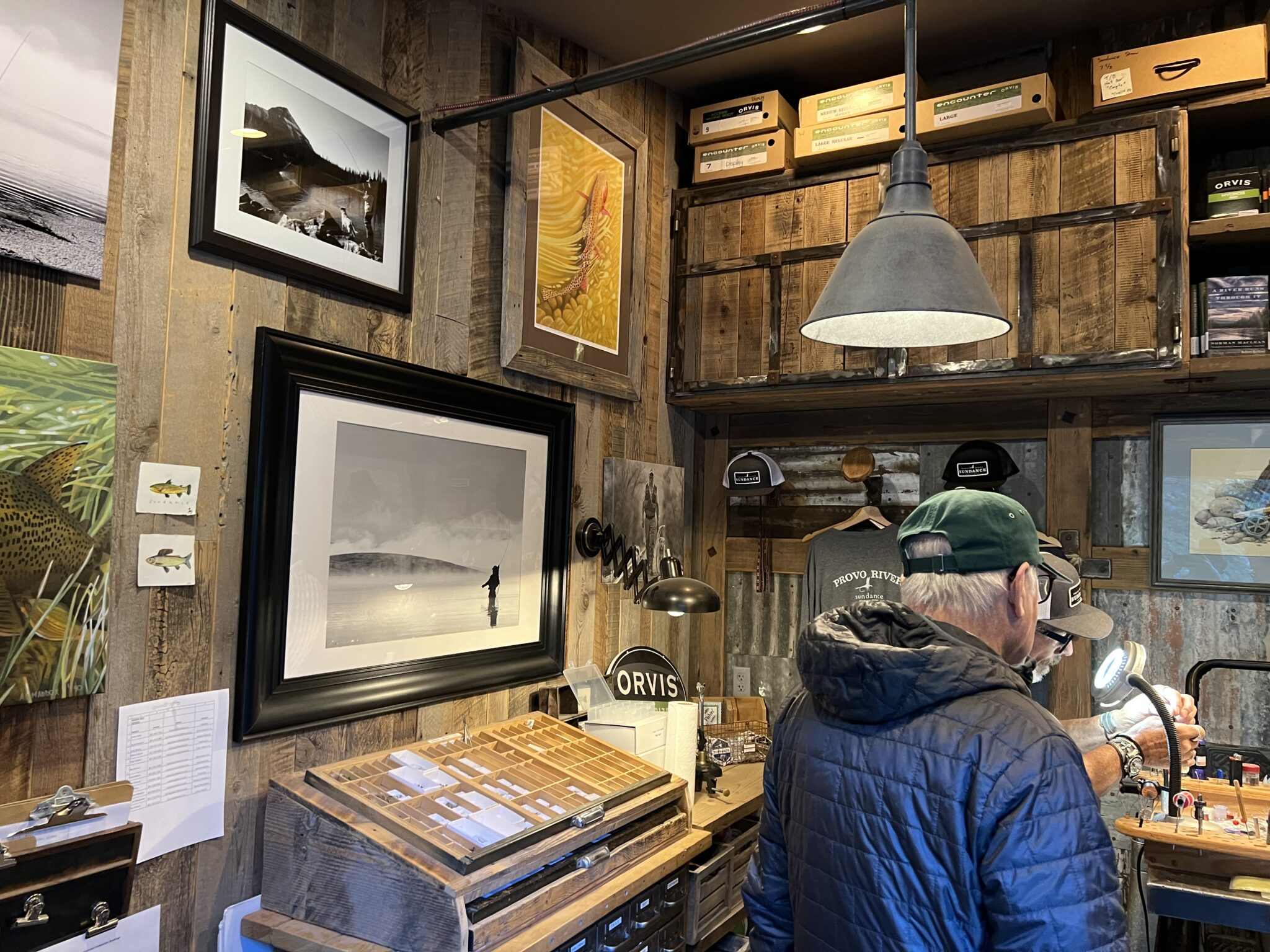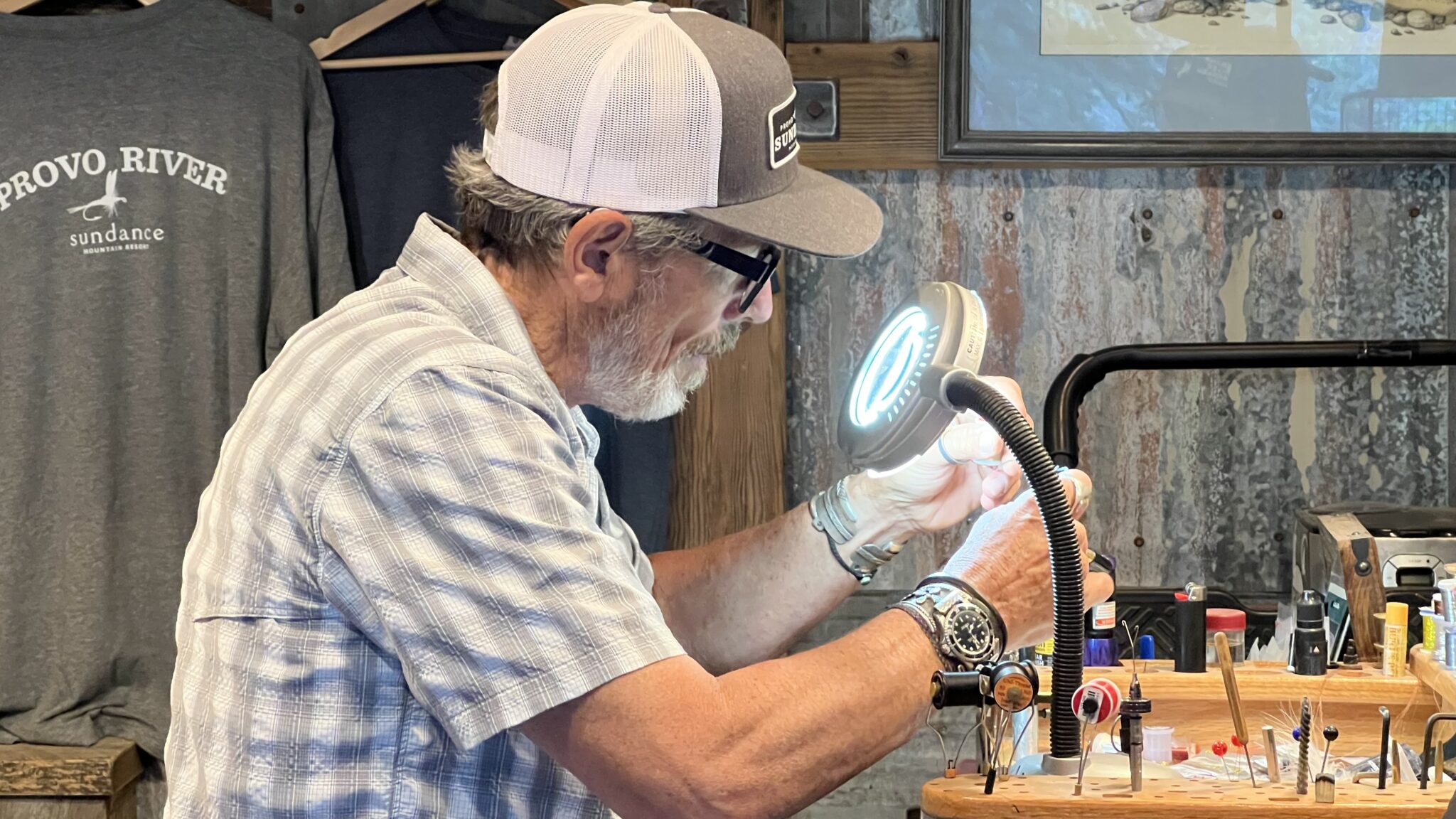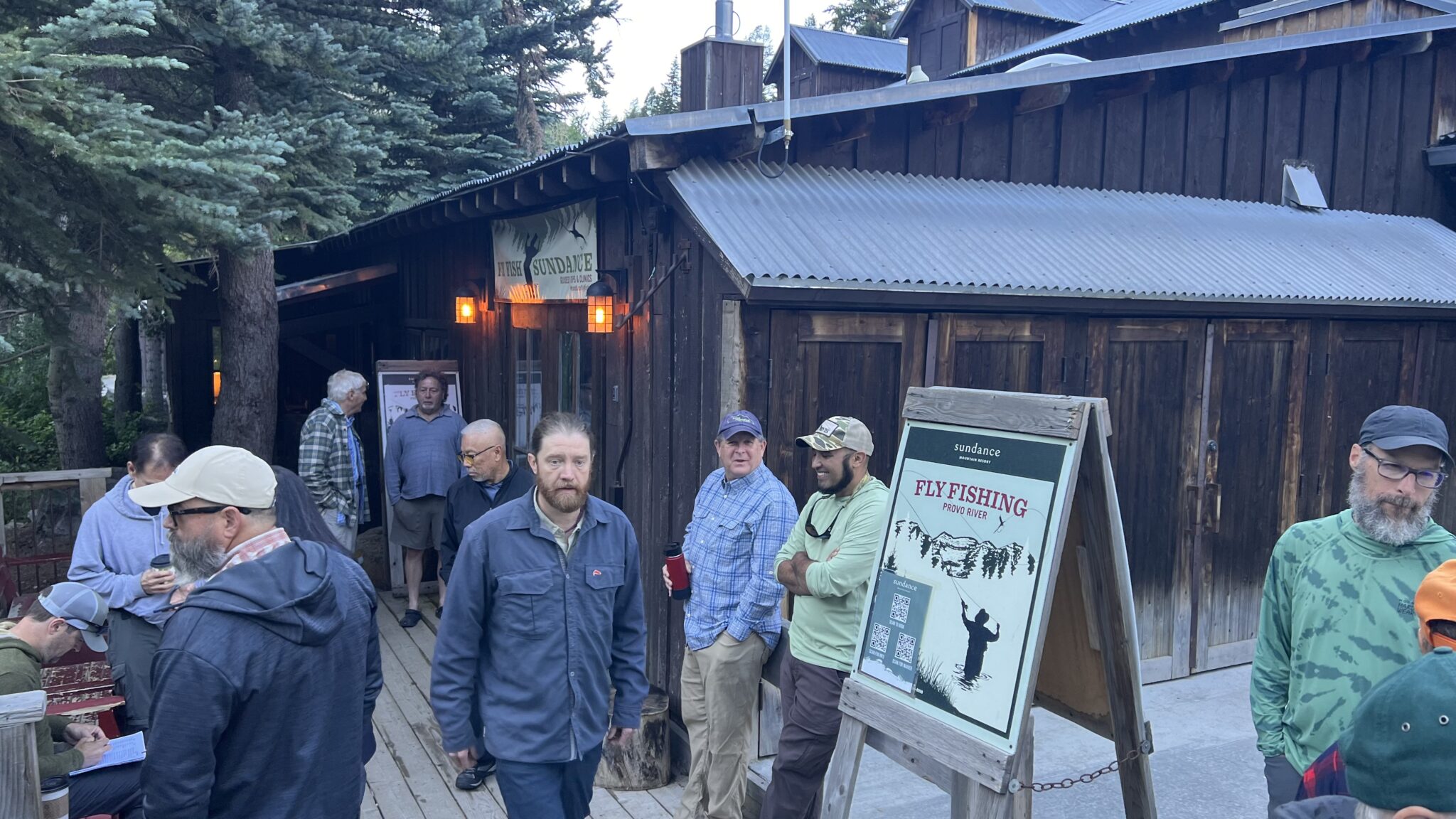 It's pricey though, so everyone stayed elsewhere (Rob and John camped). Oni and Coco stayed in SLC, and I stayed in Orem, just outside of Provo. Each day, we'd meet up in the parking lot, get our daily briefing, then head out to the location du jour for demos, sessions, and free fishing.
I'd say there were about 20 students, some of which have returned 6 or 7 times! The overall energy of the group was contagious and I could already tell on day one that this was going to be a fun time.
John, EriK, and Rob gave an orientation going over the logistics for the next three days.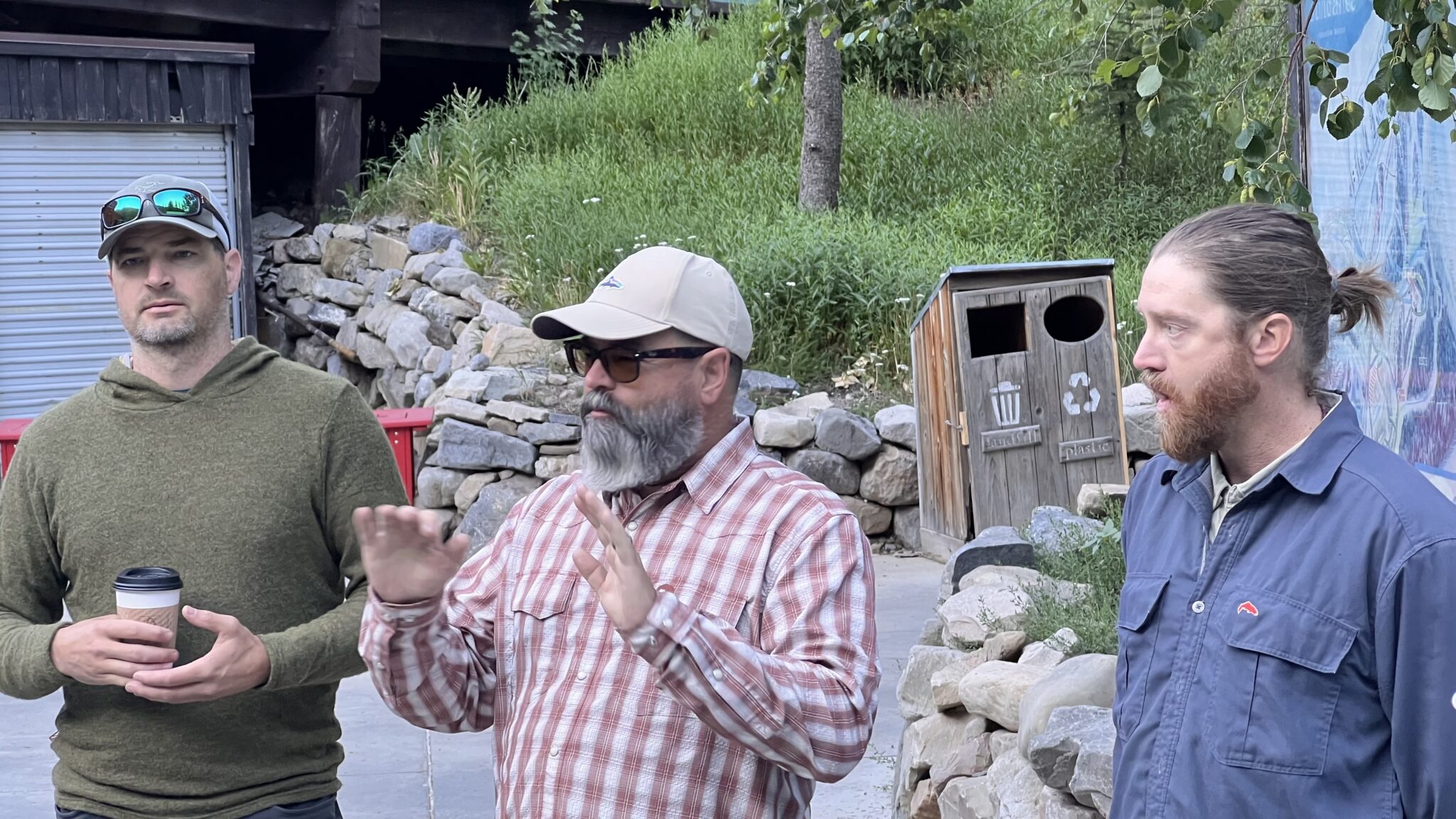 And after years of anticipation, I finally got to meet Oni and Coco! Though we couldn't understand a word the other was saying, I felt there was a connection there, implied through a mutual passion for our craft–a bond that didn't need words.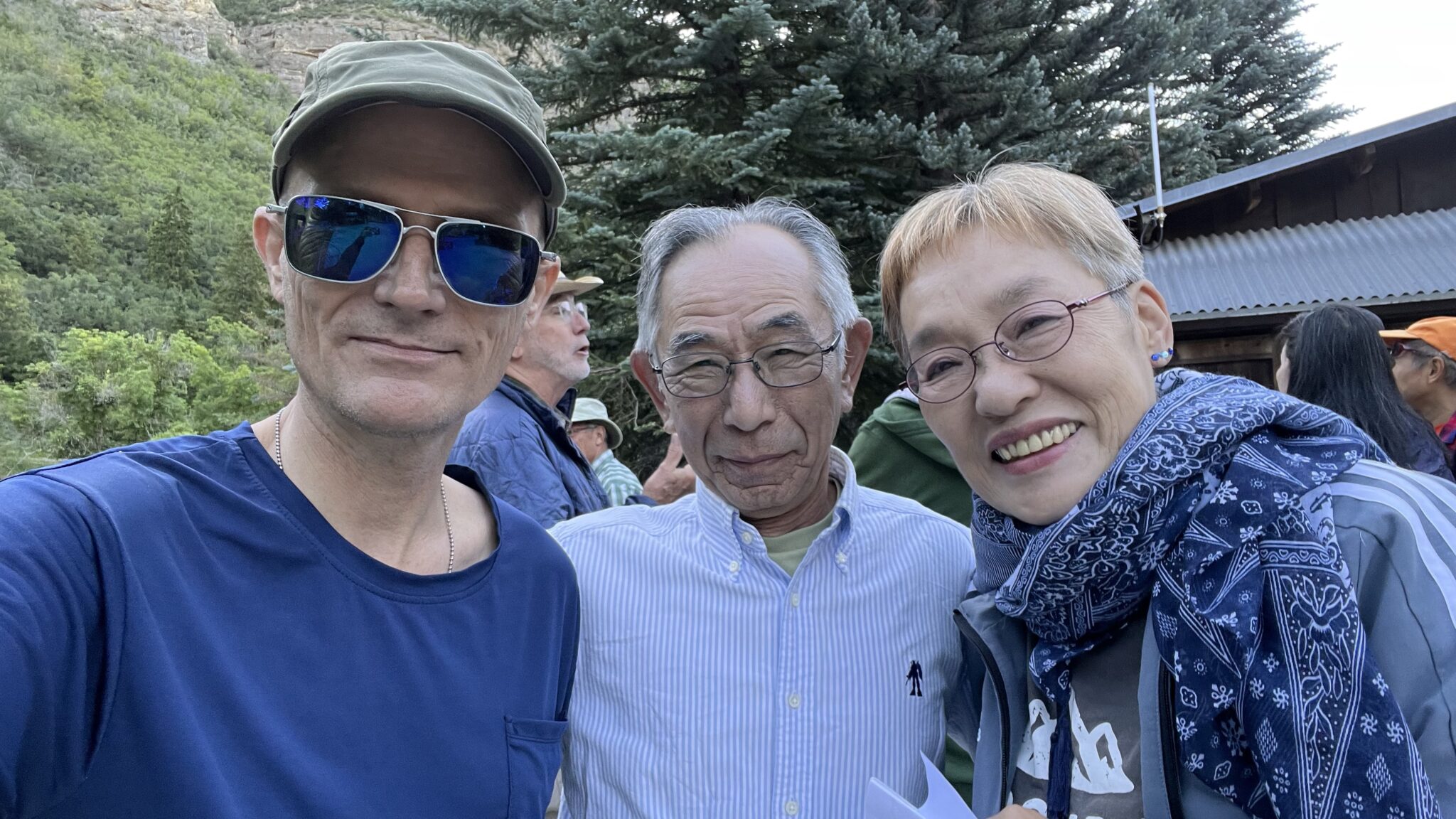 I was able to mingle and meet a lot of familiar names–it was hard to remember everyone since I'm not used to seeing their faces!
Oni kicked off the event with a short speech to the group with a little help from Coco and Google Translate.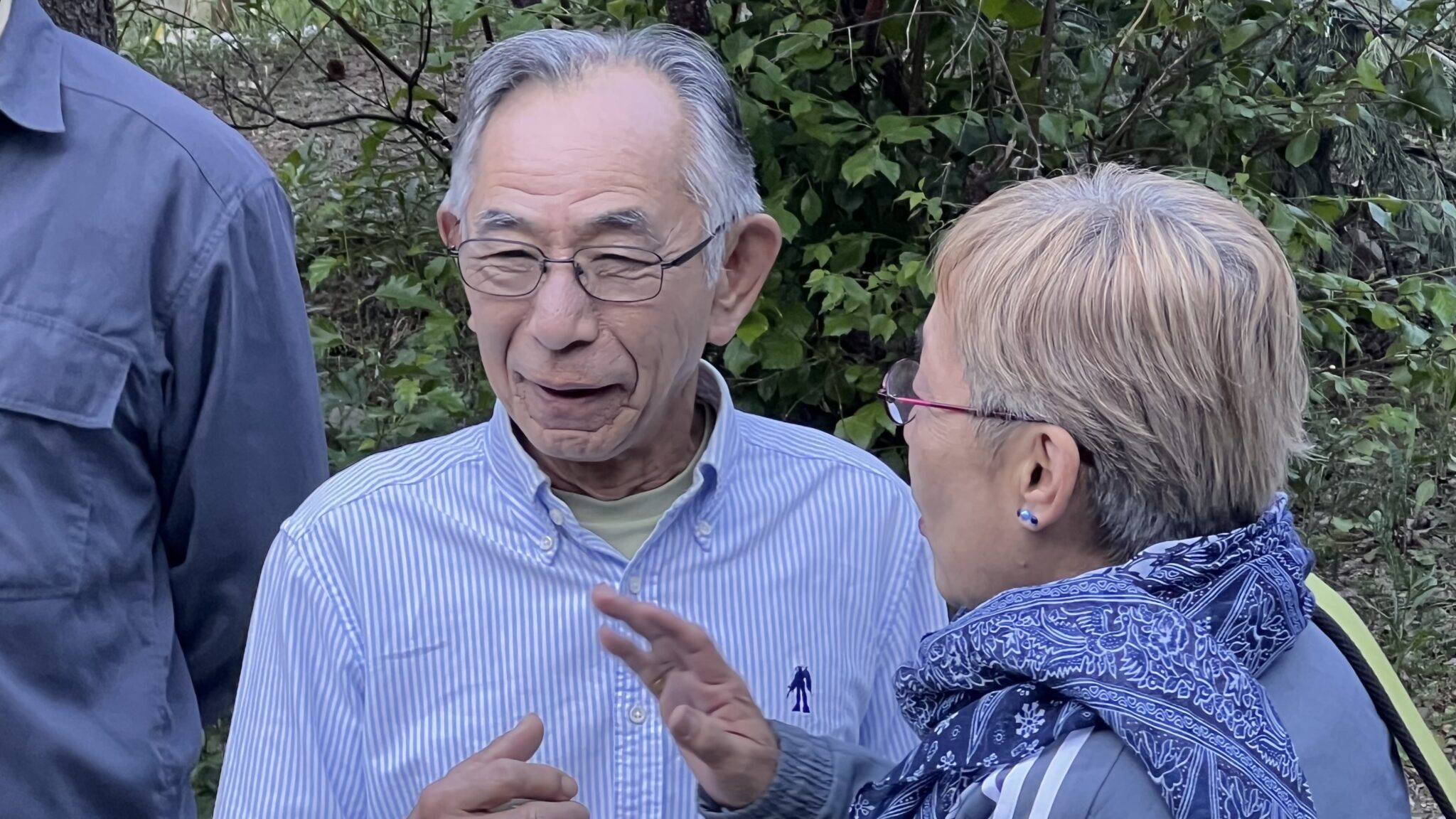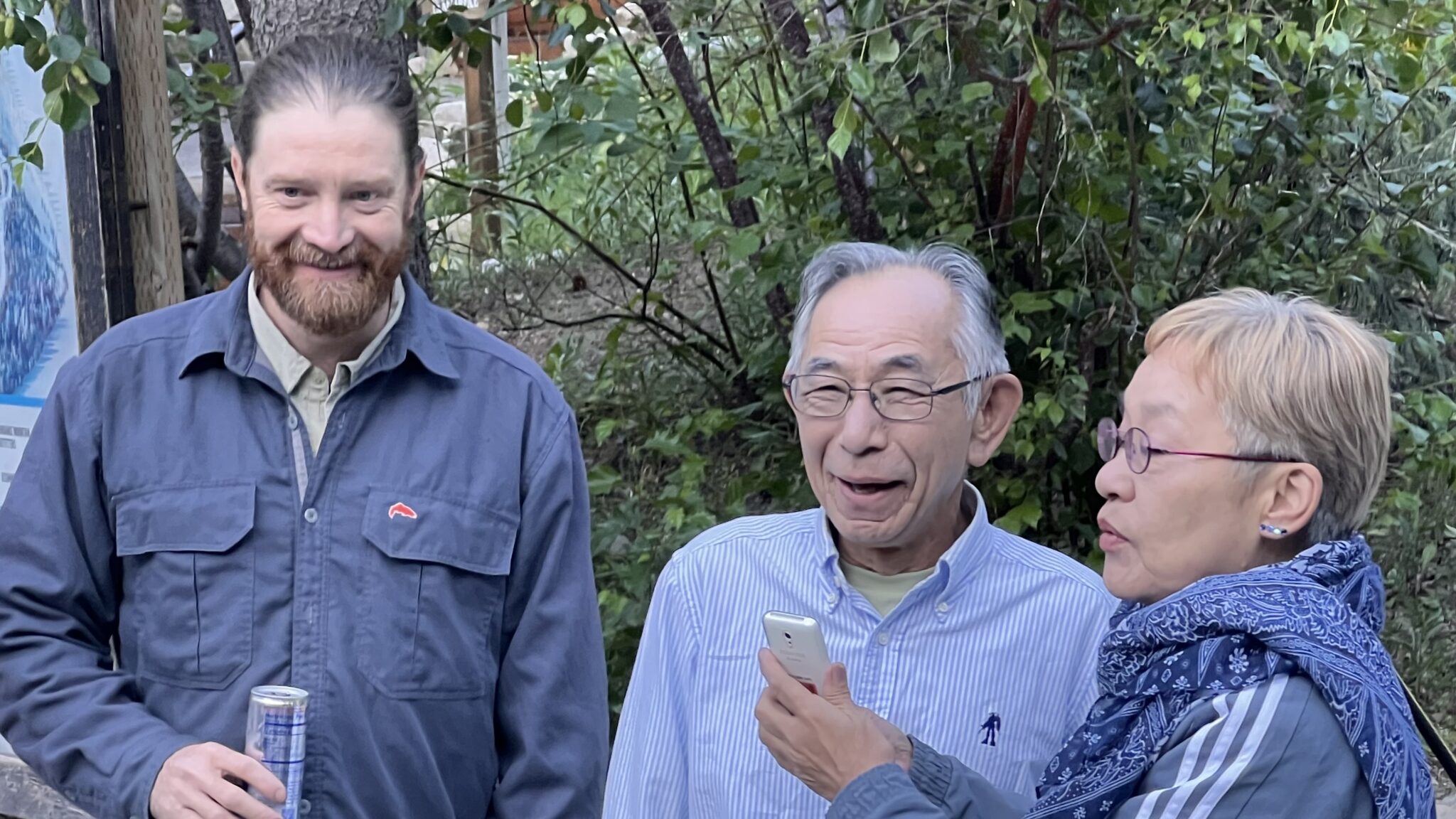 After orientation, we headed to the Lower Provo for our first session.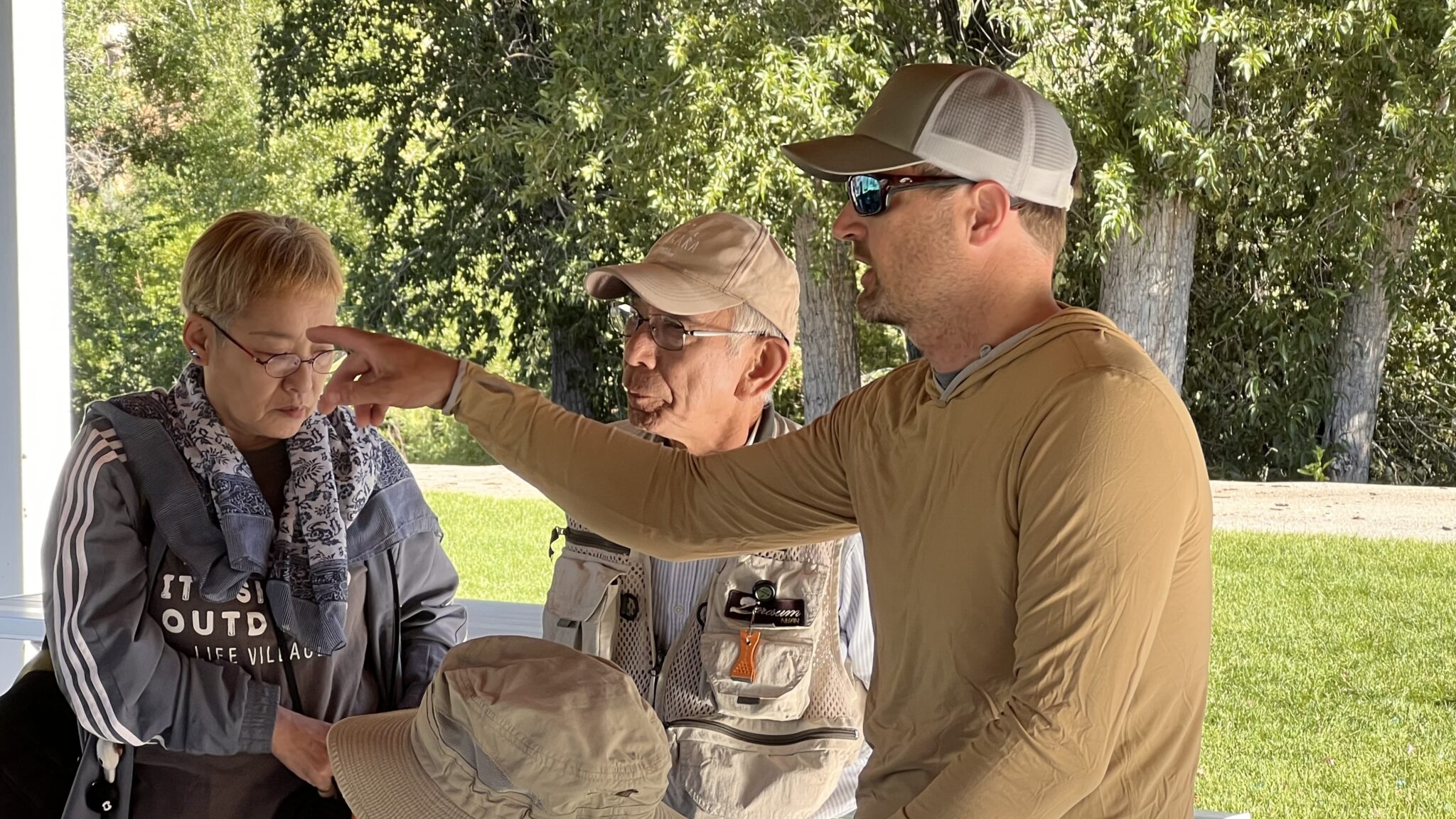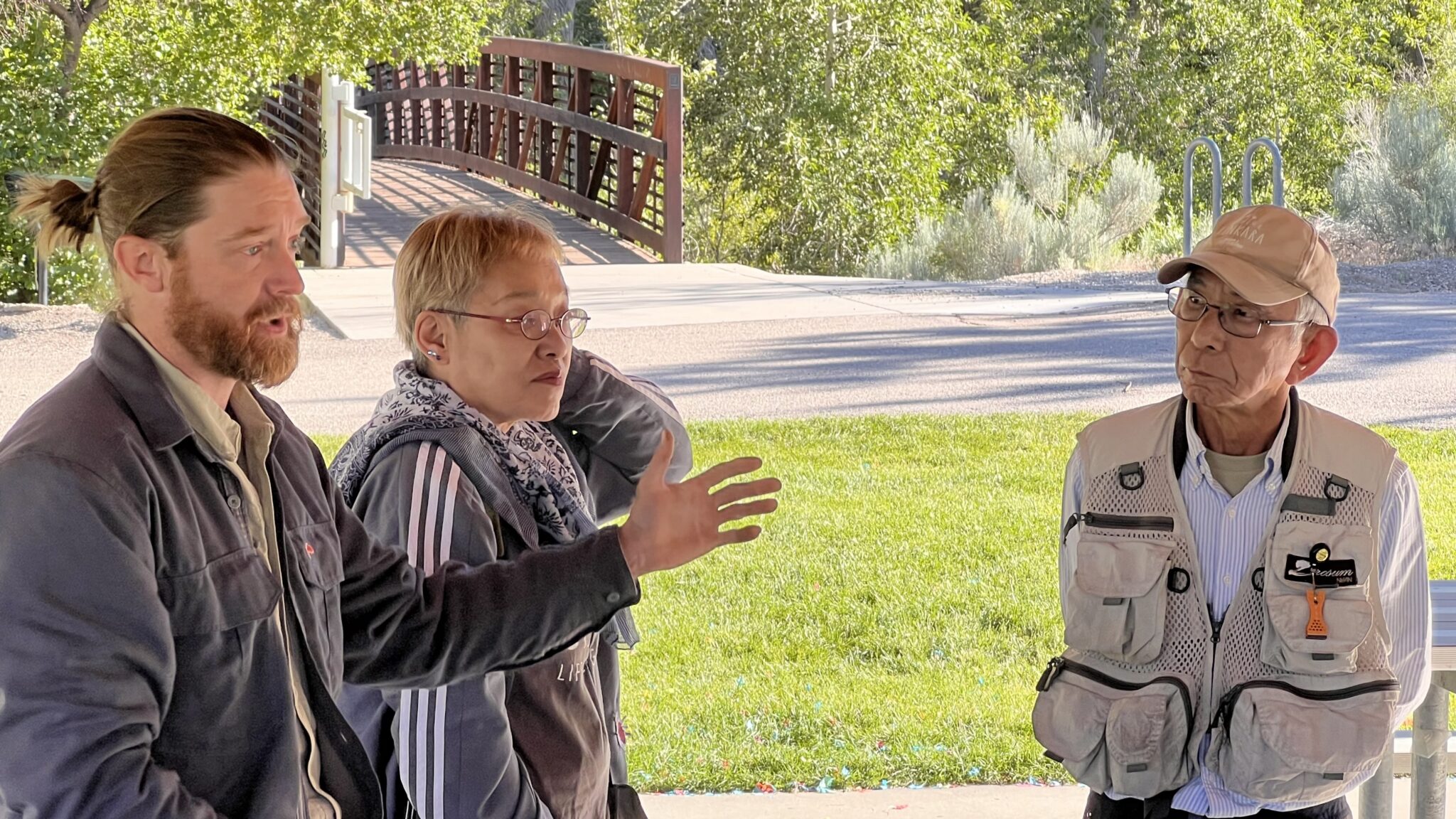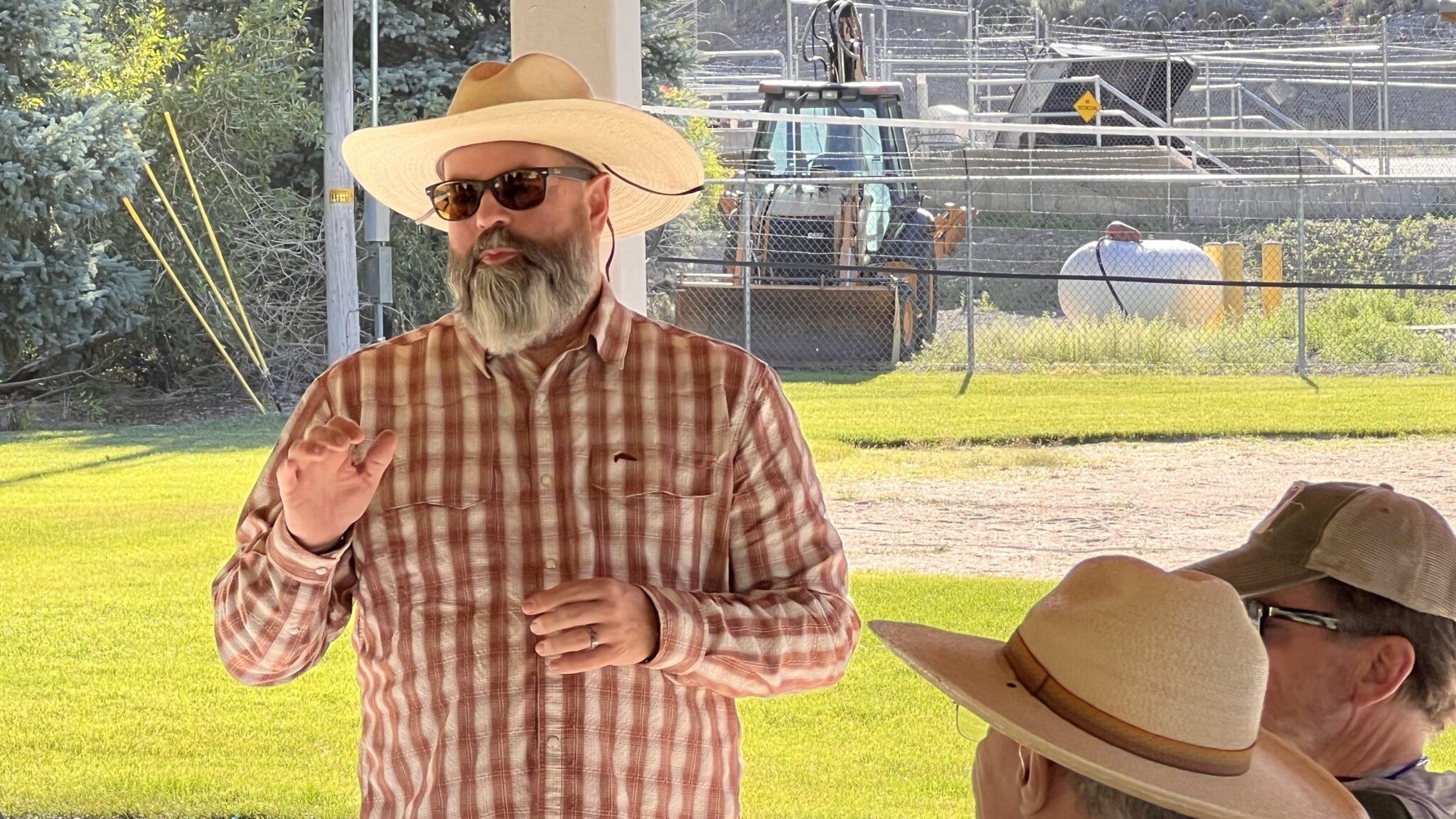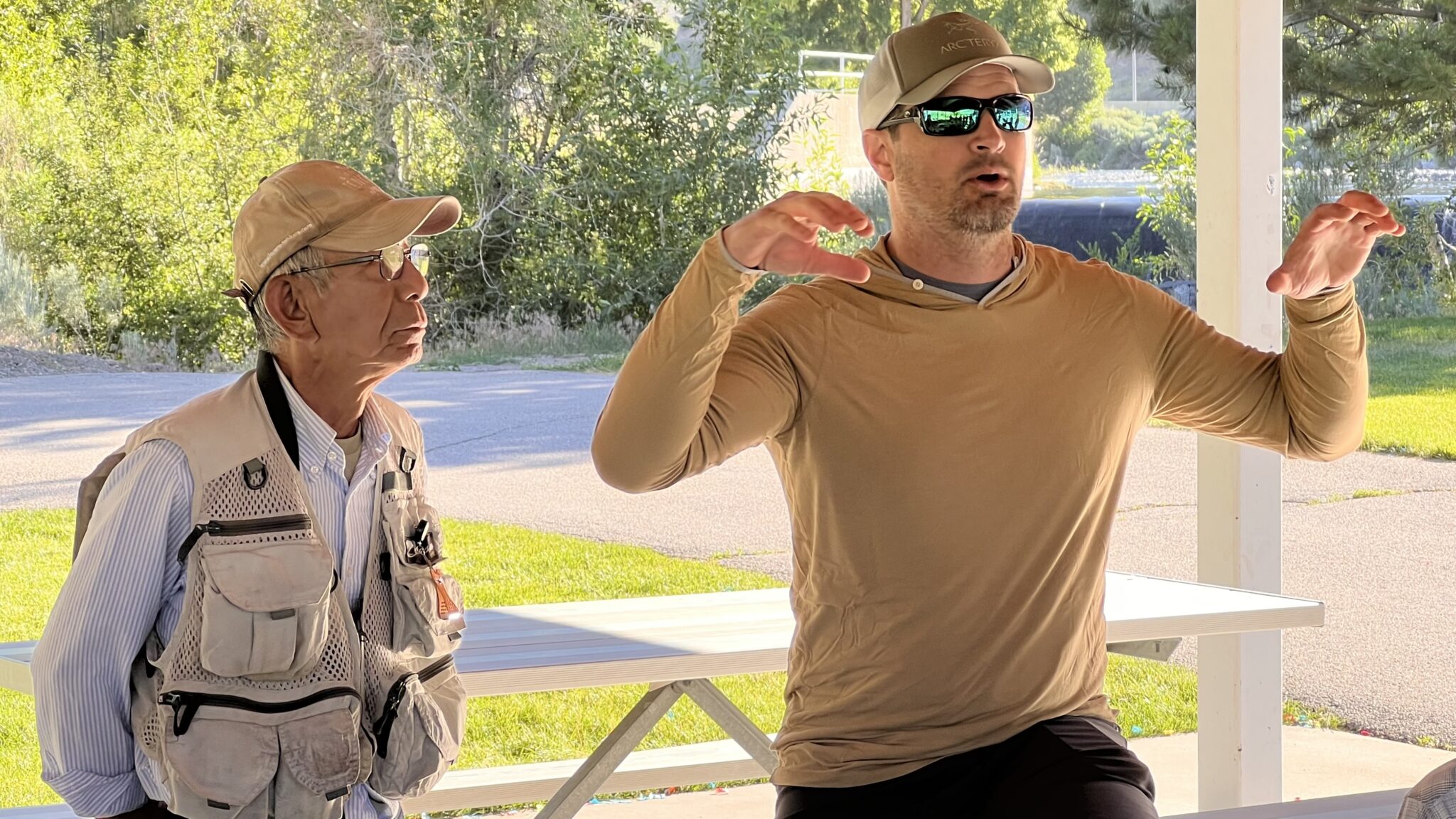 Oni gave an on-stream demo while Rob and John interpreted what he was doing, parsing out each minute detail of his techniques.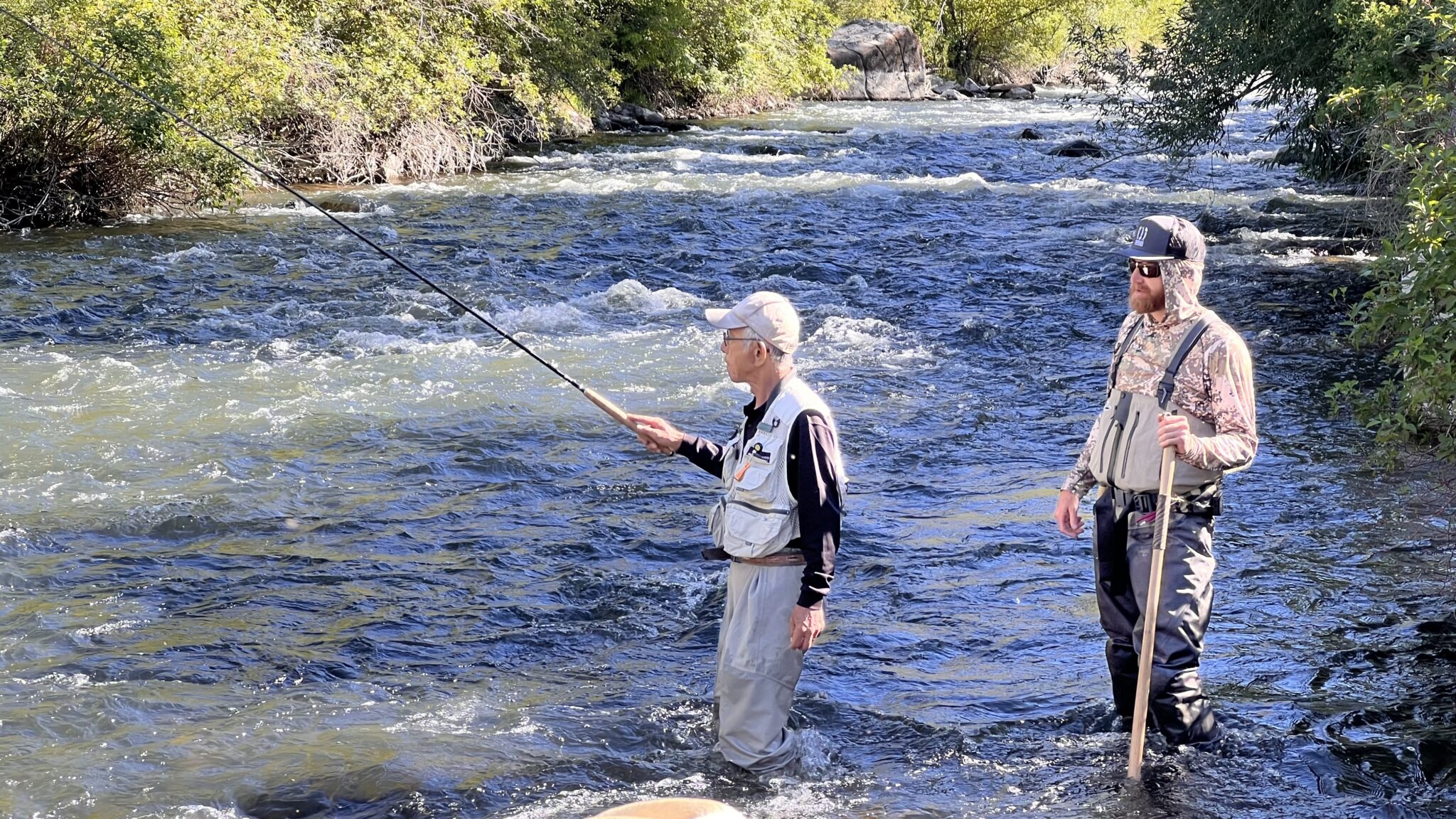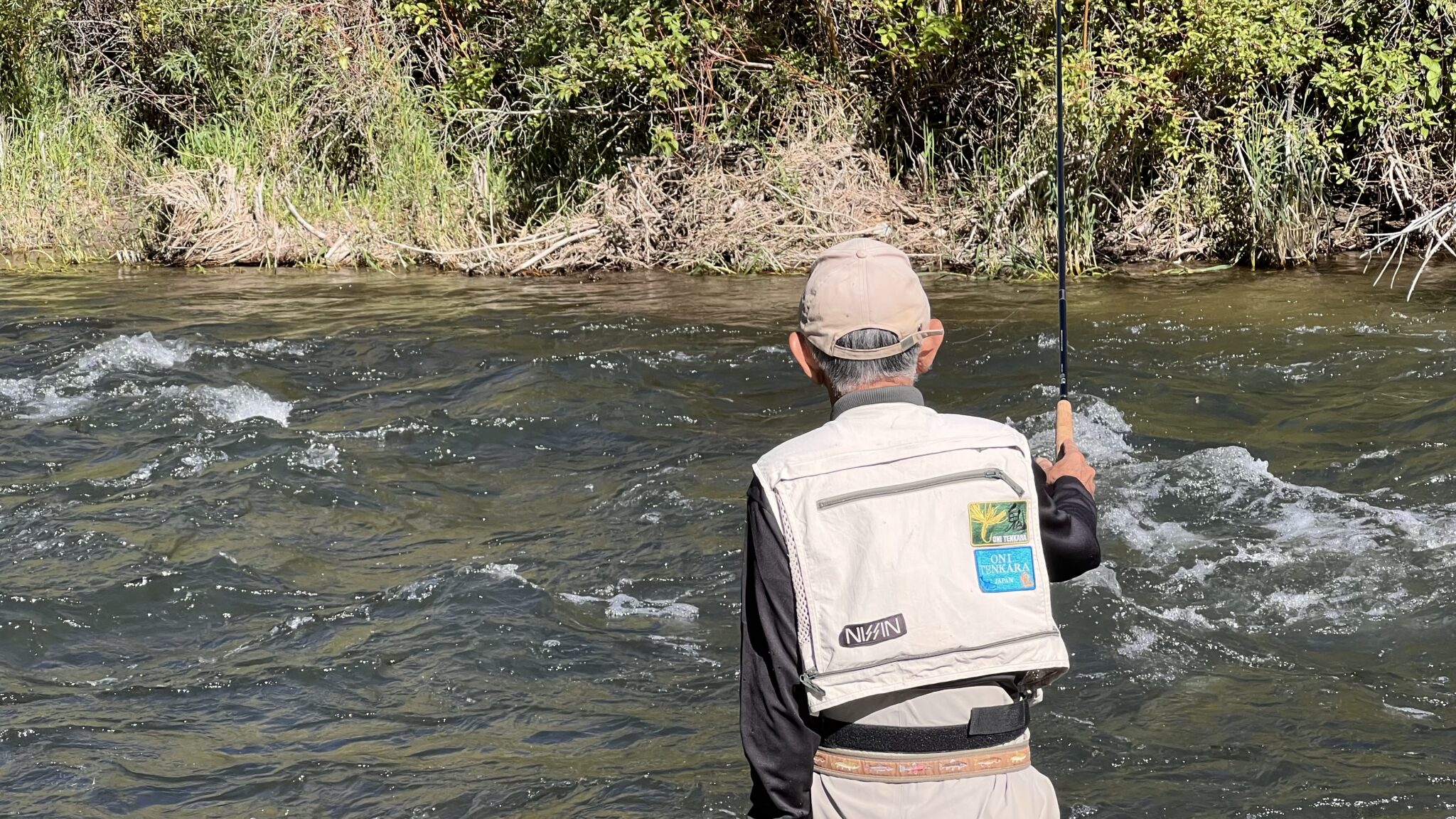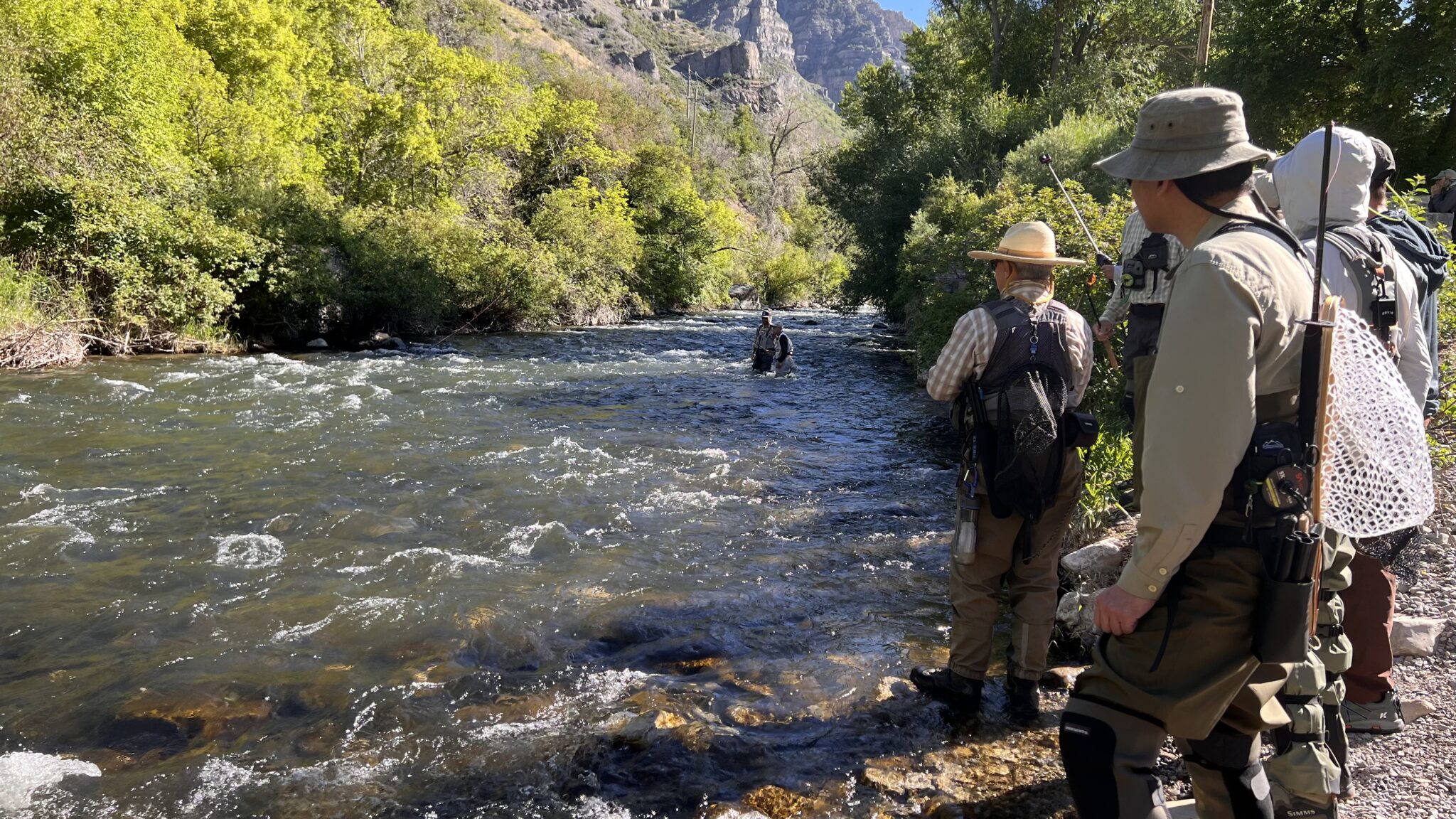 Oni broke the ice with the first fish. I didn't get a good picture but I'd say it was maybe 15″. I think that immediately set a positive tone and a high morale that endured for the entirety of the event.

He caught it on his famous #8  Yellow Oni Kebari.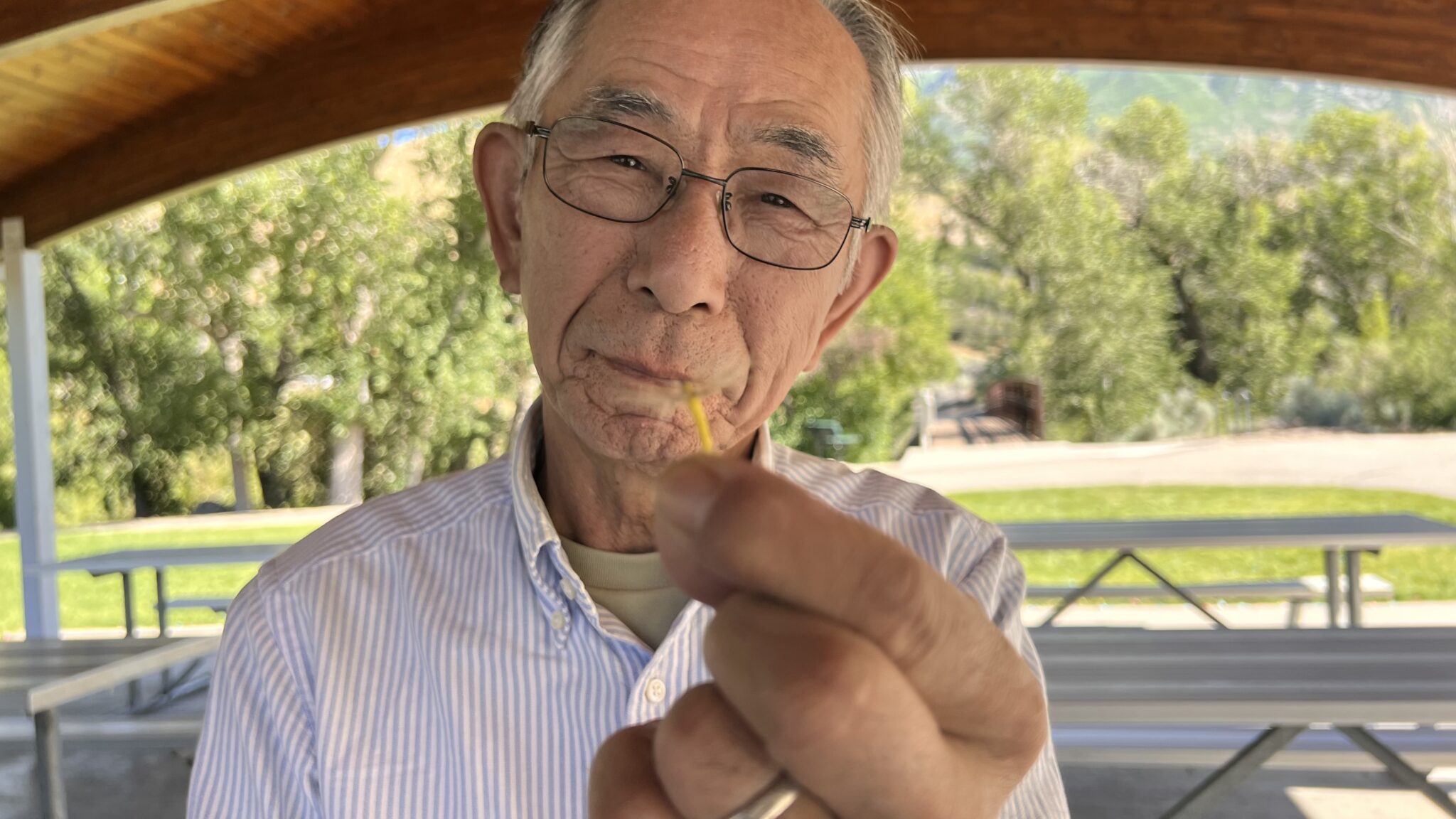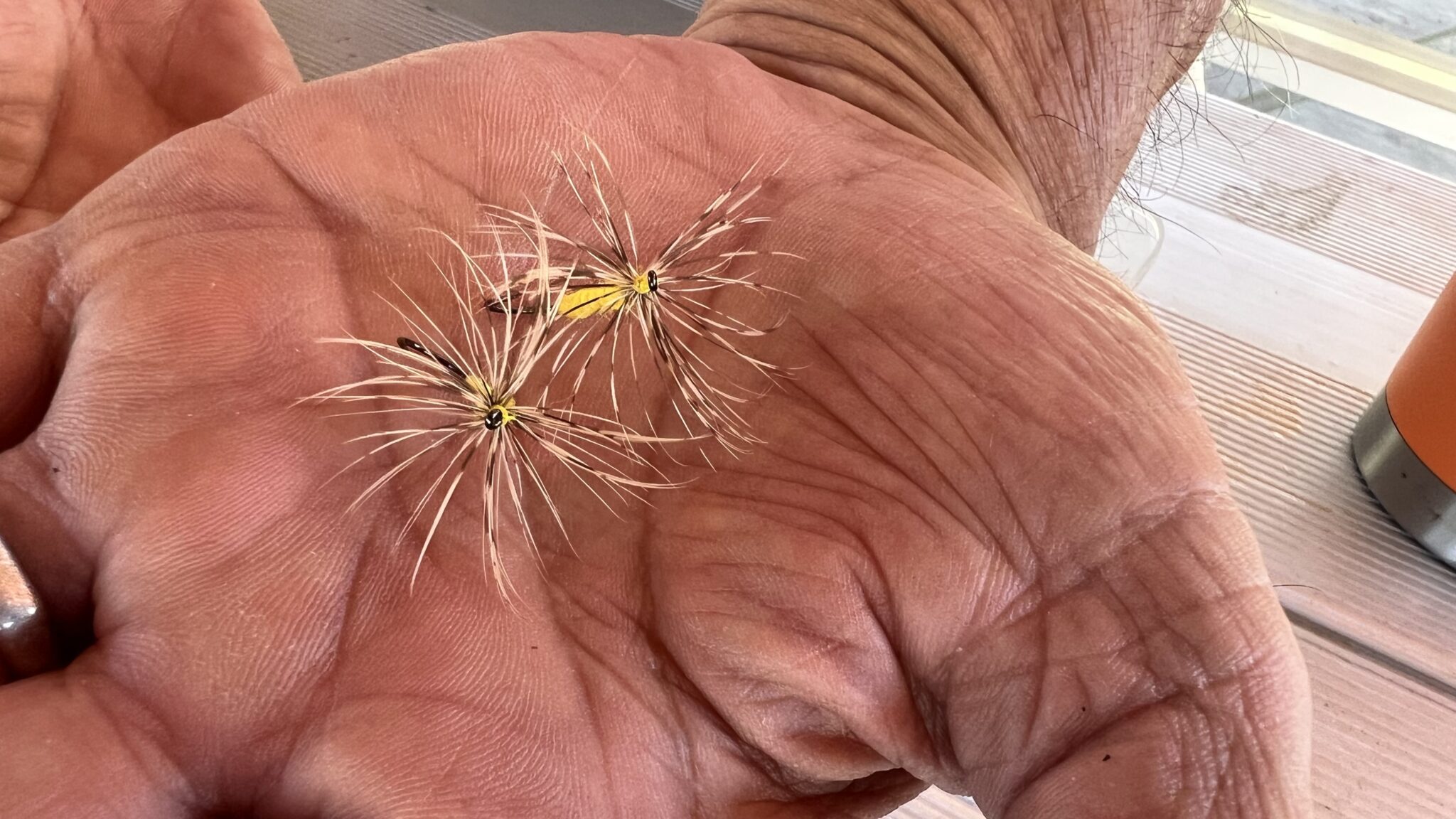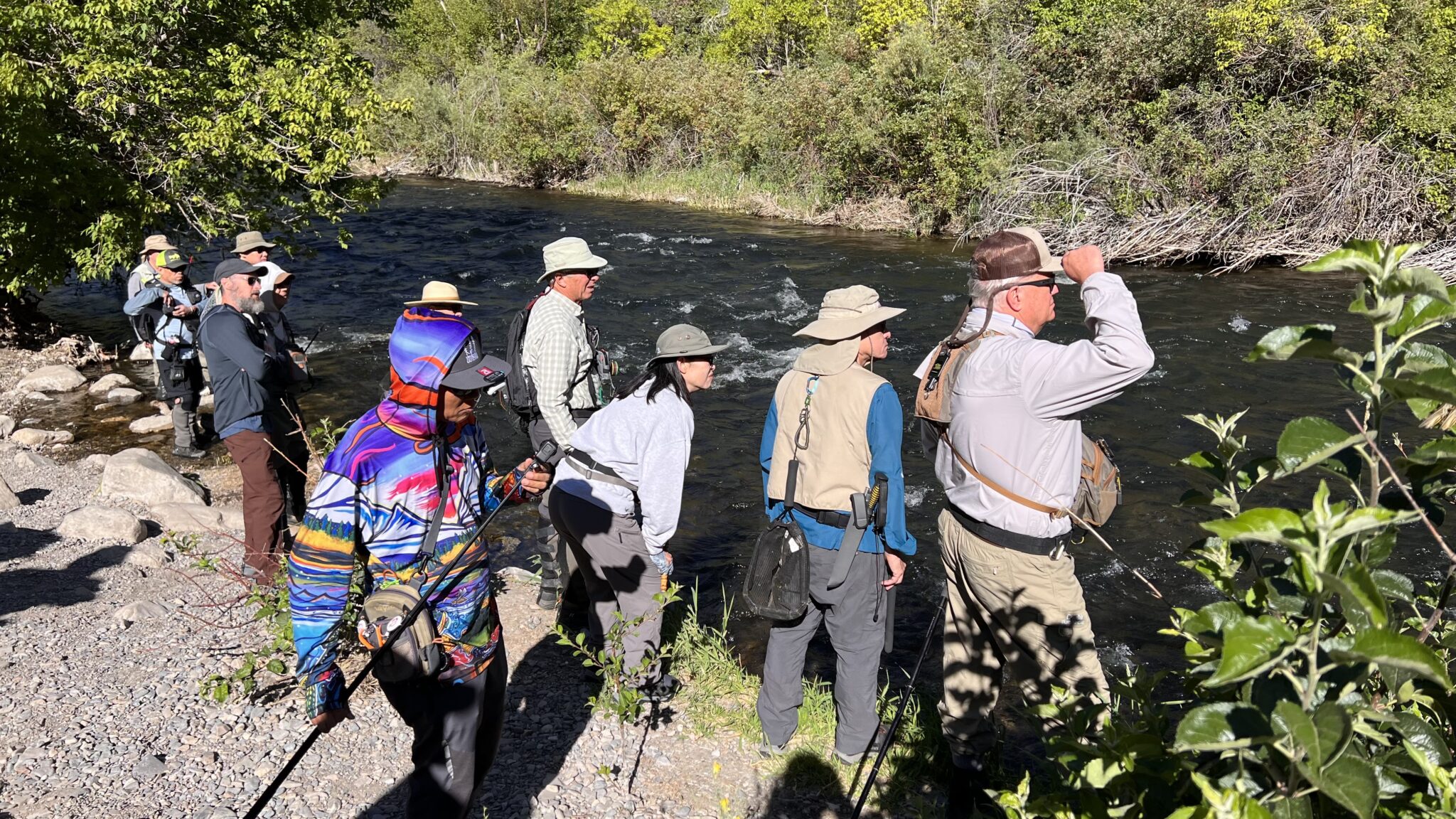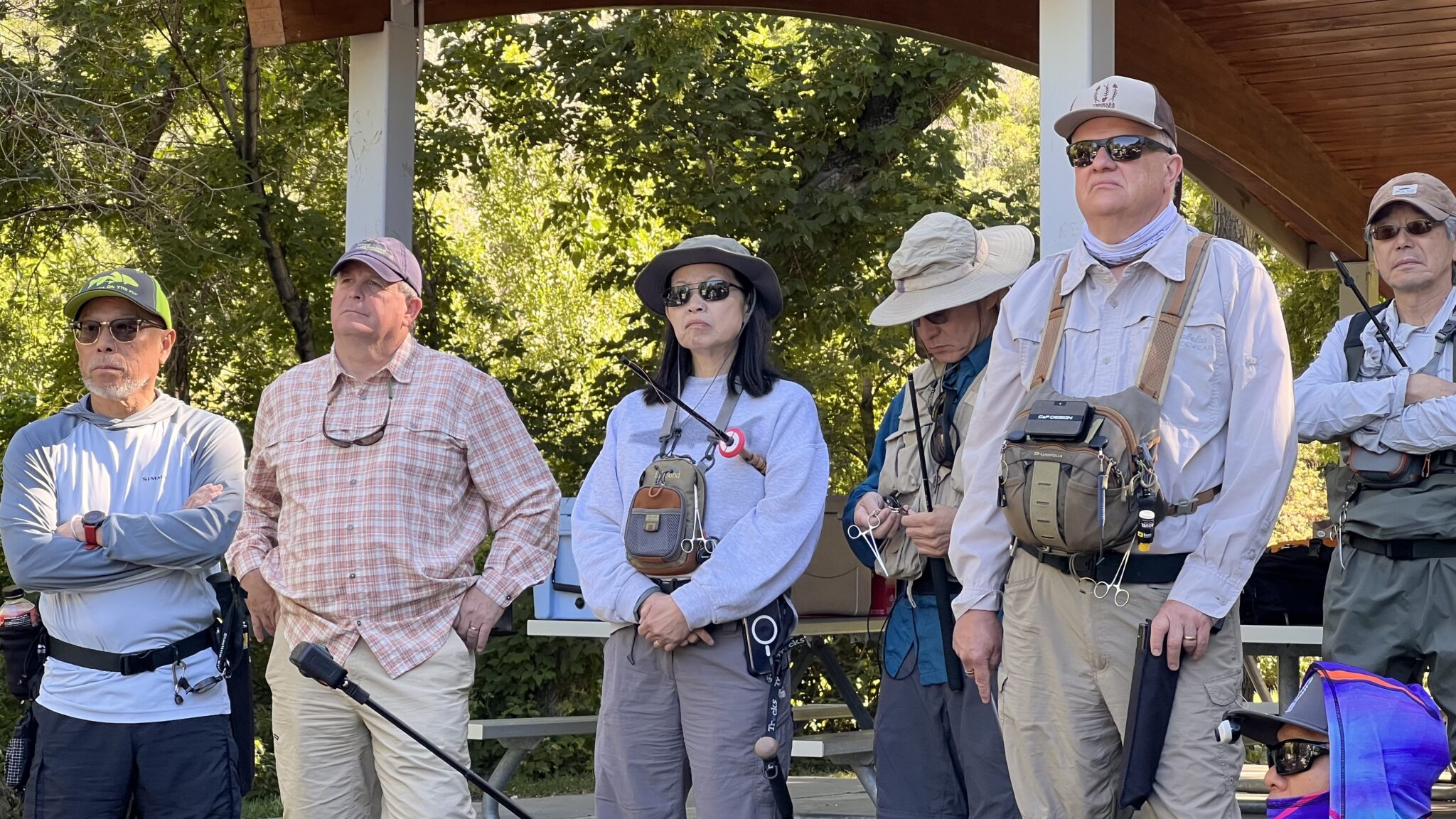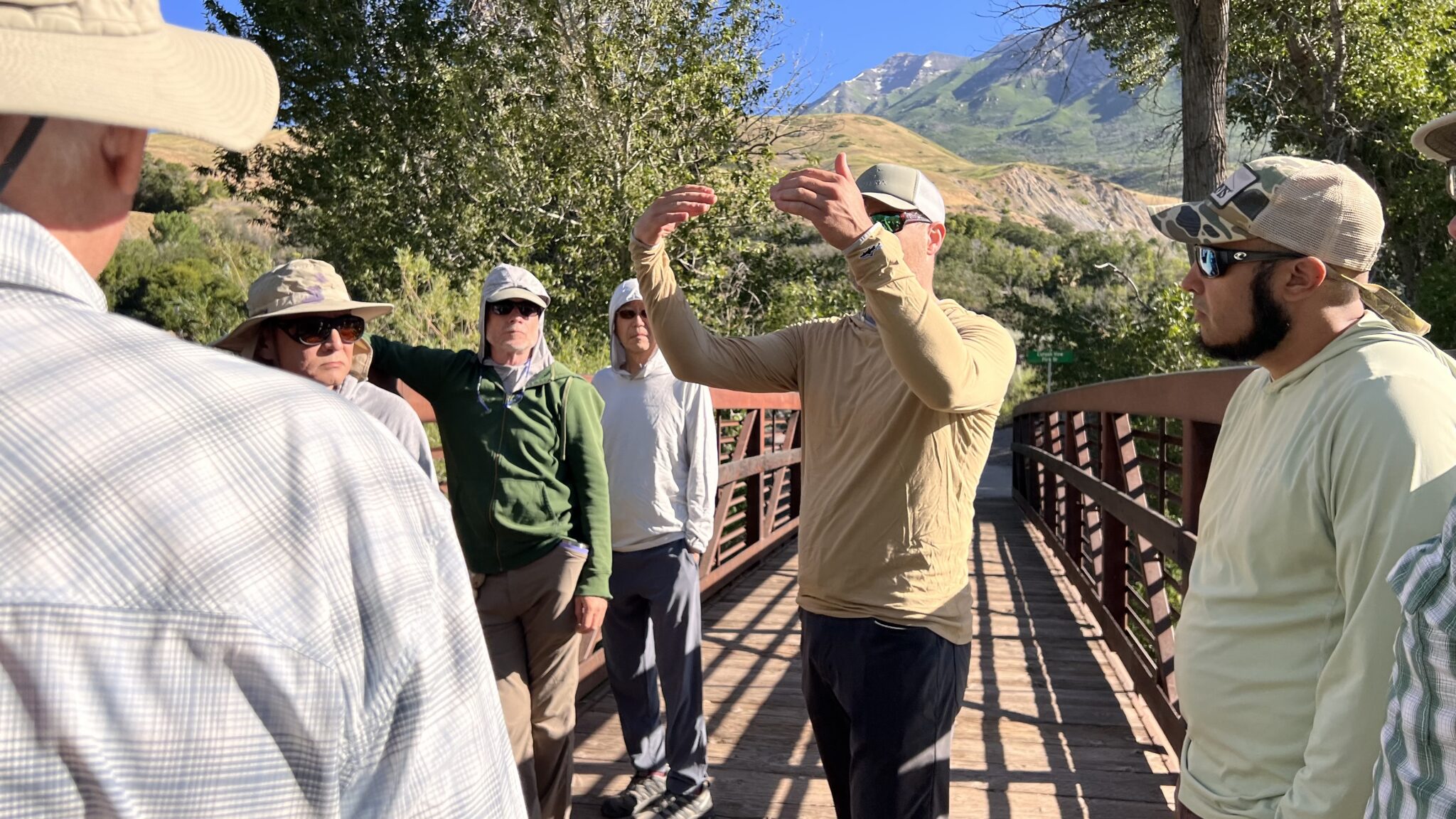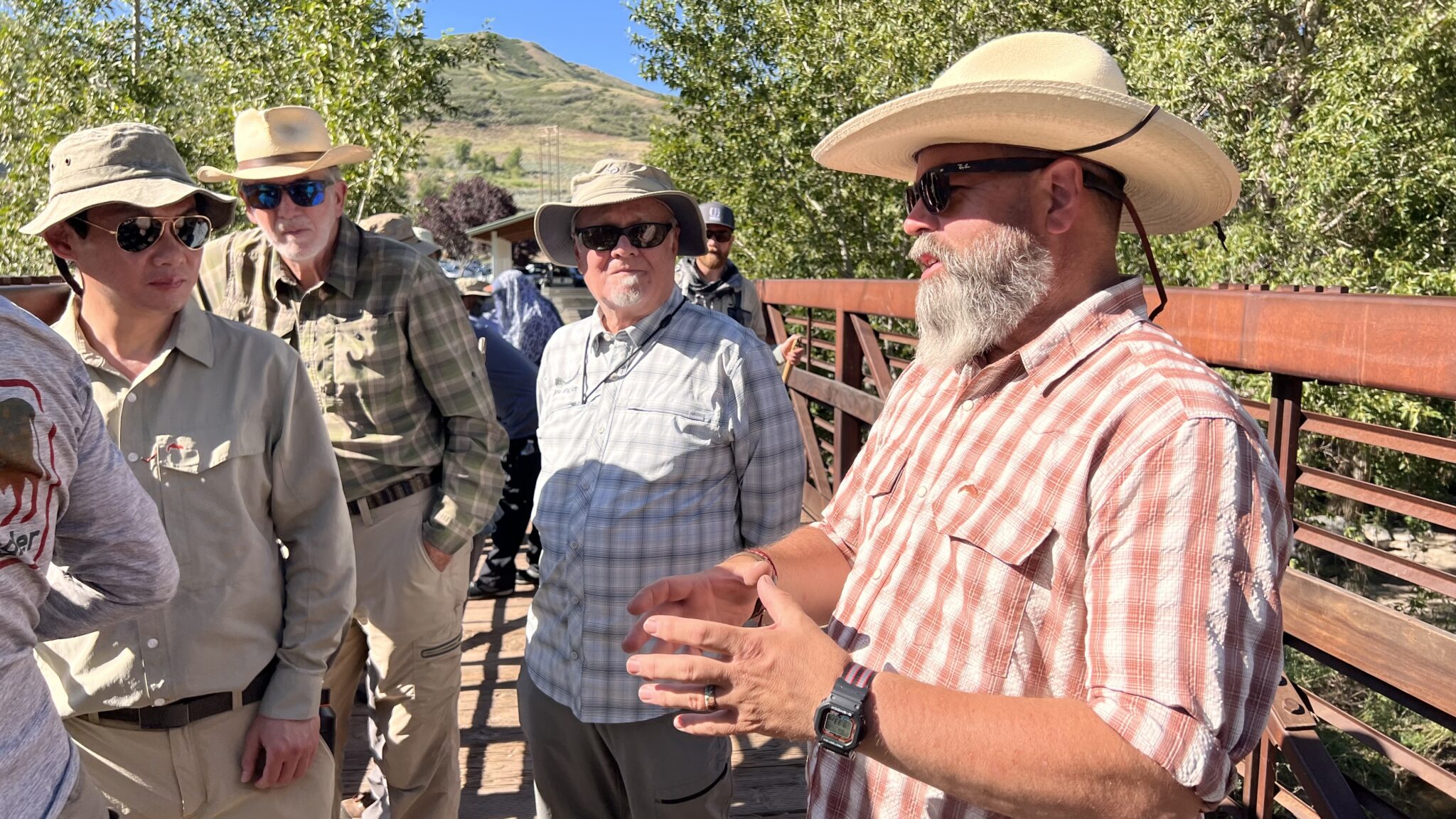 Later, we went back to the pavilion for lunch and a chance to buy some Oni gear! A few people bought rods and Coco also brought fly selections for sale. The last thing I need is another Oni rod so I had to show some restraint. Though that one bamboo handle one was tempting.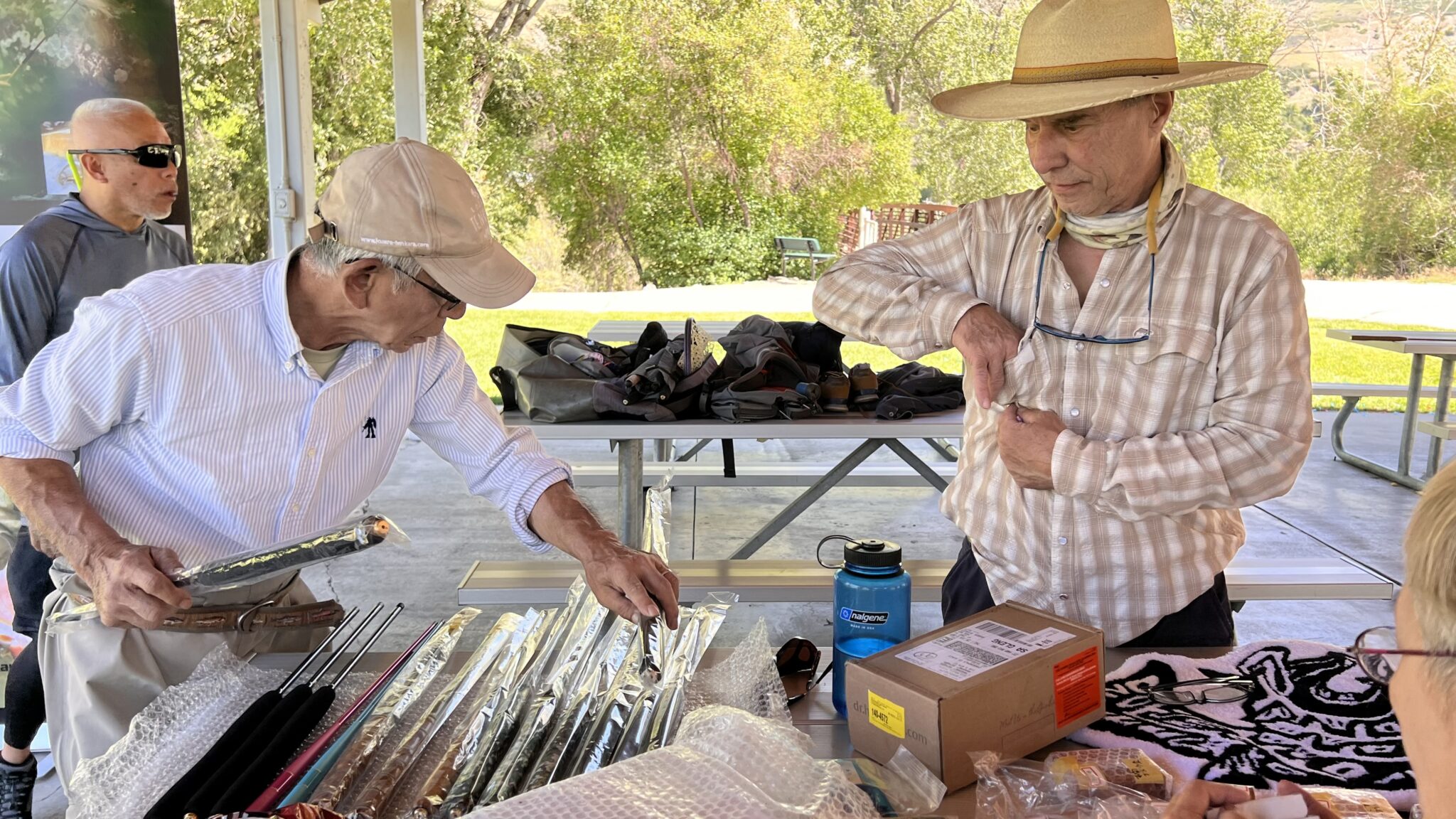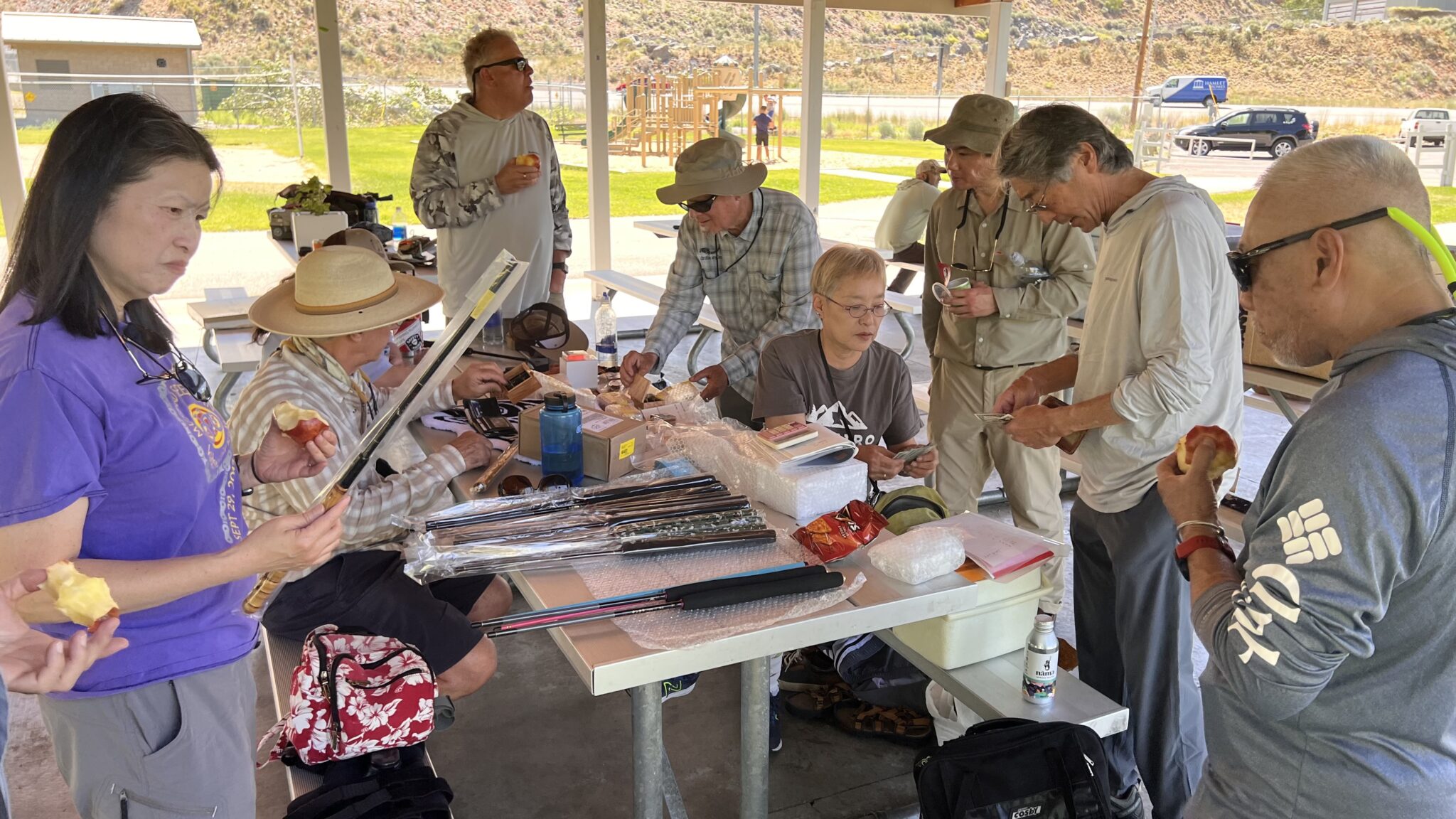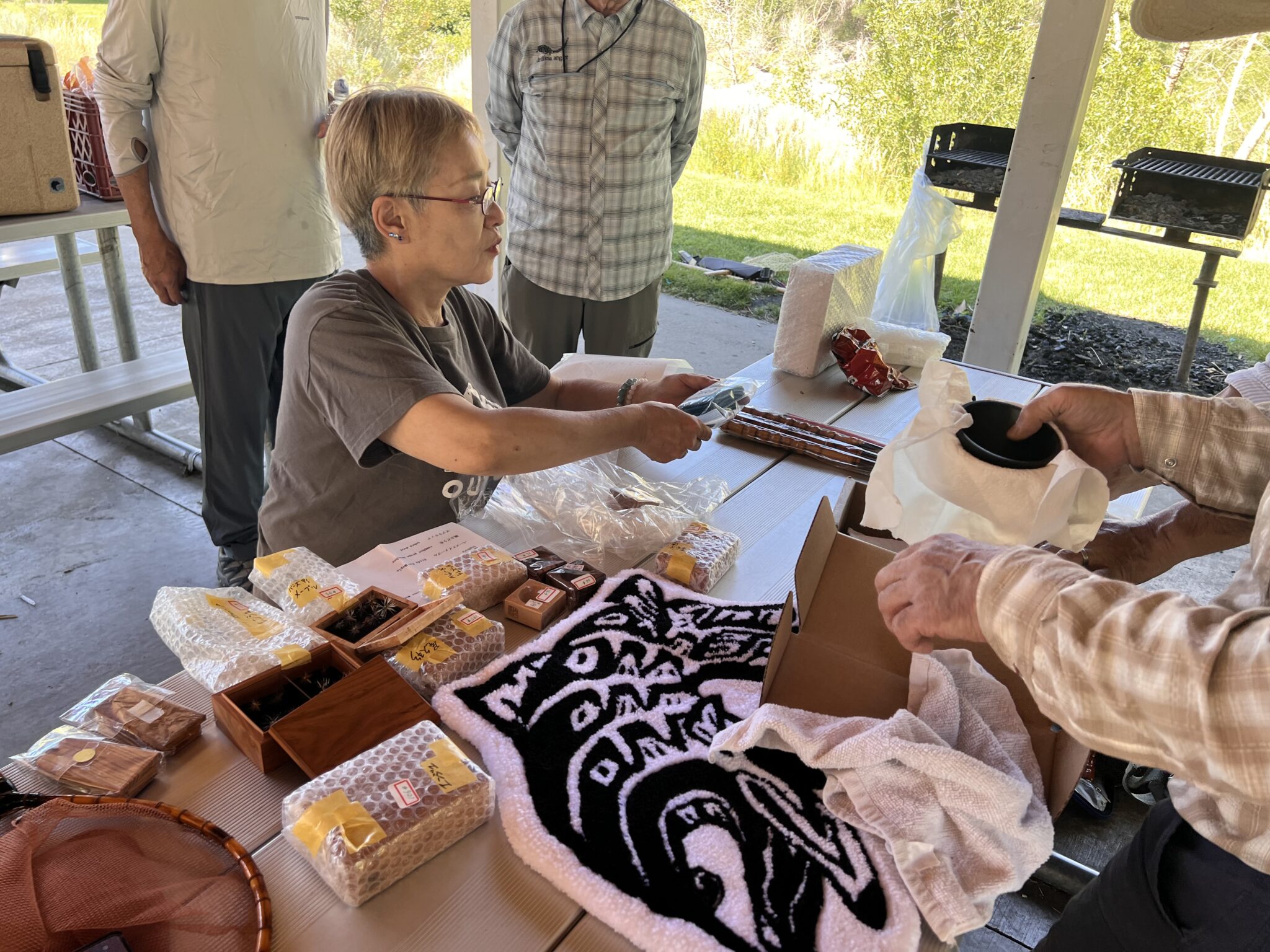 Oni also offered to sign everyone's gear so I had all three of my Type I rods autographed!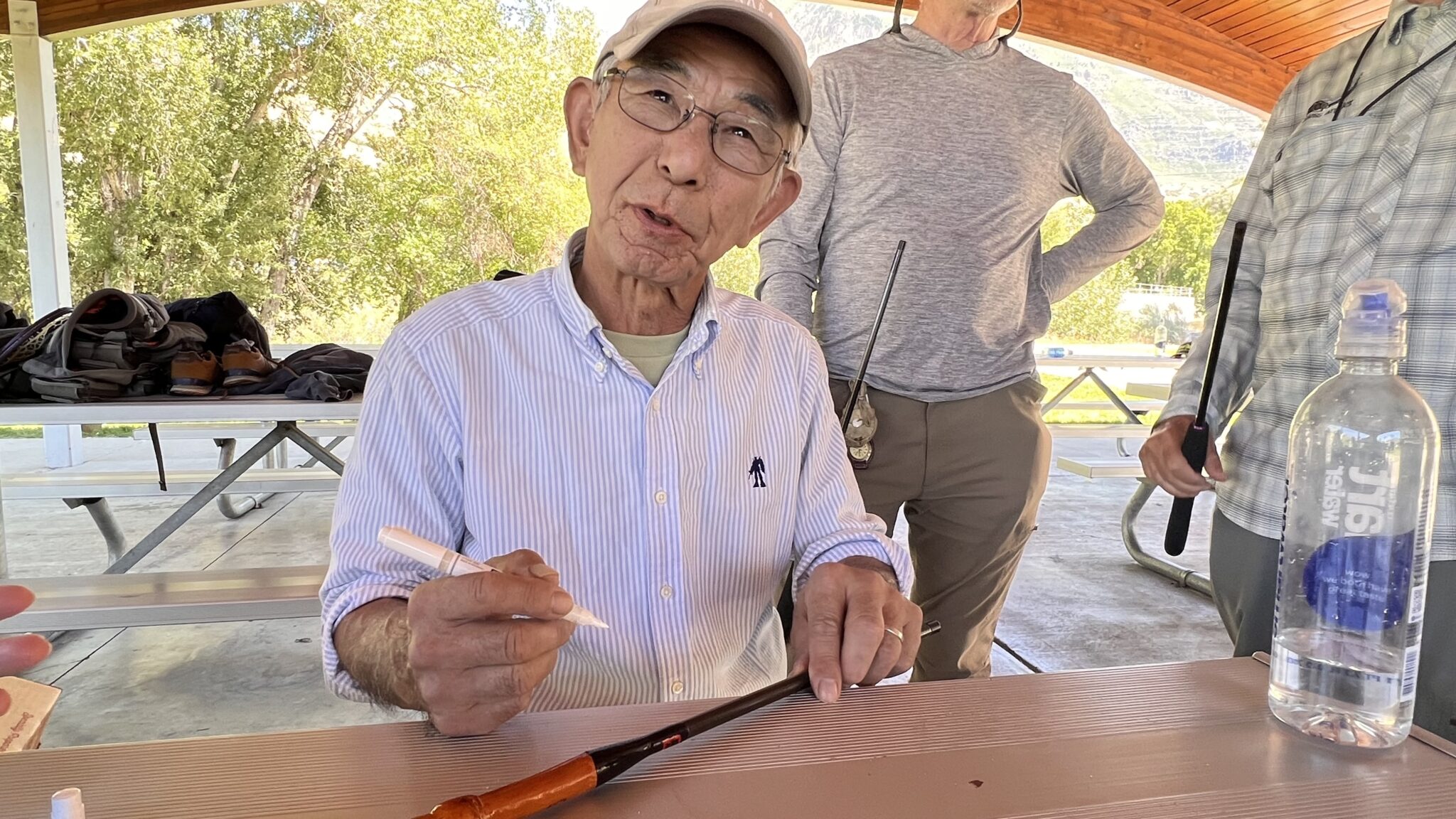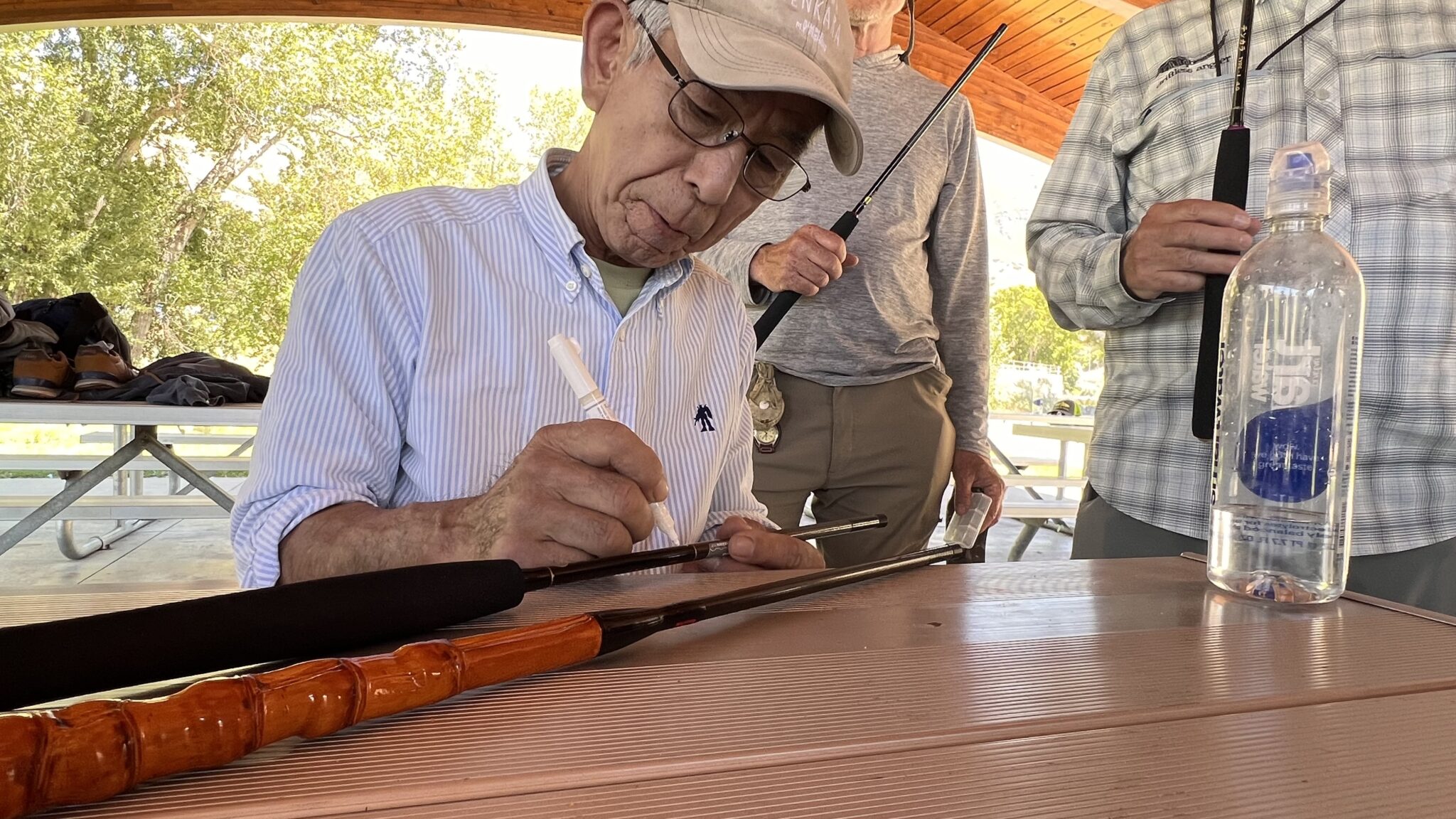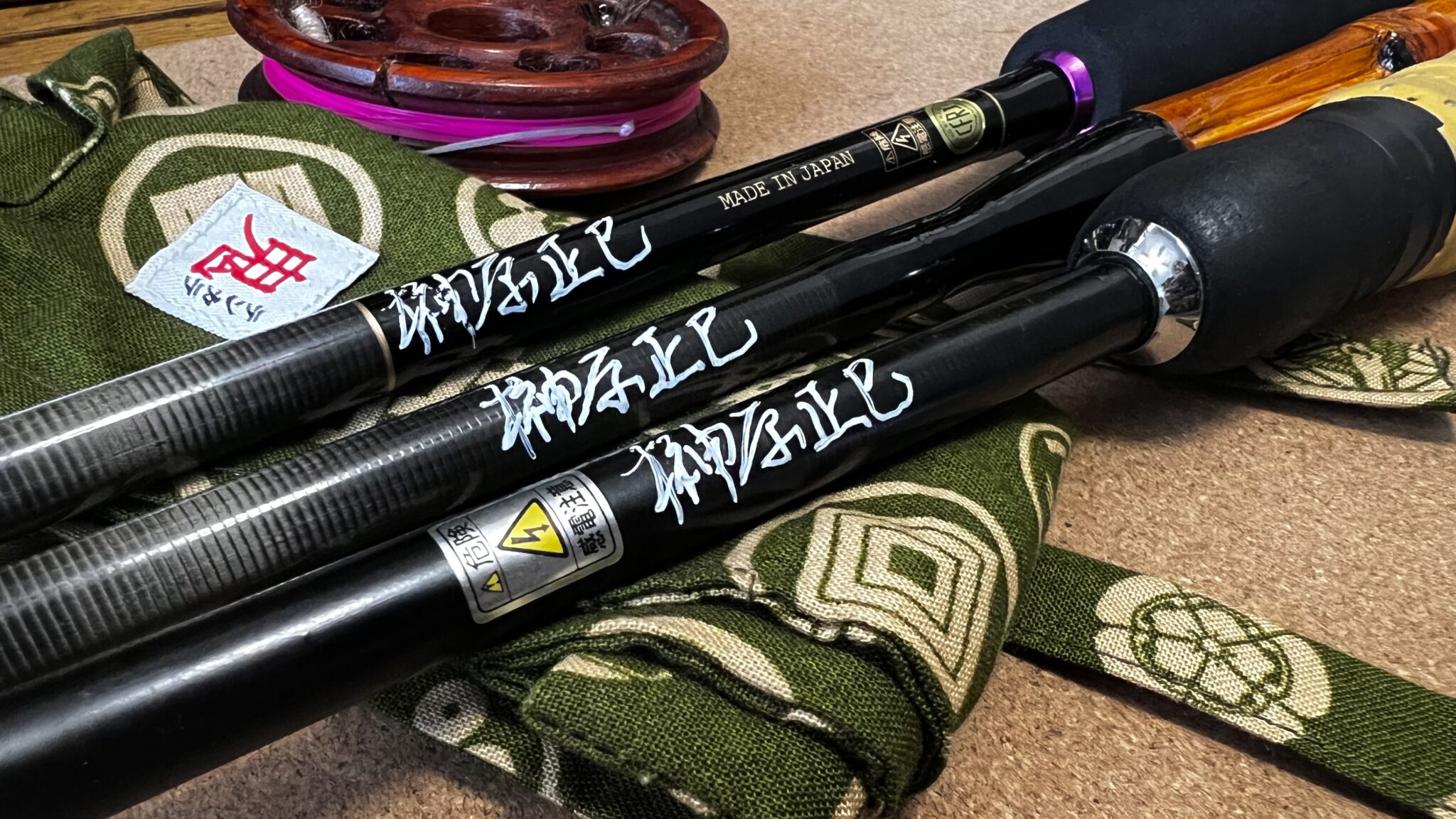 After lunch, everyone got rigged up and it was time to hit the water to fish on our own and everyone was encouraged to practice what they learned in the first session and to ask Oni for help at any time. He was surprisingly accessible throughout the entire course. If you saw him walking by, you could just grab him and ask him to show you something. He was very generous with his time with everyone.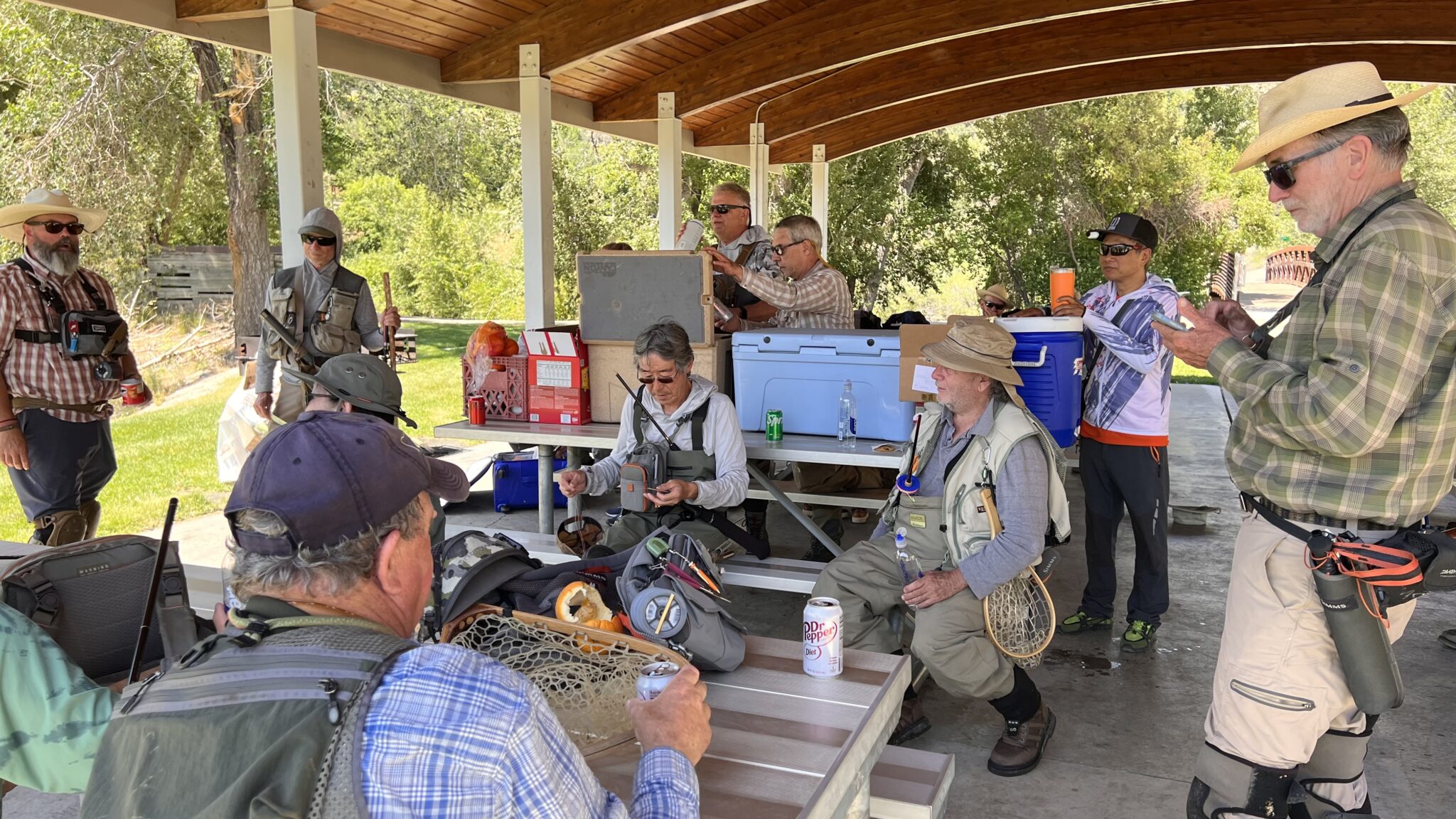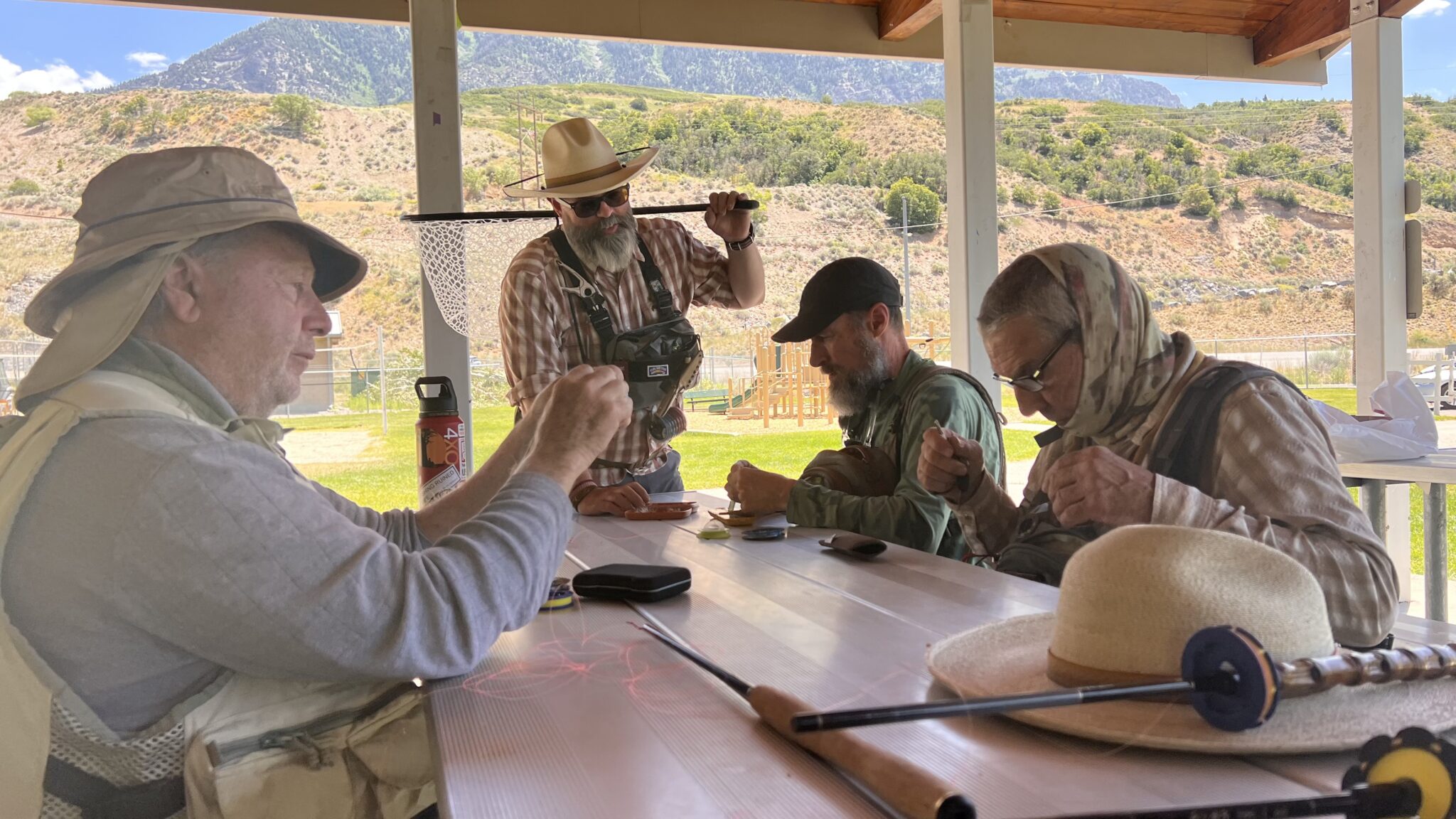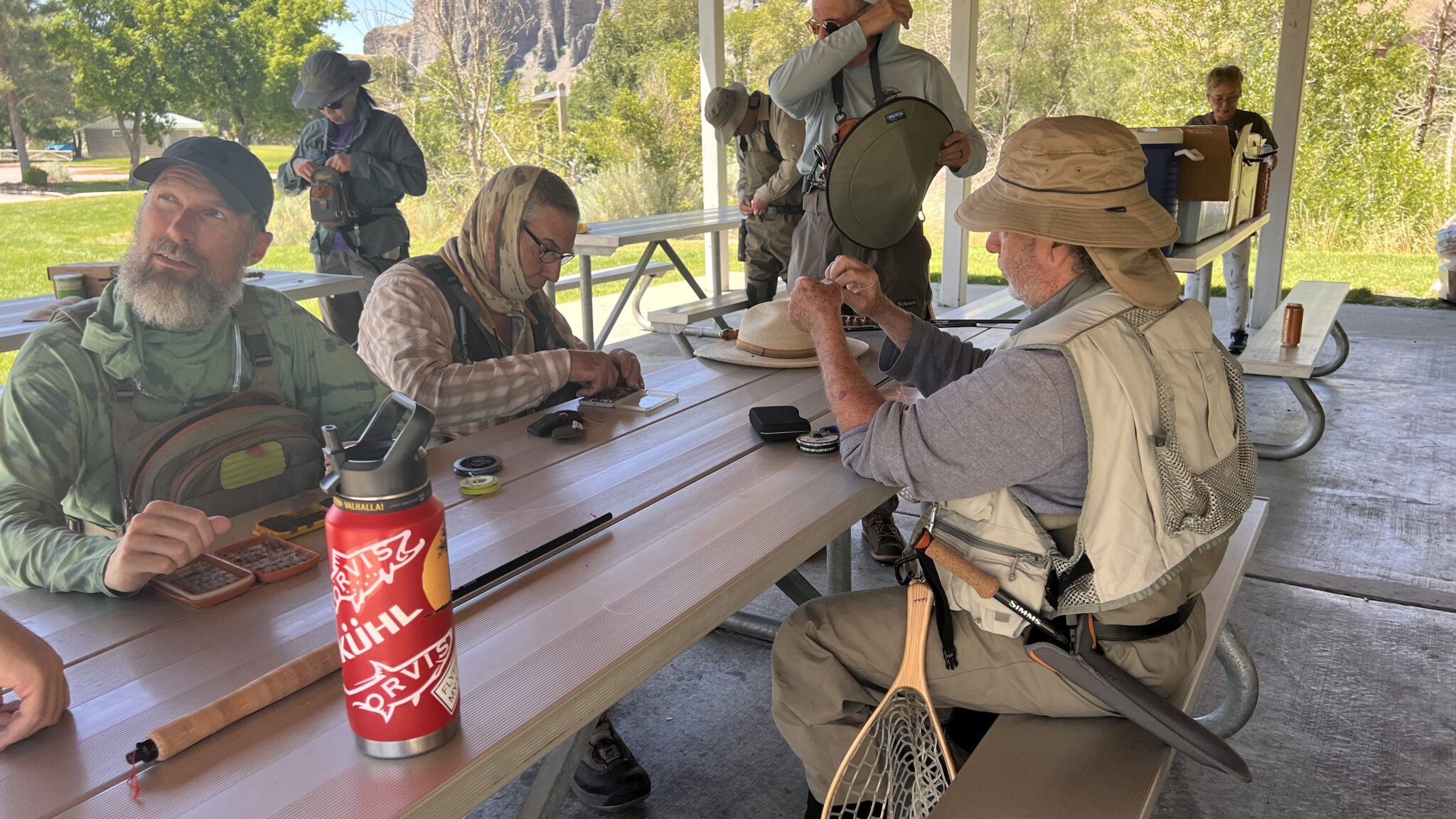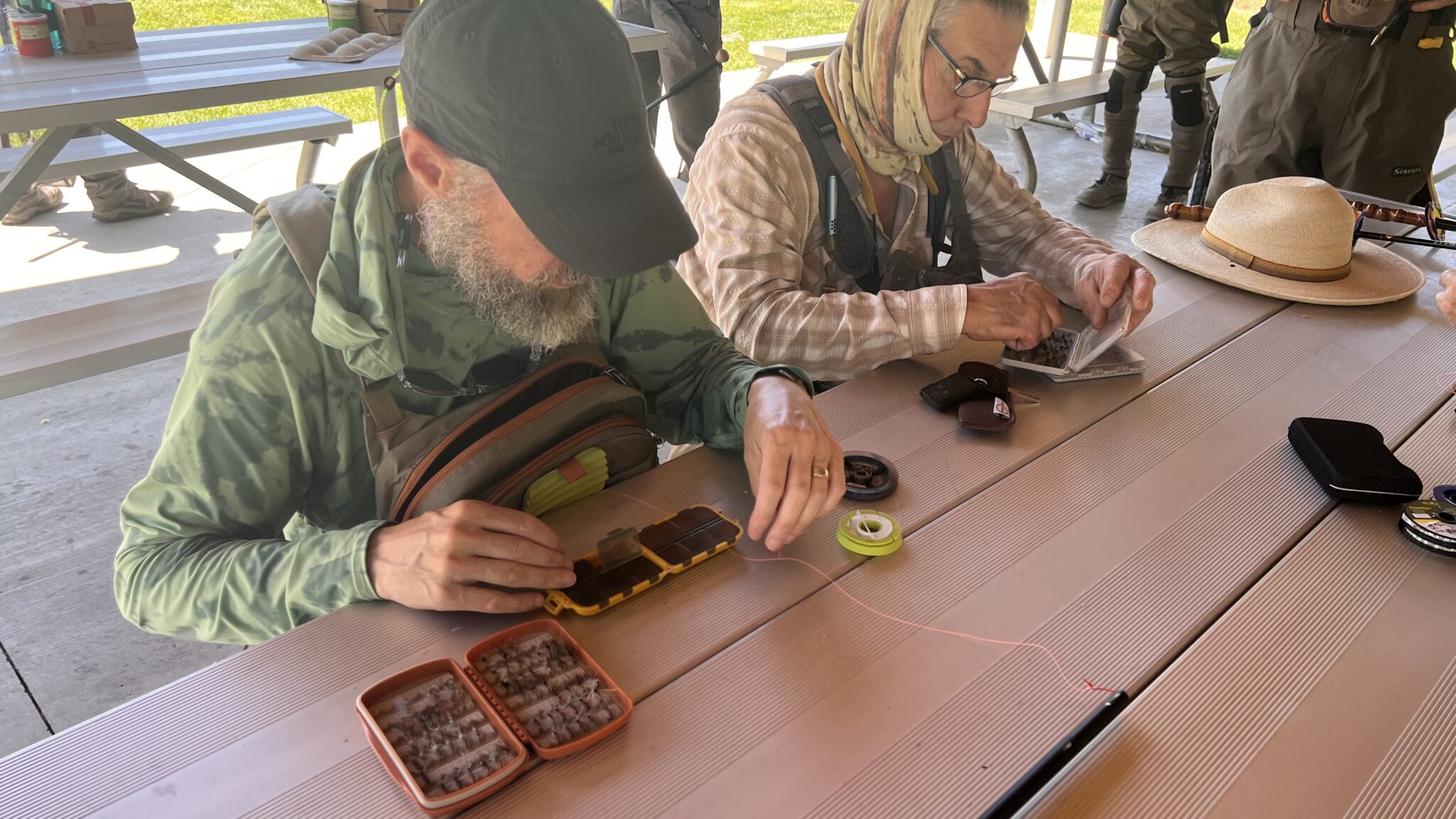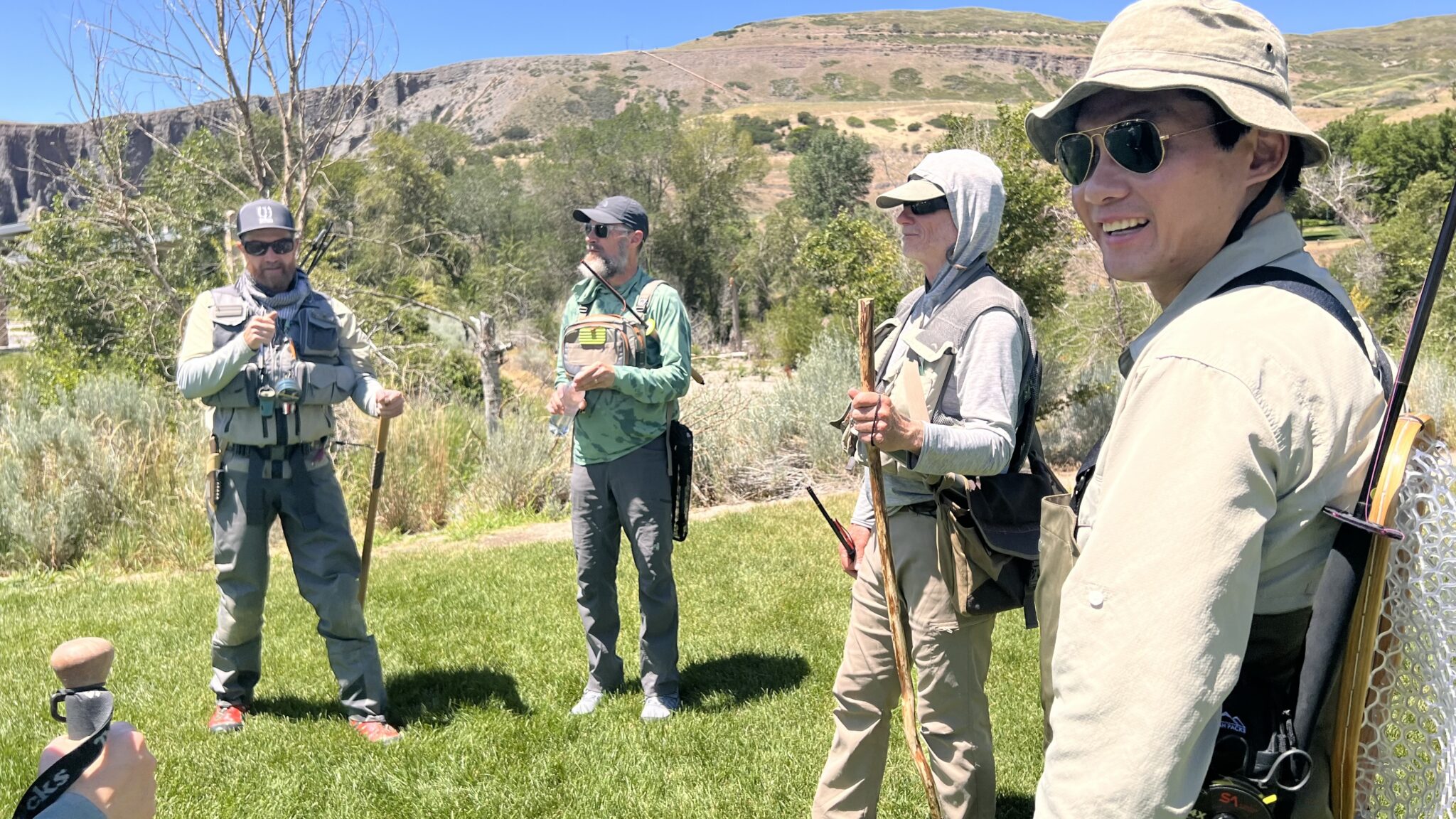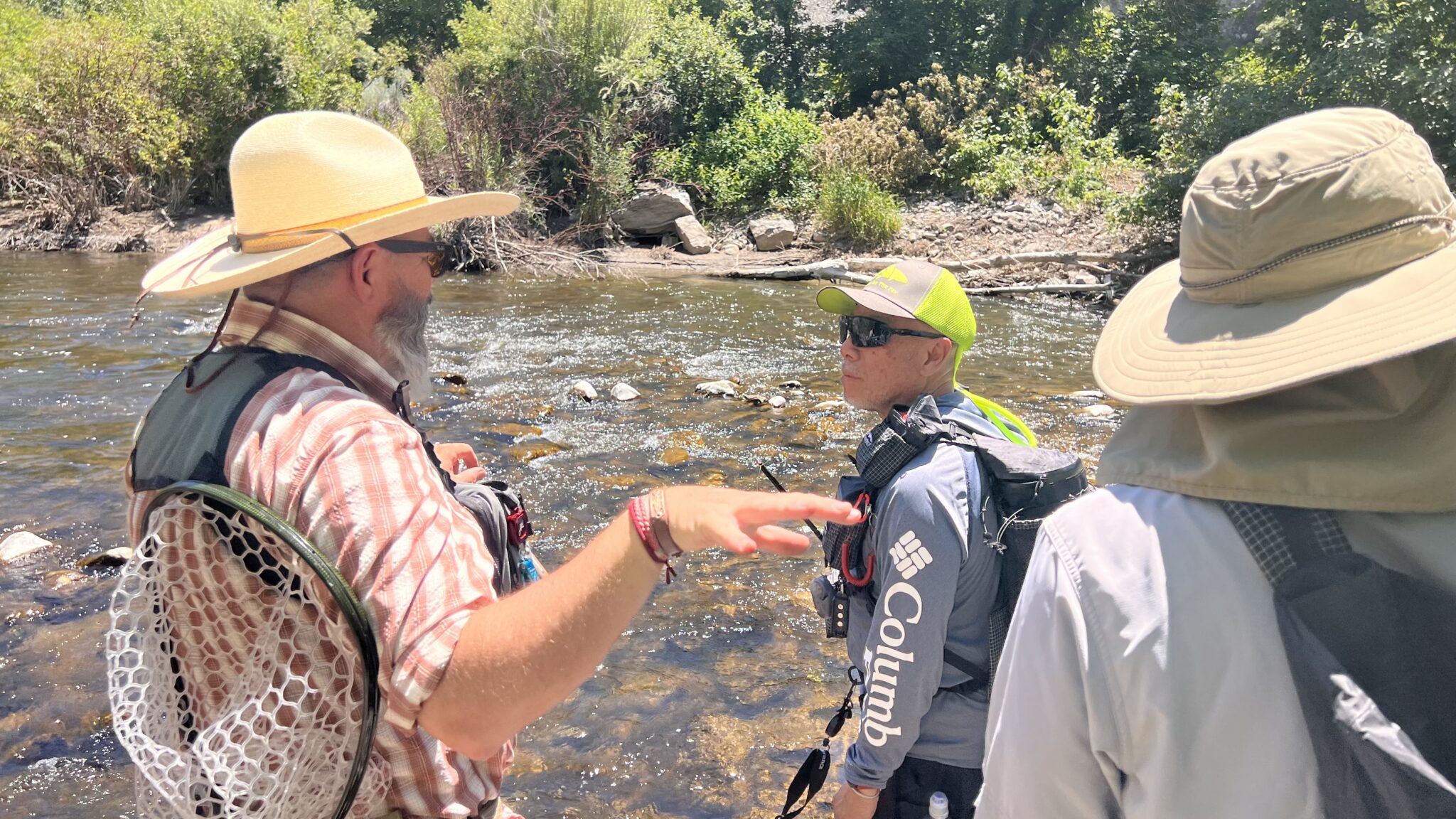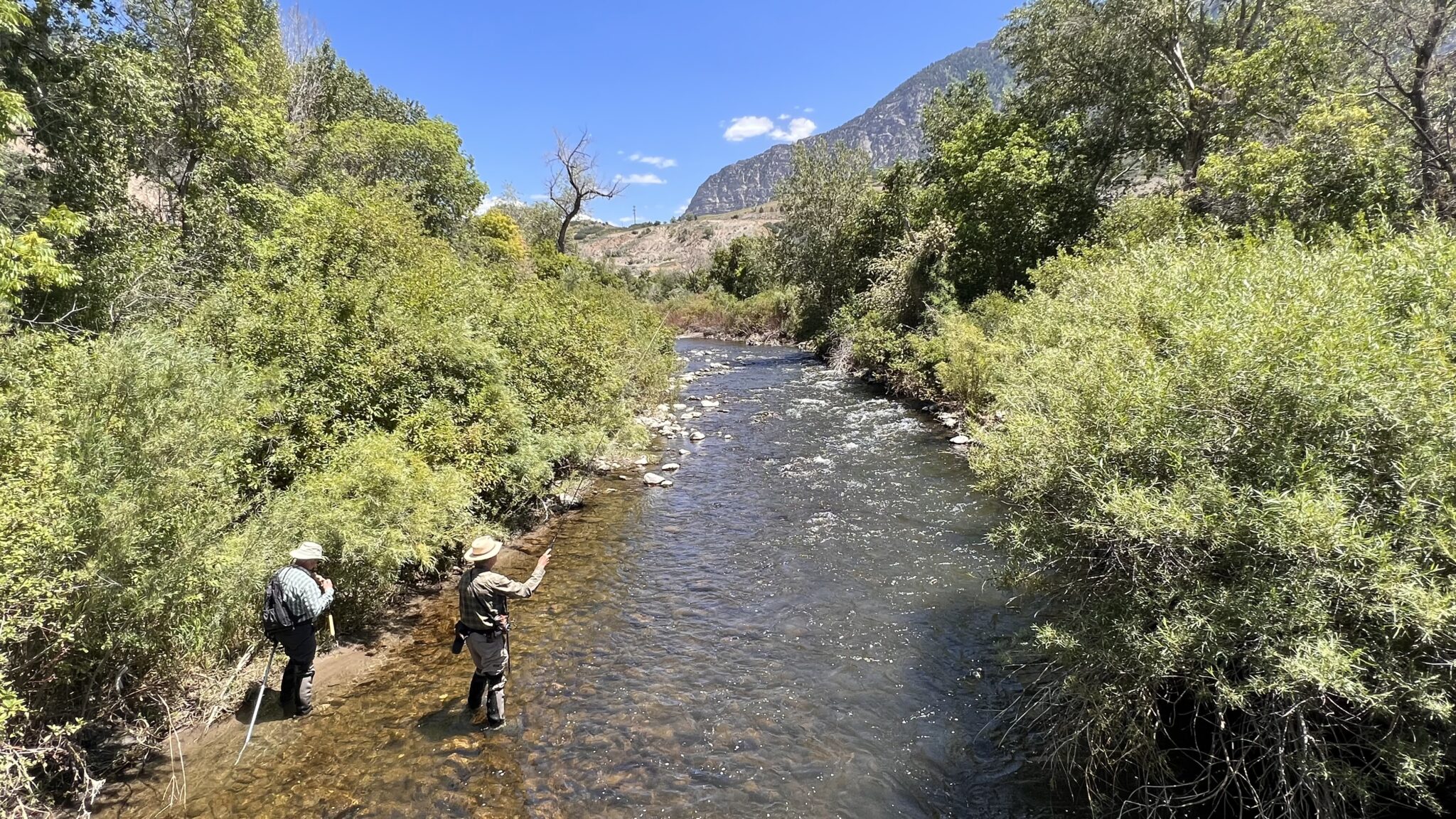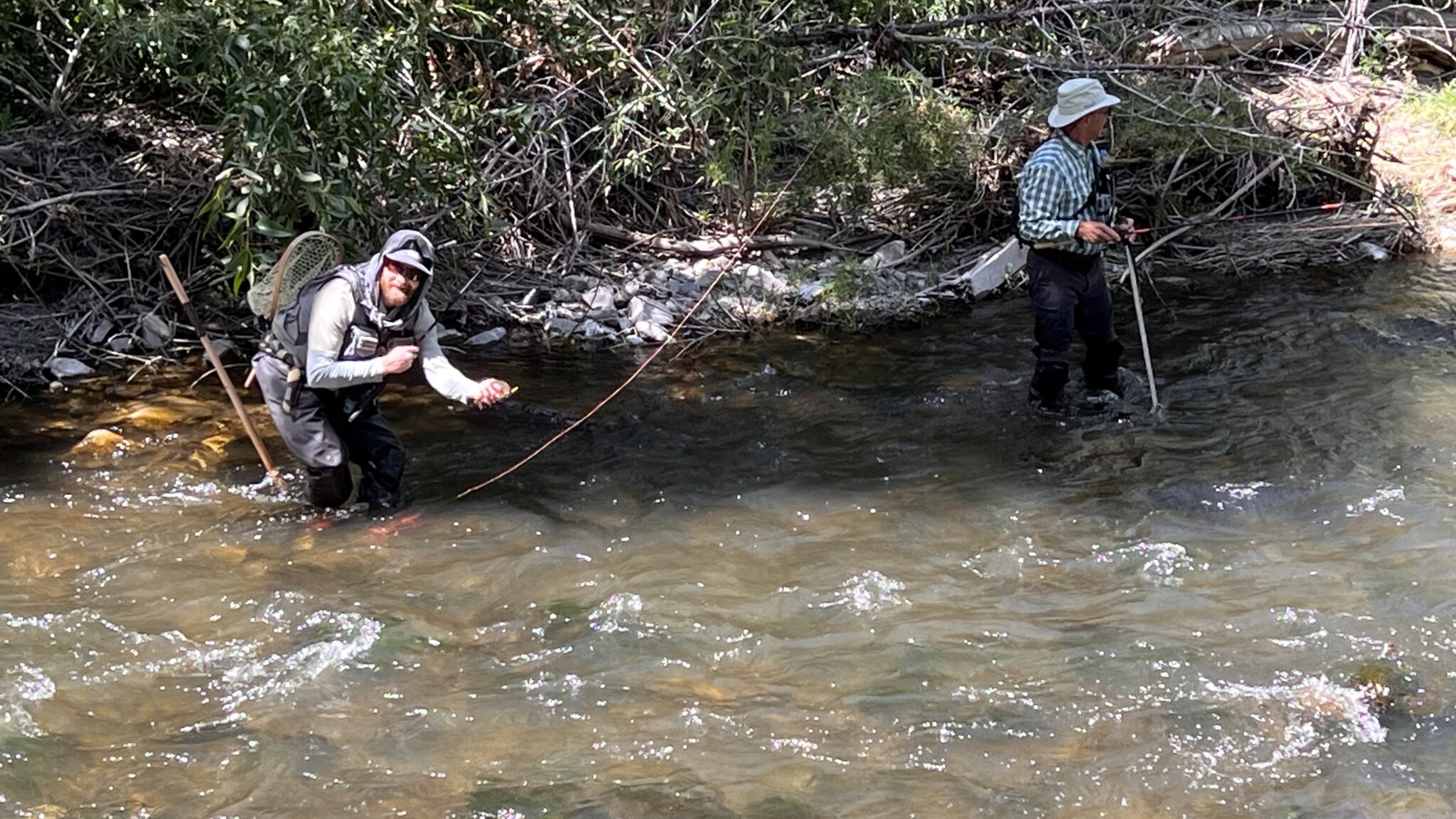 Despite really high water, I think almost everyone caught fish (even me). I didn't get a lot of time to fish. But in between sessions, I snuck of for a little while and caught a few nice browns. The only fly that worked was the Ichiban Kebari. I did have one come up to a Balloon Caddis, but I missed the strike.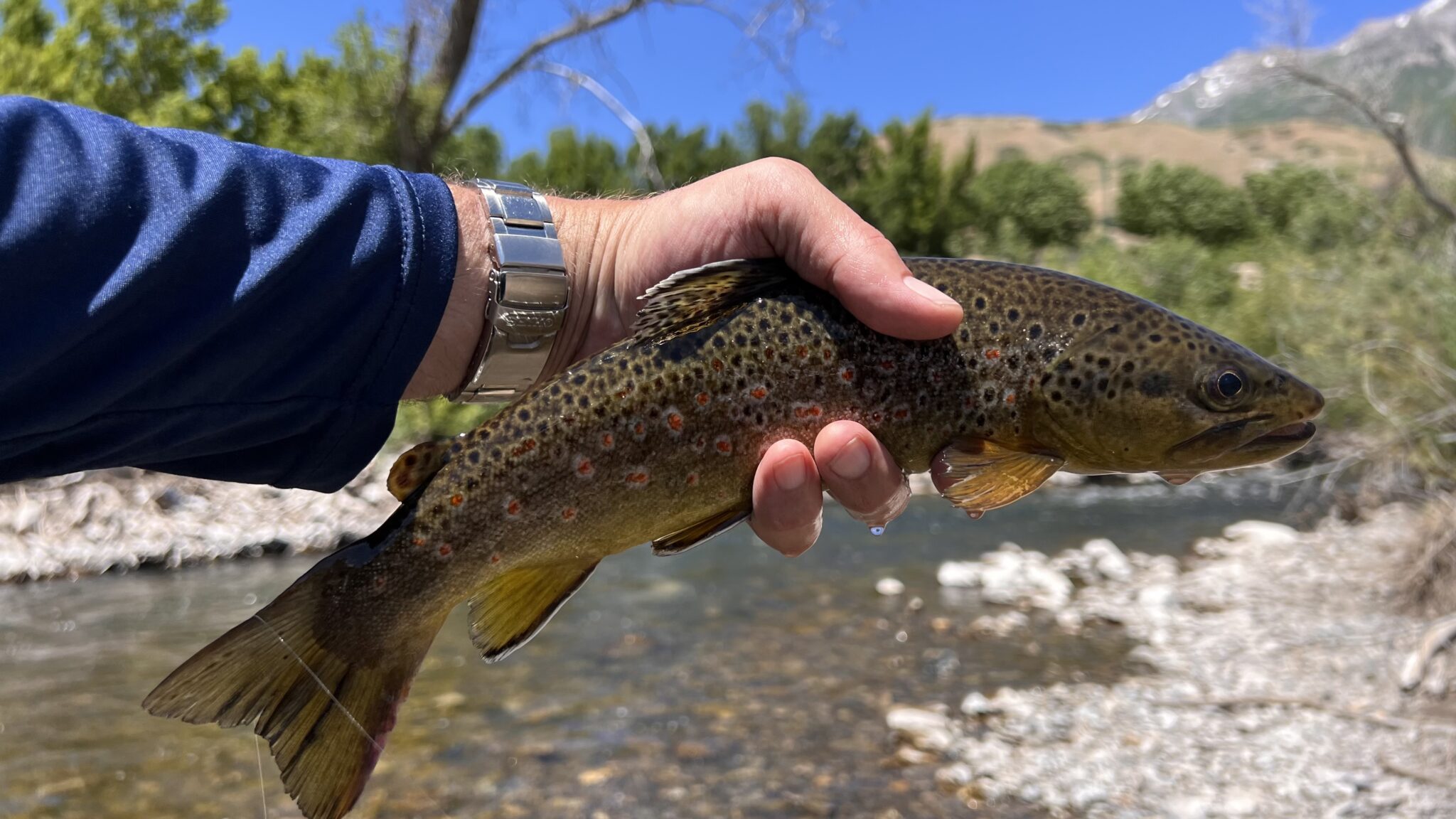 In general, even though there were some hatches, the fish weren't really rising so I fished subsurface.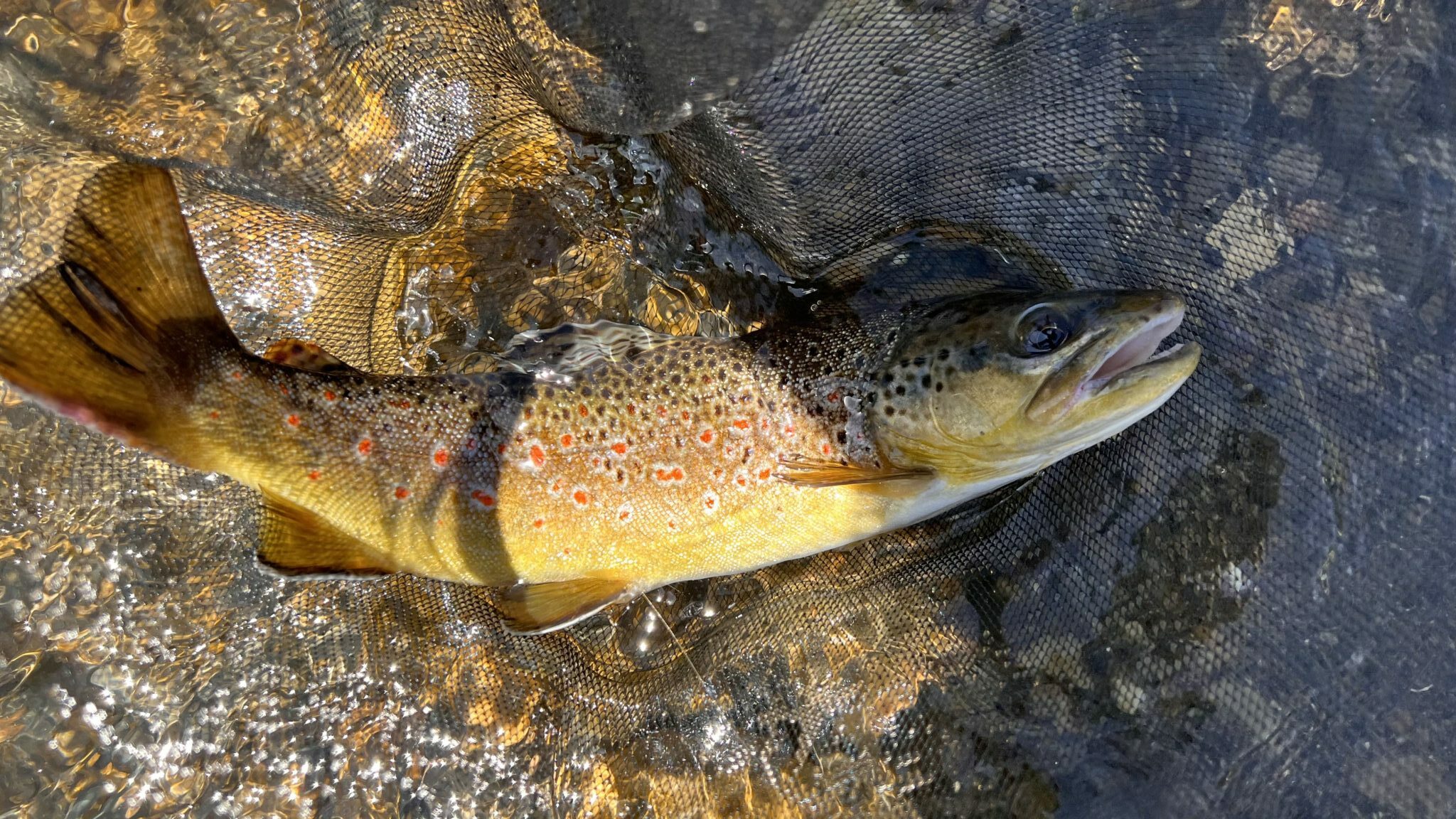 When the day was done, a group of us headed to The Owl Bar back at the Sundance Resort to talk tenkara.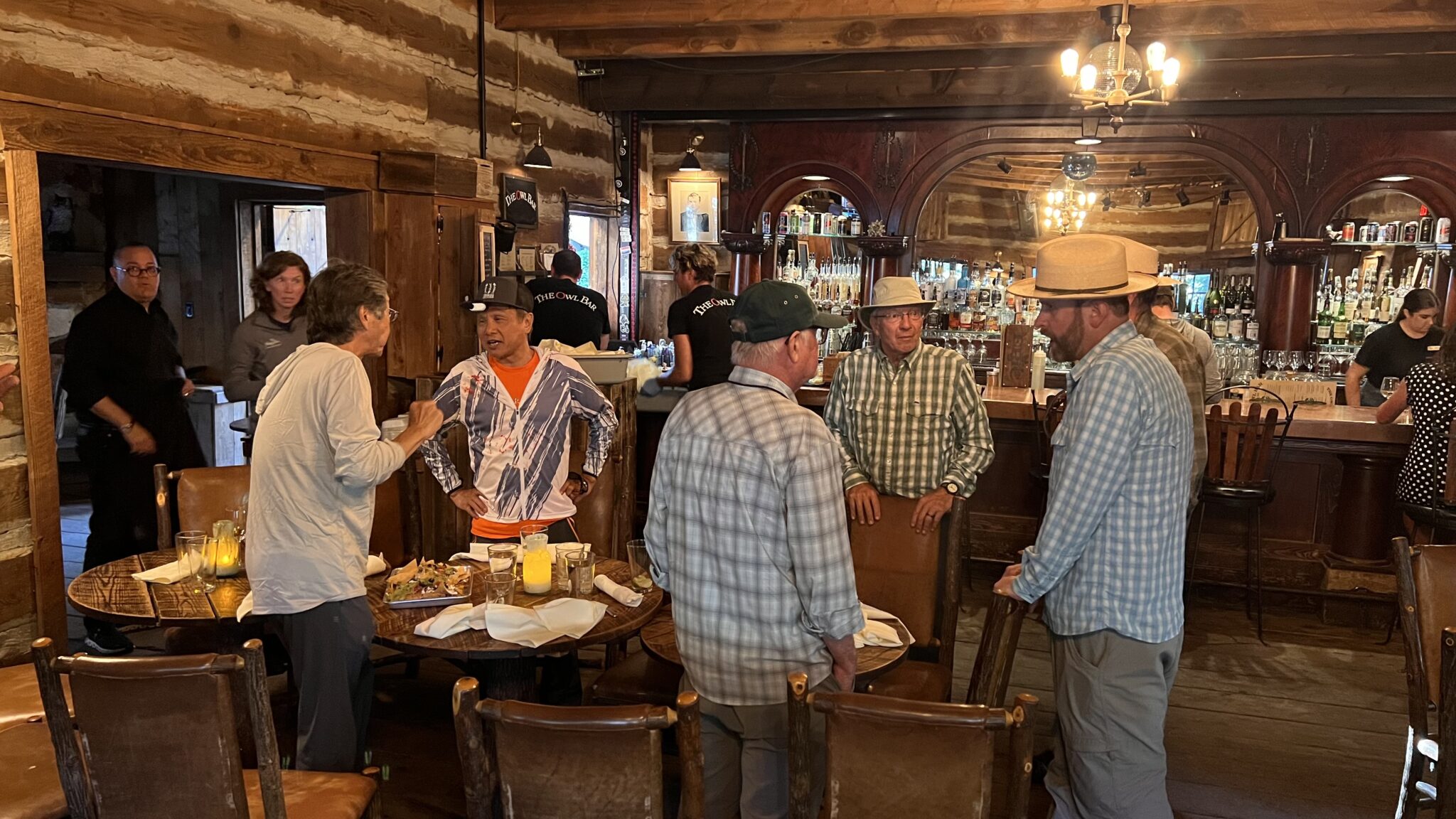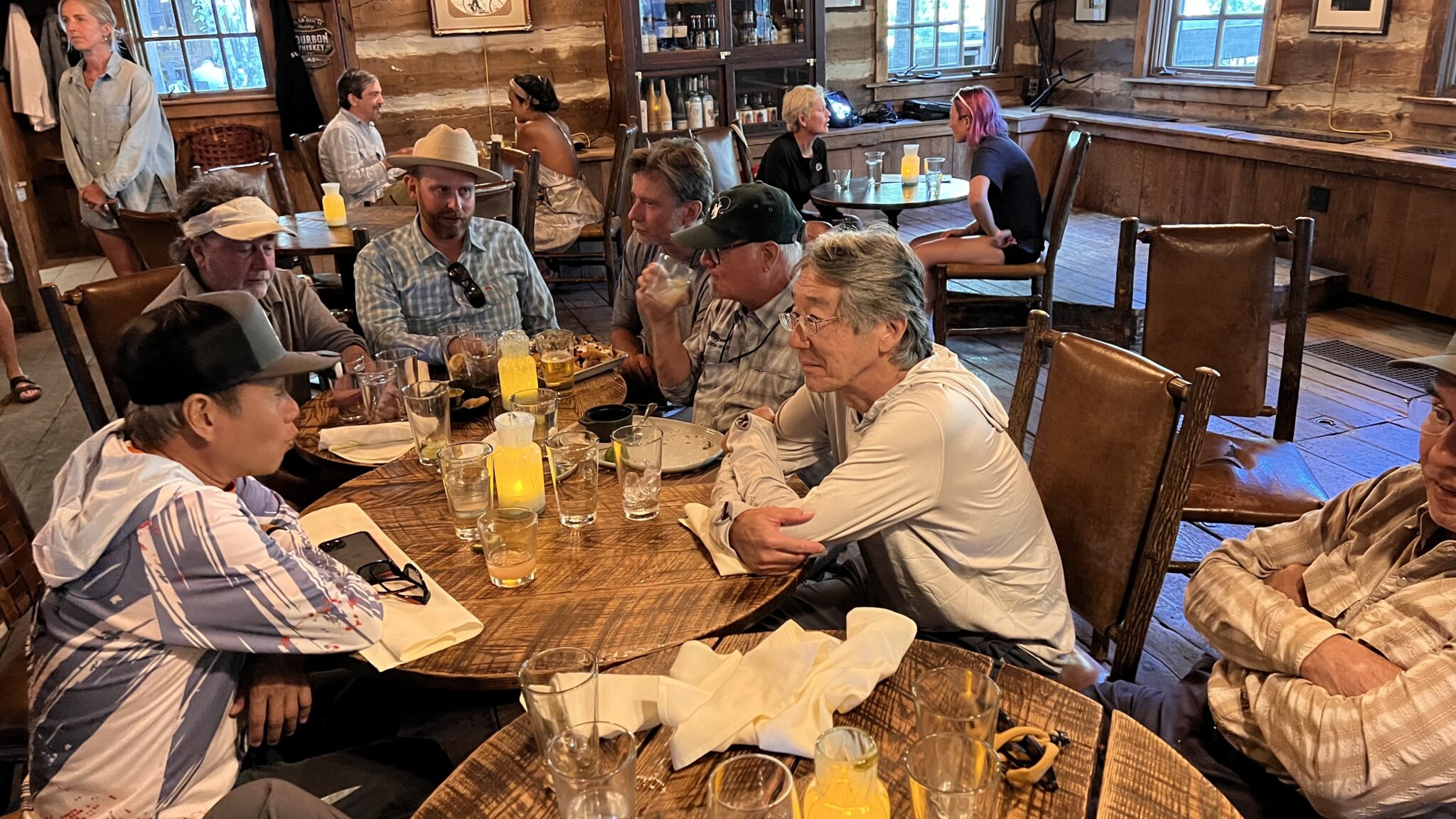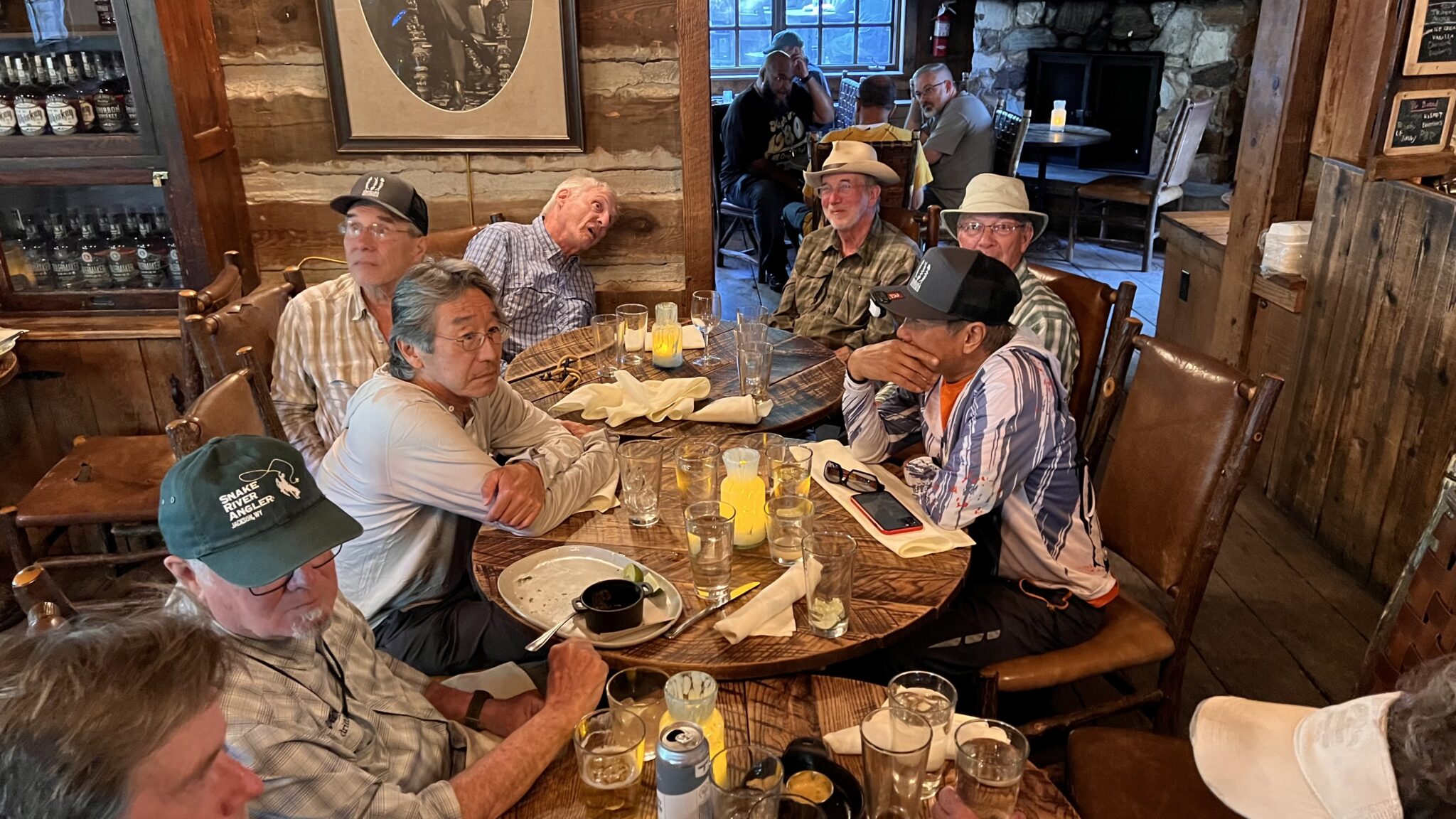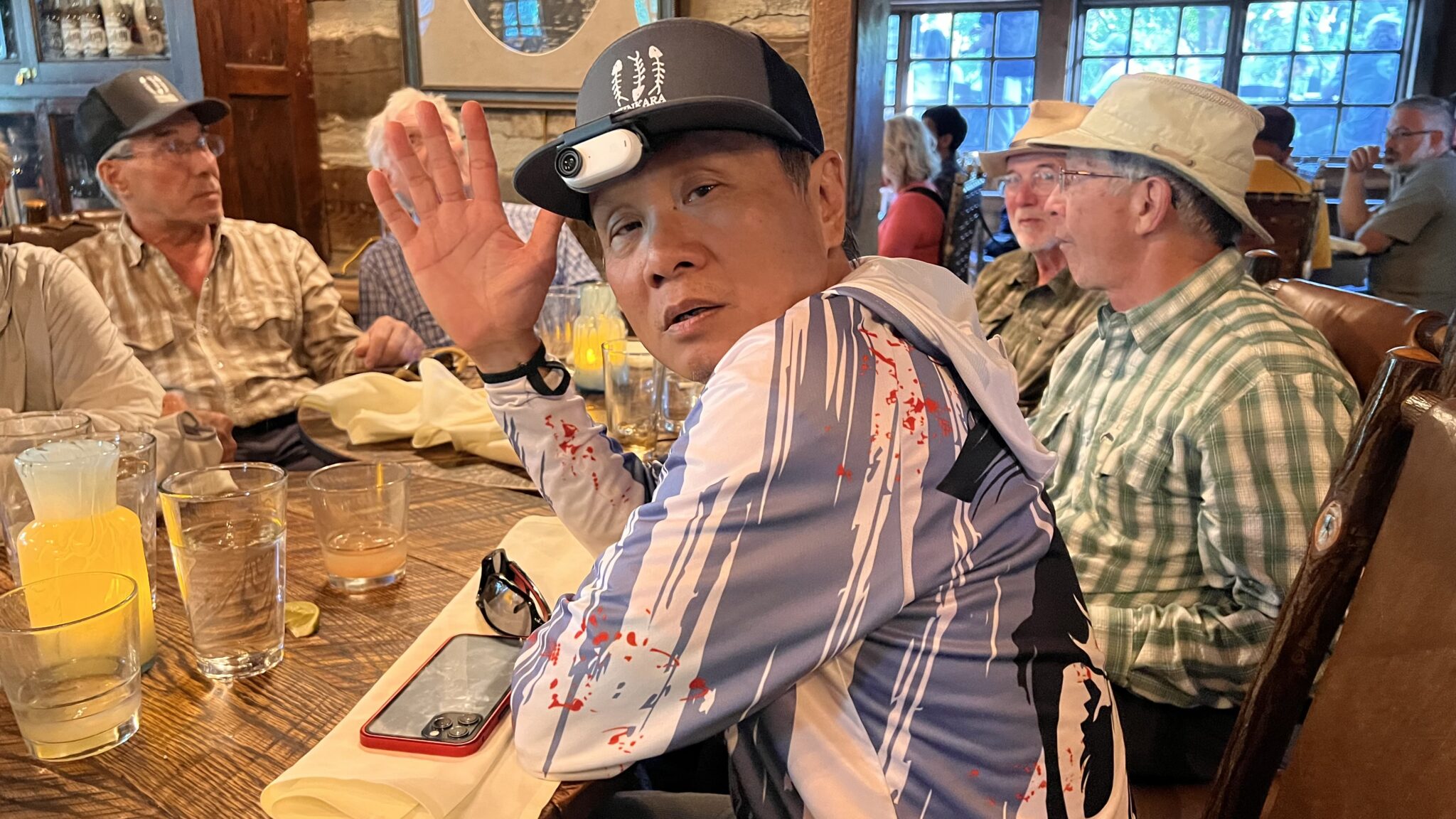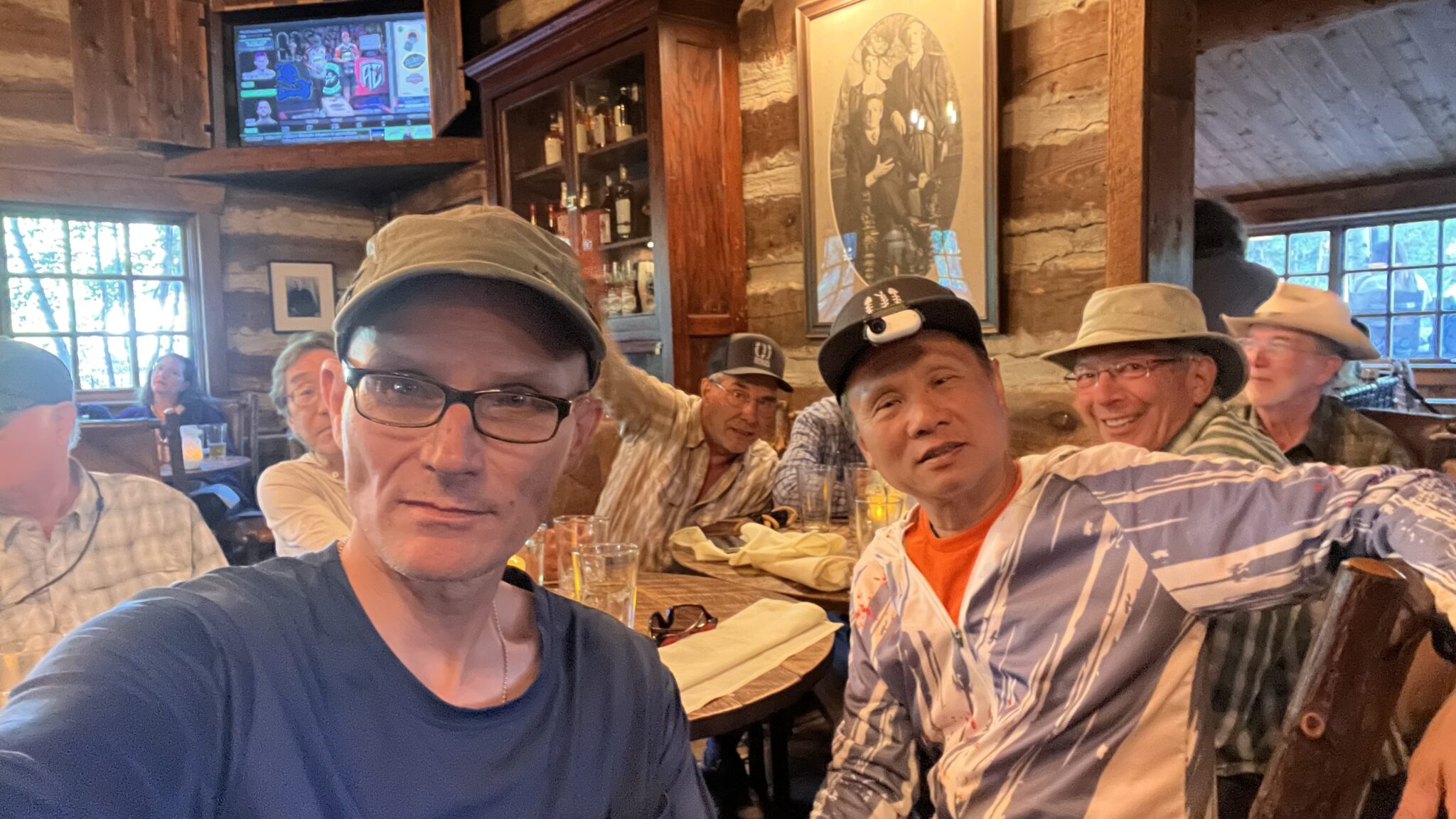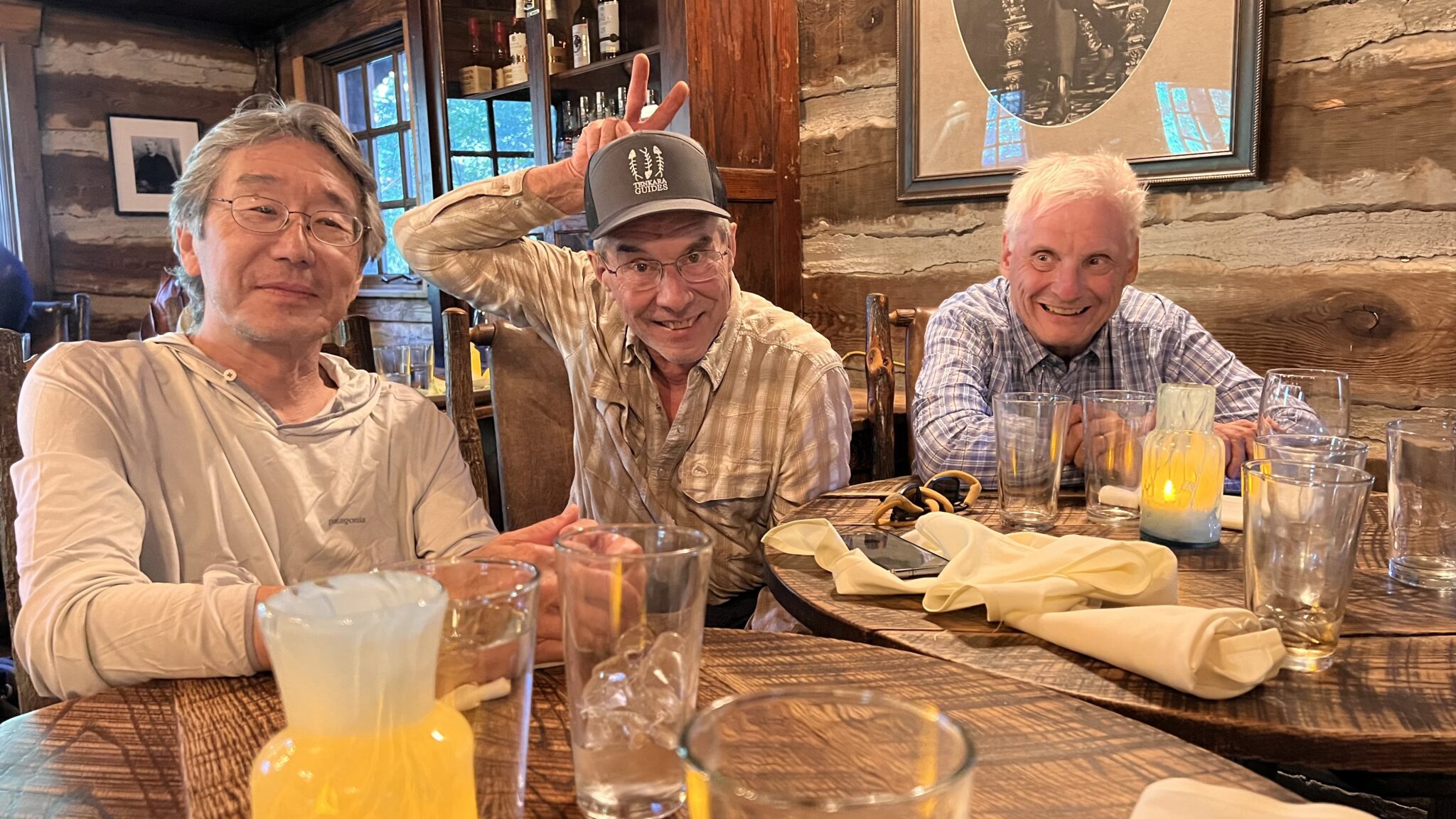 A nice relaxing end to an intense day!
---
Day Two:
07/11/2023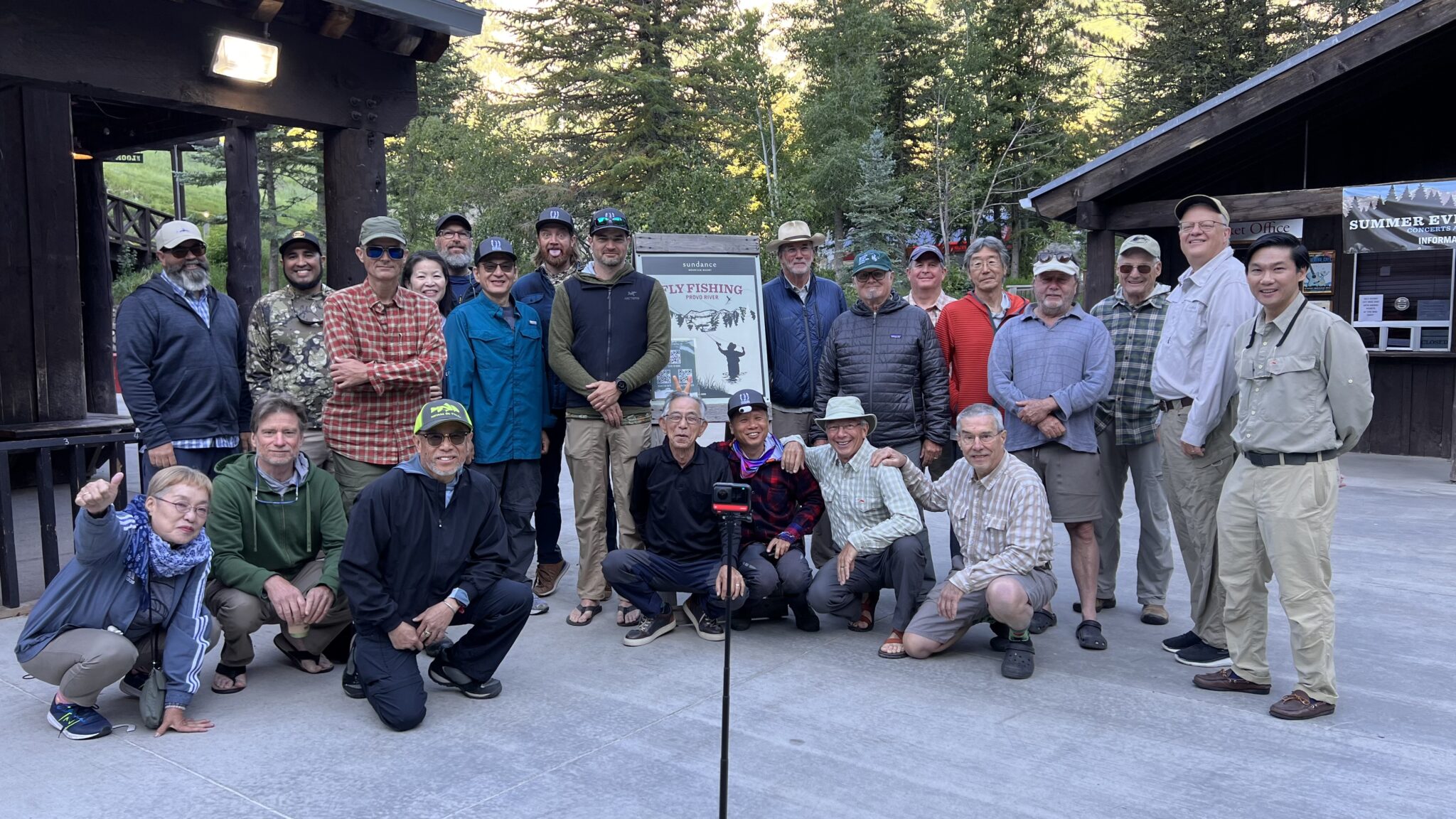 The next morning we met at Sundance as usual and got our debriefing on the sessions the day before.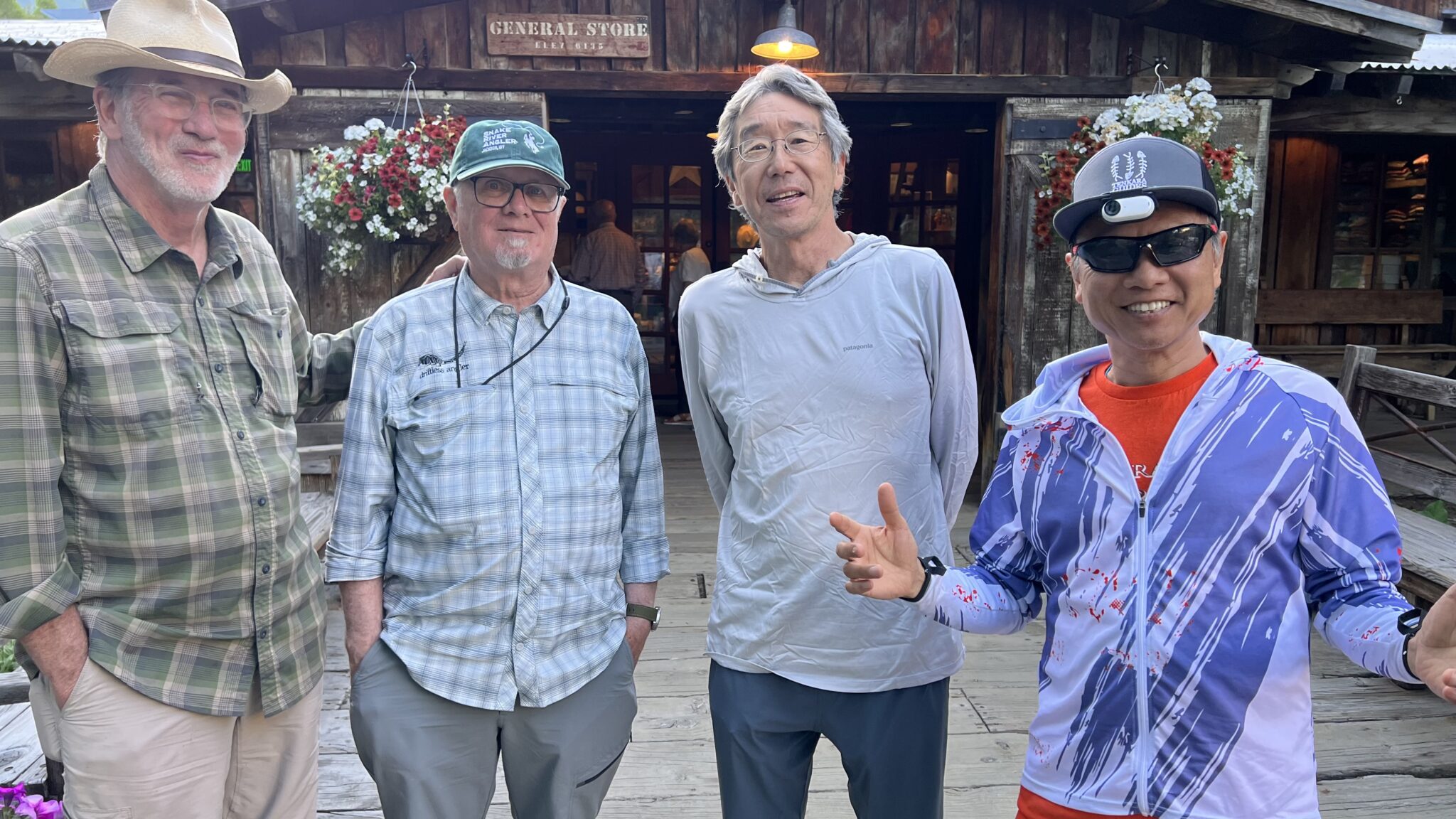 We headed over to Nunn's Park for more casting instruction from Oni and the Guides.
Lawn casting is an integral part of this course–the idea being you should get used to practicing at home so you're ready when you hit the water rather than wasting precious fishing time practicing. Also, it allows you to focus just on your cast without the distractions of being on-stream.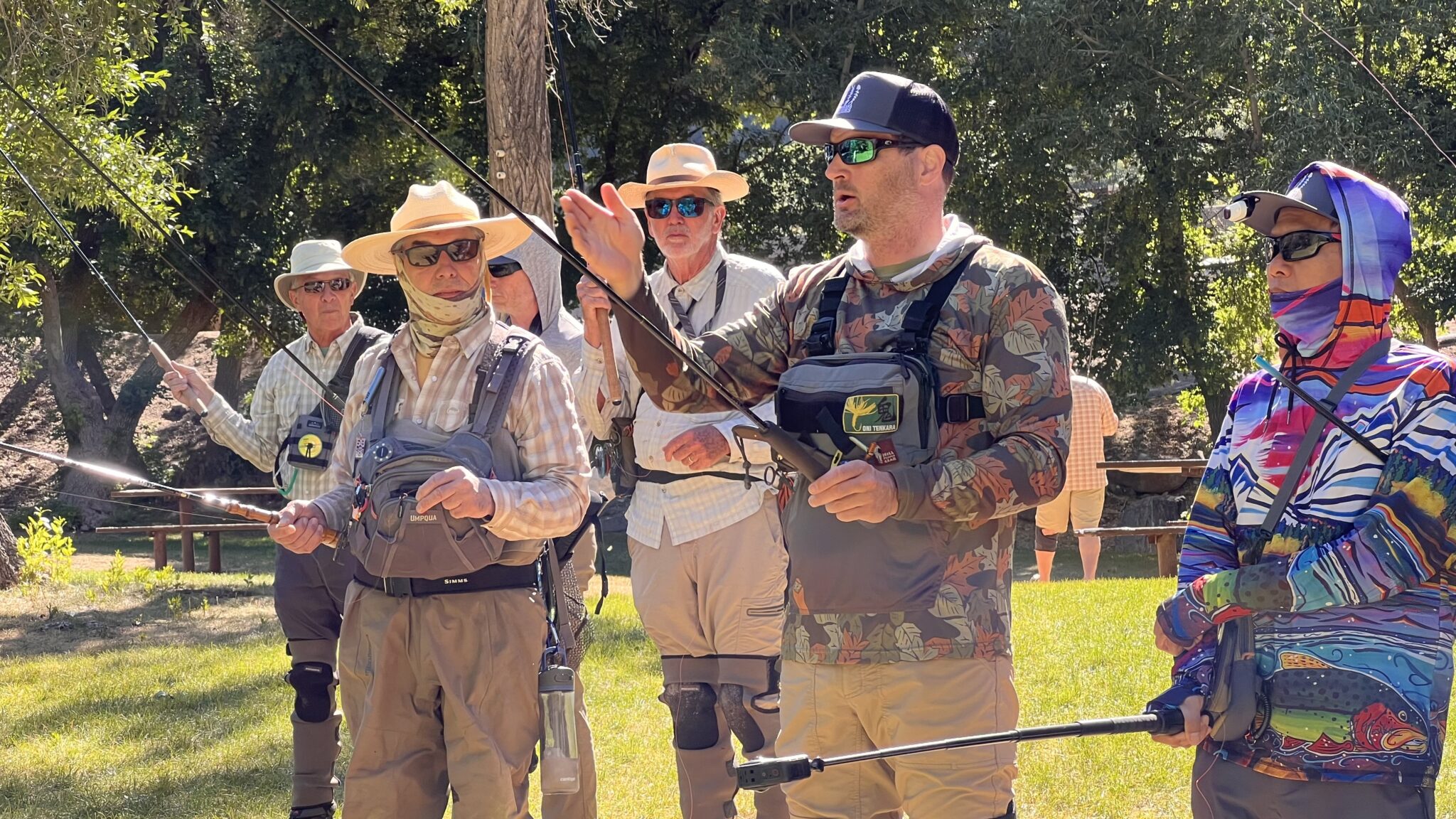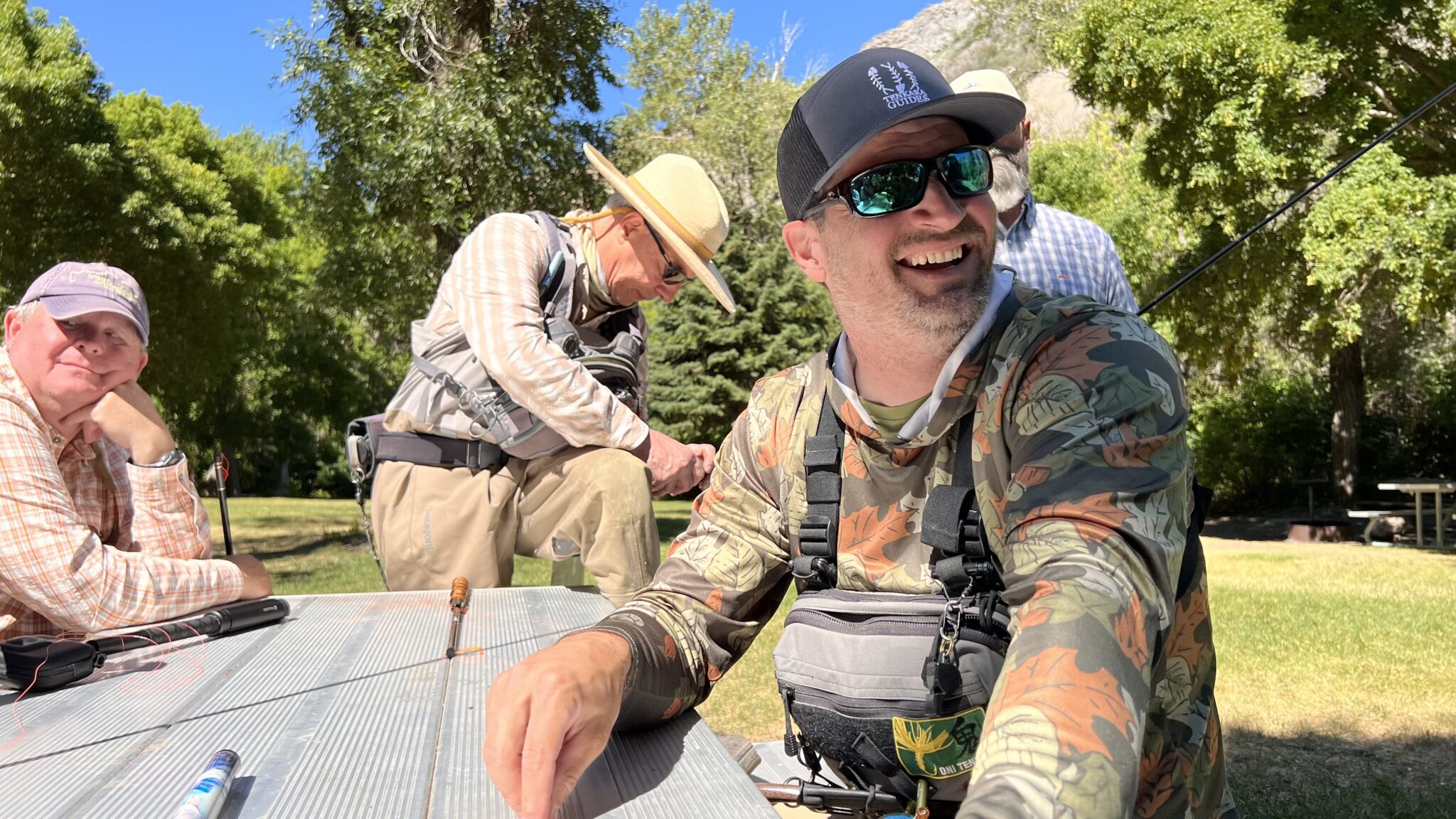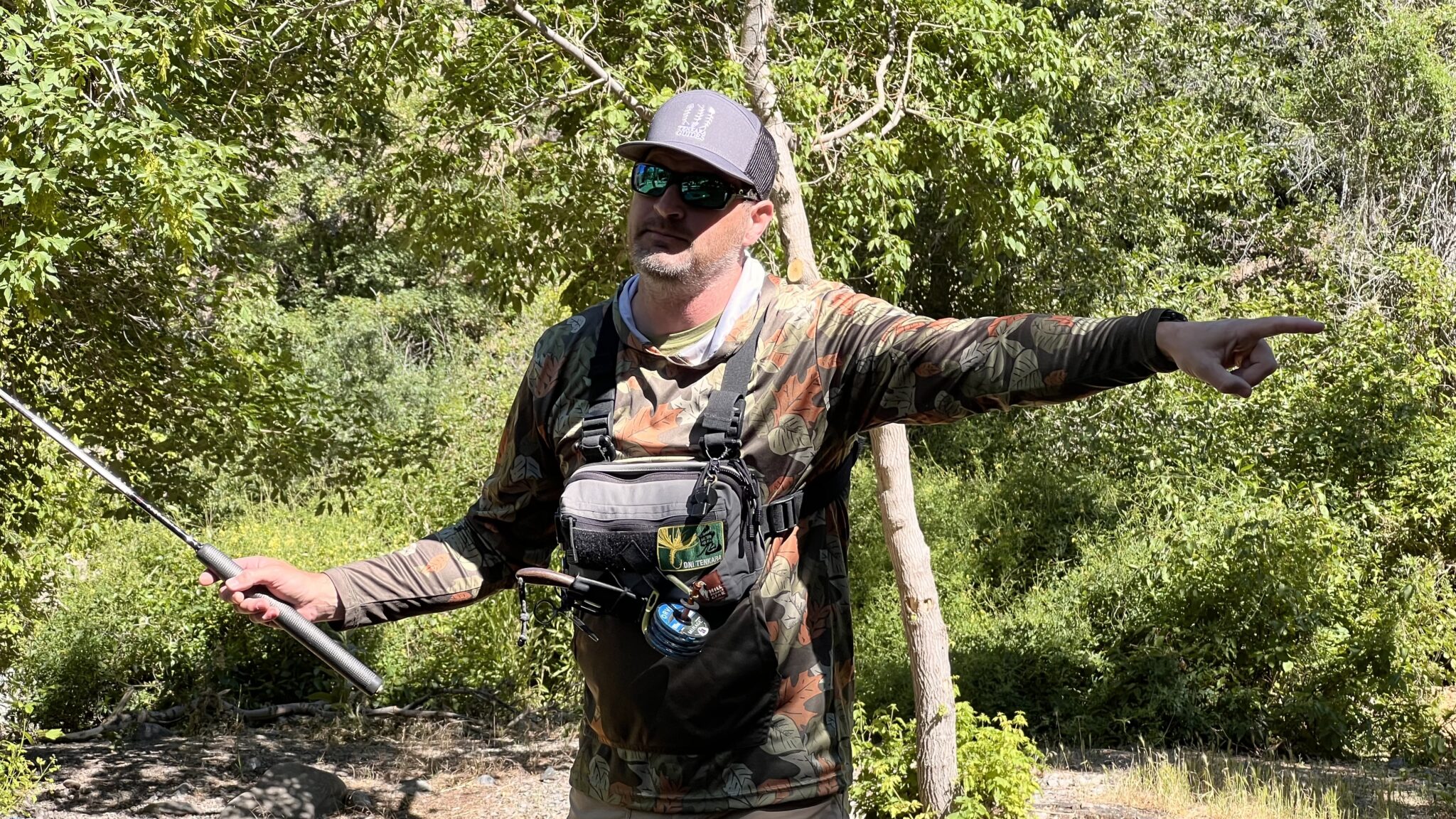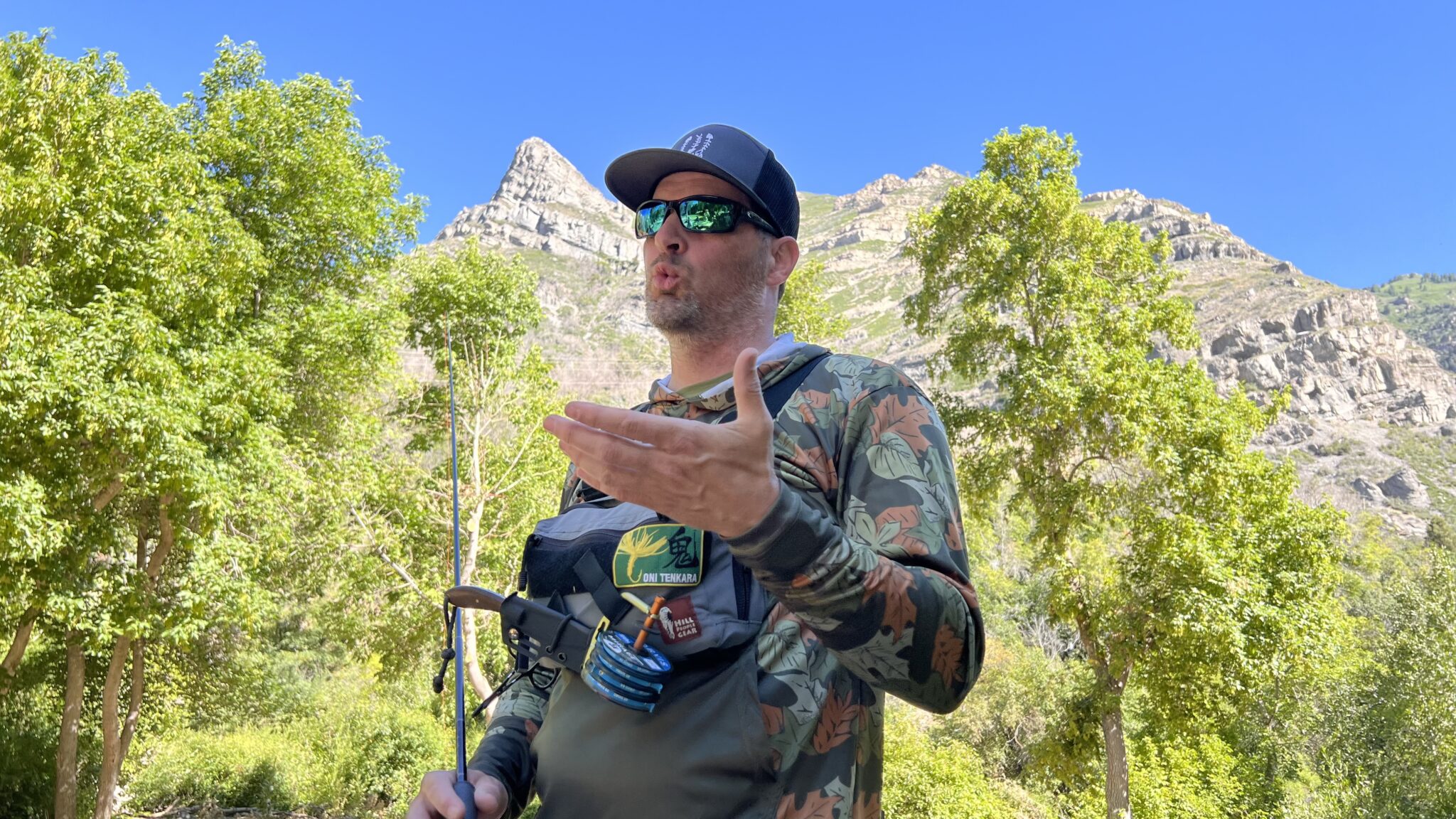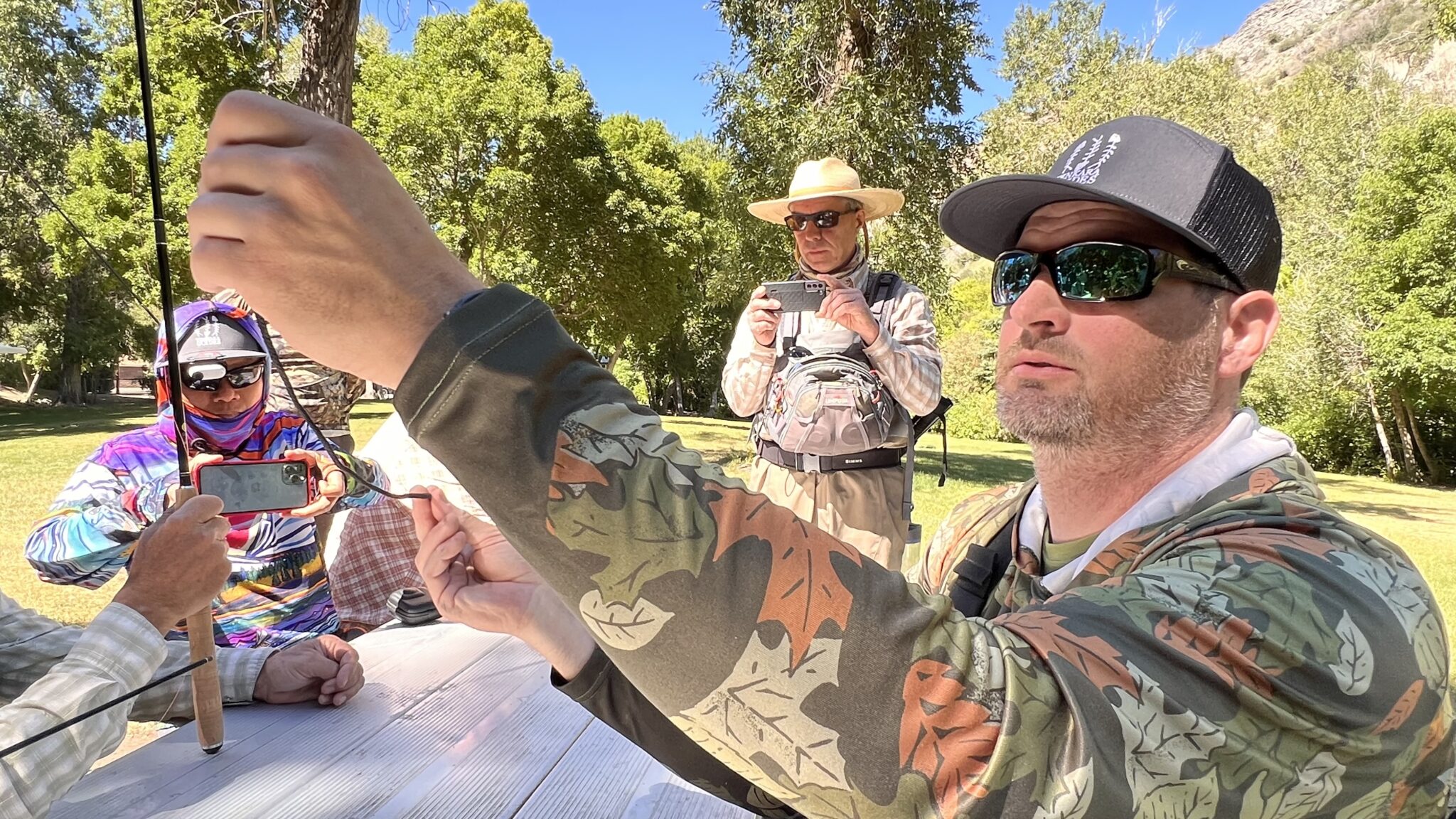 In the afternoon, Masami-san gave a fly tying demonstration of one of his signature flies–a #6 with pheasant hackle and synthetic peacock dubbing.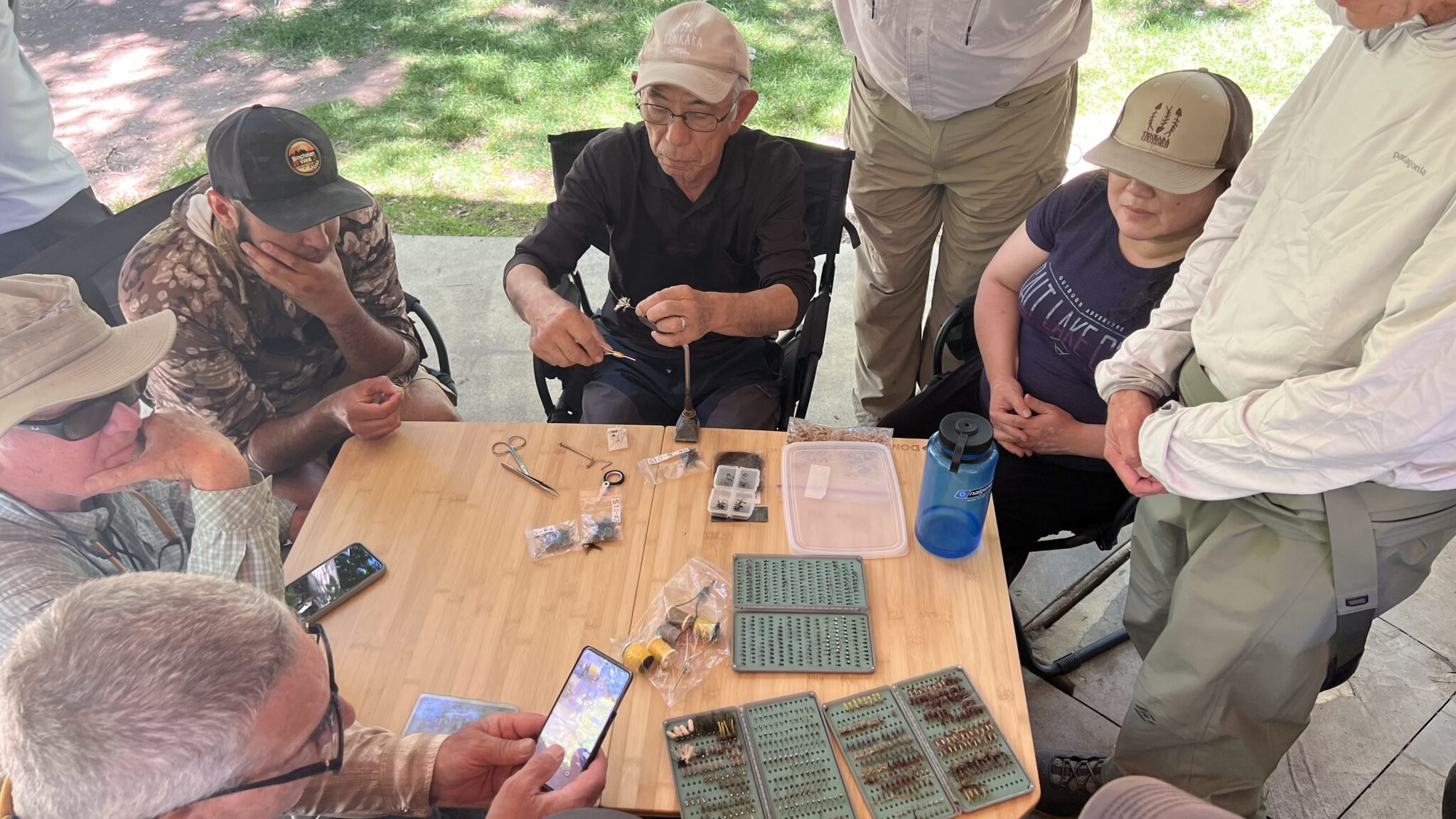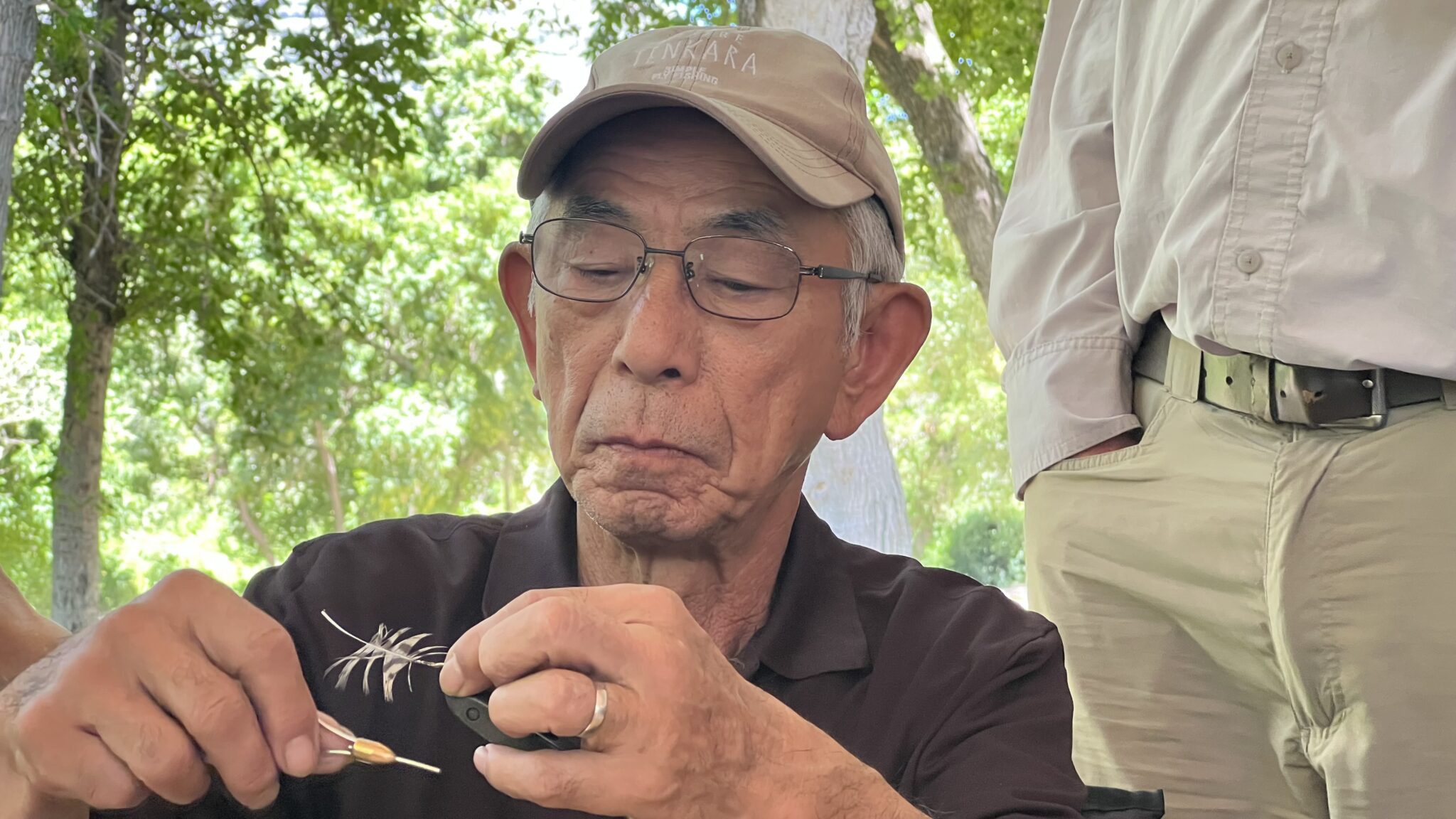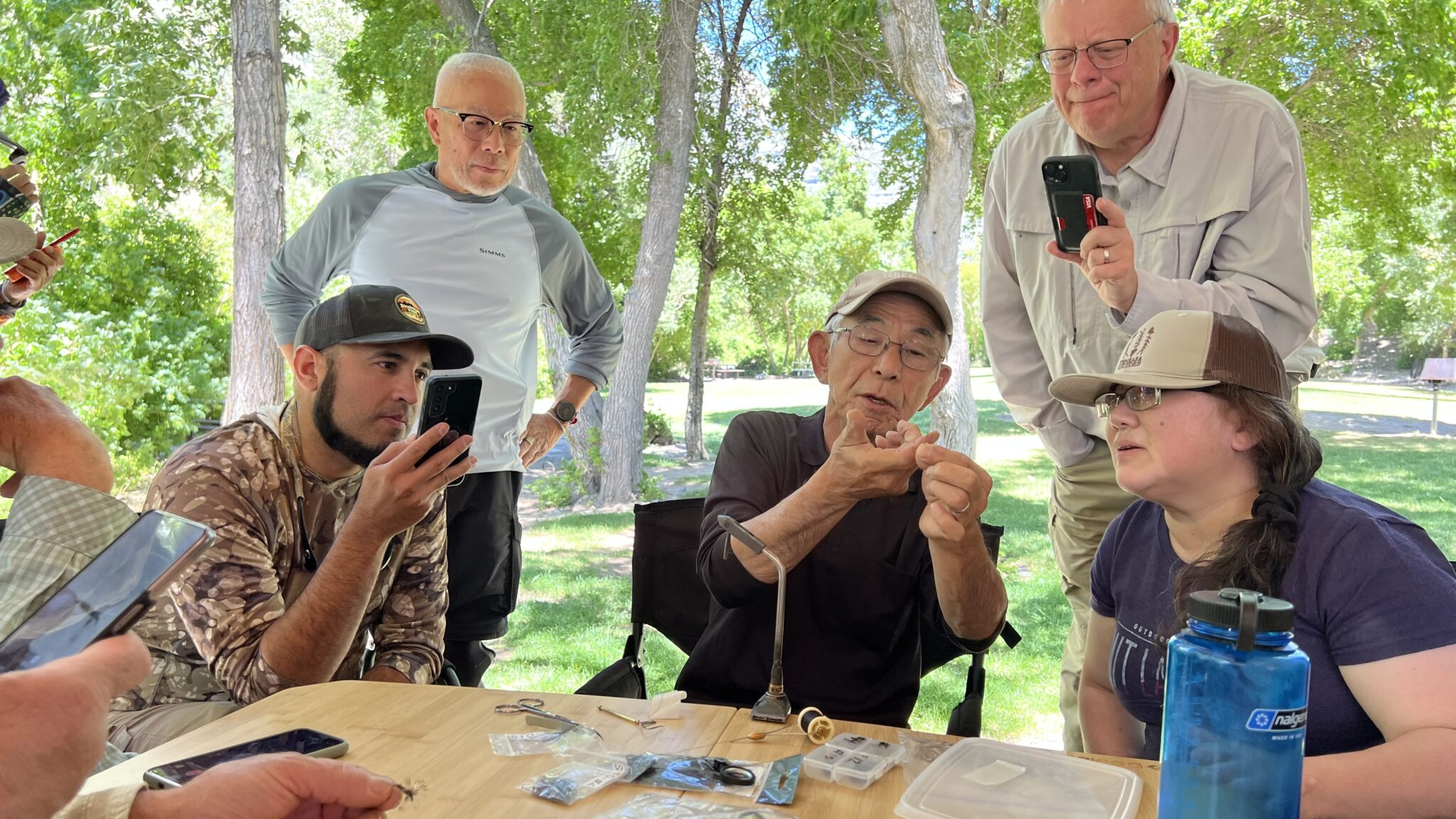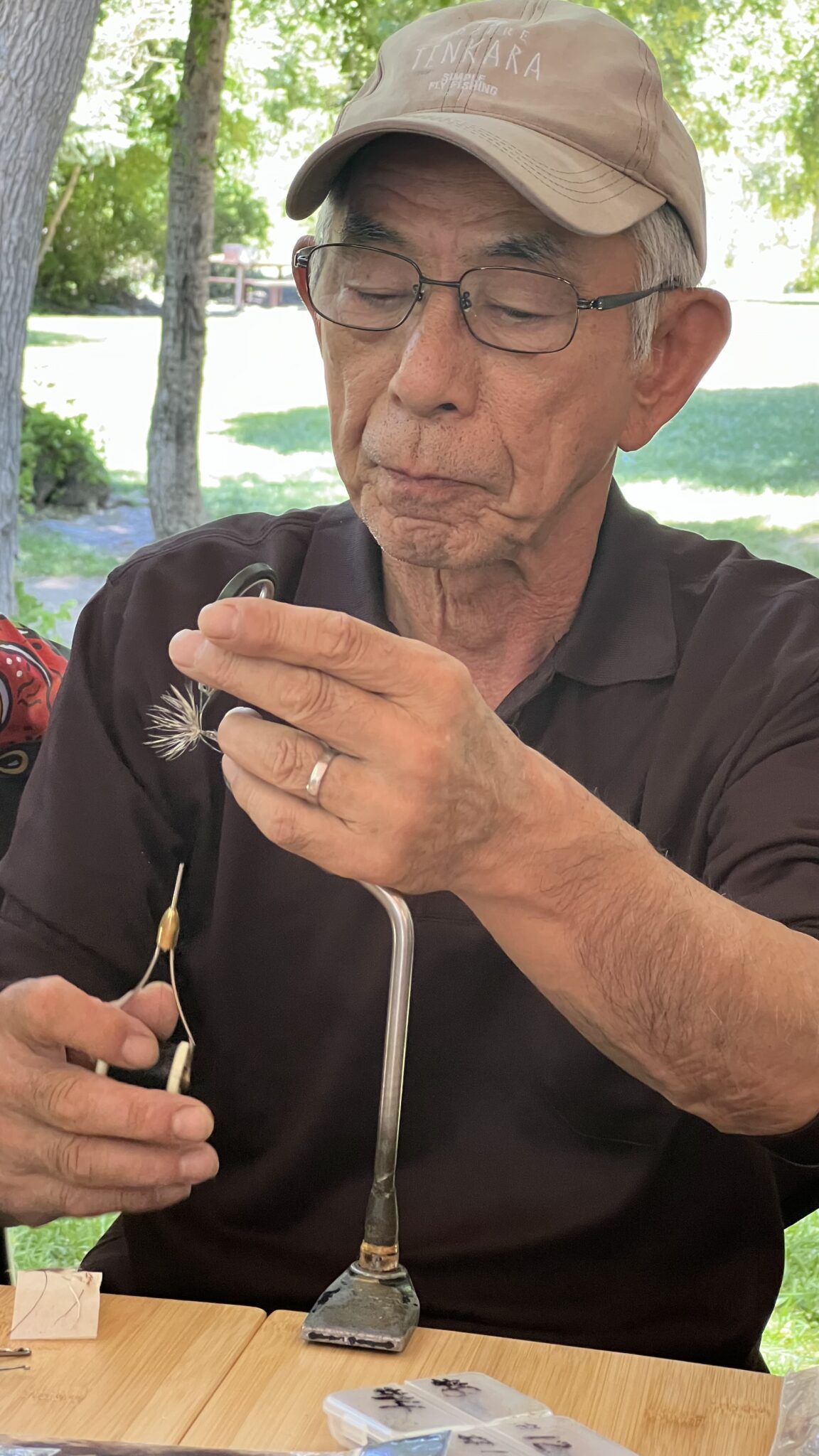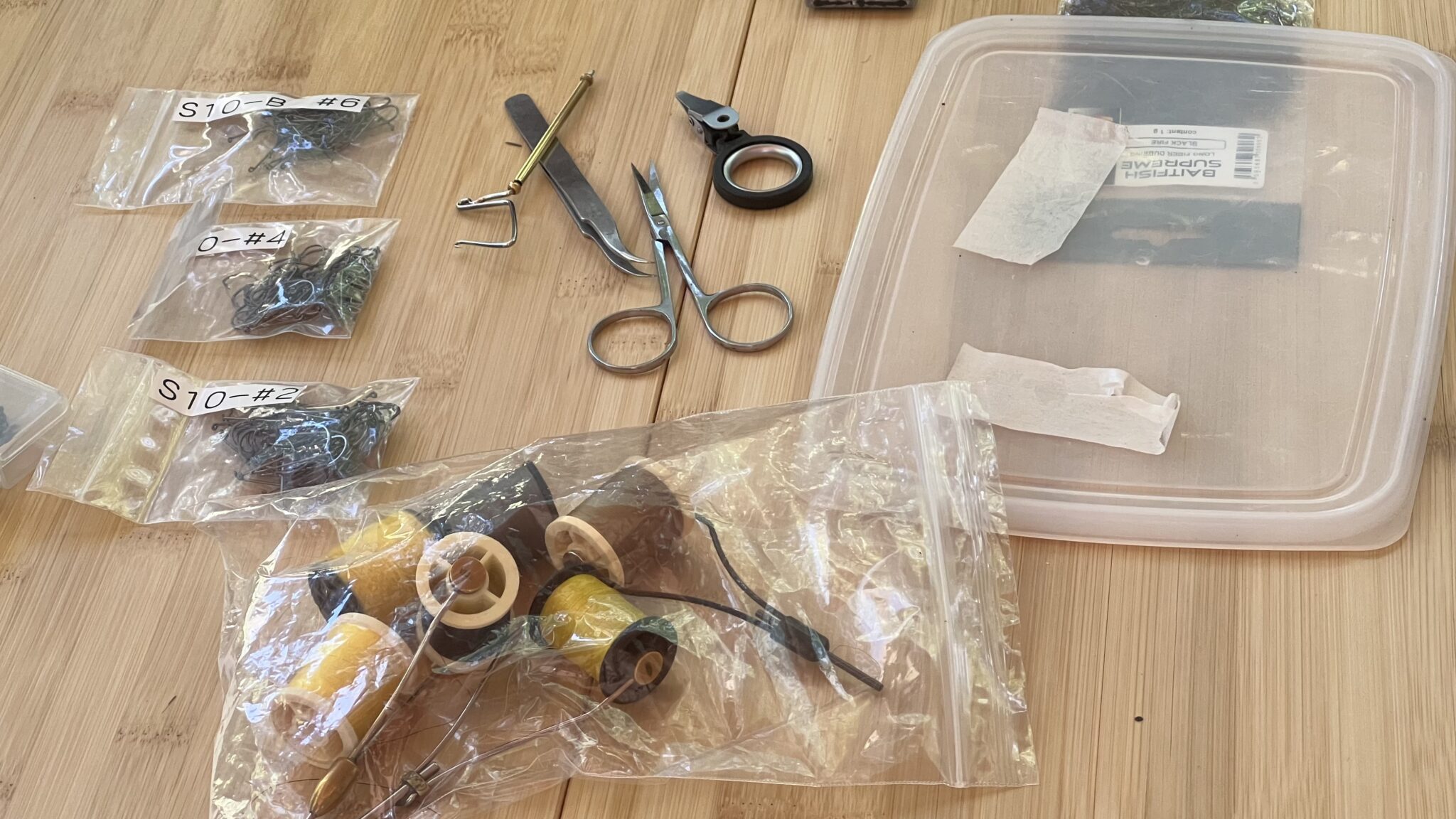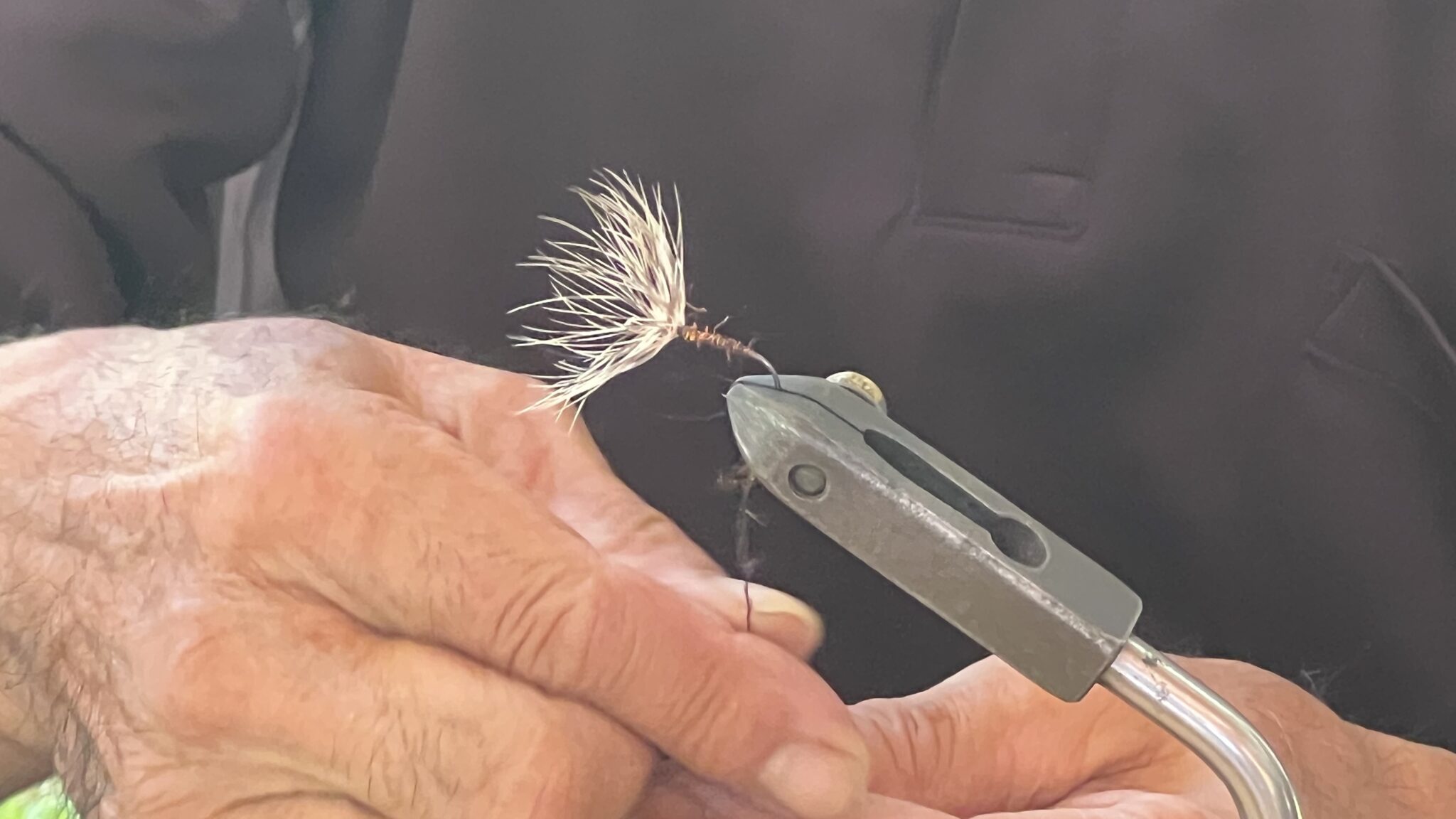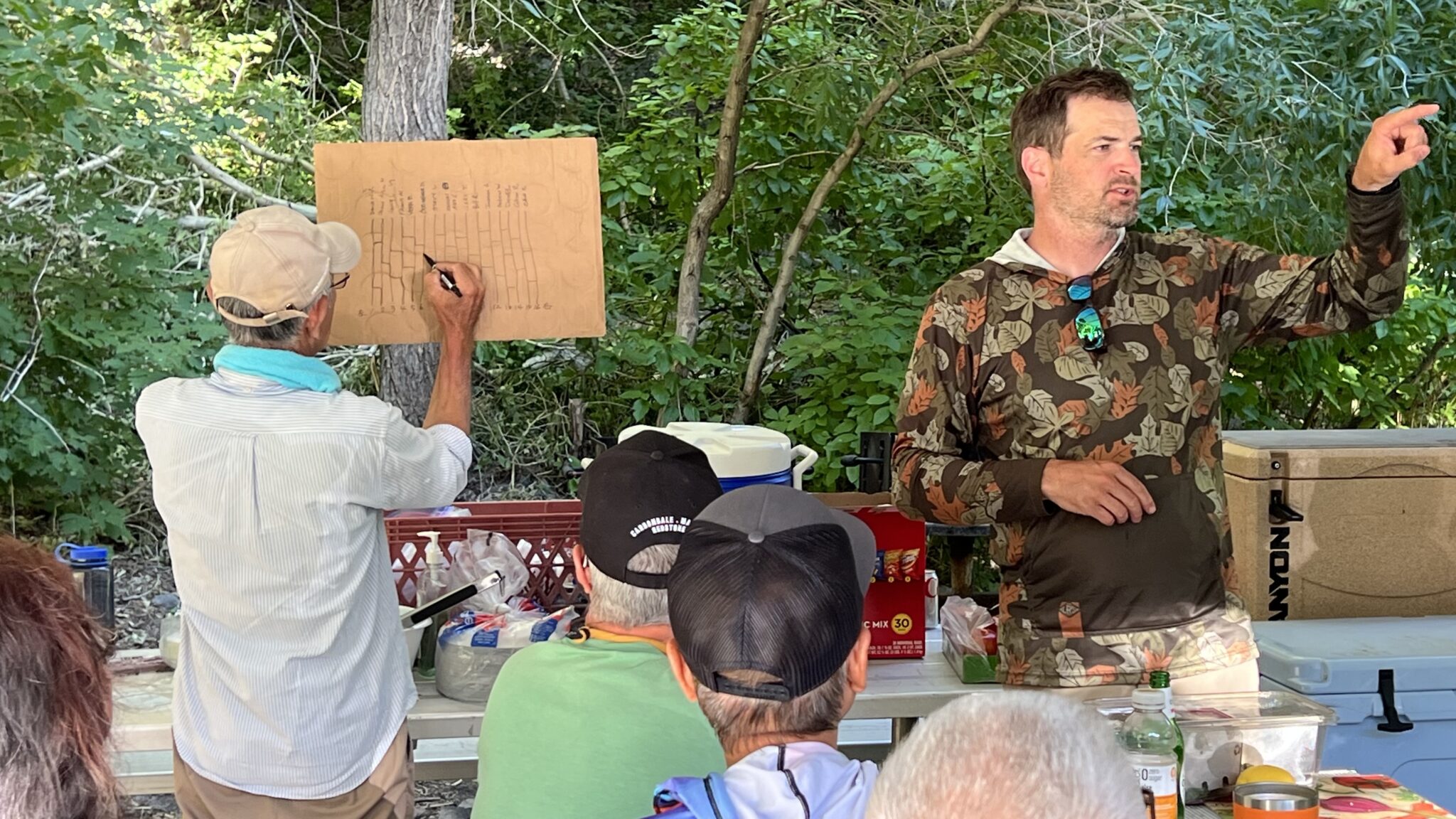 And then, he gave us a "show & tell" of his horsetail line collection. I asked. They were not for sale.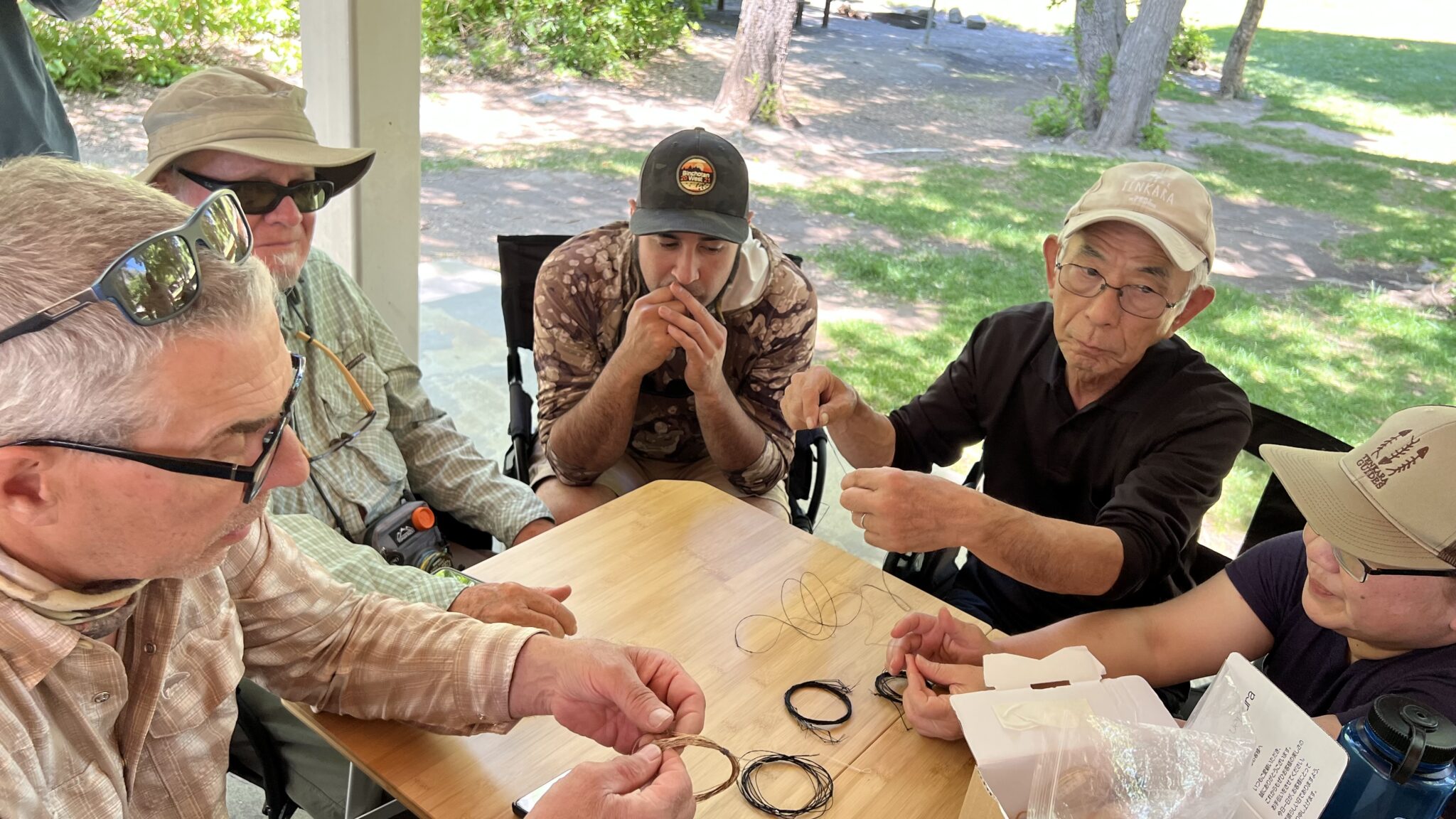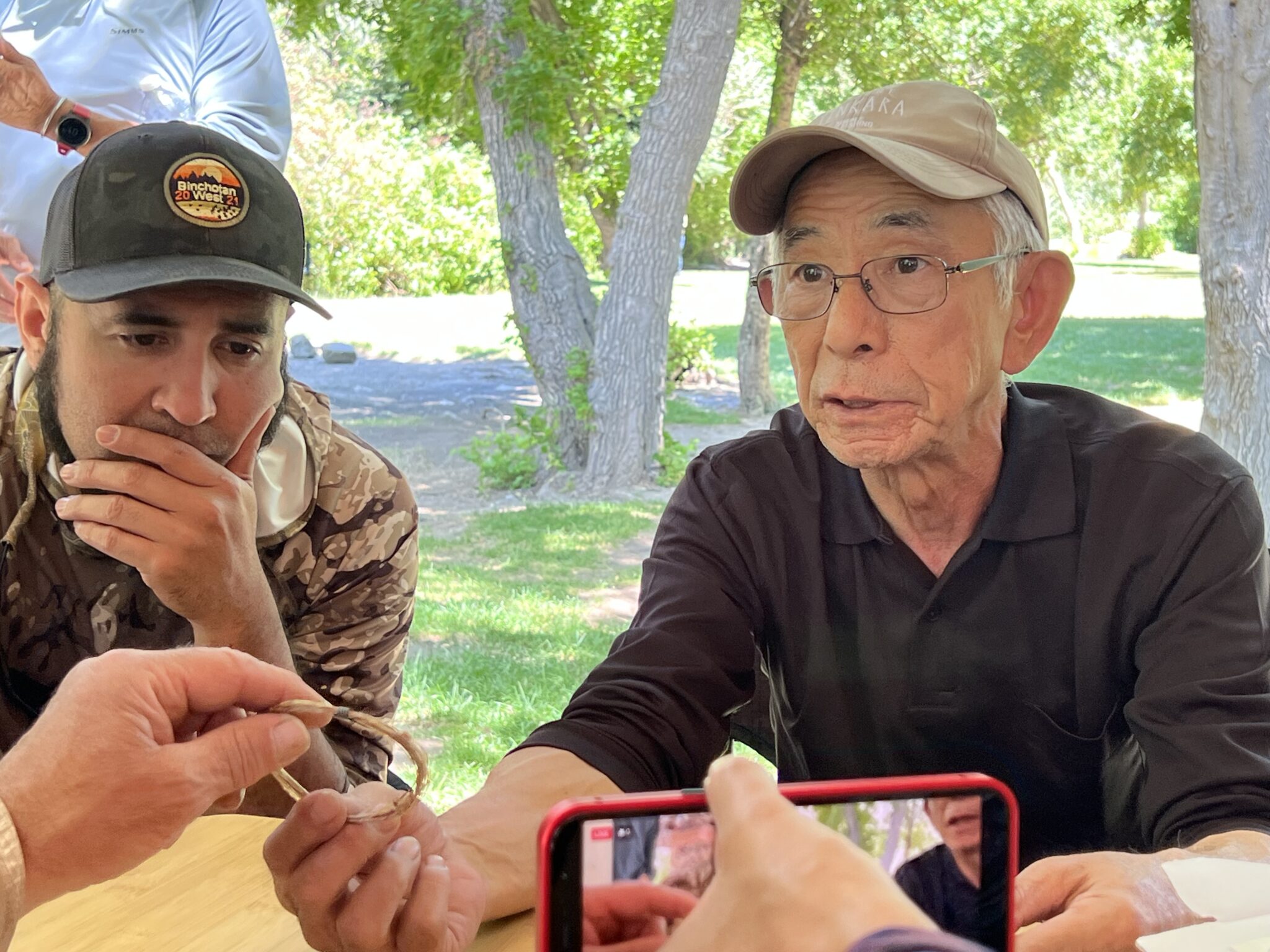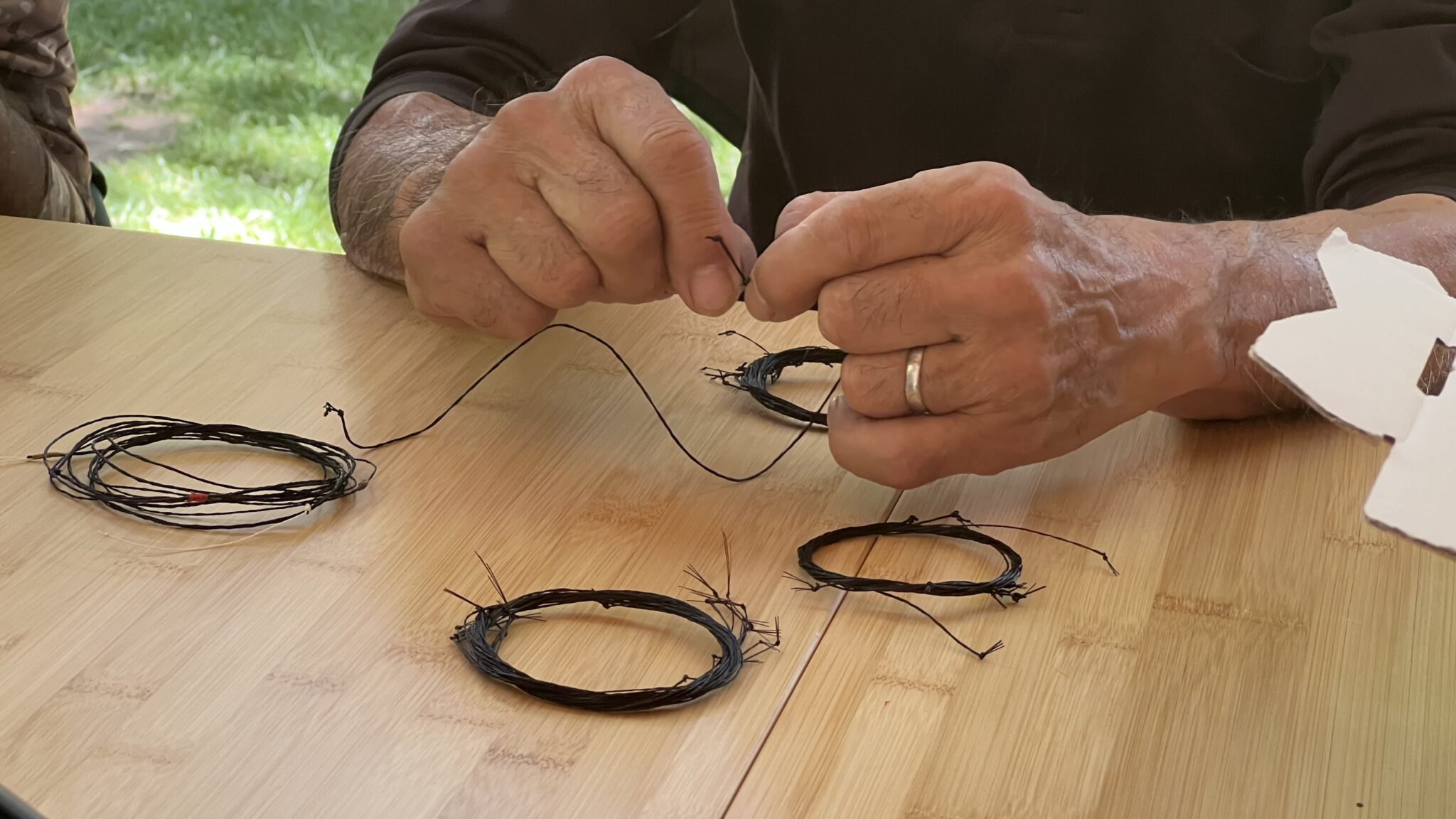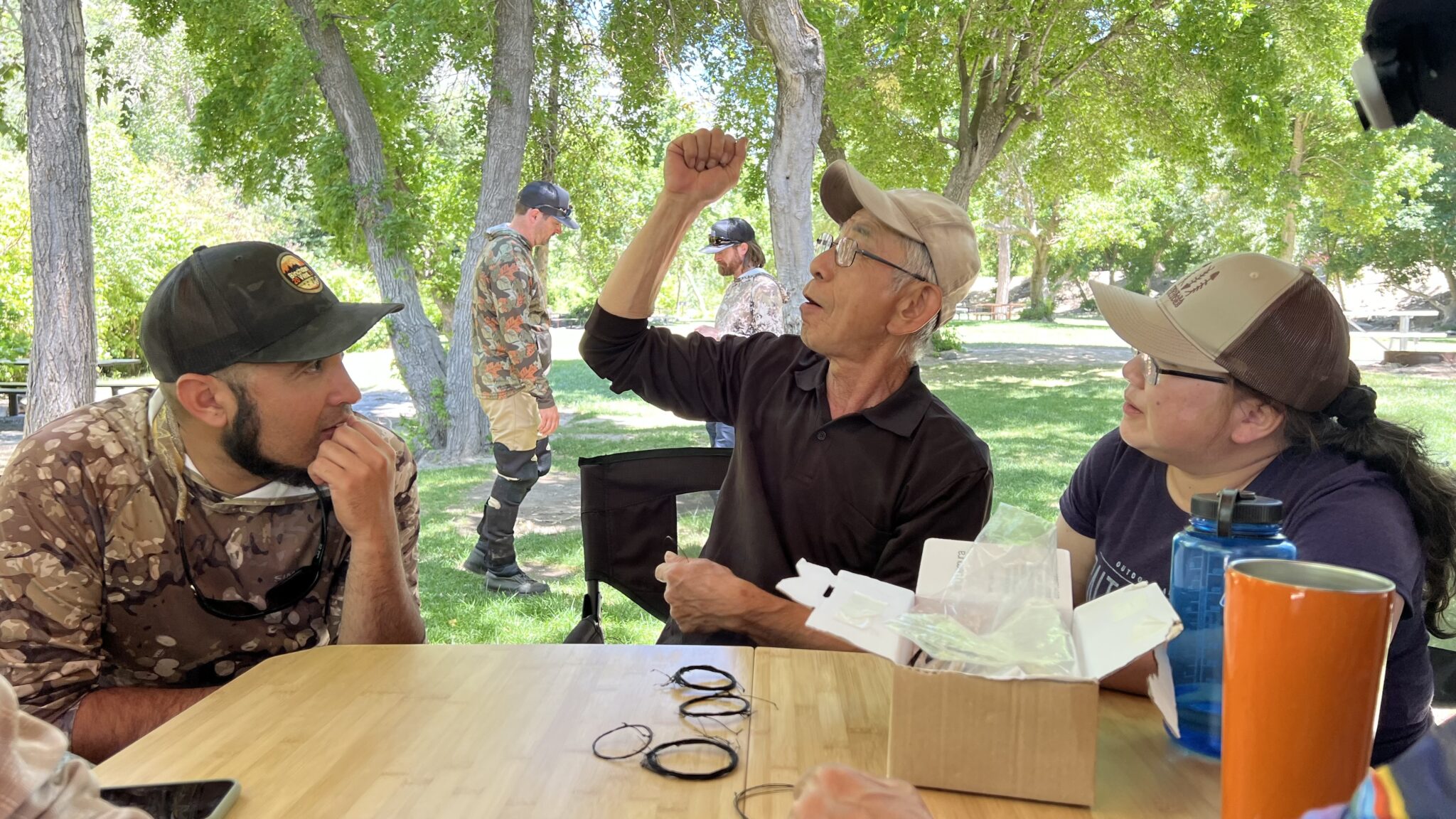 Oni said he wanted to visit the local fly shop which turned out to be Fly Fish Food. I order from them frequently and didn't even know they had a brick & mortar store so I was eager to see it myself. They have a very impressive inventory and I could have spent hours there but I managed to escape with only a few packages of dubbing and some wire. And, Lance Egan was there! But at that point, I was too tired to interact with another human being.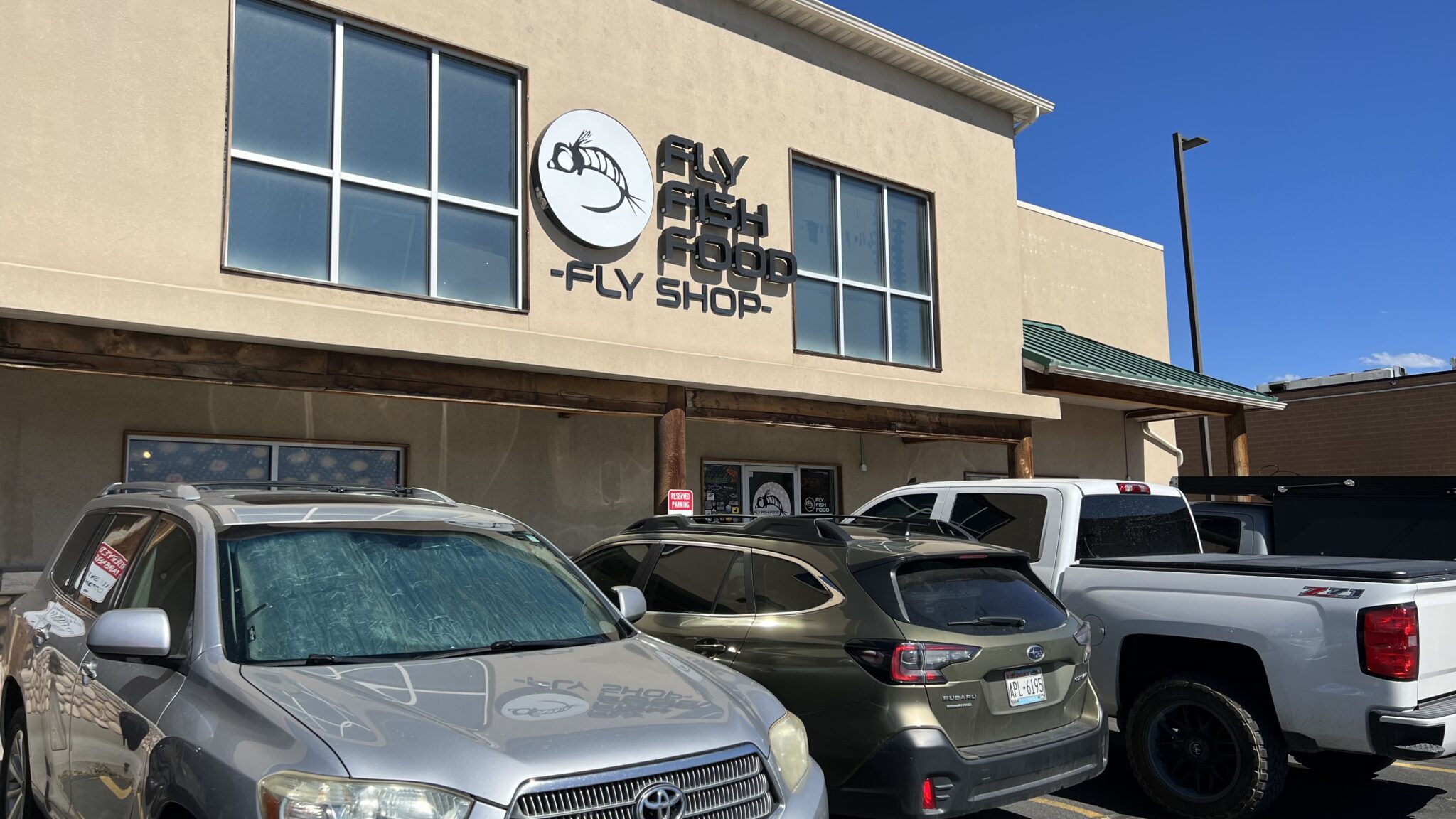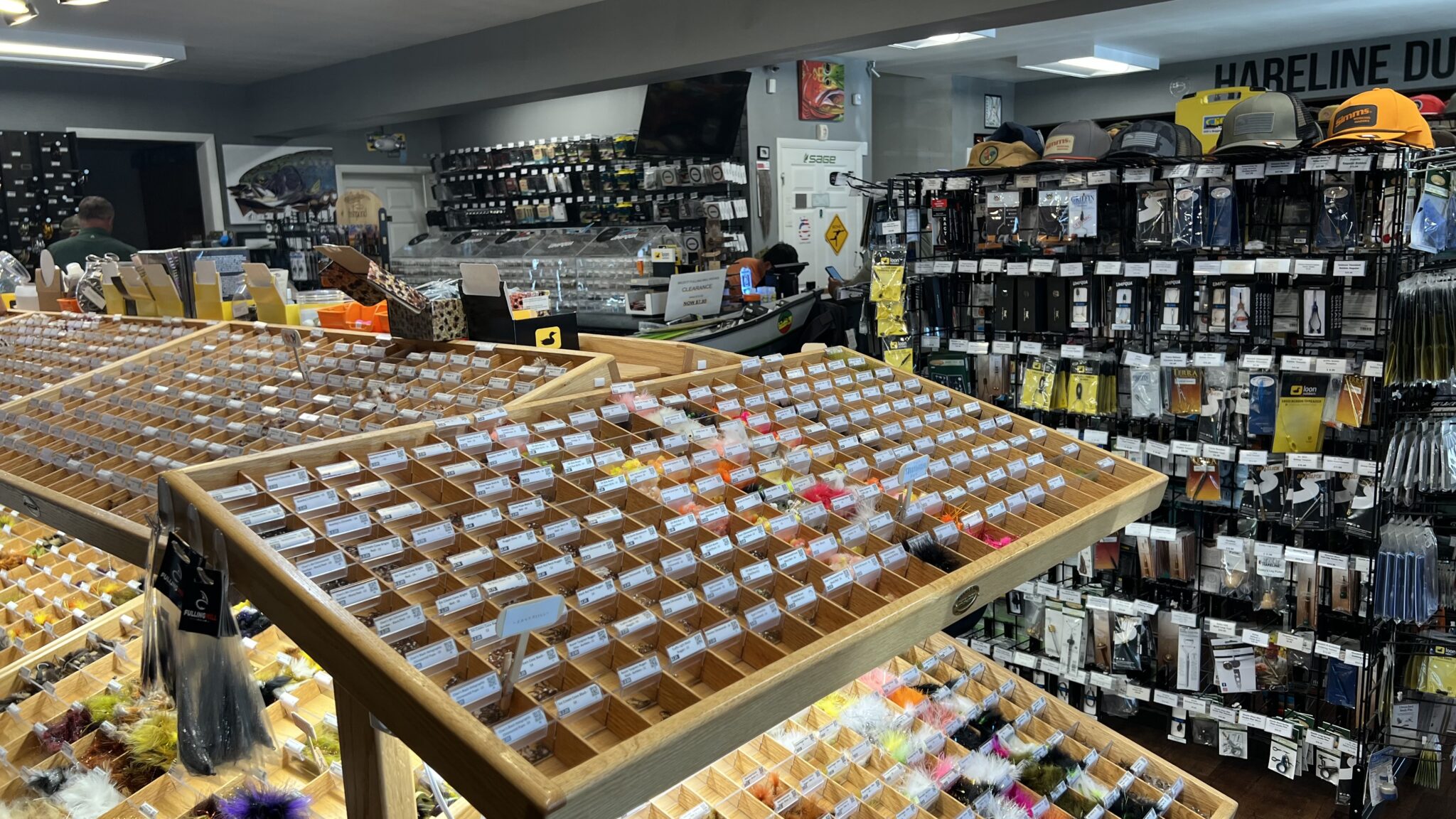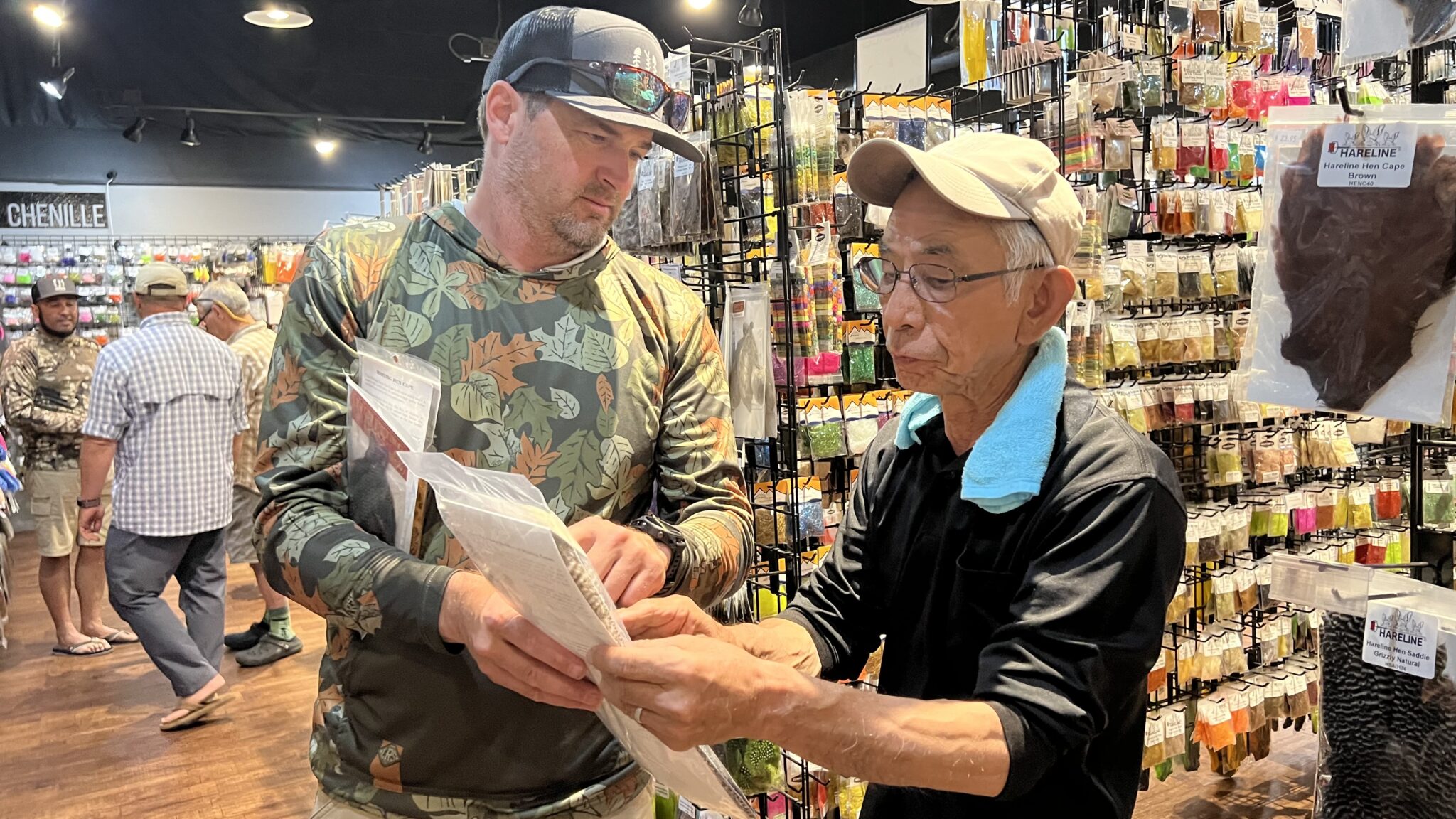 ---
Day Three:
07/12/2023
Even though everyone was exhausted by now, that didn't affect the energy of the group the following morning and everyone was eager to hit the Middle Provo.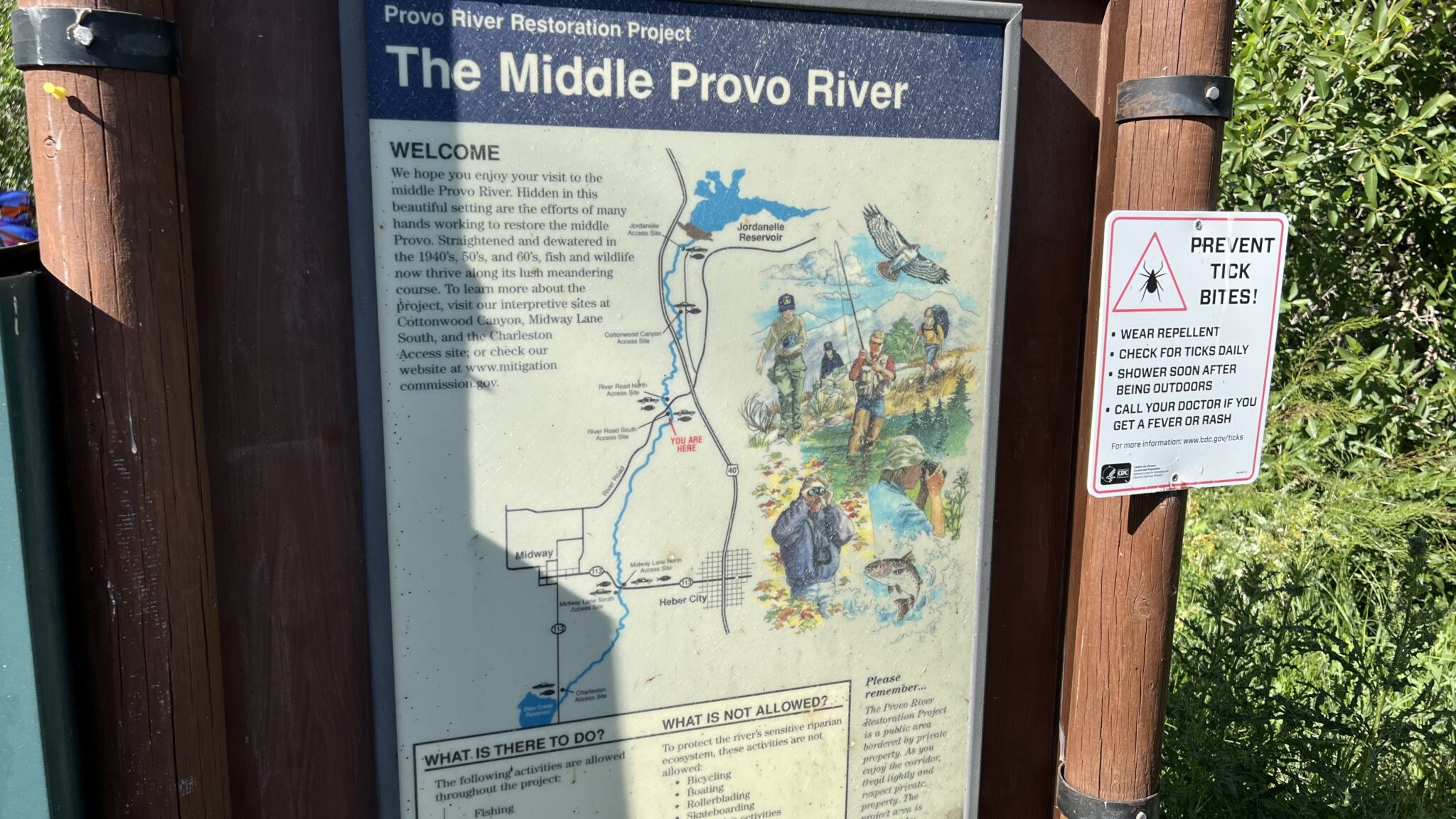 The Middle Provo is a big river so Oni was casting a 39 ft. #4 level line, #6 kebari, and a 4.5m rod.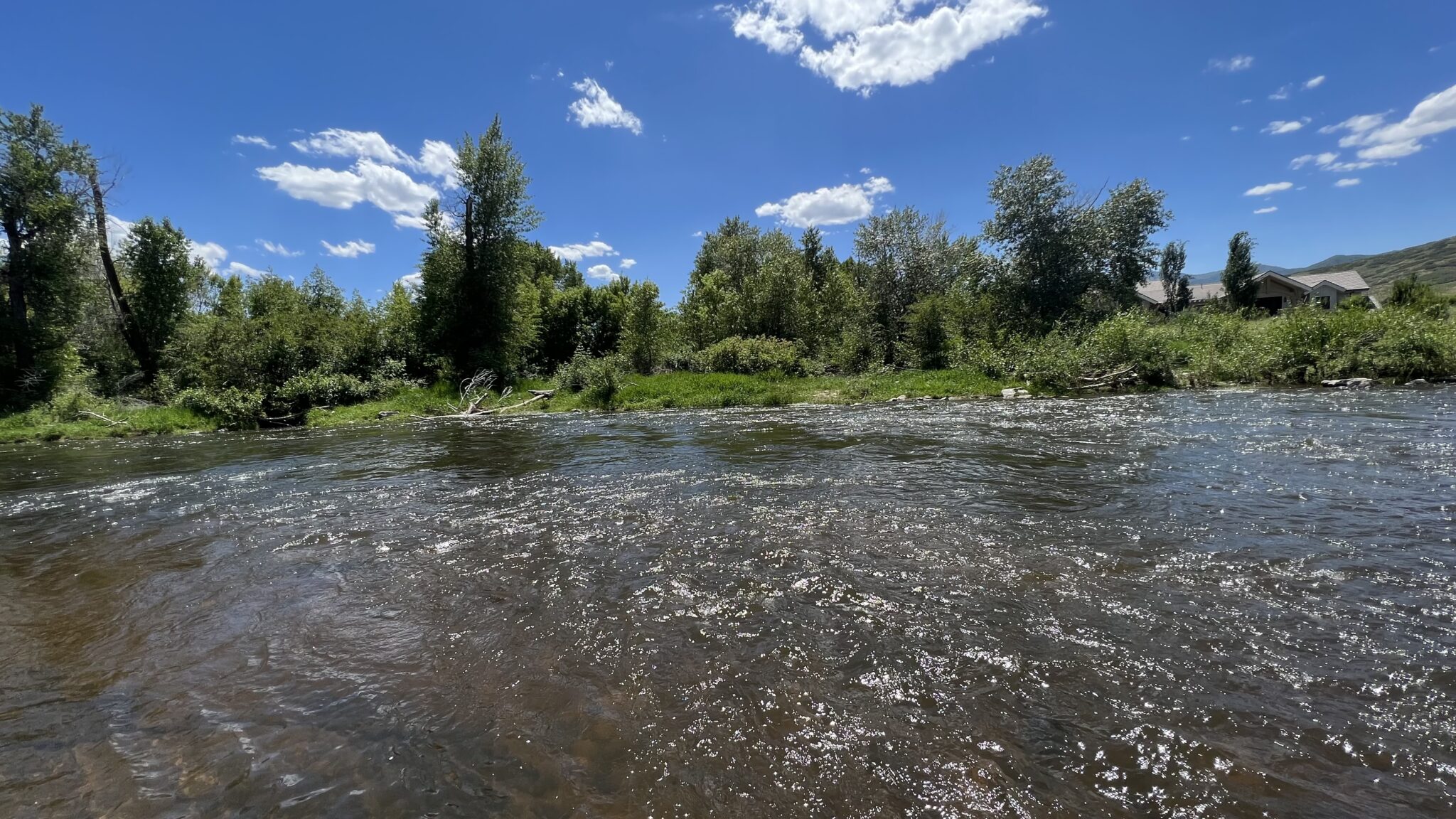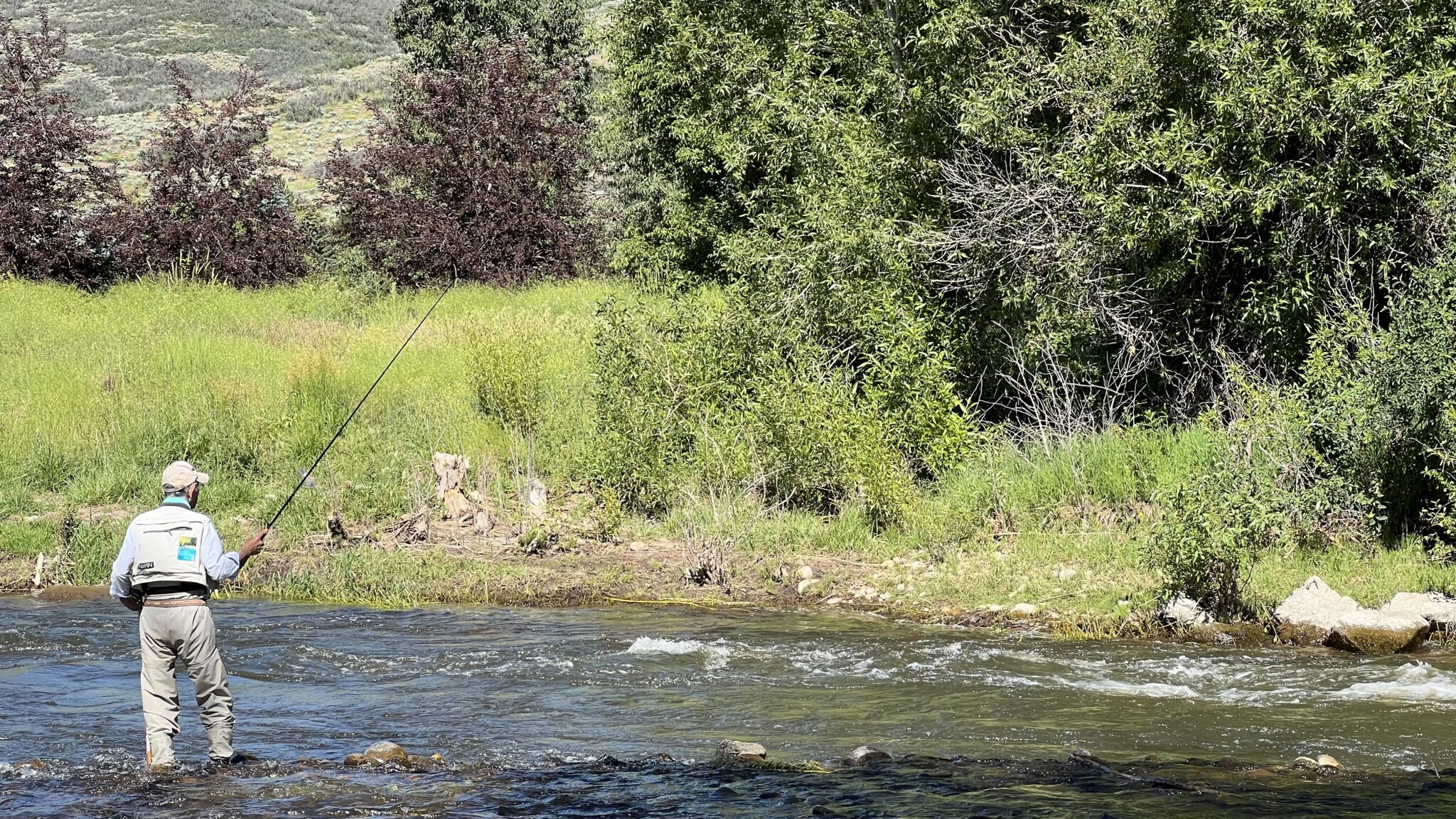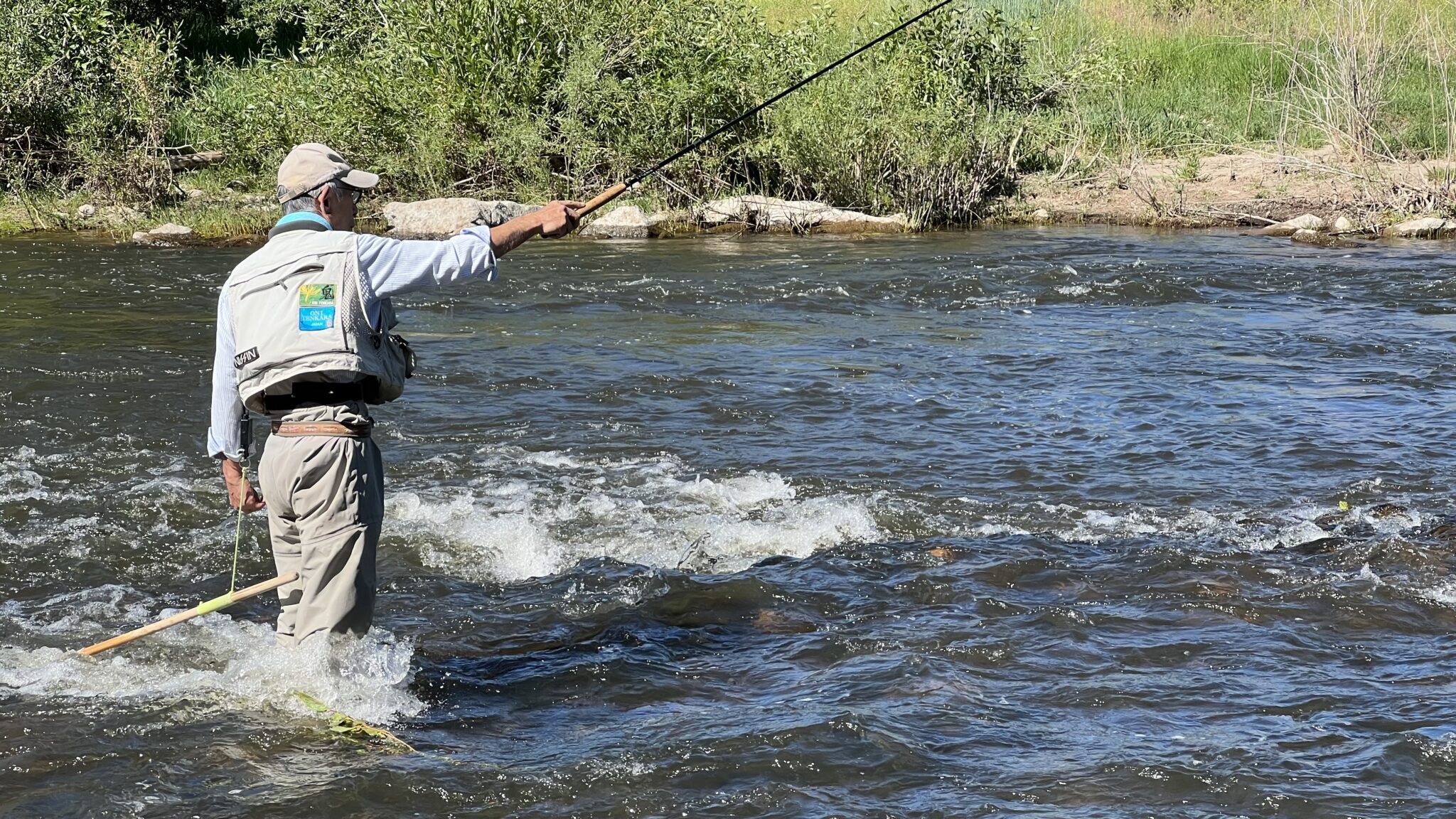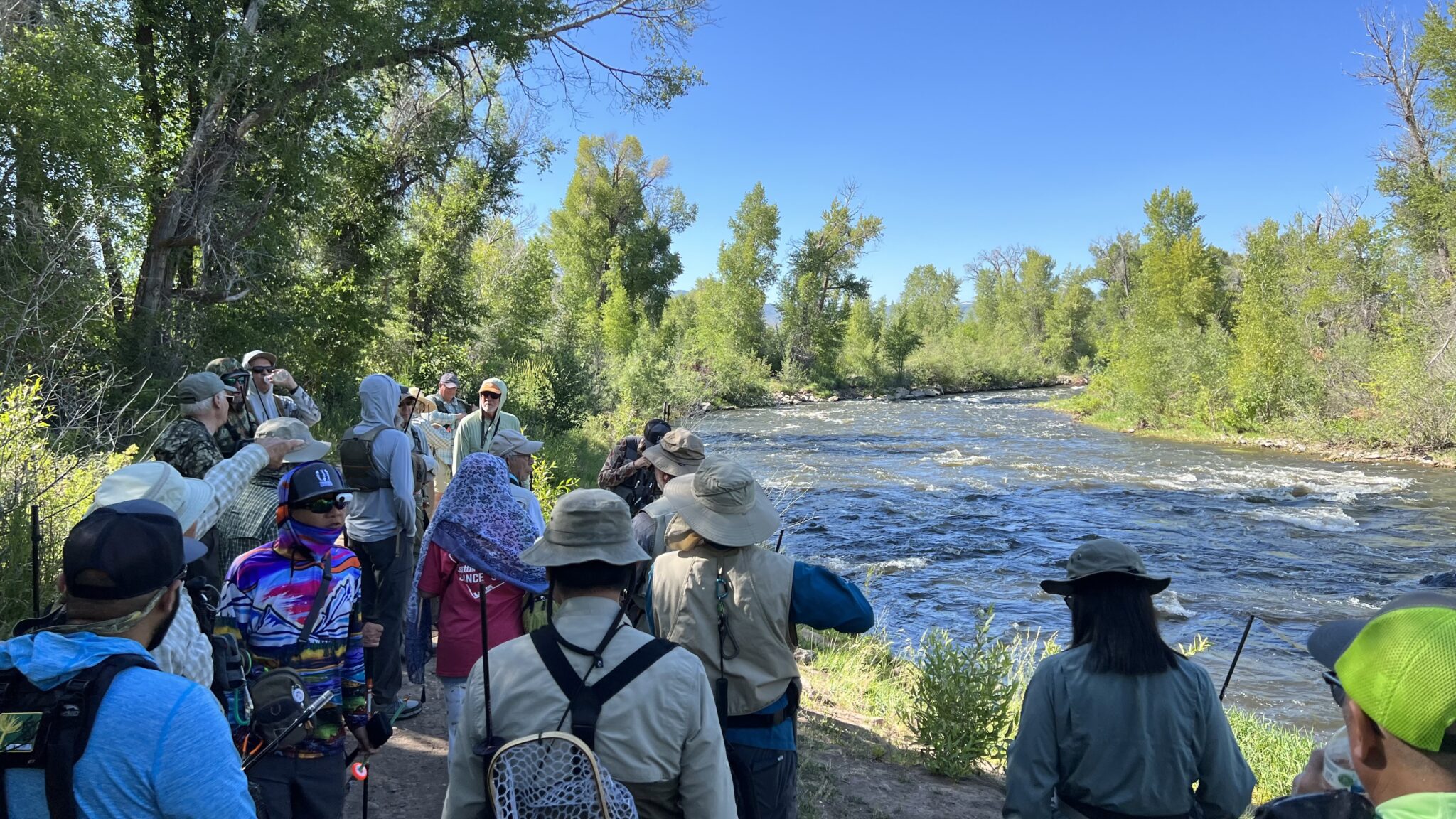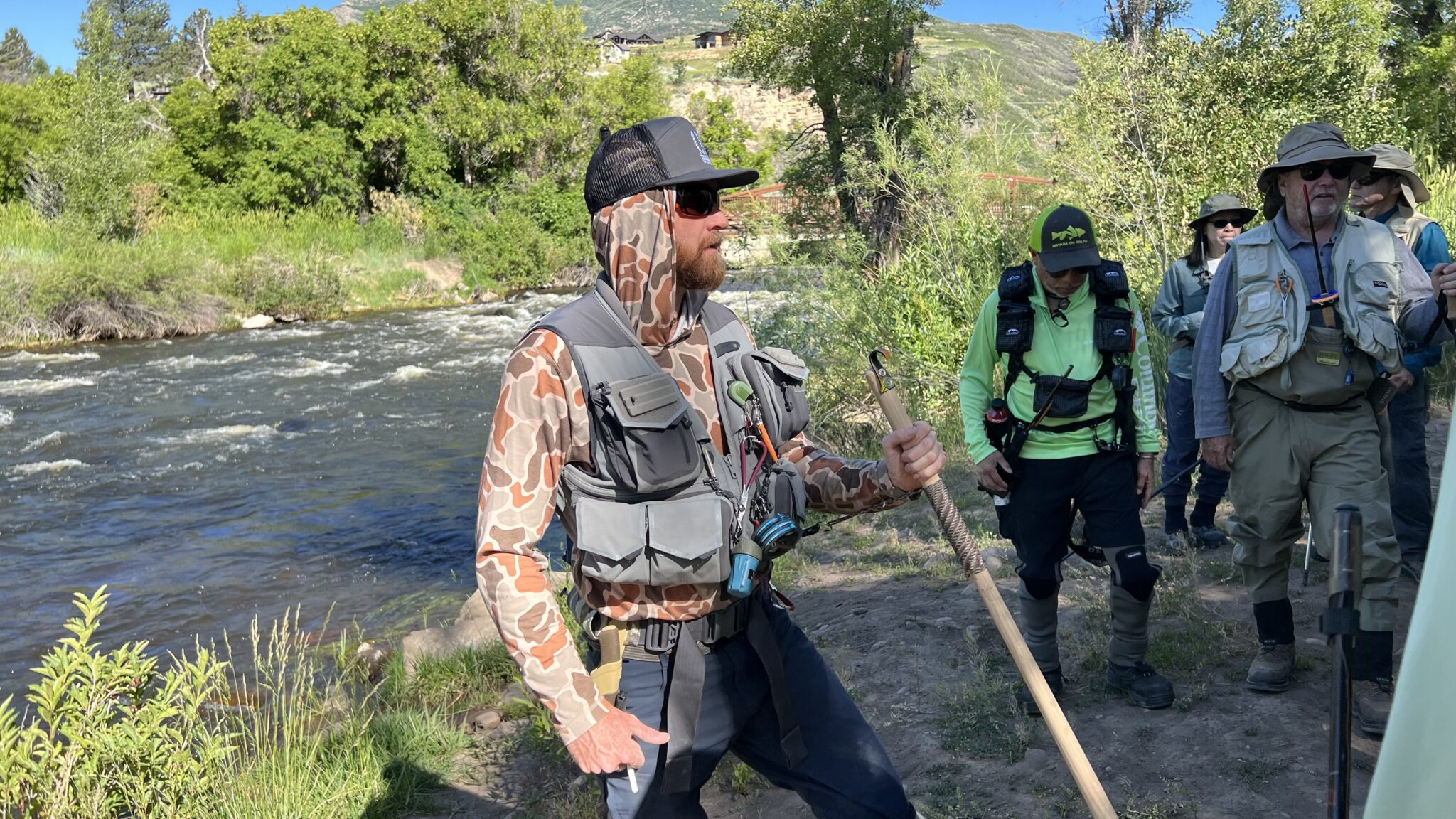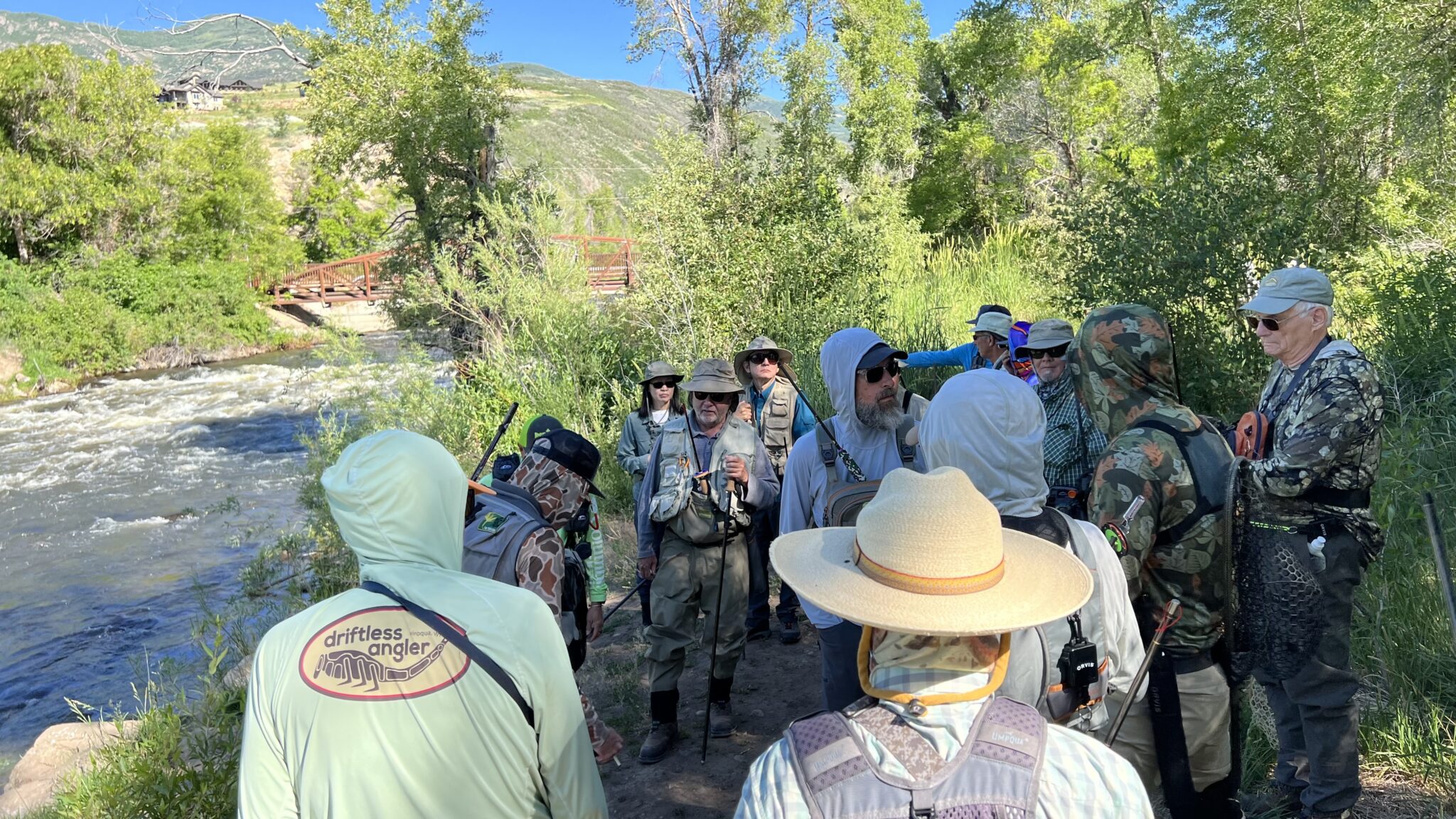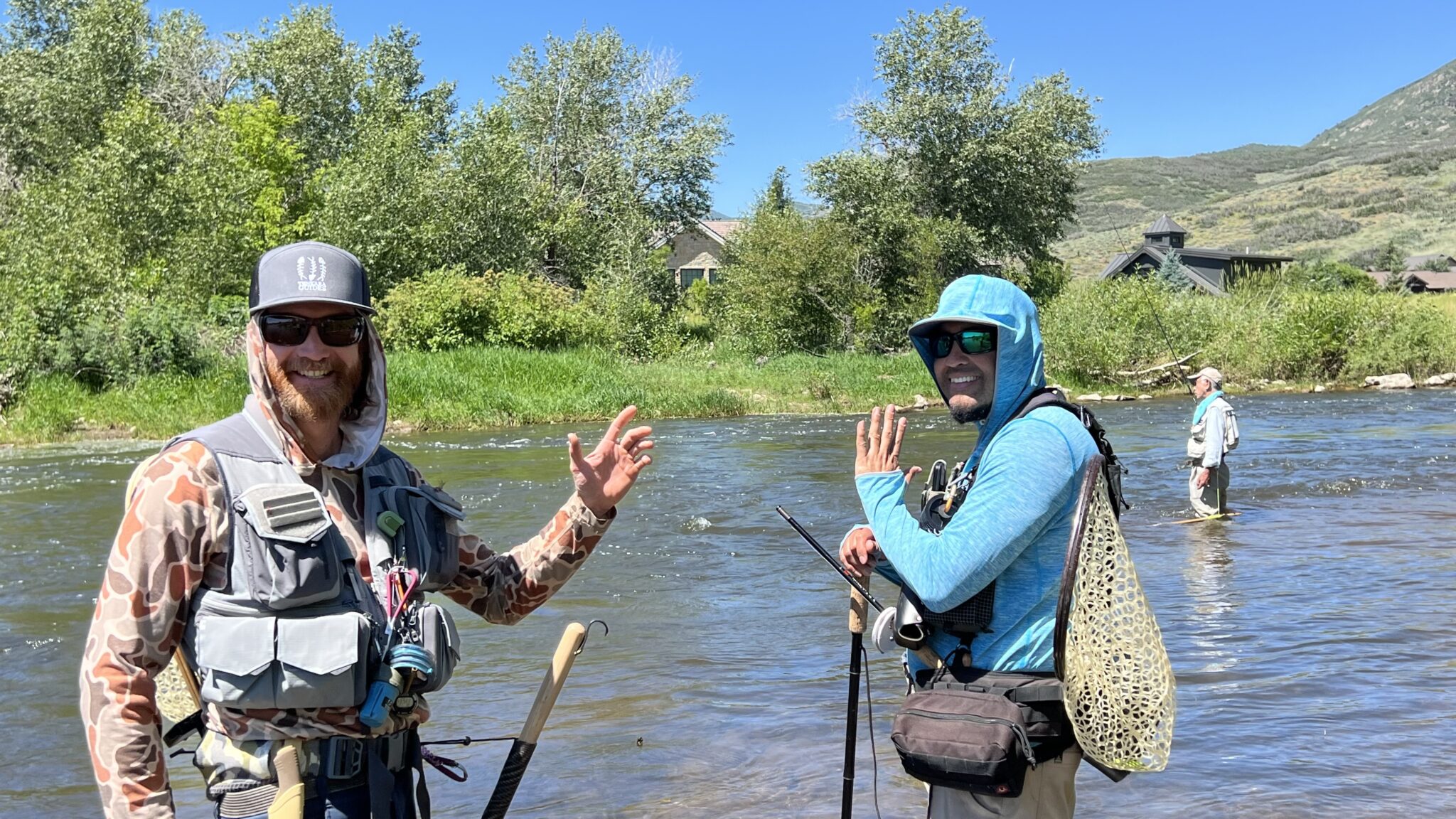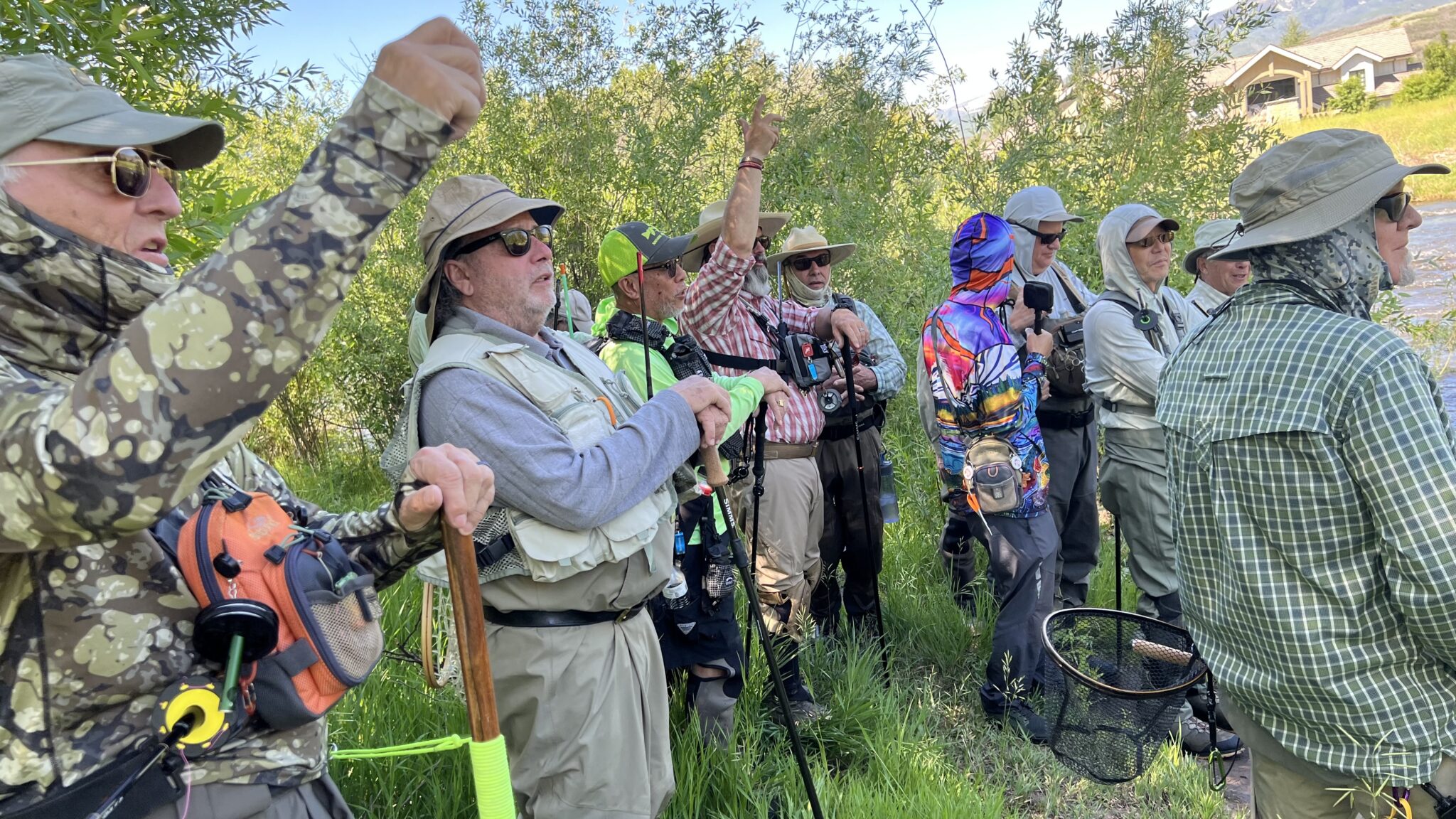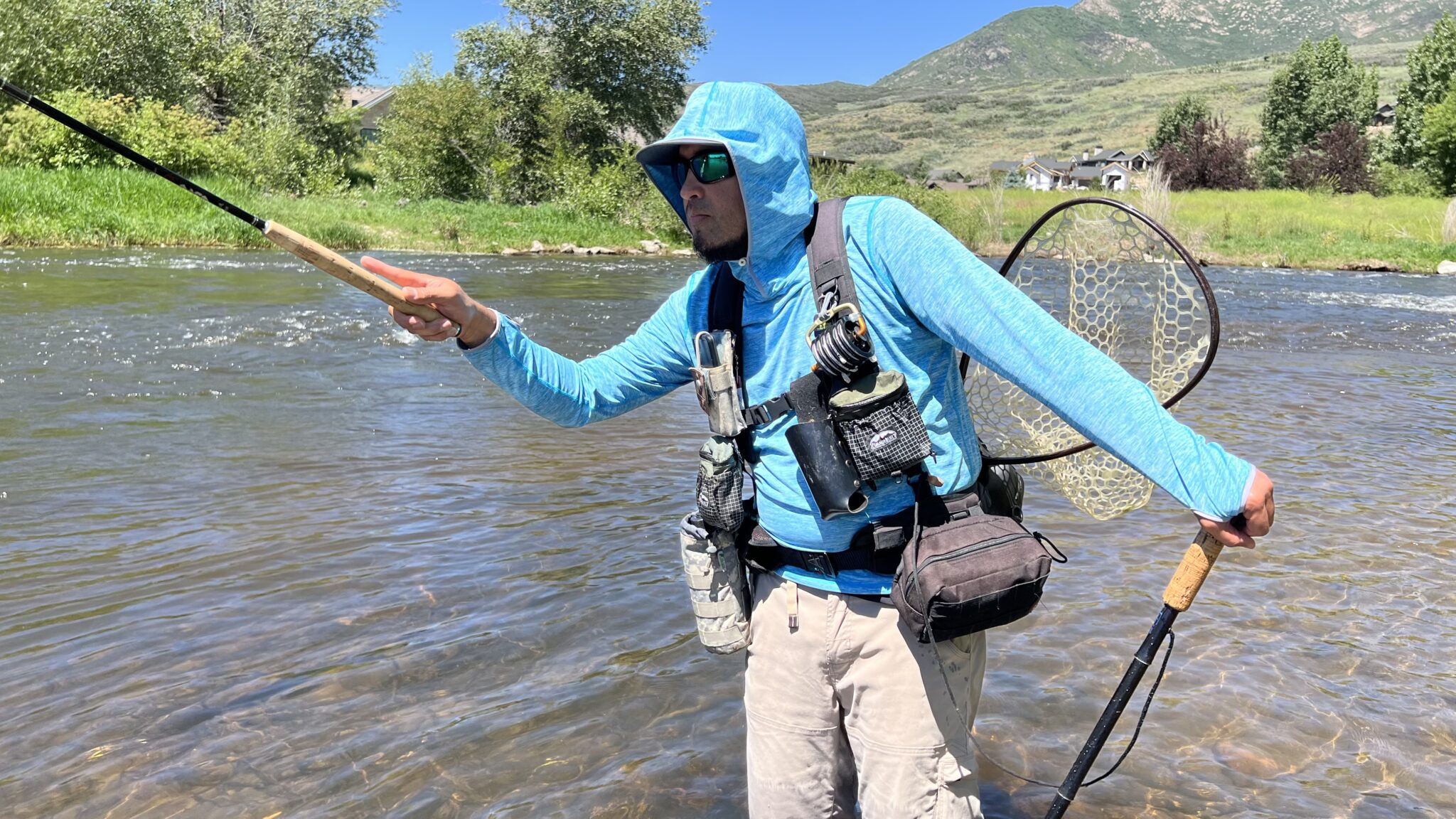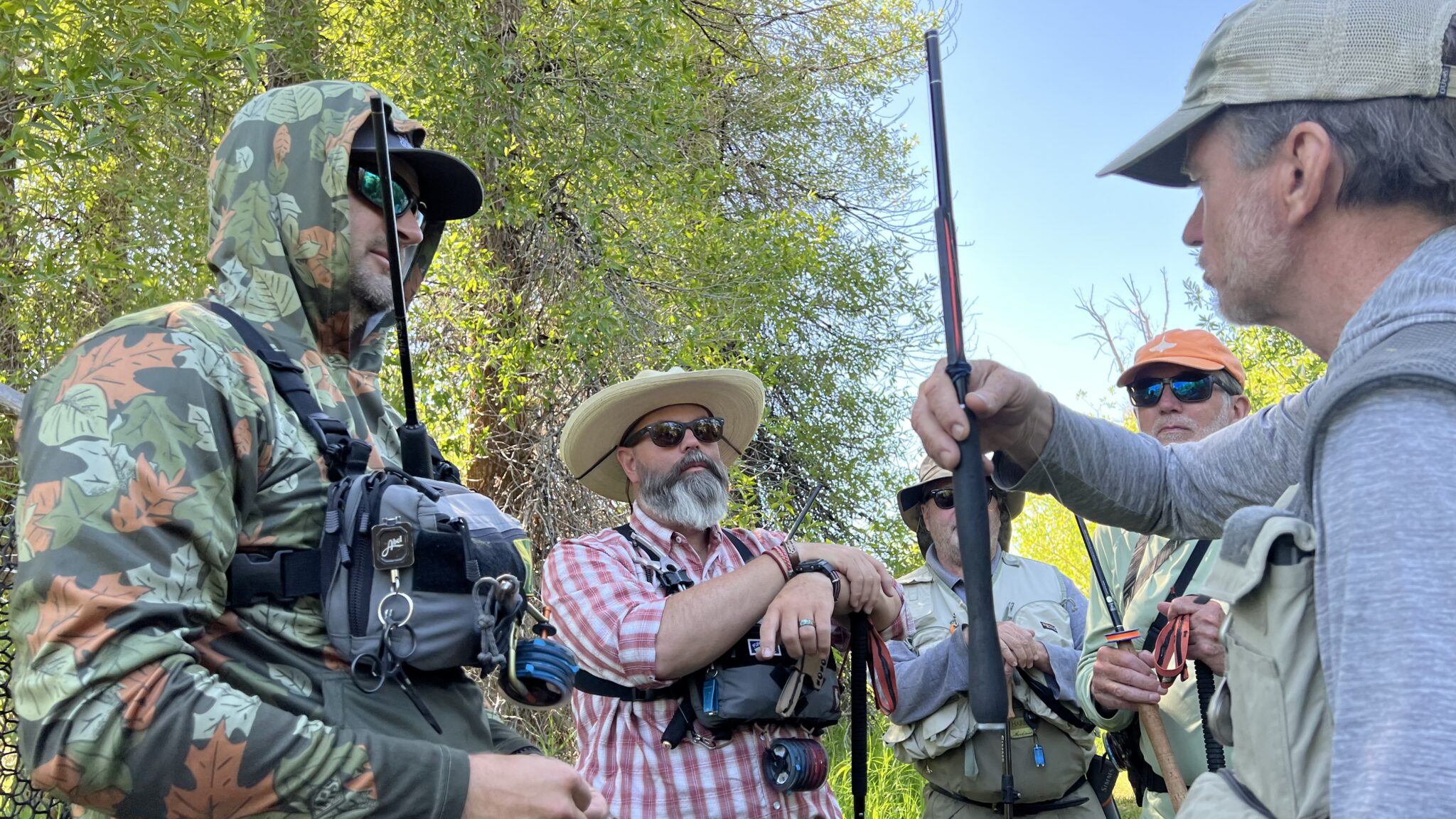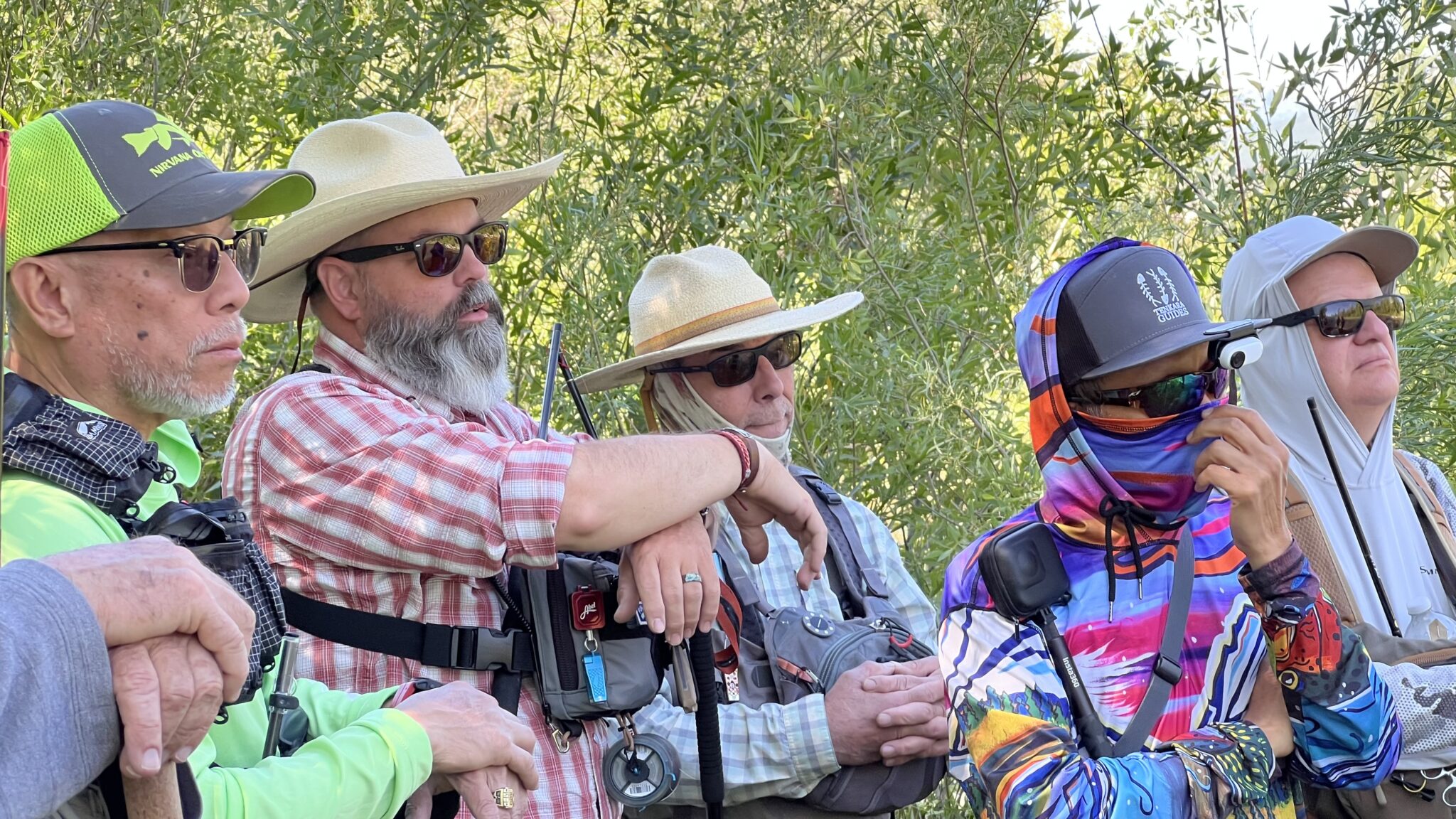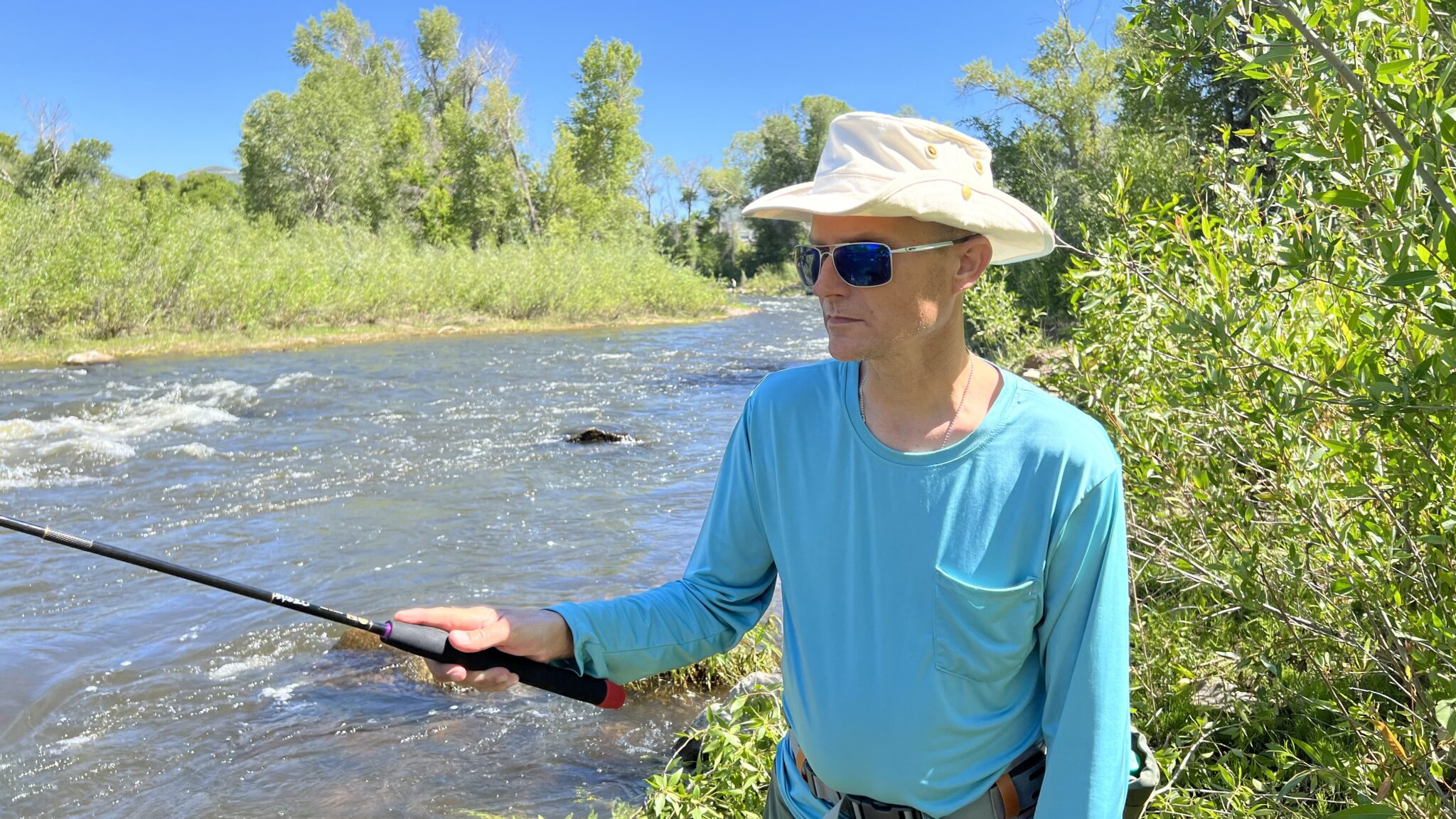 Tanuki thought I couldn't cast Oni's 39 ft. #4 line. But I proved him wrong. And Oni told me later he was impressed with my casting. 🙂
Lunch Time!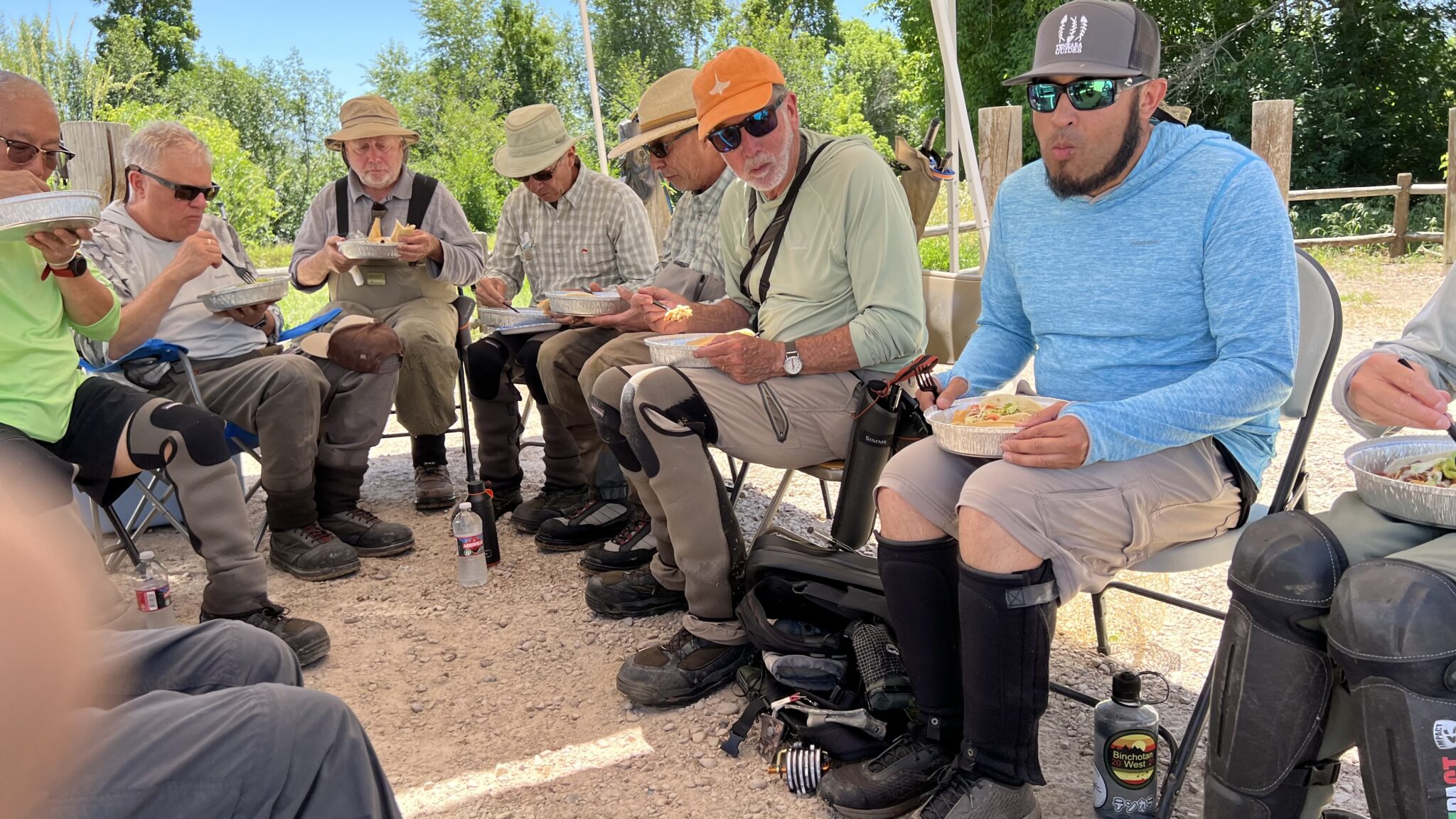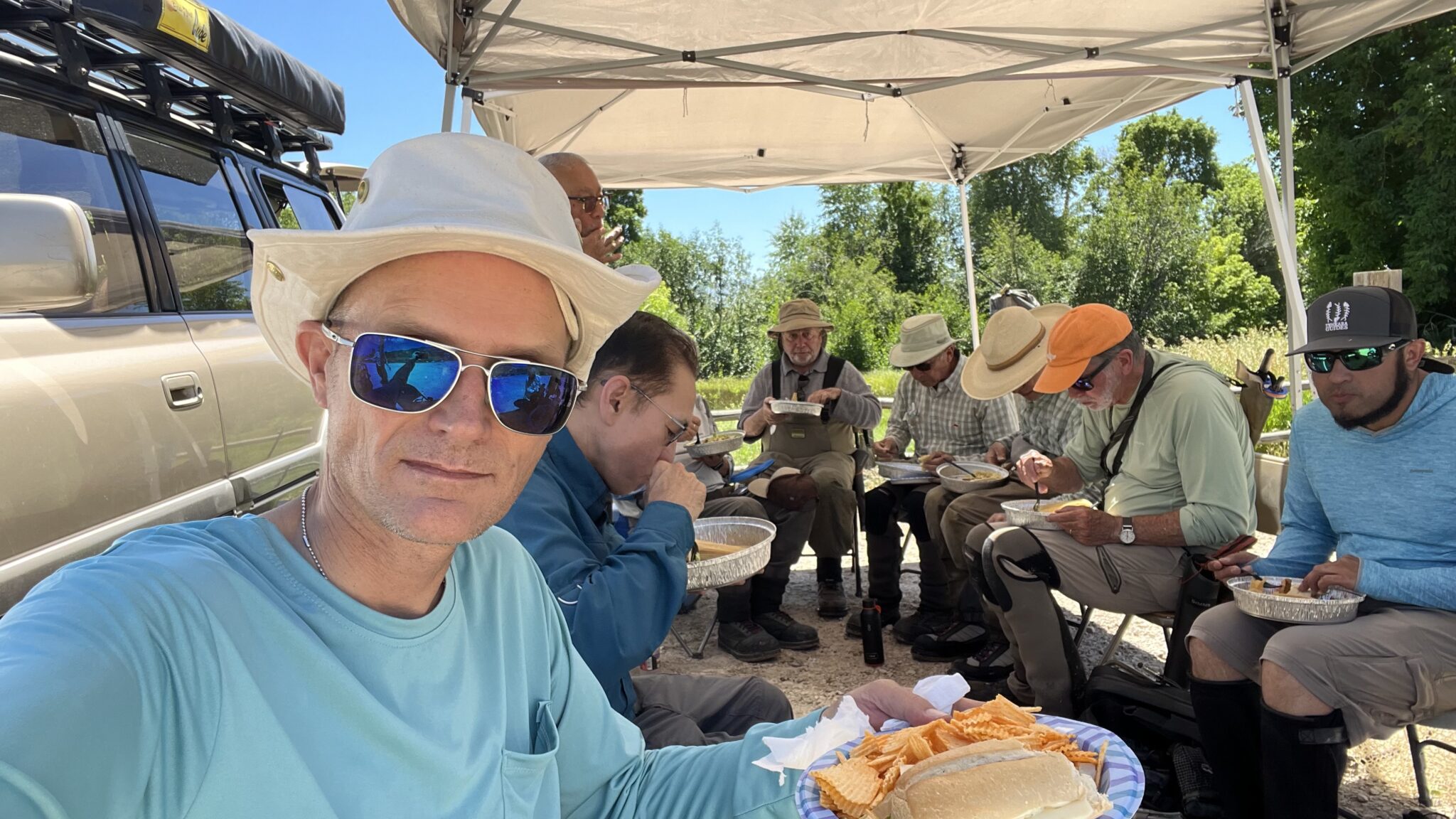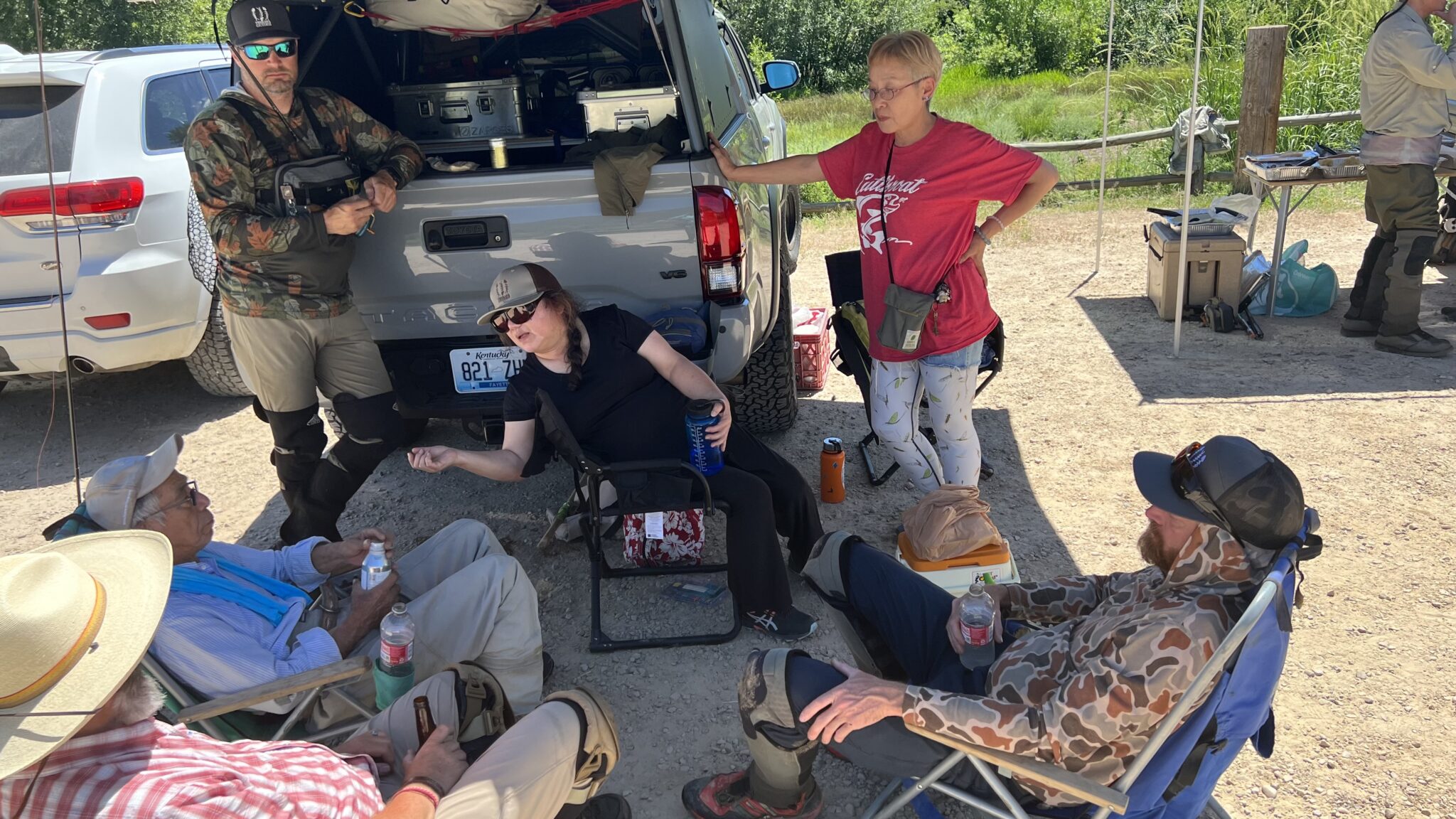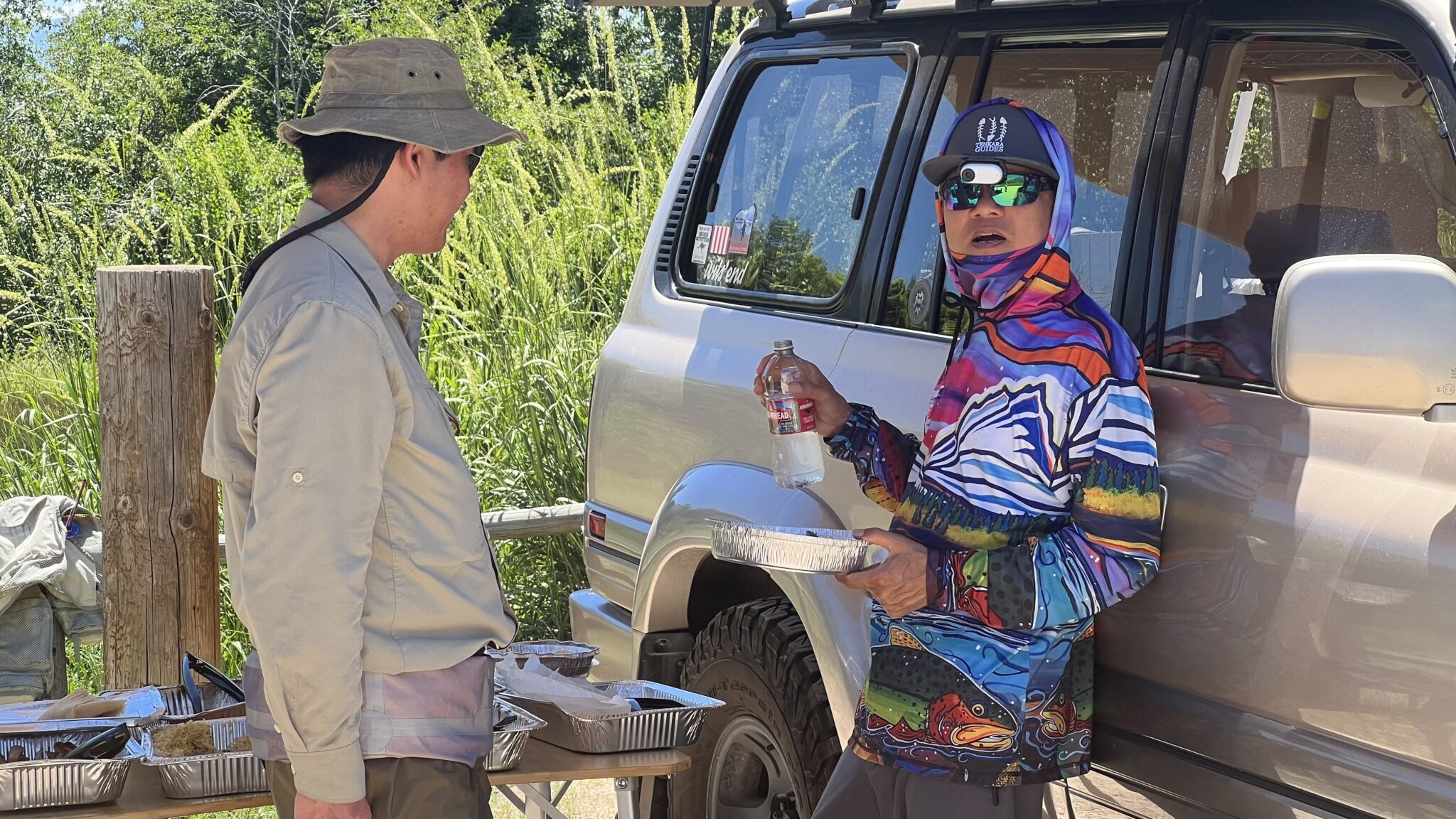 Cigarette break!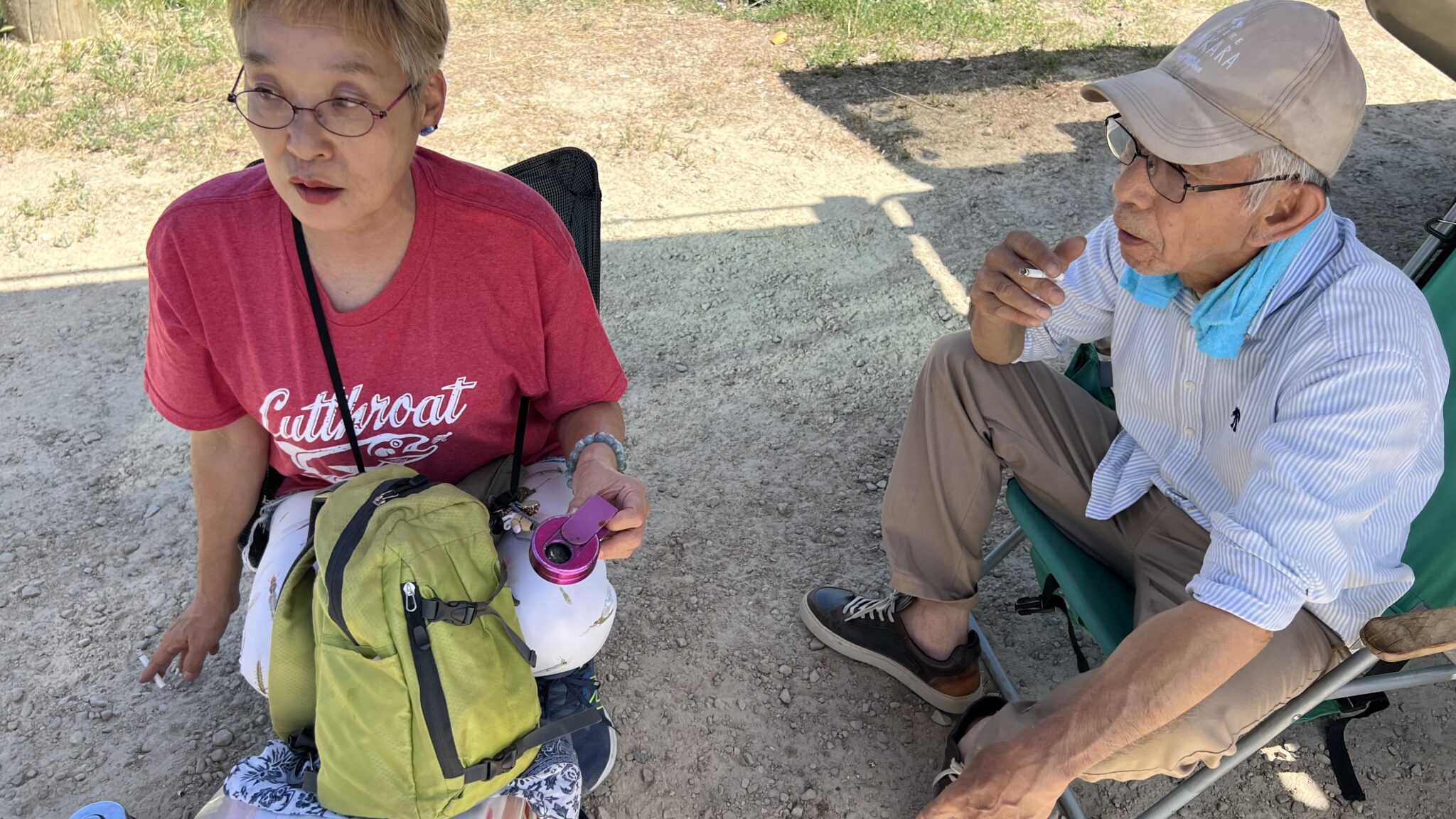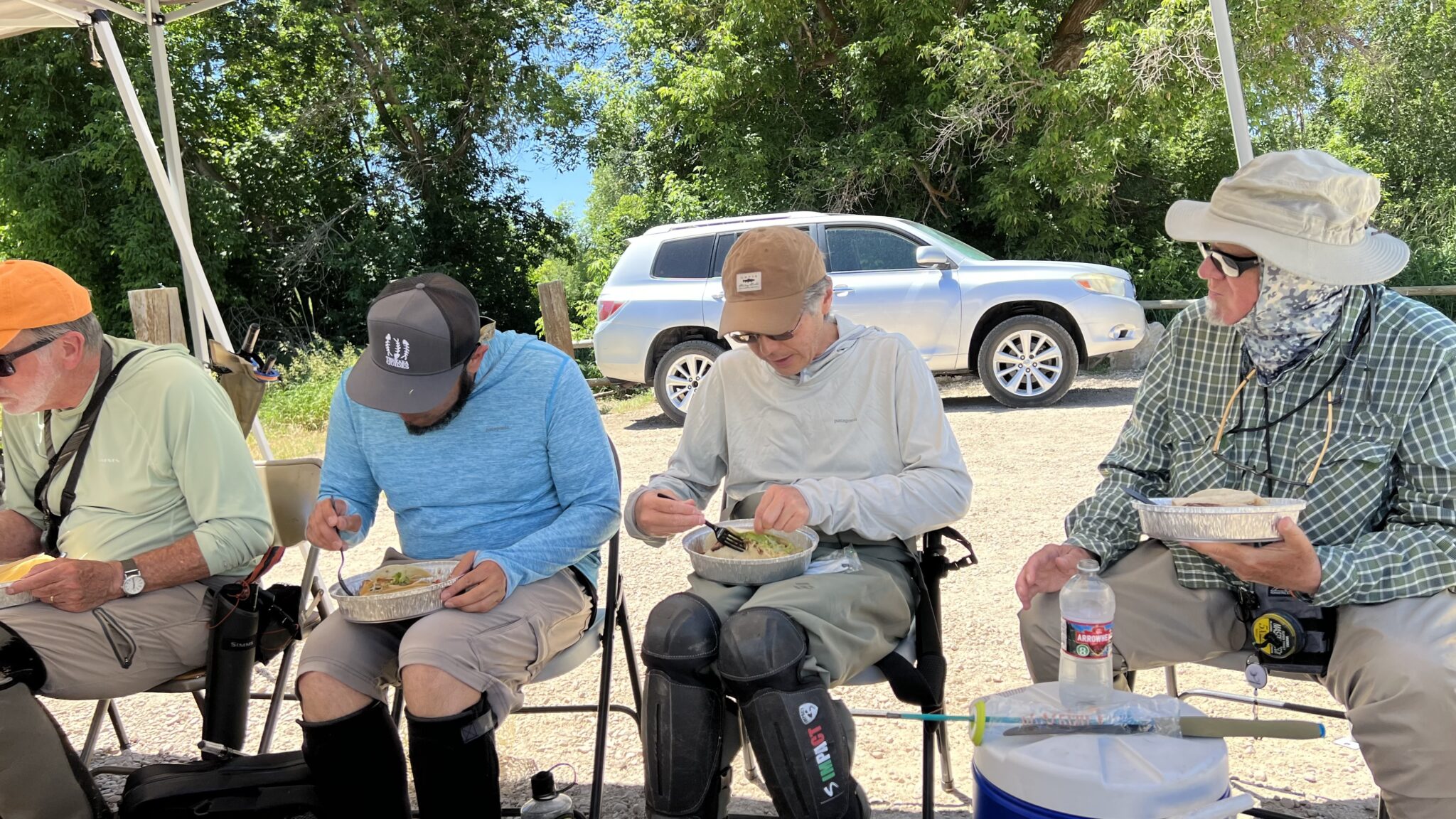 At the very end, we had a barbecue and it was a good time for me to present my gift to Tenkara no Oni. I had two shadow boxes with a Japanese demon (oni) theme made by my friend Dave Burchett. I tied a copy of Oni's signature Yellow Oni Kebari and mounted it in the box.
I inscribed it as follows:
"Thank you for your gift to American Tenkara
Your friend,
Jason Klass"
He had given me the exact same fly on day one, so then I took the other box and mounted his fly in there. So now, we each have the same oni box with flies from the other as a reminder of our friendship and three amazing days.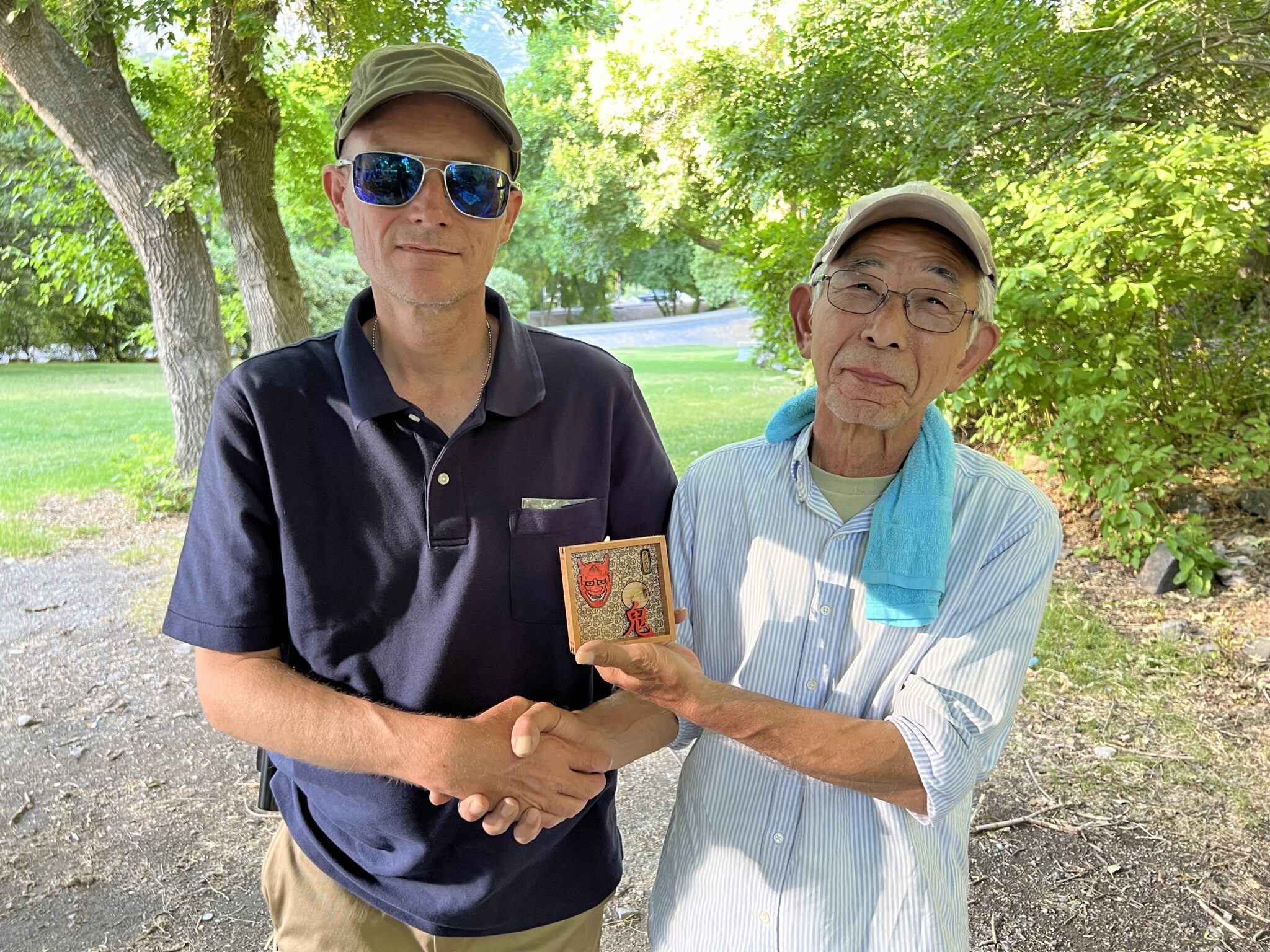 I put mine on top of my tying desk, right below the framed Oni flies hanging on the wall.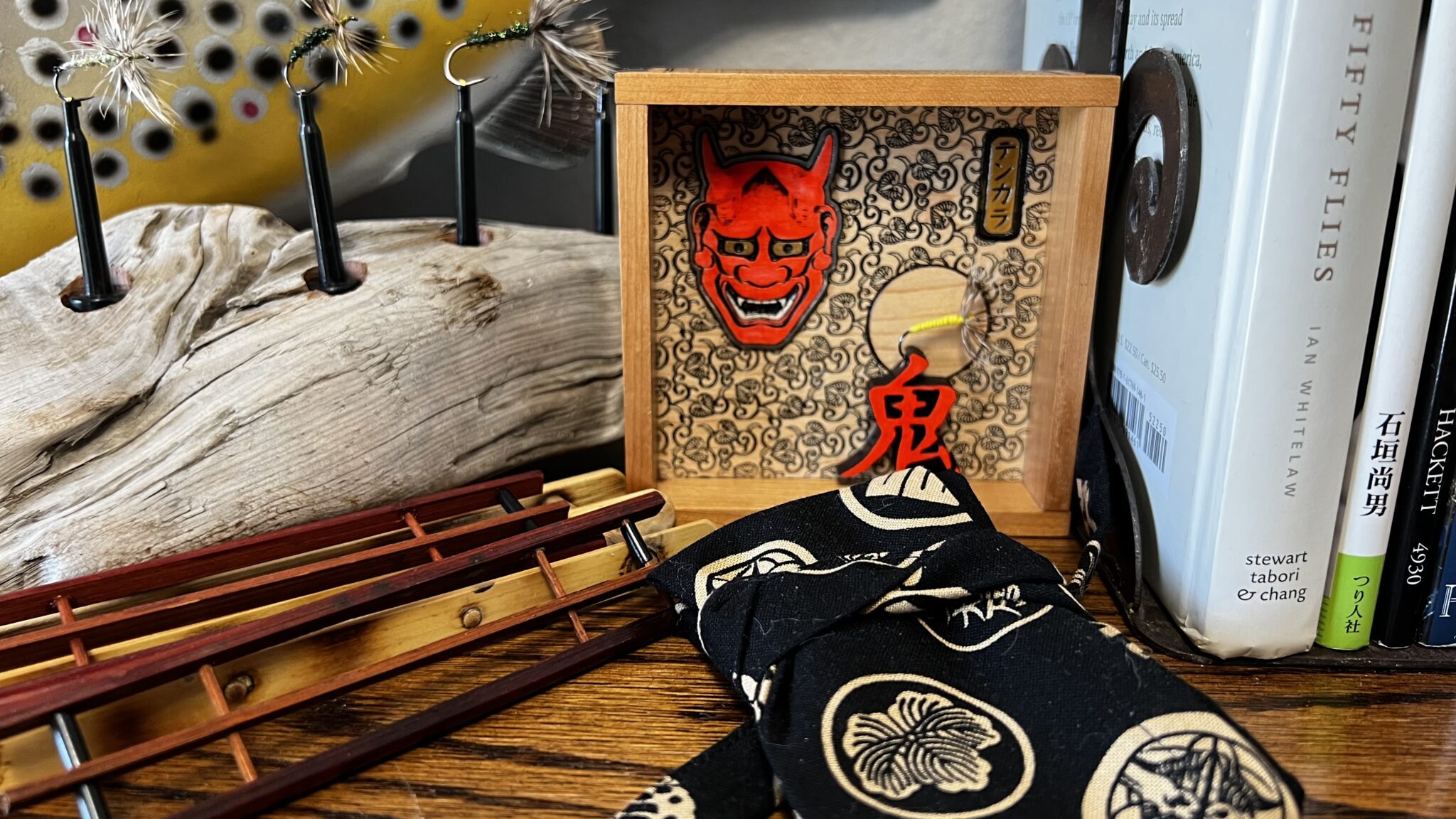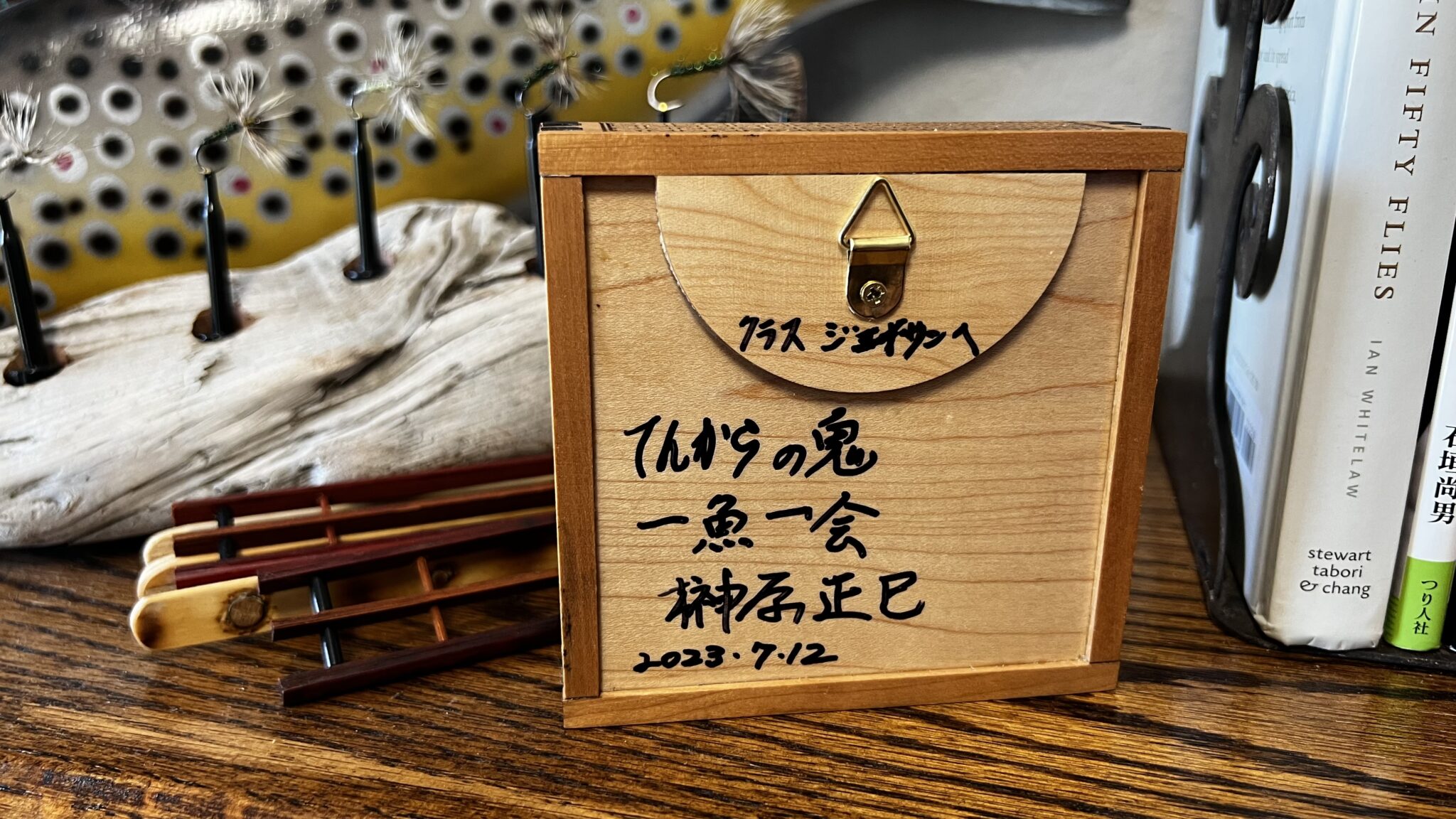 There was also a raffle for Oni flies.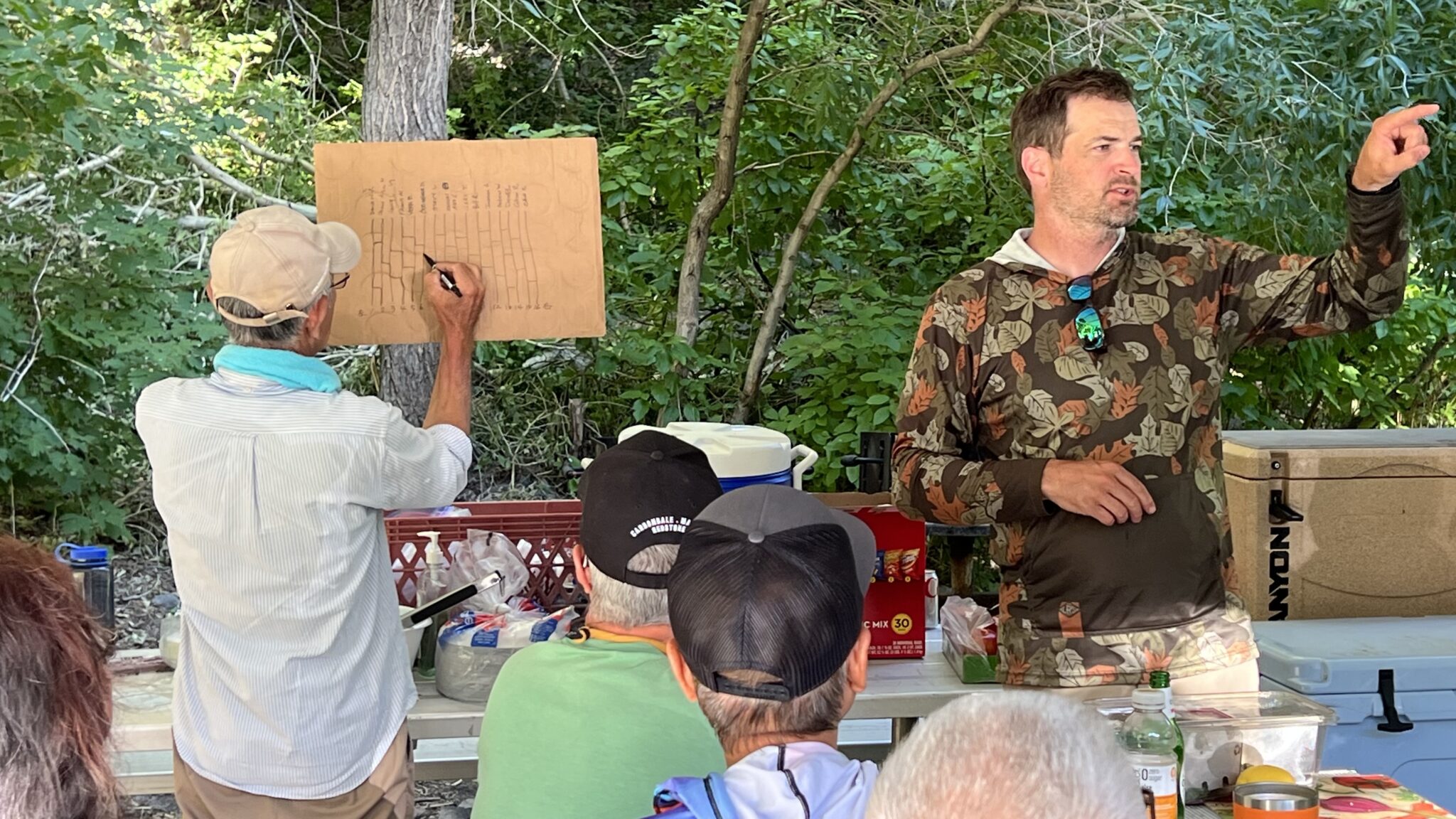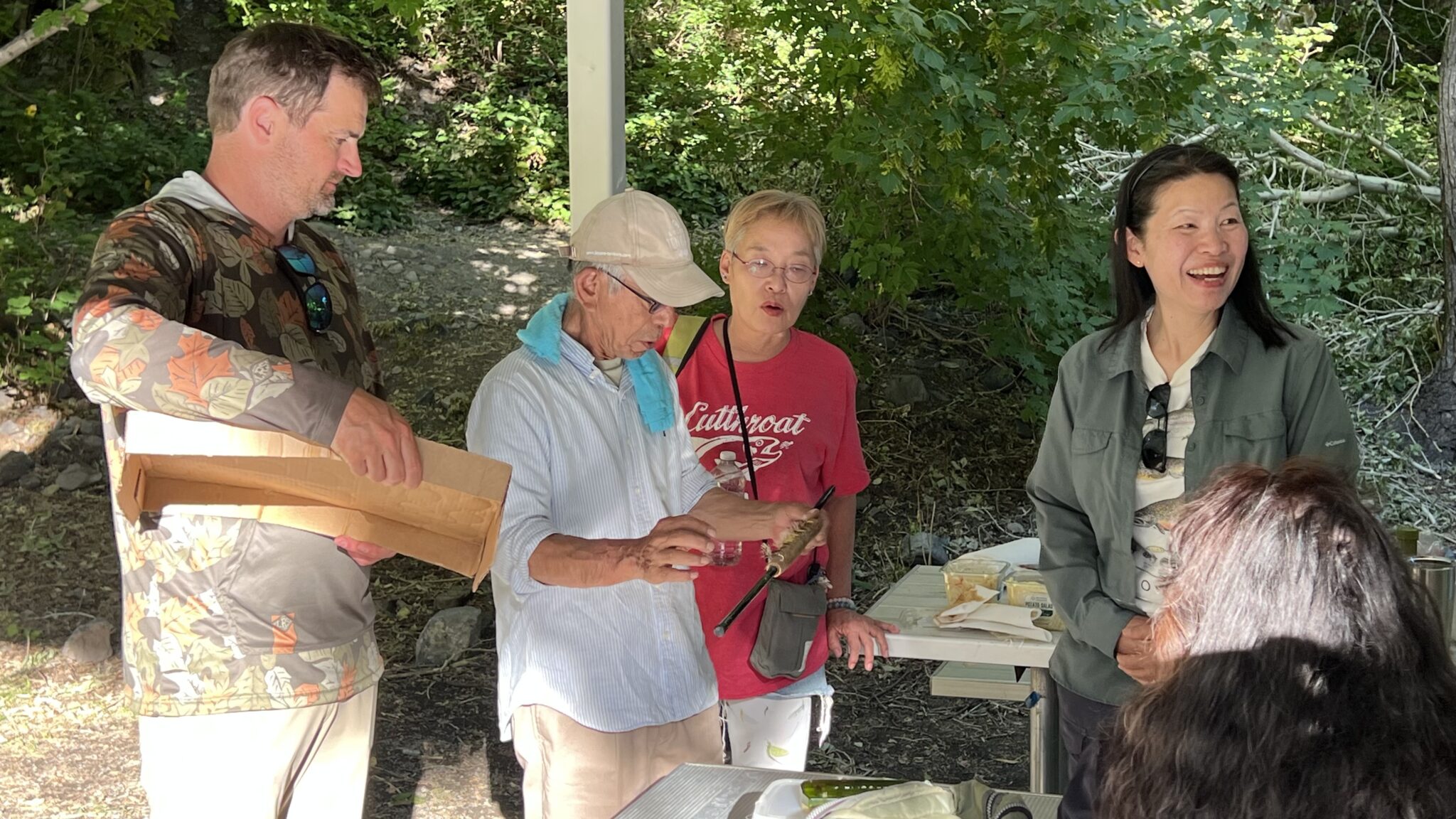 Here's the one I won. It's huge–over 1.5 inches from hook bend to hackle tip!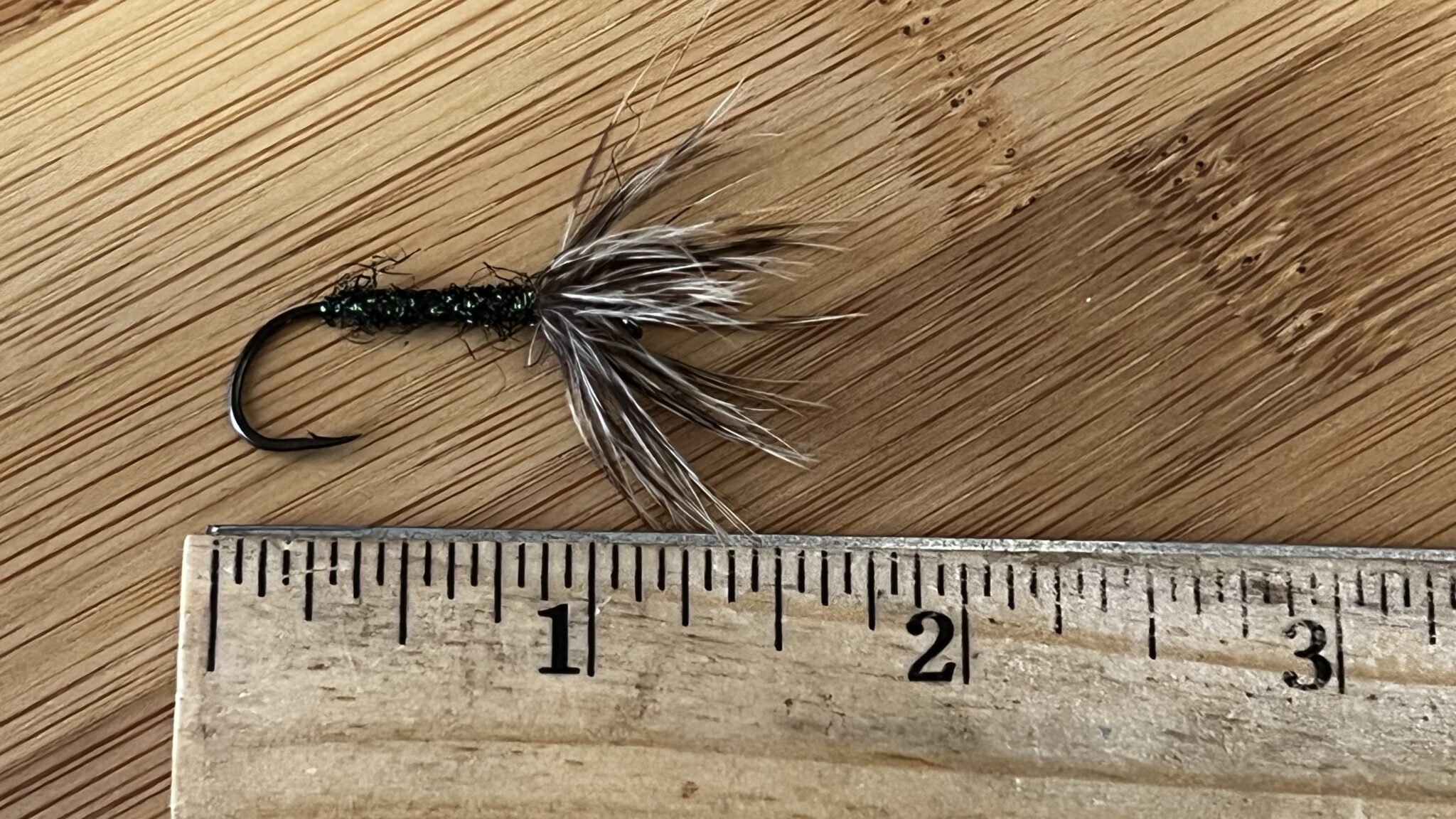 ---
Farewell Address
---
Random Pics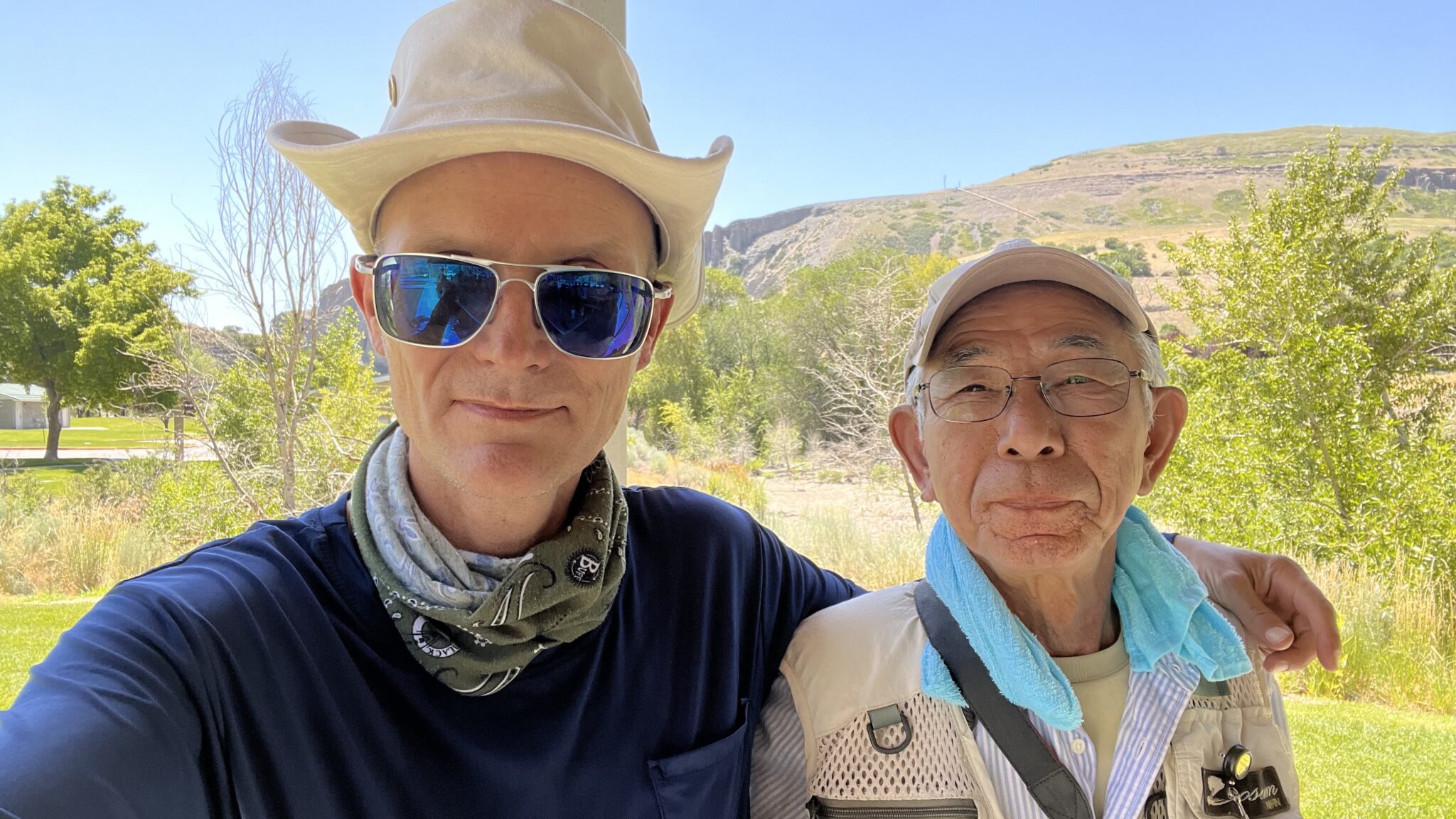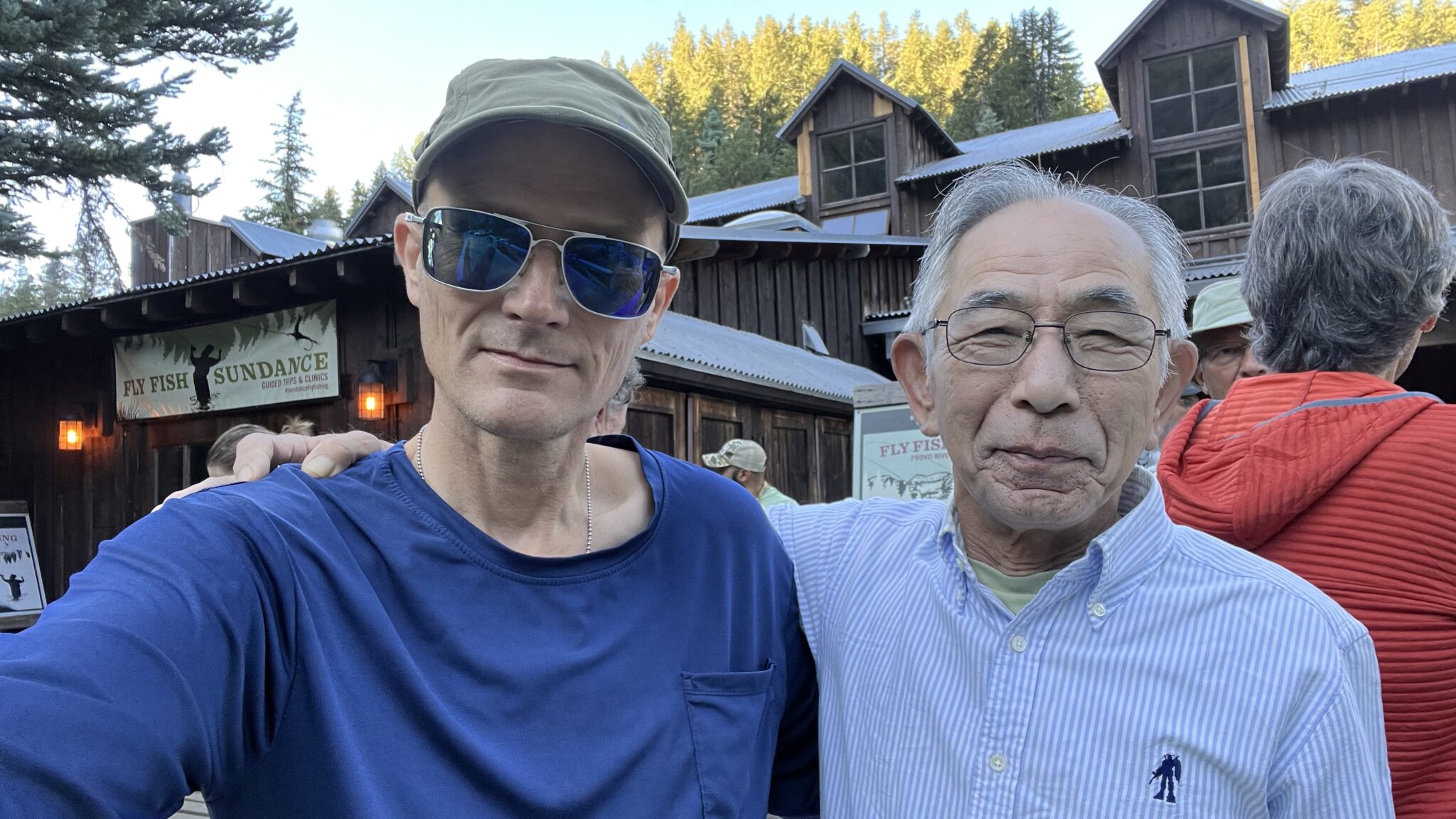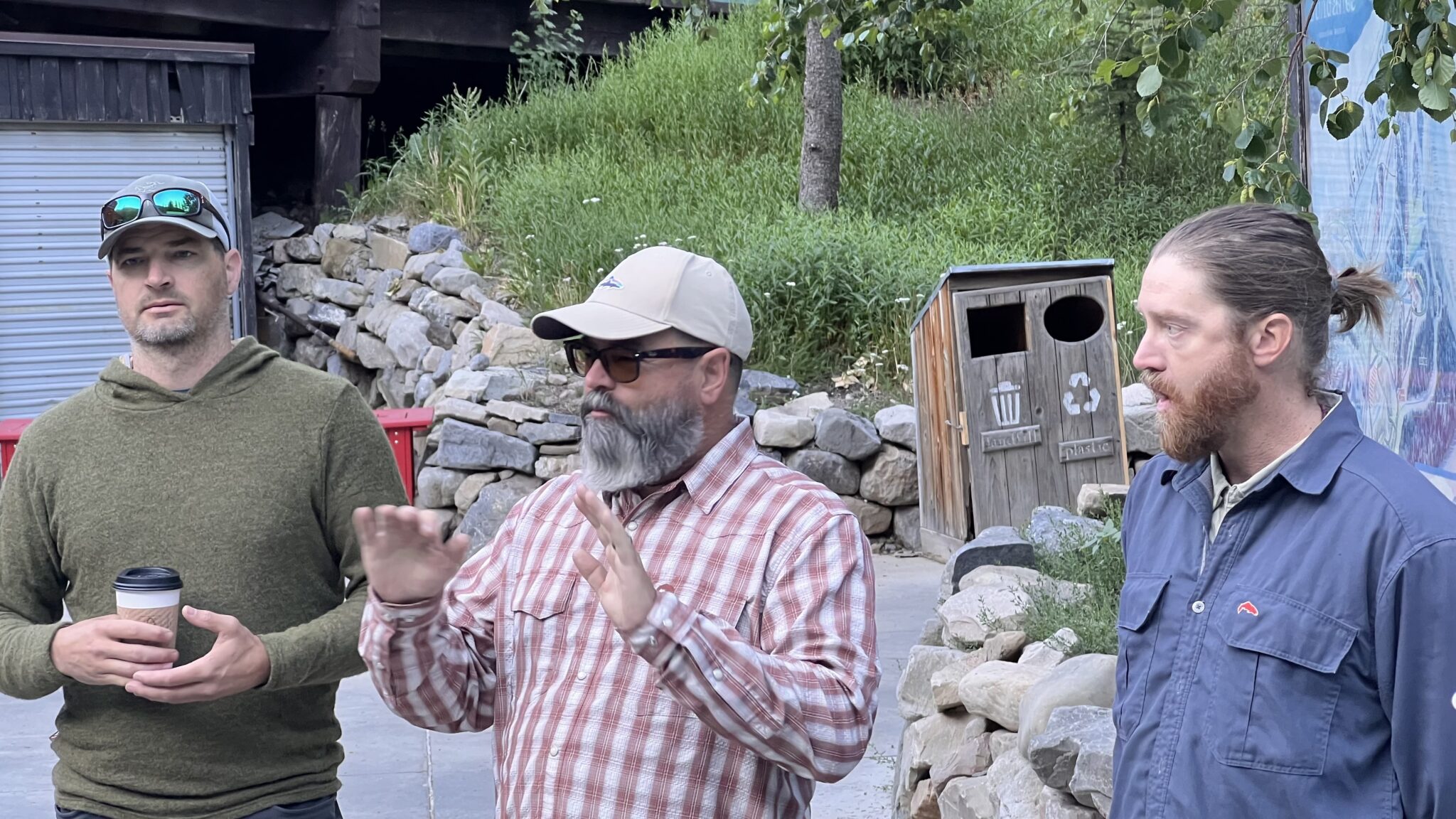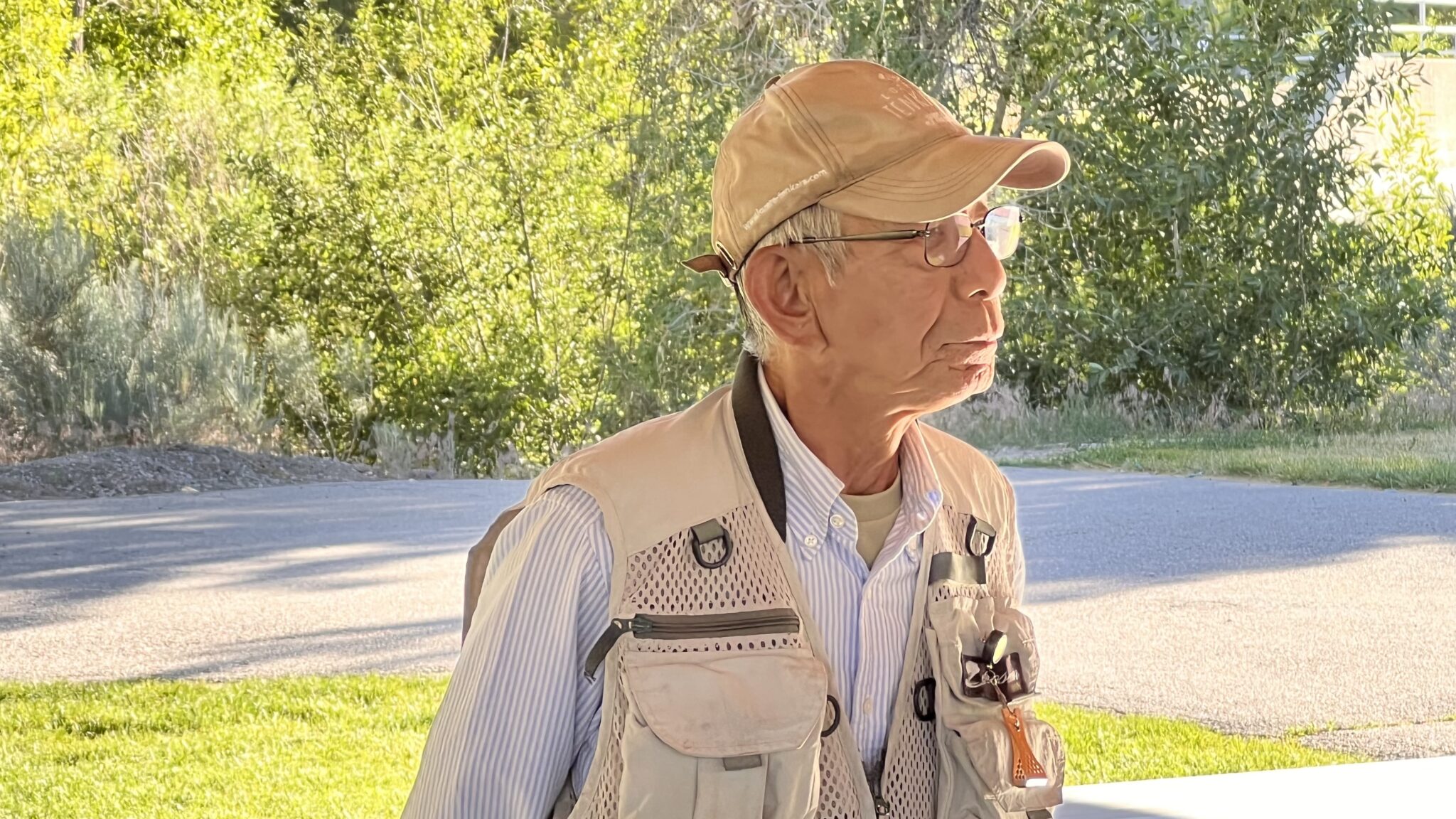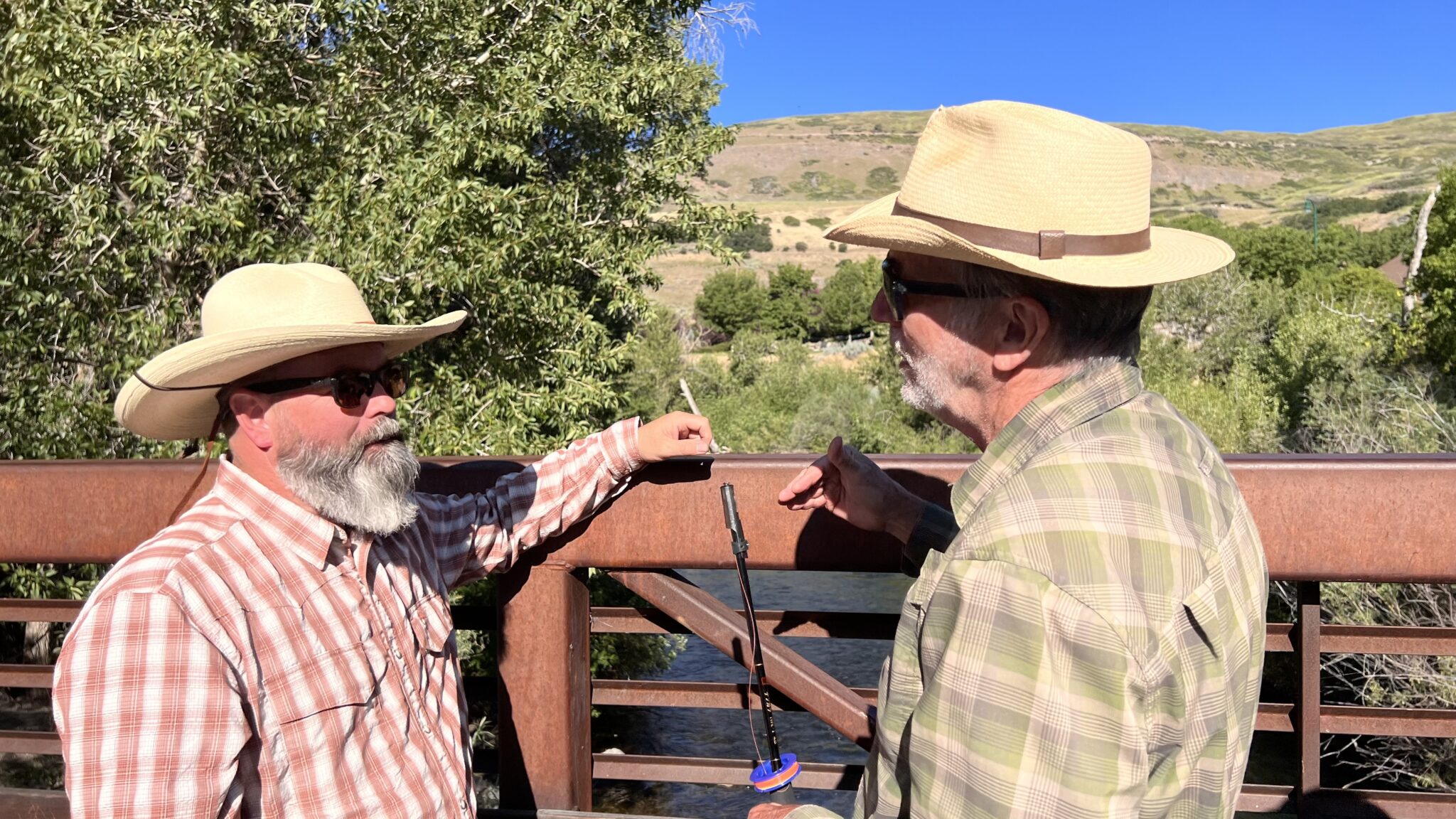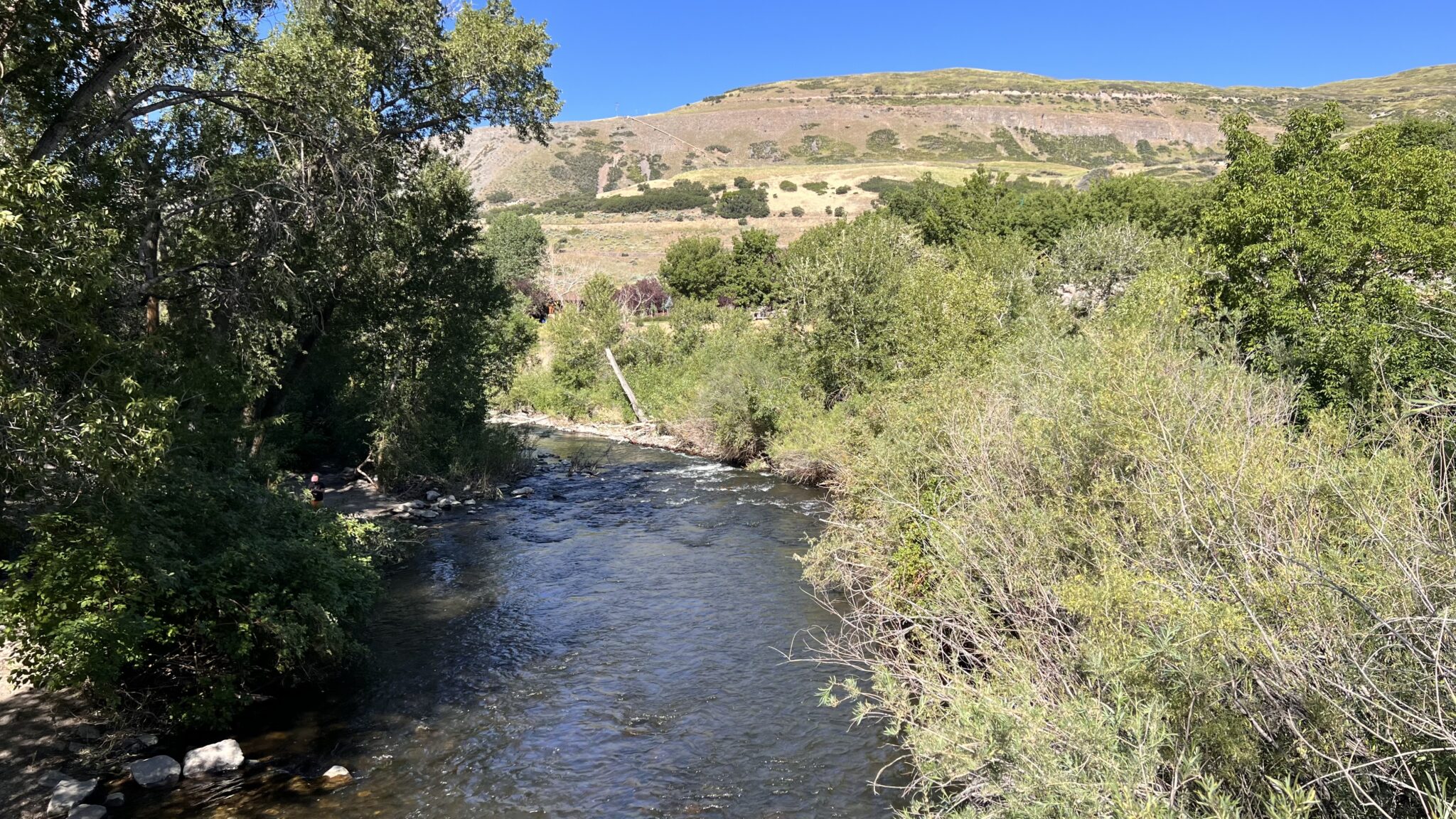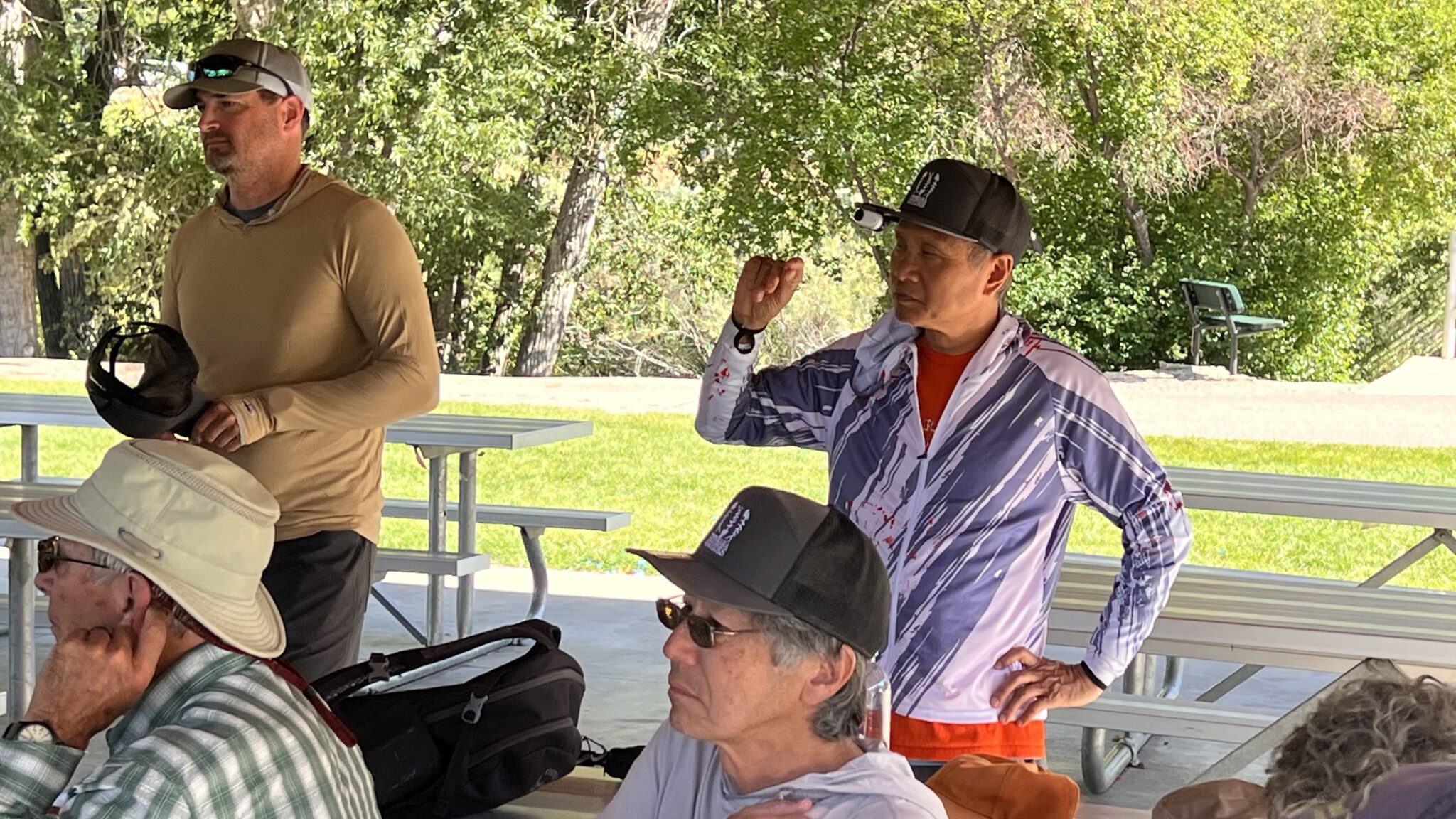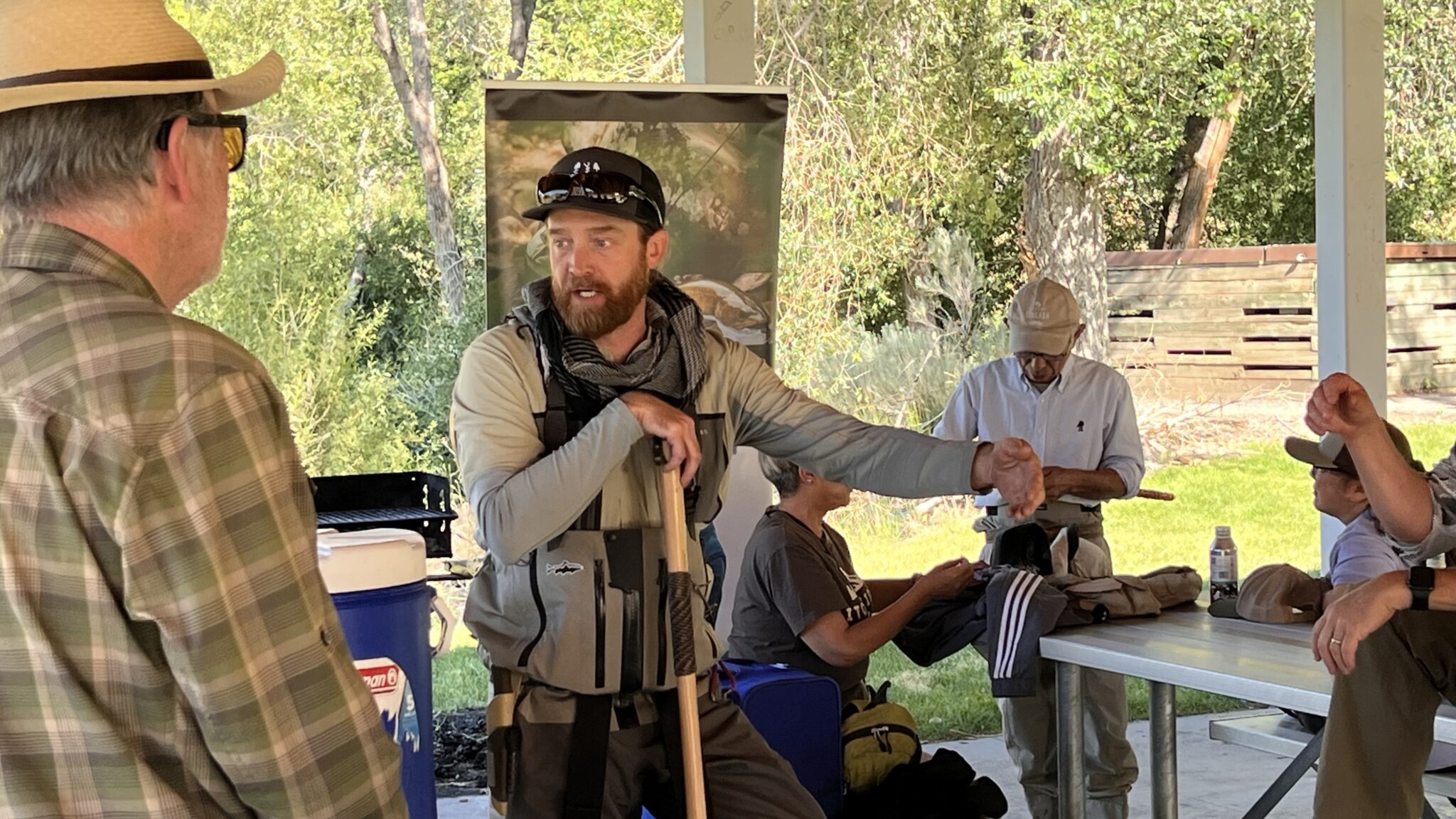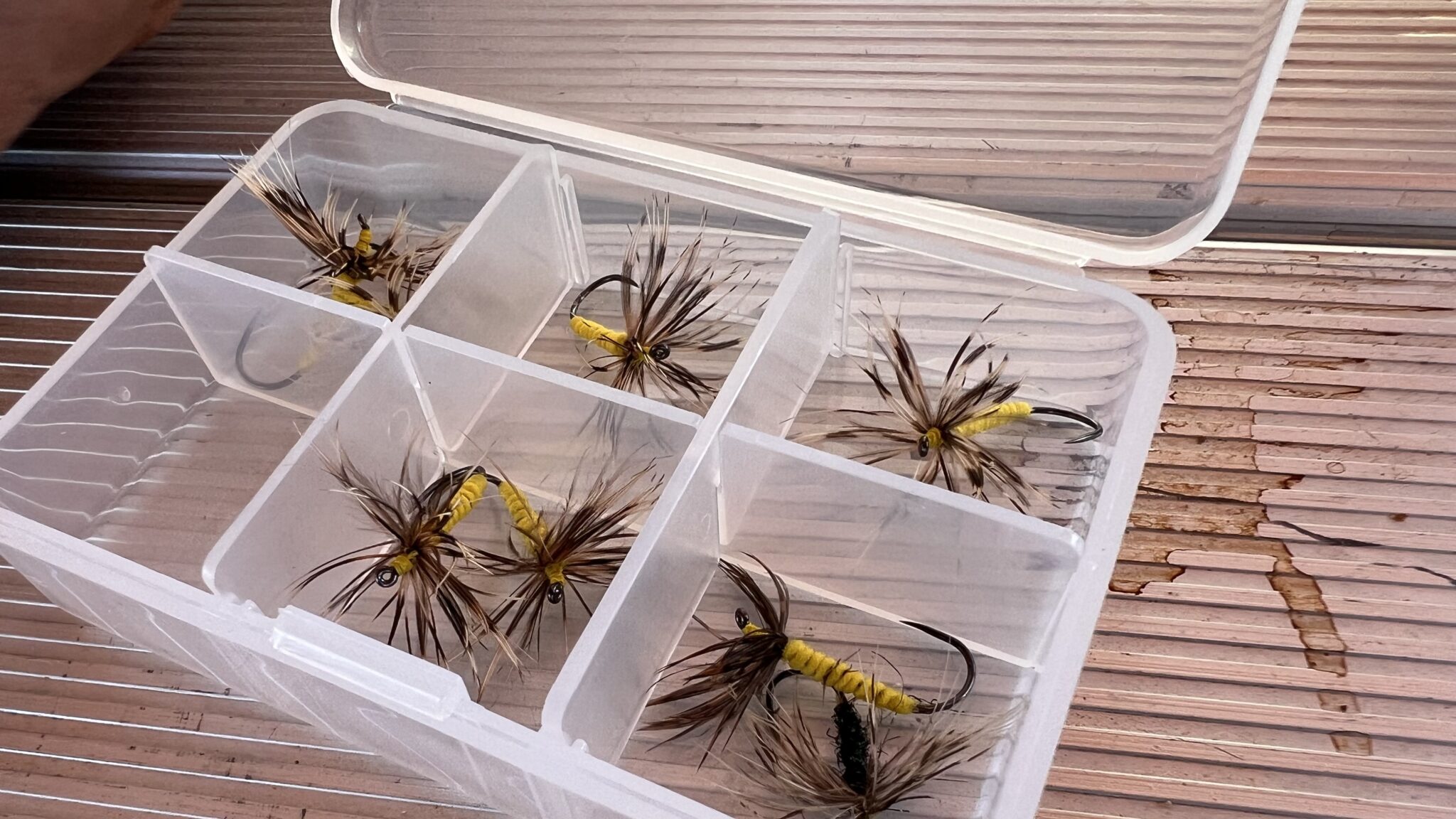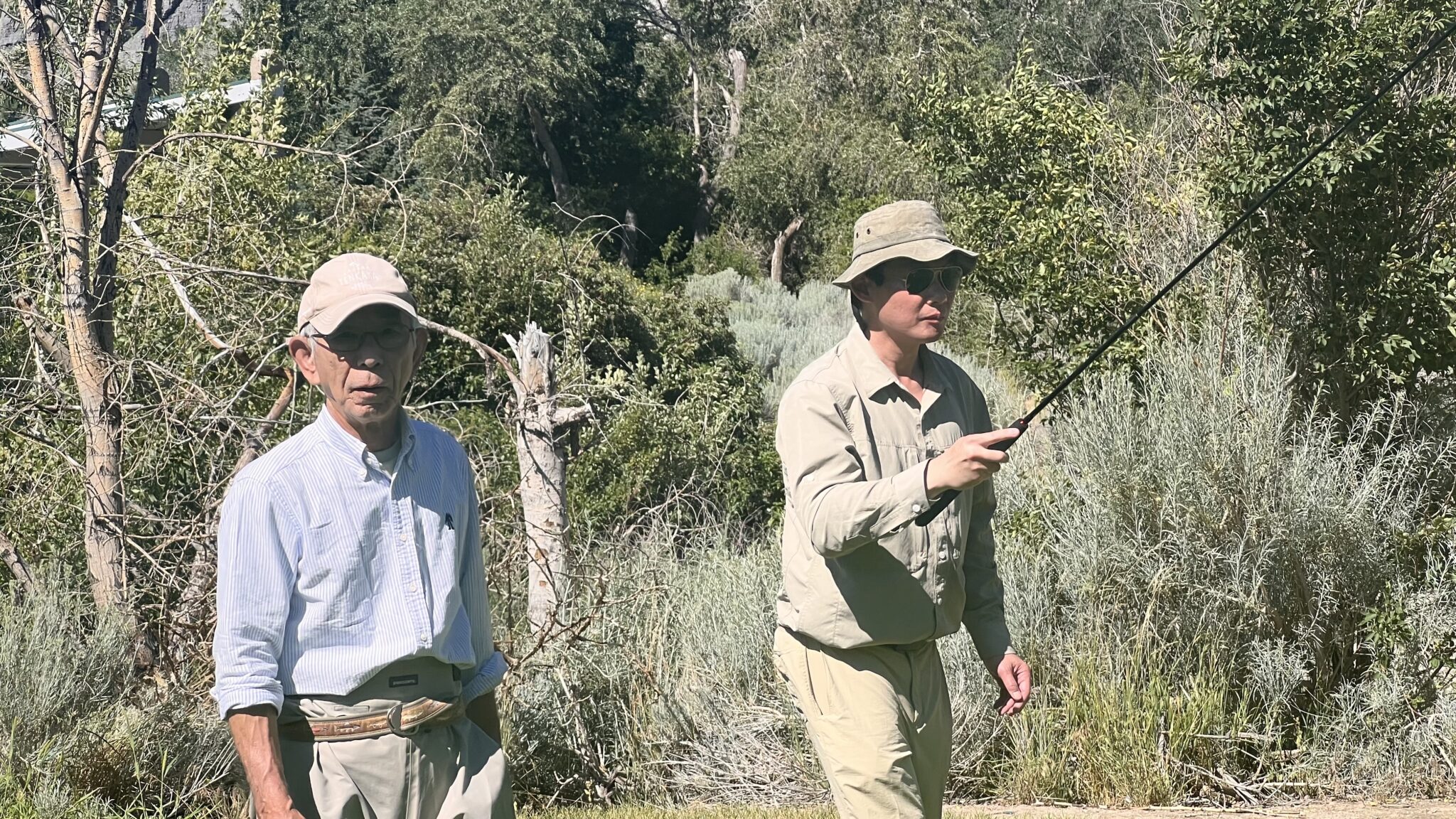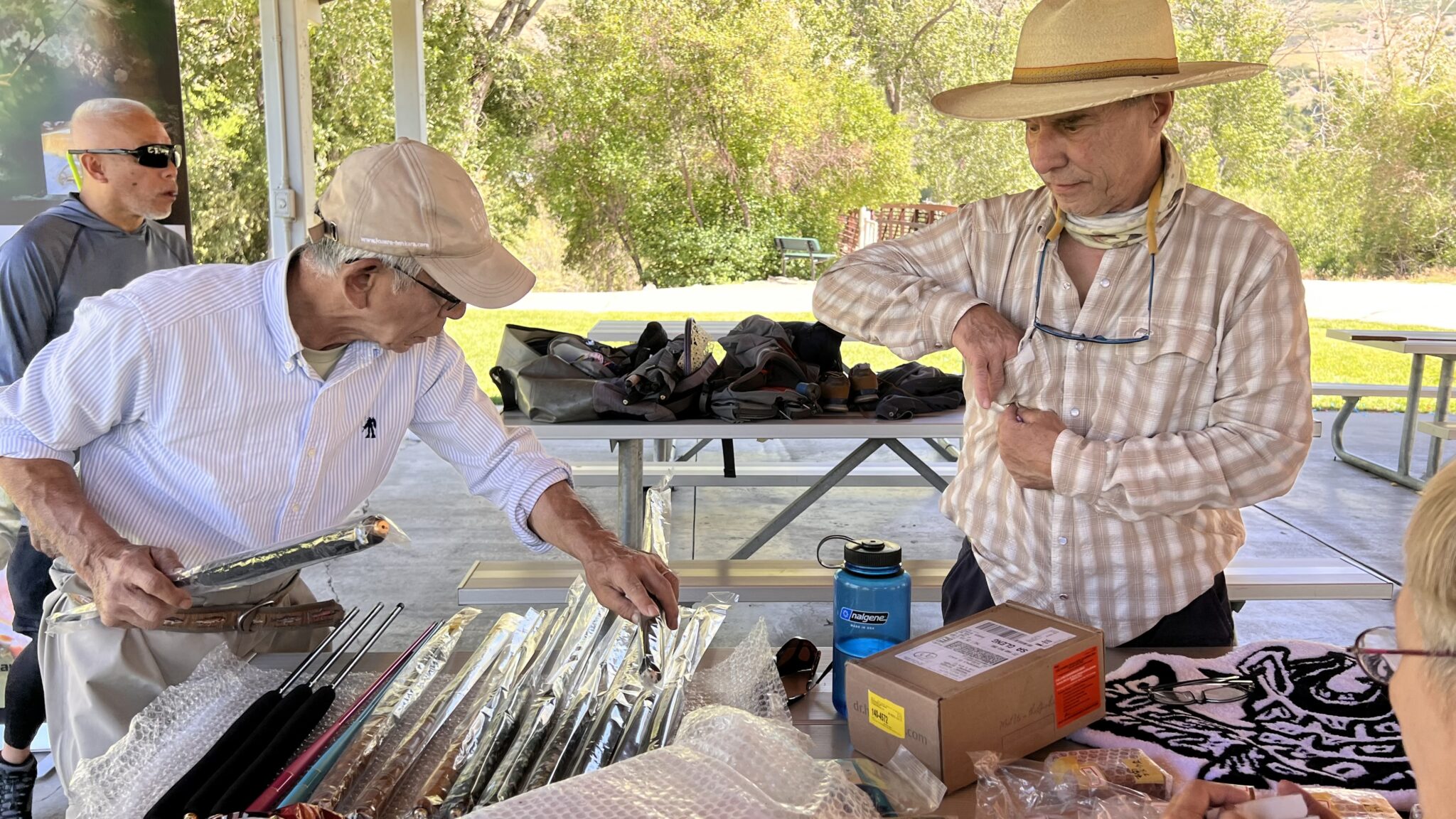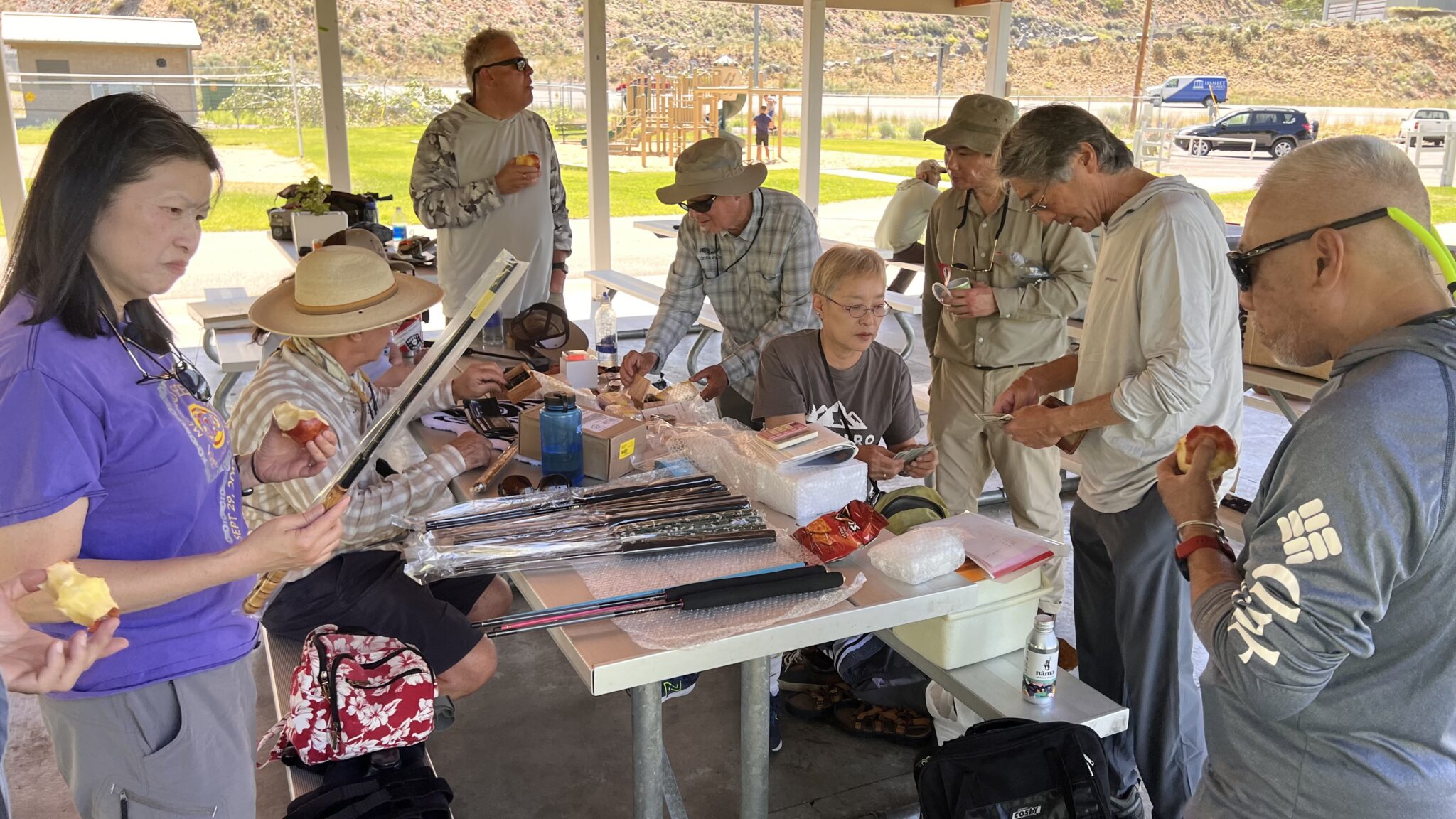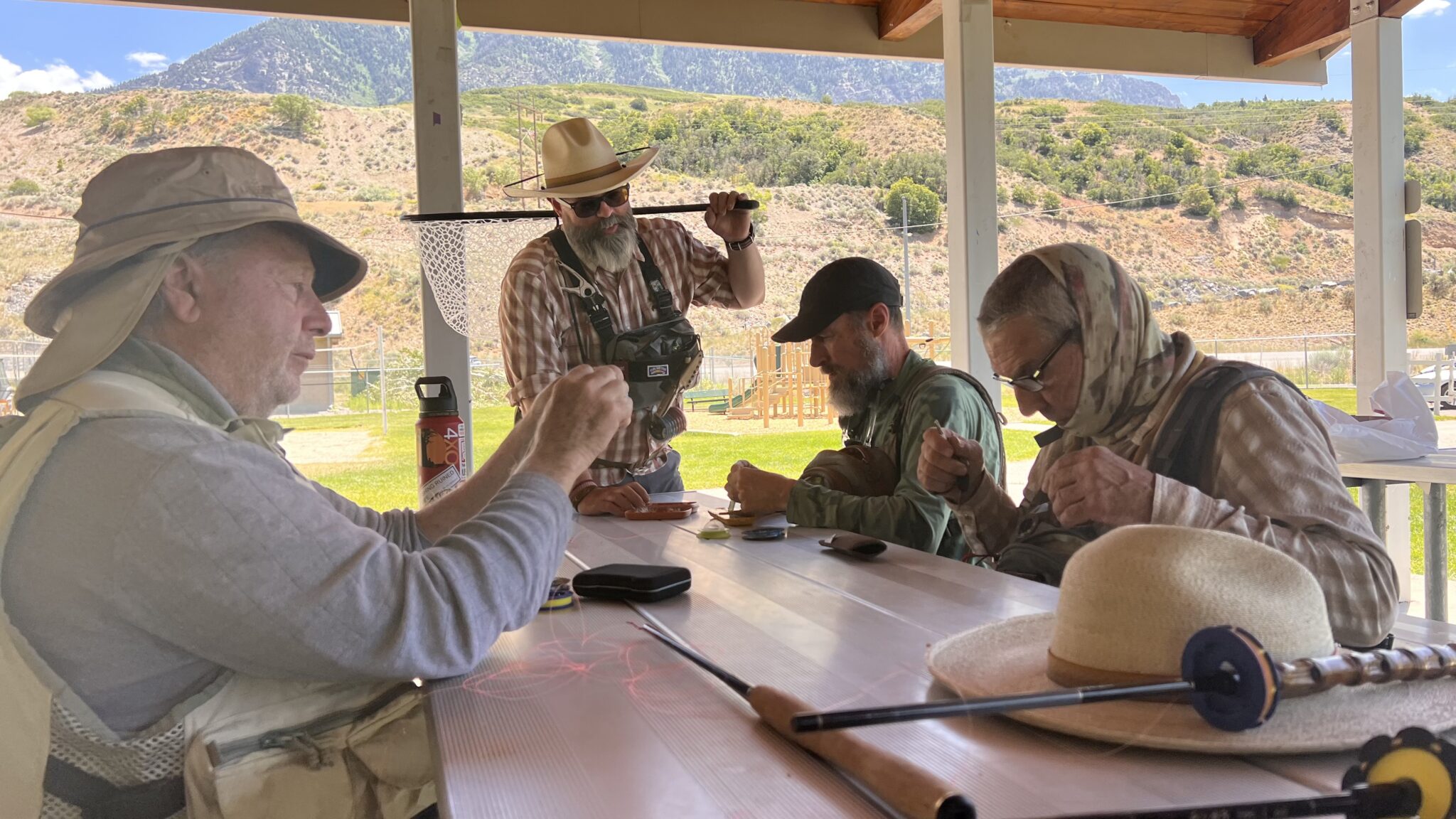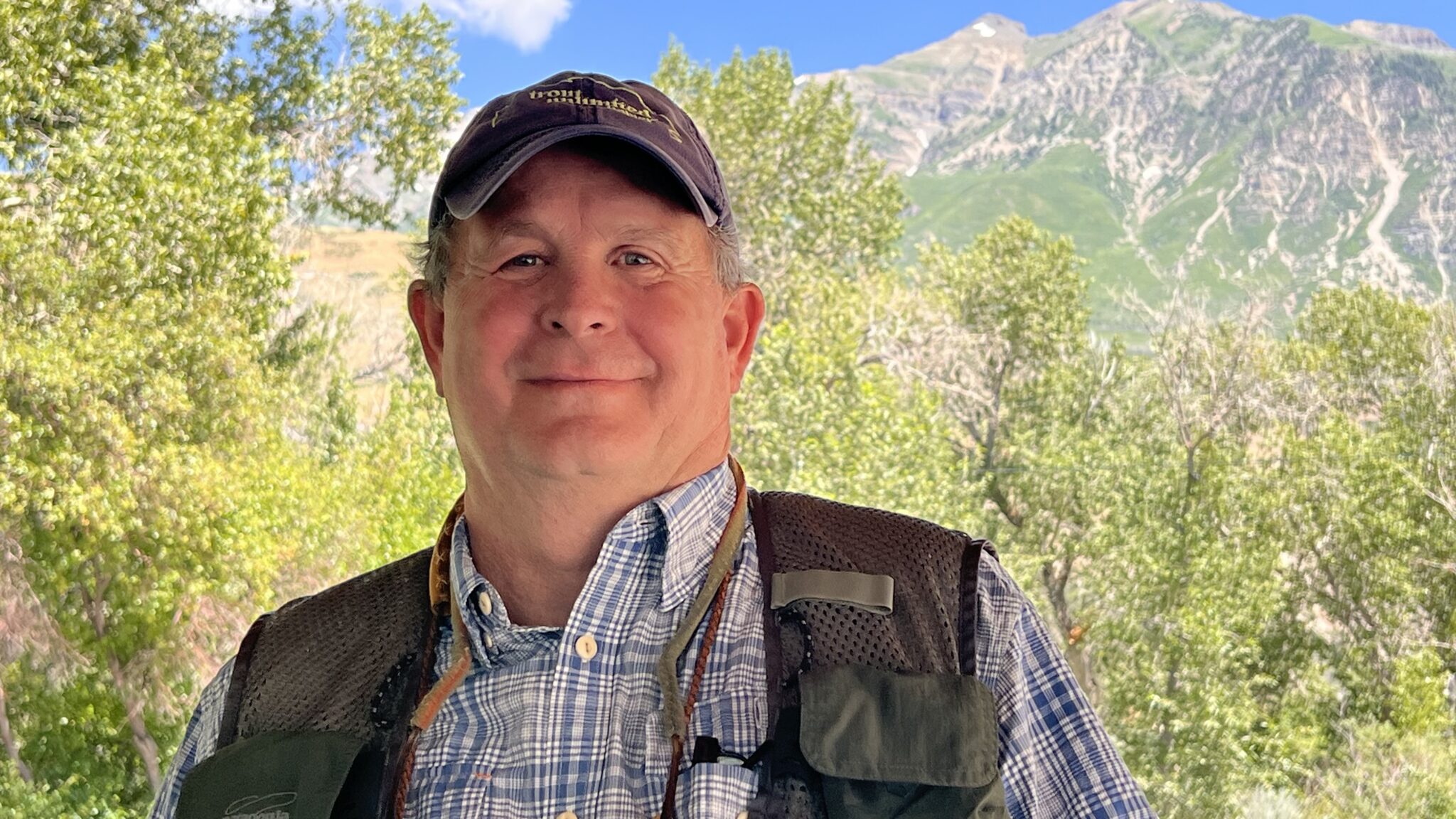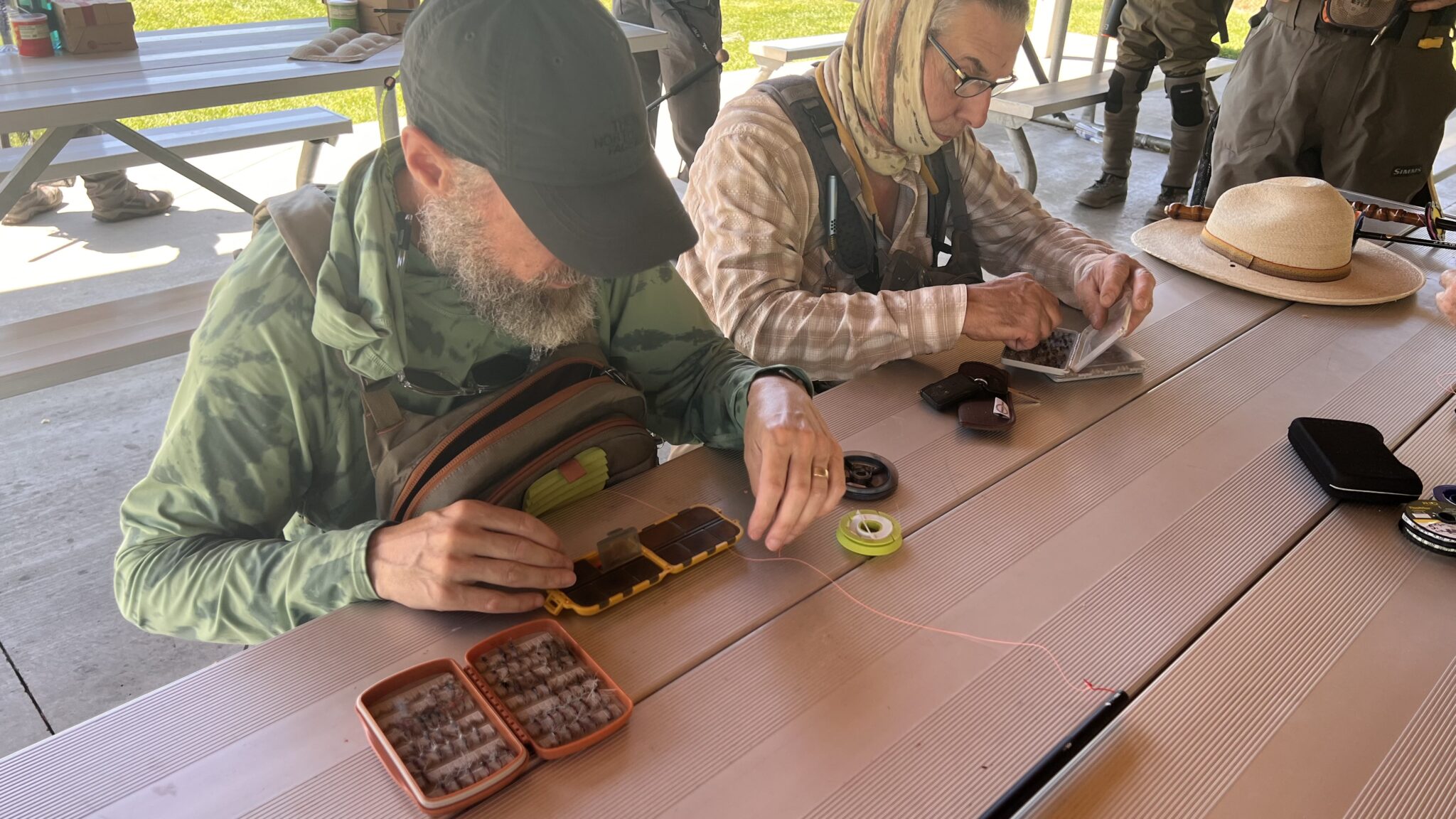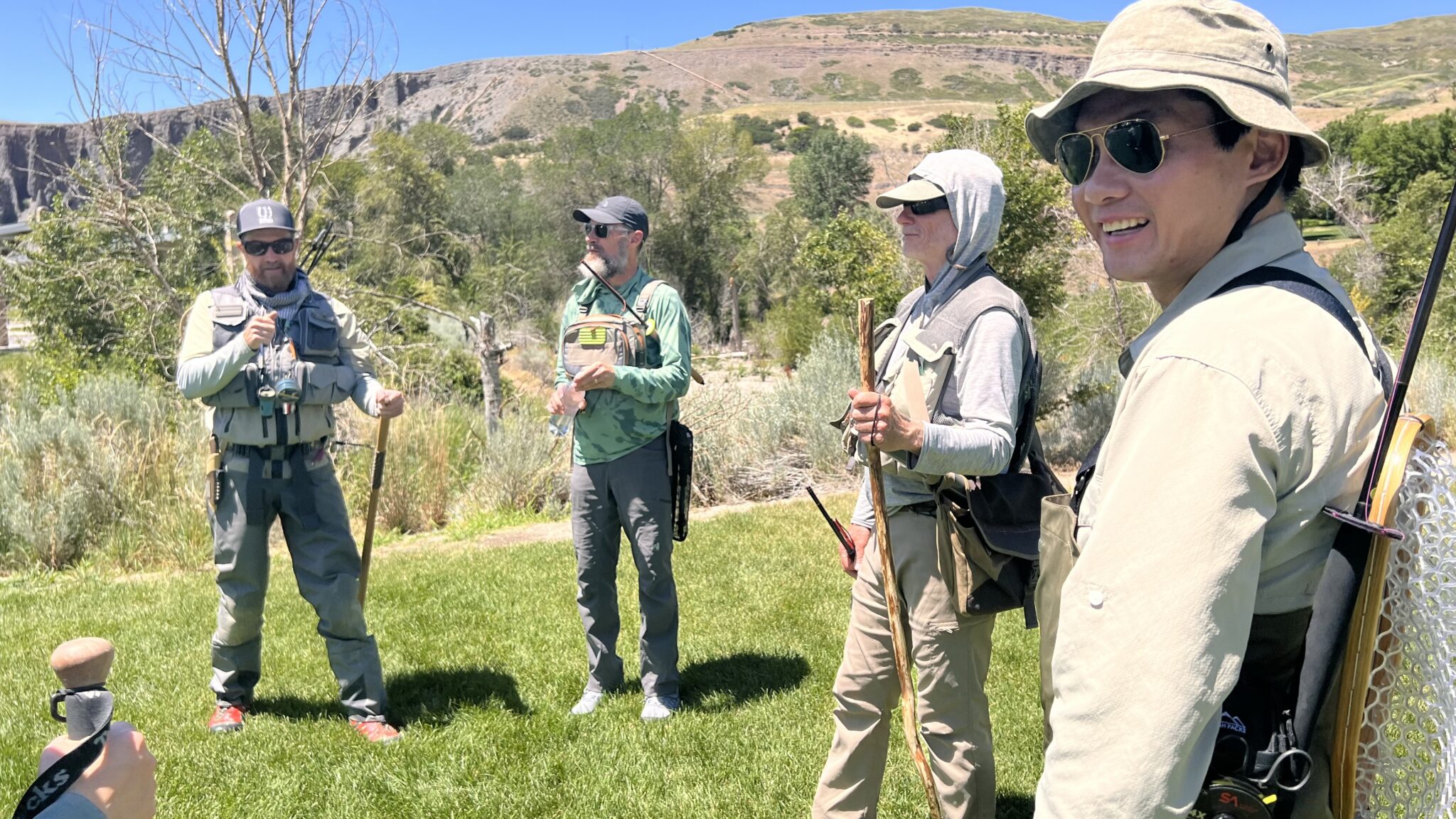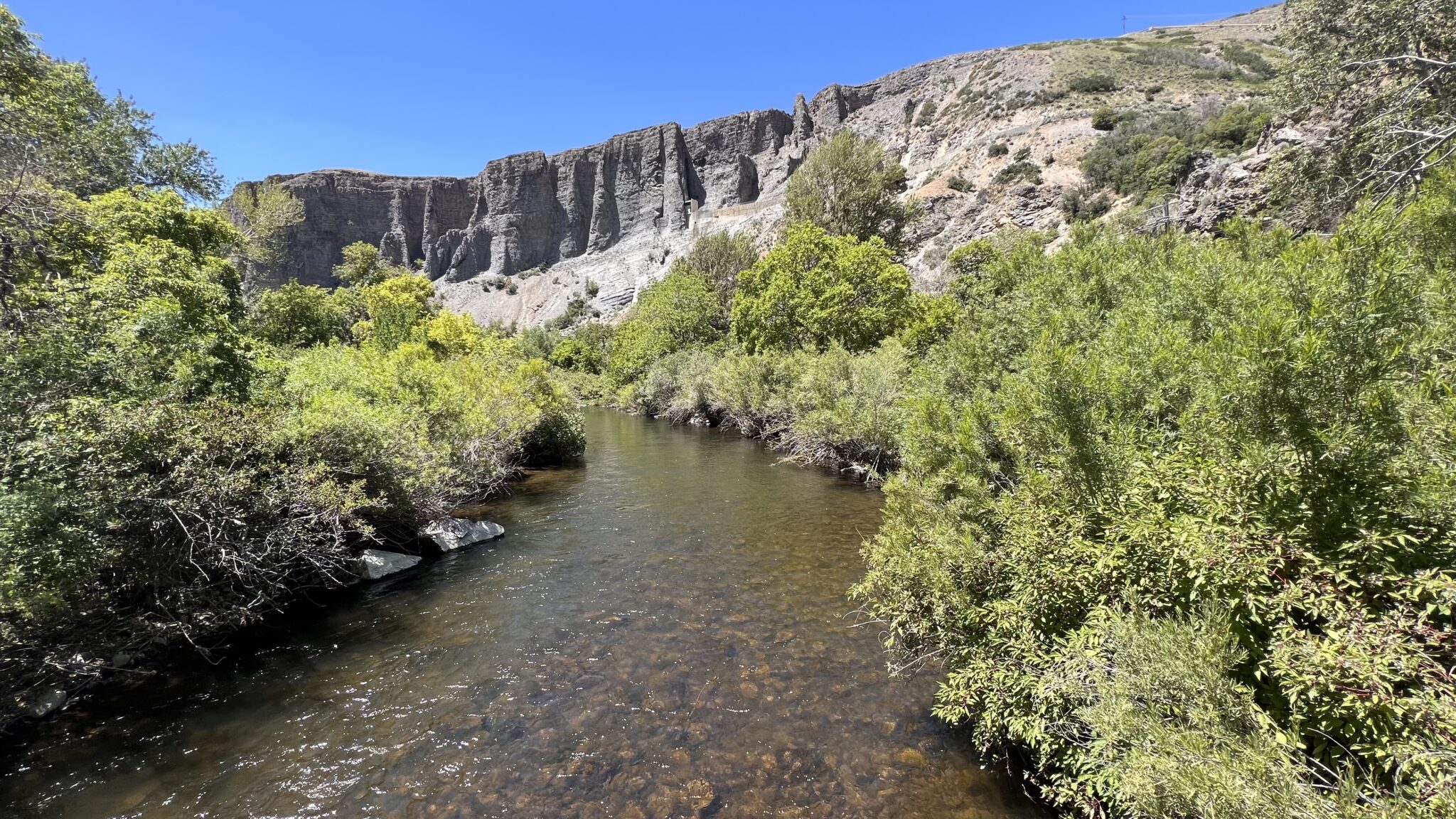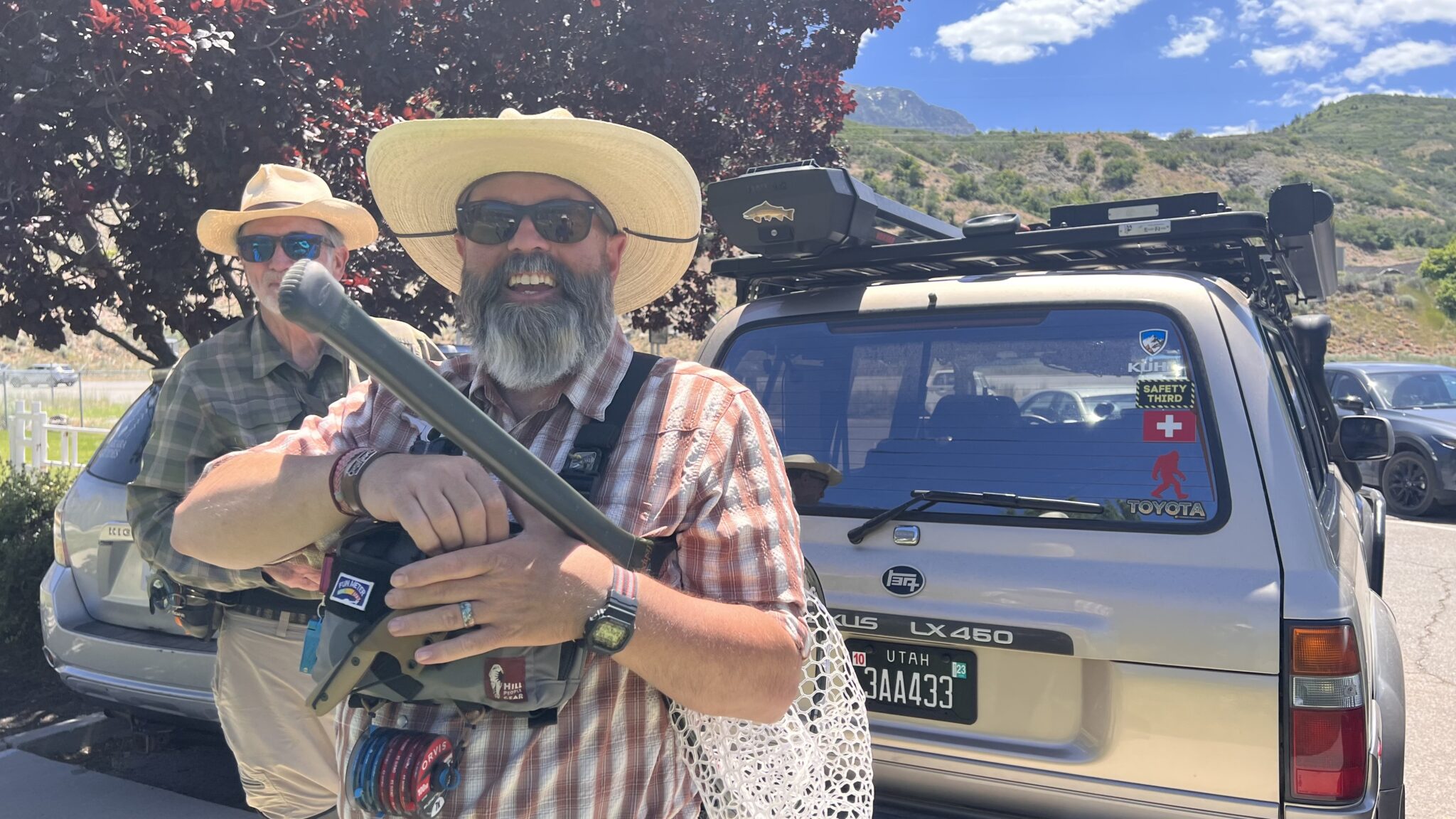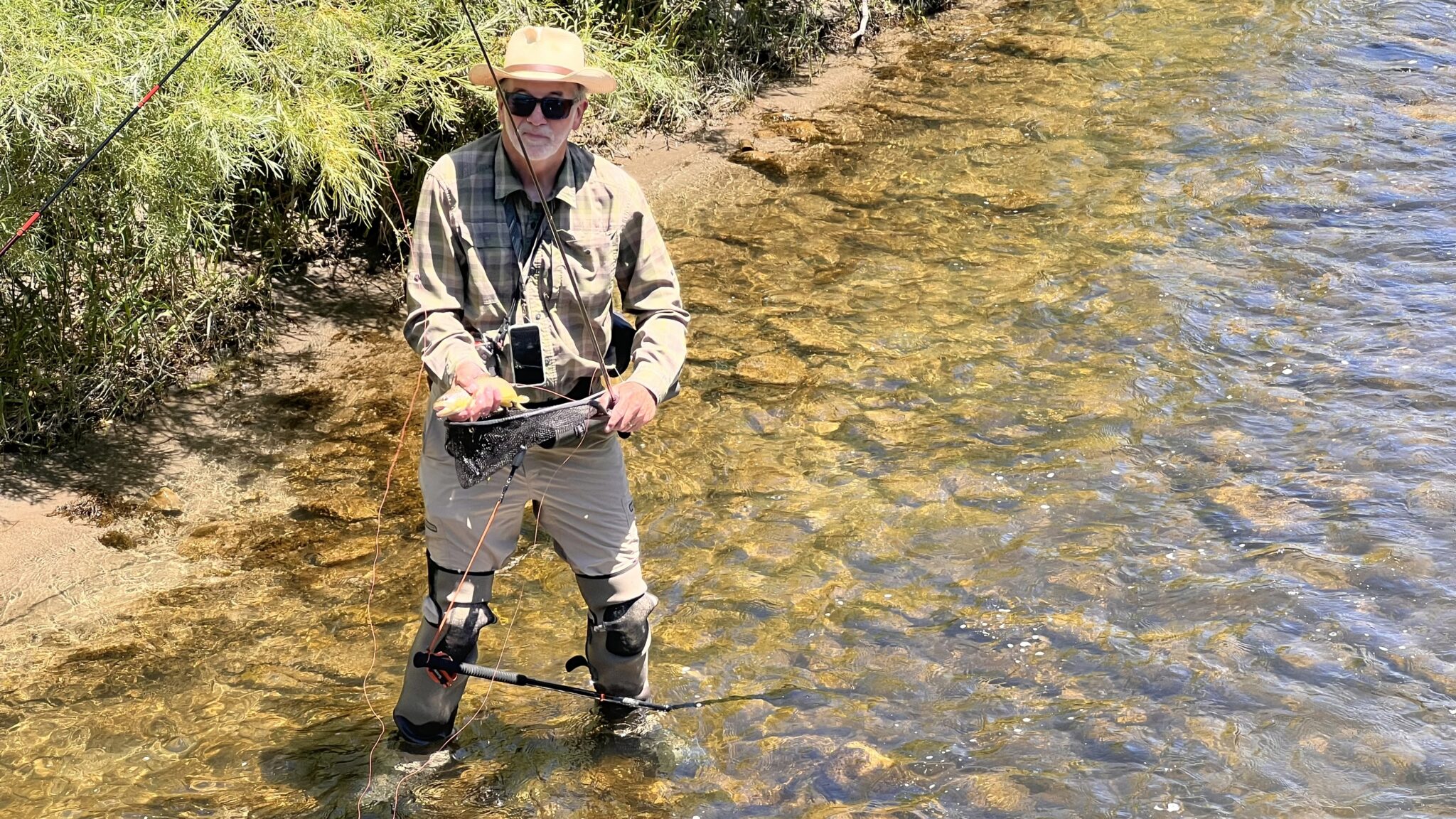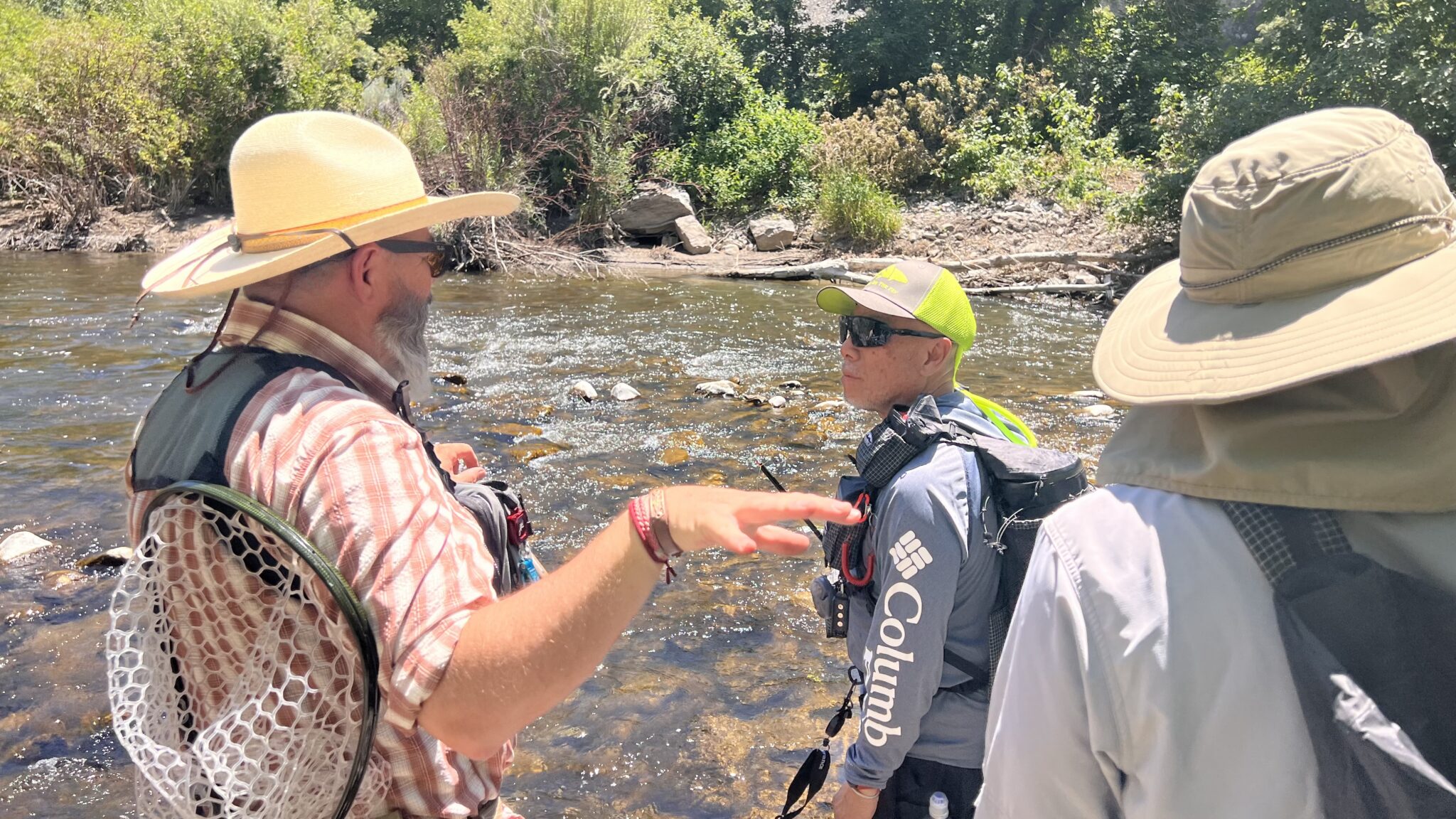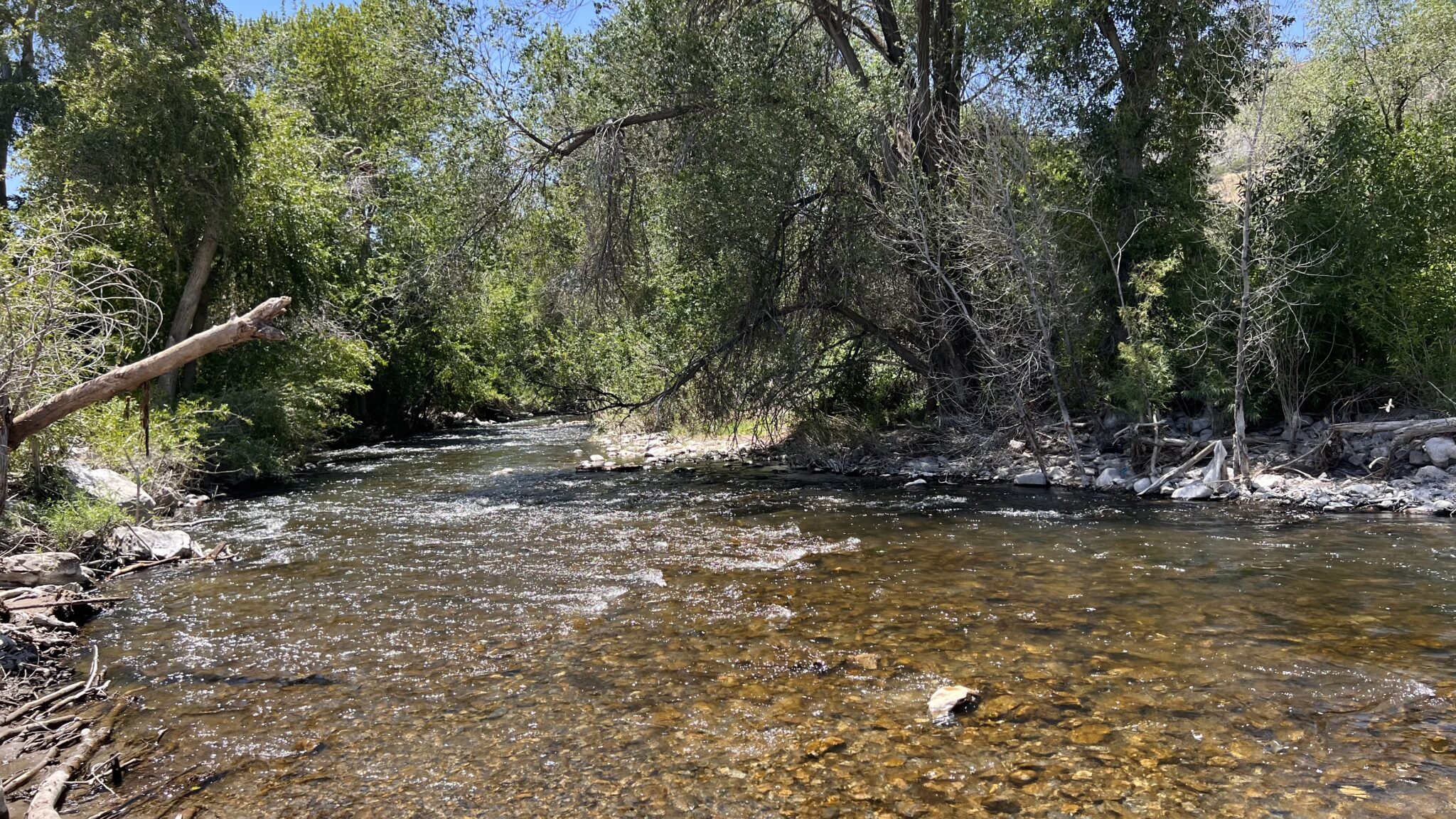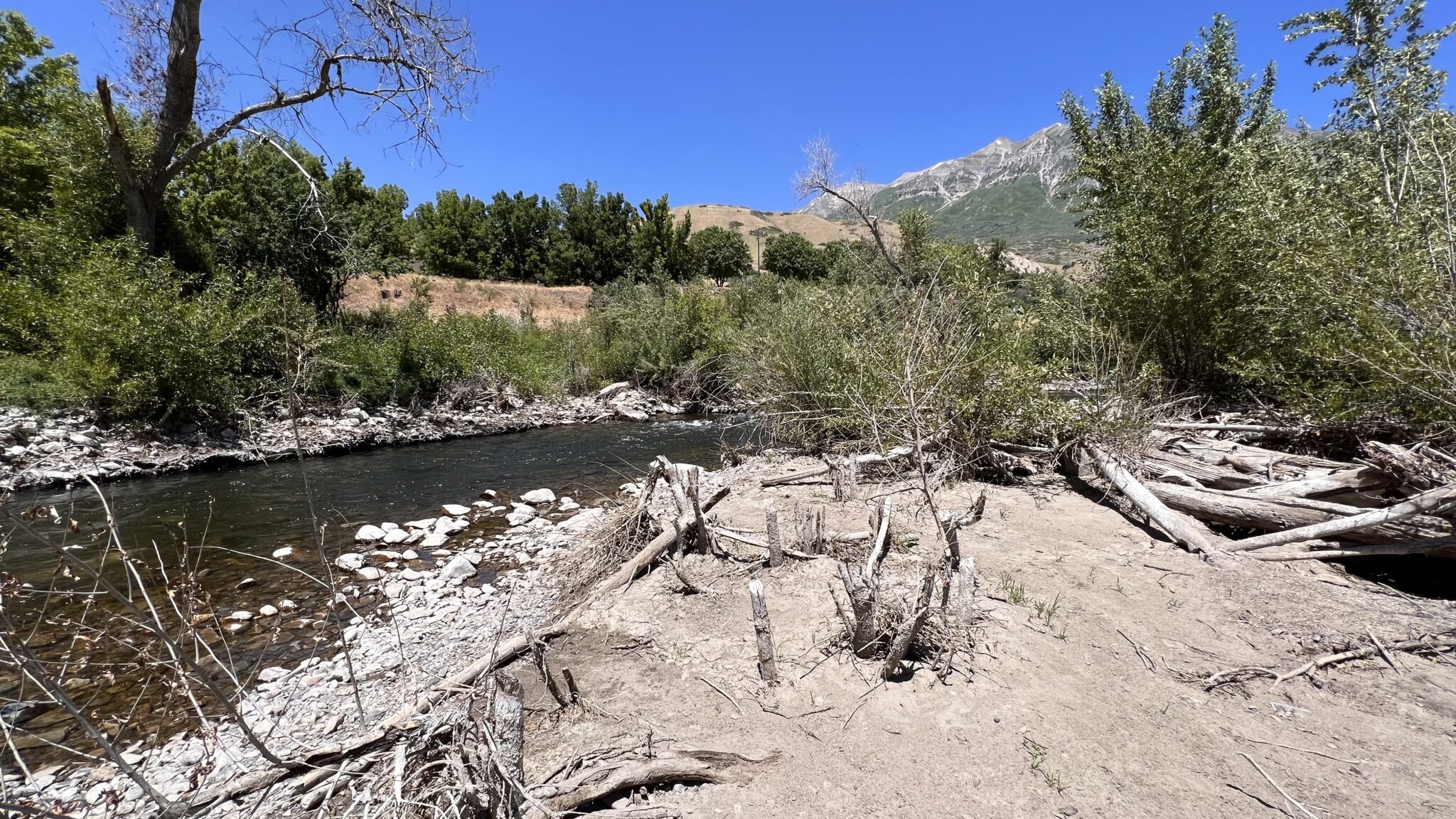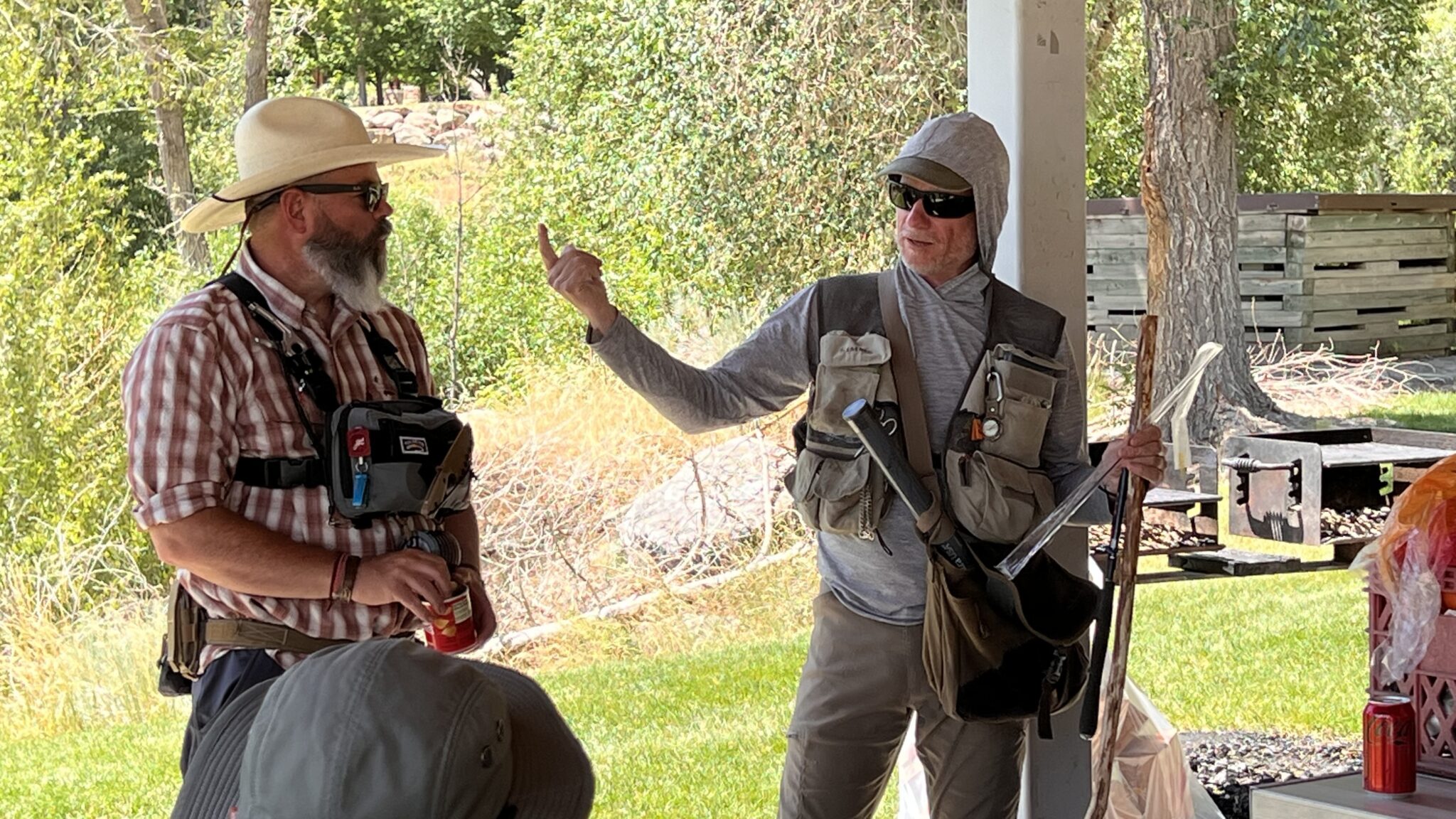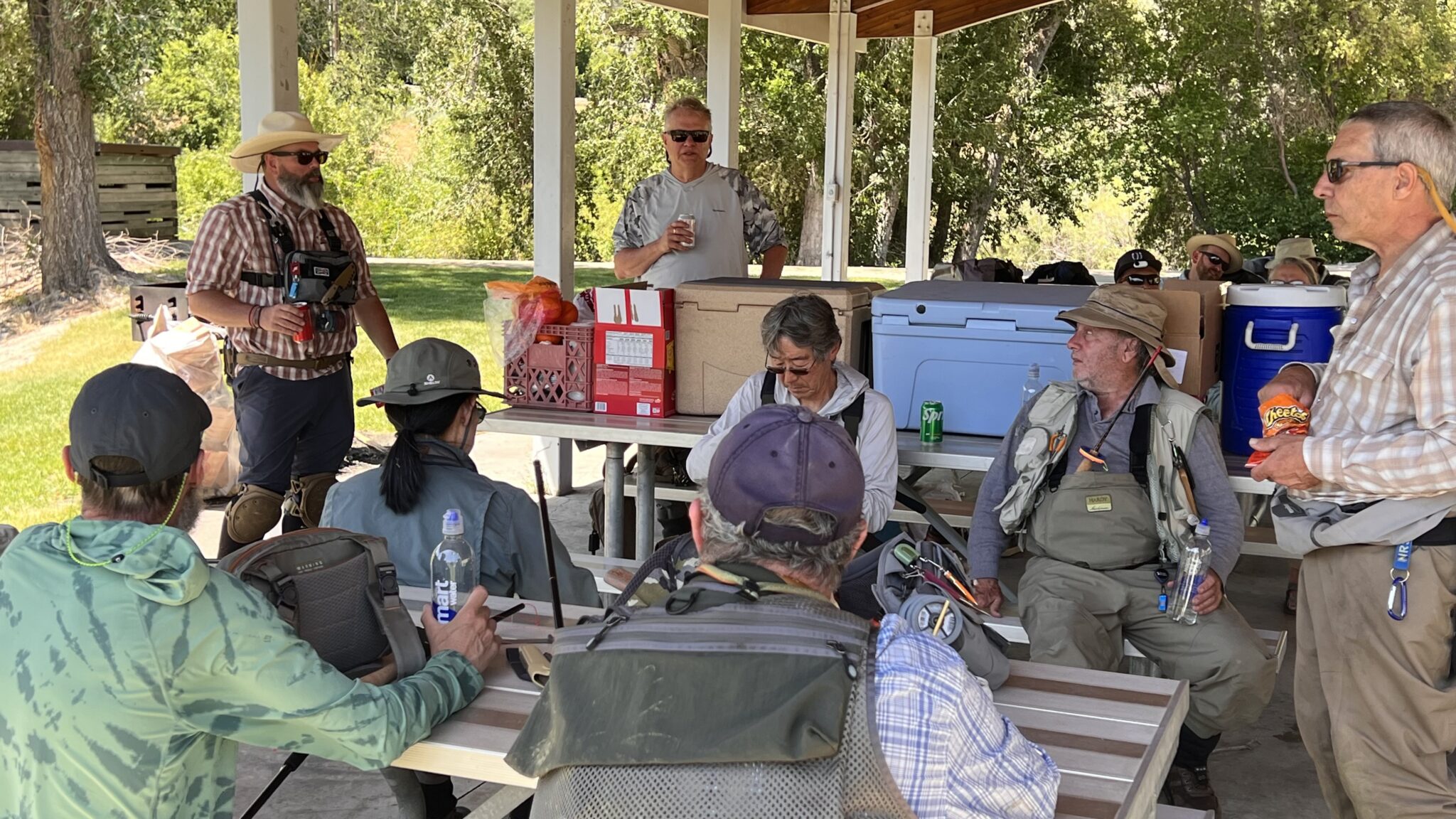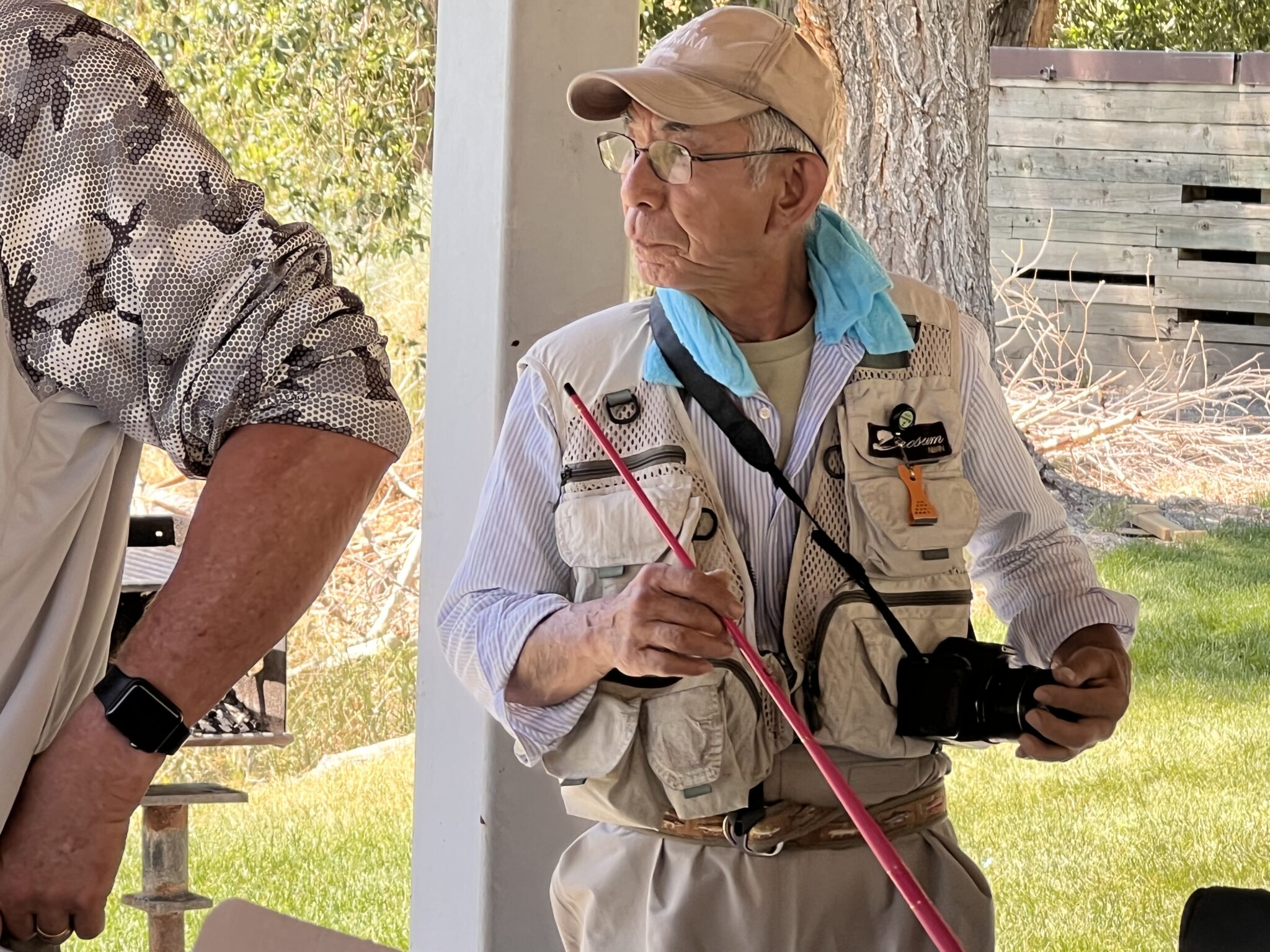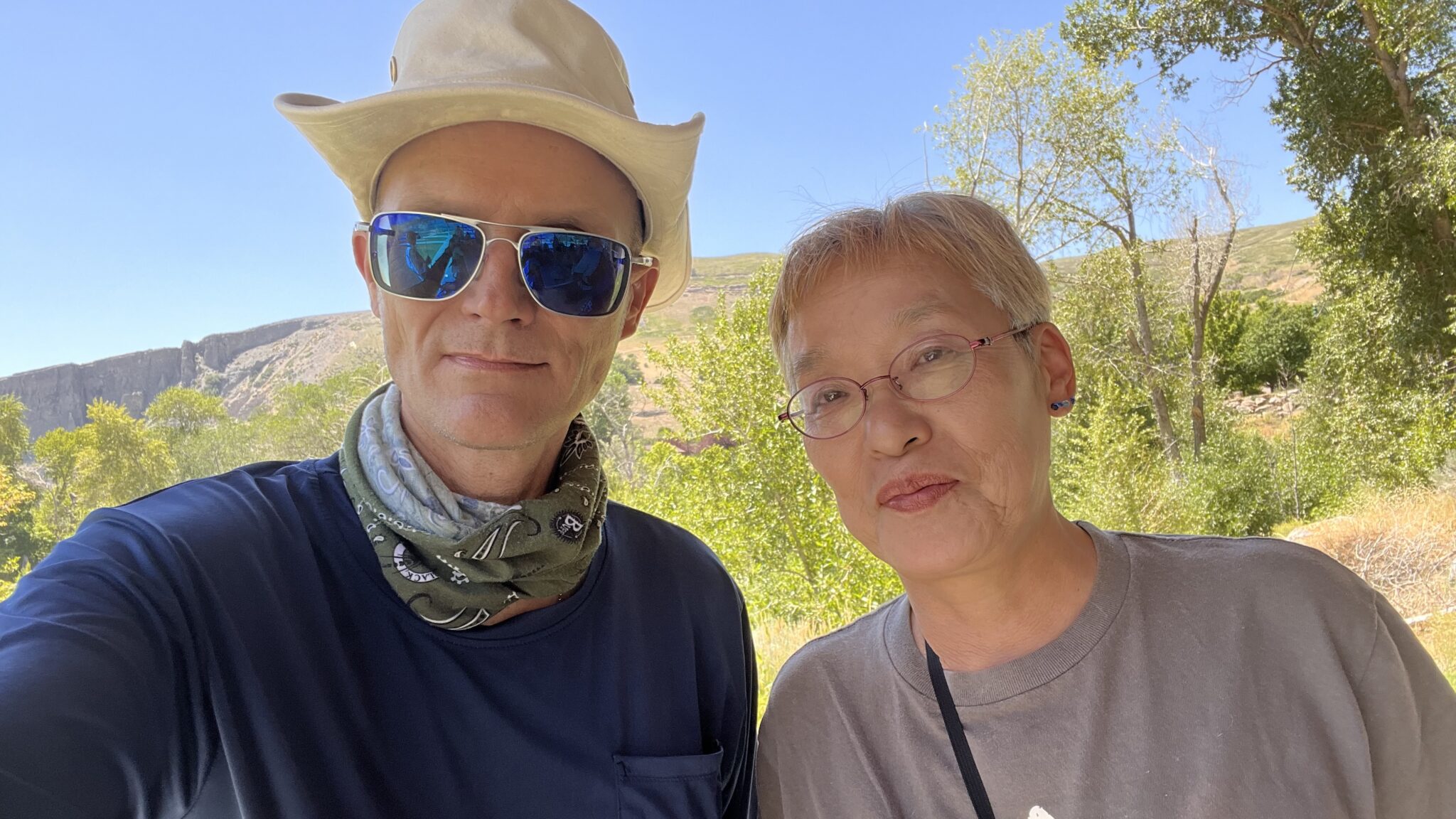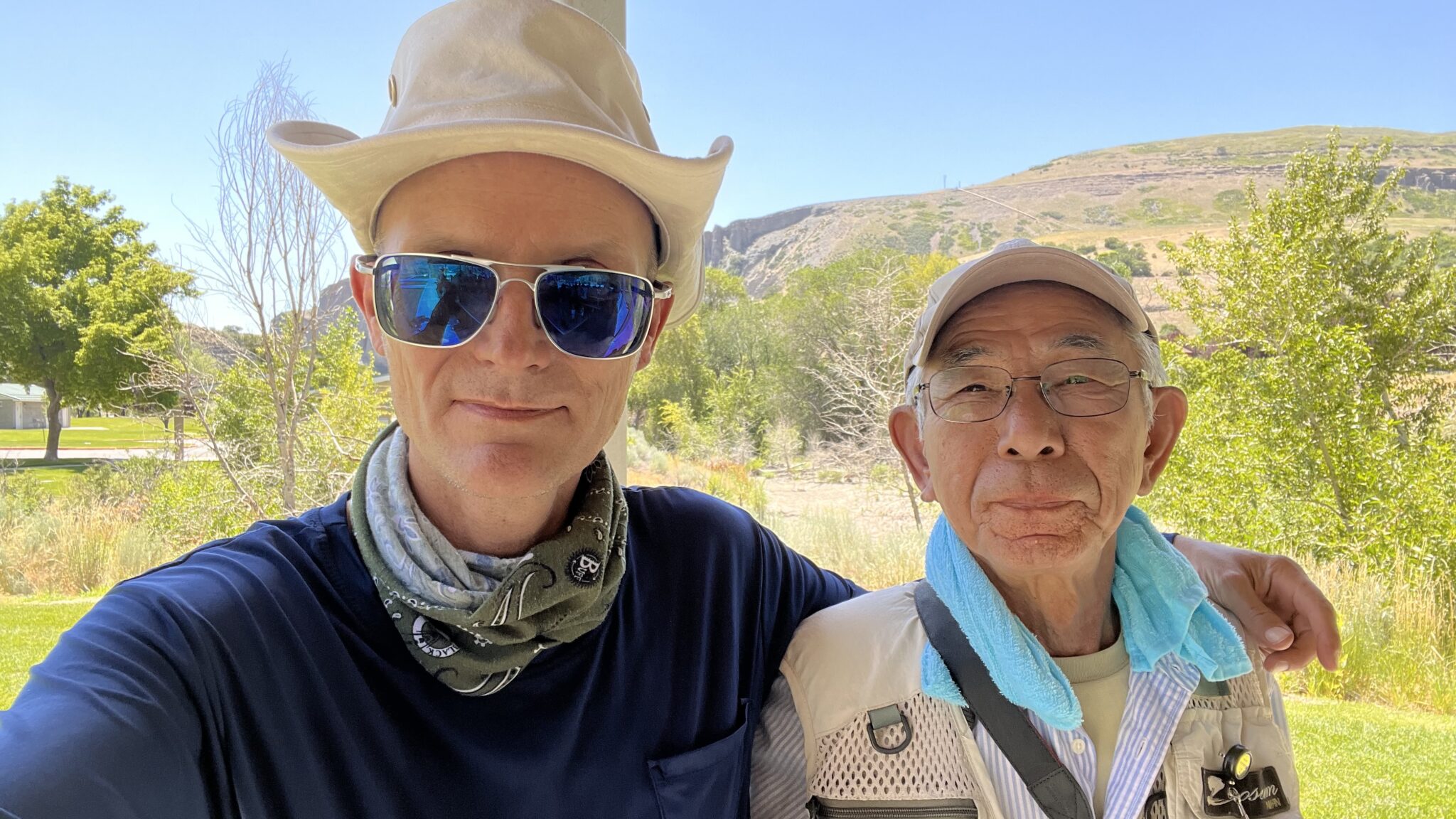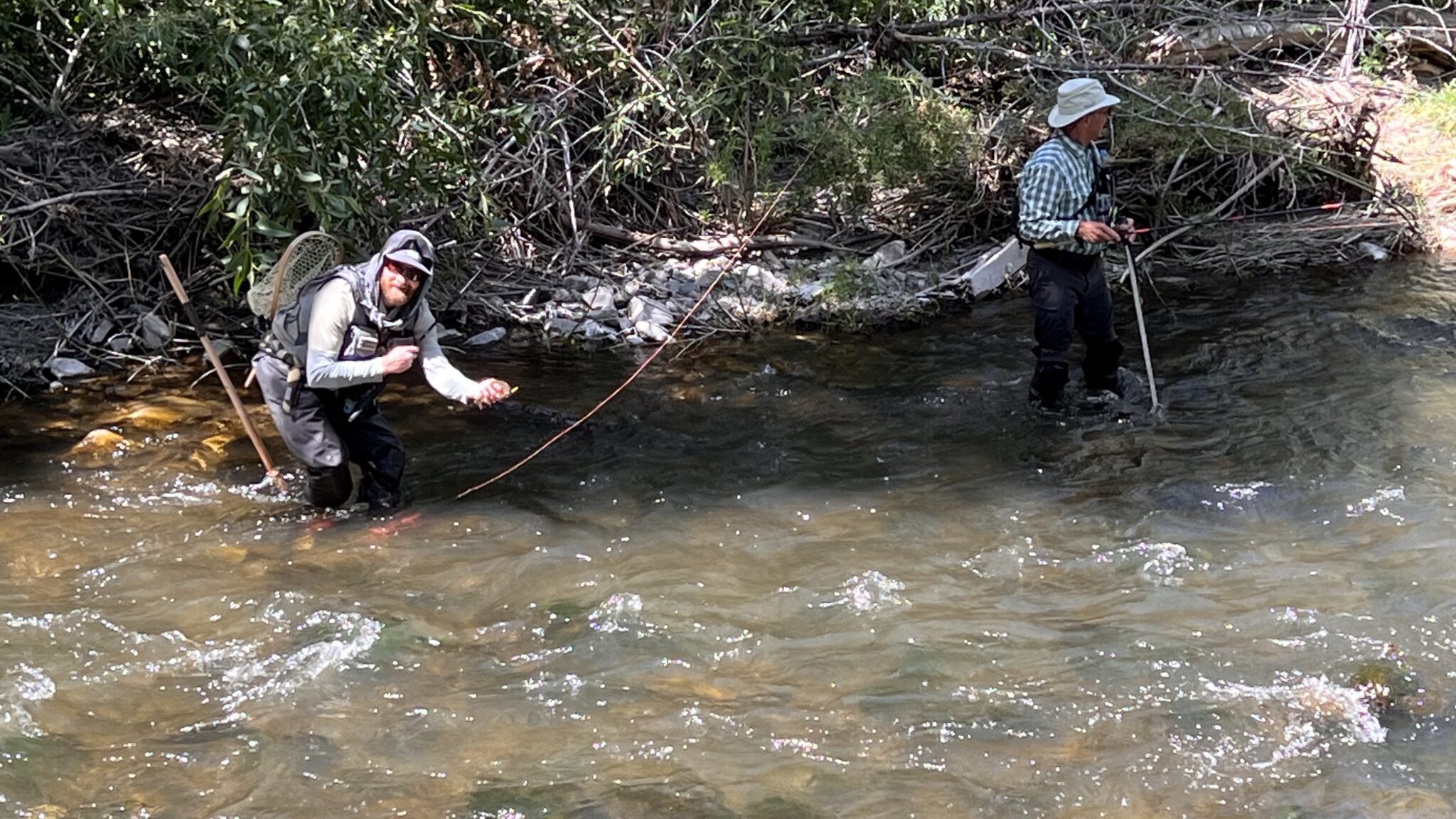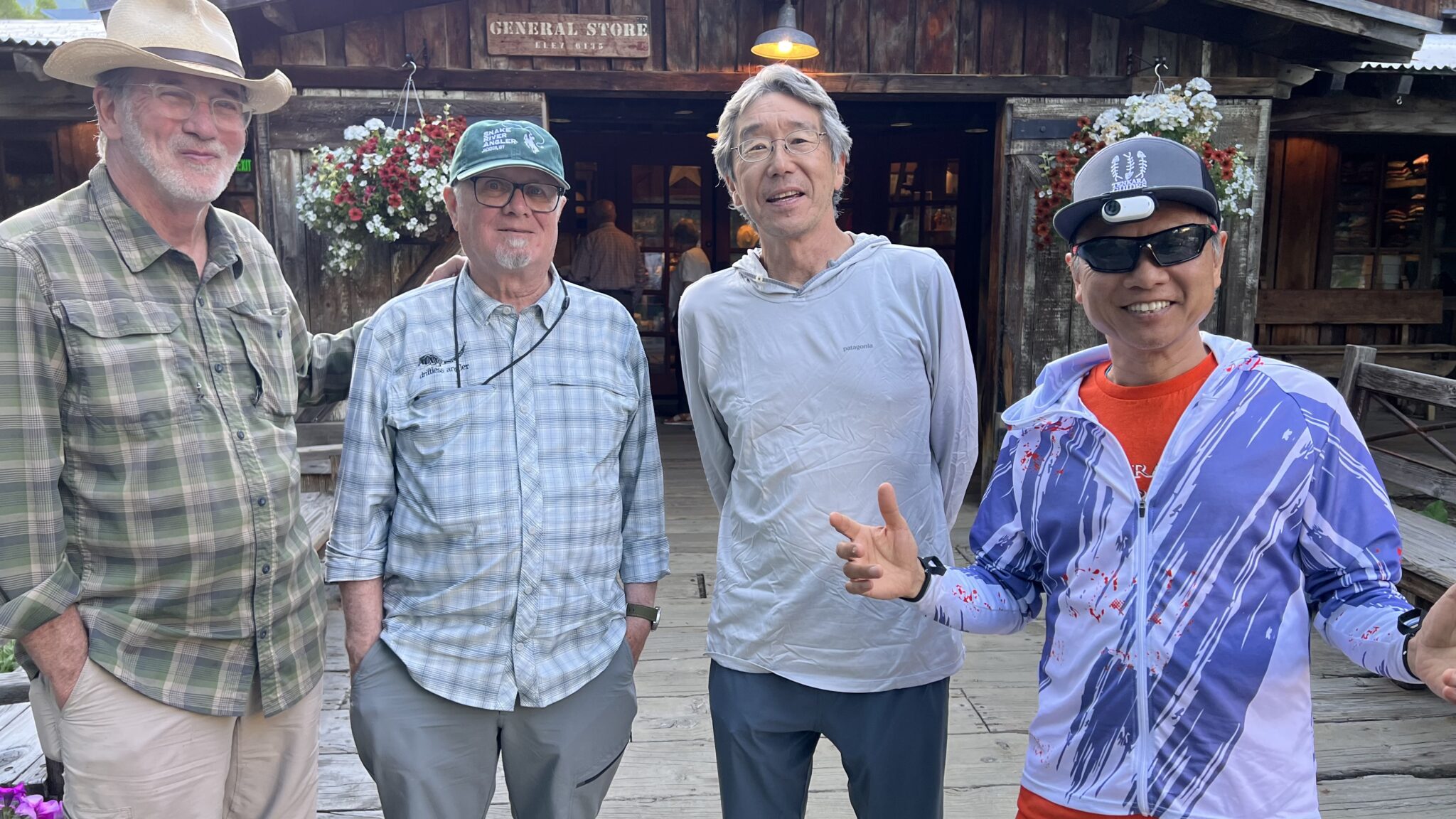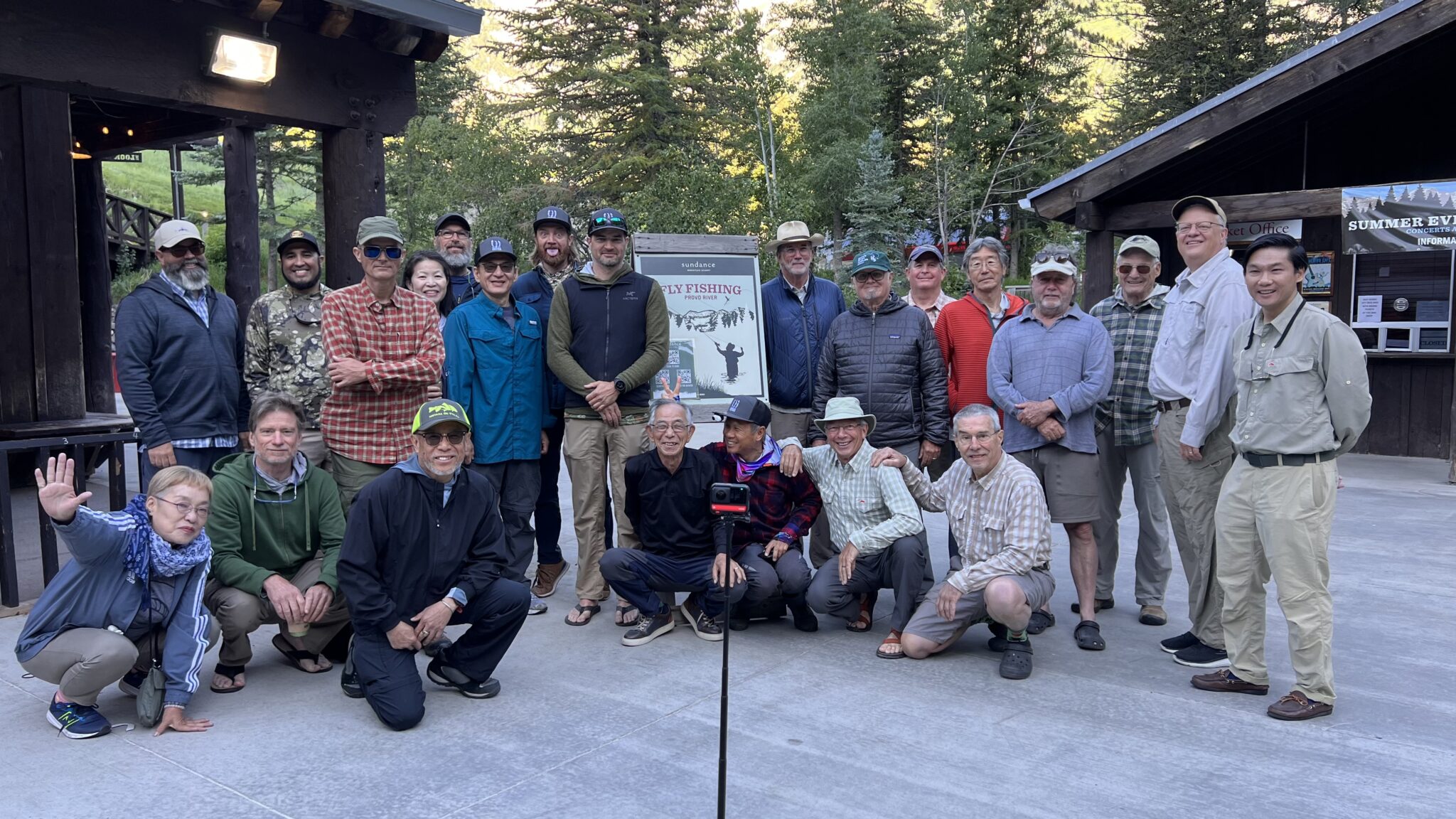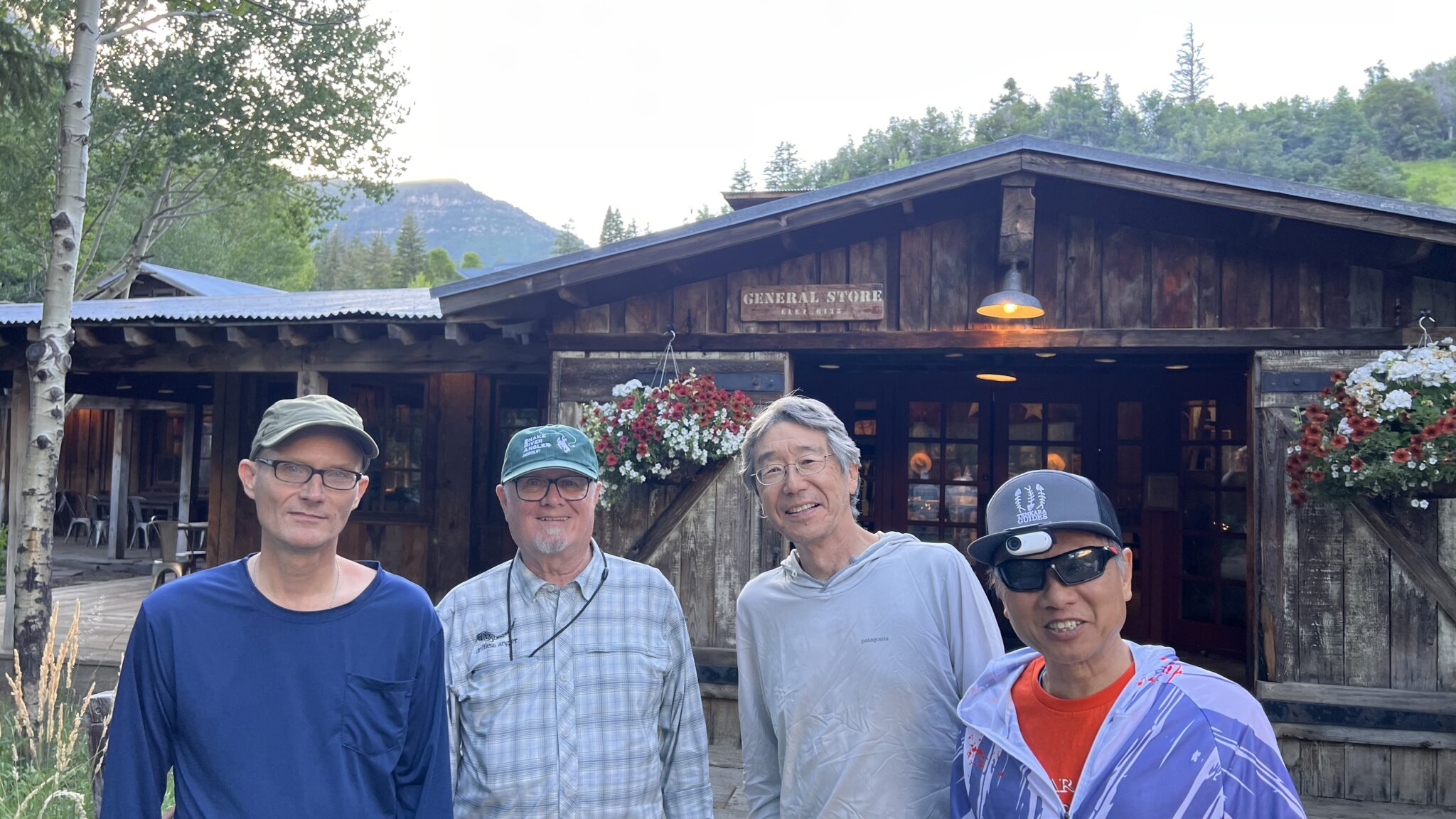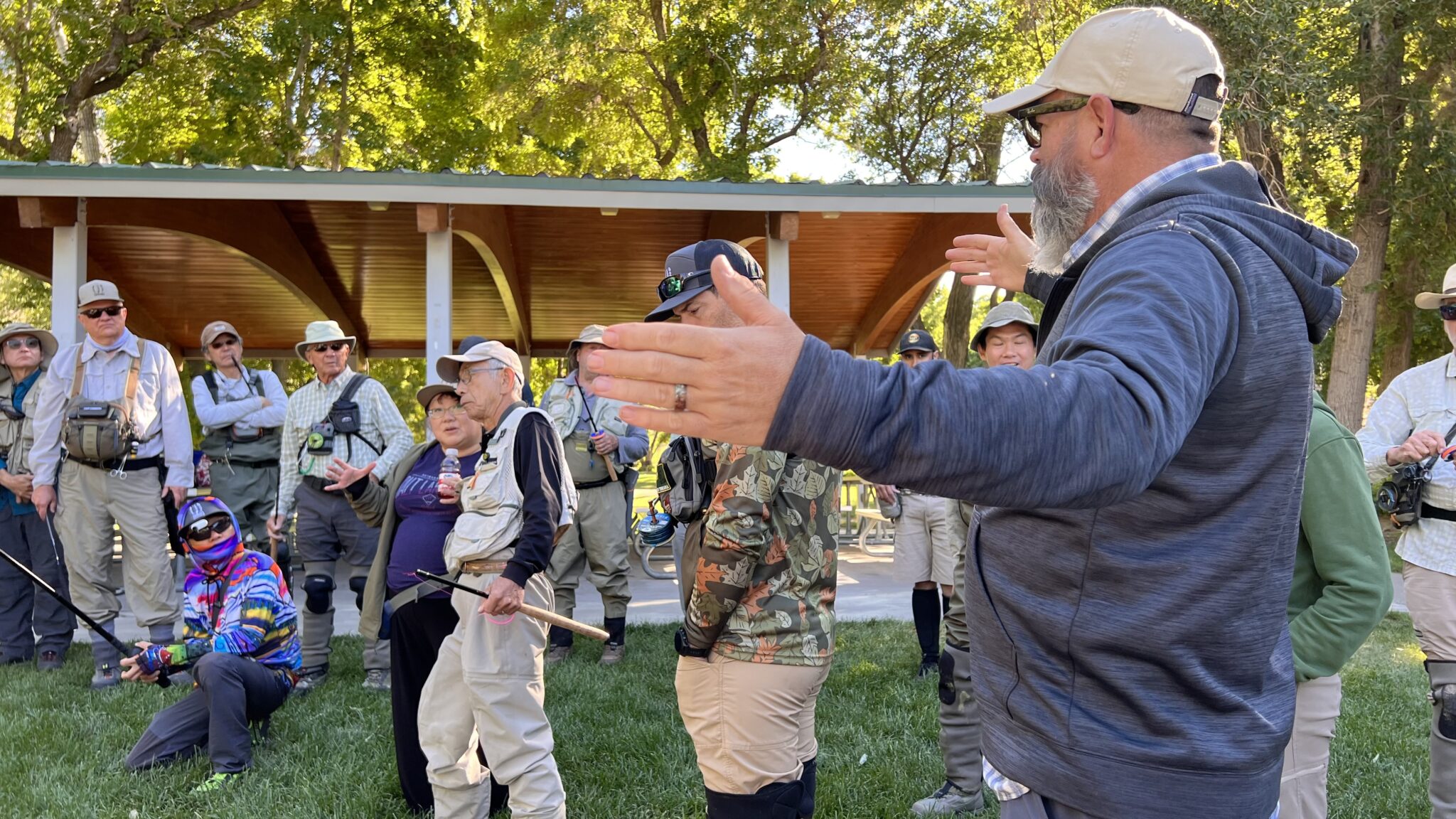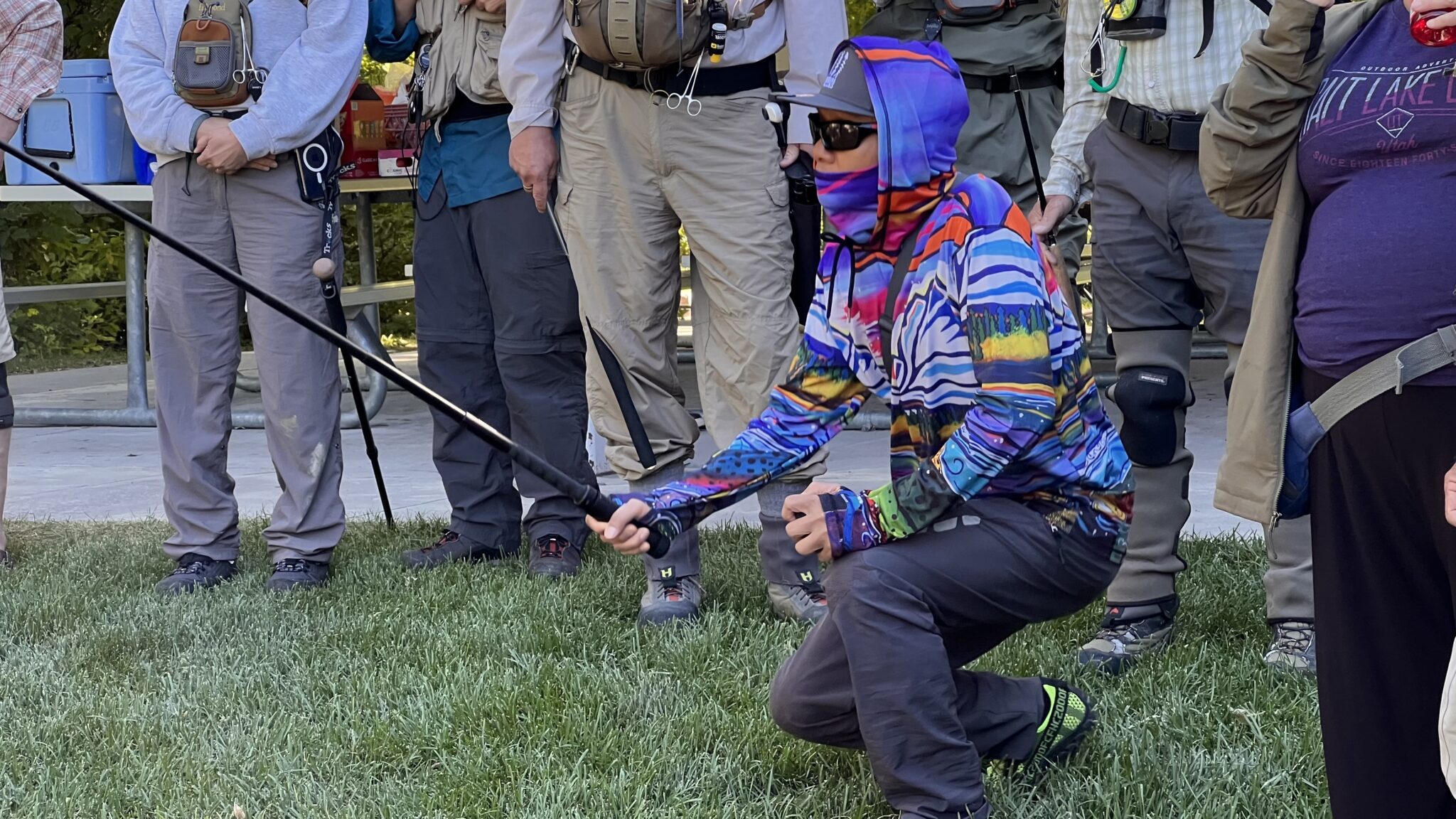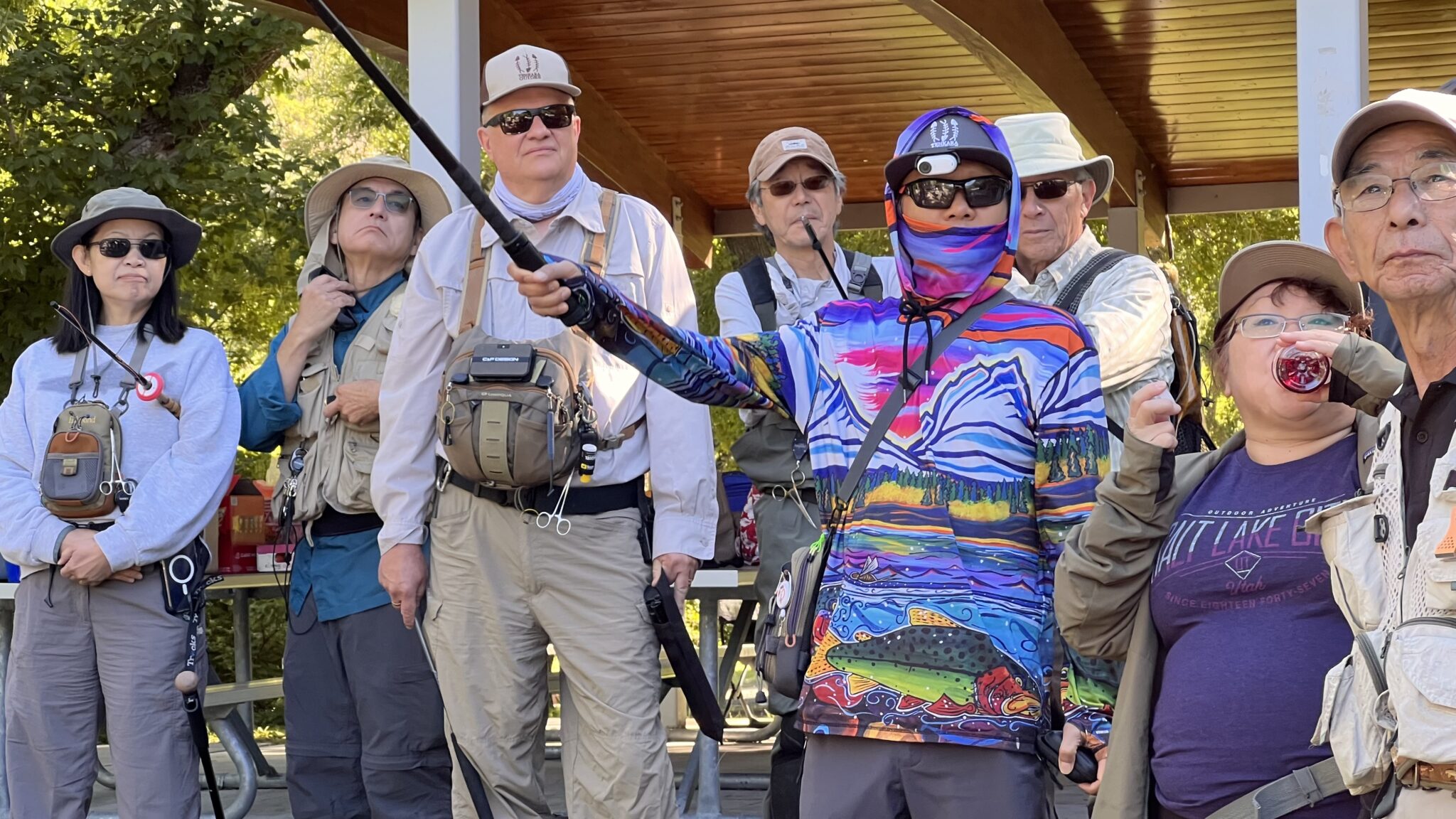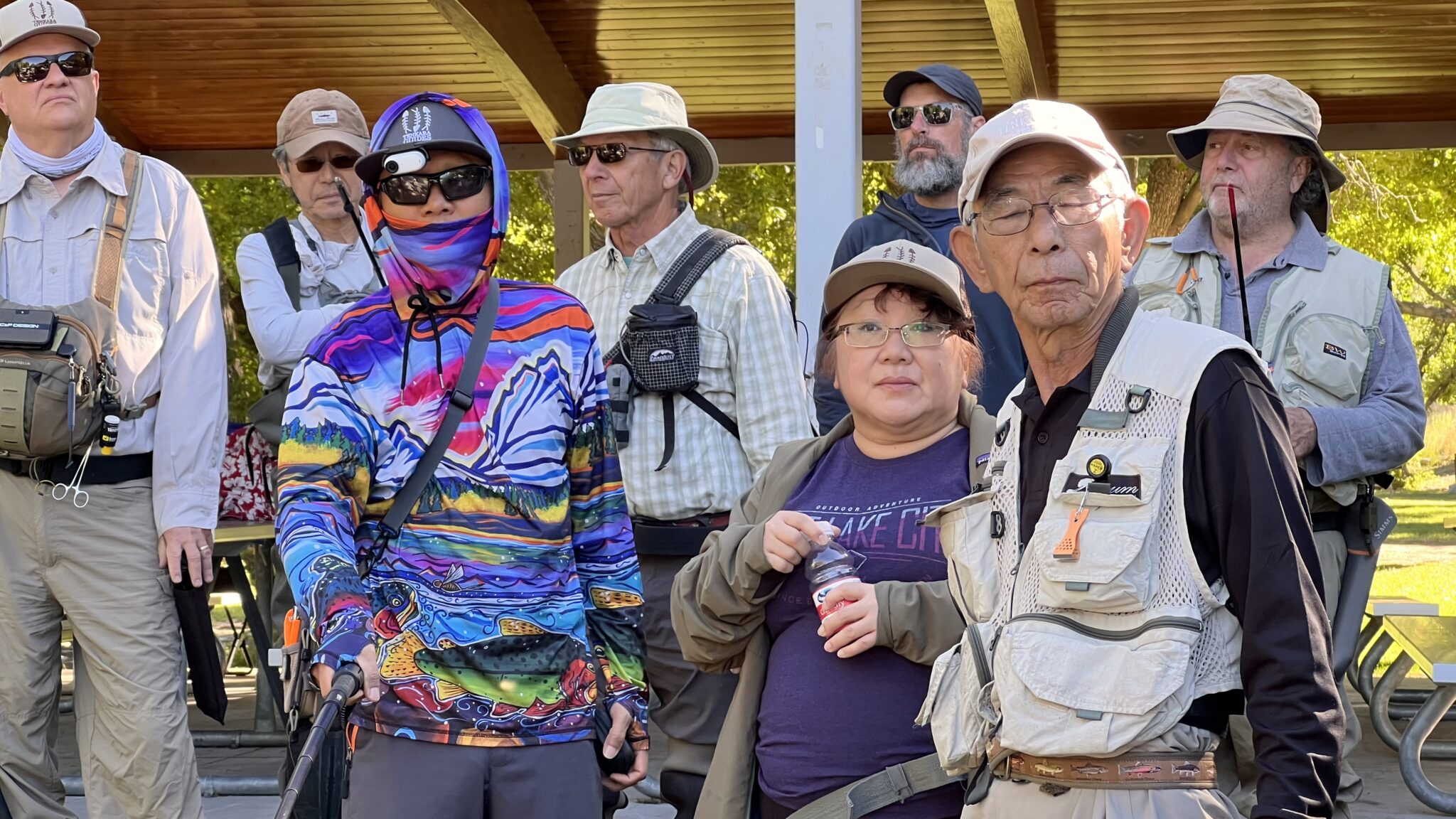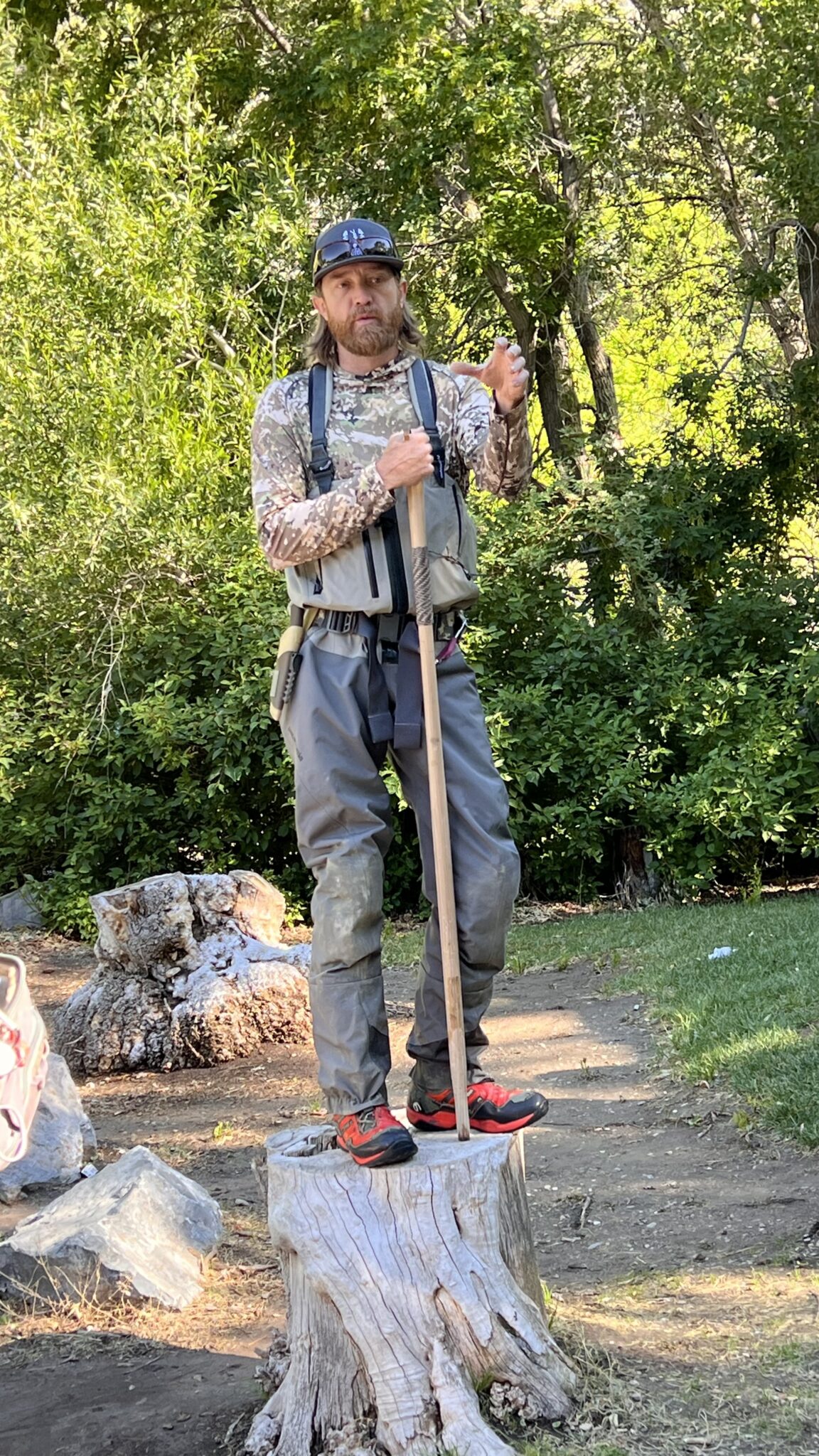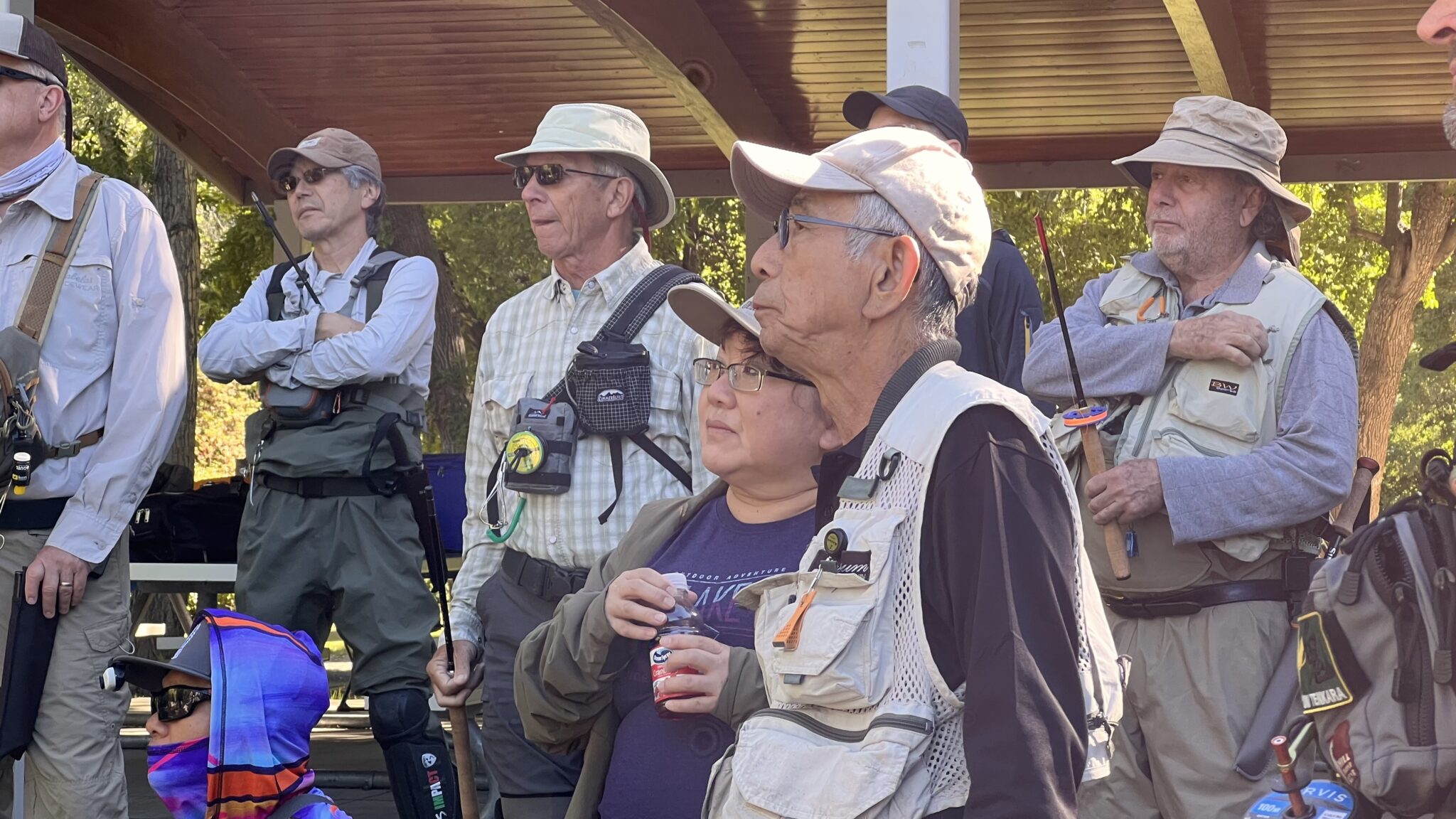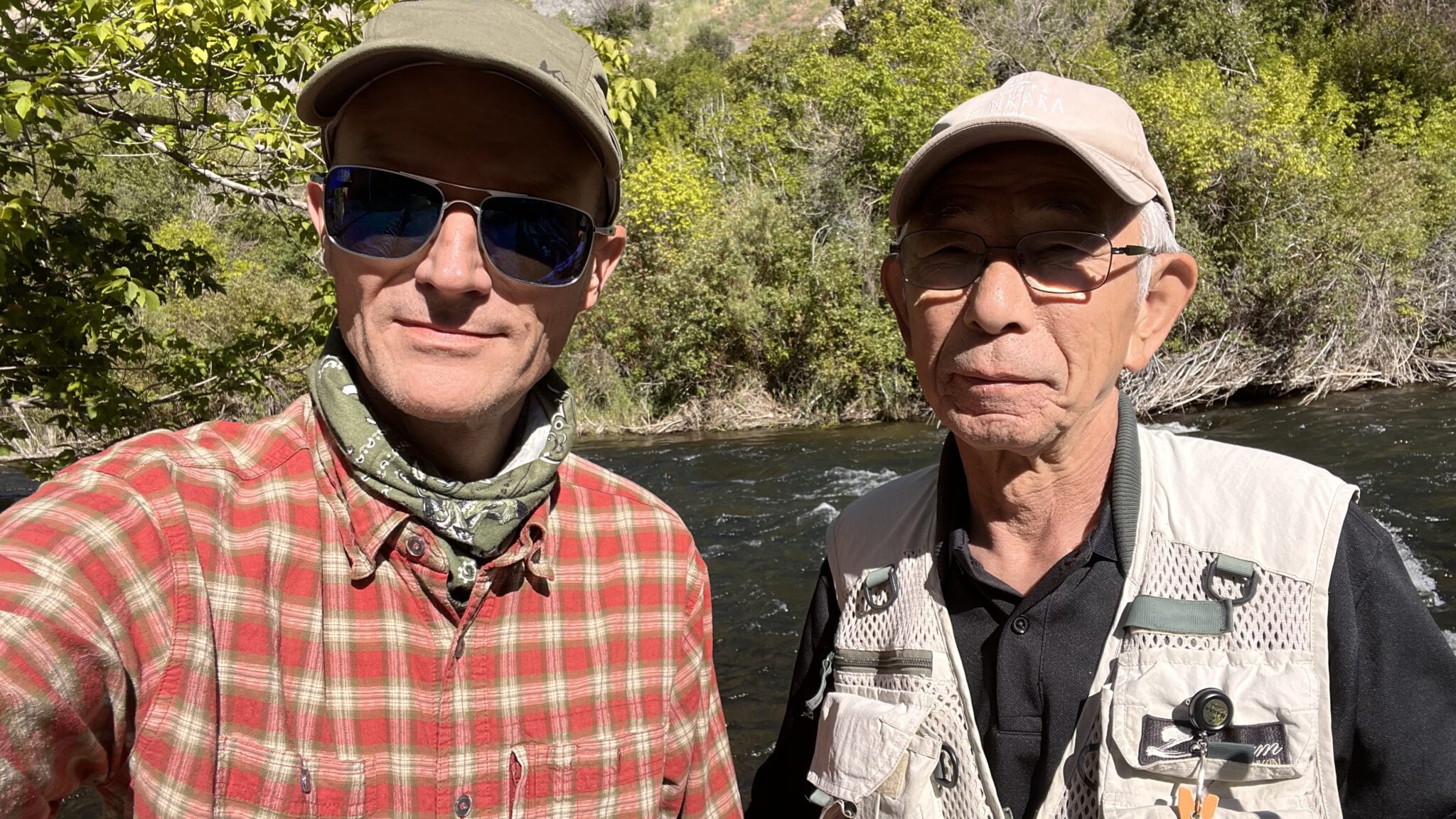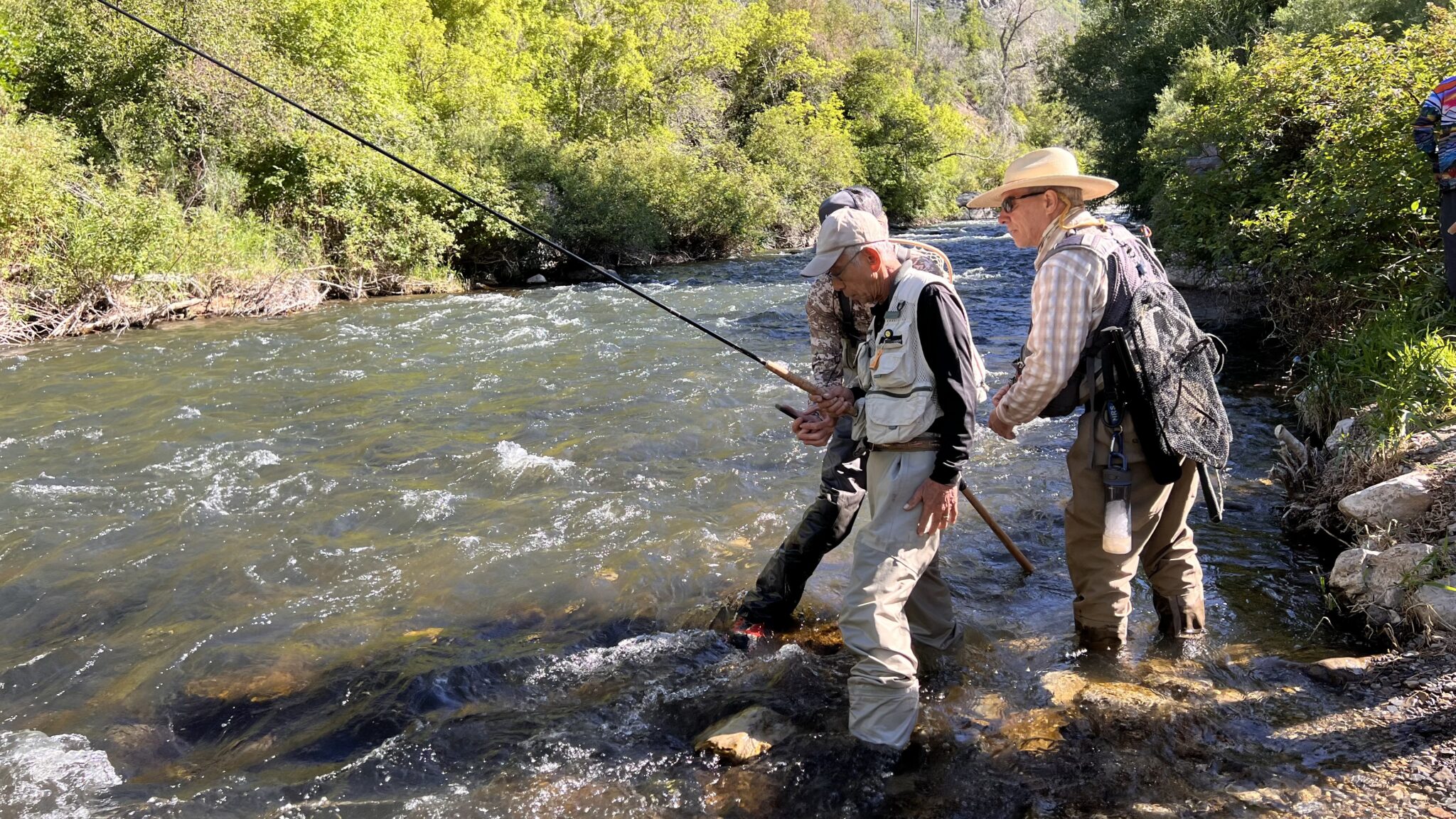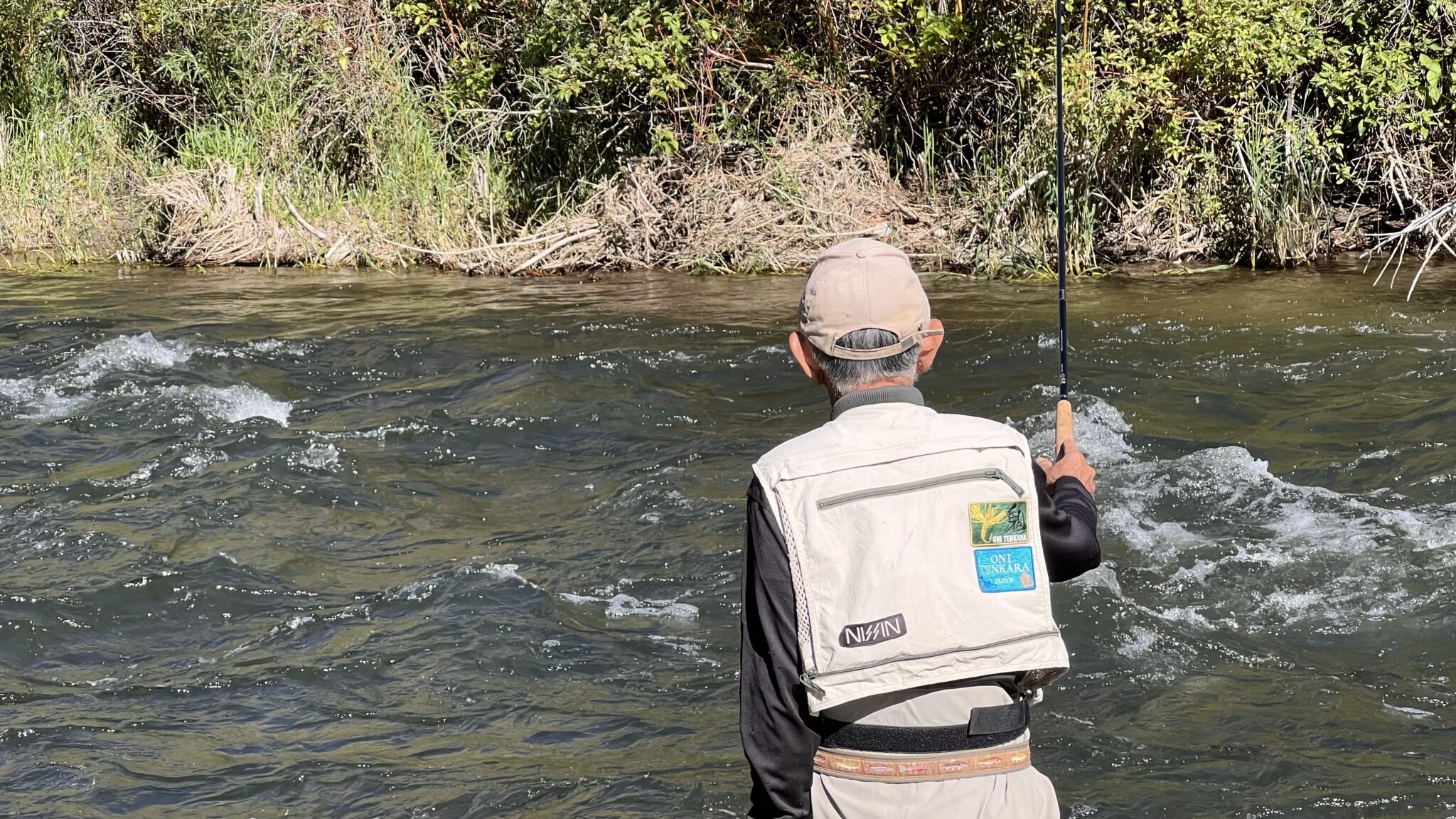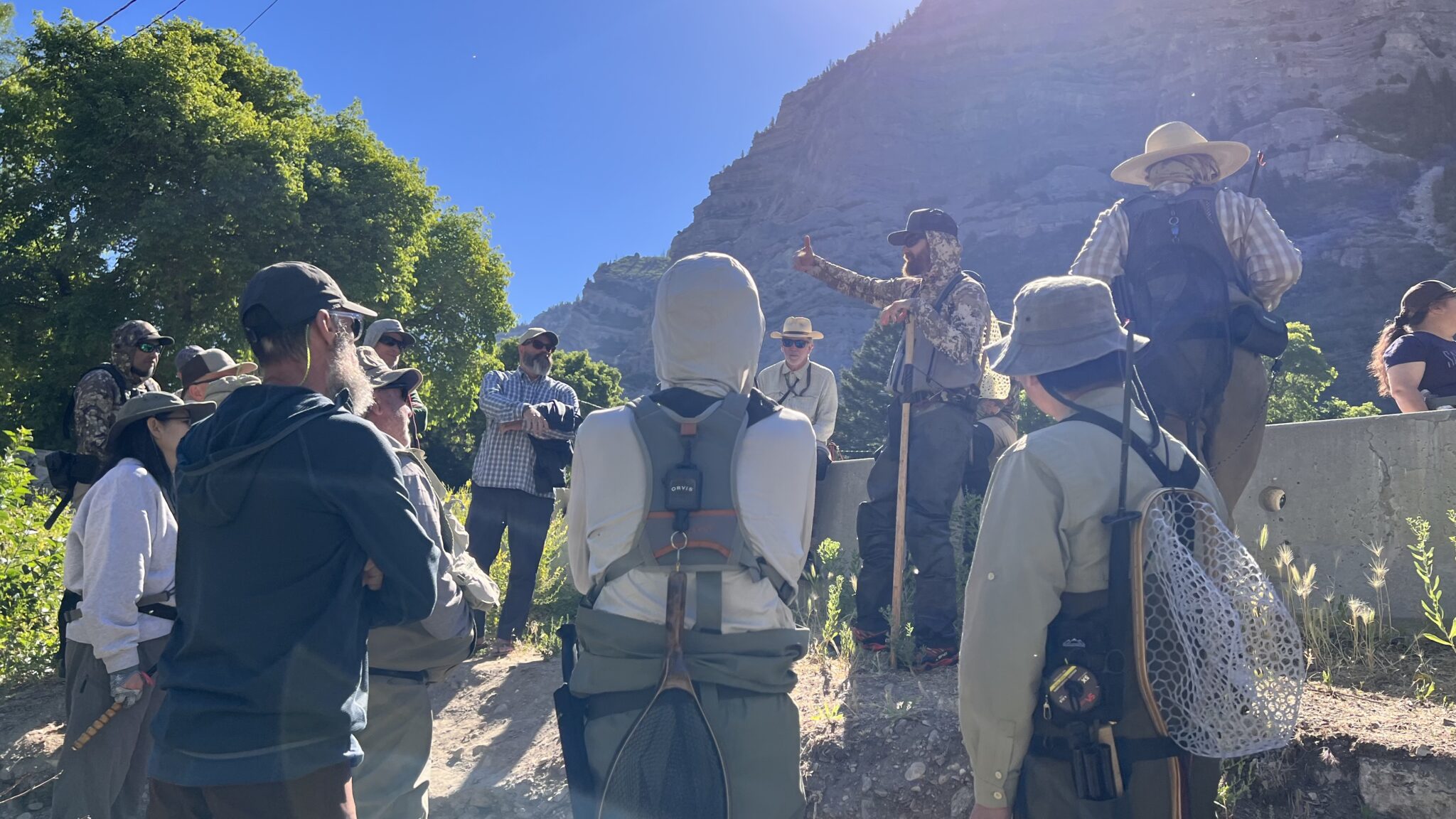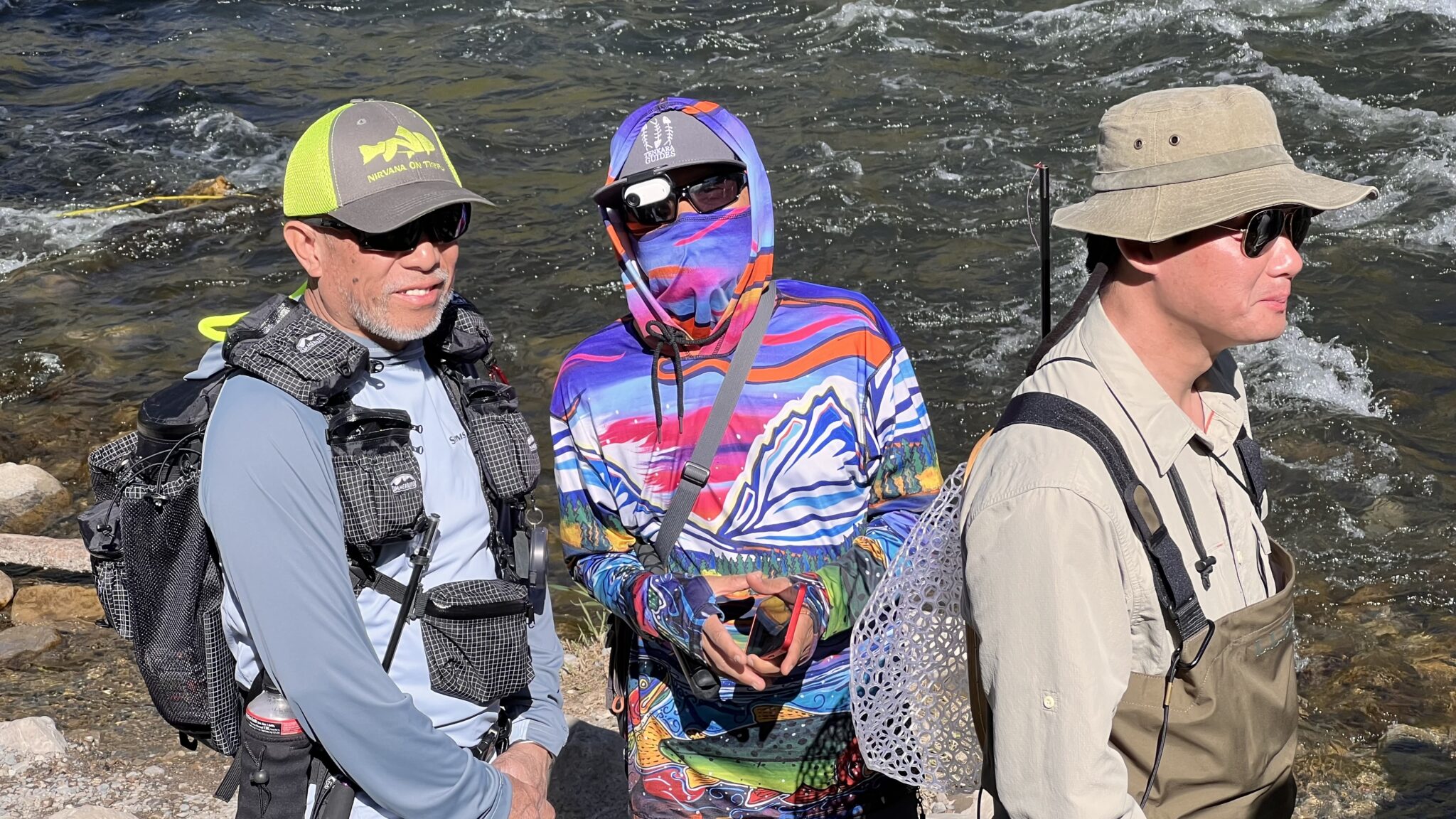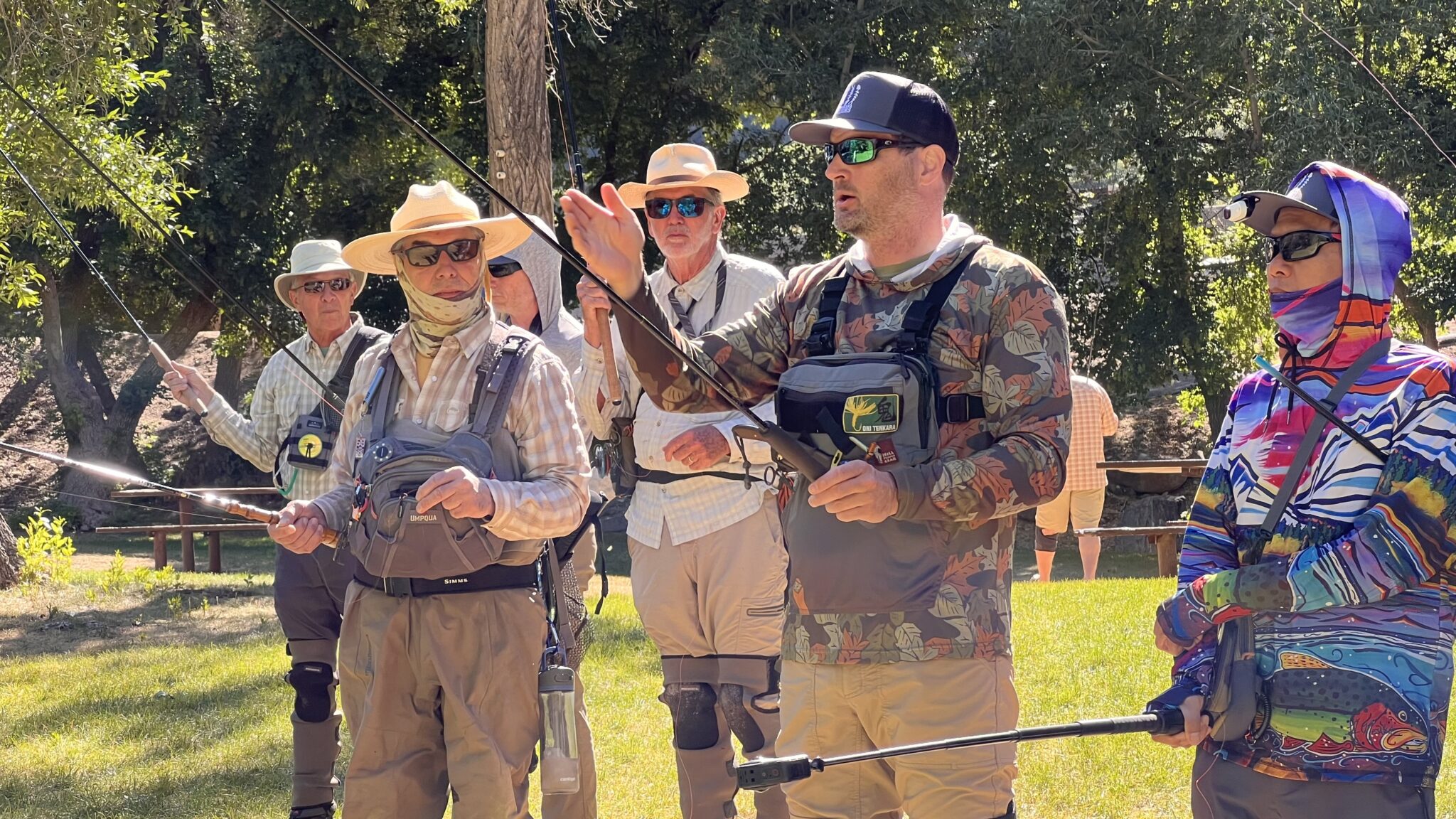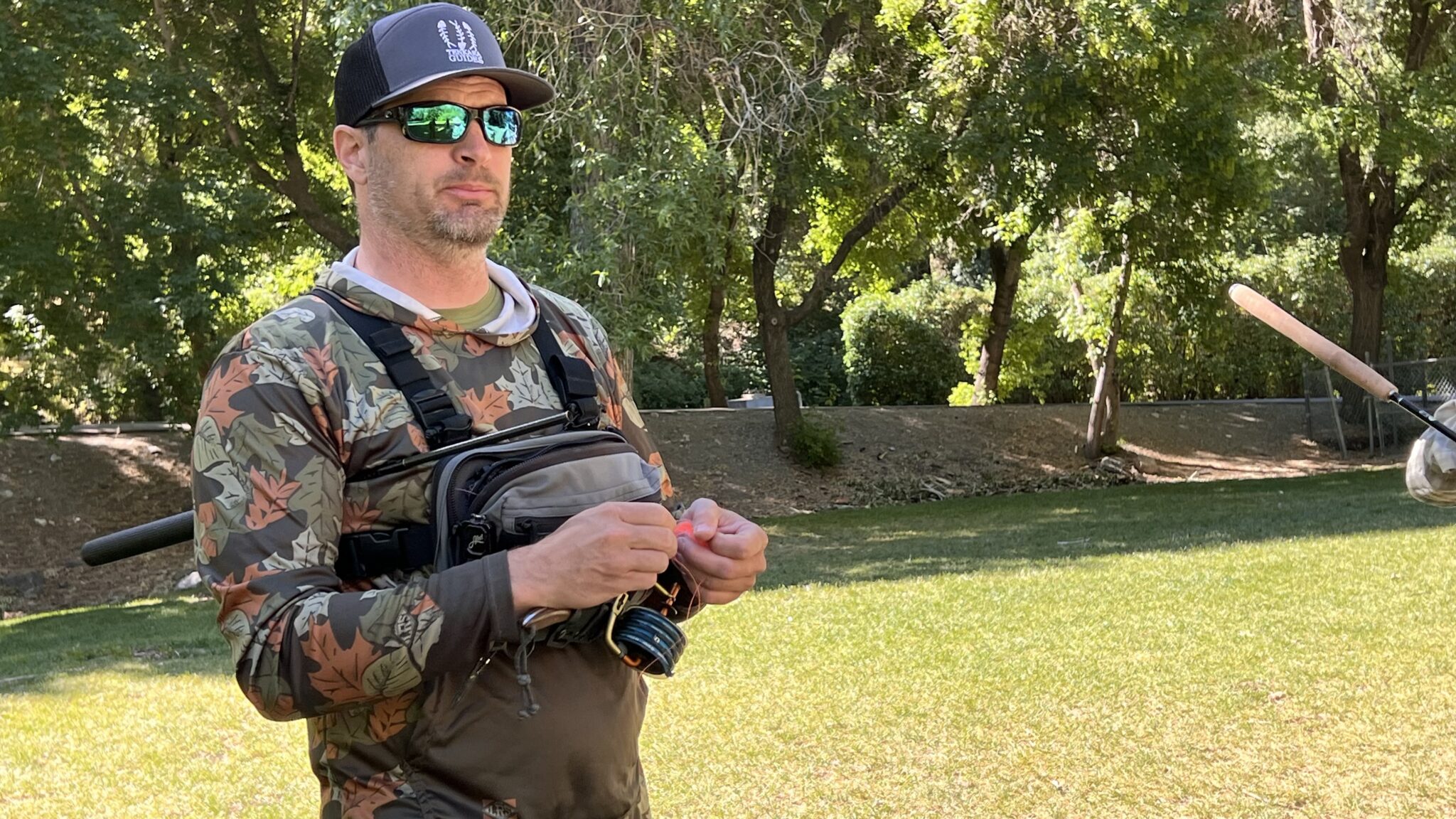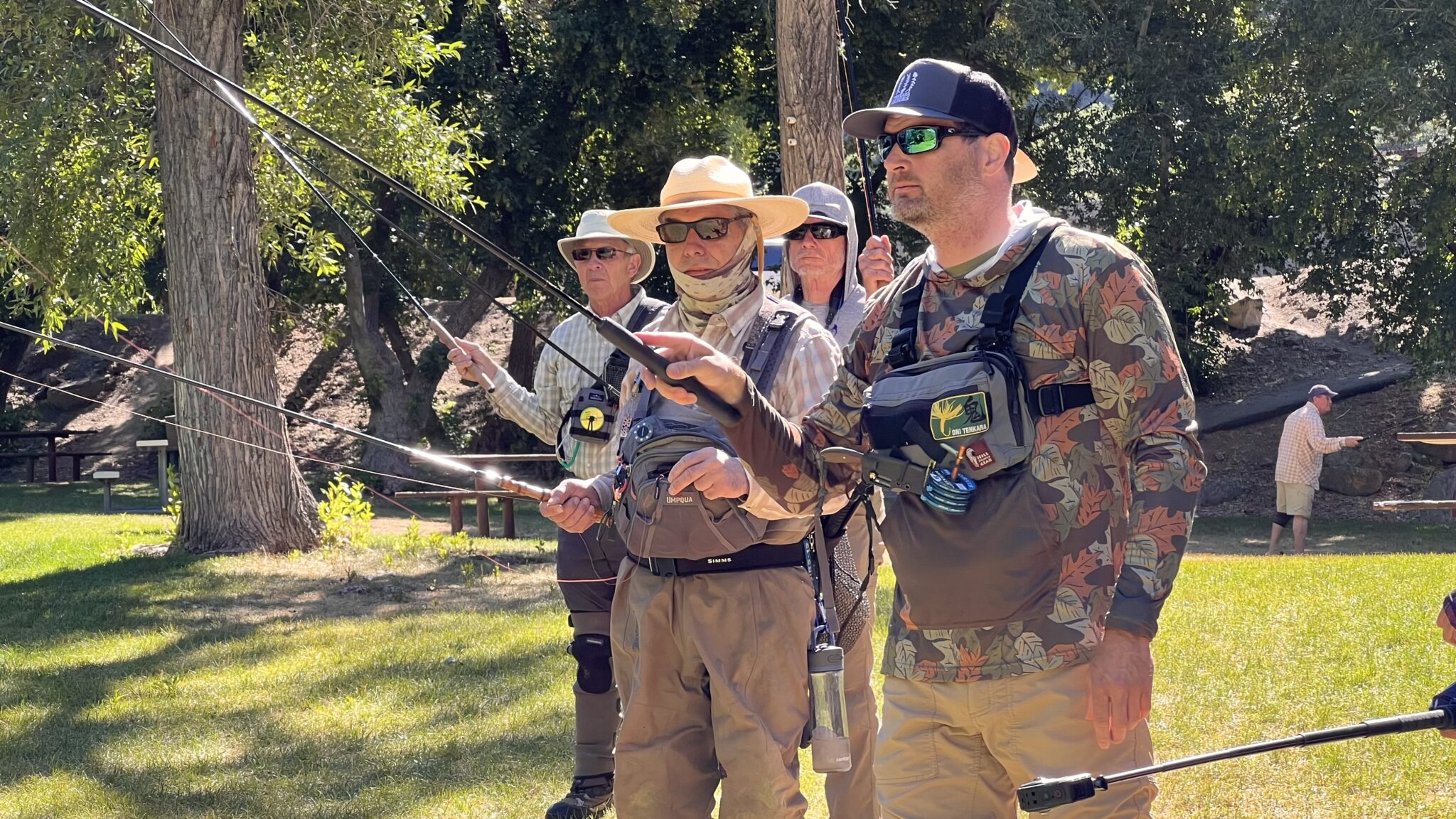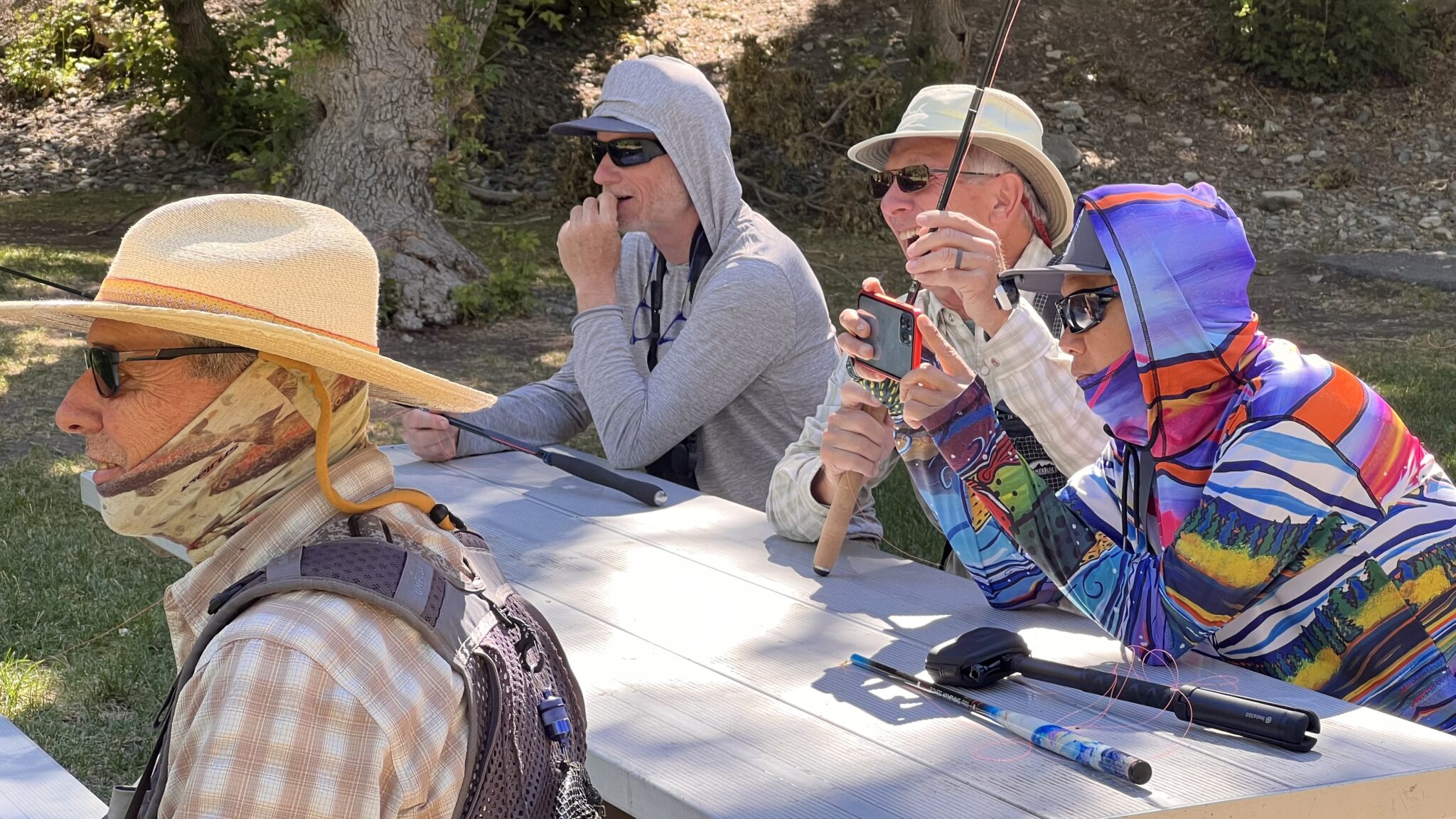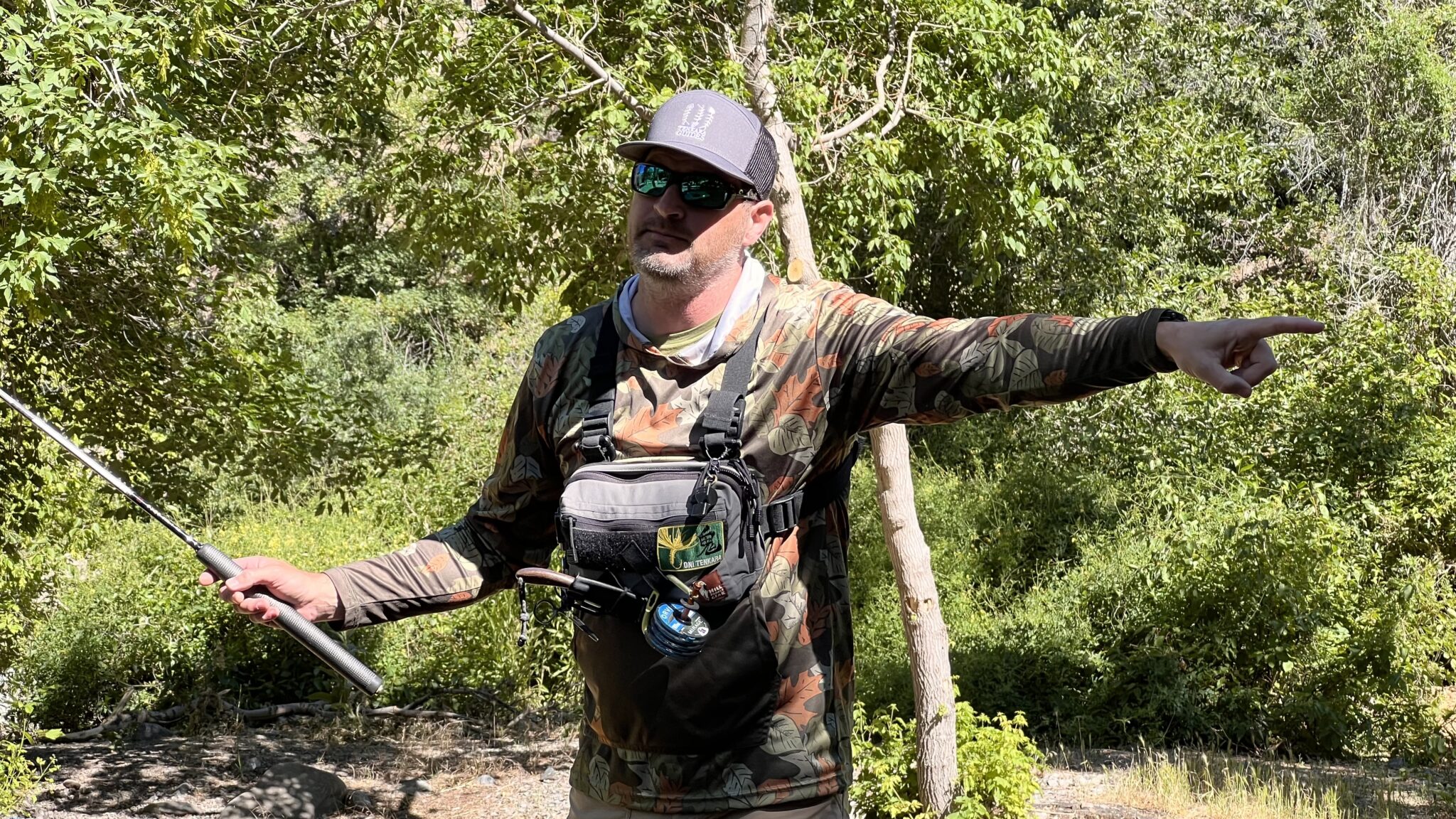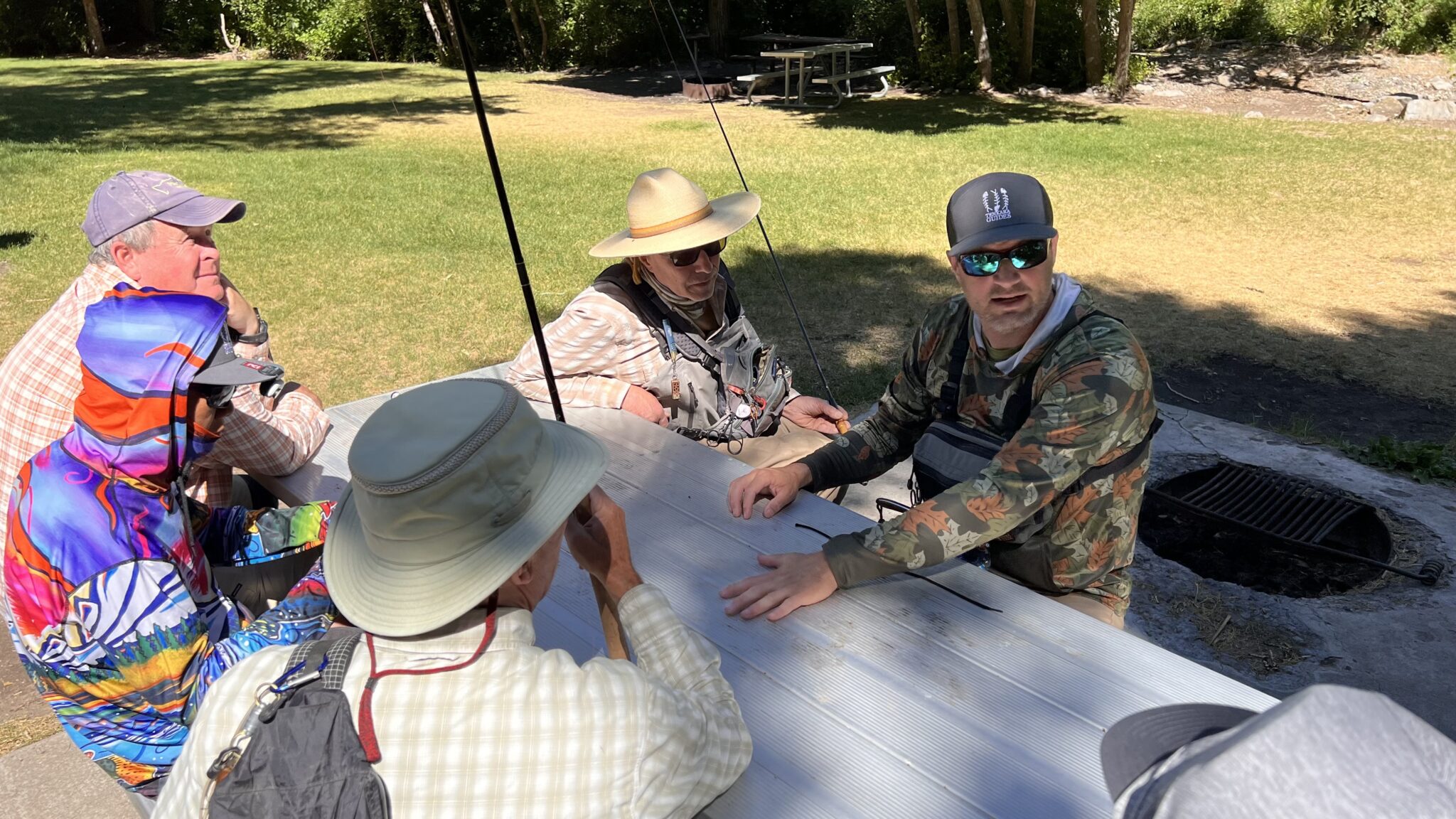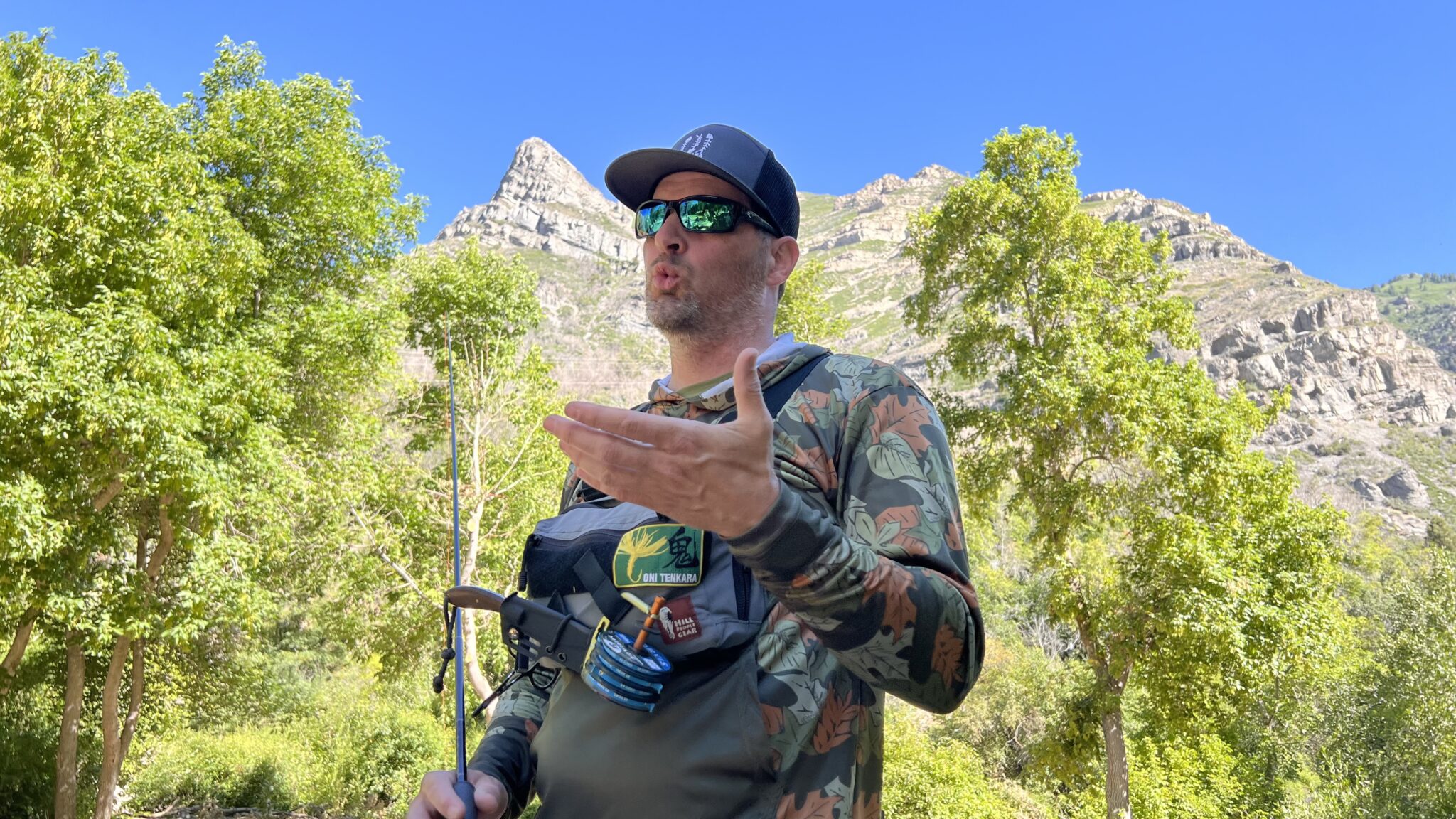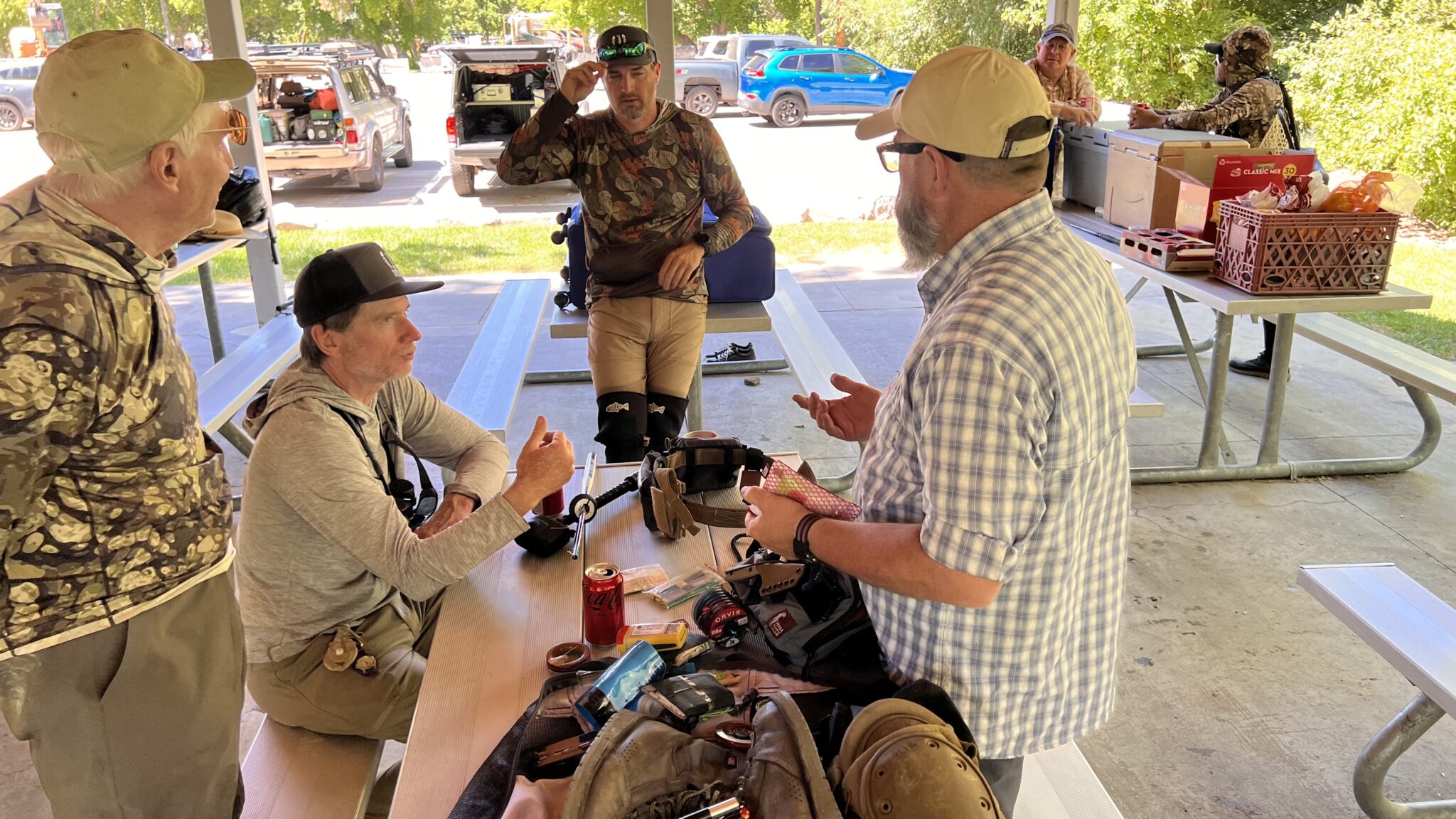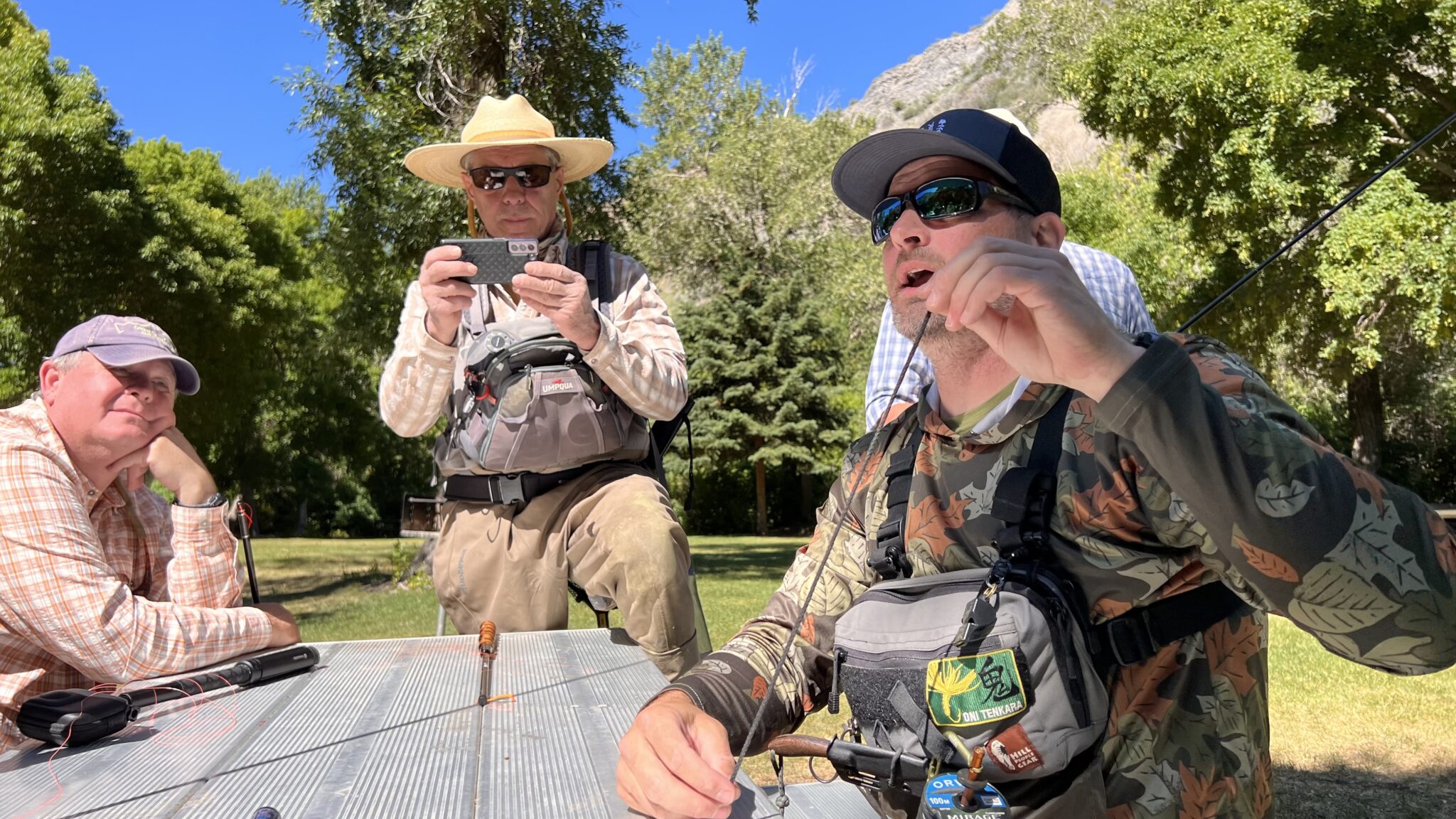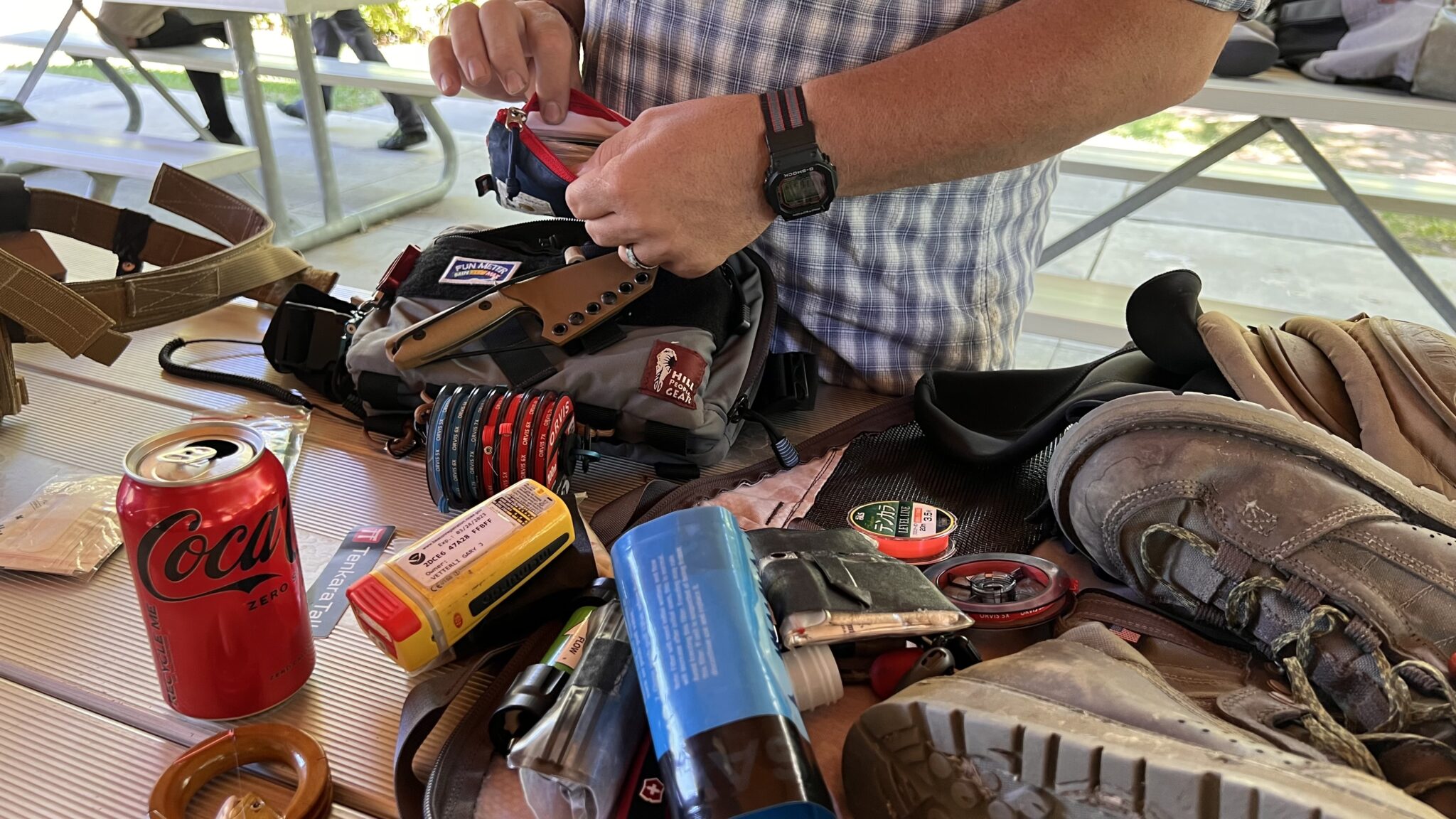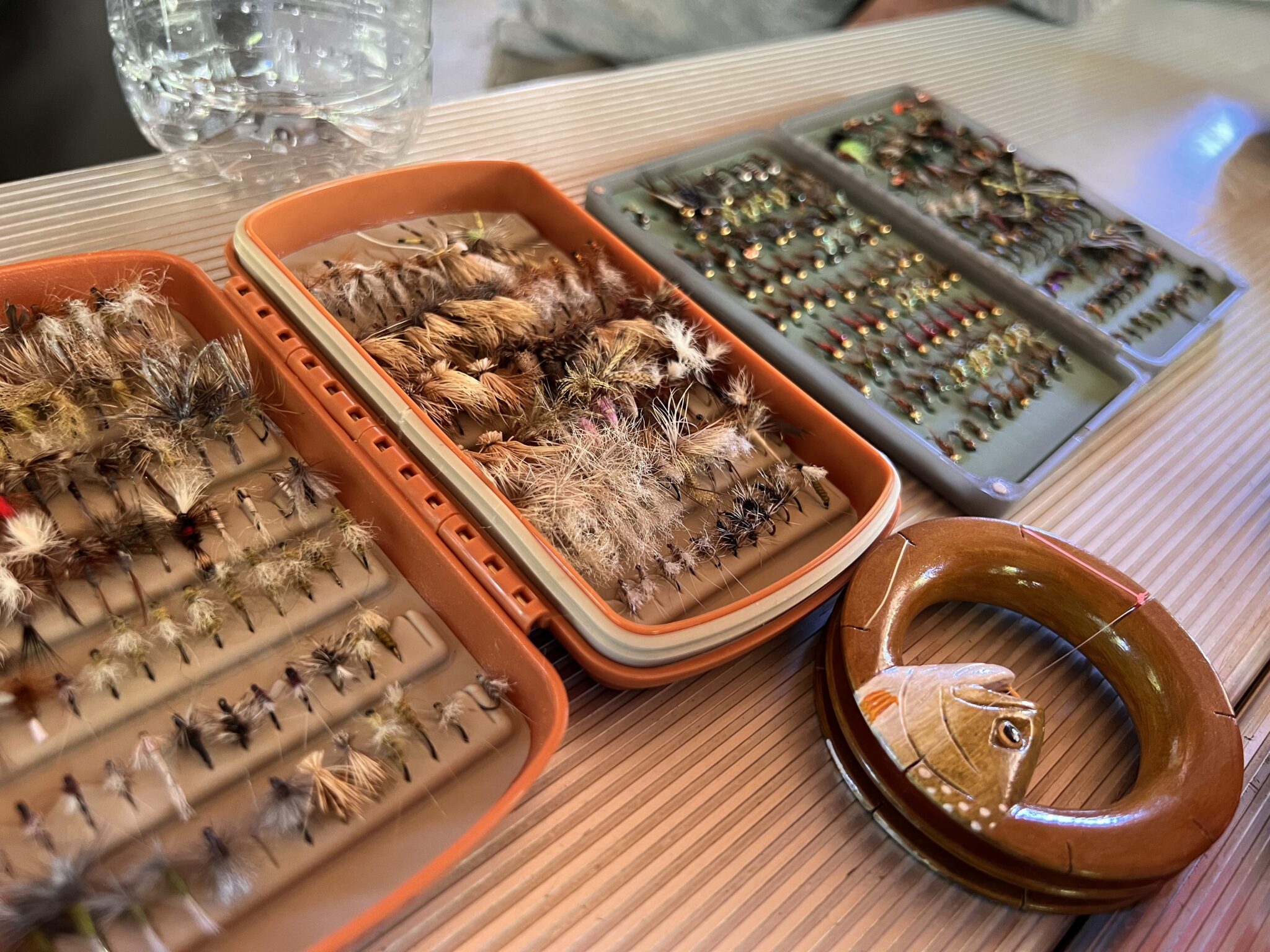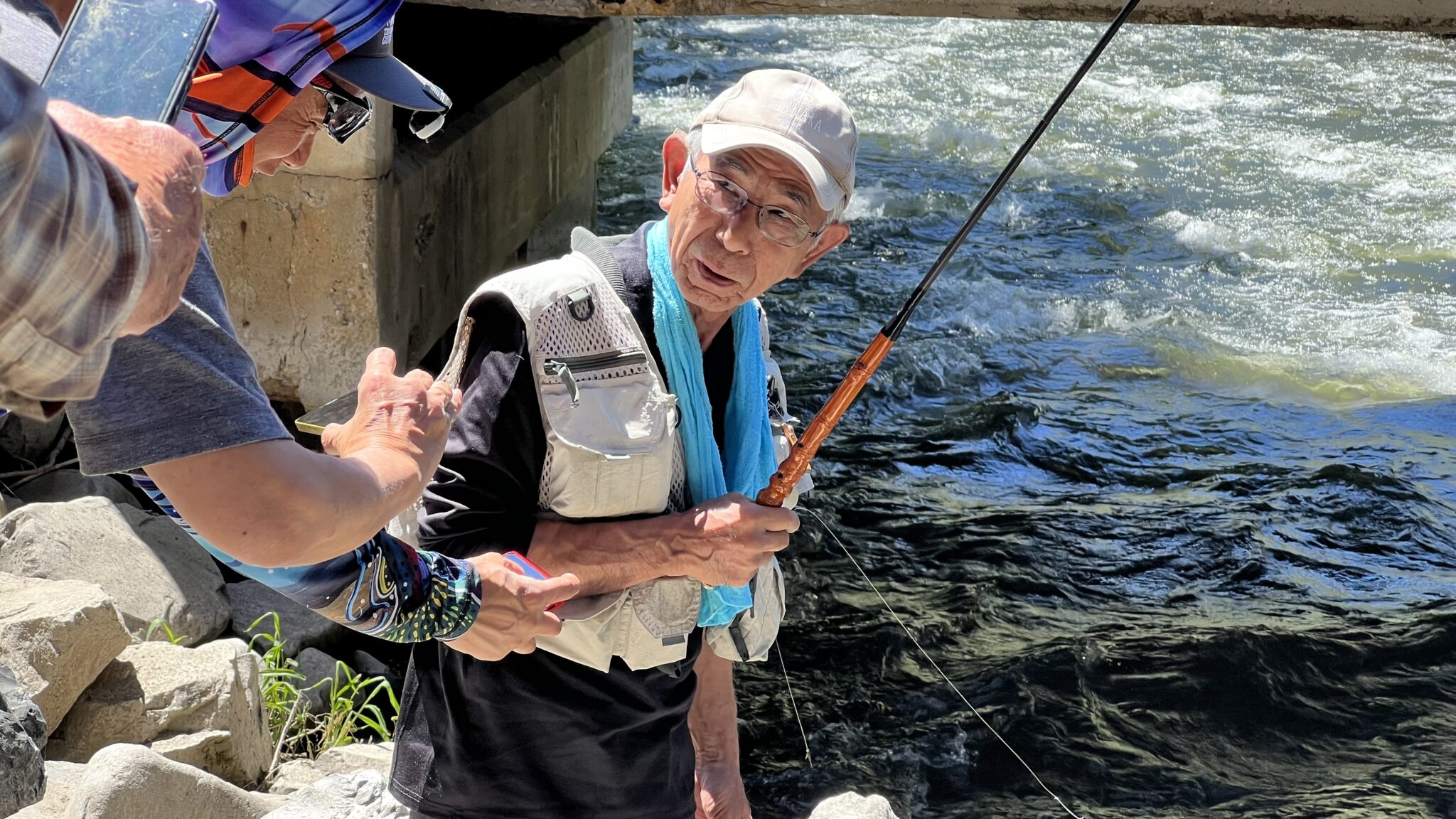 The fly shop dog at Sundance.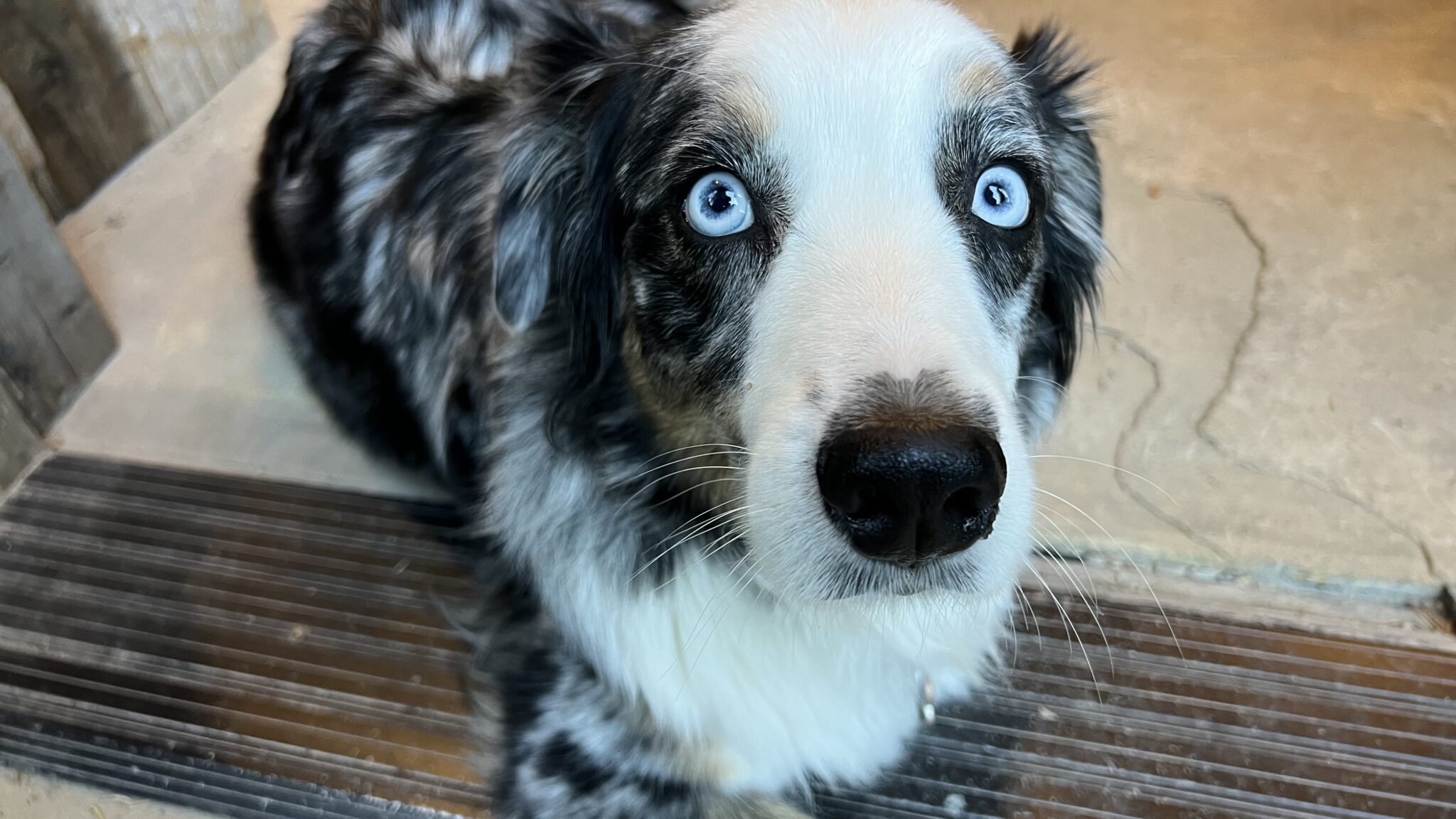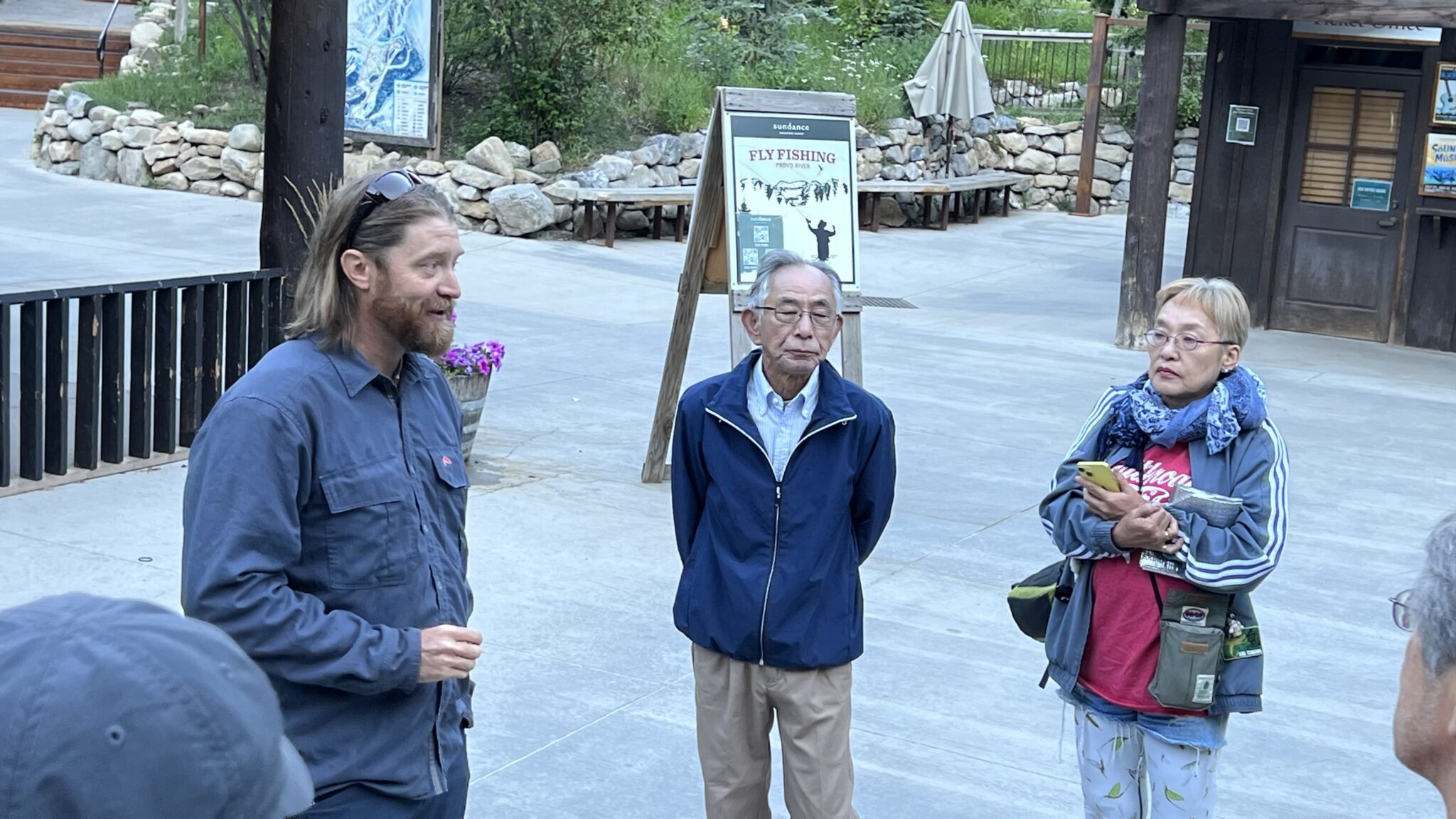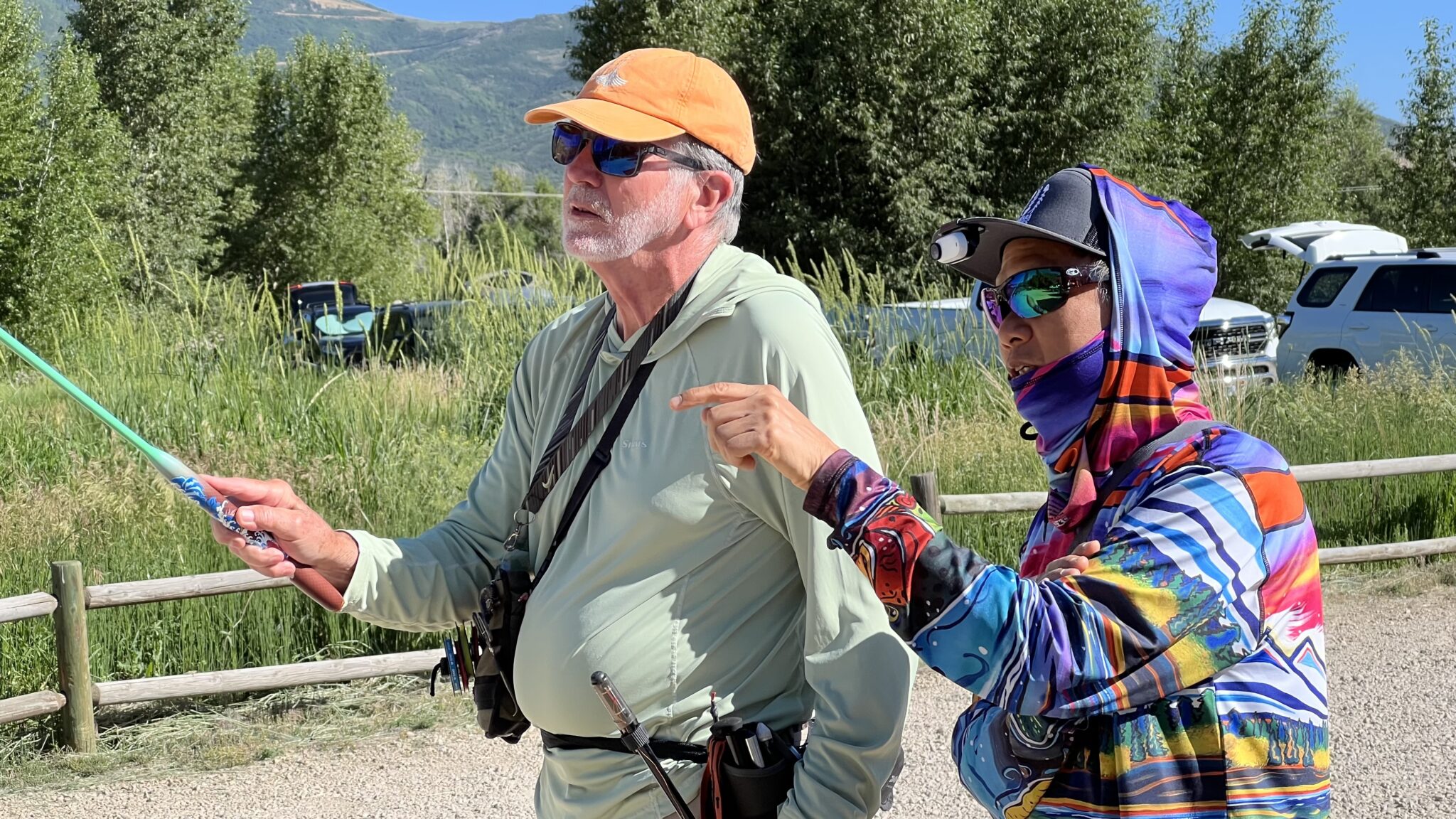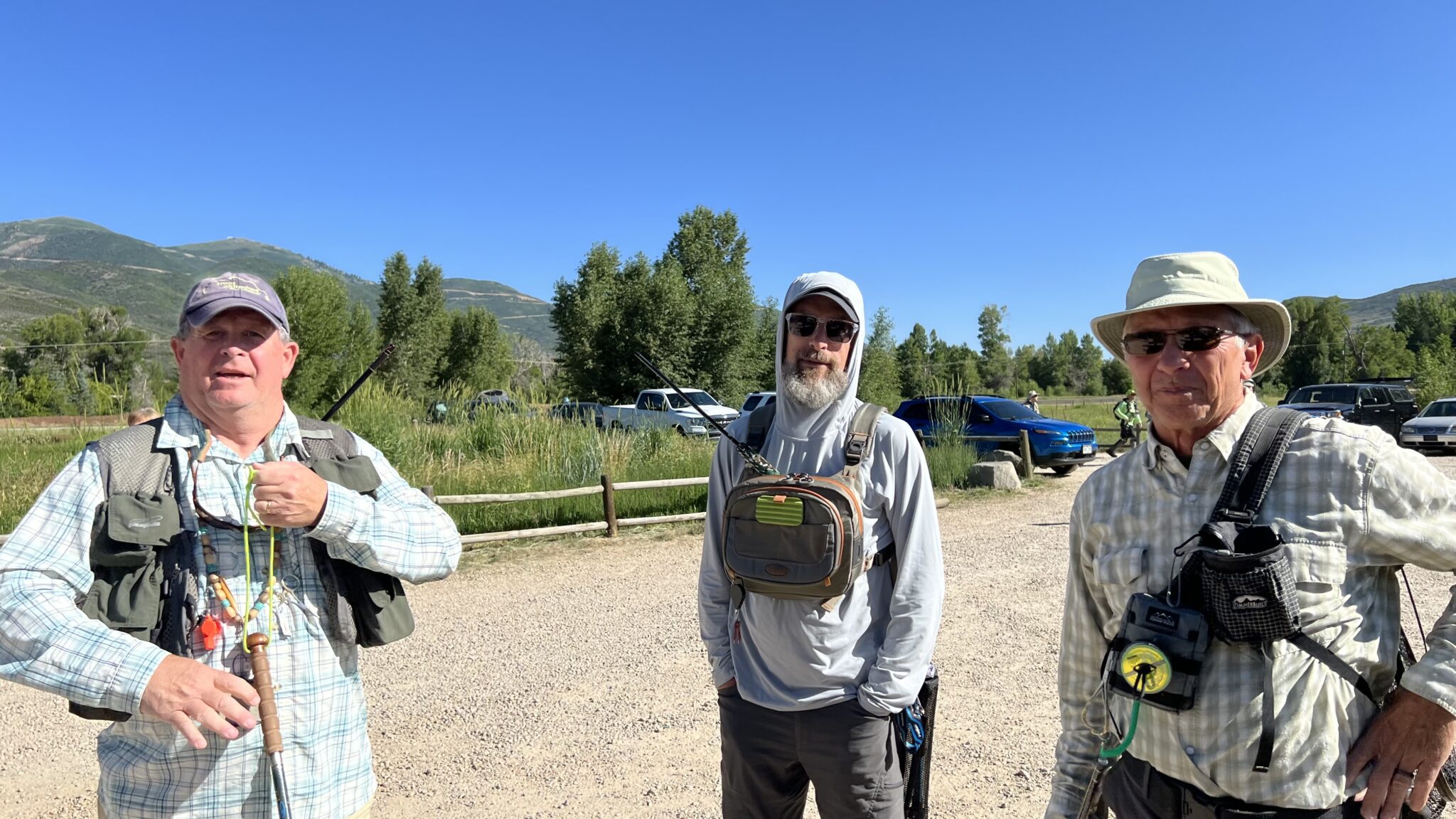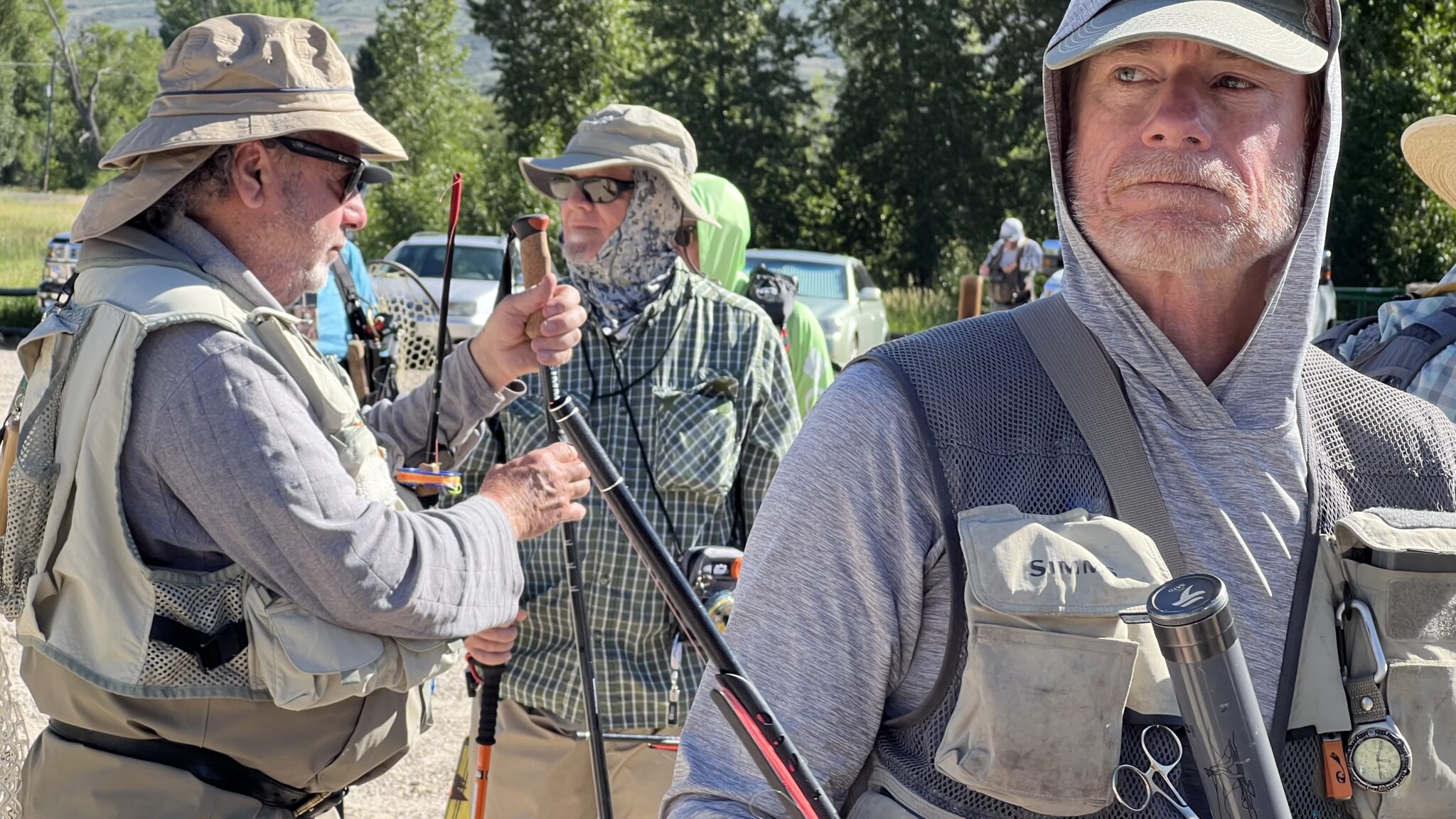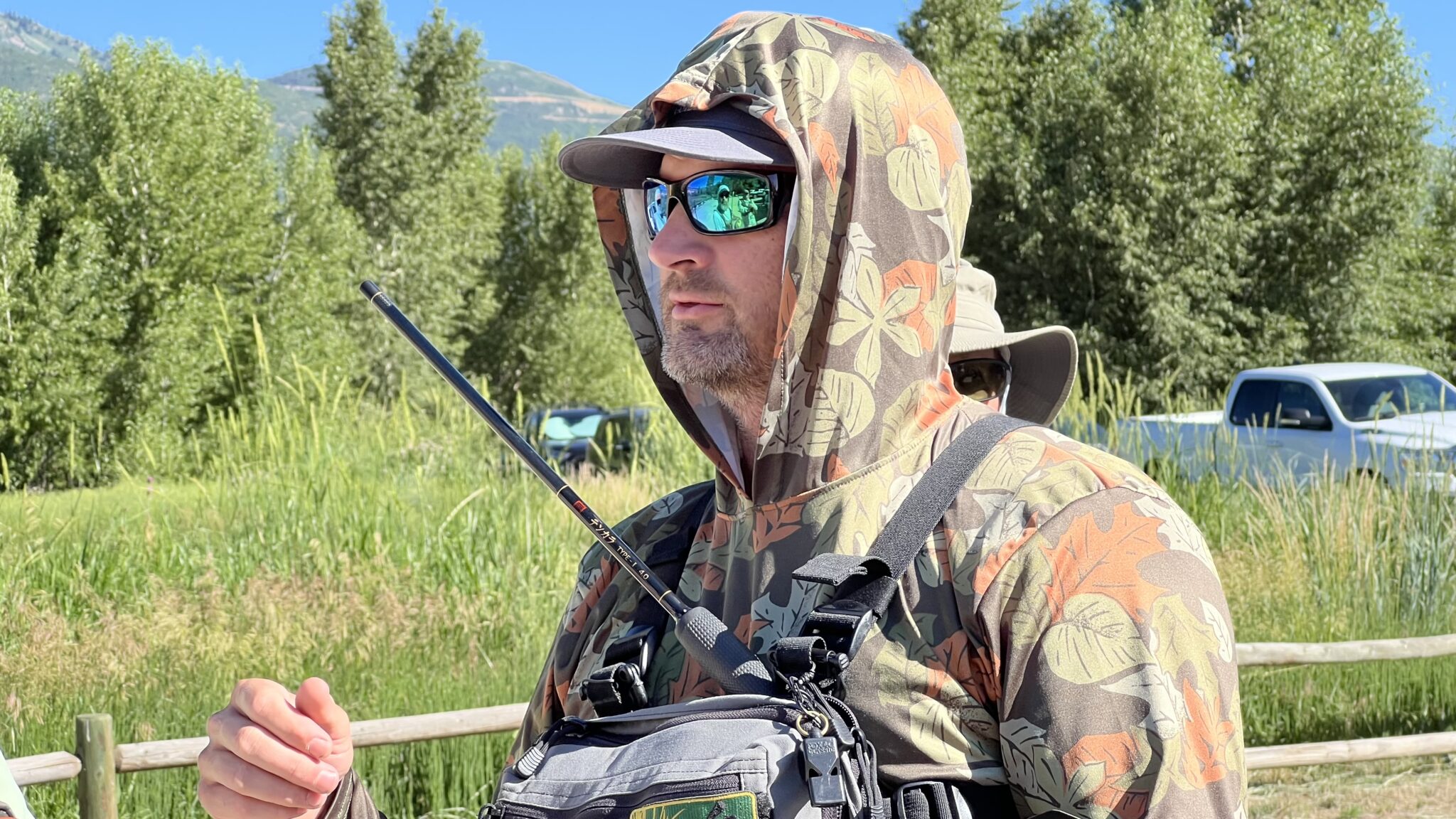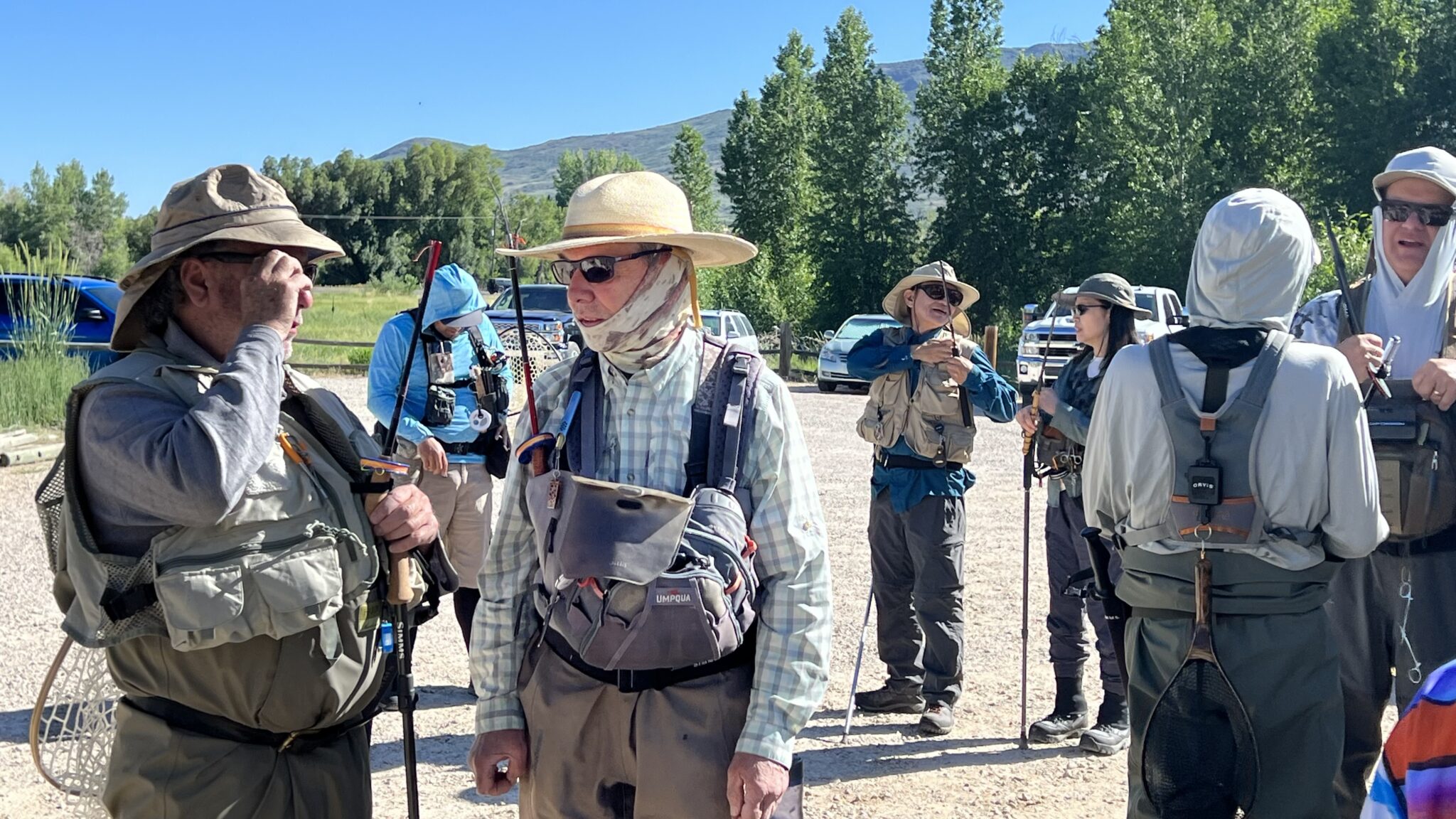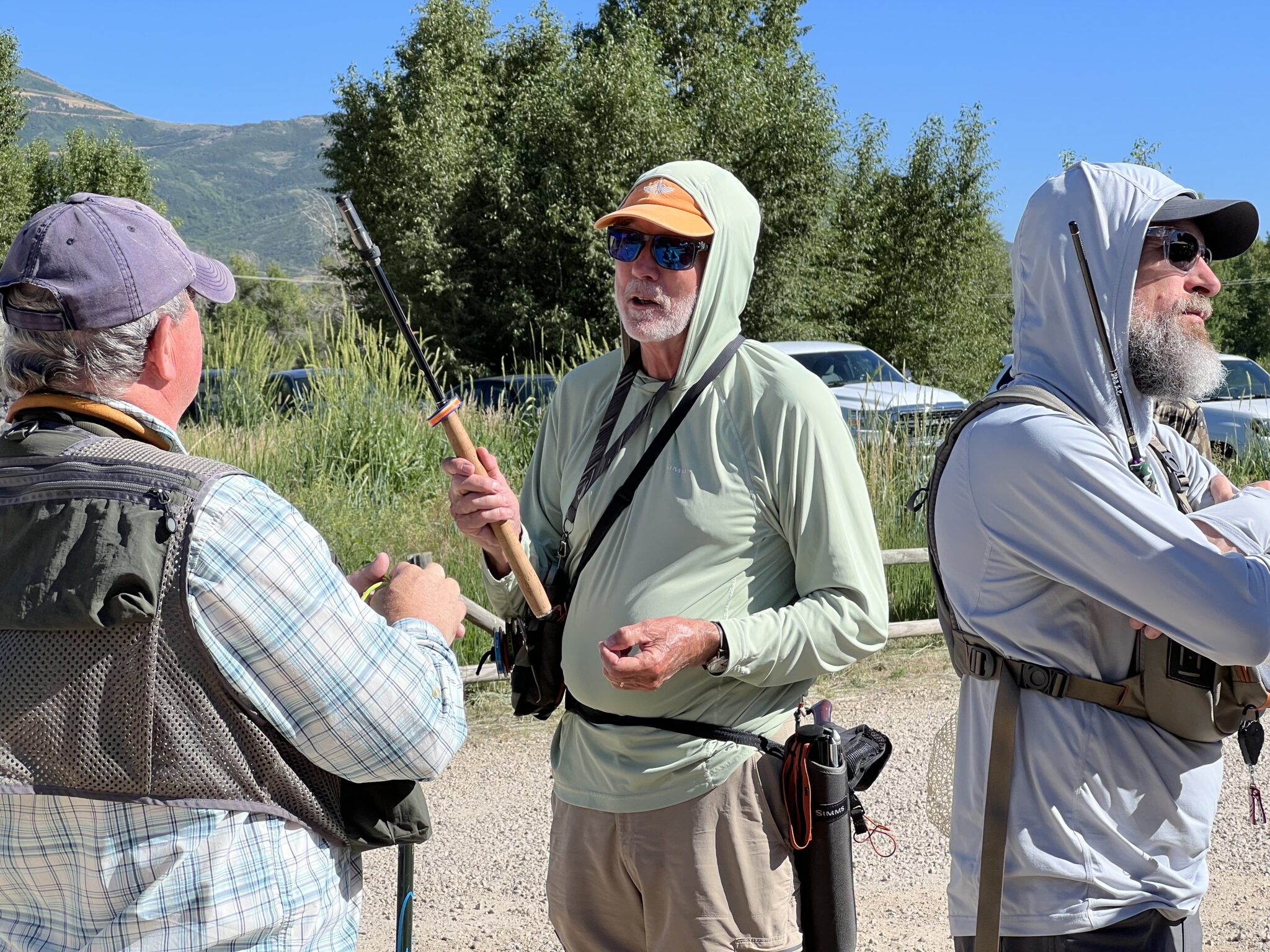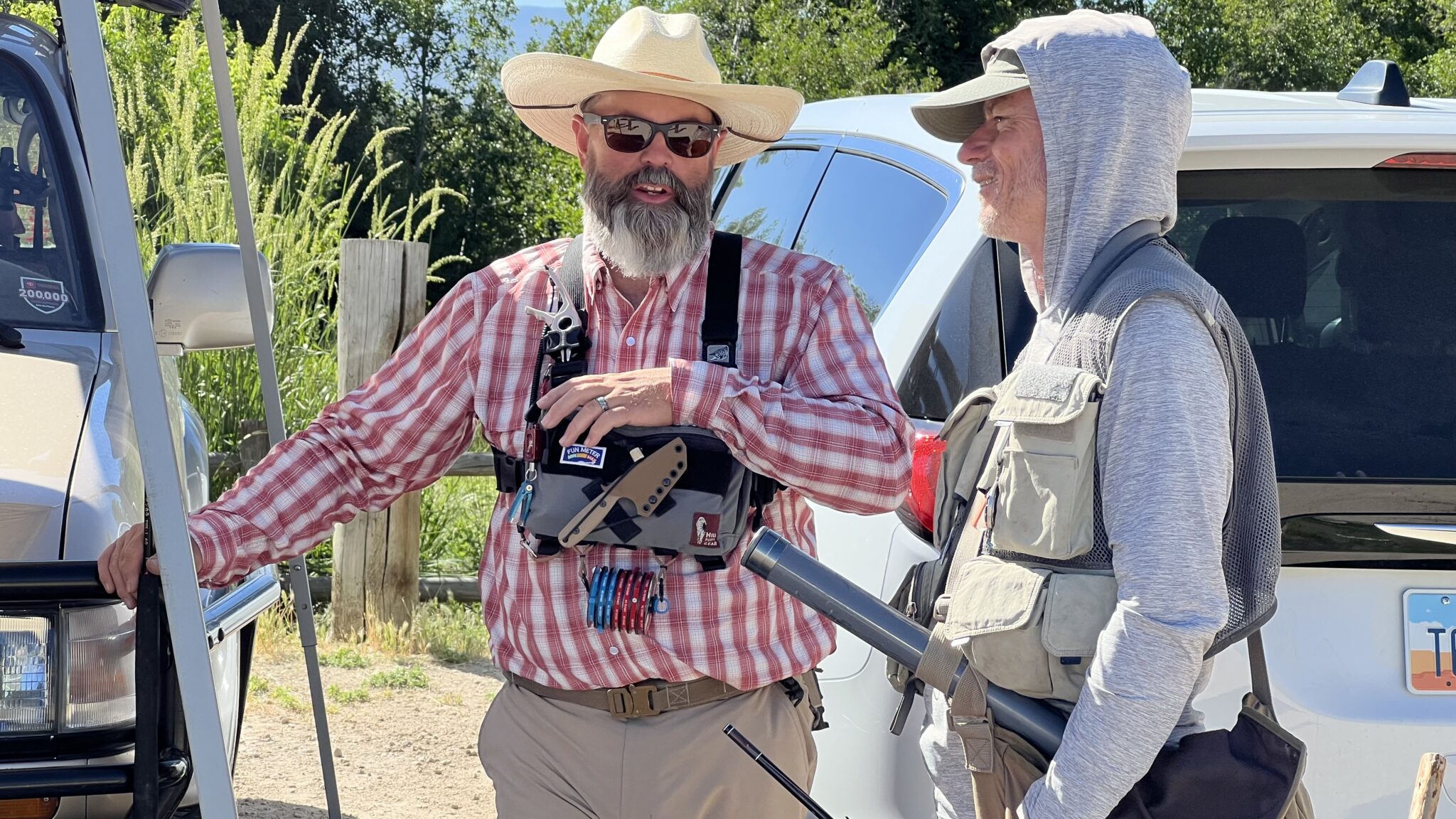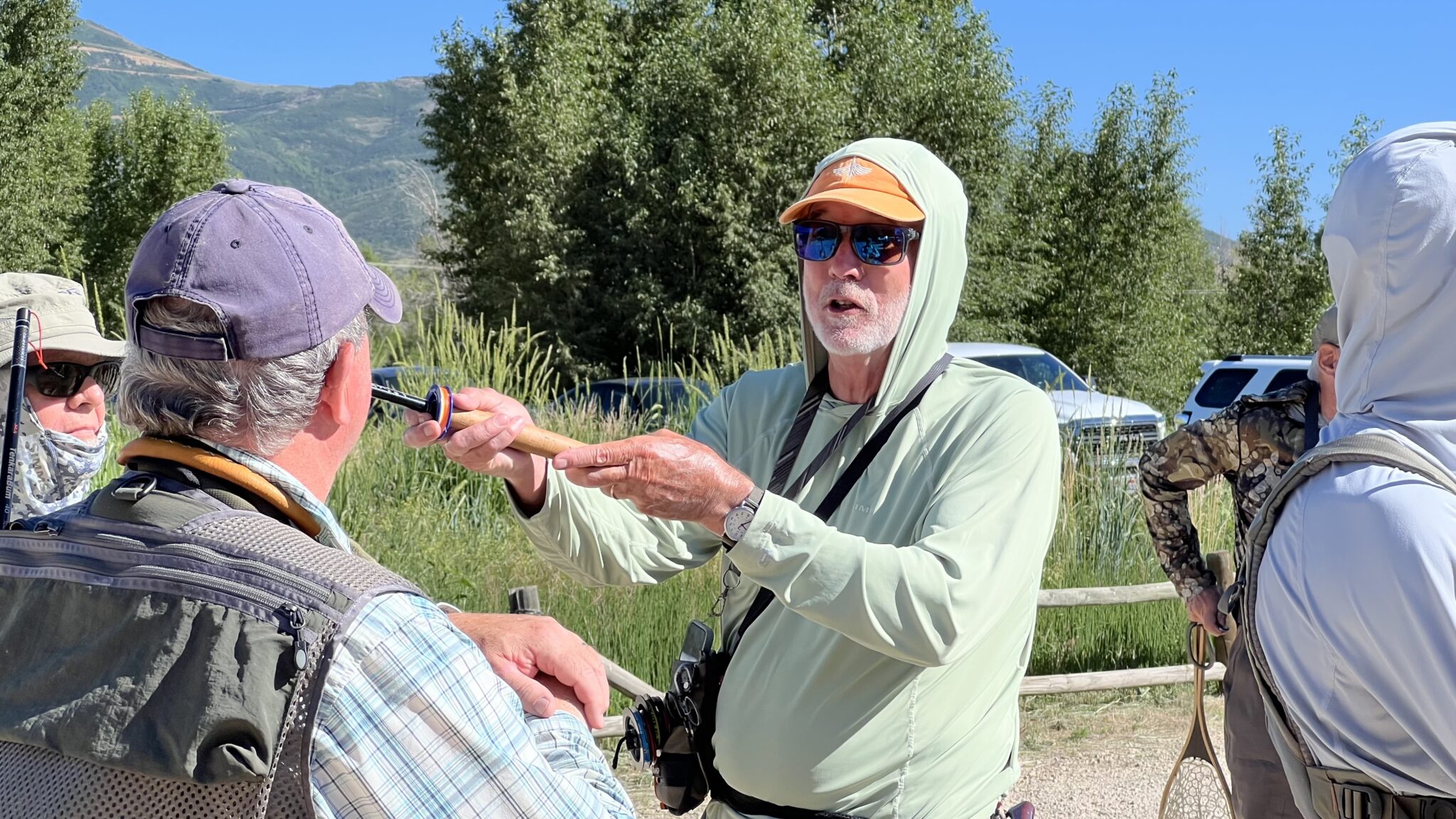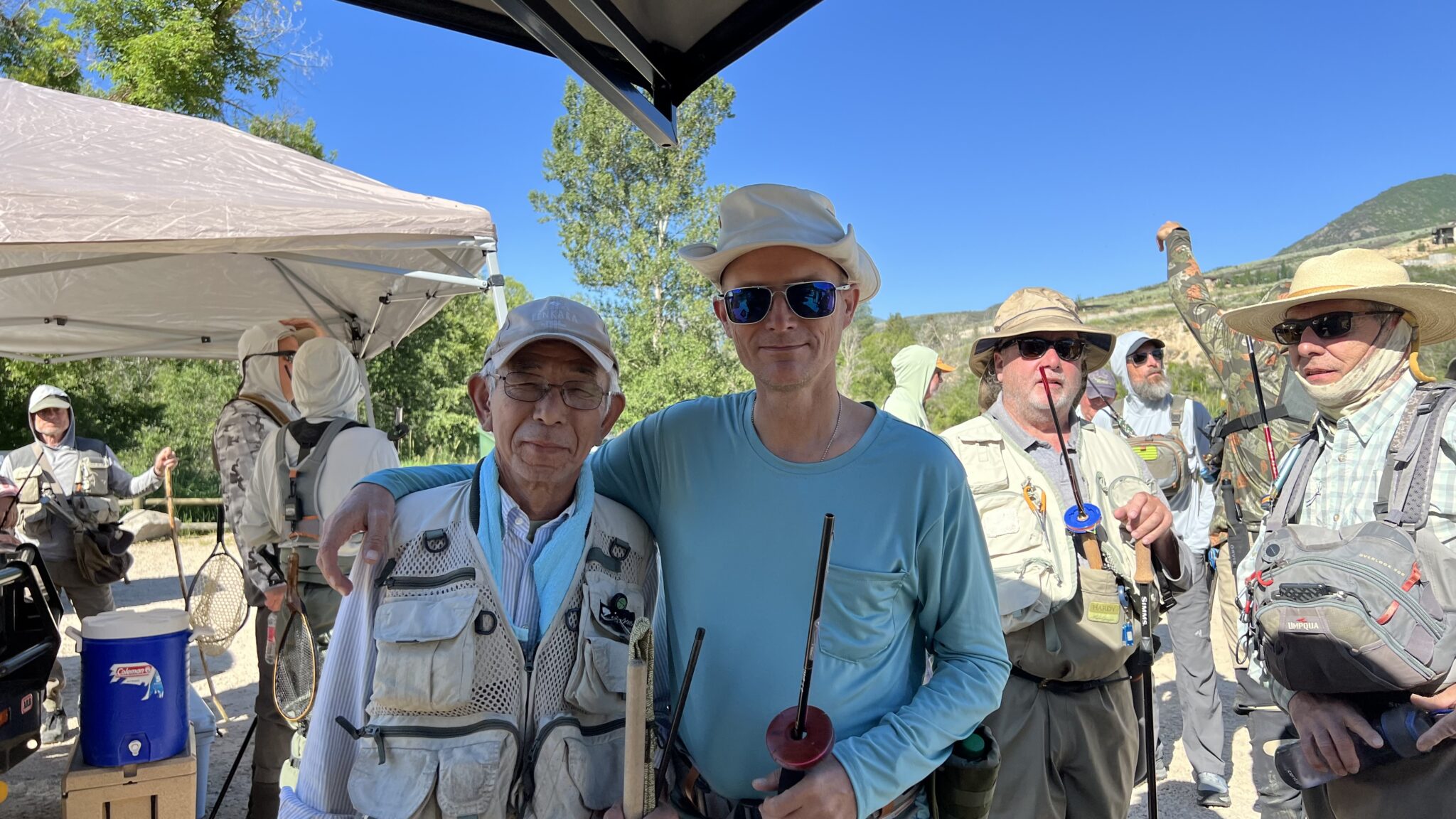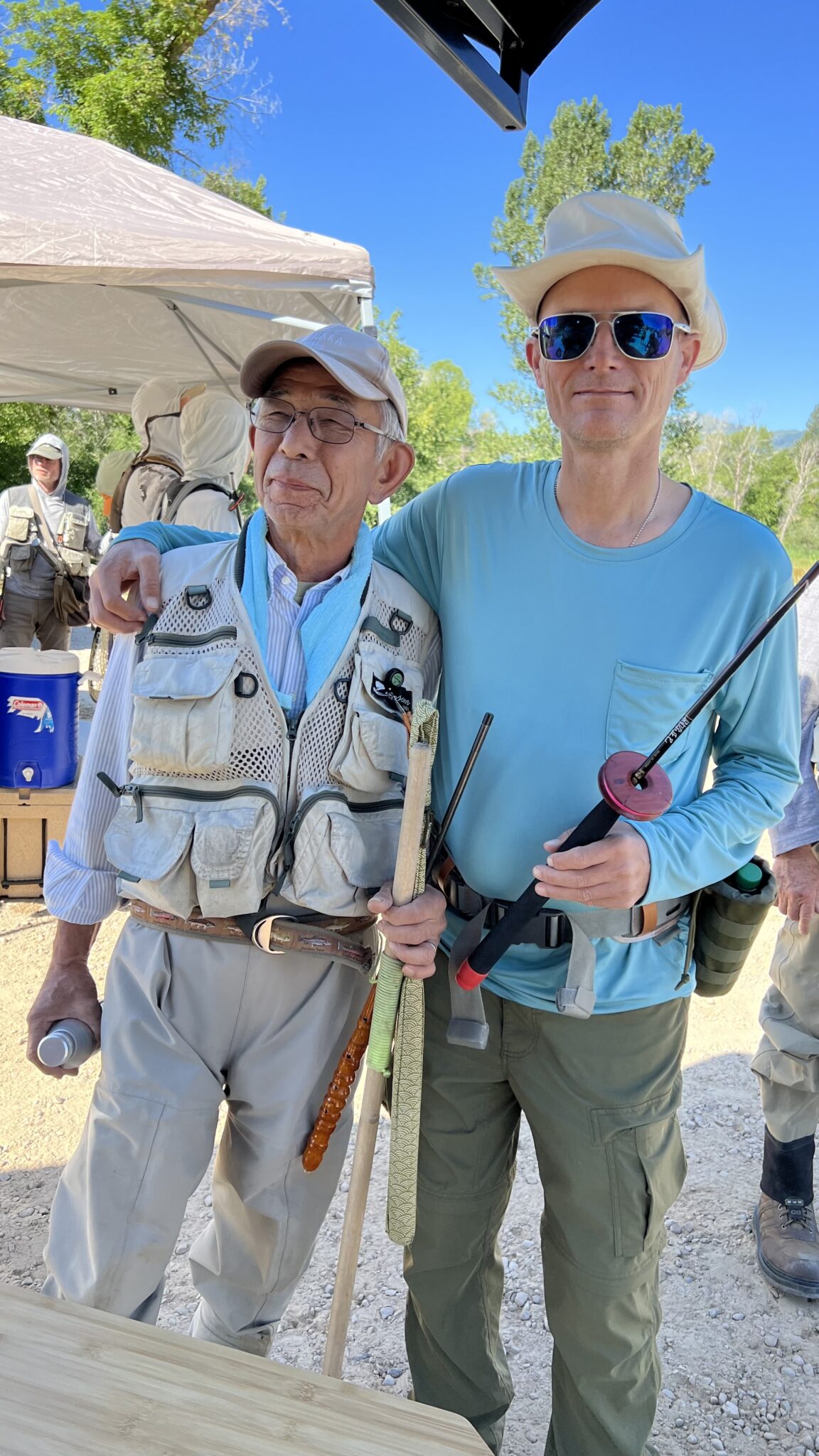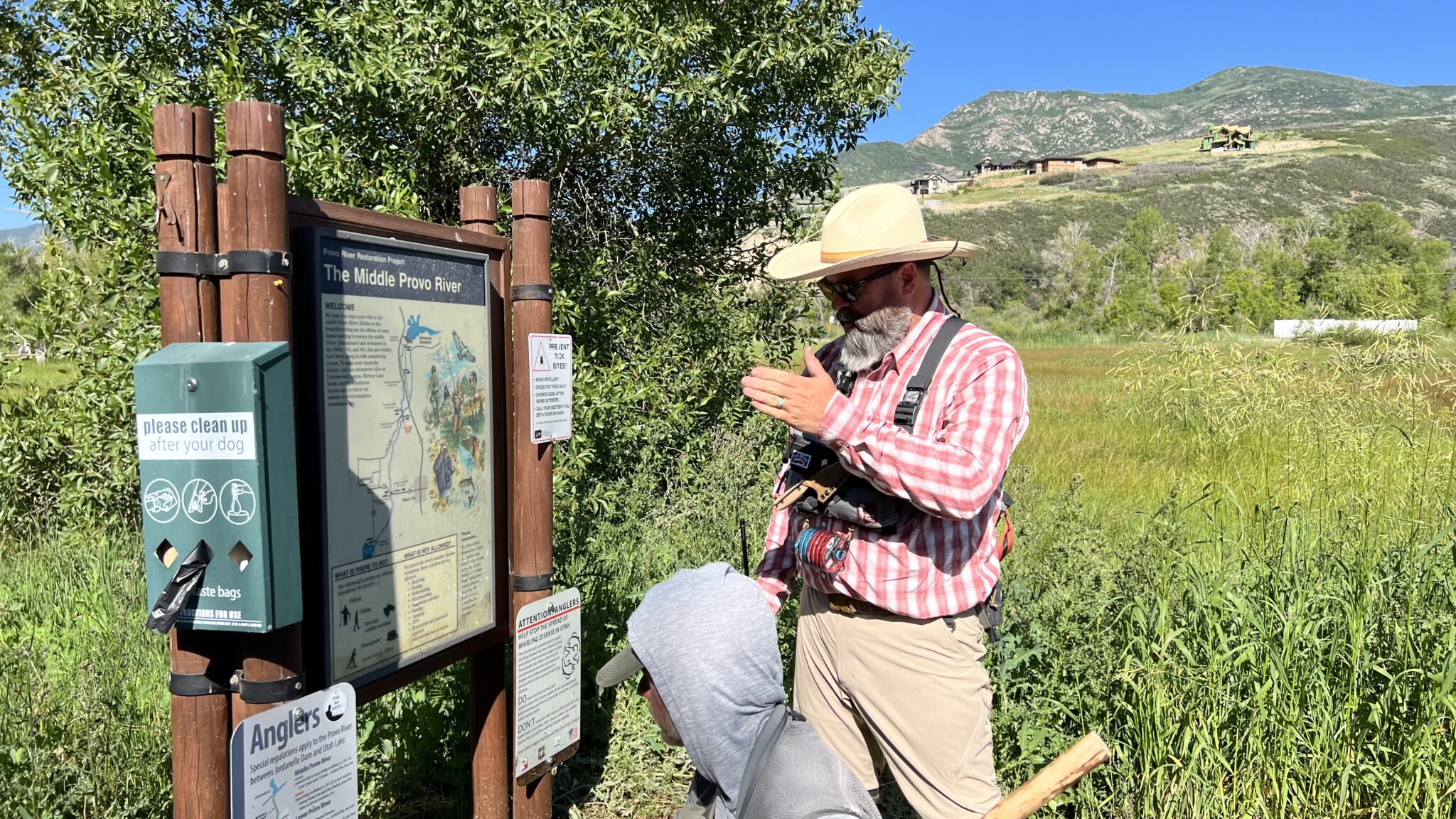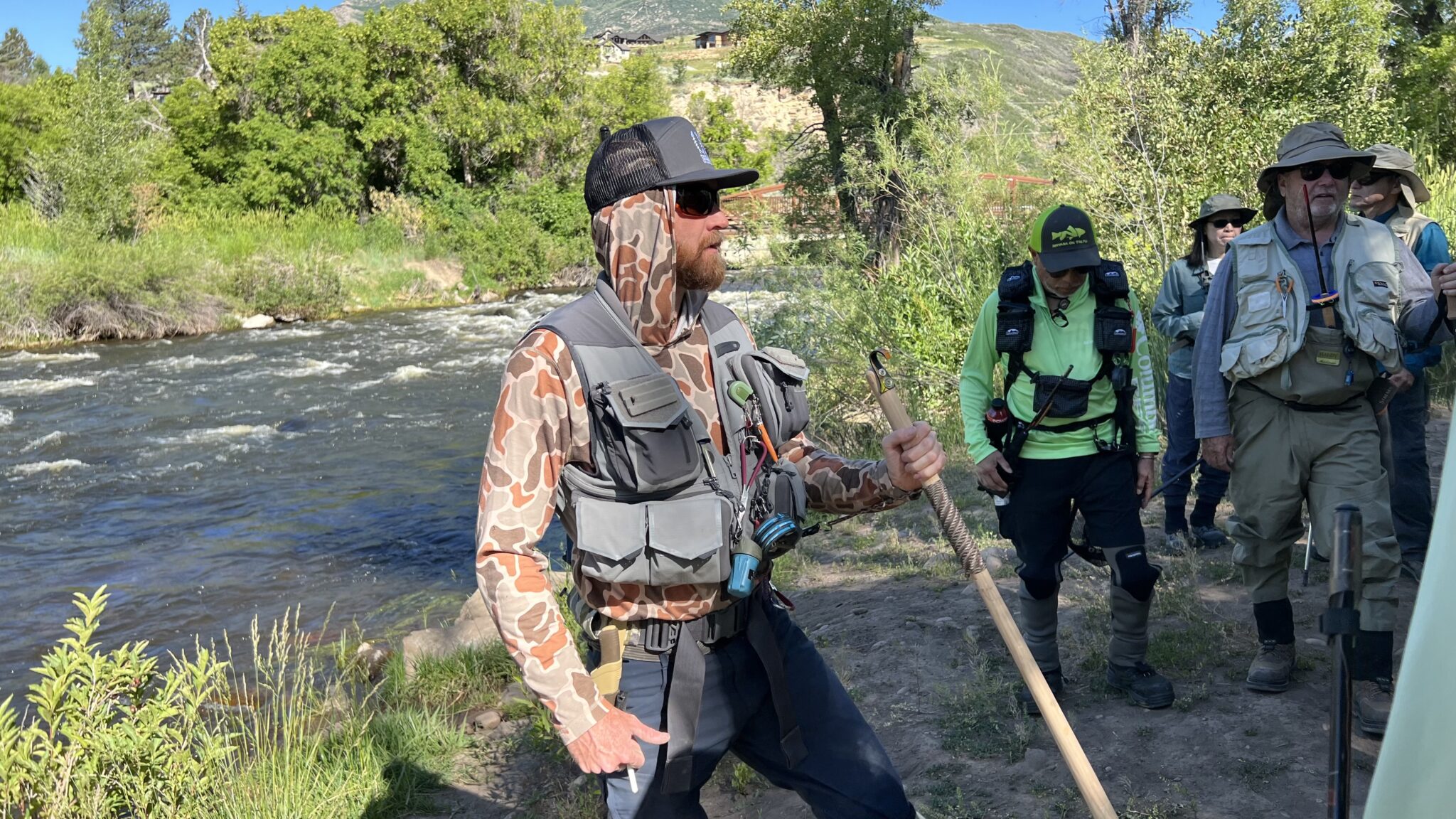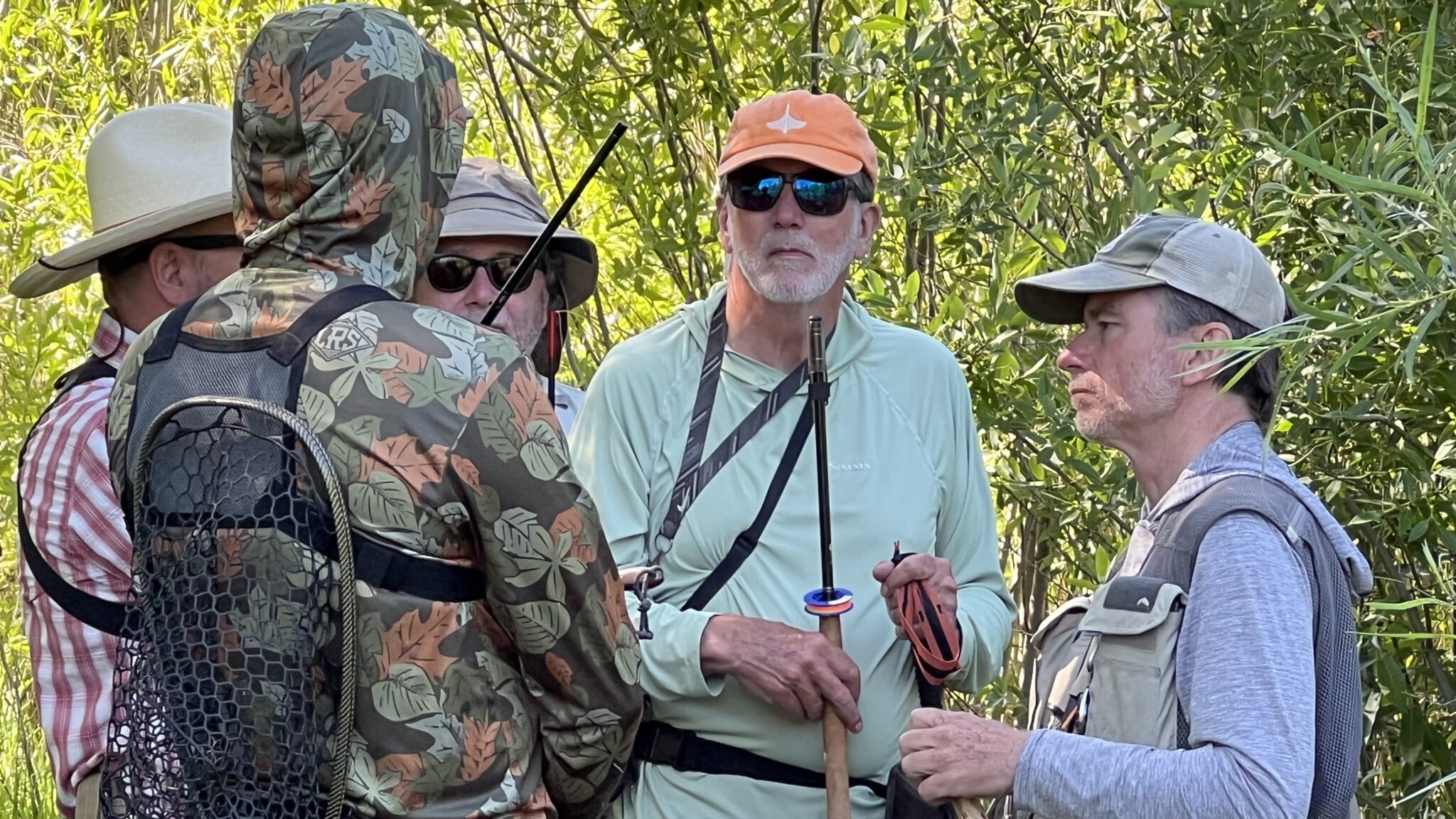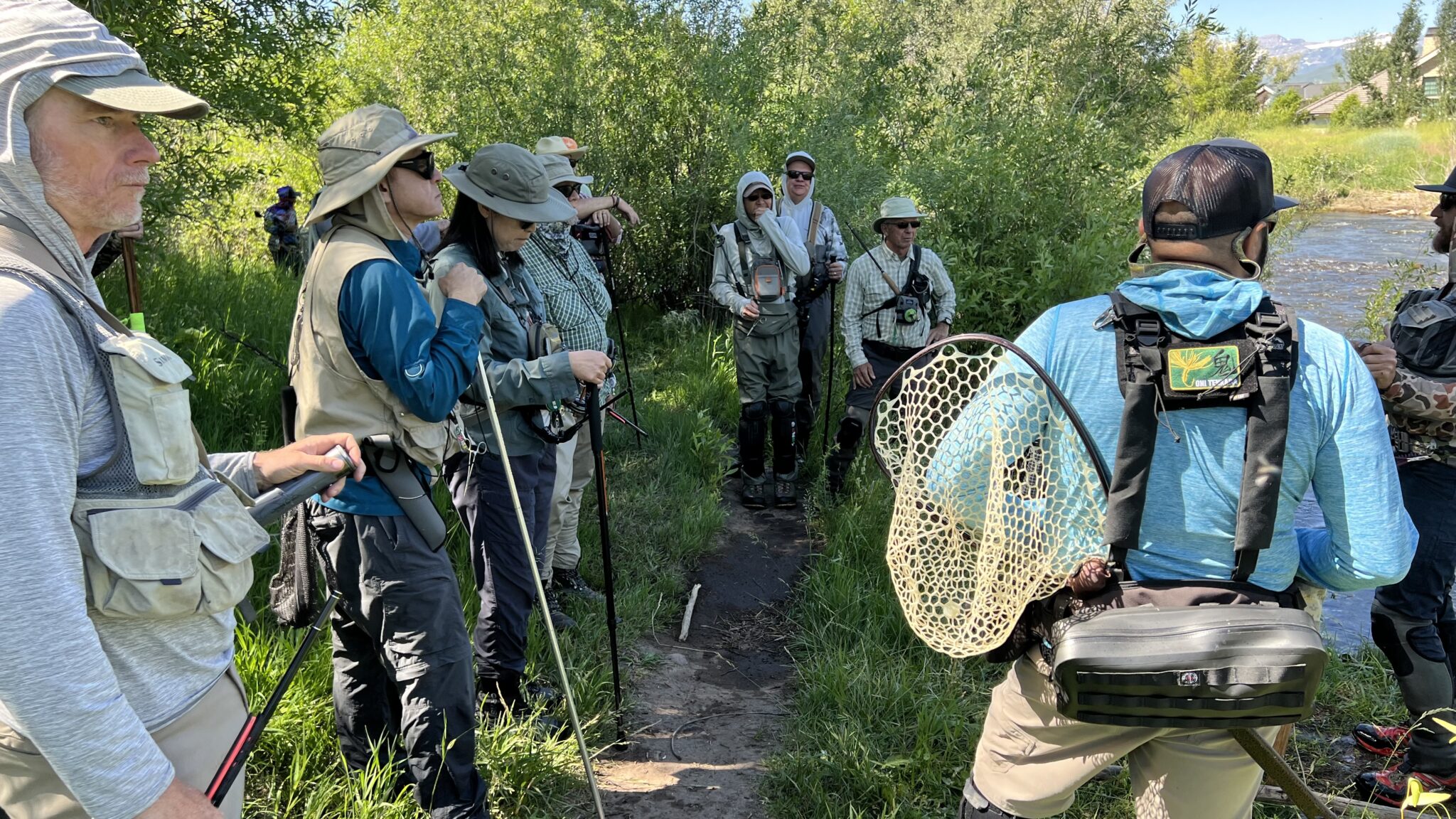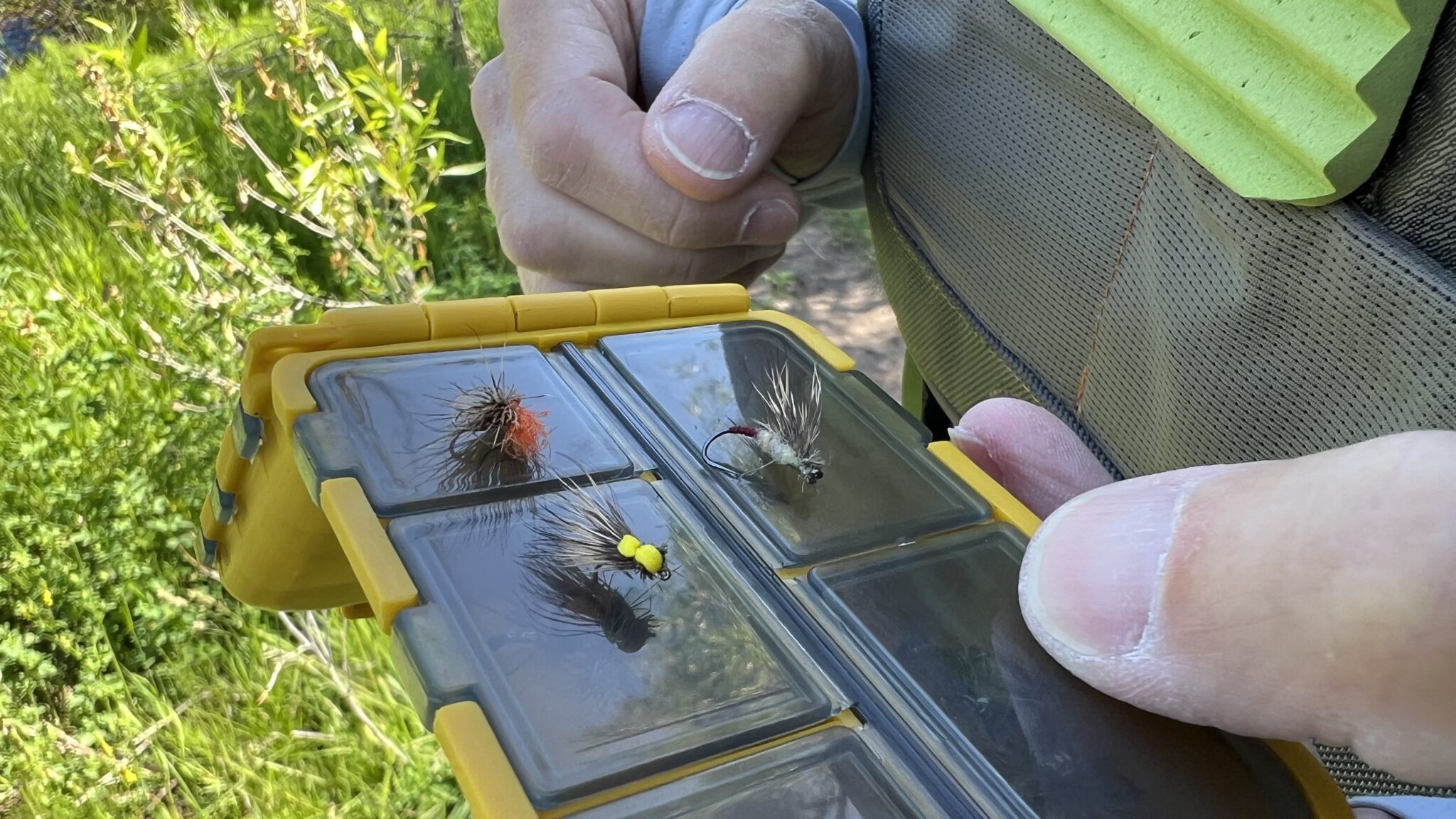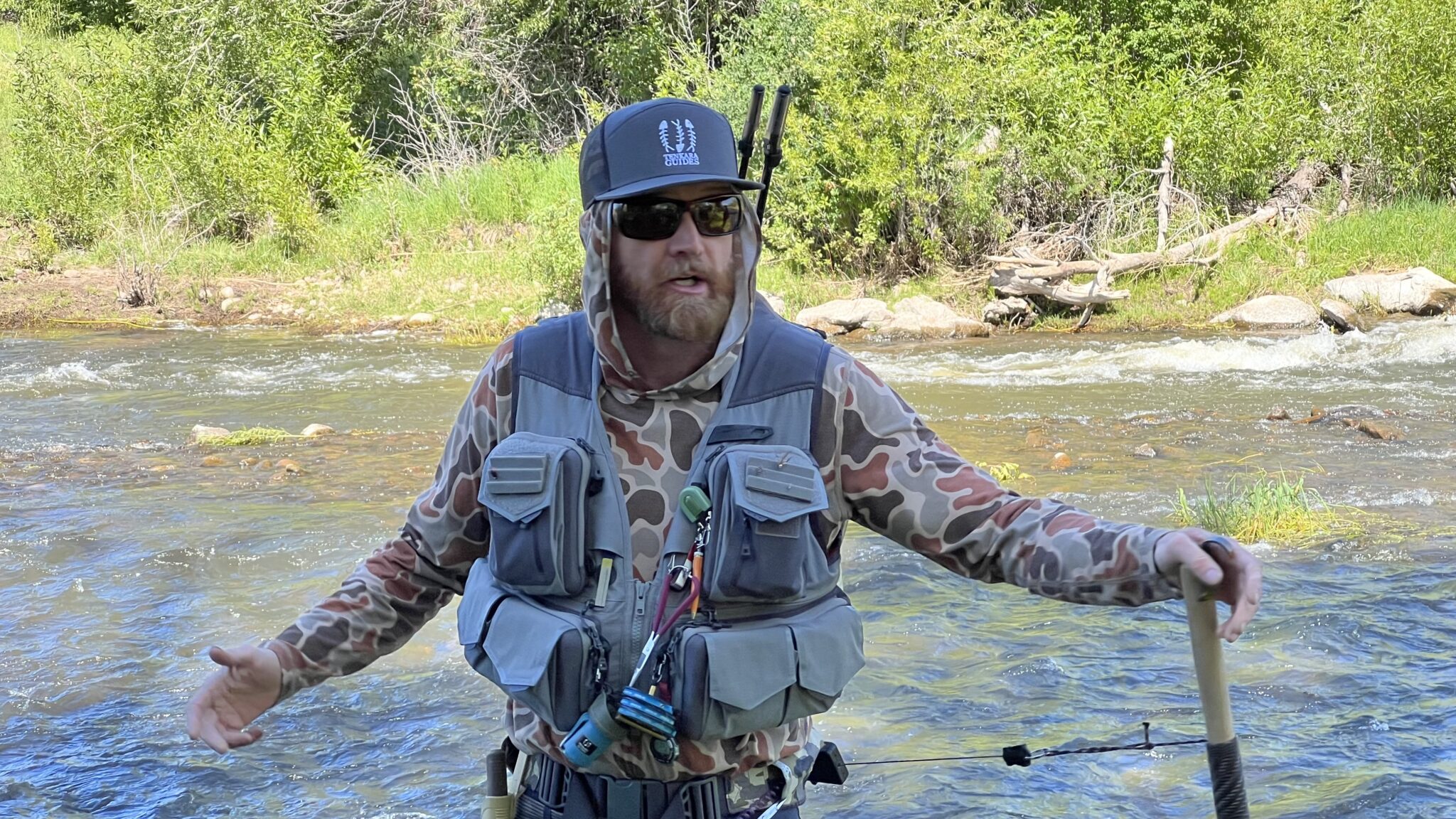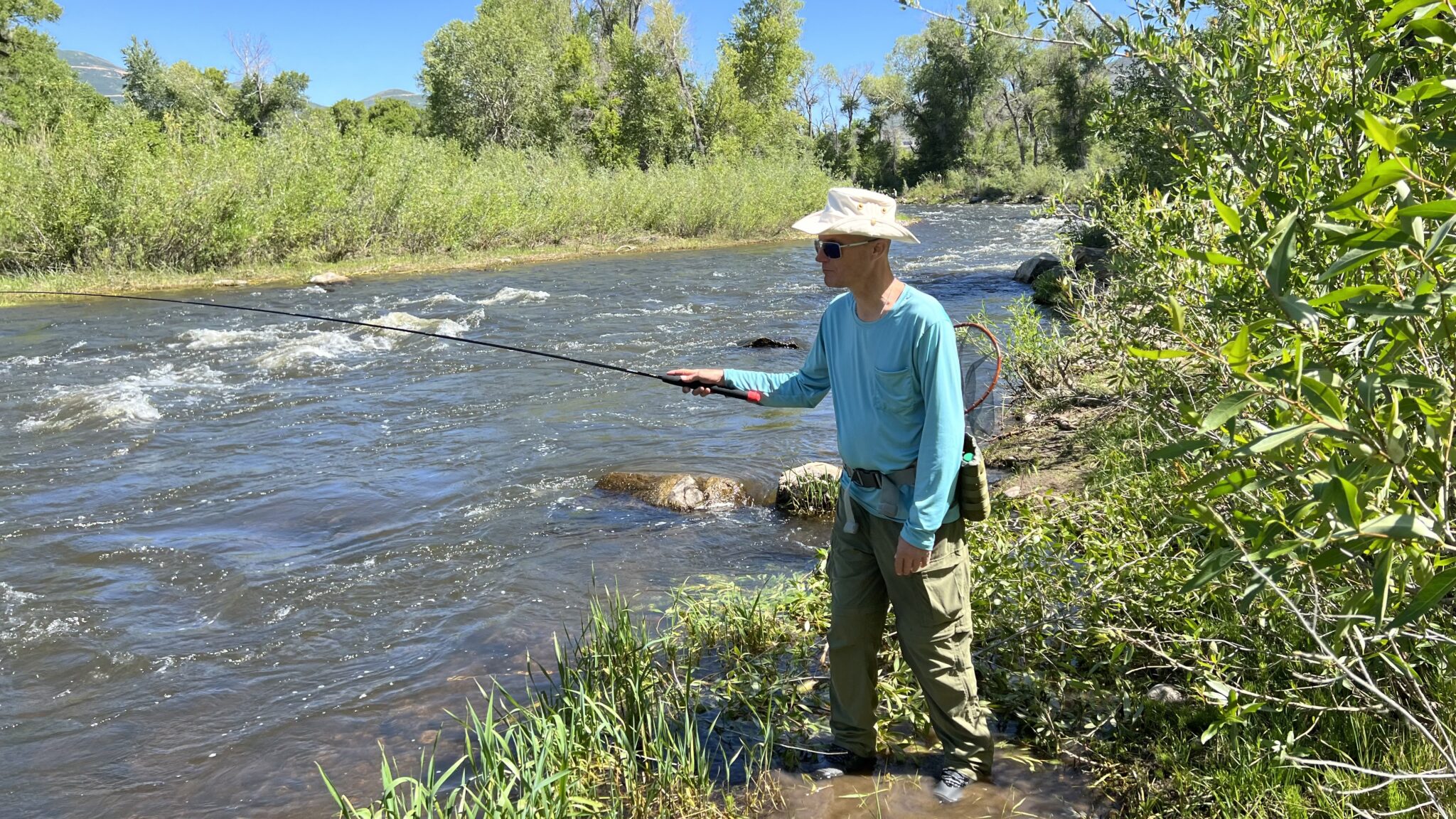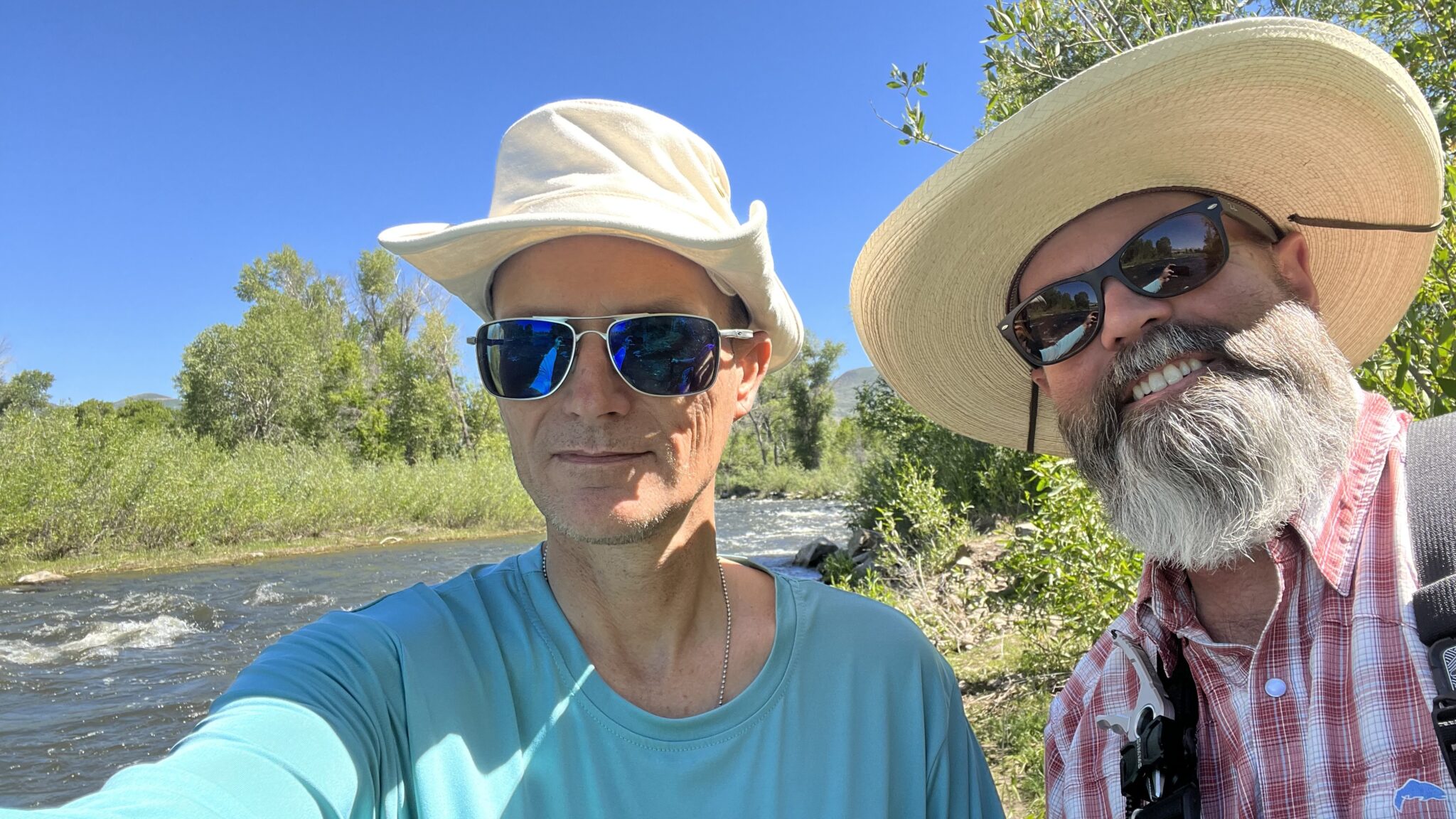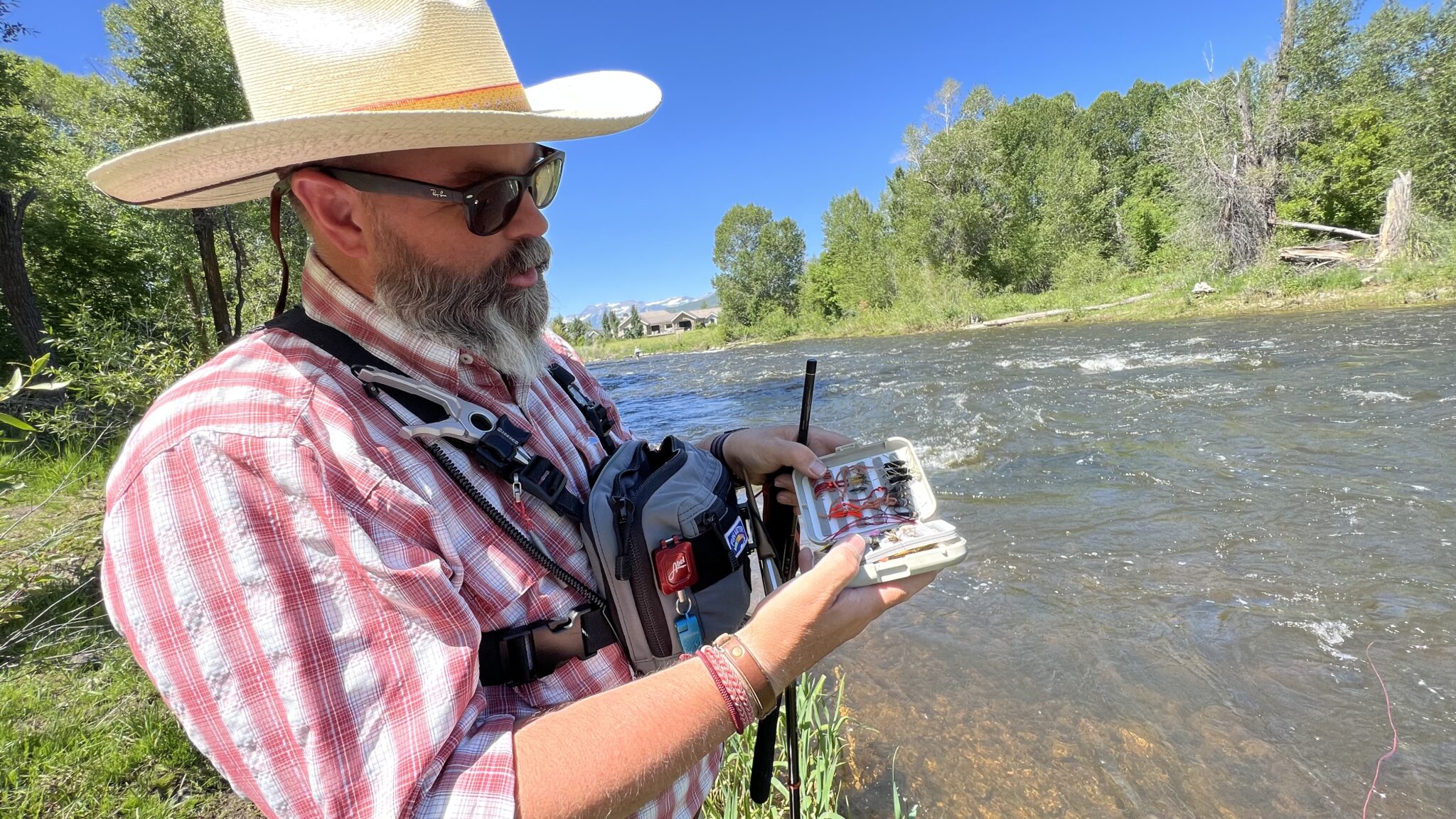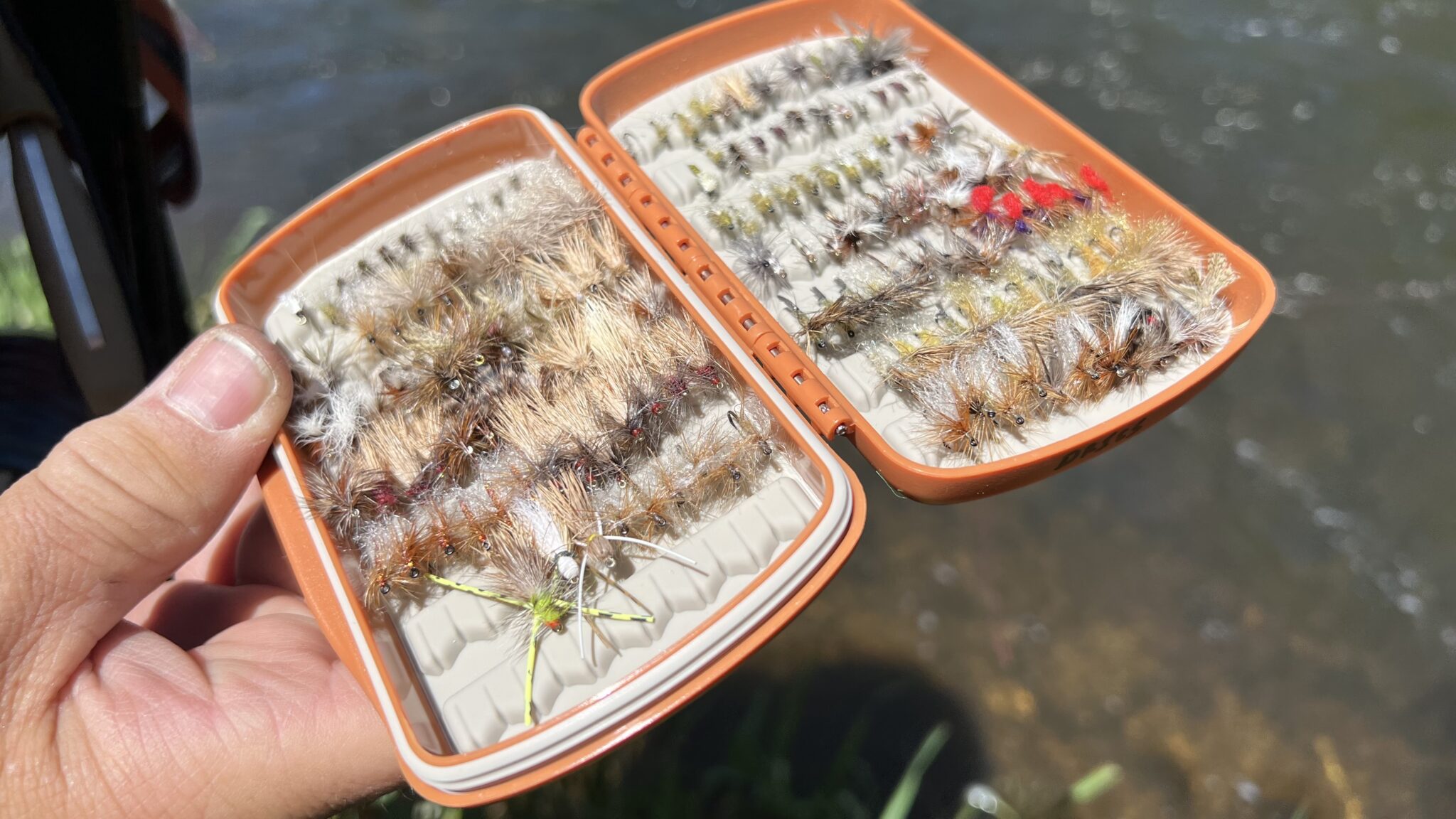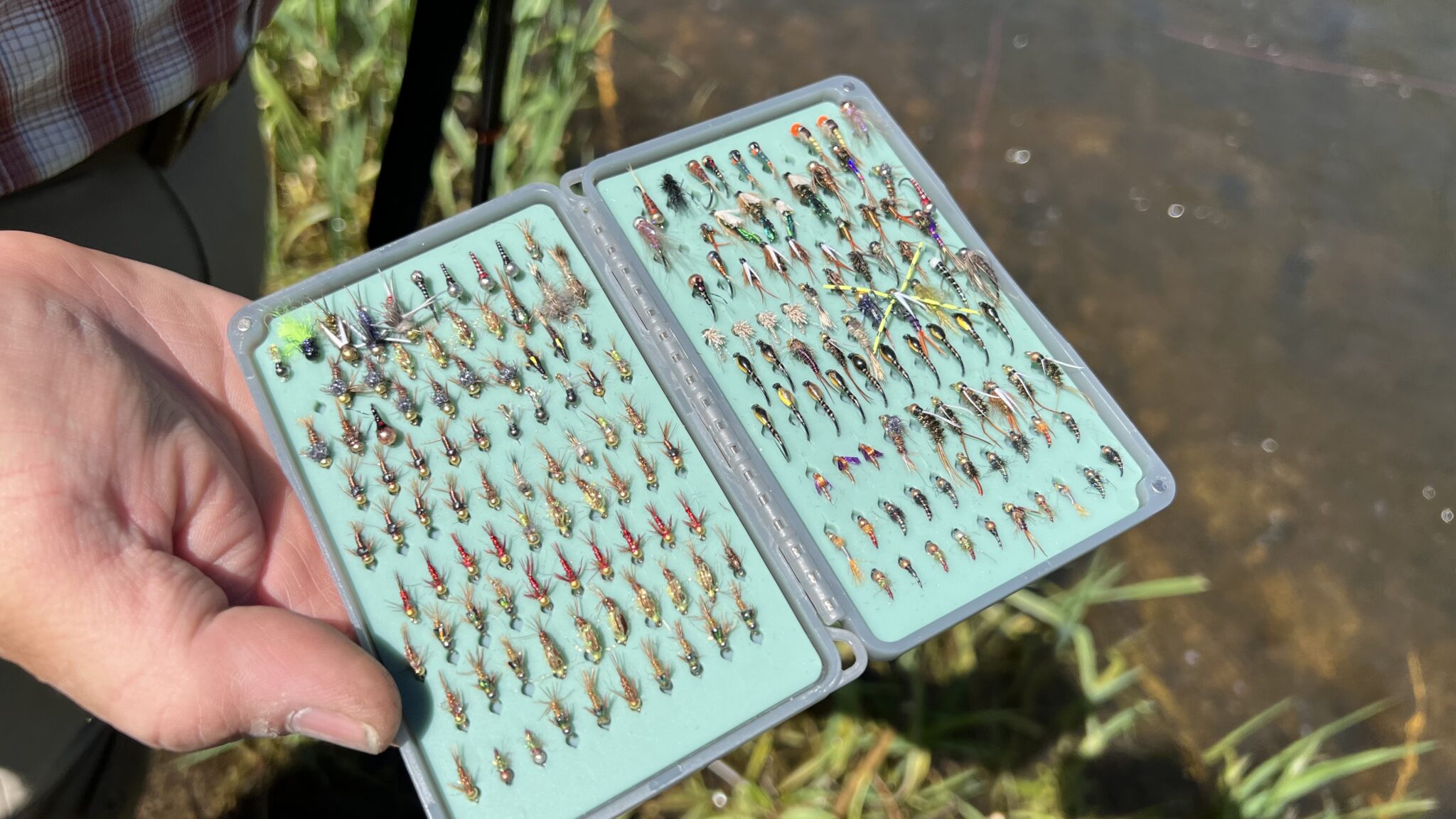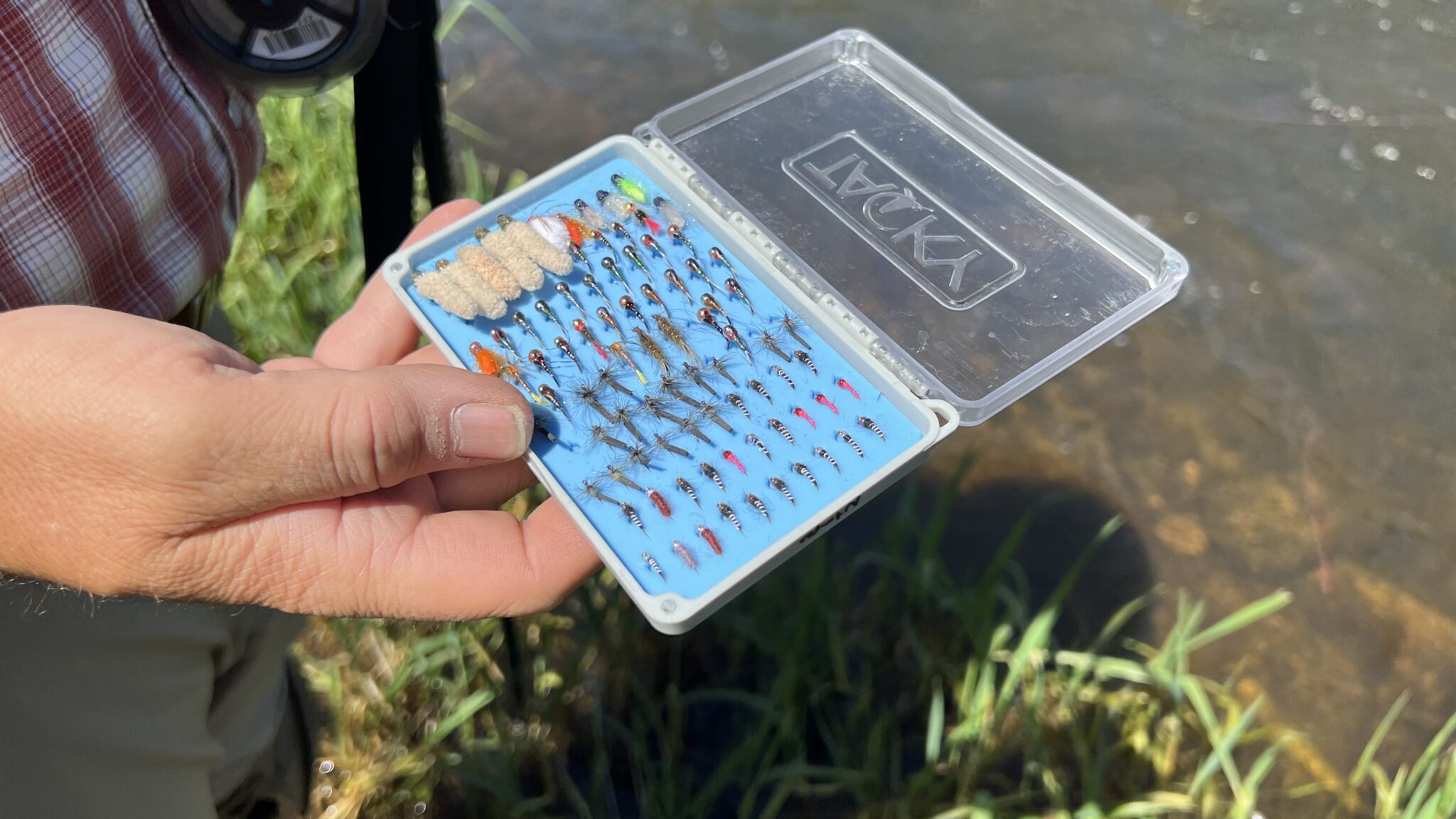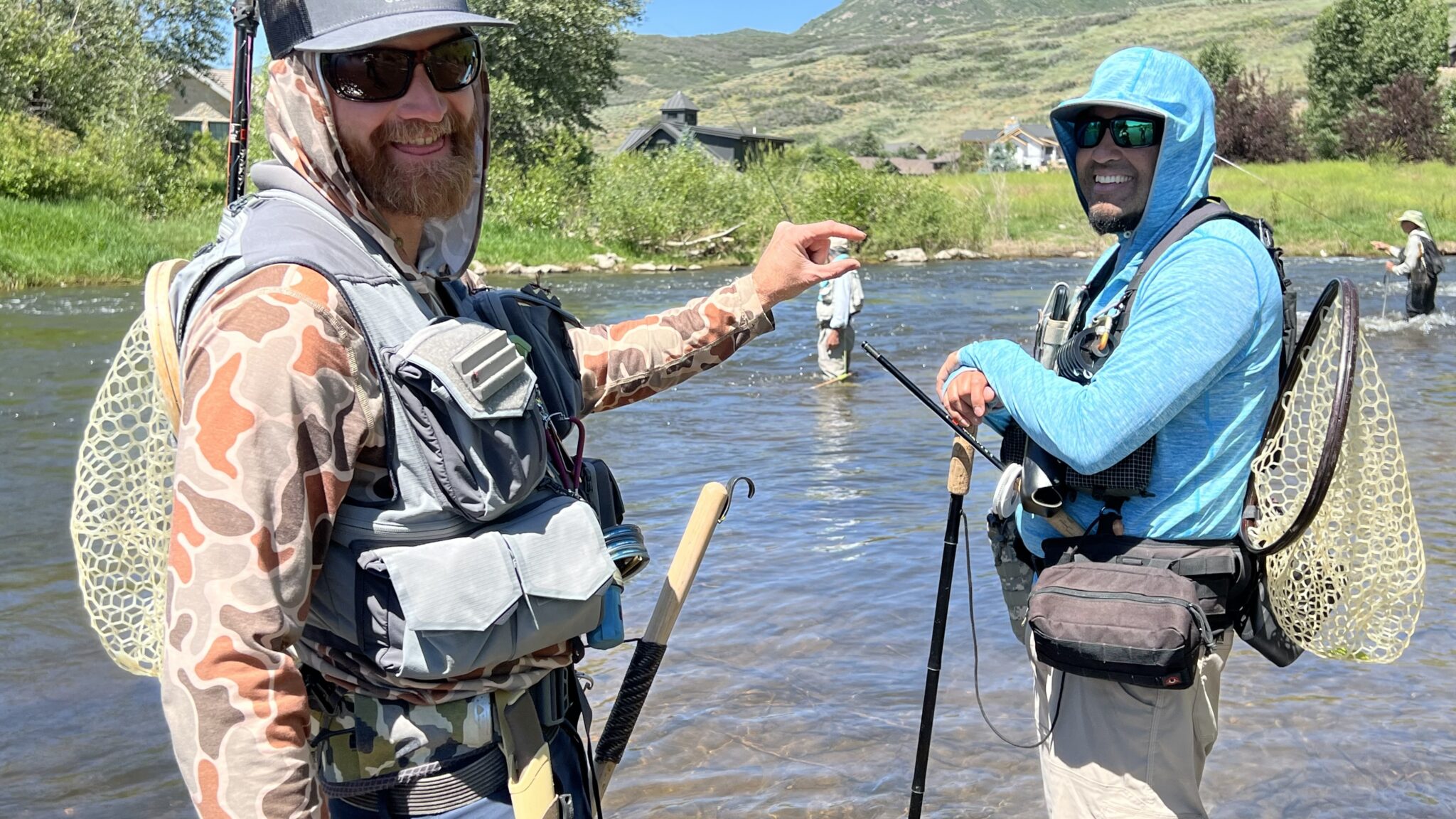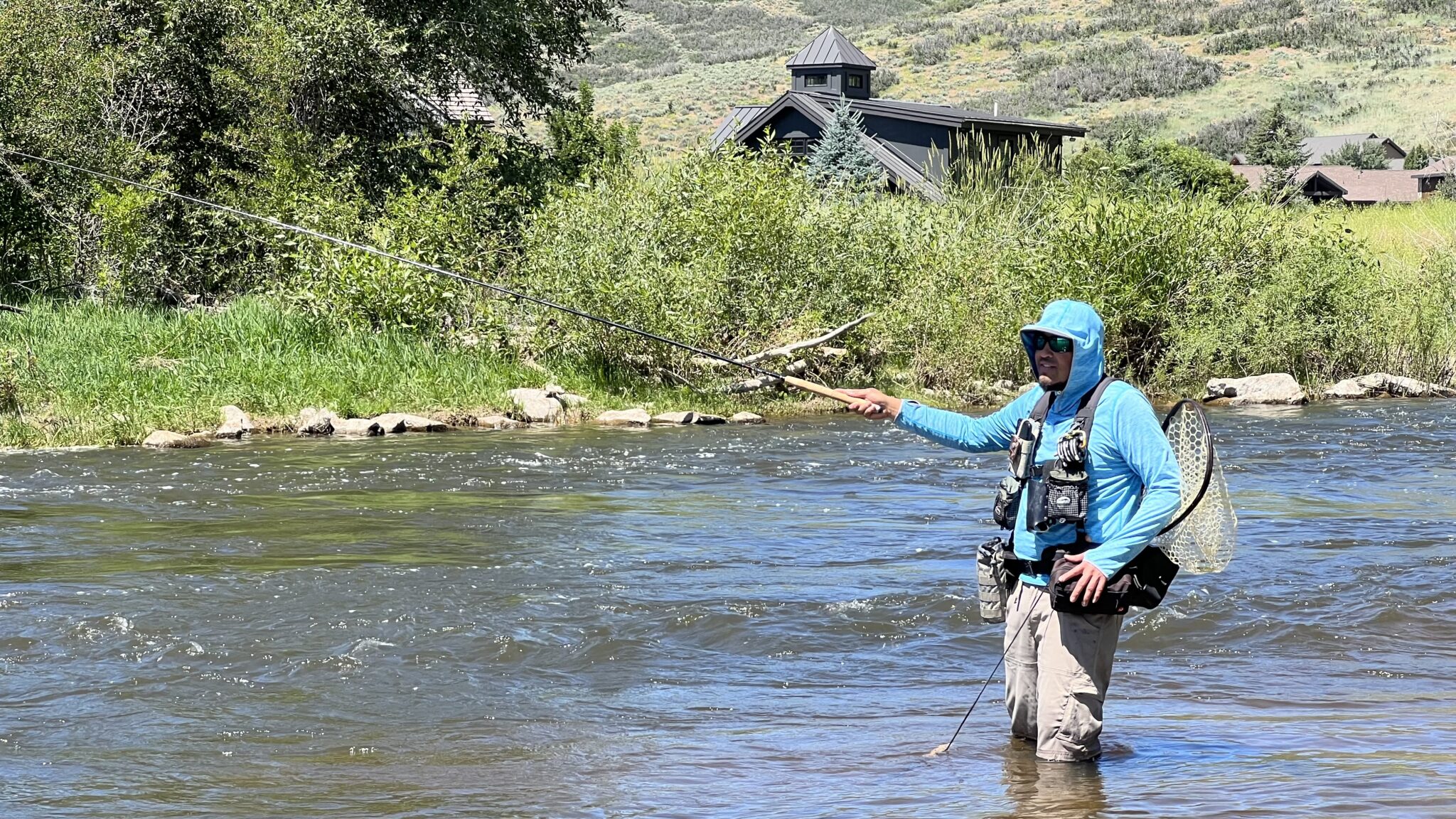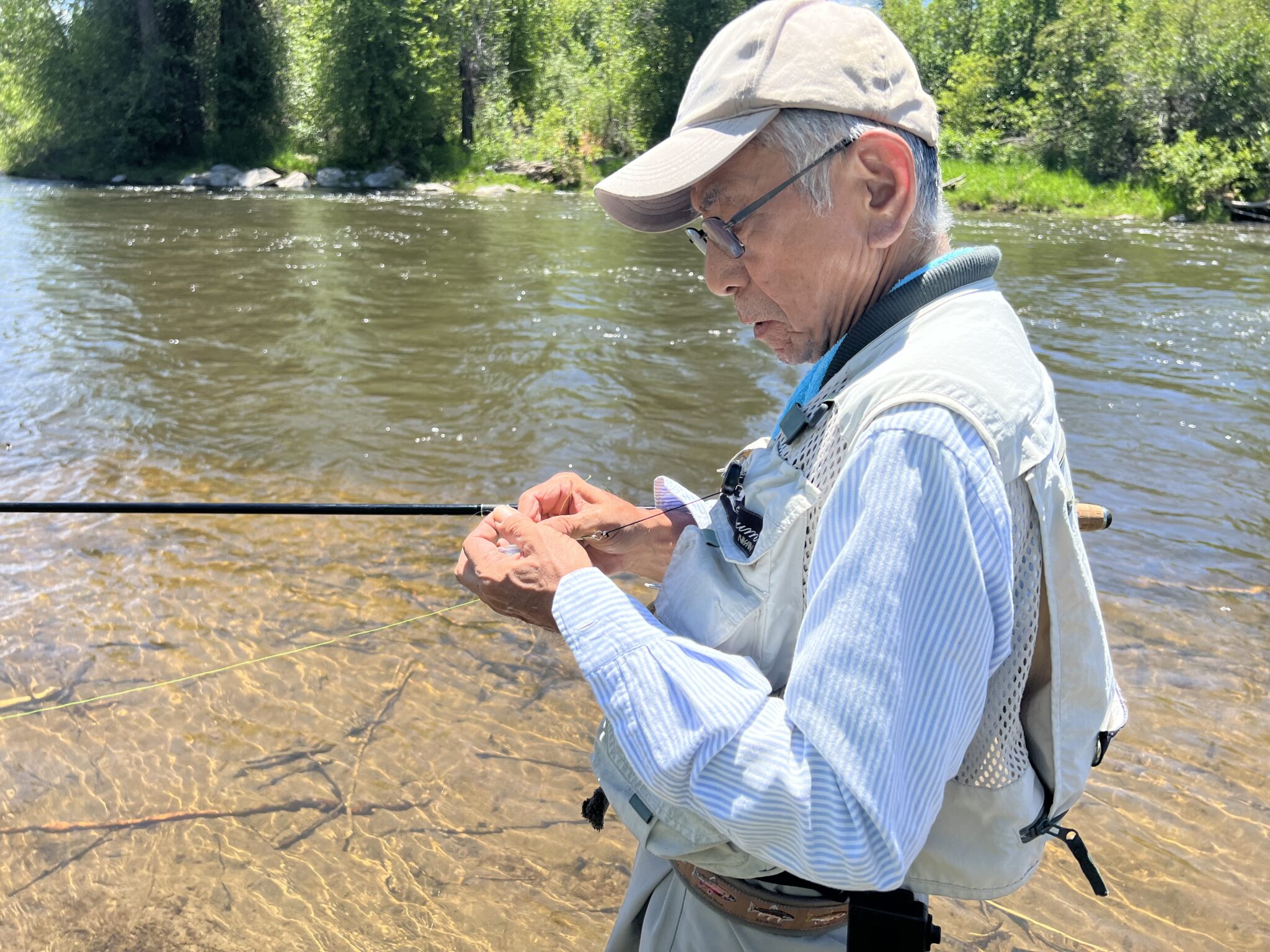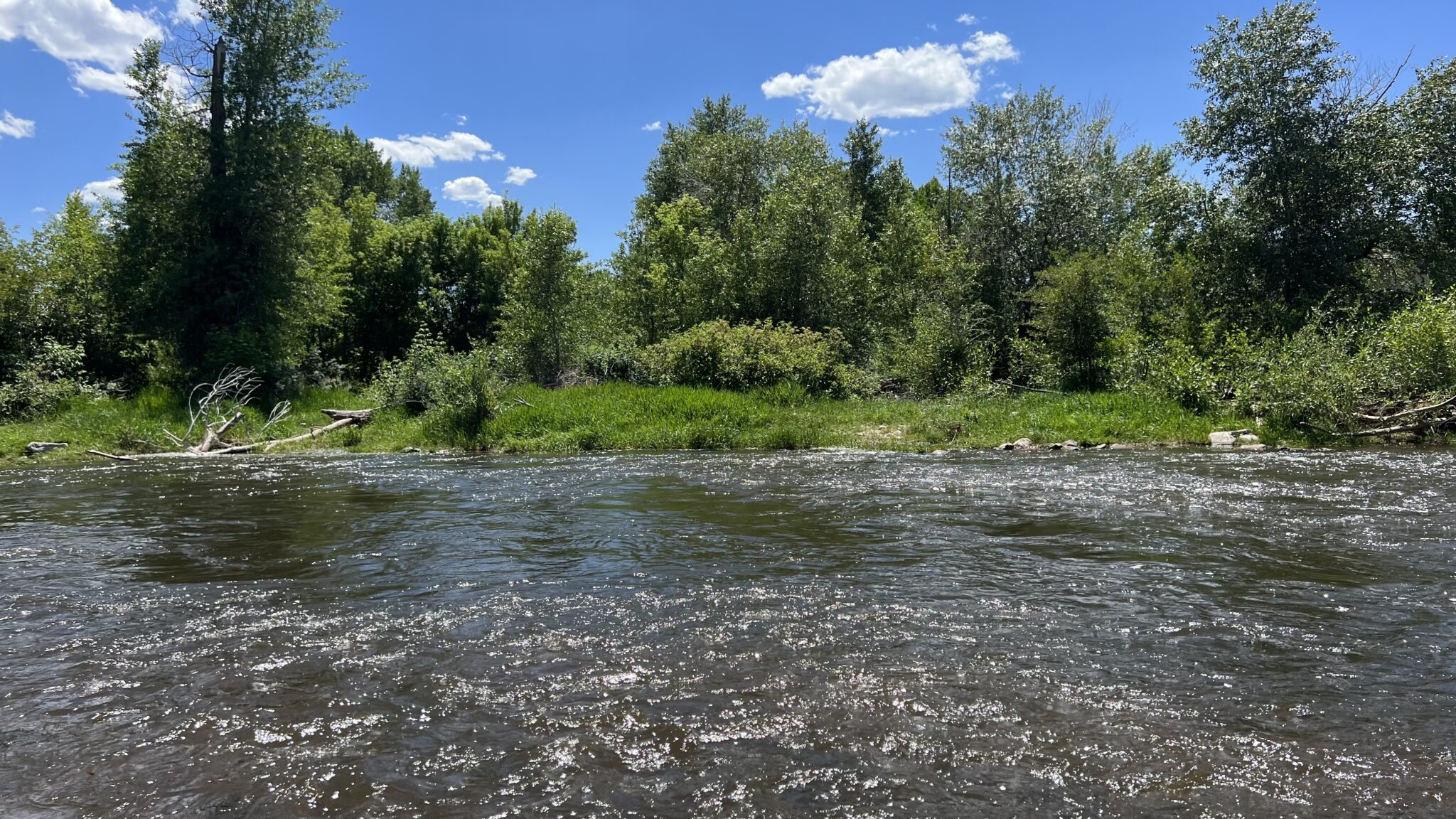 ---
Afterthoughts
It's hard to capture an event like this in pictures or video. I could never relay what the energy was like in words. It's something one has to experience oneself. But I did my best to try and give you at least a taste of what it's like. And I came back with much more content that I'll be sharing soon. But for now, I just wanted to give you my impressions from the perspective of a first-timer.
I can emphatically say that I want to attend again next year, whether Oni is there or not. The main thing I learned is that Oni School Alumni are part of a special club. All of the attendees that have been there multiple times all said the same thing: the reason they keep coming back is because of the people. It's the only time of the year some of these friends see each other and they look forward to it like Christmas!
And I completely get it! I'm already thinking about next year's event and miss the camaraderie.
EriK, Rob, and John are the perfect hosts for this–I can't imagine it being done by anyone else. I can't say enough about their professionalism, knowledge, helpfulness, and just overall positive attitudes. I hinted to them that from what I saw, I think the Oni School has the potential to become the replacement for the now defunct Tenkara USA Summits. If I could help make that happen in anyway, I herby officially volunteer!
I'll see you next year!
I want to thank Masami-san, Coco-san, Erik, Rob, John, and all the attendees from whom I learned so much. And I especially want to thank Haruko Sadler for translating and putting up with my dumb questions.

For those of you that attended, if you see a picture of yourself above, feel free to grab it by right clicking on the image you want and selecting either "save image" or "copy".