If you told me that one day I'd be waving a tenkara rod in the heart of Manhattan with a girl from the Dominican Republic, I would have asked you for some of whatever it was you were smoking. But that's exactly where I found myself just a few days ago on a week-long trip to NYC to visit my girlfriend.
Fishing wasn't originally on the agenda–after all, the city does not exactly conjure images of pristine waters, solitude, and photo-worthy fish. Nor does it deliver on that. But I had taught my girlfriend Cindy how to tie flies on her last trip to Colorado and she had yet to actually catch a fish. I did a little research and found that there actually were a few places to fish in Central Park so I decided to throw a couple of tenkara rods in my suitcase and give it a shot. And as you'll see, I'm glad I did.
Harlem Meer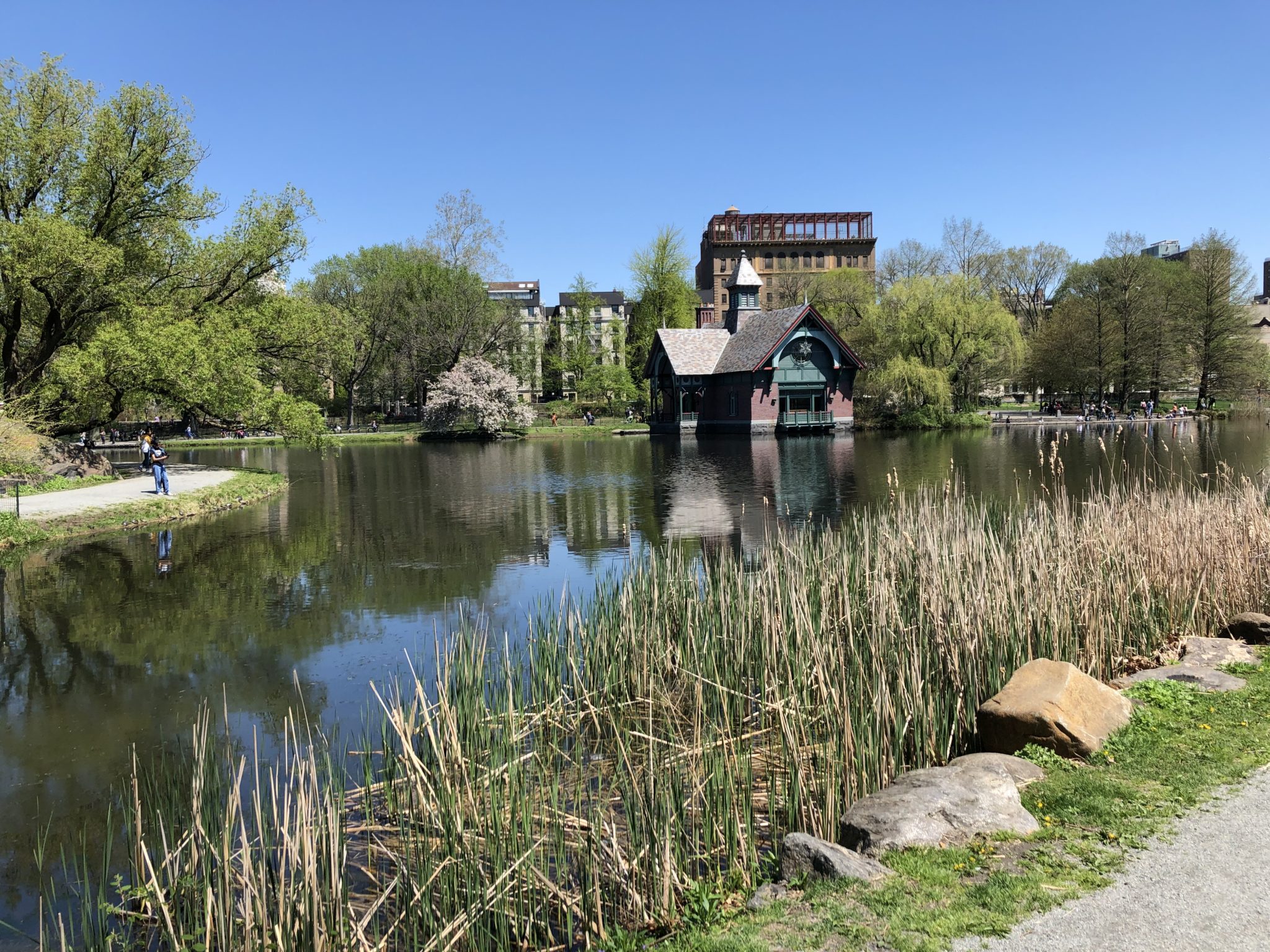 There are several lakes and ponds in the park and we fished a few of them. But the best fishing was at Harlem Meer at 110th St. and 5th Avenue. It's just the right size for tenkara as the fish are close to shore and access along the banks is easy. It's home to several species including Largemouth Bass, Crappie, and Bluegill. The fish aren't huge, but it's mostly sight fishing which compensates in fun what lacks in size.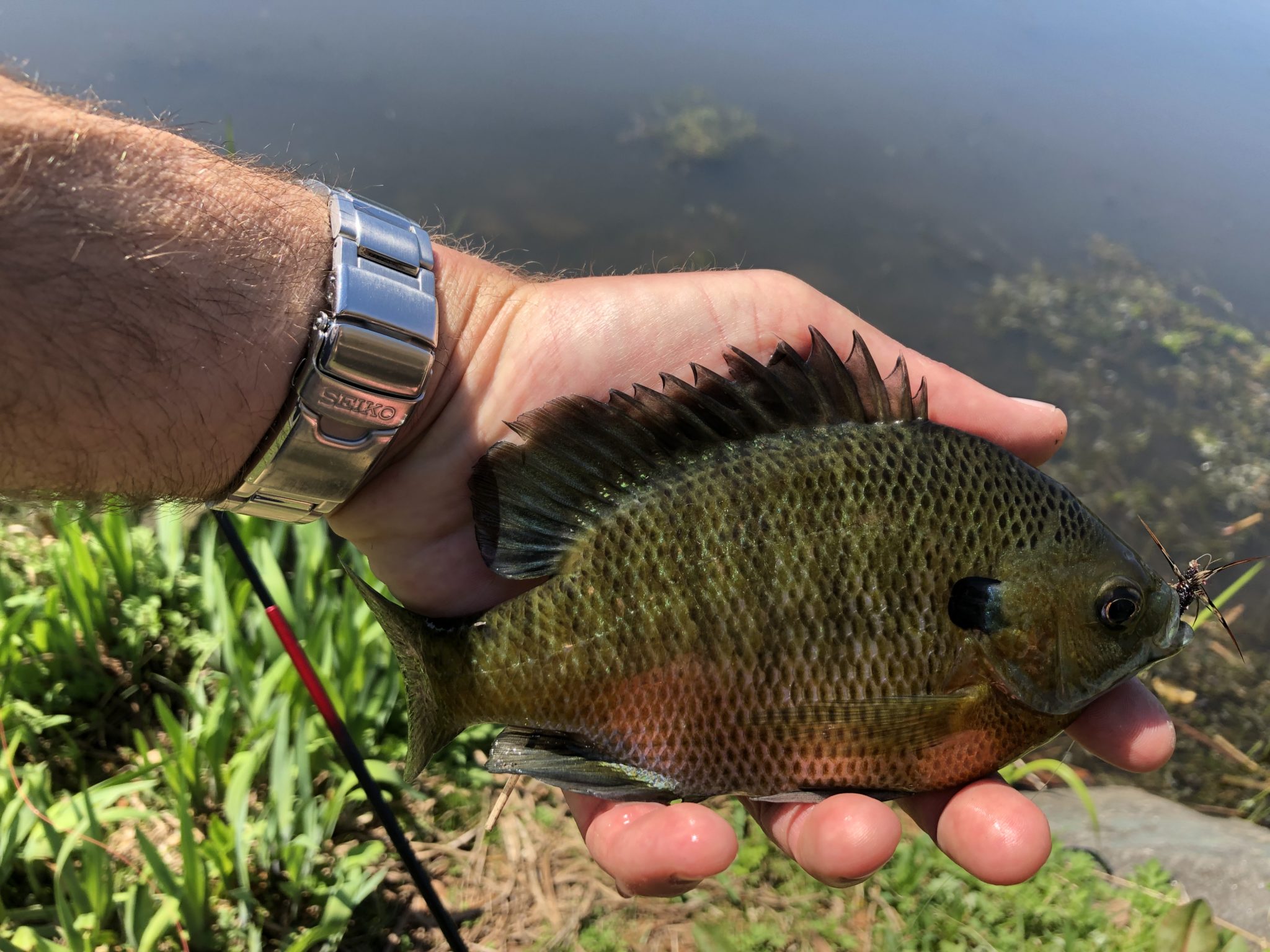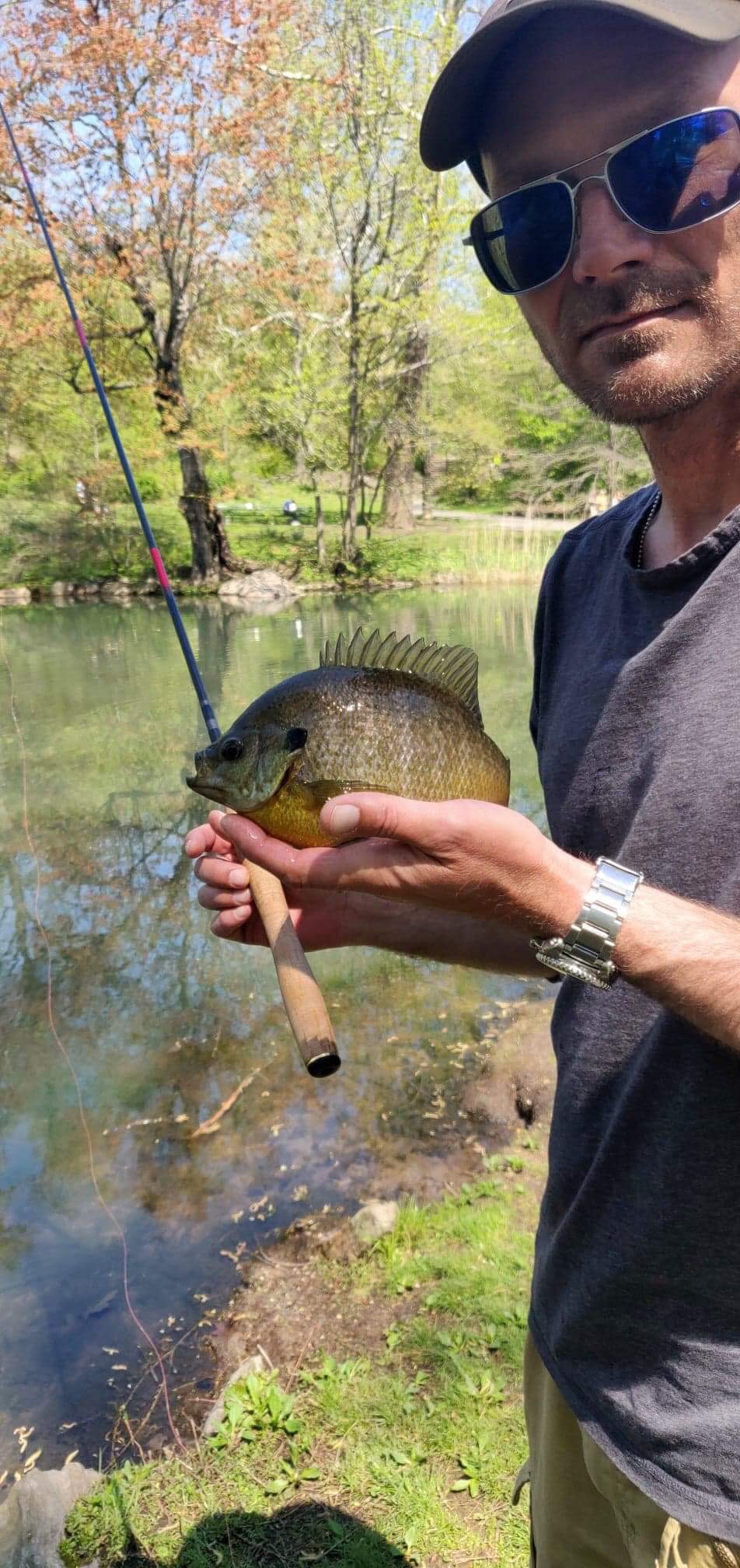 Cindy's First Fish
Since I don't do a lot of warmwater fishing back home in Colorado, it was fun to return to my roots and catch panfish the way I did when I was a kid, but the crowning achievement of the trip was Cindy catching her first fish ever (a bluegill)–on a fly she tied herself!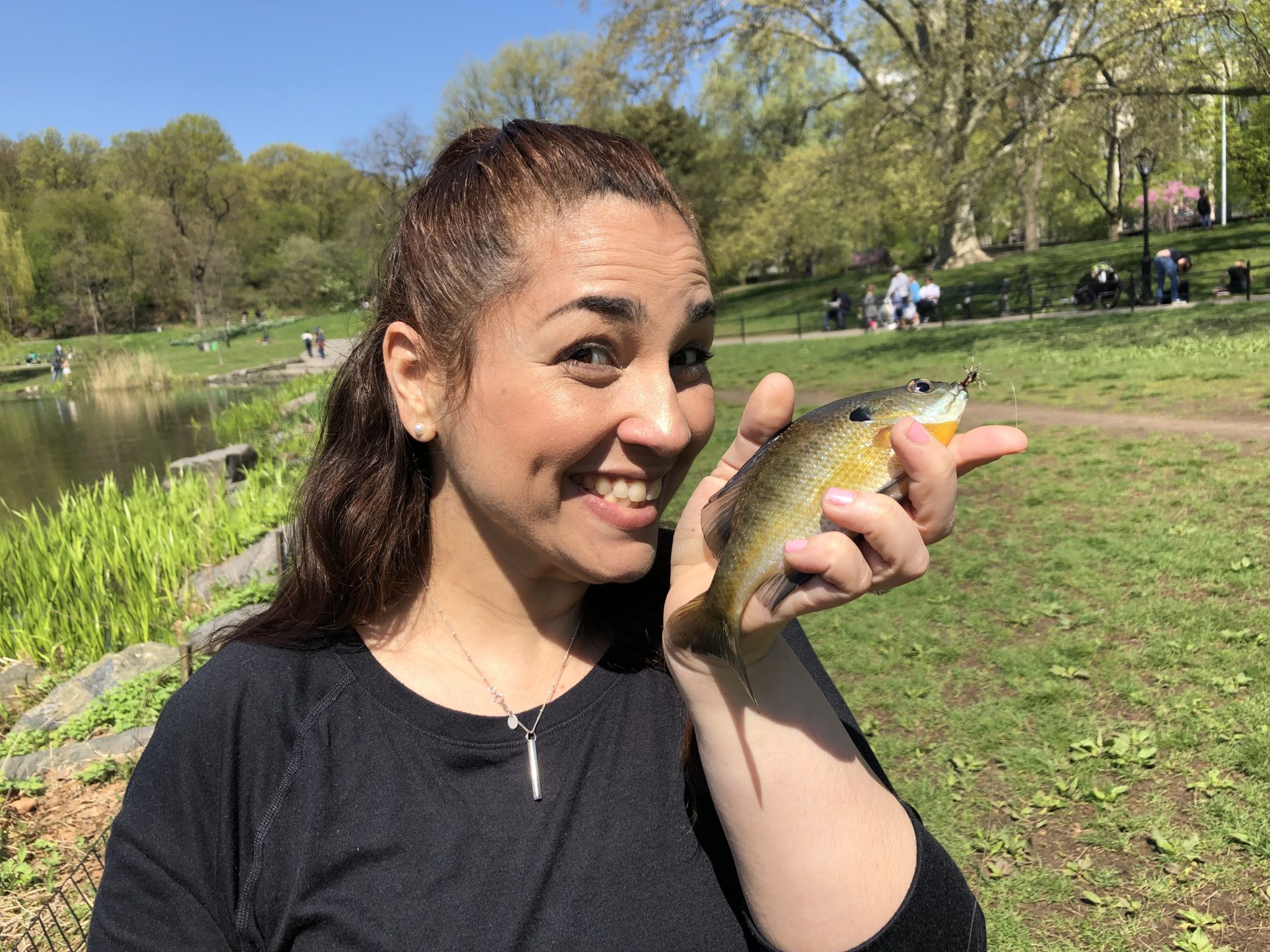 What Cindy called her "lucky fly" was her variation on a Wooly Worm. It was eventually lost later in the day on a snag, but I think the memory of that first fish will stay with her forever.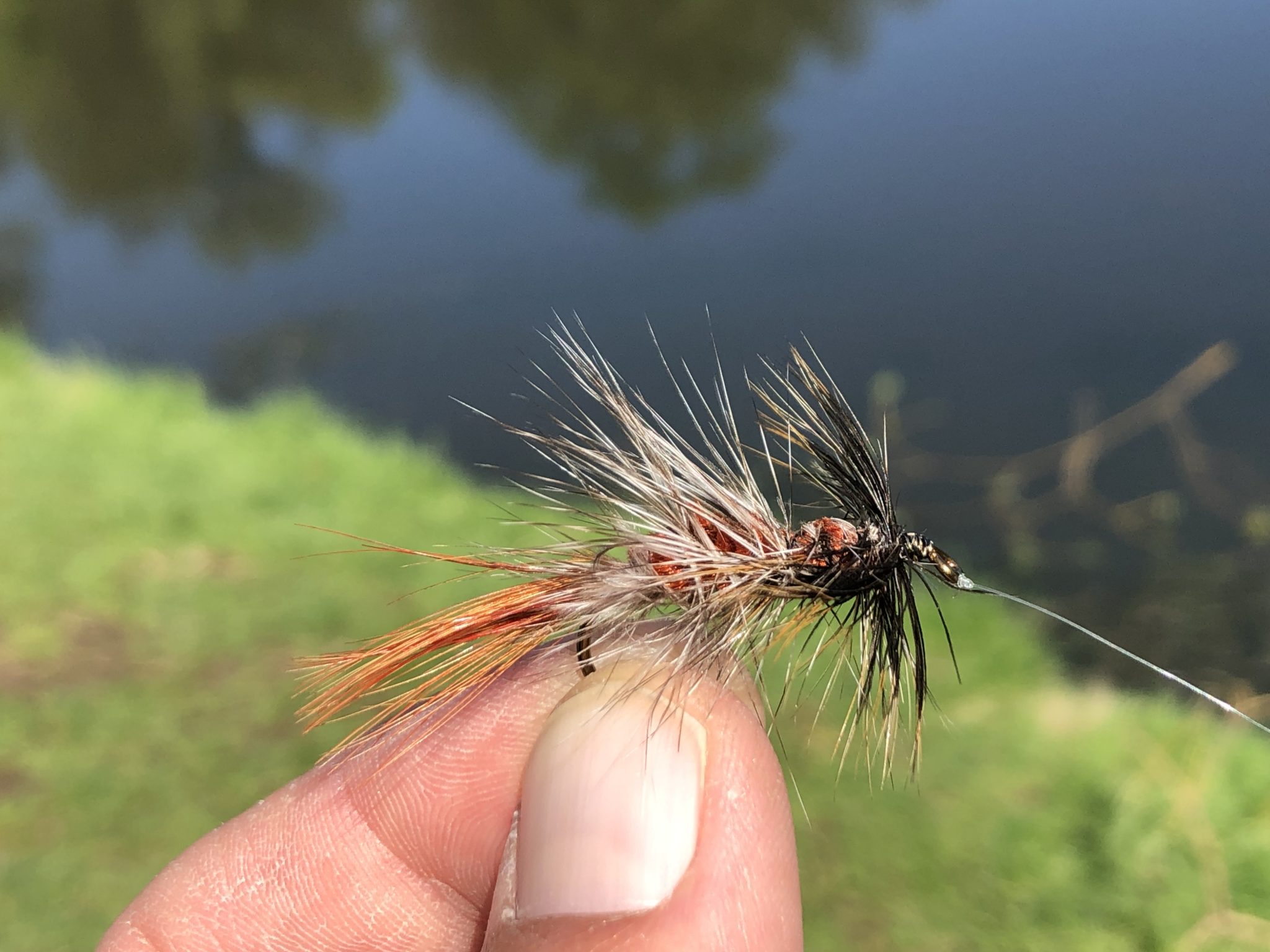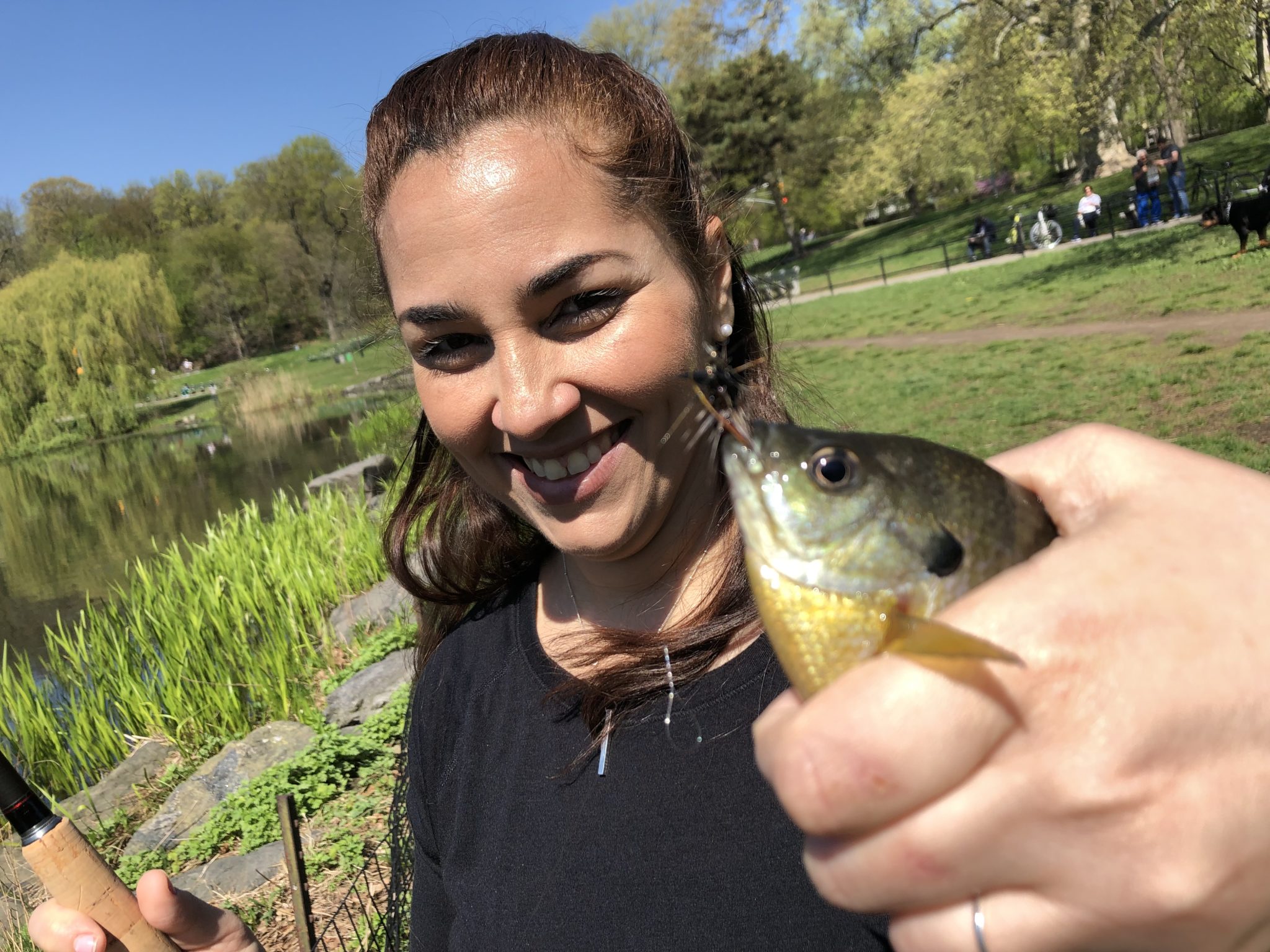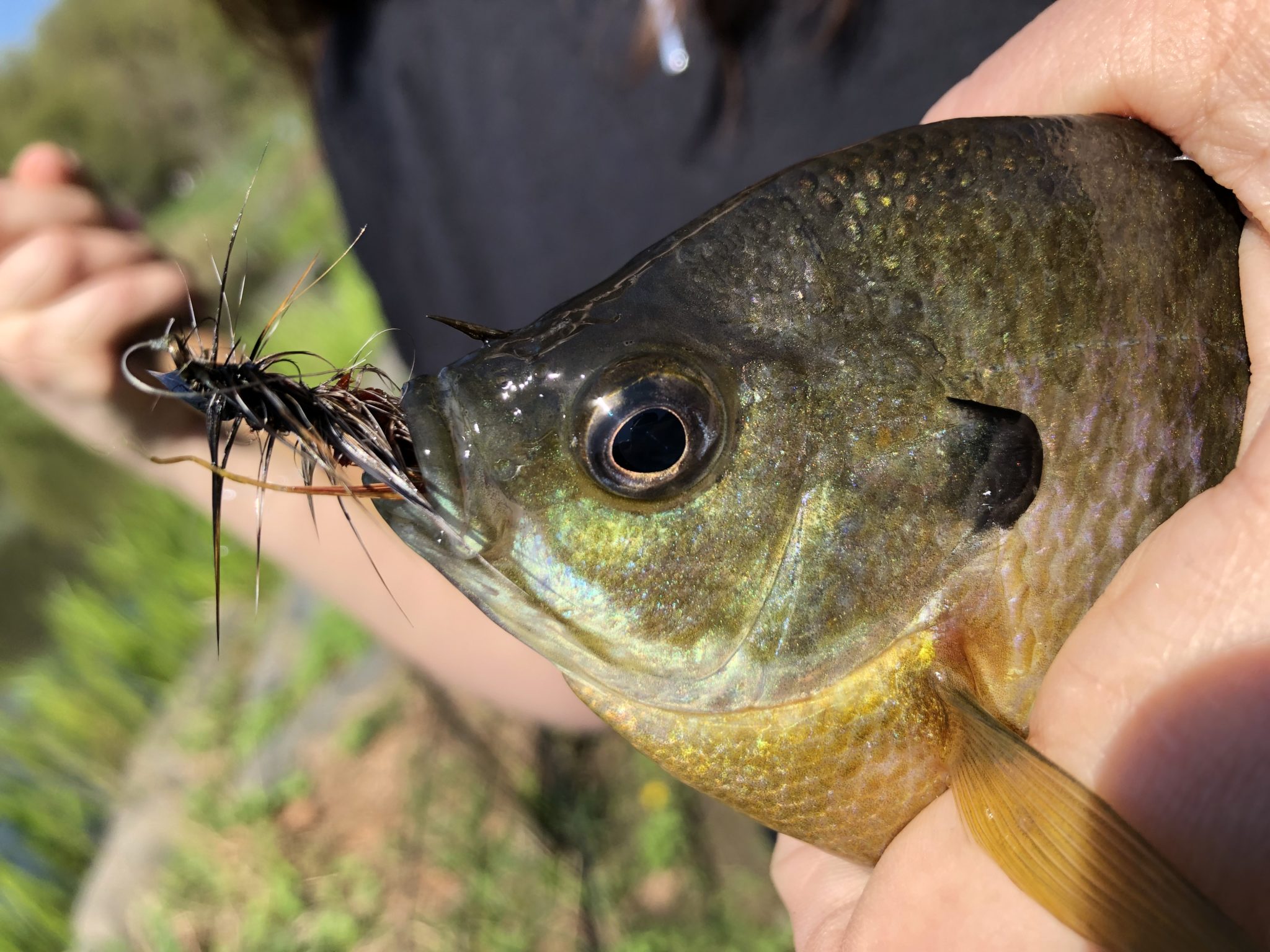 We ended up catching lots of bluegill here and we both competed for one larger (14″) bass that was holding to the shore. I hooked him once but lost him and after that, he wouldn't look at another fly. But the bluegill were fun enough.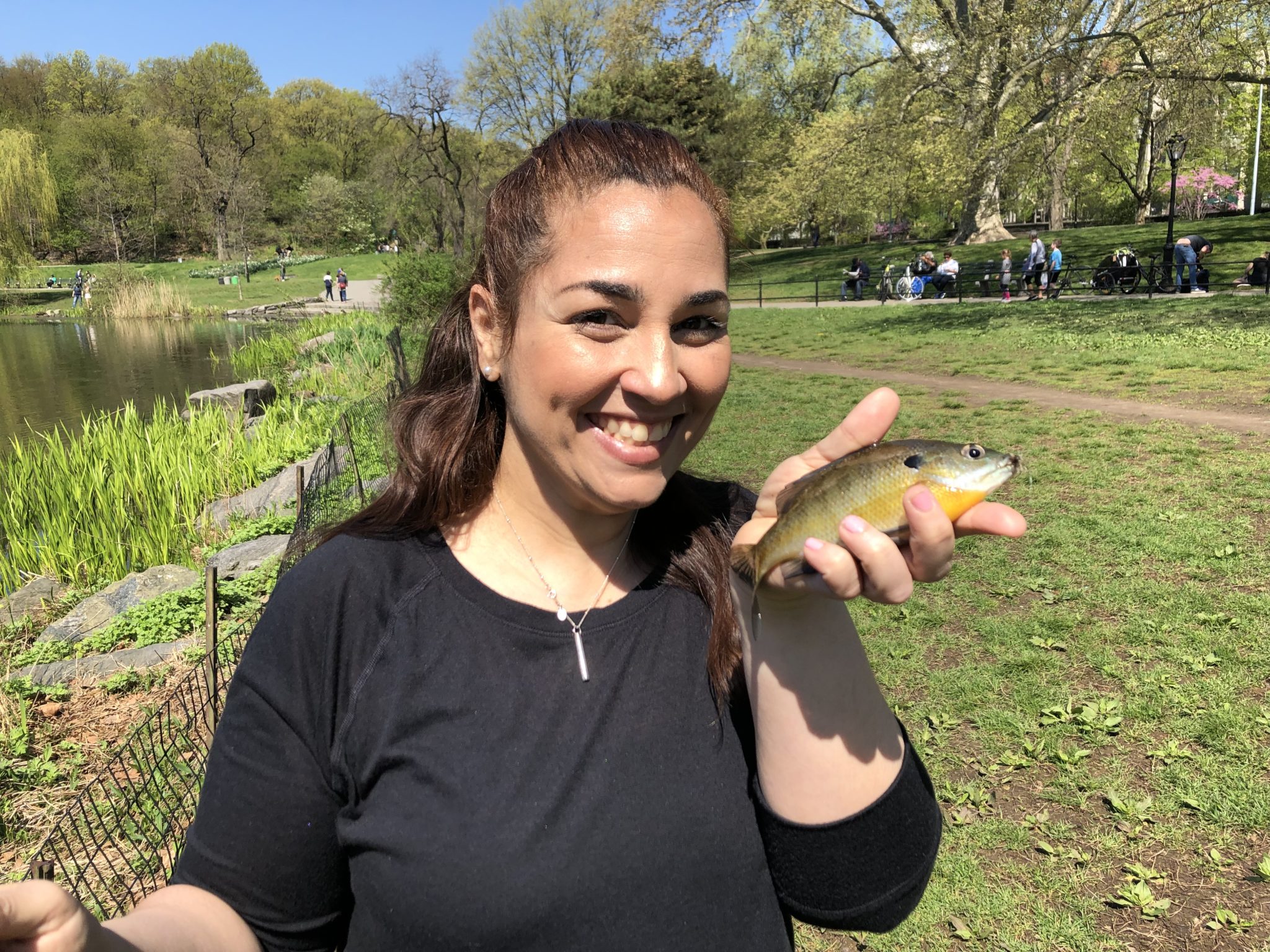 The Meer is also brimming with painted turtles–basking along the banks in stark contrast to the concrete high-rises surrounding their home.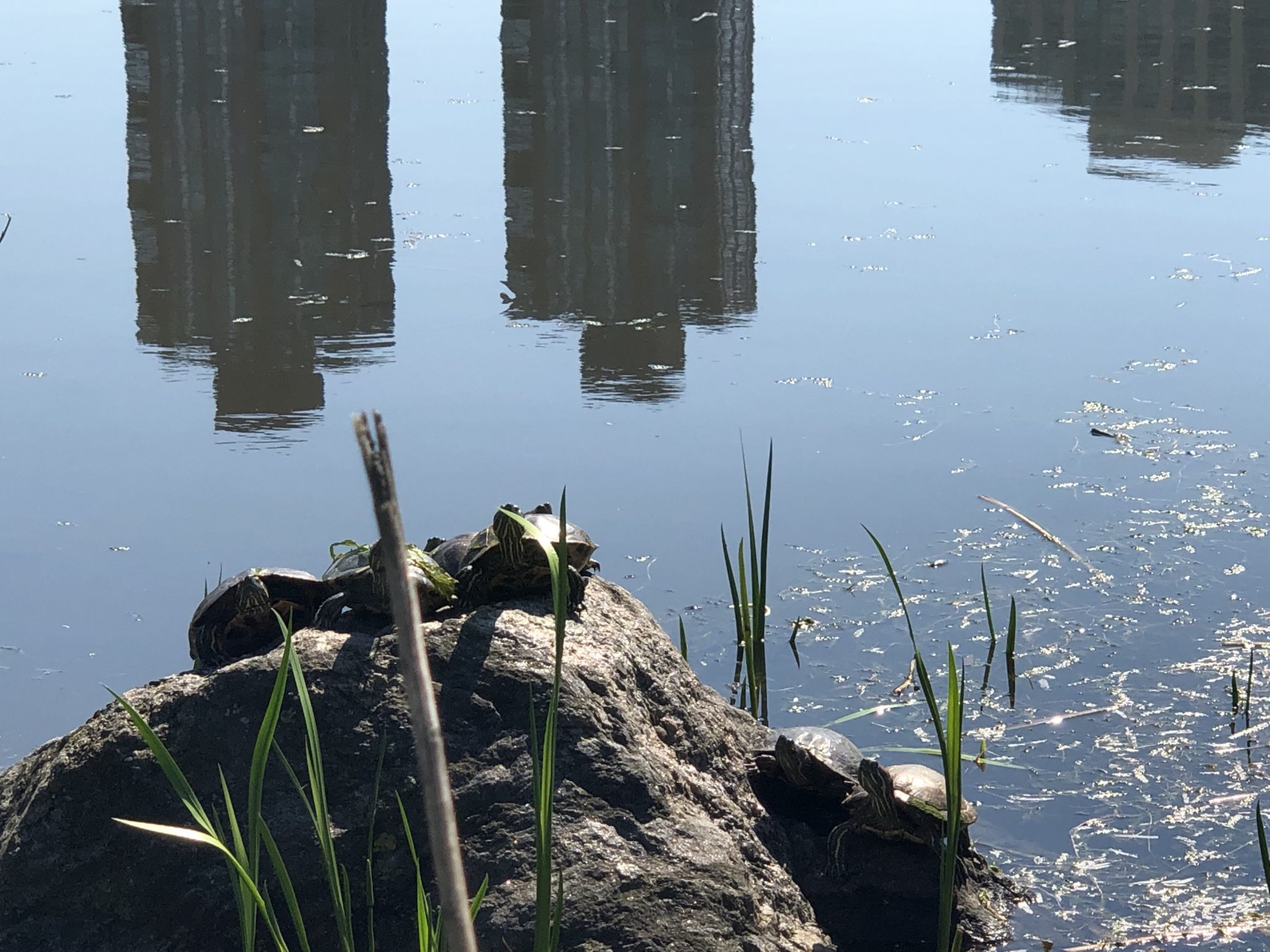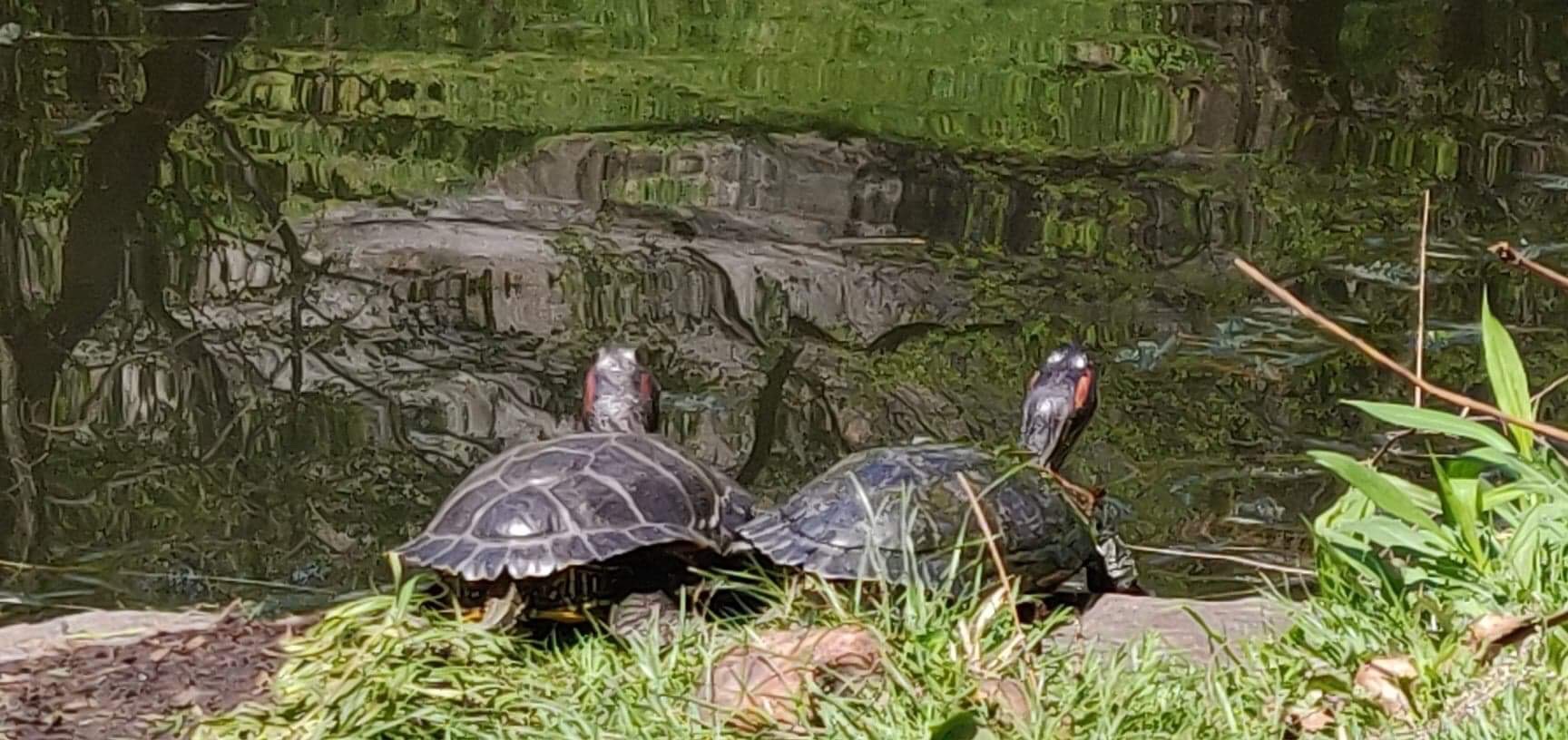 And despite all the foot traffic around them, they're docile enough to even pick up (if you sneak up on them slowly enough) …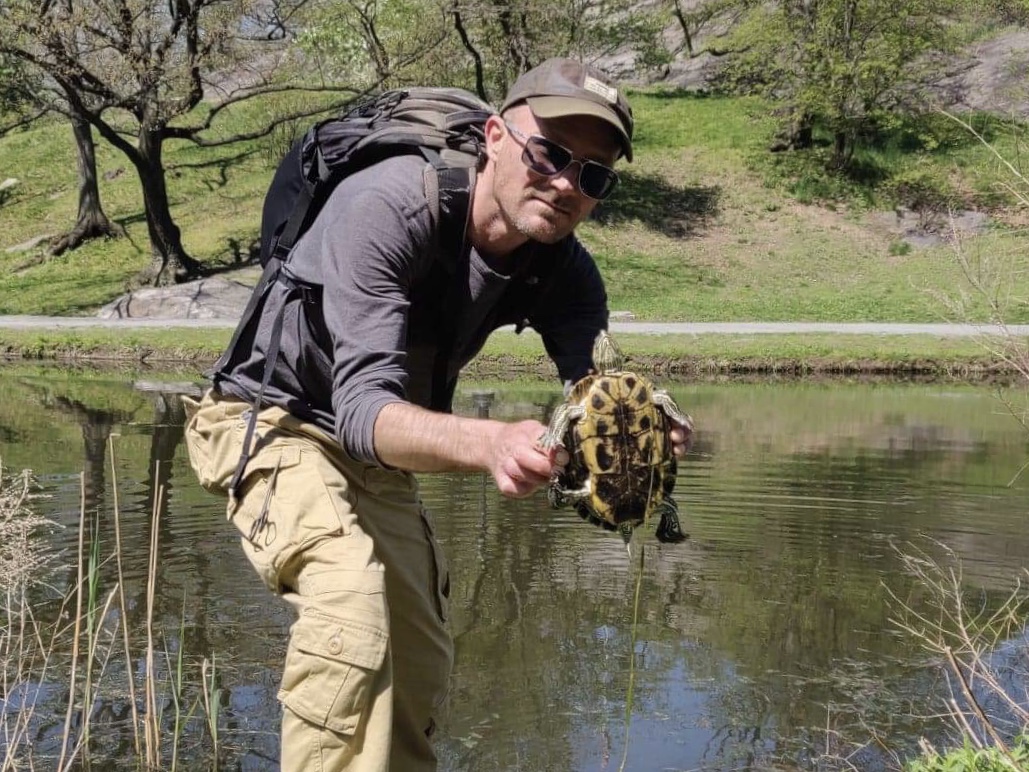 The Meer is a beautiful little oasis in the middle of the city, but don't expect to be alone. As on of the few places to fish, you'll have plenty of company, and before every cast, you have to check behind you to make sure you're not about to give a some hipster passerby a new piercing.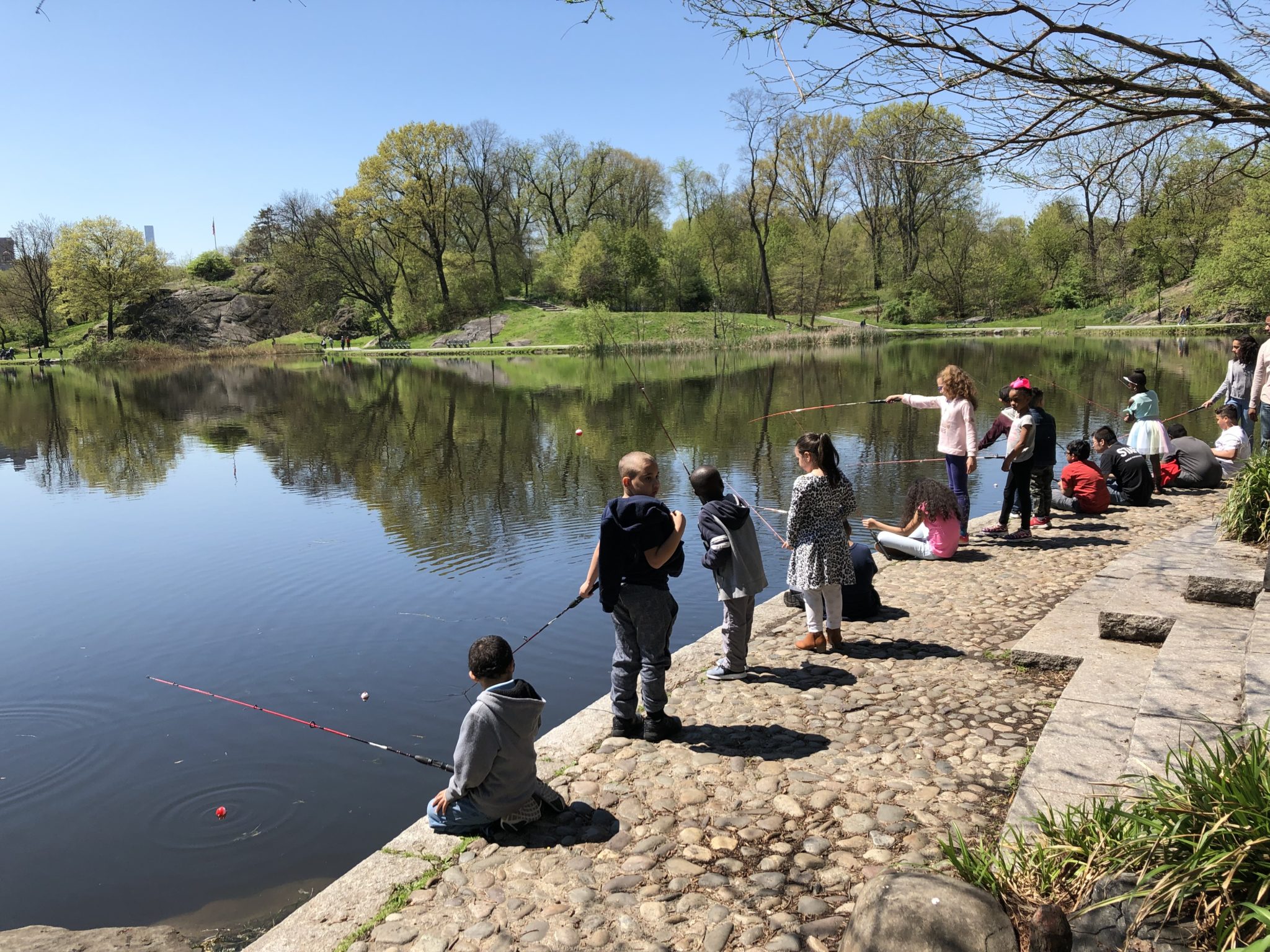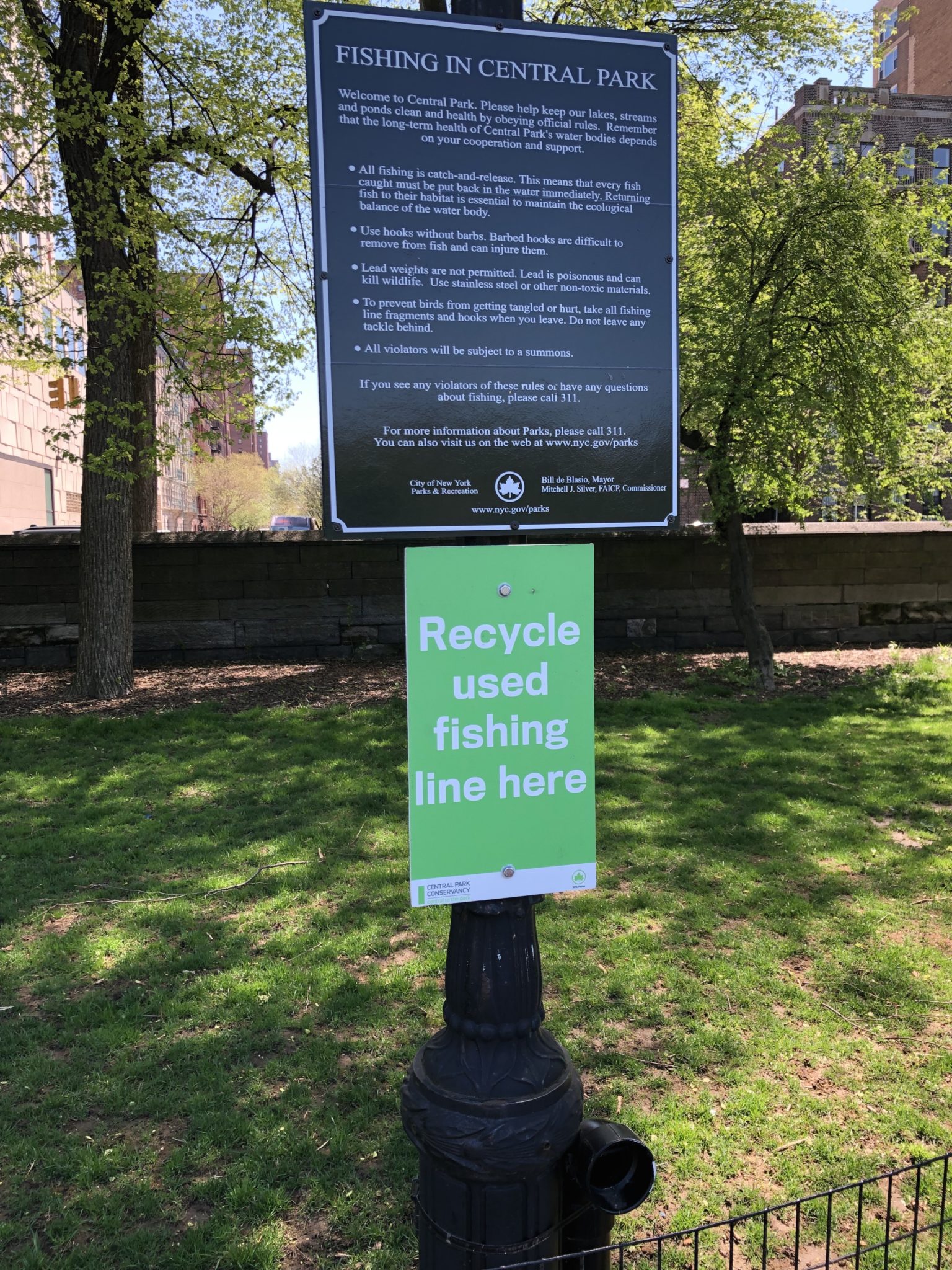 I spotted another fly angler who looked like a regular and later learned from Chris Stewart of Tenkara Bum he was somewhat of a local celebrity known as "Bill de Brooklyn". A car accident left him with limited use of his left arm so he uses an automatic fly reel for easier line management. Too bad he doesn't use tenkara! Anyway, small world indeed.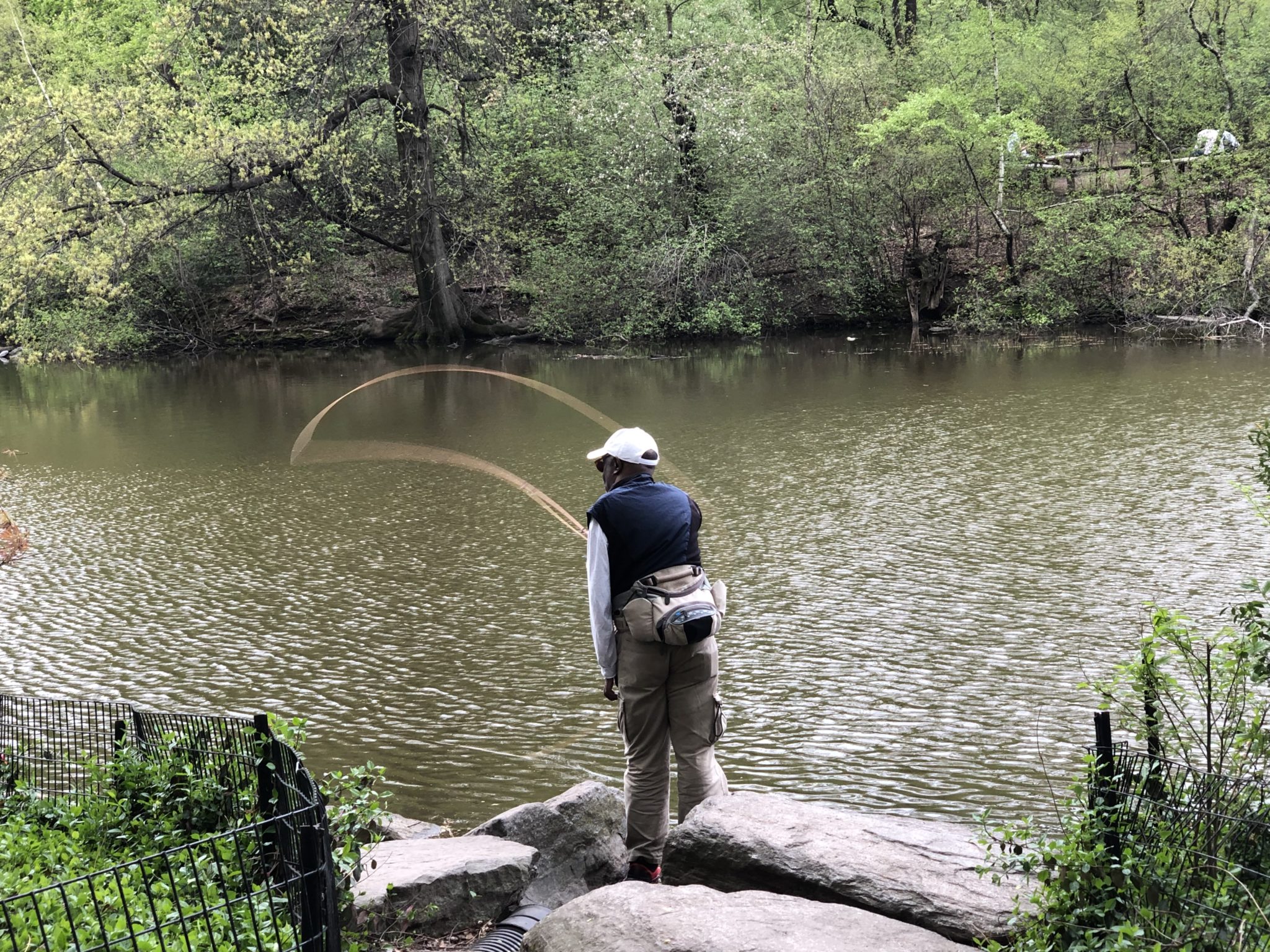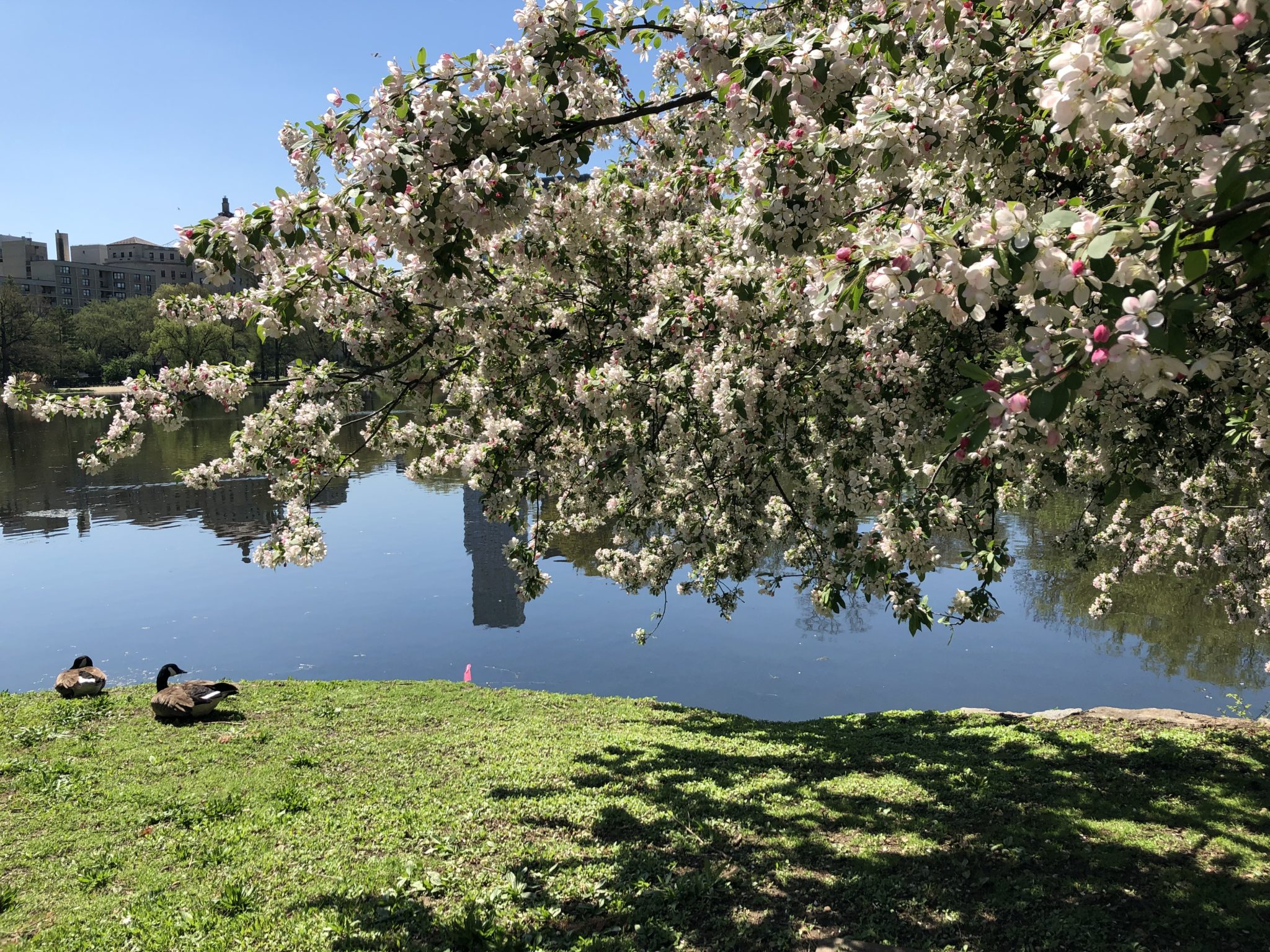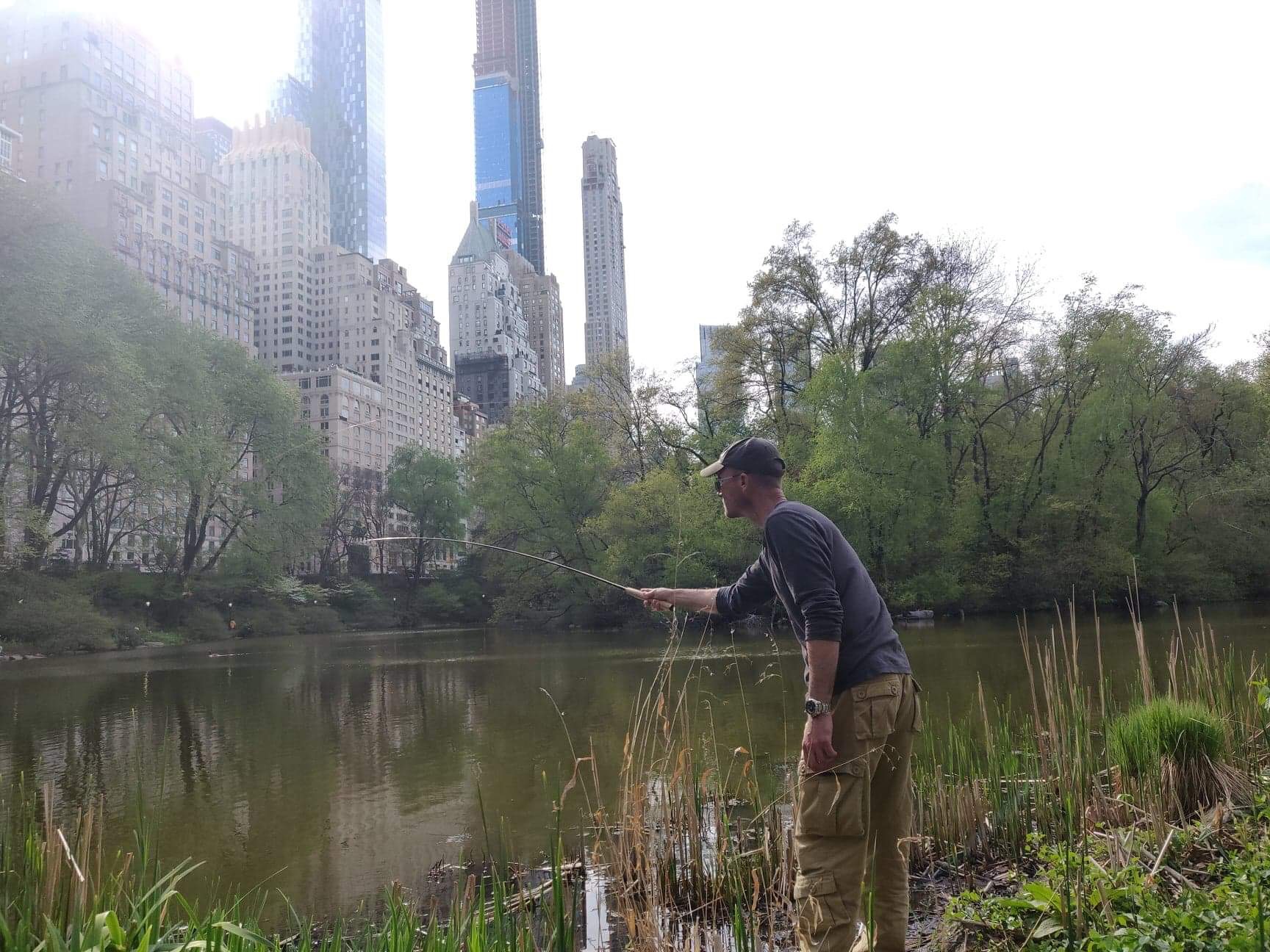 A nice little anecdote … a small kid, tackle box in hand, approached us and asked if we were fly fishing. I said we were and he opened up his box to reveal a handful of flies. He told me that he ordered some lures online and they accidentally sent him a selection of flies and wanted to give them to us since he had no use for them. They were gaudy (probably only palatable to such cooperative creatures as bluegill) but what a great "pay-it-forward" moment and a reminder of how generous kids can be.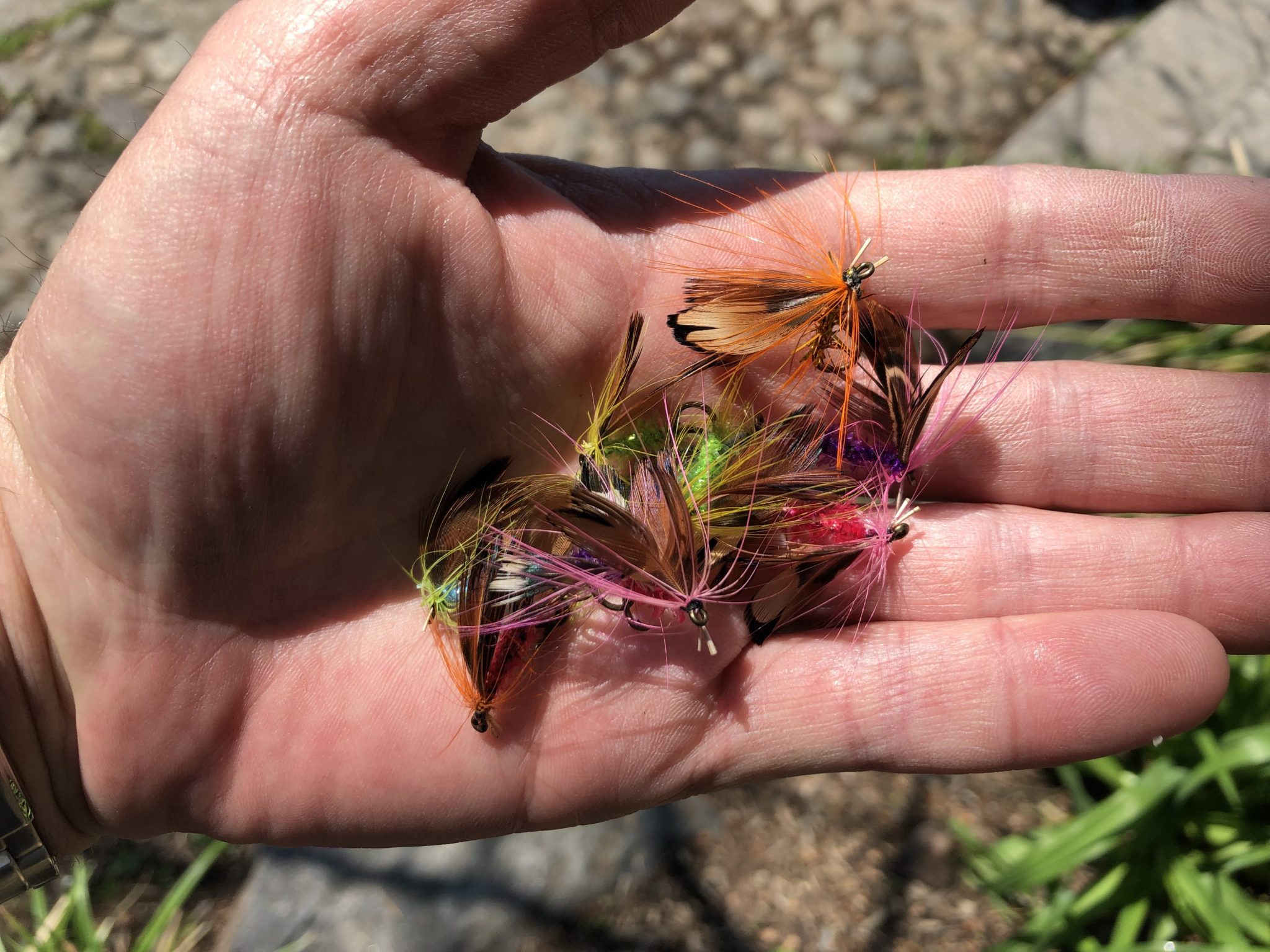 The Pool
After the Meer, we walked to what is known simply as the pool by 101st & Central Park West. This is much smaller than the Meer and a little tighter in terms of room for a decent backcast. But we still caught fish. Cindy caught a nice Crappie and I caught more bluegill and a small bass.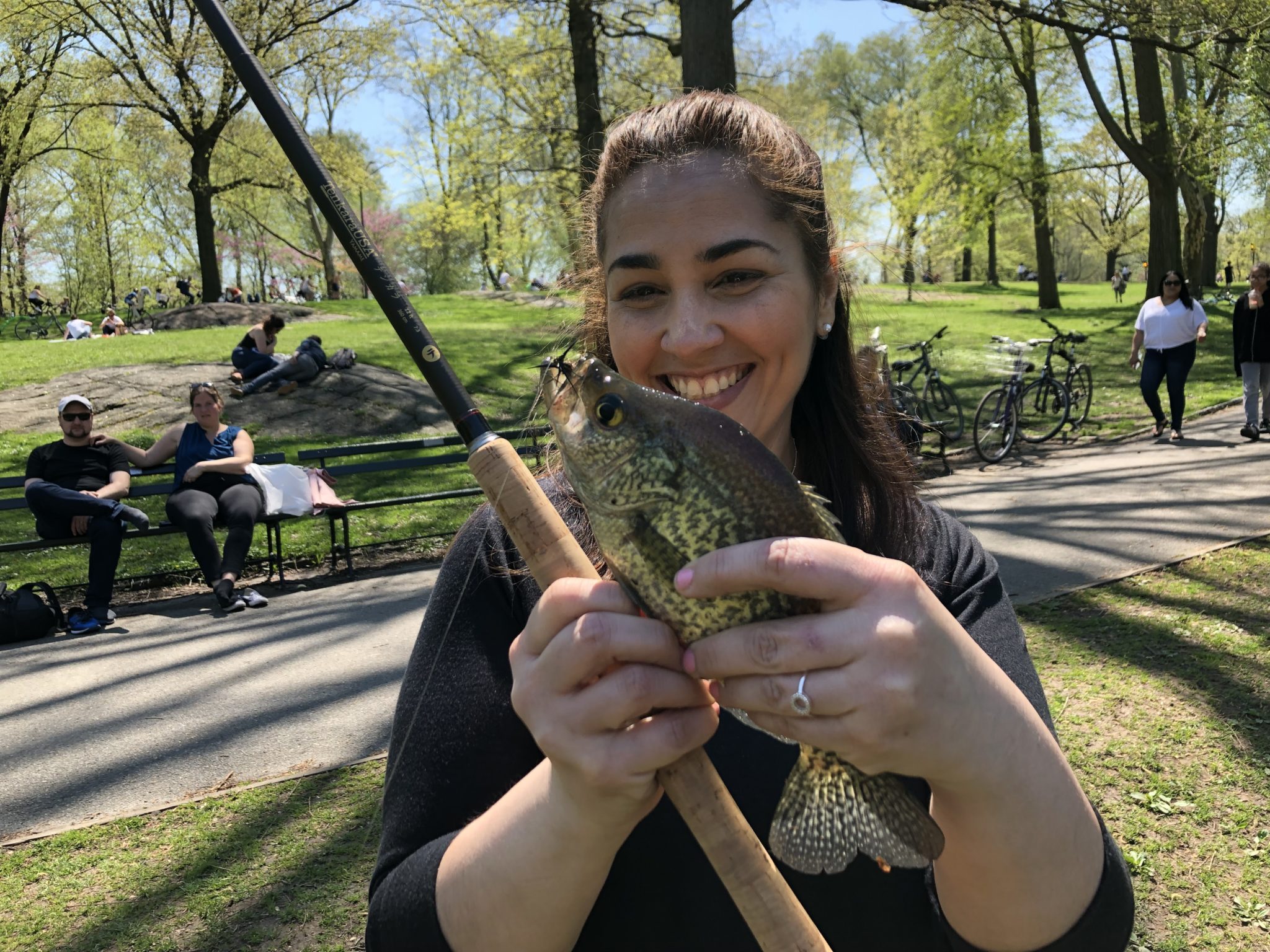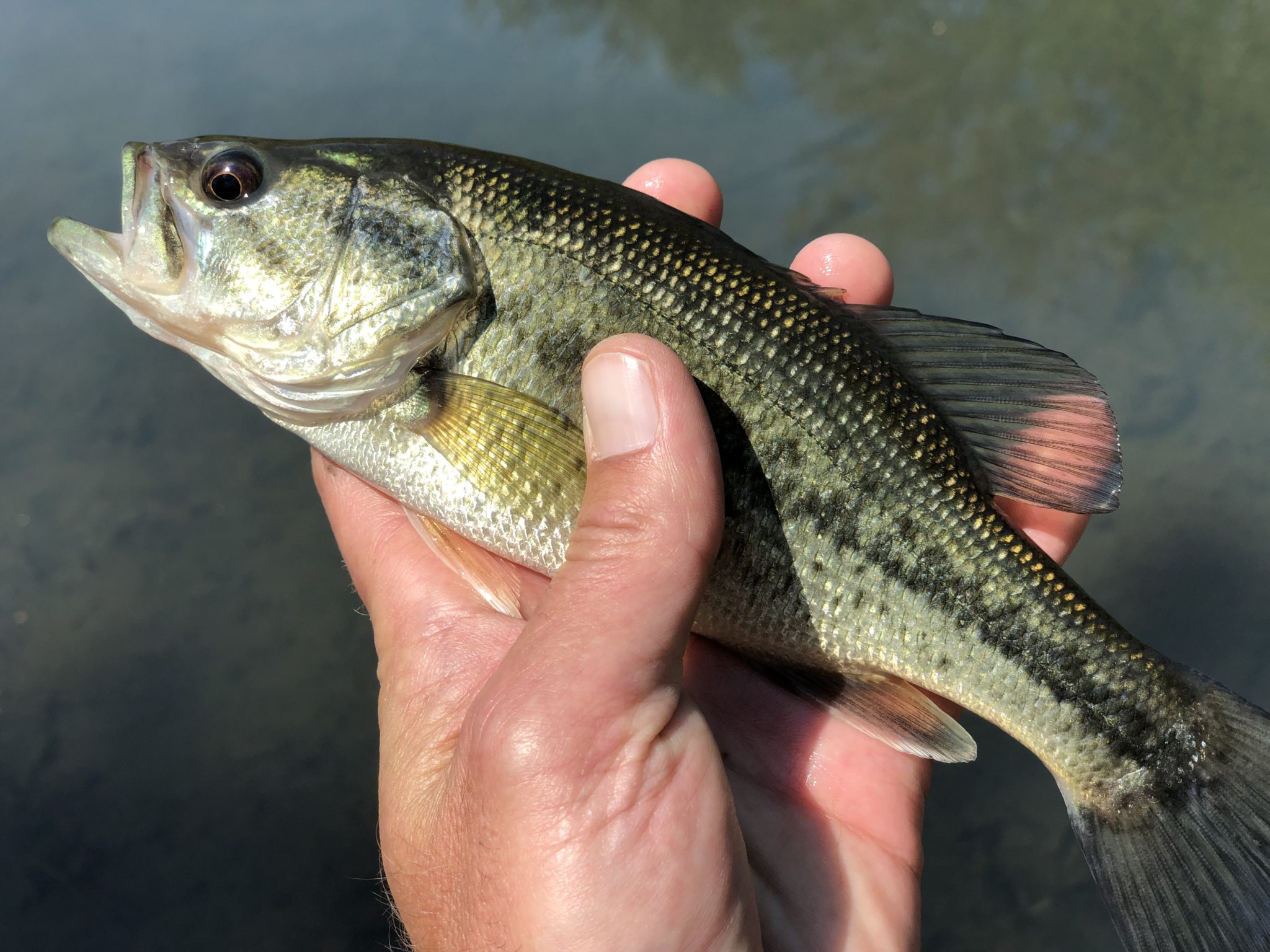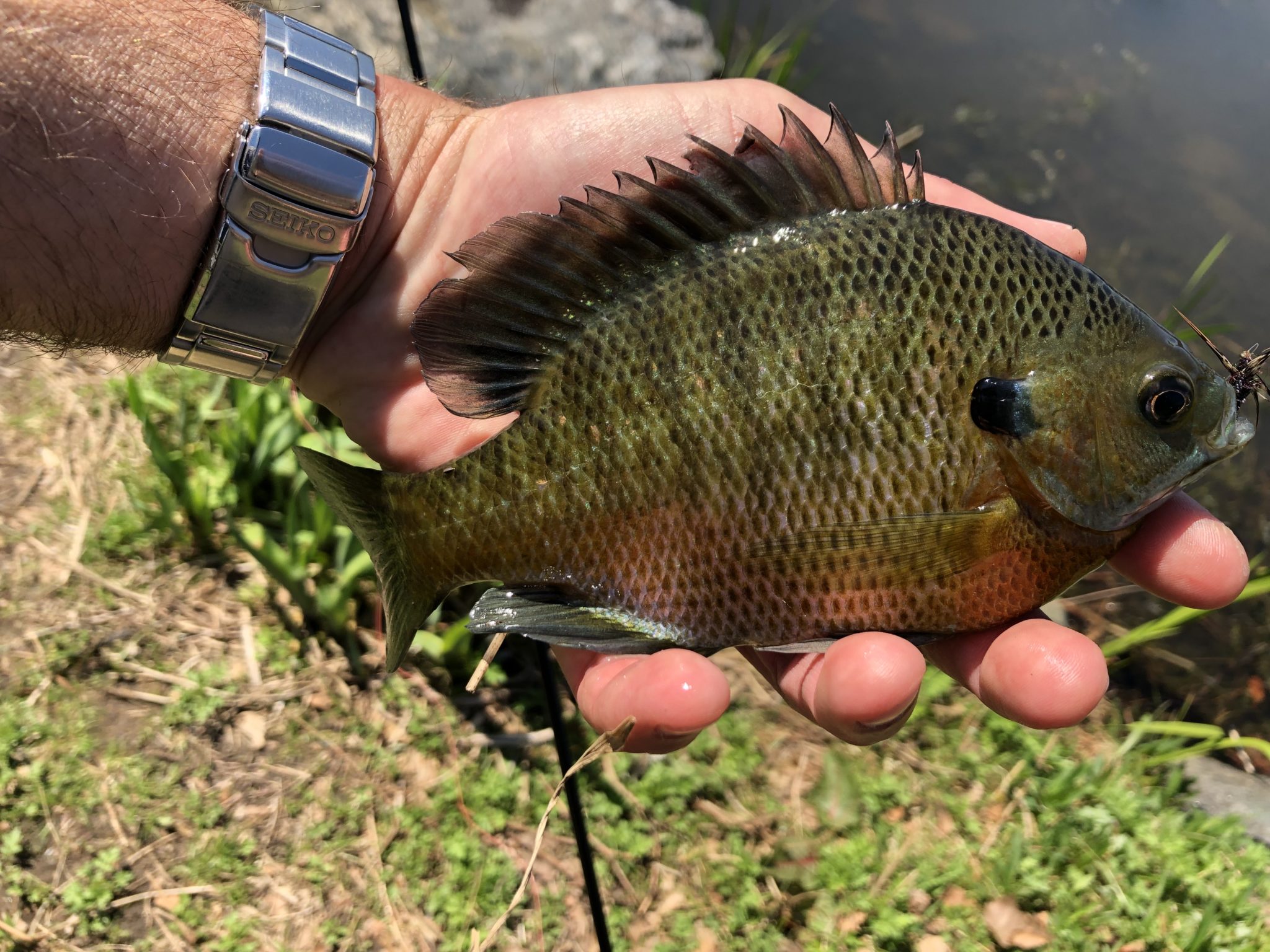 I also caught a nice set of earphones, but pink isn't my color so I threw them back …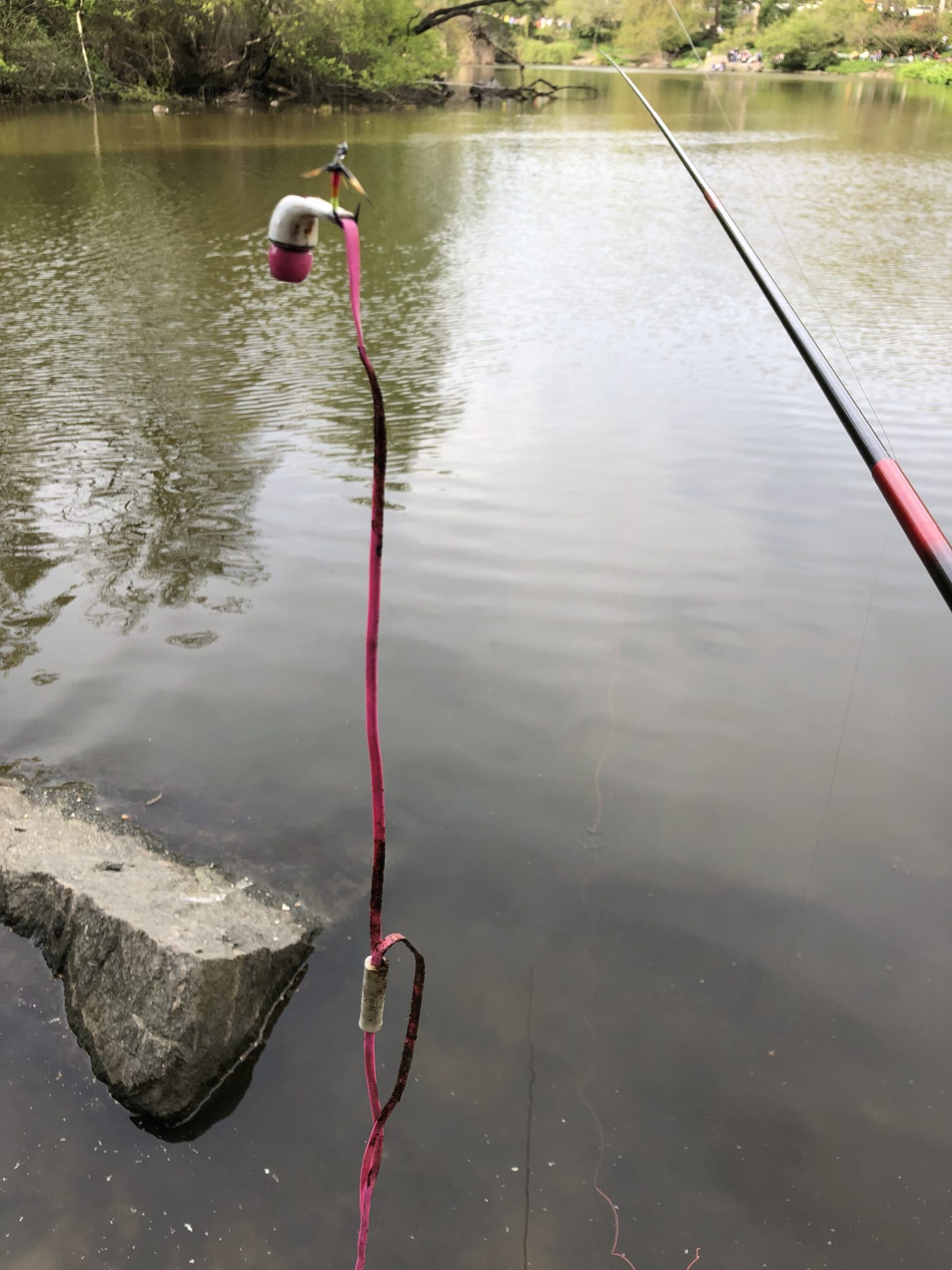 The Central Park Lake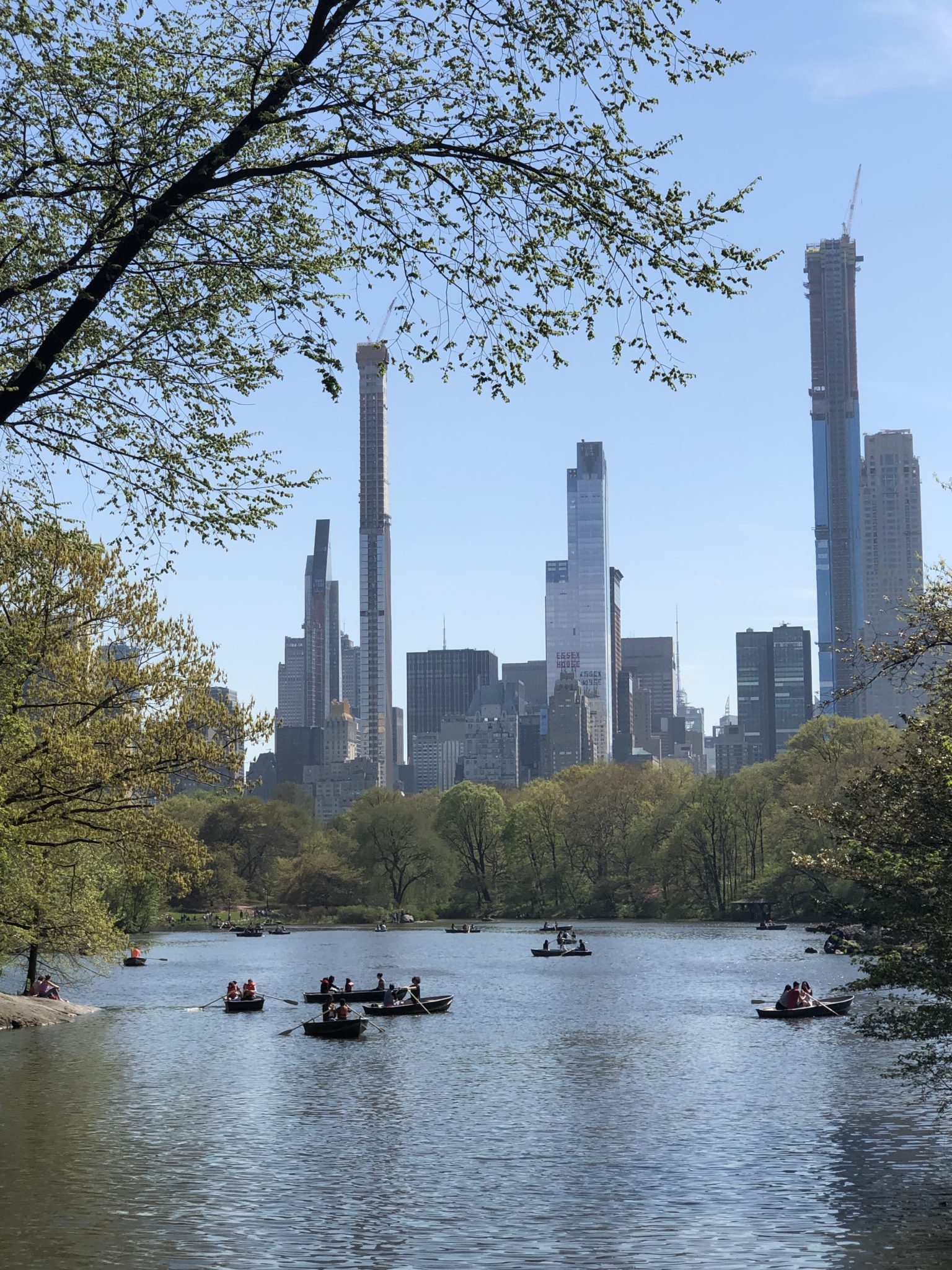 Even though we had caught our share of fish, we decided to check out the Lake toward the end of the day. This is right in the center of the Park and much larger than the Meer or the Pond. By this time, the wind (and crowds) had picked up and there was heavy rental boat traffic, so we decided not to fish it and just call it a day. Still, it's another little treasure of Central Park (though probably better suited to a picnic than fishing trip).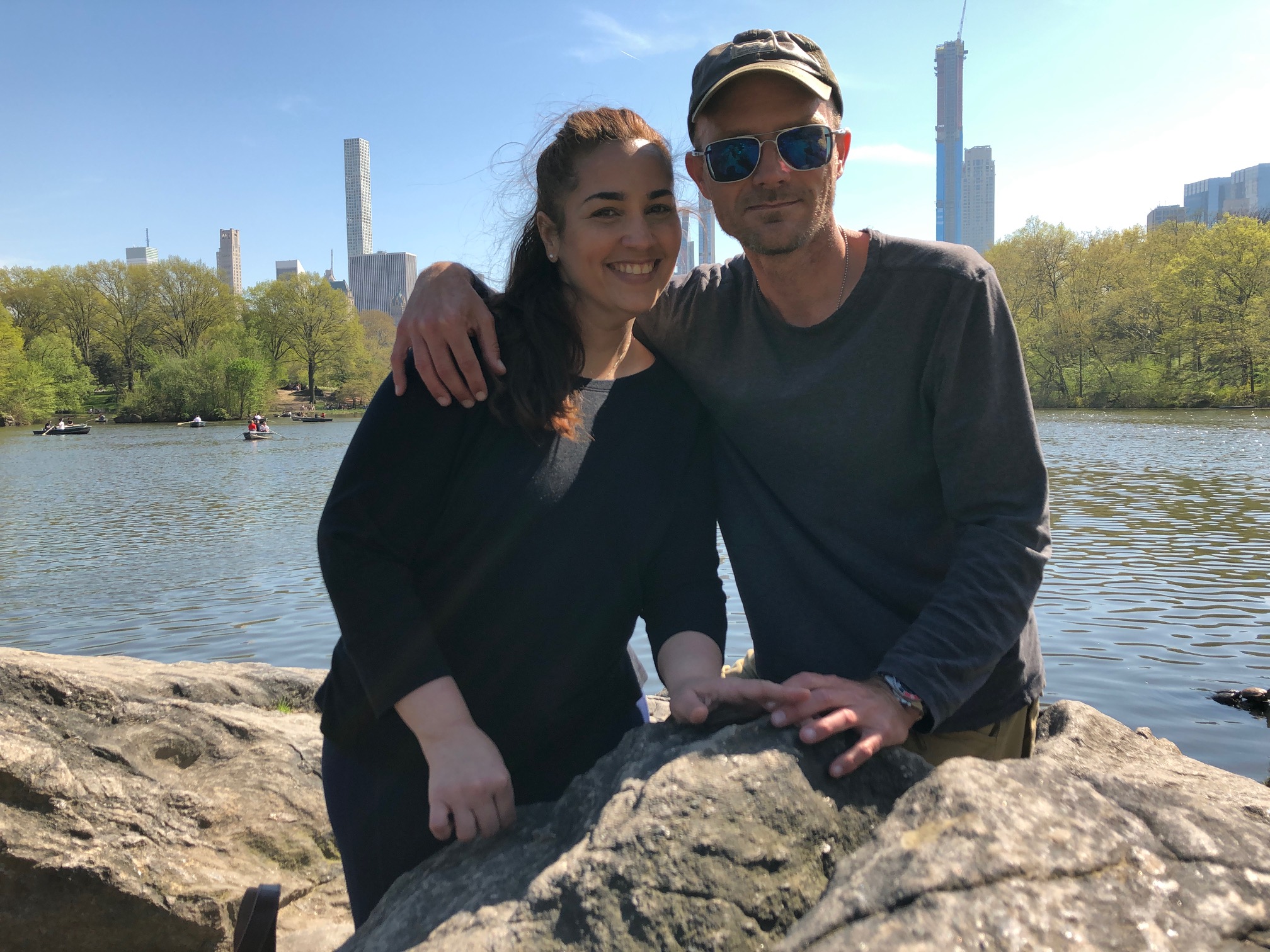 Tackle for Fishing Central Park
These ponds are not technical so no special tackle is required. I brought a Tenkara USA Yamame (for bass) and a Tenkara USA Sato (for the bluegill) but really, any fixed-line rod would be suitable with 5x tippet for smaller flies and 3X for larger streamers.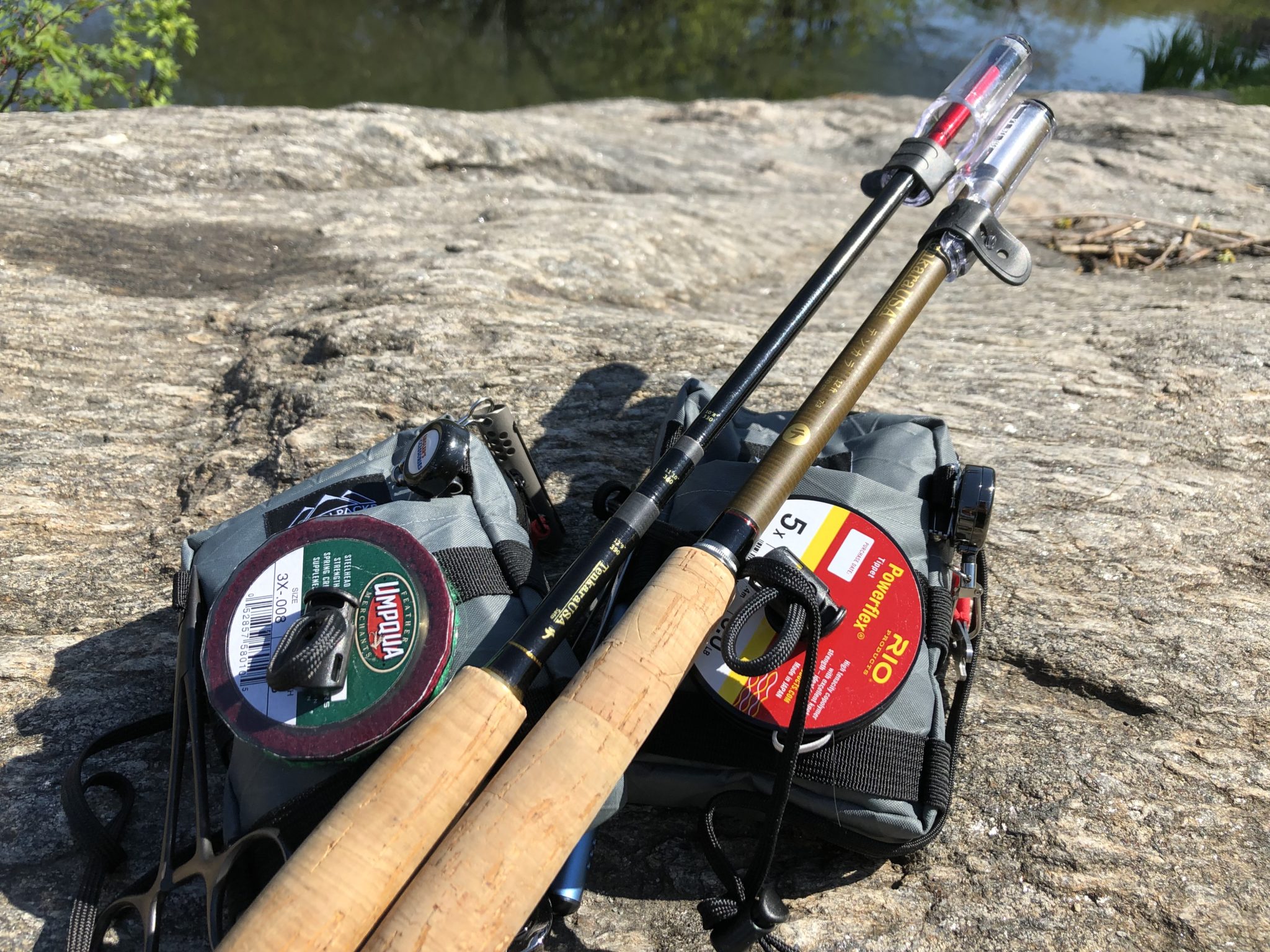 While I brought a box of streamers, I ended up using the same sakasa kebari the whole day: just a simple #8 pattern with black dubbing for the body and pheasant hackle. Any of your favorite panfish flies will work here as long as you find the fish: sakasa kebari, poppers, rubber-legged spiders, nymphs, wooly buggers, etc.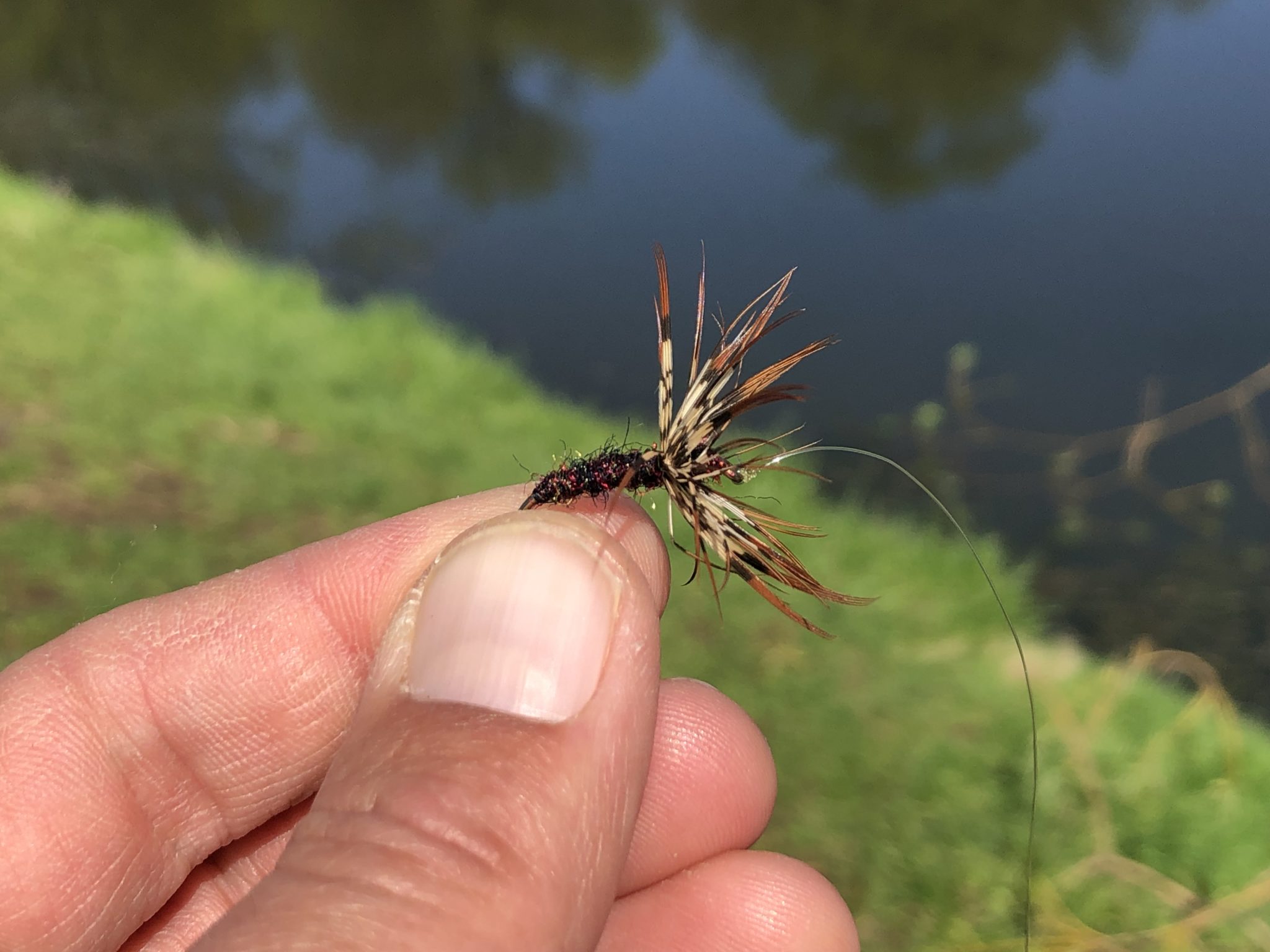 Taking my tenkara rods for a New York City bus ride is something I never thought I'd do …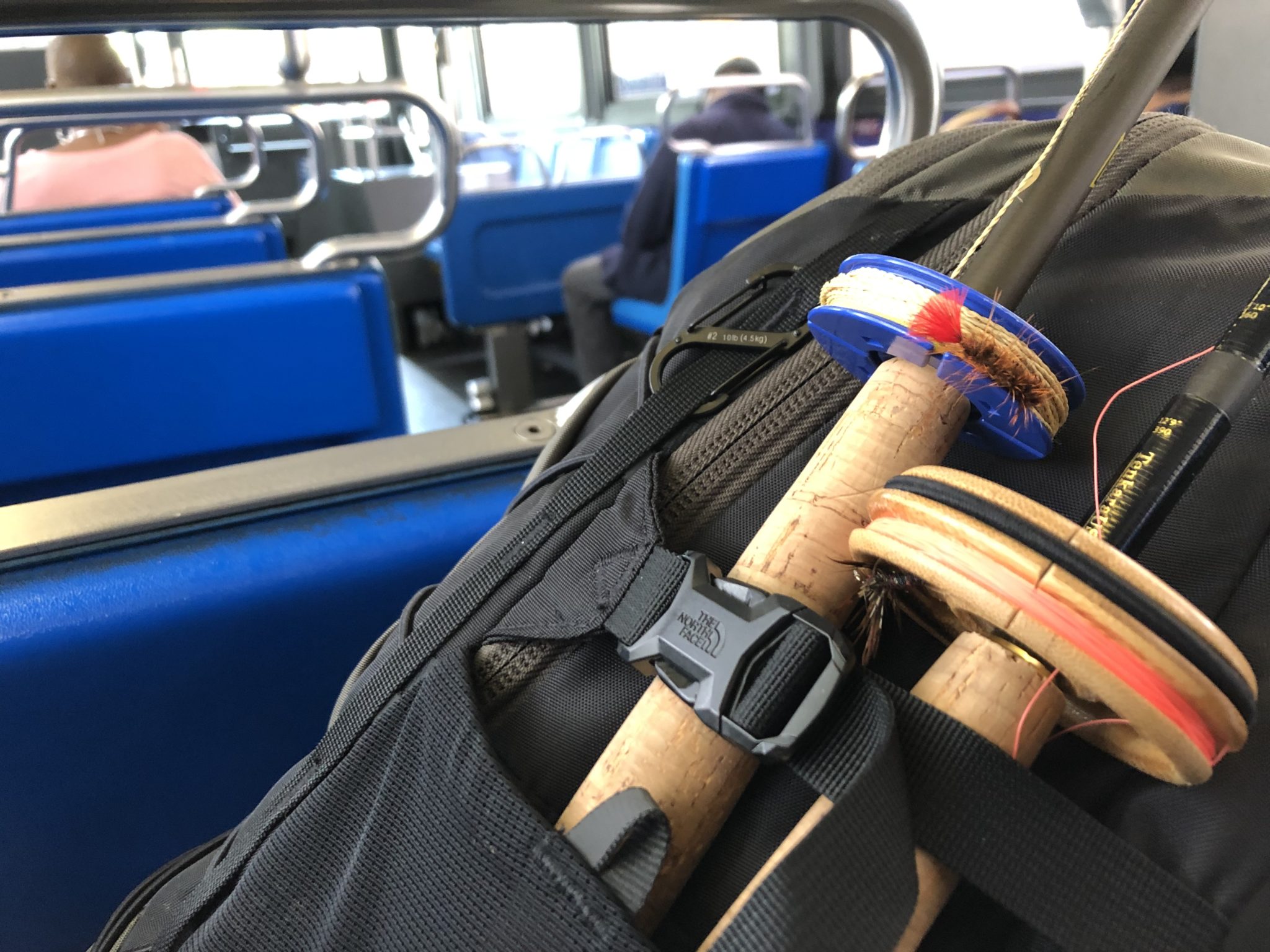 For lines, I used a #3.5 fluorocarbon line and Cindy used a Tenkara USA Kevlar furled line, but again, line choice is not critical here.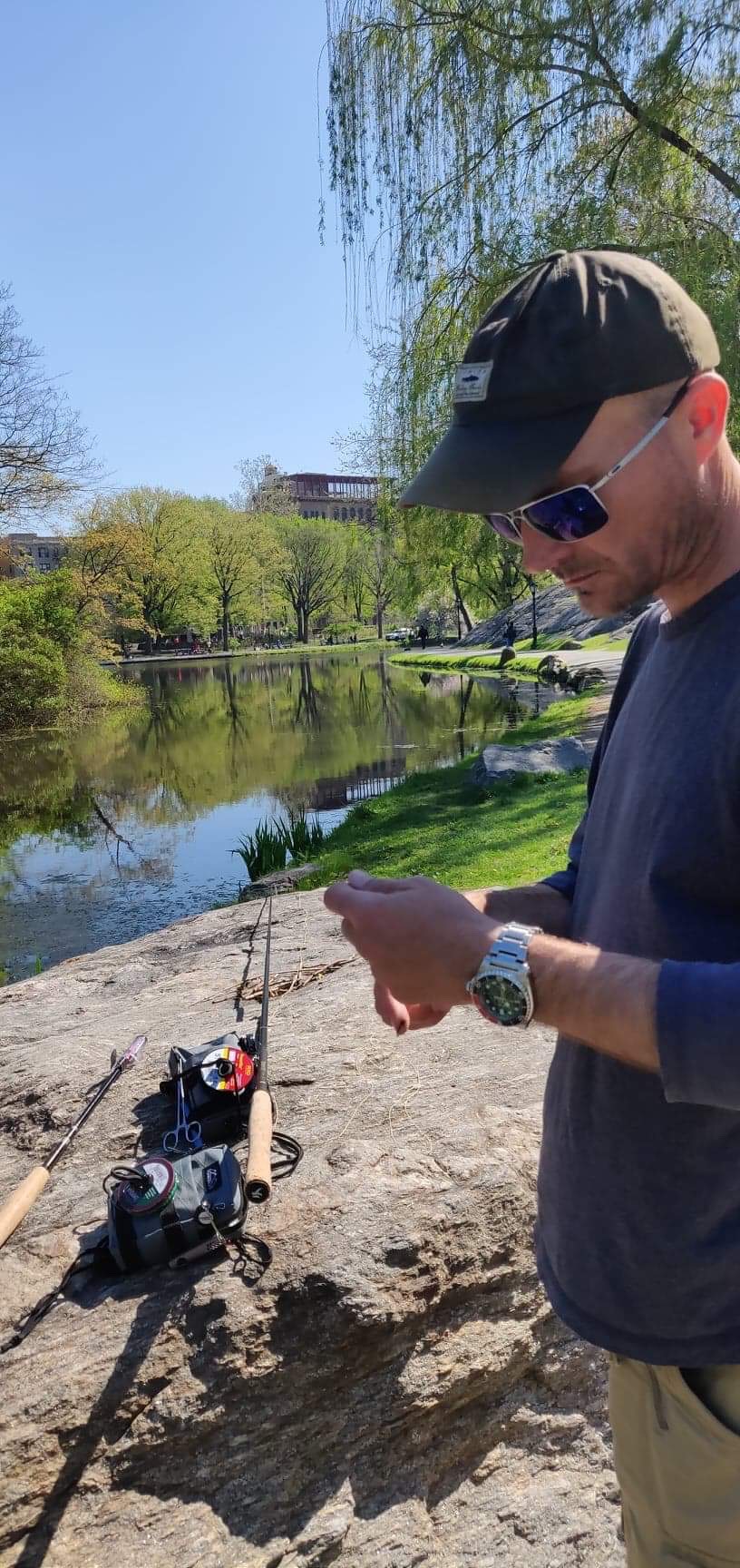 Fishing Central Park – Things to Keep in Mind
All of the waters are catch & release (I'm not sure you'd want to eat any of these fish anyway).
A license is required. You can get one quickly and easily online. I got a 1-day non-resident license for only $10. It's probably one of the cheapest things you can do in NYC and (in my opinion) one of the funnest.
You will not be alone. This is Central Park. Again: this is Central Park. You will have to be careful with your back cast so you don't inadvertently snag one of the thousands of other visitors behind you and be prepared for a dozen people to approach you and ask stupid questions (like if you caught anything). Don't fish here with any expectation of solitude. You will be disappointed and it might ruin what could otherwise be a fun outing. Instead, embrace the fact that you're doing something quirky and different.
Move around. You're more likely to catch fish if you can see them rather than blind casting. Walk the shores and look for pods of bluegill. Often, that will also mean the presence of a larger bass or two.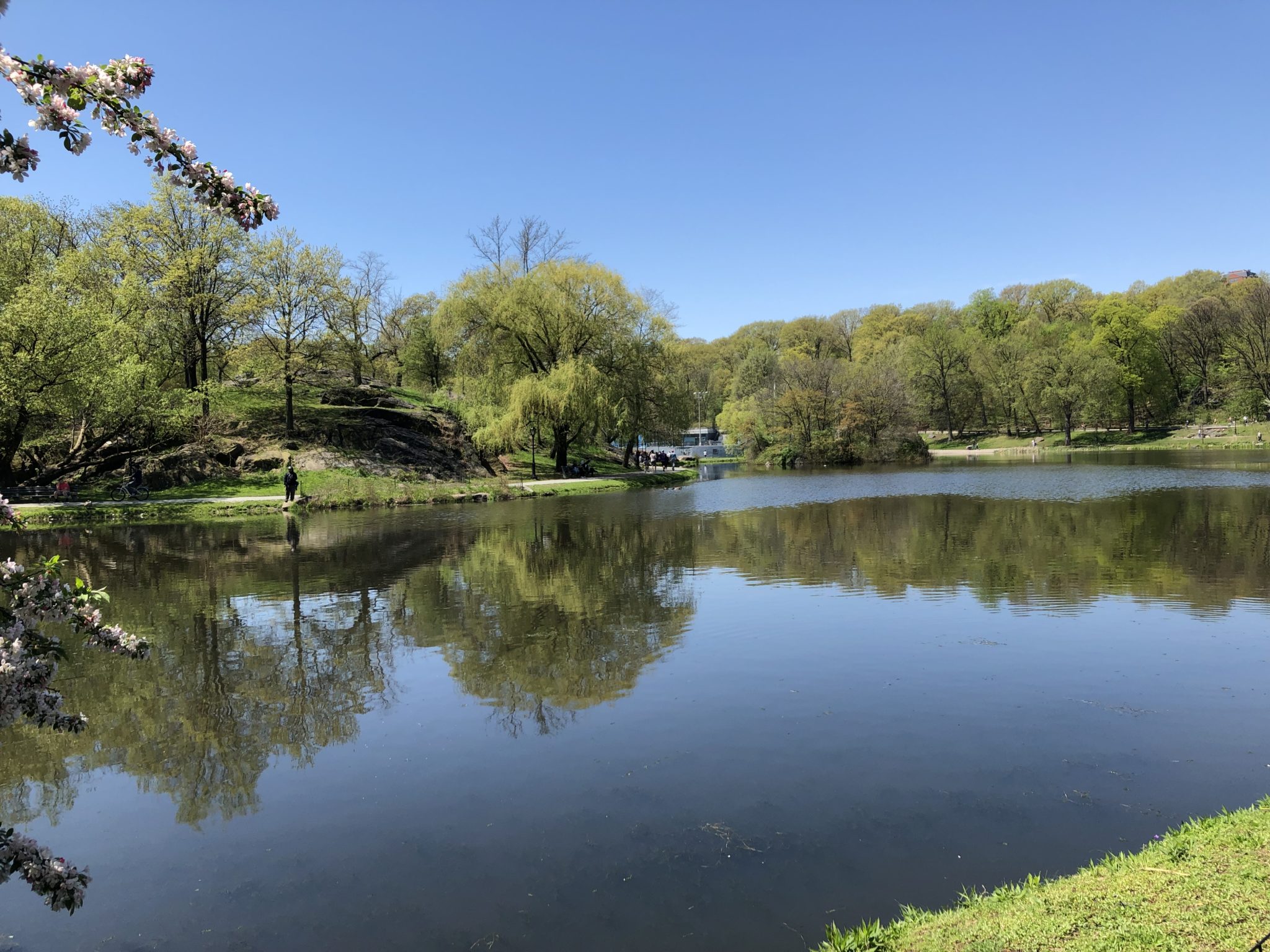 An Open Mind & the Right Attitude
Obviously, Central Park isn't a dream fishing destination. But if you happen to be in the city and really have the ichthyological itch, it's a great option. Leave all of your preconceived notions of what fishing "should be" behind–with the right attitude, it's actually a really interesting and unique fishing experience to add to your catalogue and you might even come away with a few good stories.