[/caption]
I just got back from the Denver Fly Fishing show where Tenkara USA made its first official presentation.  I usually go to the show every year and it's pretty much the same old stuff so I was really excited to see people learning and talking about tenkara this year!

Tenkara

Rigs Fly Shop featured Tenkara USA products at their booth and they definitely attracted a lot of interest.  The tenkara display had a constant crowd around it and people seemed to be buying tenkara rods left and right:
I have to say, it was refreshing to see tenkara gear at the show.  If you're a tenkara angler and don't need a reel, fly line cleaner, strike indicators, etc., there isn't a whole lot else to see.
Tenkara USA founder Daniel Galhardo was on hand to help answer questions to curious visitors.
He also gave a tenkara casting presentation to a crowd of over 60 people.  I took some video of the demo and will be posting it soon.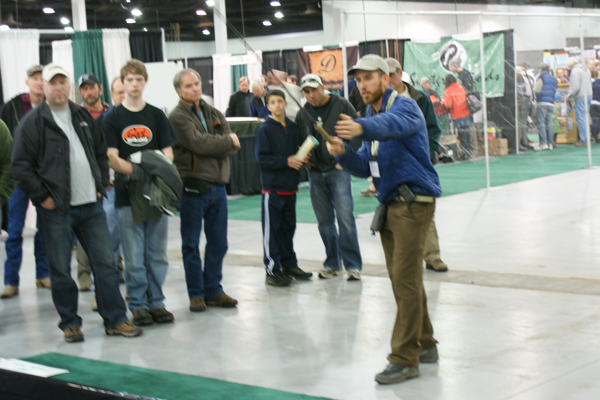 The People

I was amazed at how many friends, fellow tenkara anglers, and celebrities I got to meet this year.  Of course, Karel Lansky and I met up for the event. While both eager to buy something, neither of us could find anything we needed.  We really tried though!
My former boss Charlie Craven of Charlie's fly box was there giving fly tying demonstrations and we had a little time to reminisce about our days together at Rocky Mountain Anglers.  Since then, Charlie has had a lot of success with his own fly shop and line of books.  Charlie is probably the most amazing fly tier I've ever met and I am proud to have had him as my boss and mentor when I was living in Boulder.
I also got a chance to finally meet John Gierach, one of the best known authors in fly fishing.  At first, it was humbling to stand in his presence, but it turns out he's a very accessible guy and easy to talk to.  Plus, he "gets" tenkara!  He's the type of guy you could easily forget is a celebrity and just fish beside for a day as a "buddy".
Just across the way from where Daniel gave his tenkara casting demo, fly fishing legend Gary Borger gave his own demo.  I thought it was interesting that Gary demonstrated the "bow and arrow cast" that is commonly used in tenkara:
At the Hardy booth, I got to reconnect with my old friend John Shaner.  I've known John for over a decade.  He was our Orvis rep when I worked in a fly shop in NY and is an amazing fly fisherman.  Hardy was offering free reel cleaning and lubrication at their booth during the show so I figured I'd take advantage of it and bring my Bougle in for a little service.  While it hasn't seen much use since I've started tenkara fishing, I asked John to give it a little TLC anyway.  Hey, just because I tenkara fish doesn't mean I'm going to get rid of my beloved Hardy reels!
After our encounter at the show last year, John bought a Tenkara USA Amago but hasn't used it yet. I've threatened to take him out on a tenkara outing the next time he's in Colorado to which he was very receptive (must be Stockholme syndrome).  Still, I've always loved Hardy reels:
All in all, it was a pretty good show. I think one thing I took away from it was that whether you're a crack fly tier, a beginner, a gear junkie, or a tenkara angler, we all have something in common.  We all love being on the water.  That might sound cheesy (and it is) but it was nice to see the borders and divisions so easily reinforced on the Internet torn down when people just meet people in person and realize their commonality.  All divisions seem to dissolve when you look someone in the eye.  What a great place the net would be if we all first met and shook hands at a trade show and realized that even though we choose different methods or gear, we all still have the same goal in mind when we hit the water.