It's been pointed out to me that I'm somewhat of a hermit in the fly fishing and tenkara community. There are really only two events I attend on a regular basis: The Denver Fly Fishing Show and the Tenkara Summit. It's not on purpose. There are plenty of tenkara events around the country I'd love to attend, but work and family obligations have typically prevented me from going. However, this year, I made a resolution to make more of an effort, so when I heard about the Denver Fly Fishing Rendezvous, I rearranged my work schedule so I could attend. I didn't know what to expect since it was my first time attending, but I heard this was their biggest year to date so I thought I'd check it out.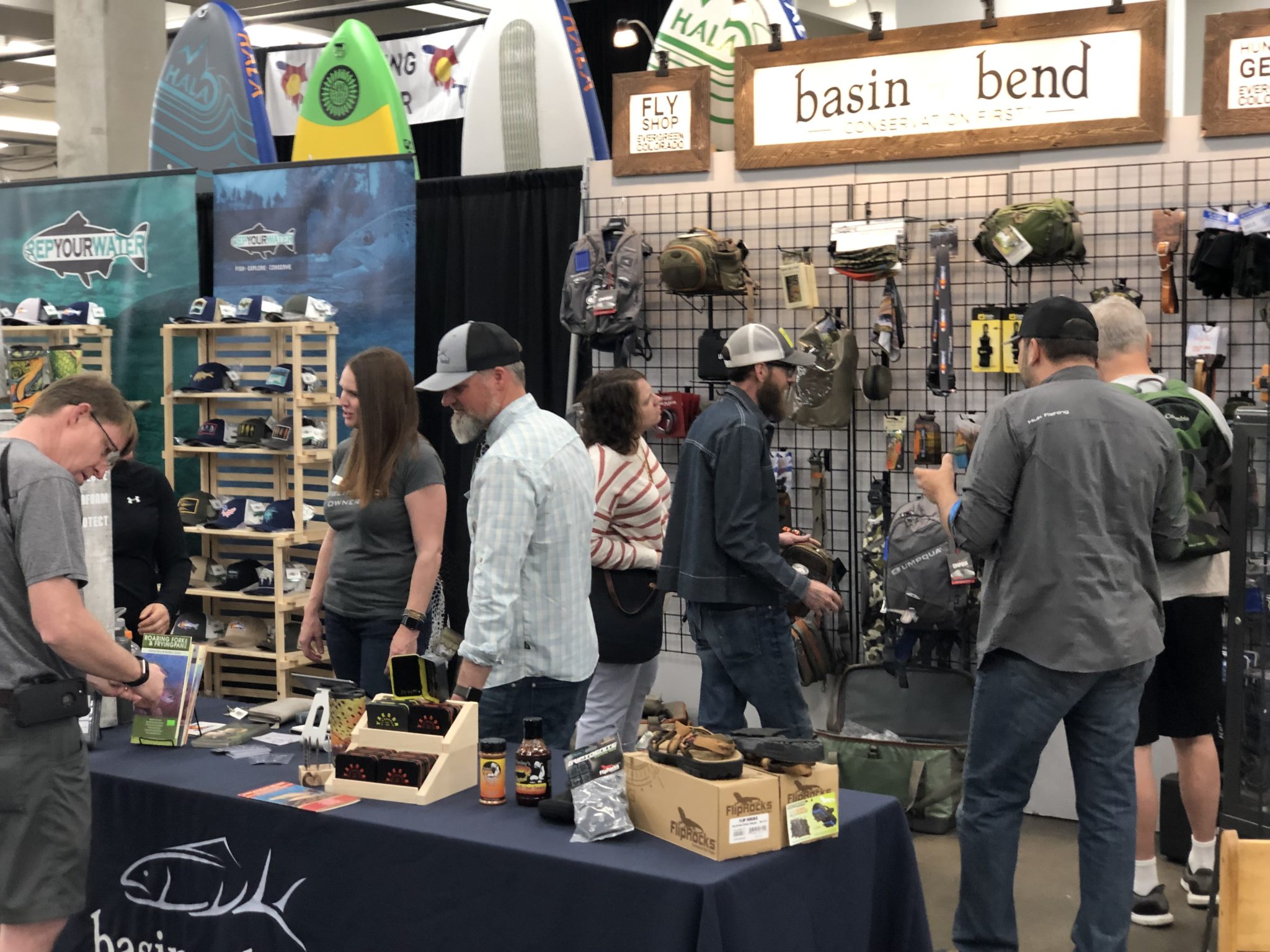 The Rendezvous is a much smaller event than its big brother (the Fly Fishing Show) with about 50 vendors–mostly cottage industry gear companies, local conservation and educational organizations, authors, fly shops, and artists. It's an intimate environment with a slower pace than the big show that affords you more time to have deeper conversations with fellow anglers and form some authentic connections.
As you might expect, I went in there with my radar focused on tenkara and was pleased to find a proportionately decent representation.
DRAGONtail Tenkara & Moolit Fly Fishing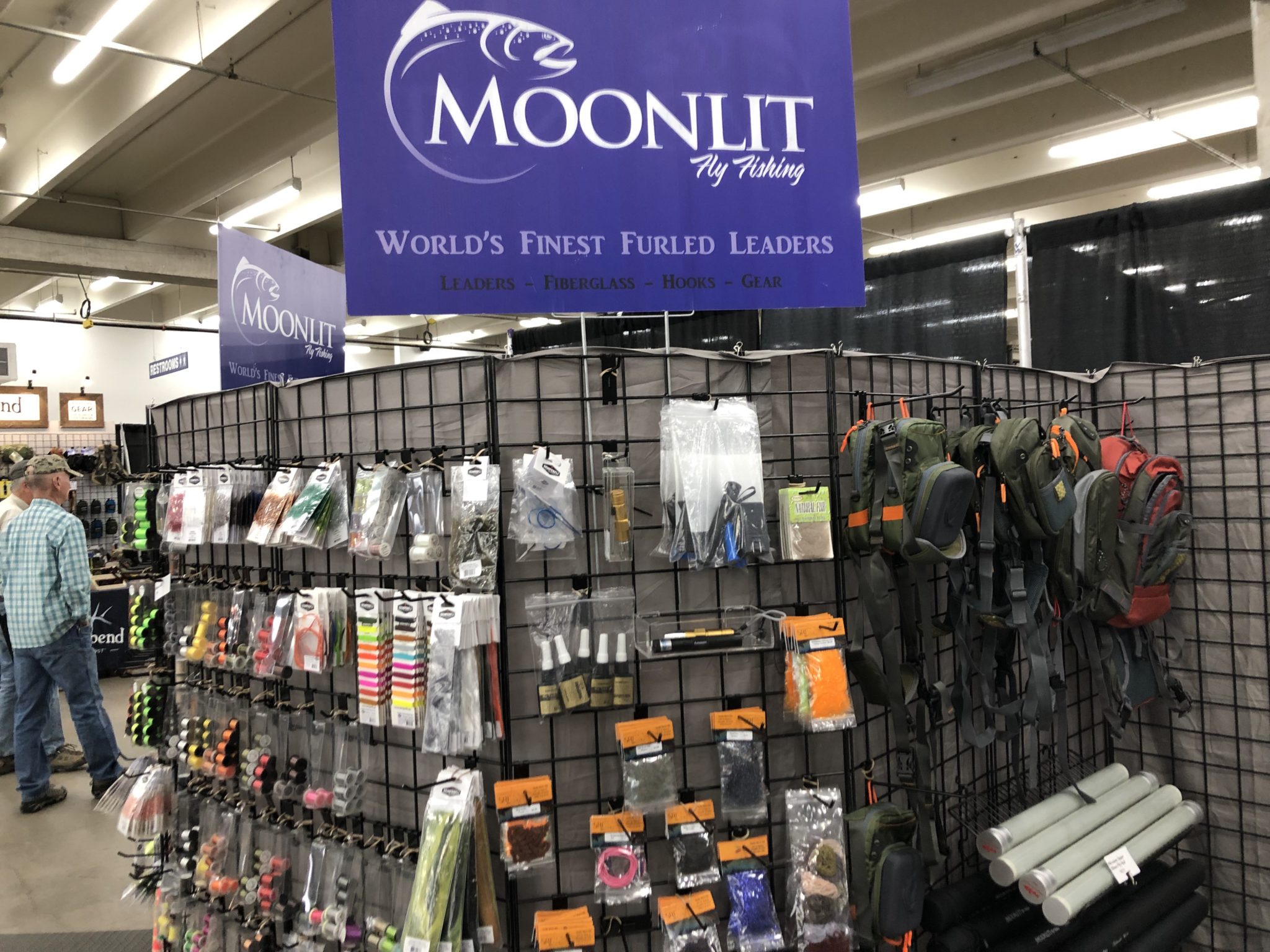 My first stop was at the shared booths of DRAGONtail Tenkara and Moonlit Fly Fishing. Shared, because they're really the same company–just different brands. You probably recognize DRAGONtail from their rods and Moonlit from their popular furled leaders. They also own Nirvana on the Fly which you might recognize from my reviews of their new Tenkara Lines Spools. I've known owners Brandon Moon and Brent Auger for years, but this was the first time we'd met in person.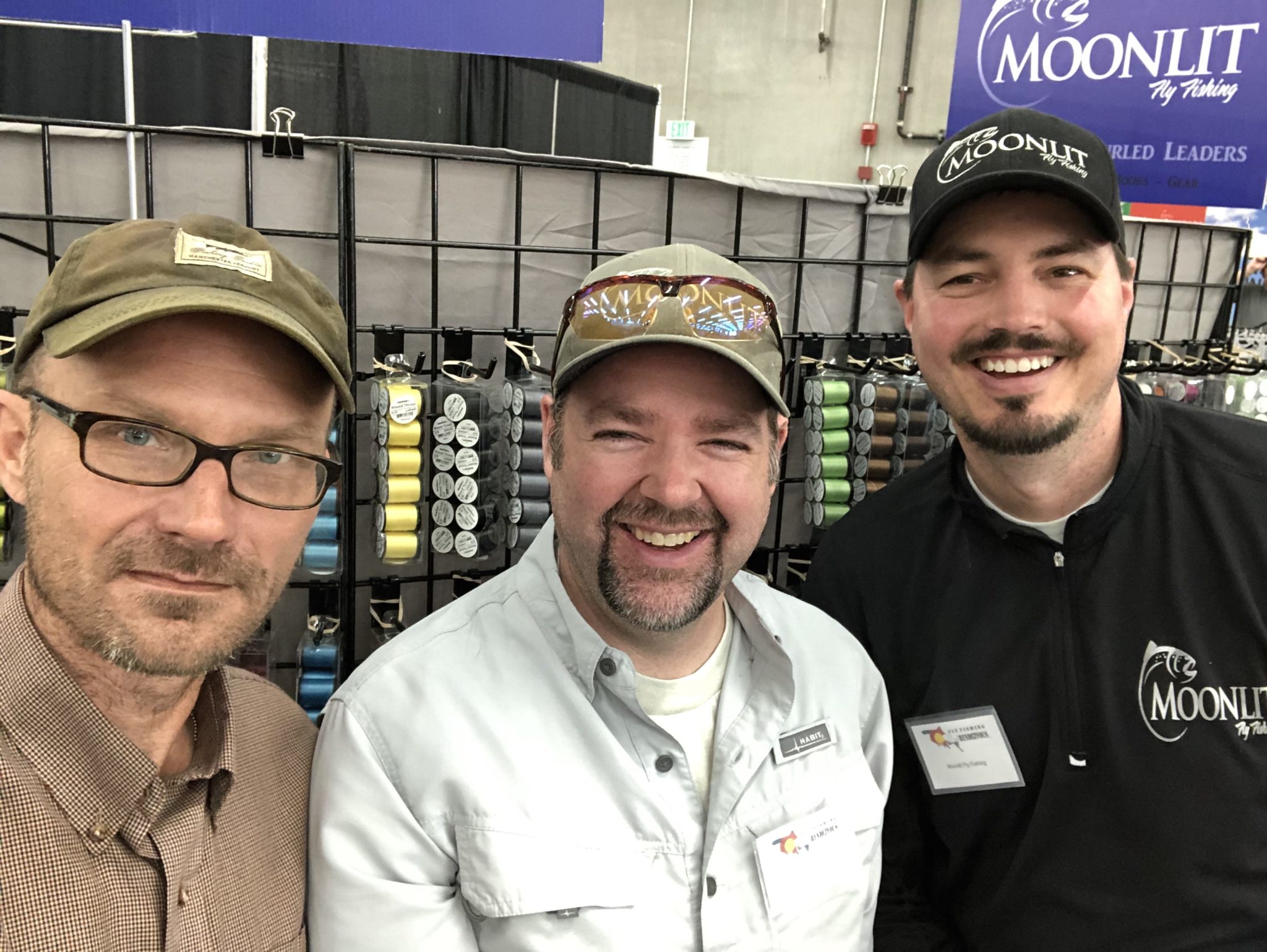 They had the full range of their gear on display and I asked each of them to pick out a couple of products to highlight …
As someone who is always on the hunt for the esoteric and unique, one piece of gear caught my eye: handmade "Thread Catchers". They're basically waste bins for your tying desk. There's a weighted, non-slip "bean bag" that holds the catcher on the surface of the desk, while the bag hangs over the edge to catch clippings. It's lined with a plastic, static-free liner and comes in a variety of interesting patterns. These are not only really practical and convenient, but would also make a truly unique gift for any fly tyer!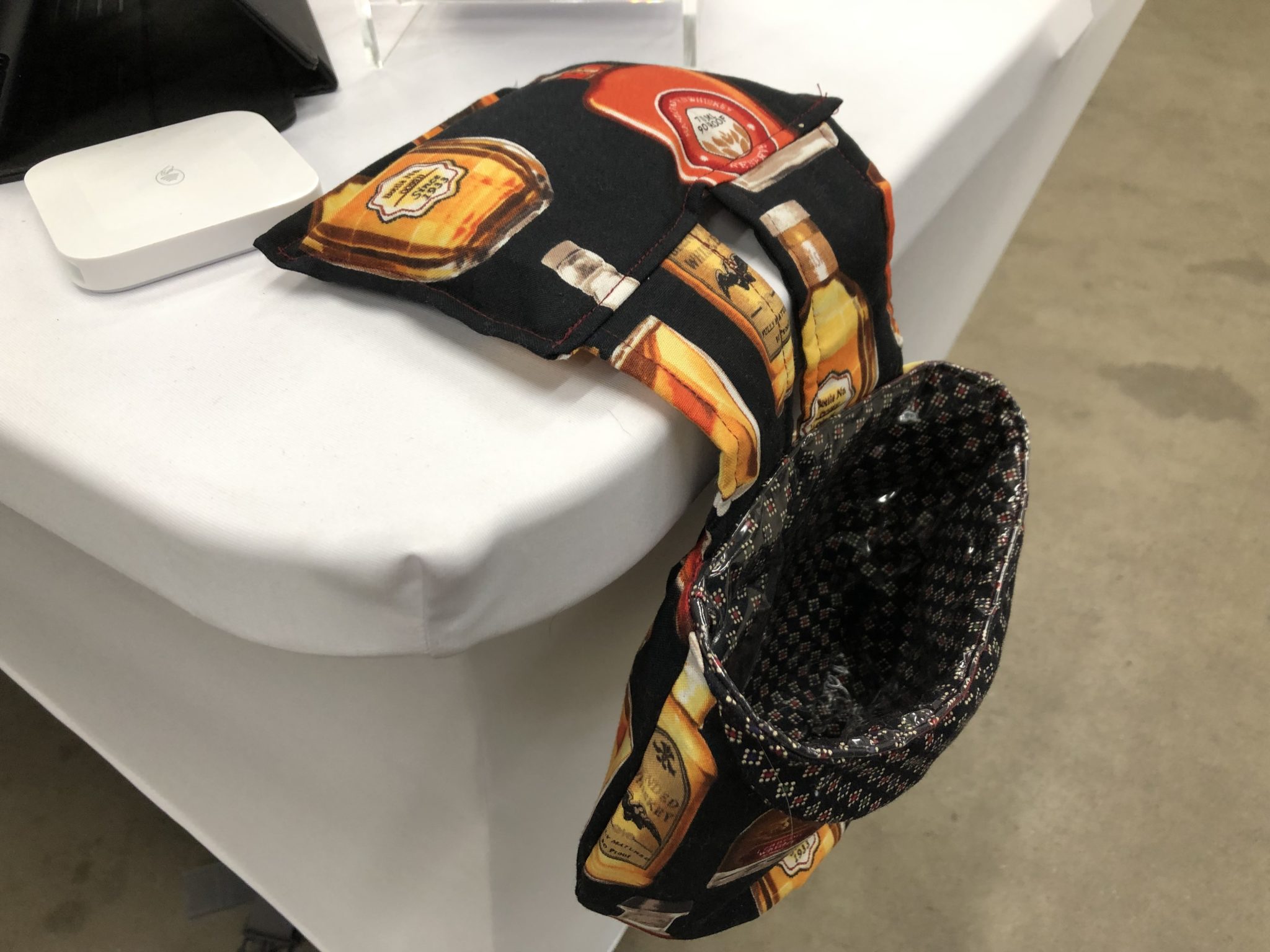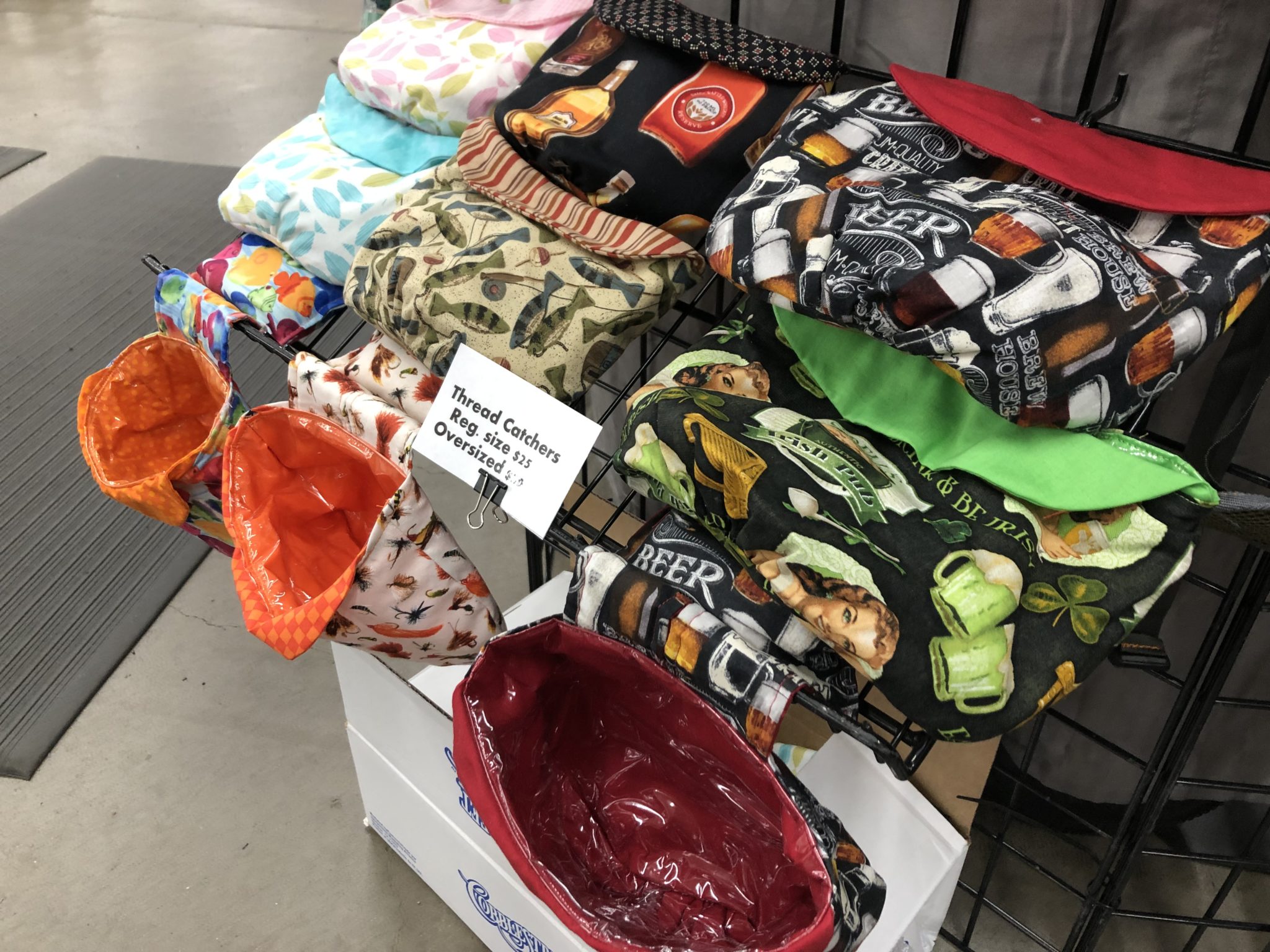 I was also lucky enough to wiggle one of their new rod prototypes. All I can say is that it's a triple-zoom (with a spread that actually makes a significant difference in length) and has a really different stealth finish. It's super light in the hand and I think it's going to be a hit when it goes to production.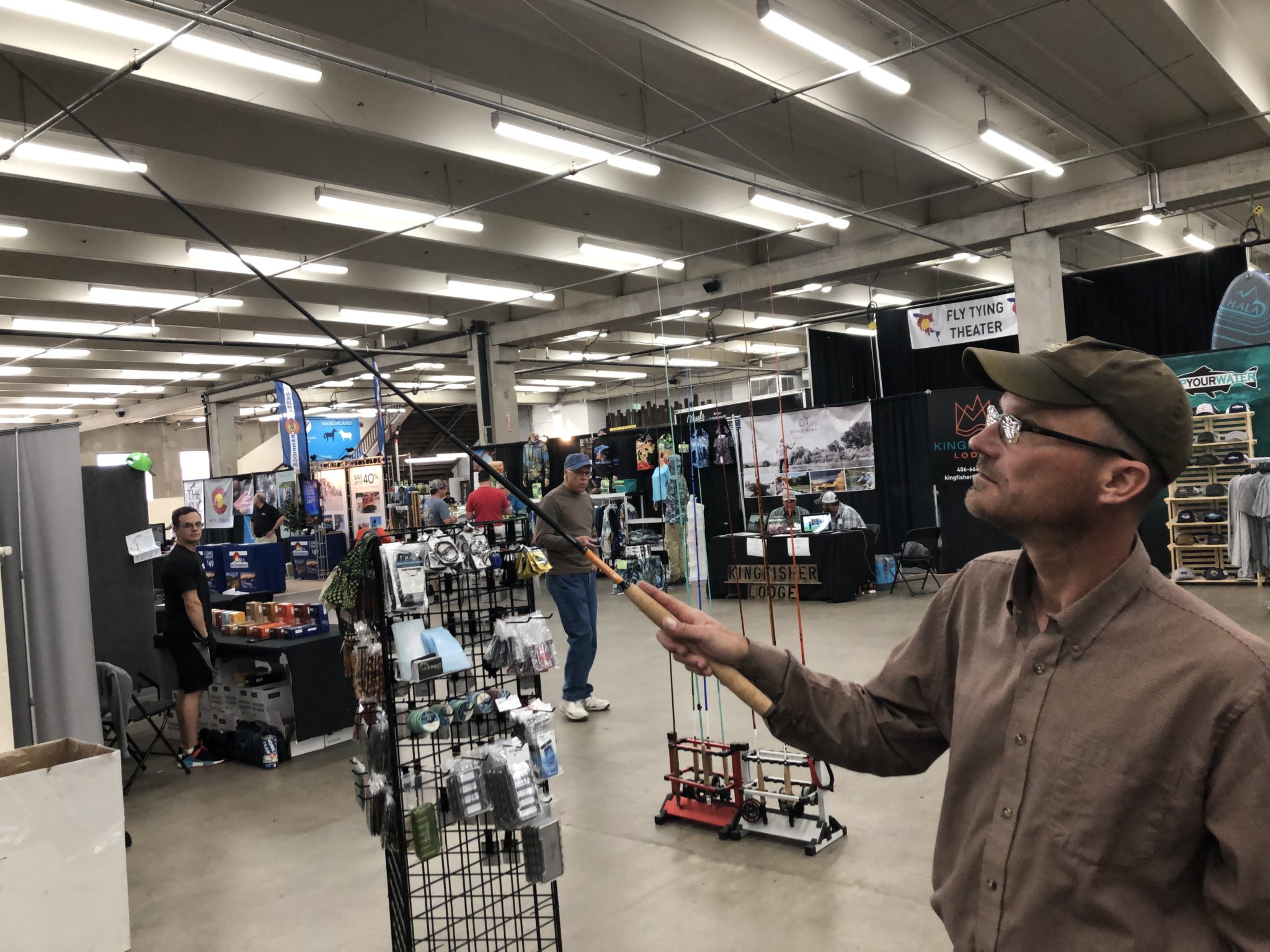 Brent and Brandon are just as cool in real life as they are online and over the phone. They're developing some really interesting new gear and they're definitely a tenkara company to watch.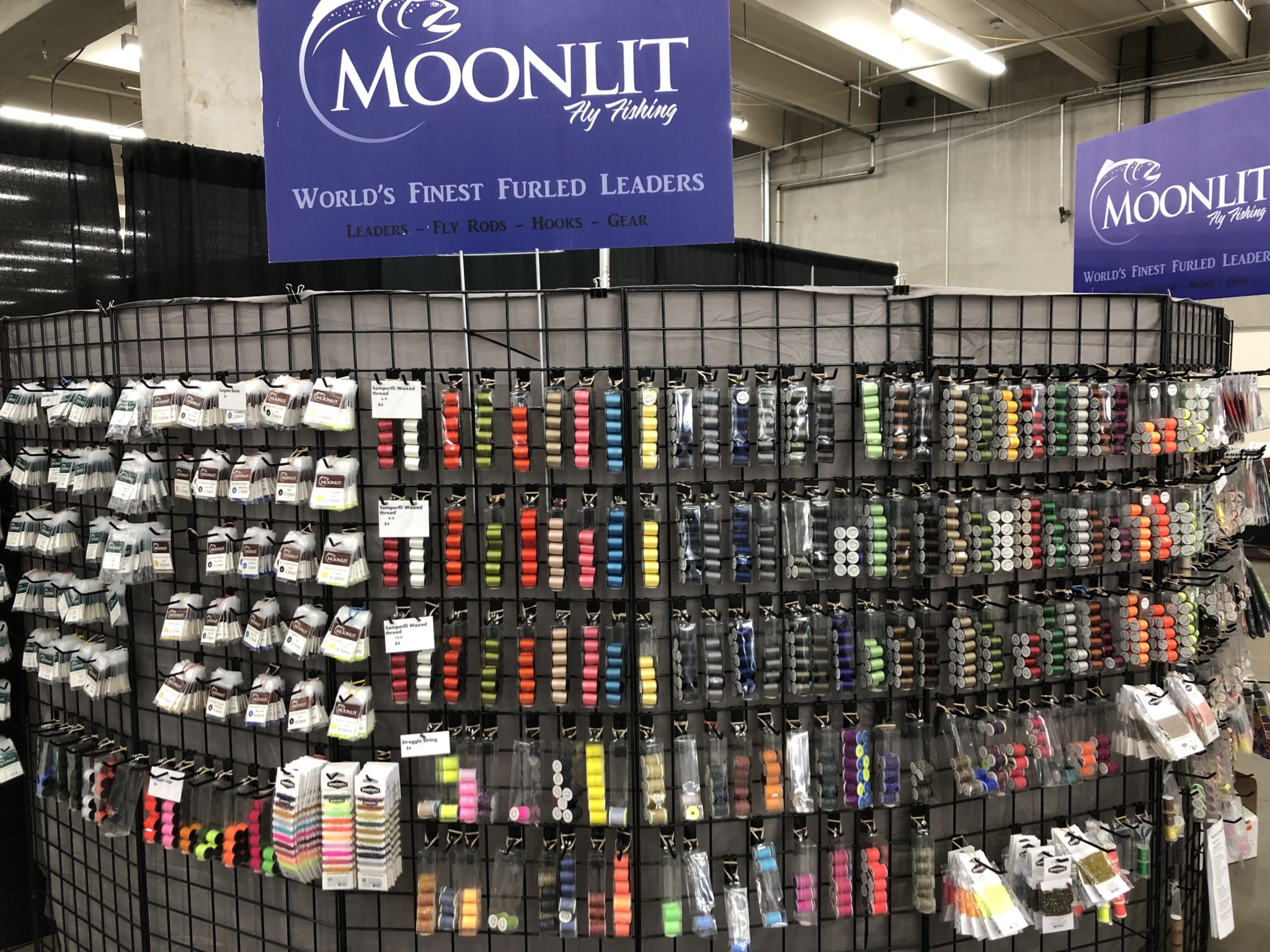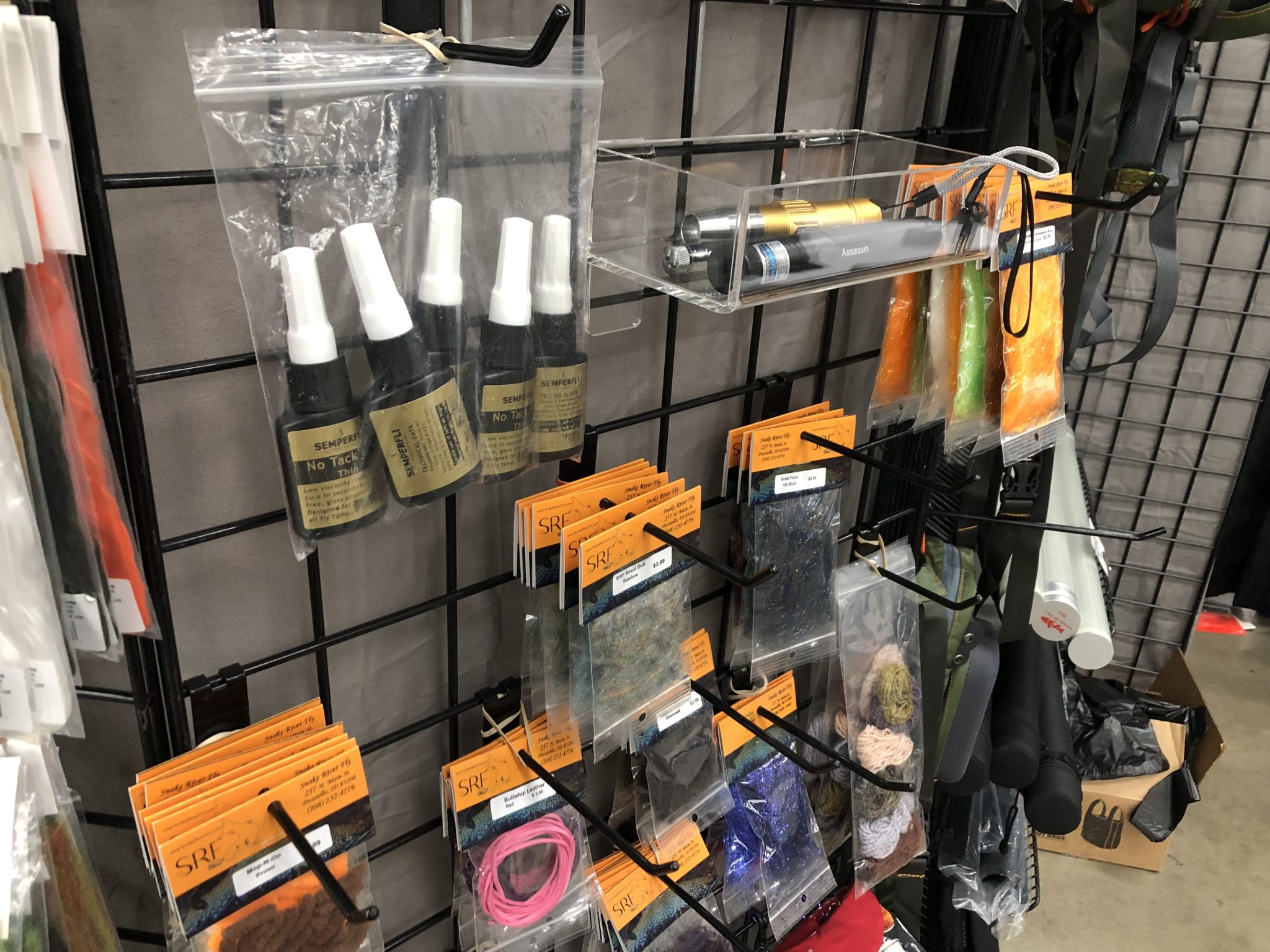 GEAR Colorado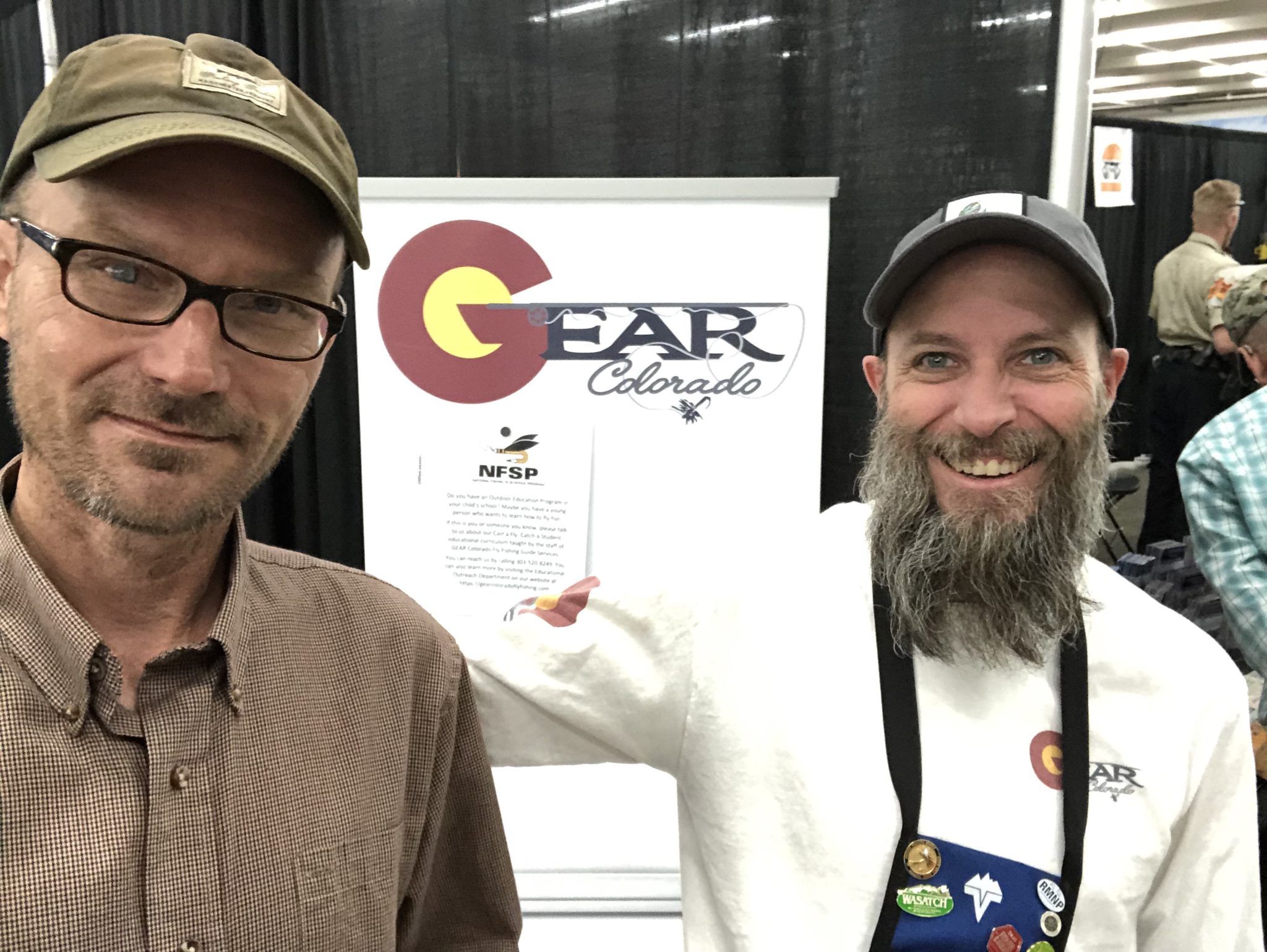 Right next door was my long-time friend Graham Moran with his booth for his tenkara guiding company GEAR Colorado. Graham and I go way back–from the very first days of tenkara in the U.S. and while we don't fish together as often as we used to, we do see each other at events like this, in the fly shop, or for coffee.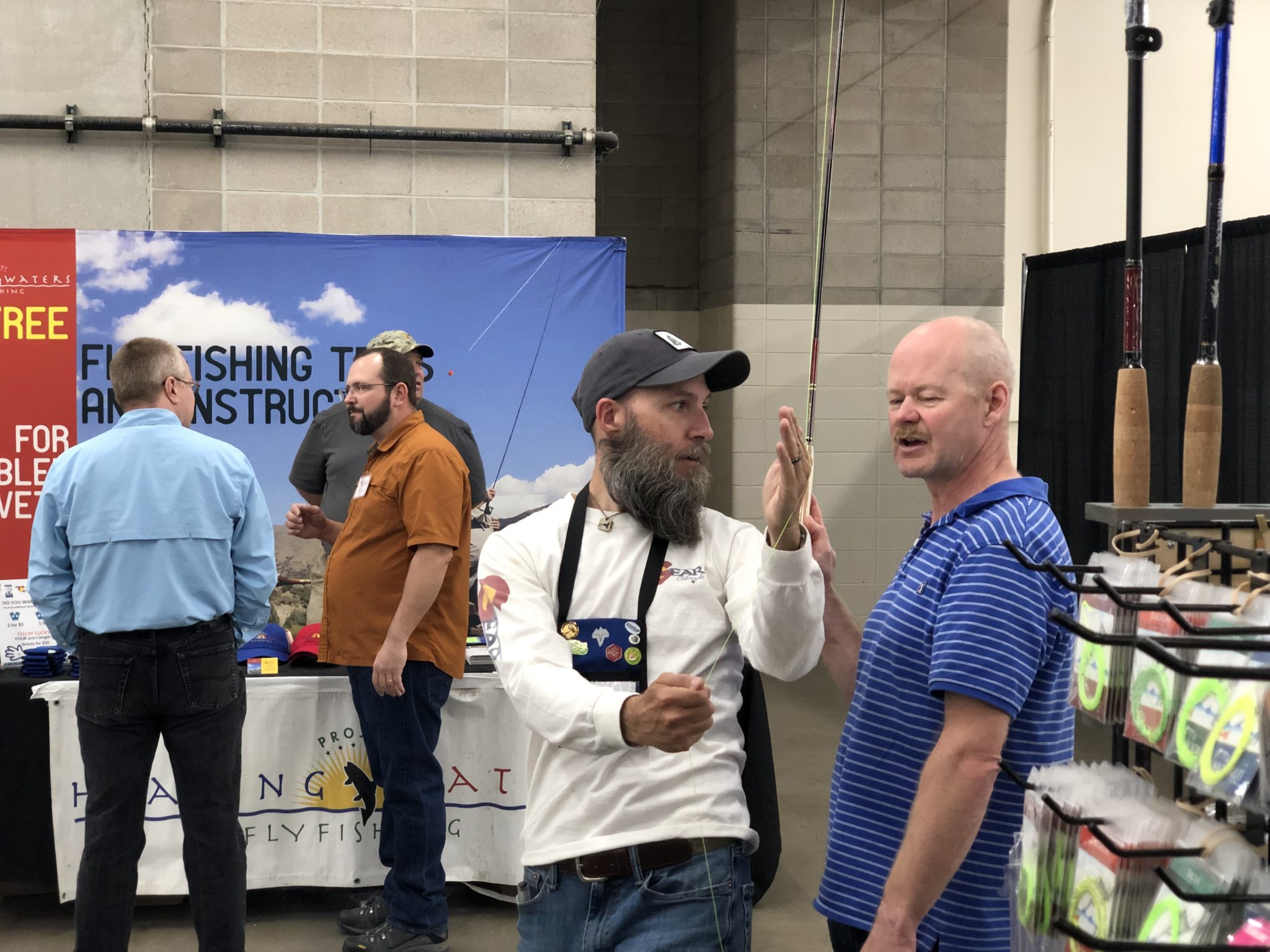 Zen Tenkara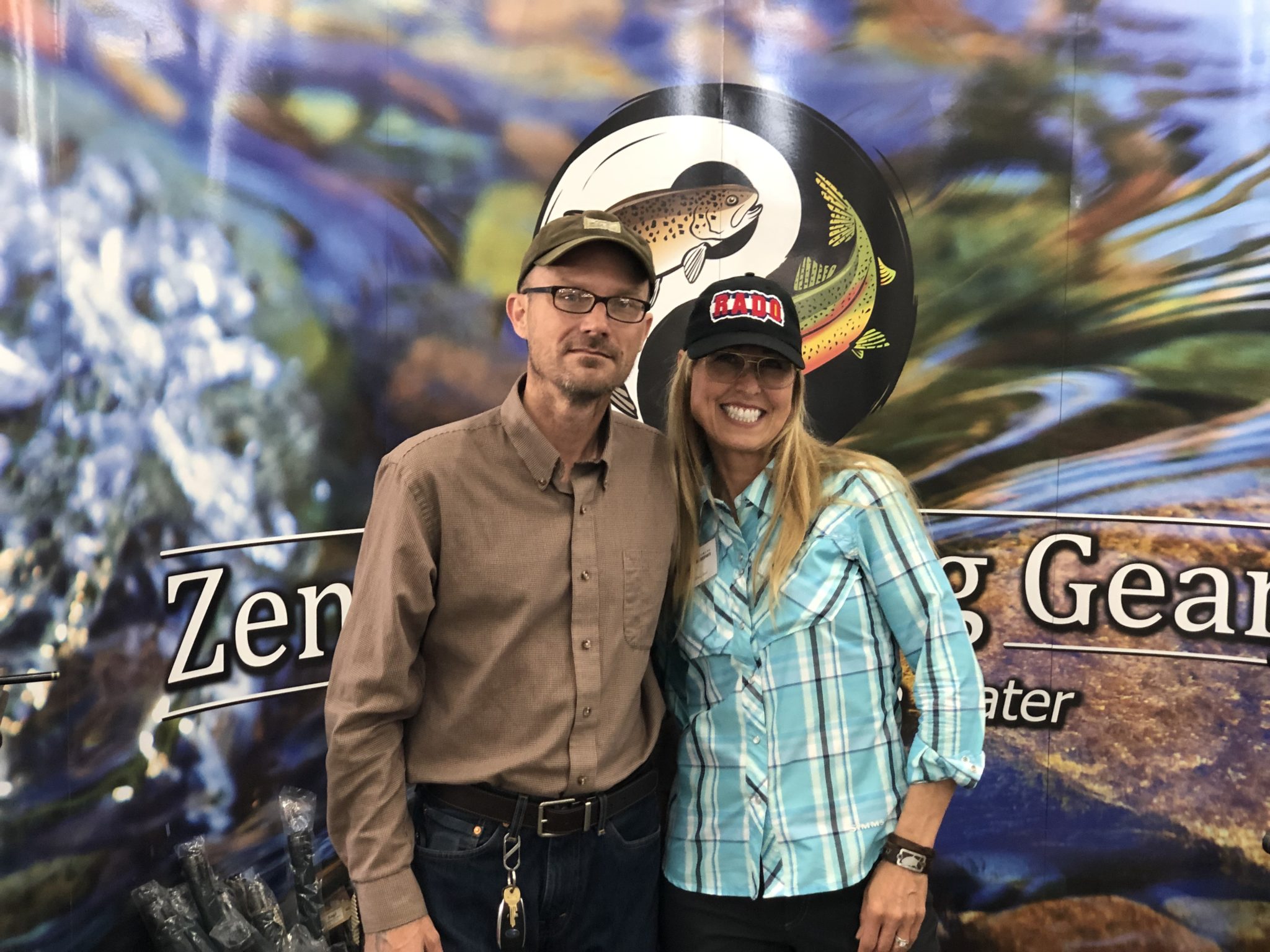 My next stop was the Zen Tenkara booth to see another long-time tenkara comrade: Karin Miller. Karin is another one of the Colorado tenkara OGs who shares my passion for gear design and always leaves me jealous with her stories of trips to exotic waters to catch big-game on fixed-line rods. She had a full display of her rods, floating lines, line spools, boxes, flies and other gear.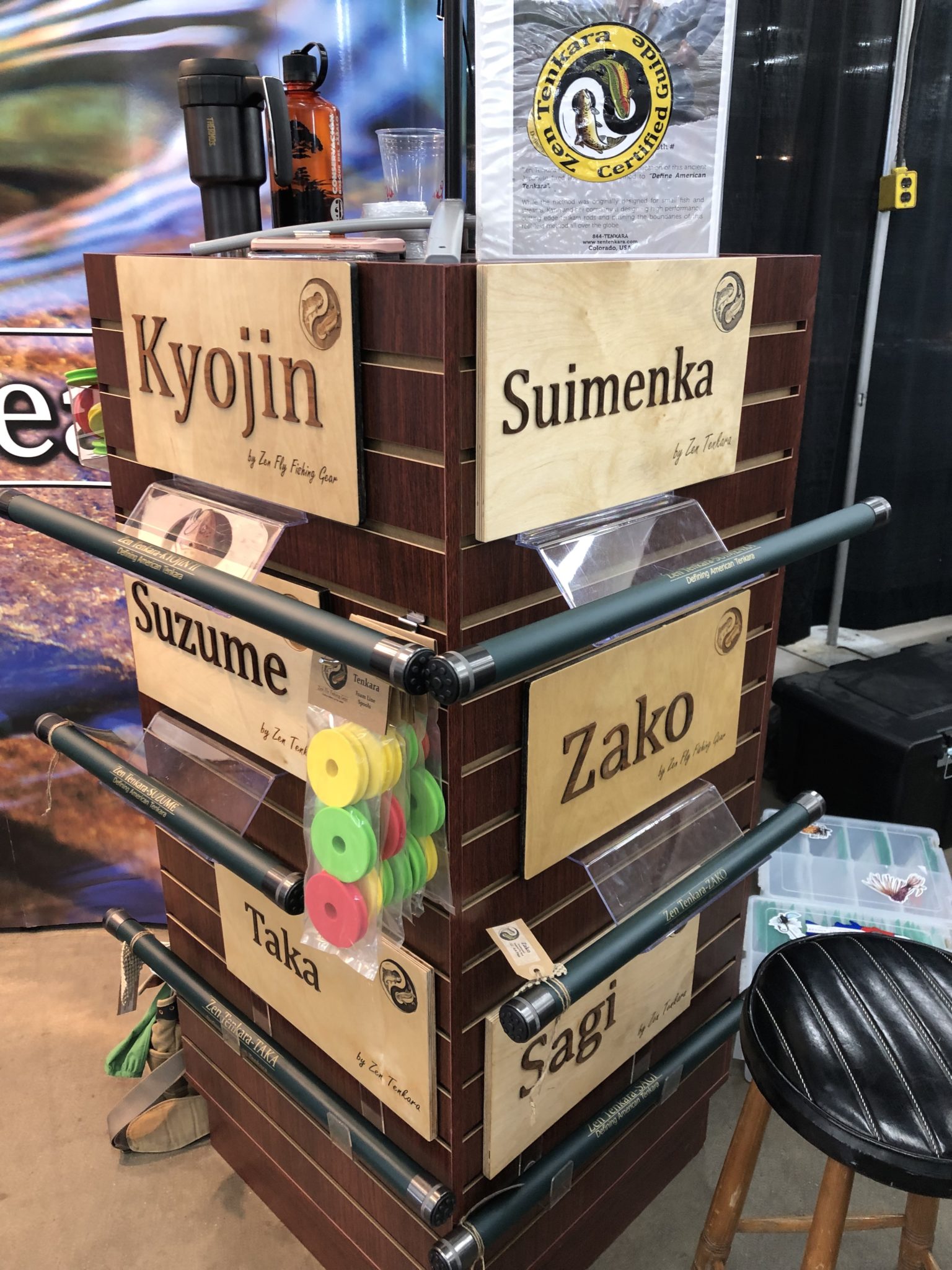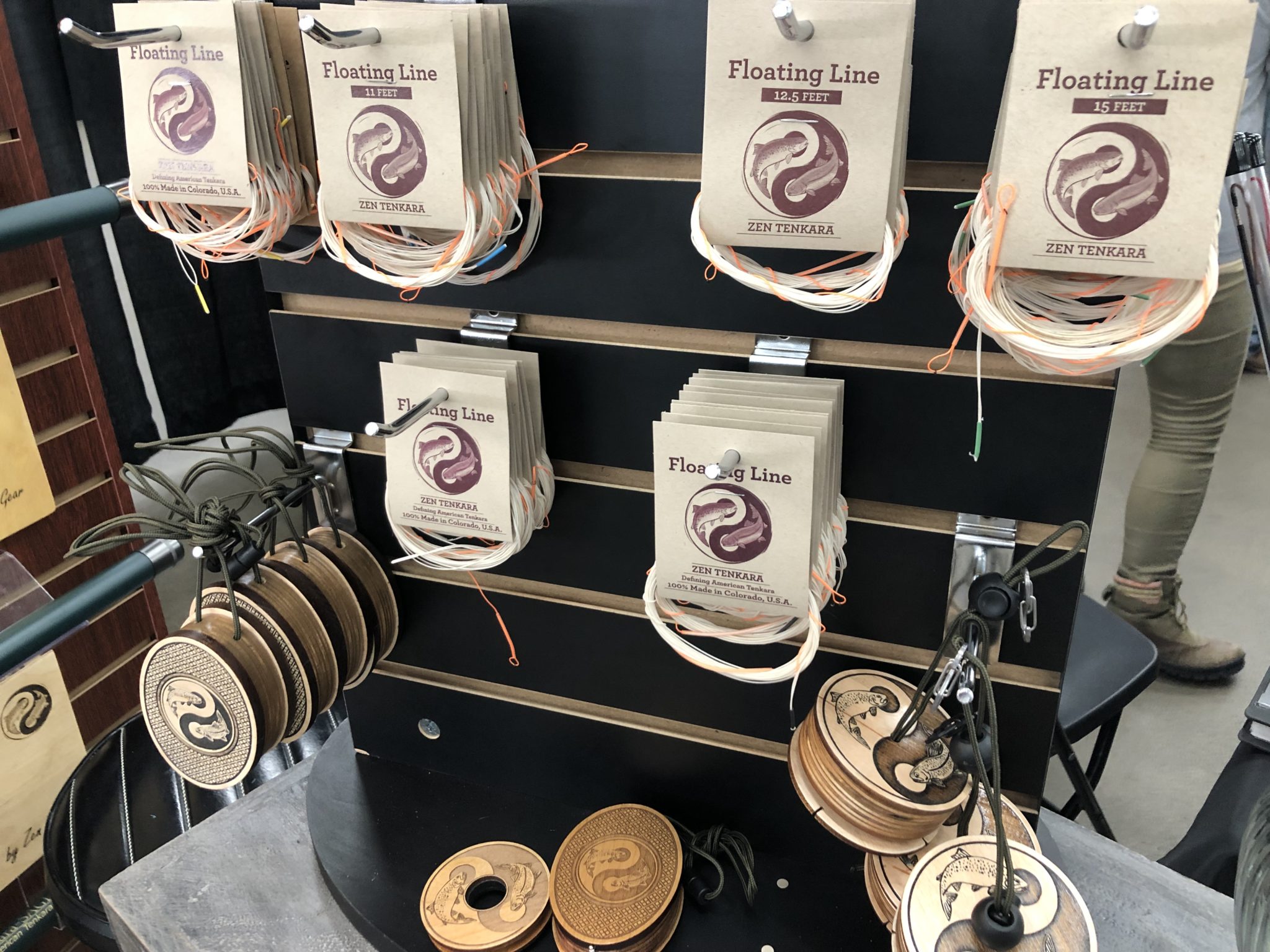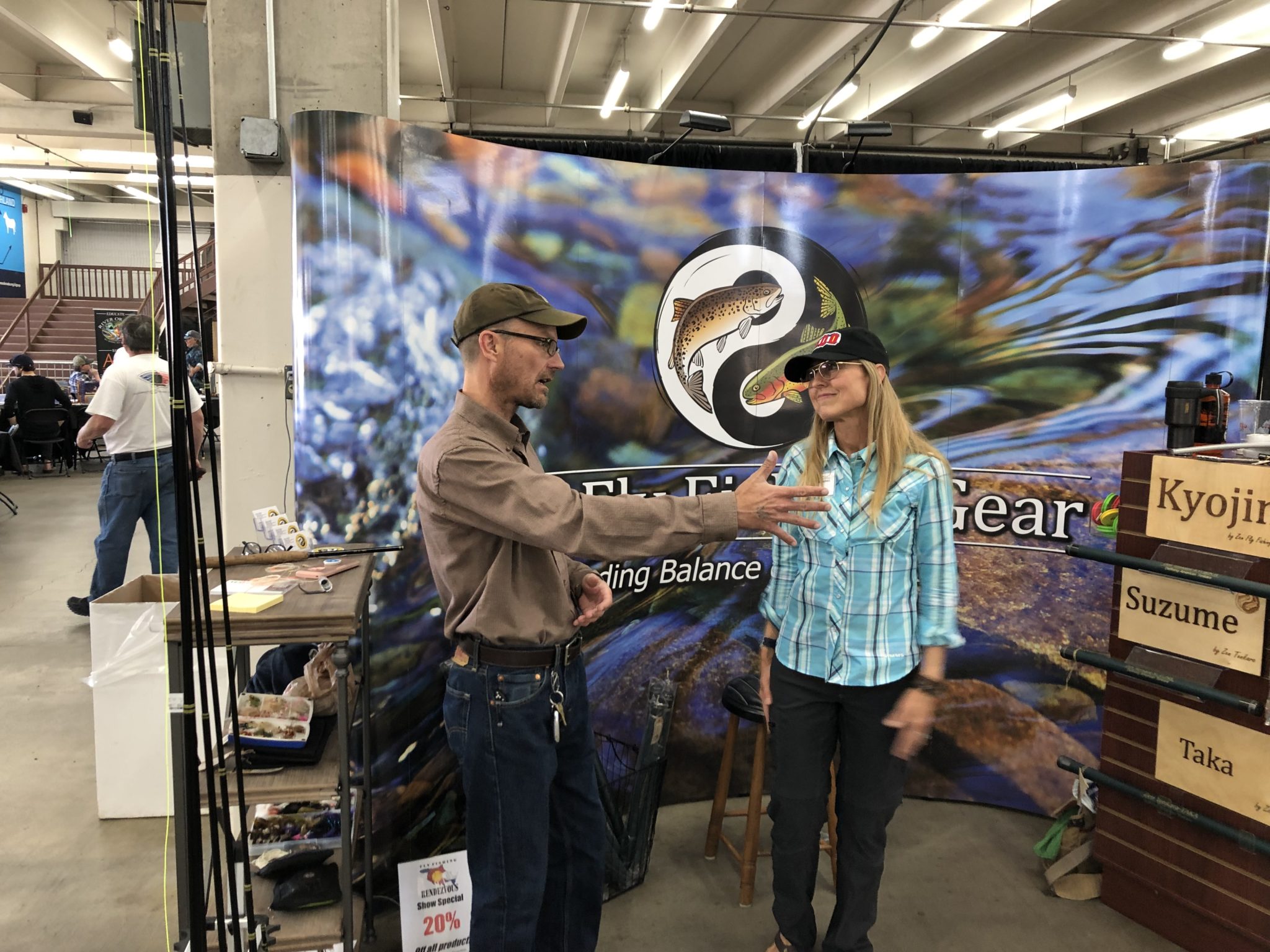 Karin gave a presentation the day before on "Big Game Tenkara" which apparently drew quite a crowd, but I wasn't able to make it. She's probably caught more big fish and non-traditional species on fixed-line rods than anyone I know, so if you're into that sort of thing, she's the person to talk to.
The Bug Guy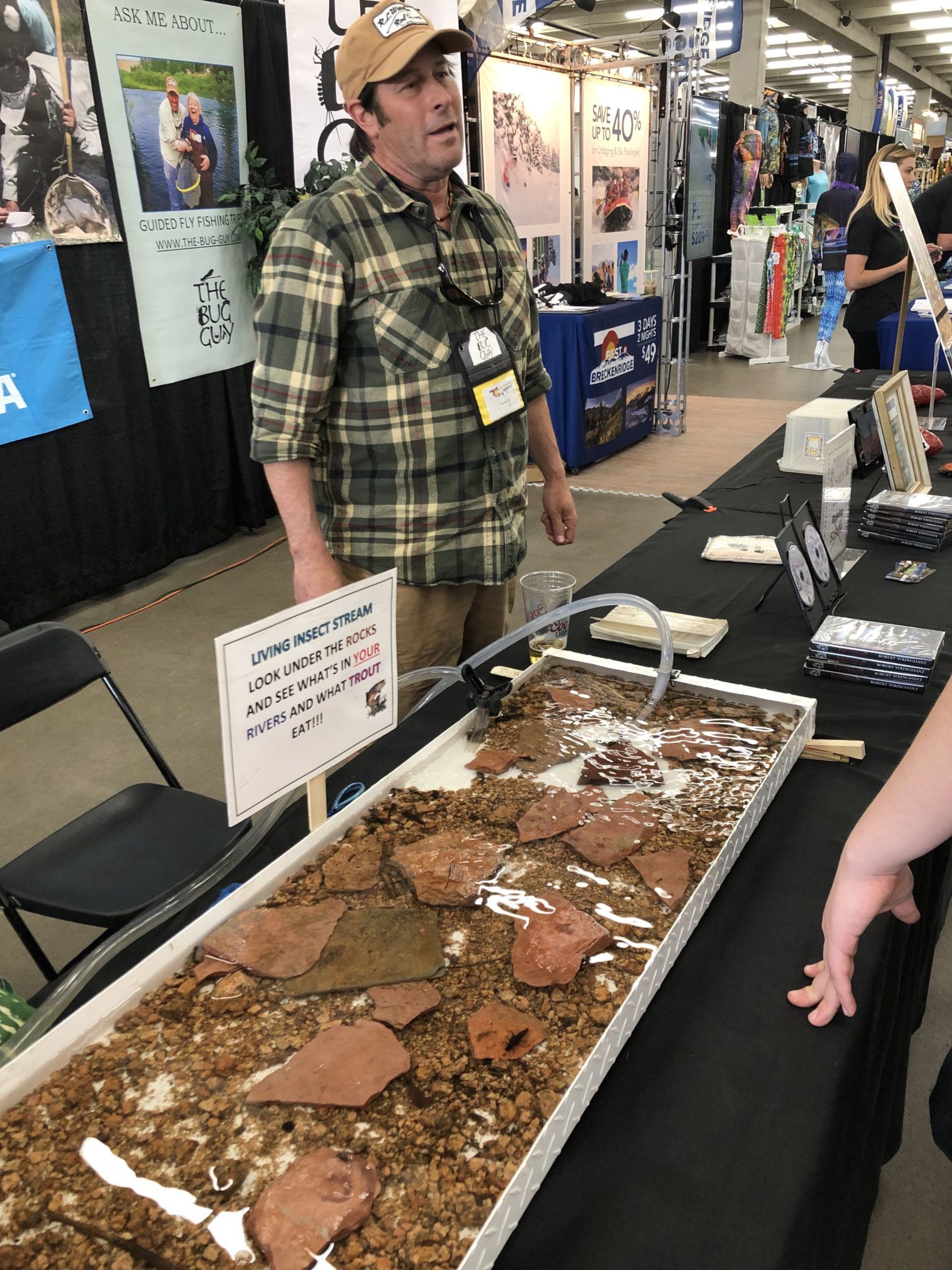 Probably one of the most interesting booths was "The Bug Guy", AKA Robert Younghanz. He's an expert aquatic entomologist and you might recognize him from his popular DVD. He actually set up a miniature "stream" filled with live stoneflies, mayflies and crayfish. It was really fascinating to just sit there and watch our fly tying muses dart around just inches away. I could have stayed there and watched for an hour. All I could think was that instead of an aquarium, I'd like to have one of these in my house!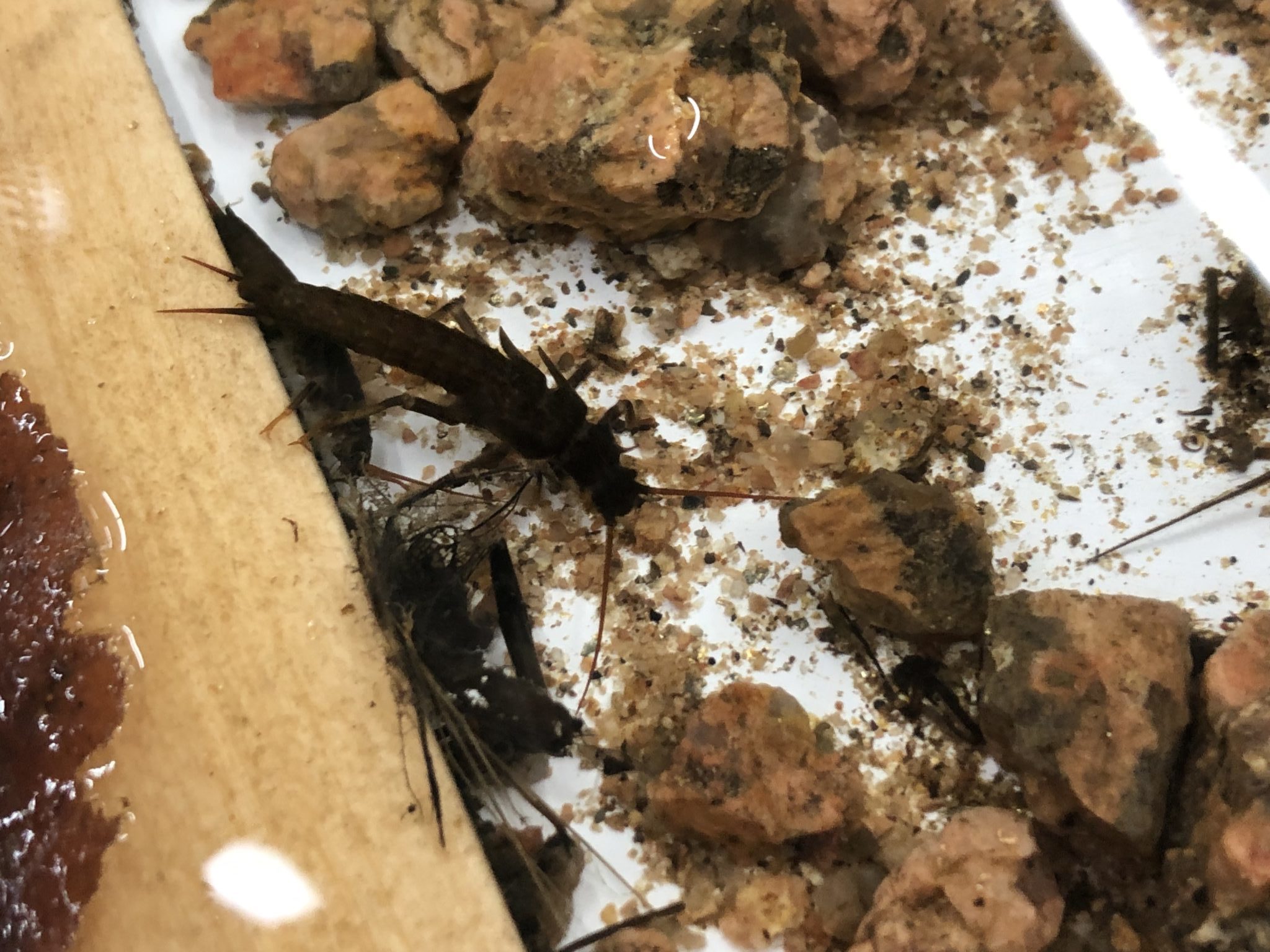 Flies & Tyers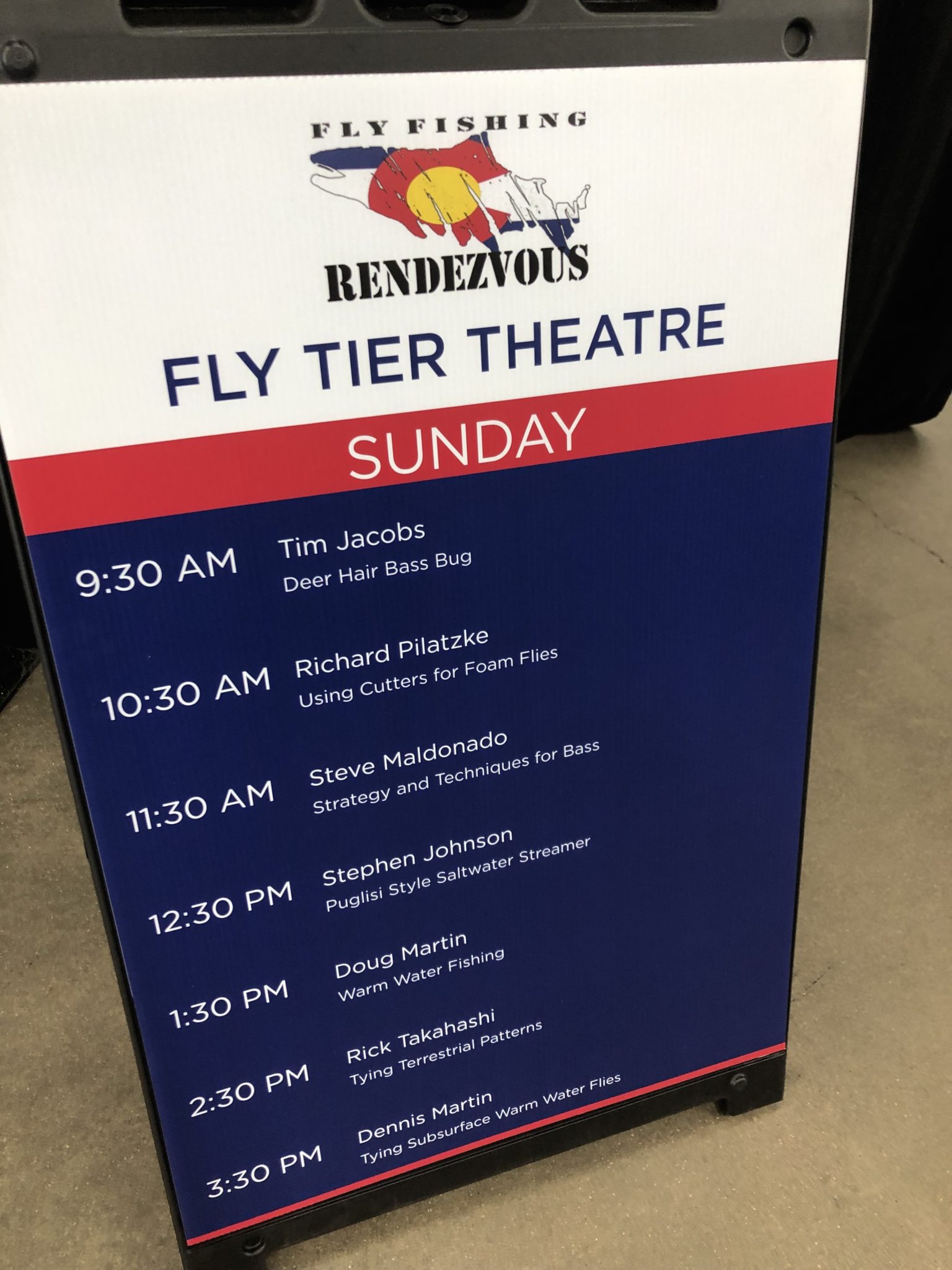 The Rendezvous also had a good lineup of tyers with a lot of names you'd recognize such as Rick Takahashi.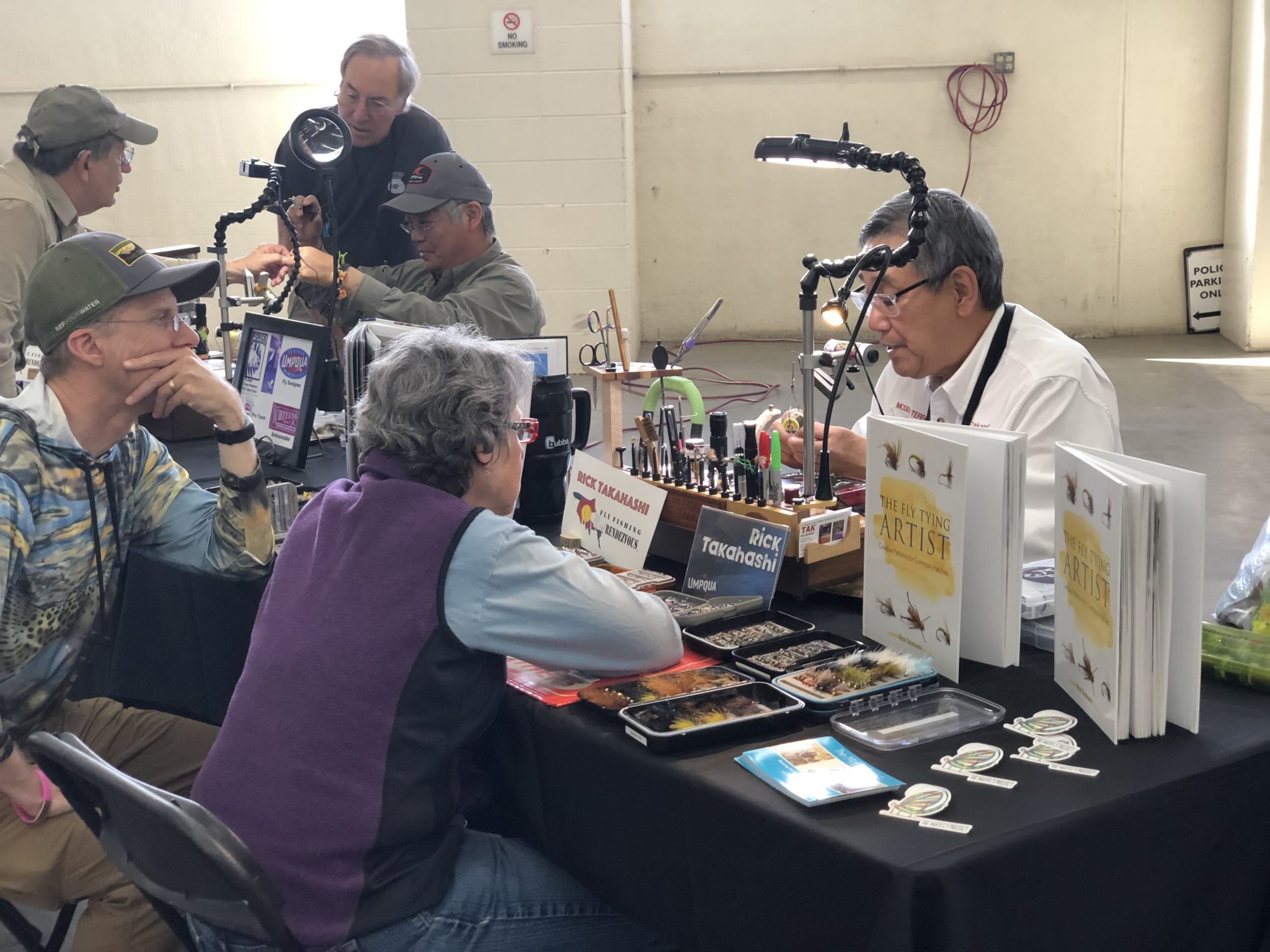 And for those who don't tie, there were plenty of patterns on hand for purchase (both tenkara and conventional) …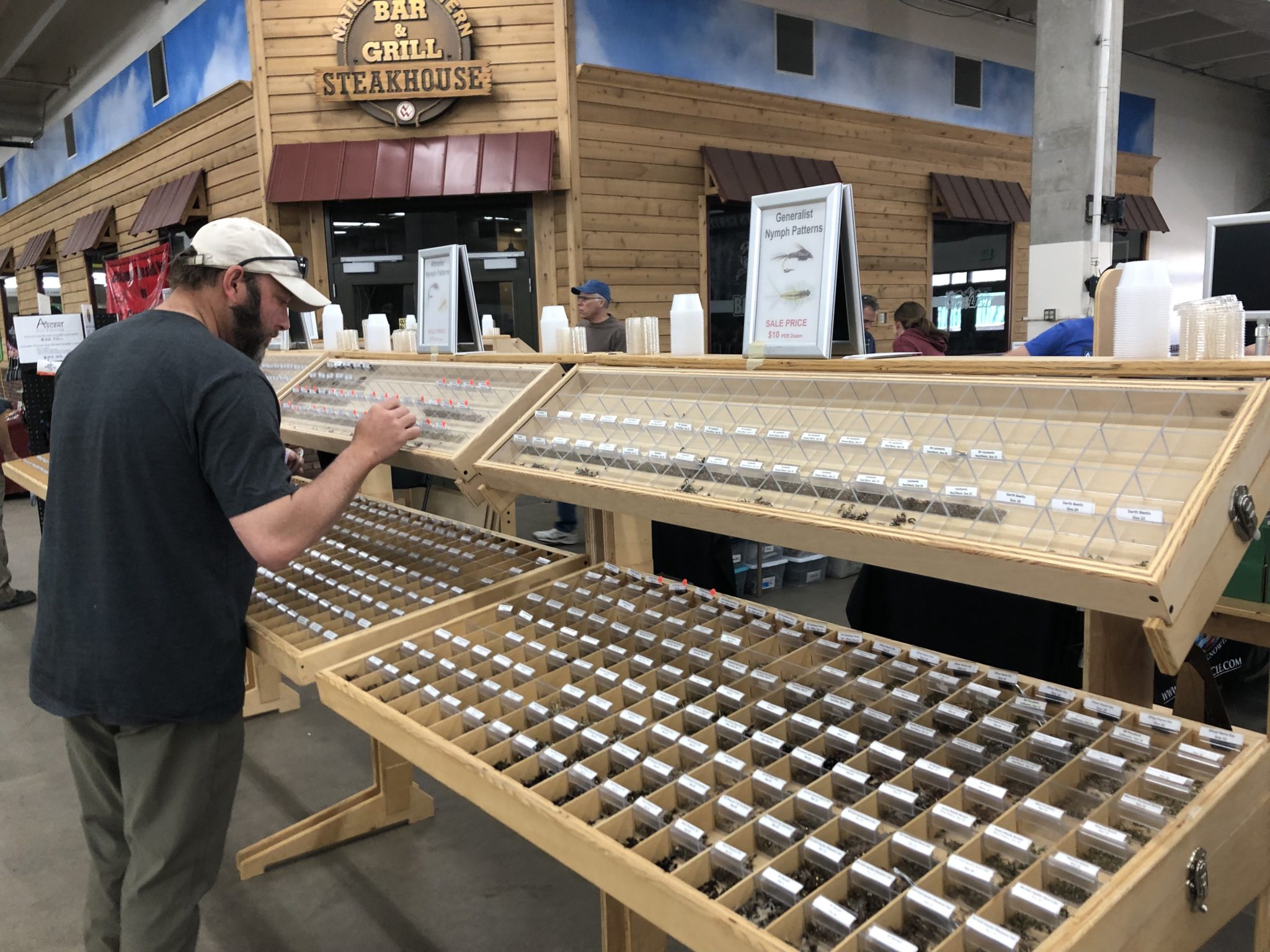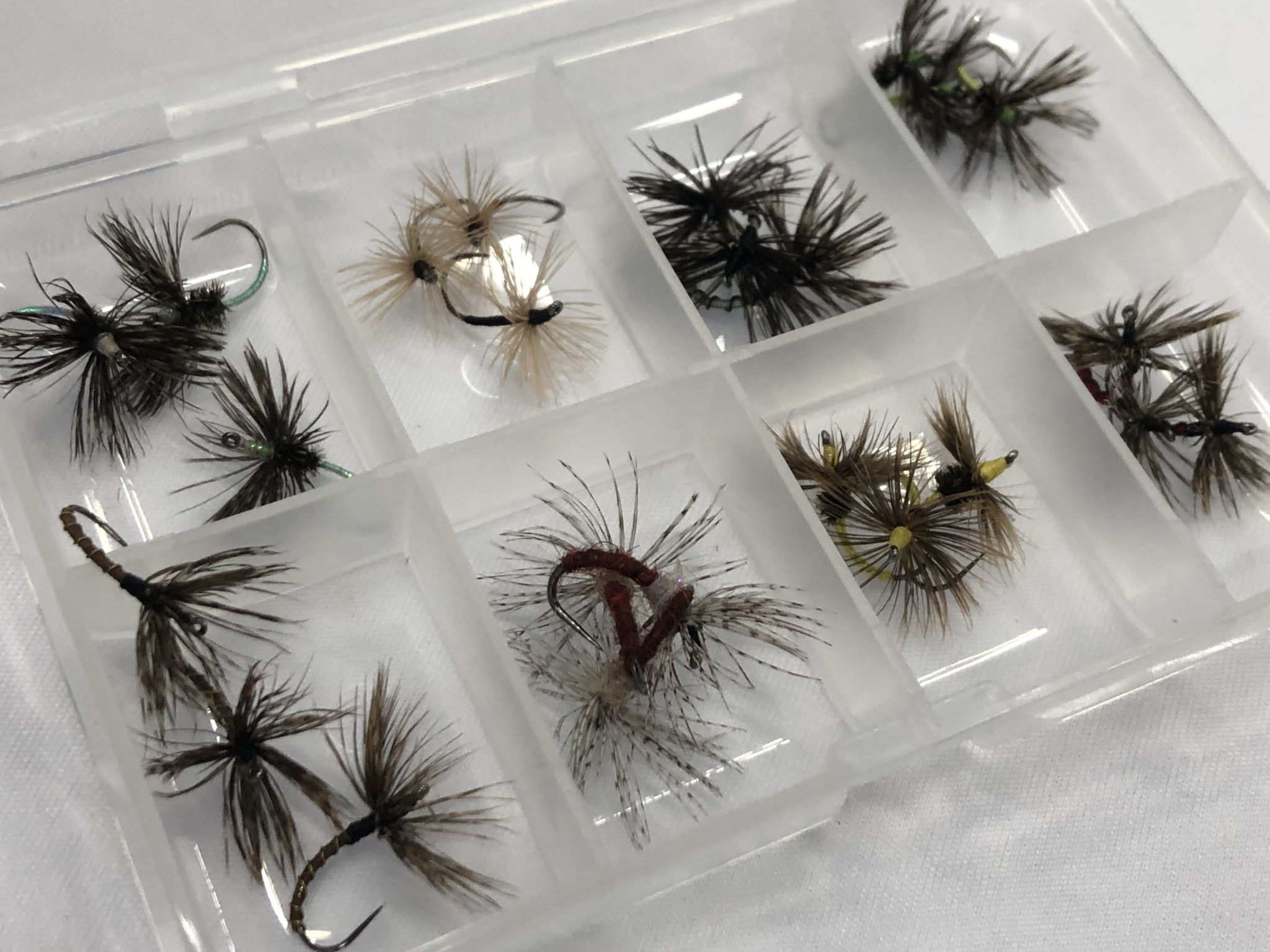 Wrap Up
All in all, I was pleasantly surprised with the Rendezvous. While small, the vendors are high-quality, the interactions are focused and genuine, and the overall vibe is laid-back and fun. I'll definitely be back next year and the Rendezvous is now on my list of annual pilgrimages to help  draw me out of my tenkara hermitage. Hope to see you there too!