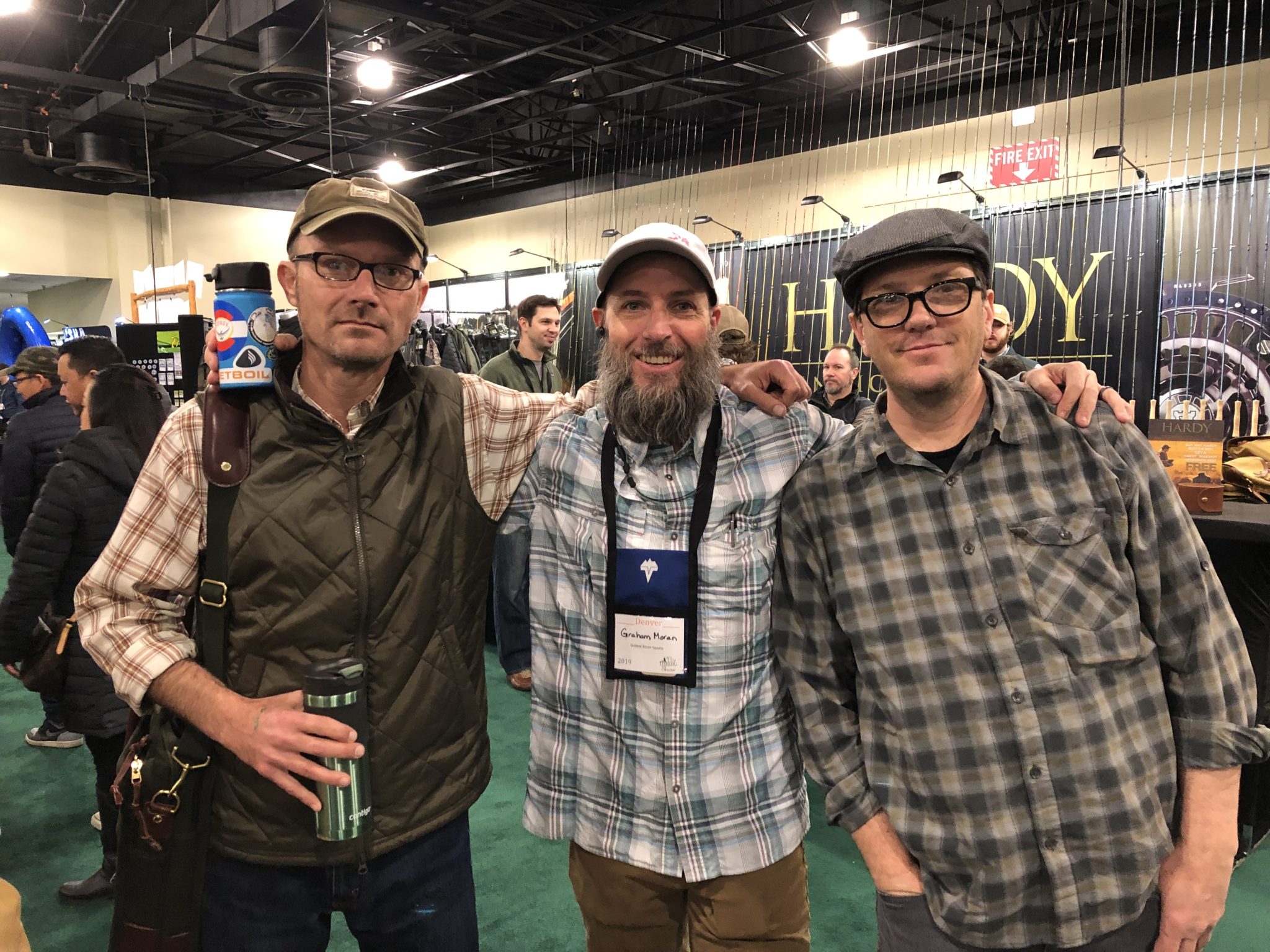 As I do every year, I attended the Denver Fly Fishing Show today and as it is every year, the best part about it wasn't the gear–it was the people. I go to reconnect with fellow fly fishers I haven't seen in a while, to trade lies, and exchange ideas. And so, here is my annual recap of the show–with a tenkara slant of course!
This year, I went with my friend Dennis Vander Houwen. If you've read TenkaraTalk for any length of time, you'll recognize the name as I mention him frequently. He's my tenkara partner-in-crime and touring the show without him would be like a movie with Abbot and no Costello (though I'm not sure who would be which). He's a consummate tenkara angler, philosopher, Renaissance man, and magician (no, really!). If you haven't read his blog Tenkara Path, you're missing out on some of the most insightful writing on tenkara, simplicity, and mindfulness in modern life.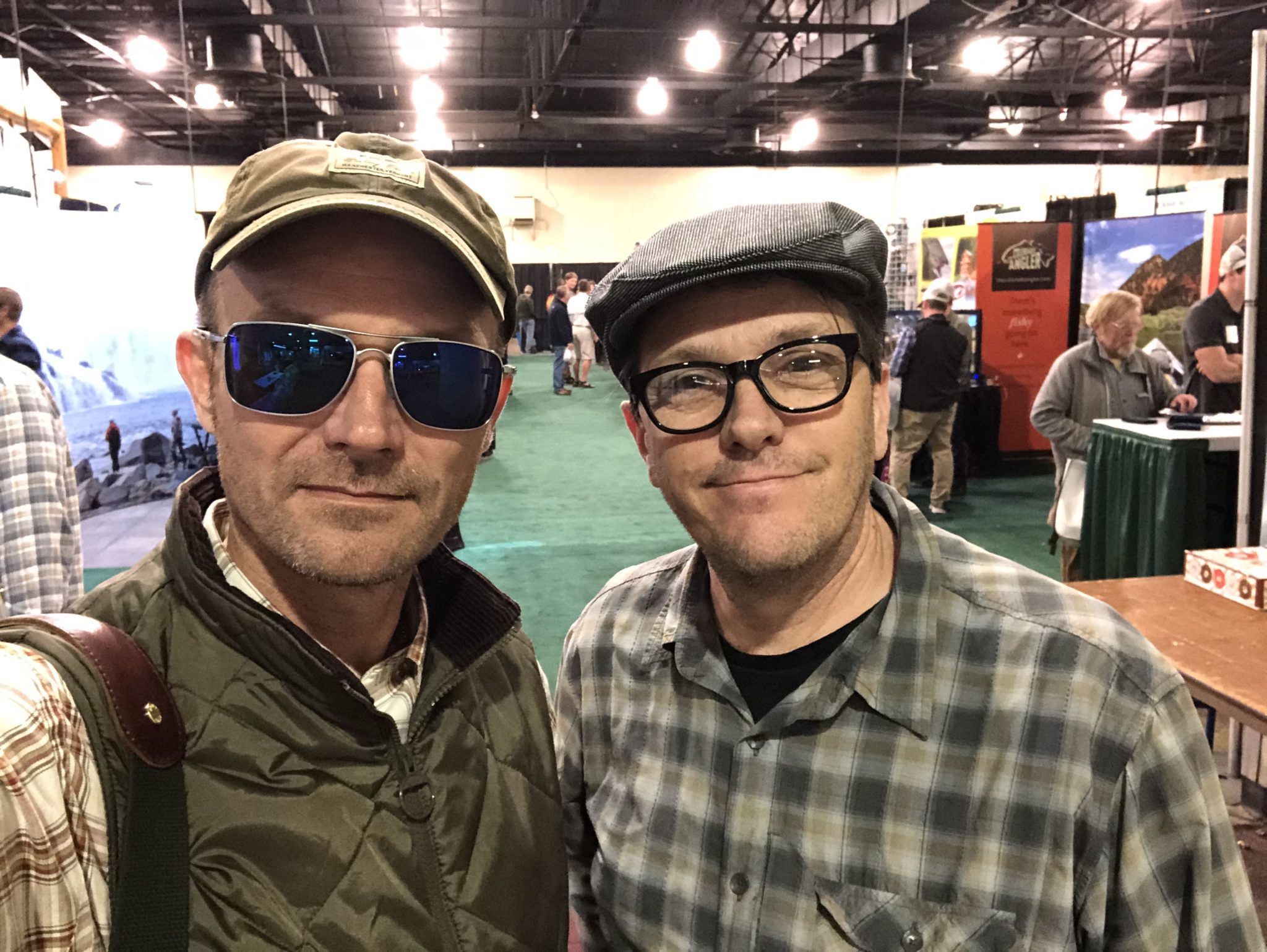 Tenkara USA
My first stop was at the Tenkara USA booth. Every year, their crew grows and it was great to see the familiar faces of Daniel, John, and TJ again, plus some new faces. Here are some general impressions founder Daniel Galhardo had on this year's show …
I also got to meet two new members of the Tenkara USA team: Faith and Jeremy. Jeremy is TUSA's graphic designer and is responsible for all of the elegant art you see–everything from trade show booths to packaging to T-shirts. I got a chance to visit with him for a moment and tap into the mind behind Tenkara USA's unique and avant-garde branding …
Jeremy was kind enough to gift me a gorgeous autographed print which will soon adorn a wall next to my fly tying desk.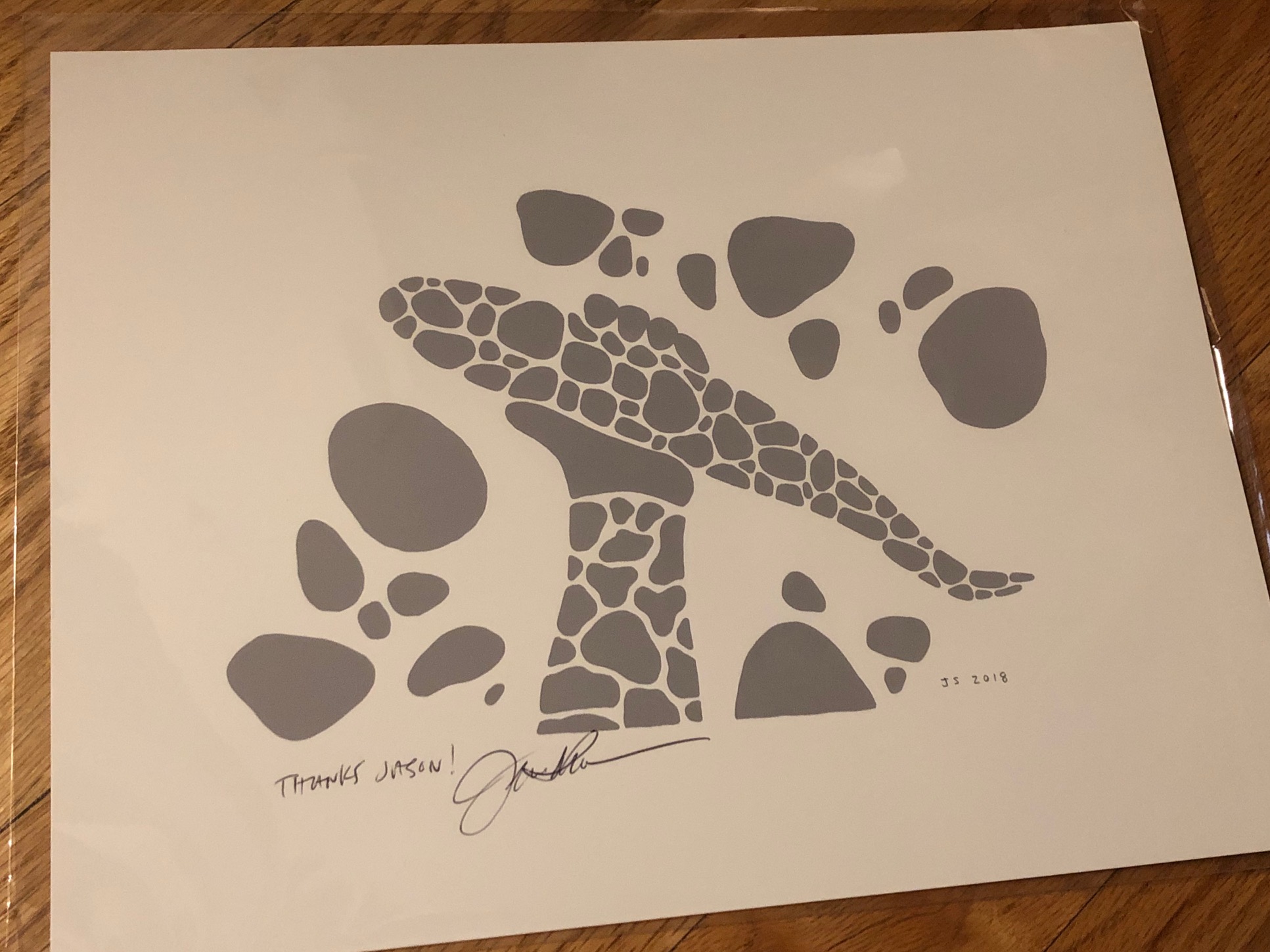 Dennis also snagged a few of Jeremy's prints …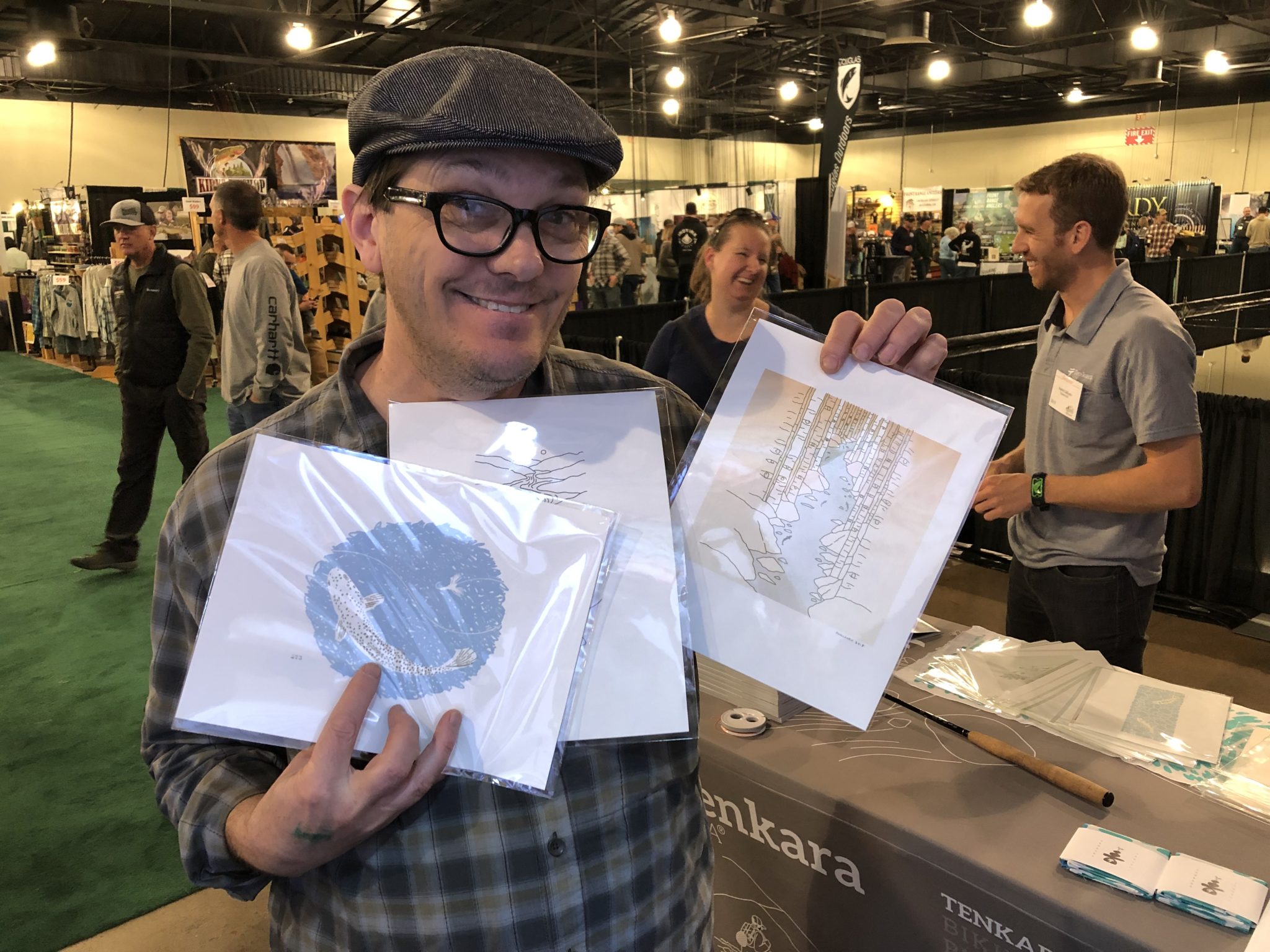 If you're interested in Jeremy's art, check out his
website here
.
Here's the 2019 Tenkara USA team. Faith, Daniel, TJ, and Jeremy. John was out to lunch …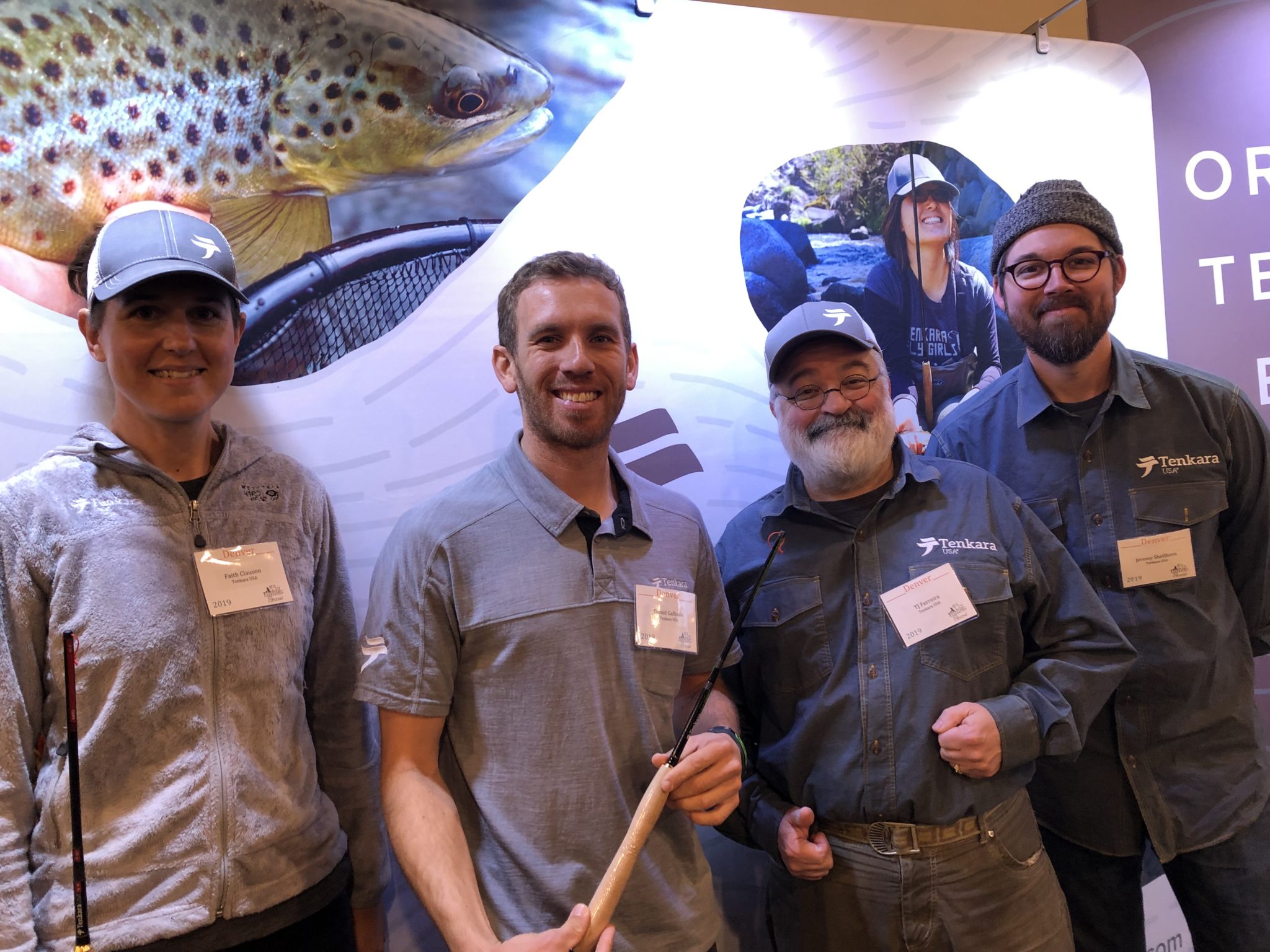 … but I caught up with him later …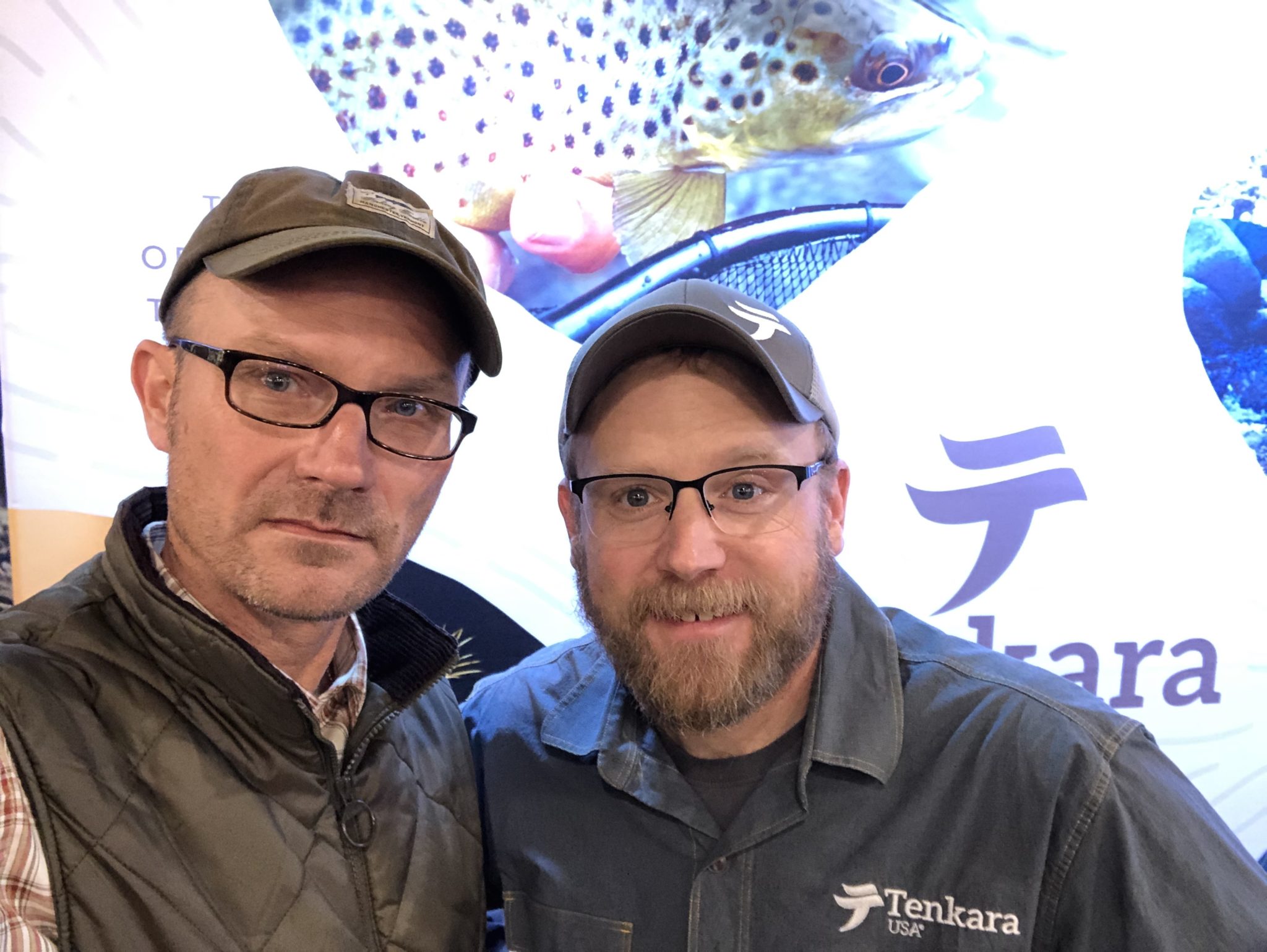 It was great to catch up a little with my old friend Daniel. Ironically, we used to see each other more when he lived in California than we do now that he lives here in Colorado, but we're planning on hitting the stream soon.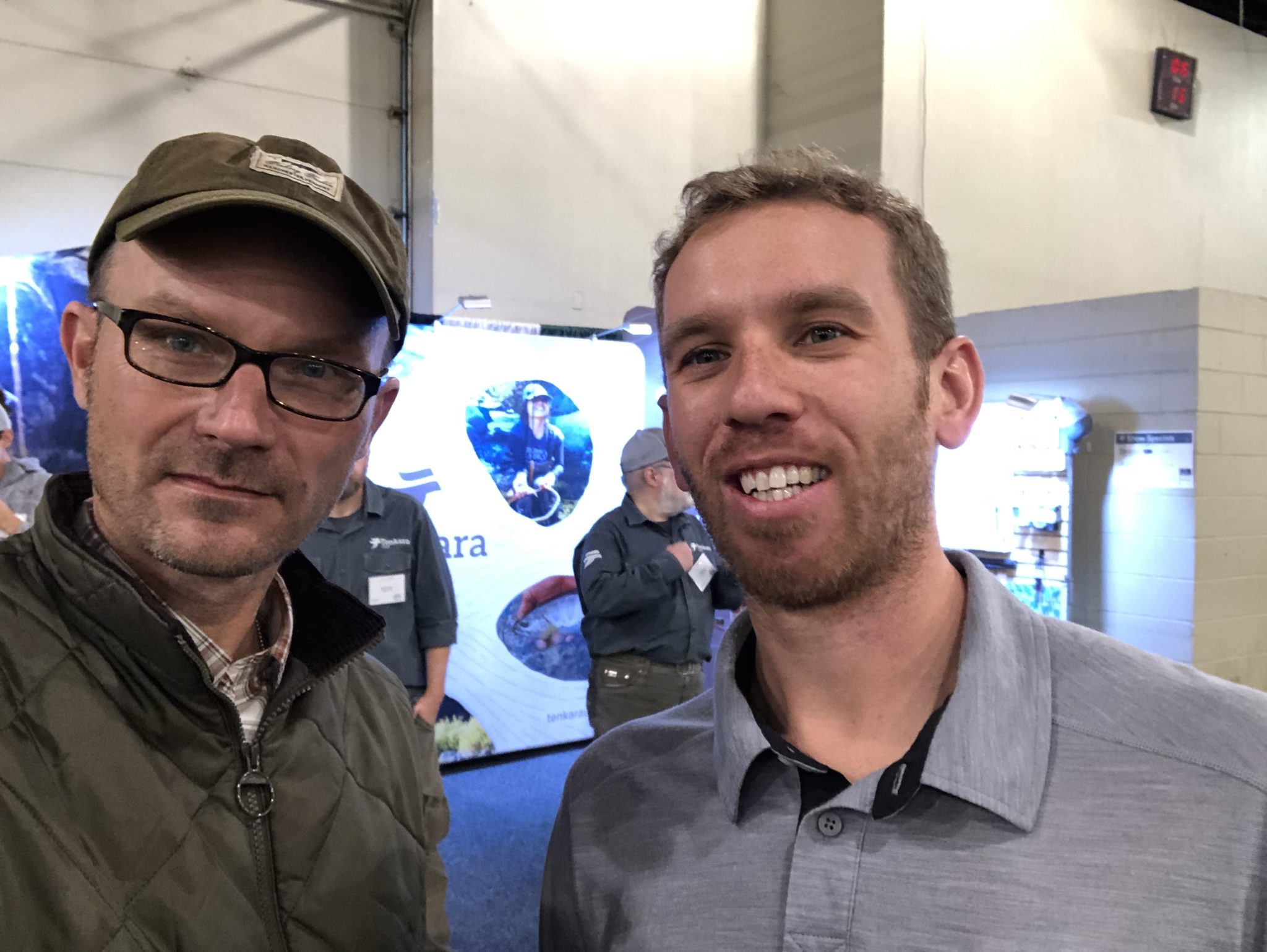 There was a running joke that the light above the picture of Daniel on the TUSA booth made it look like there was a halo over his head. So, of course, I couldn't resist ..
Is Daniel really "from heaven"? We may never know.
As usual, they had gear for sale and a raffle for a free rod.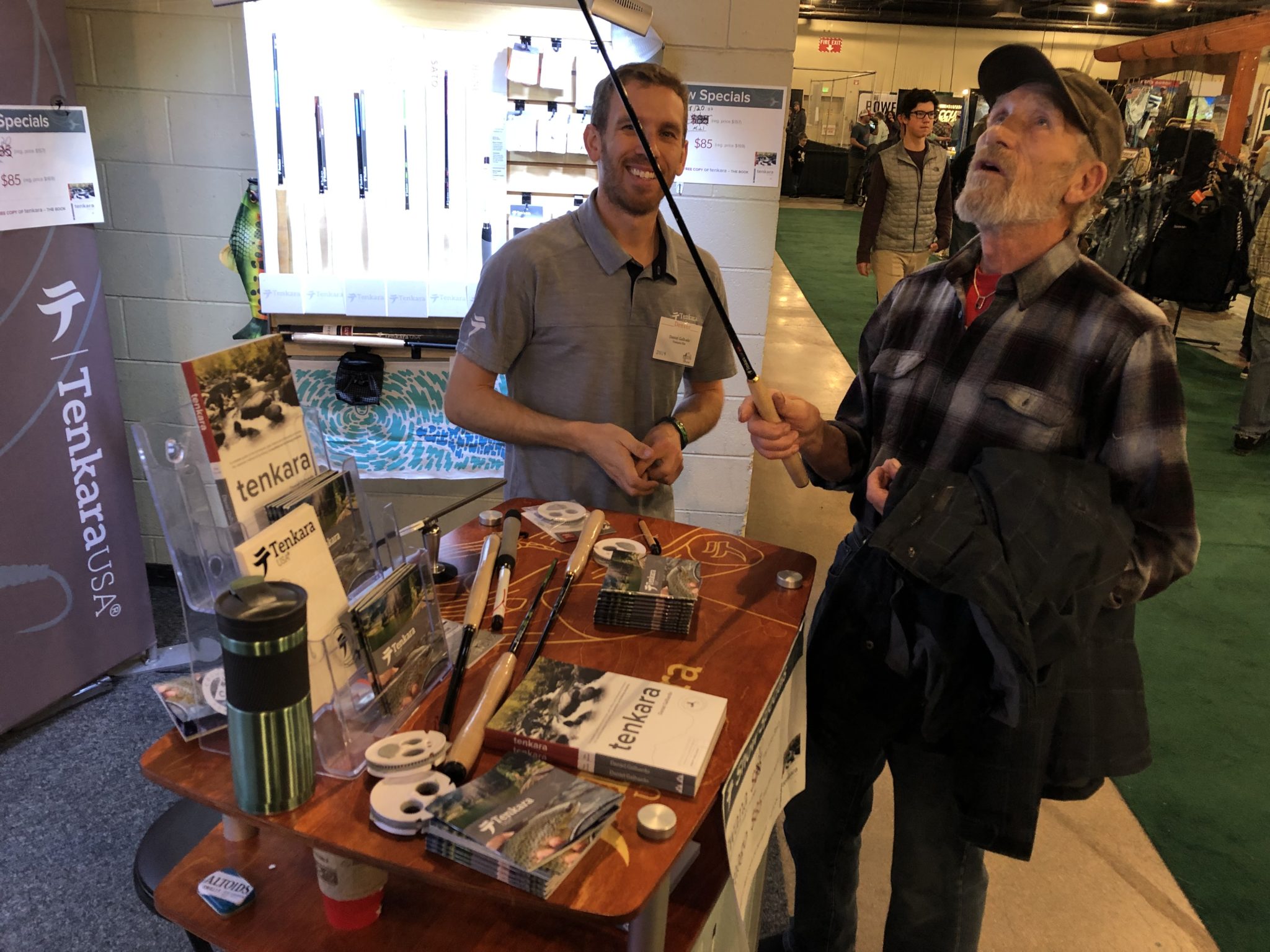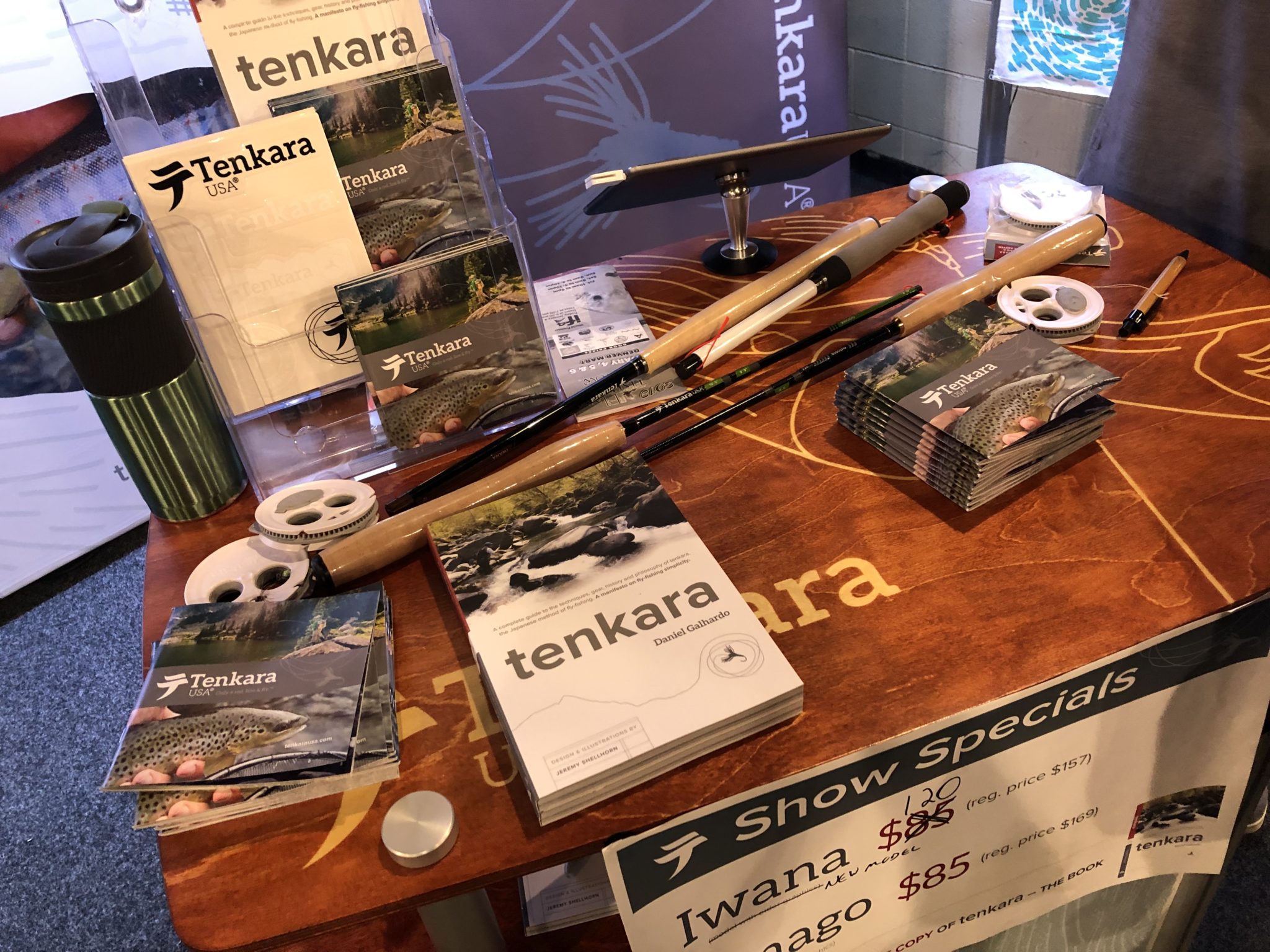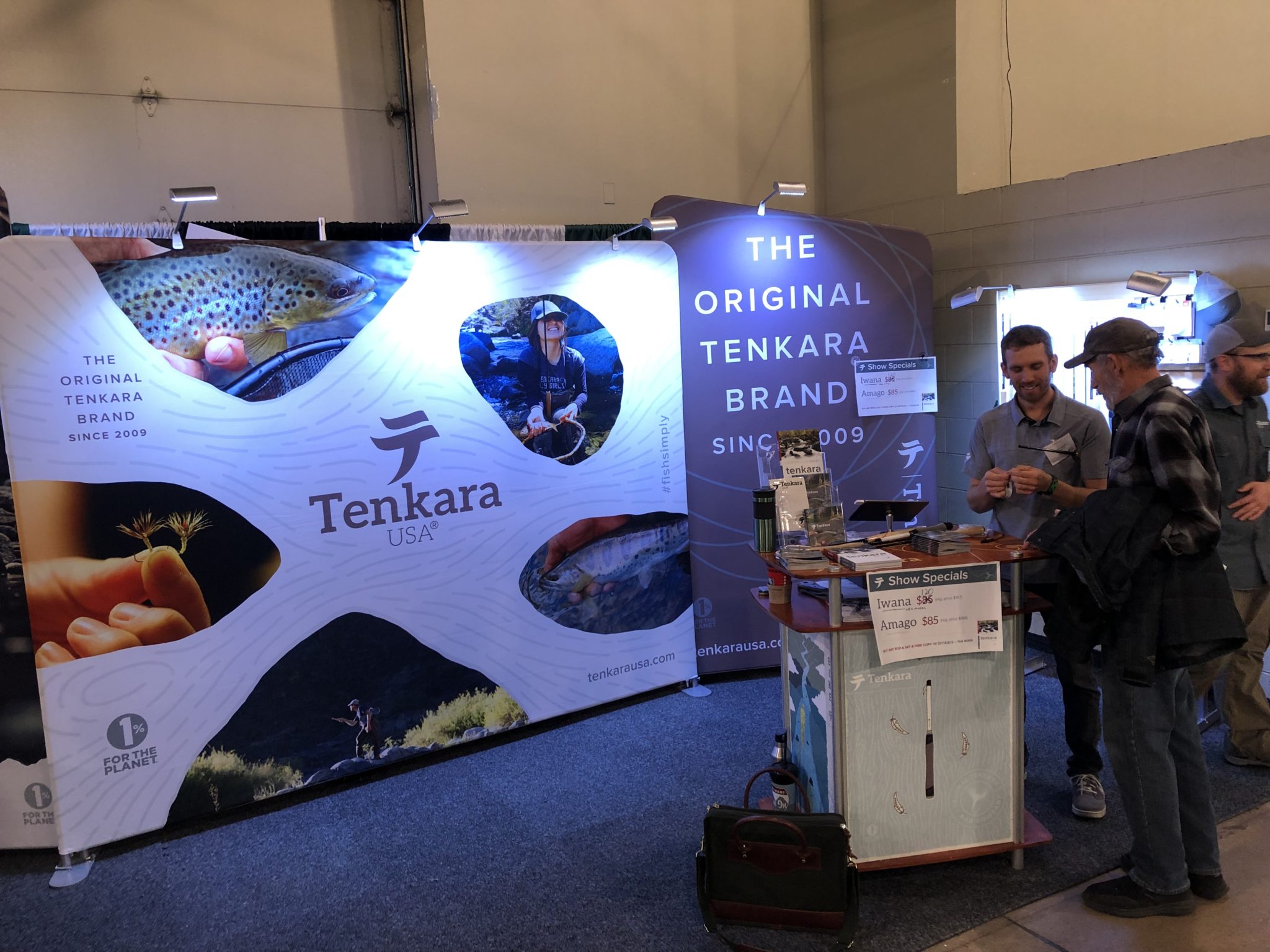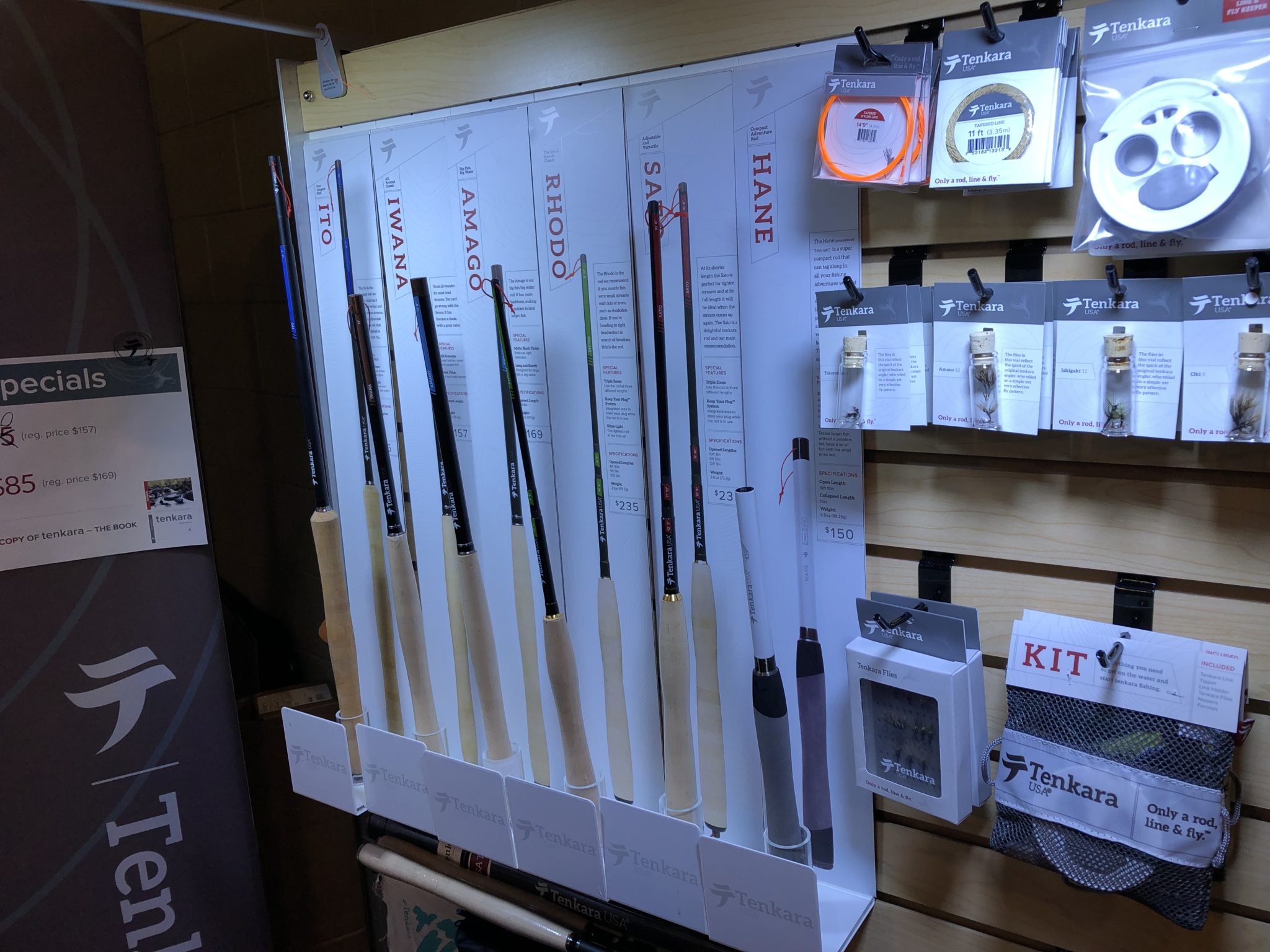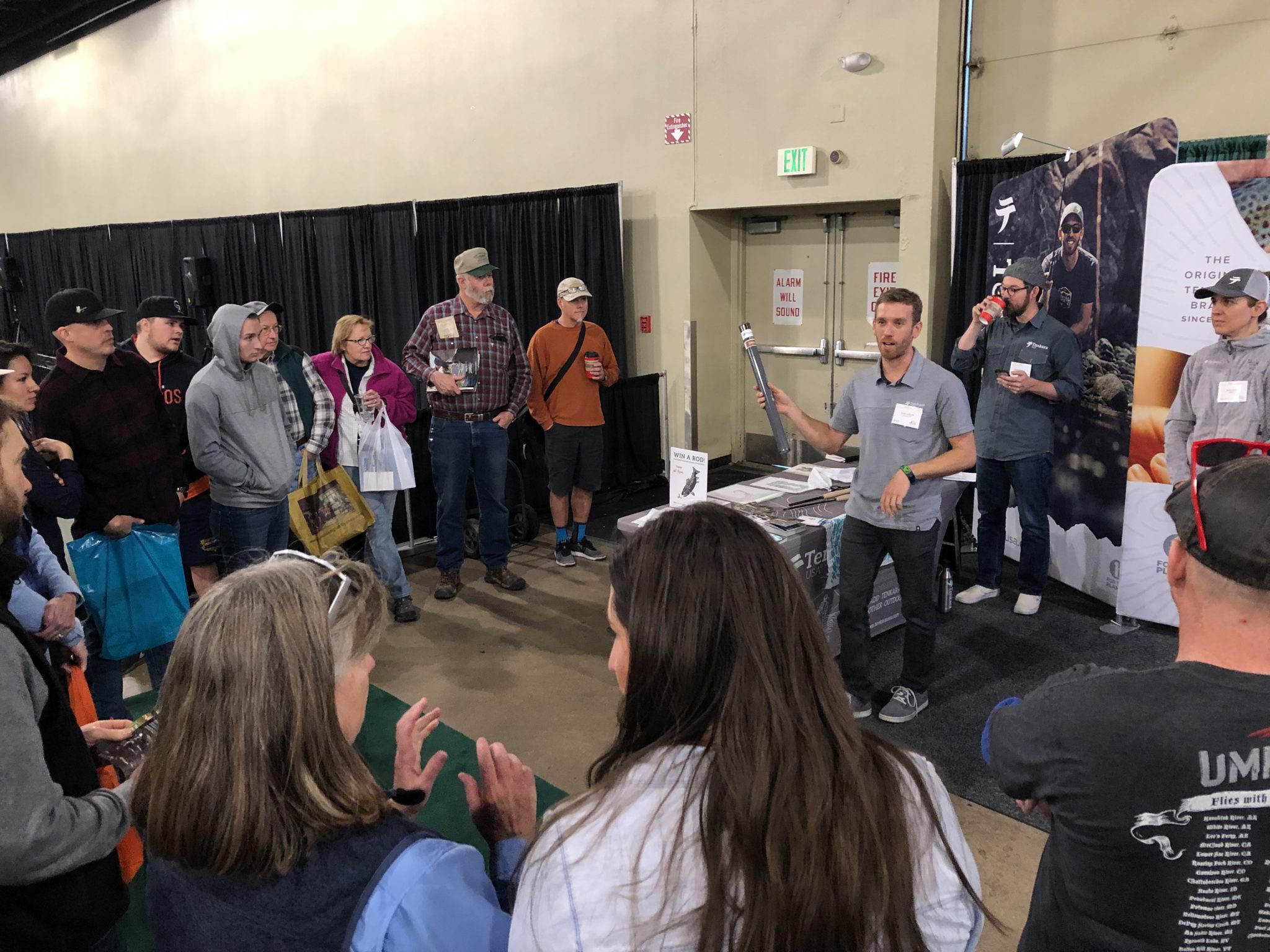 Karin Miller from Zen Tenkara even swung by the TUSA booth to say hi. I love it when competitors in the tenkara industry see themselves as comrades rather than rivals. It sure didn't used to be that way.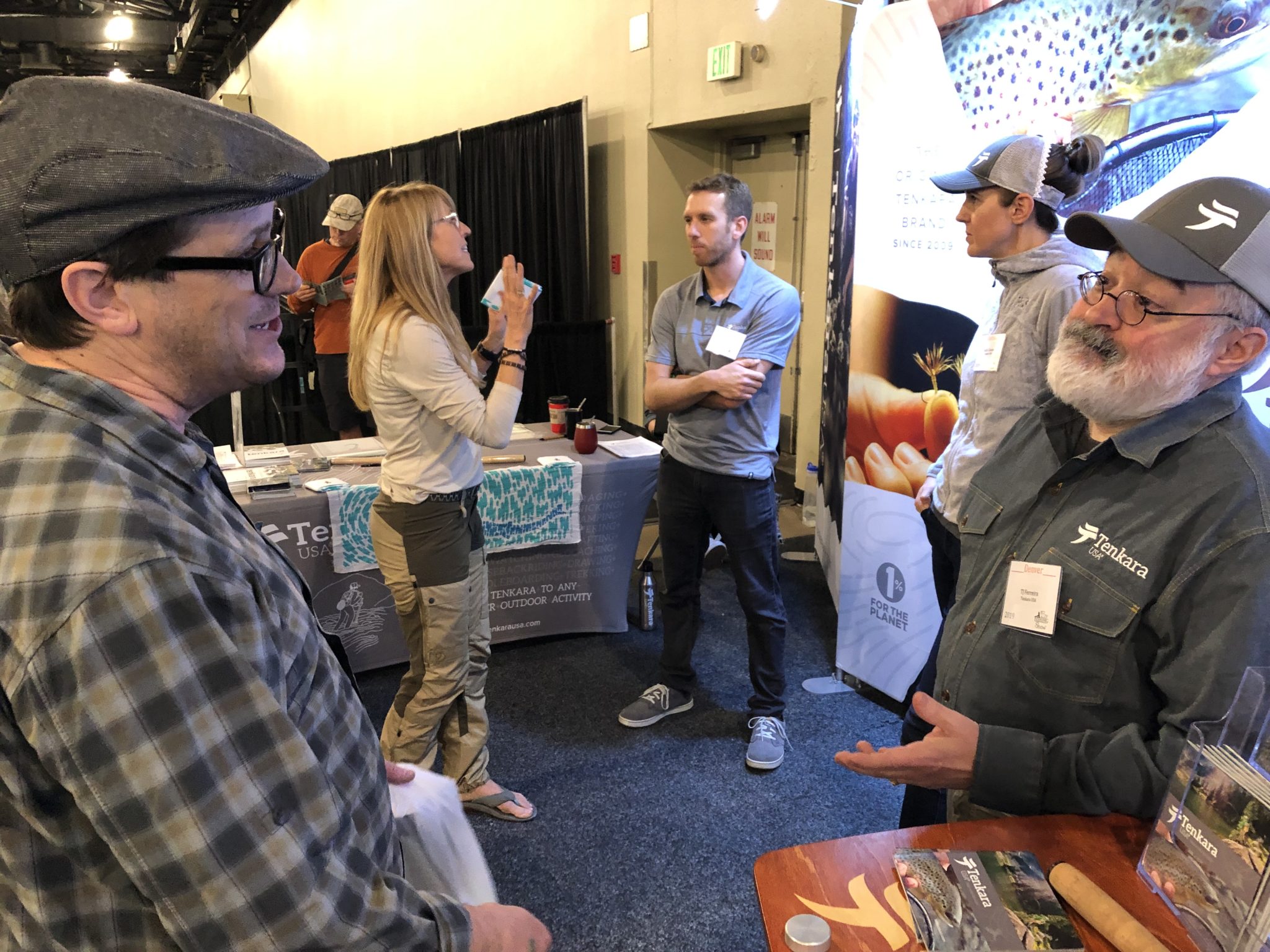 Zen Tenkara
Speaking of Karin, I also got to spend some at her booth and get some video of her explaining a little-known innovation she's making with her rods: interchangeable tips …
She also gave a great presentation on fishing for big game with a fixed-line rod, explaining tackle, flies, and demonstrating landing techniques for salmon and saltwater species.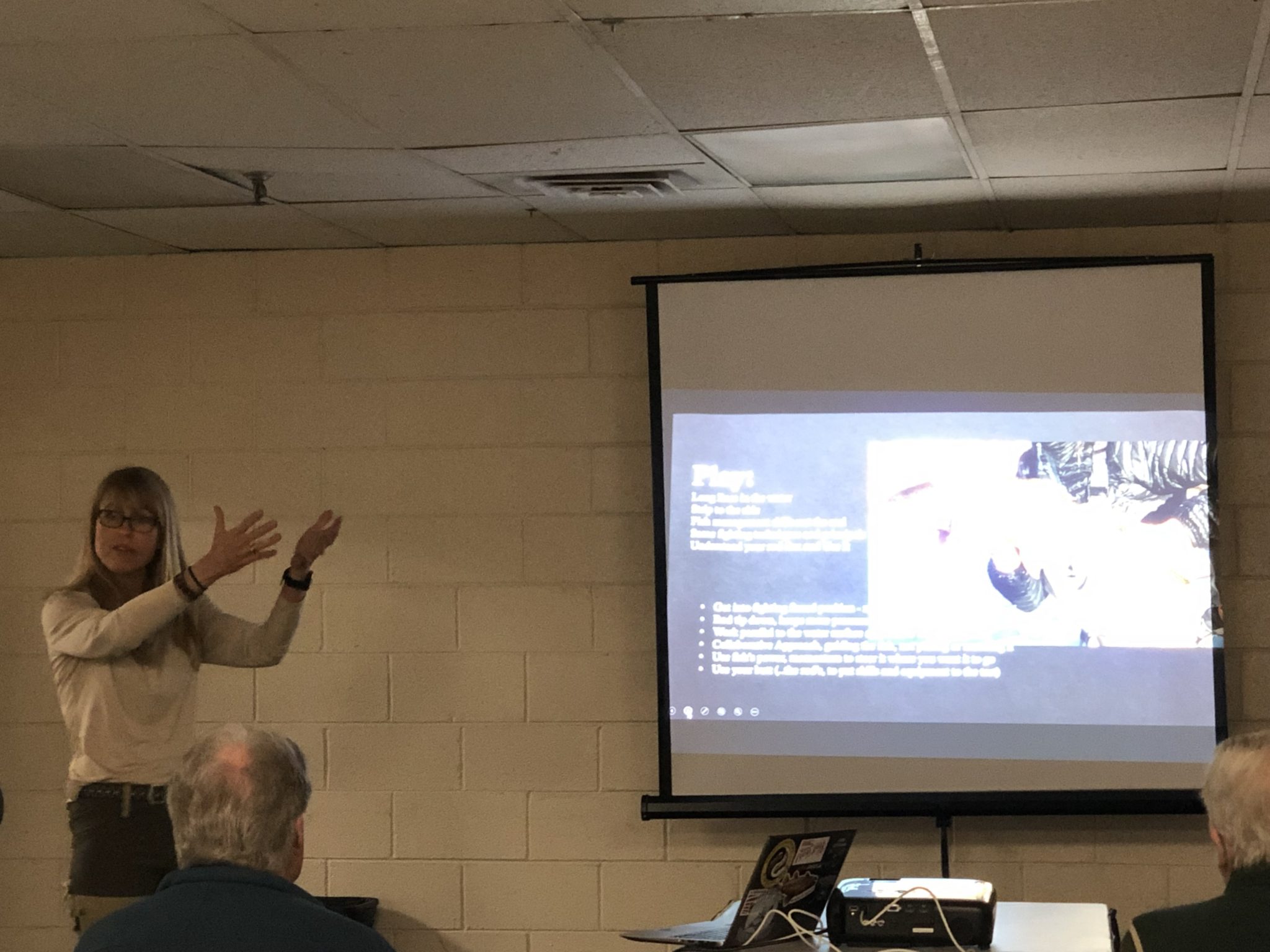 With all the "me too" copycat tenkara companies out there, I admire companies like Zen Tenkara that are exploring new avenues for what can be done with a fixed-line rod and shattering boundaries. She also sold a ton of gear at the booth including her entire rod lineup, flies, chest packs, wooden line spools and more …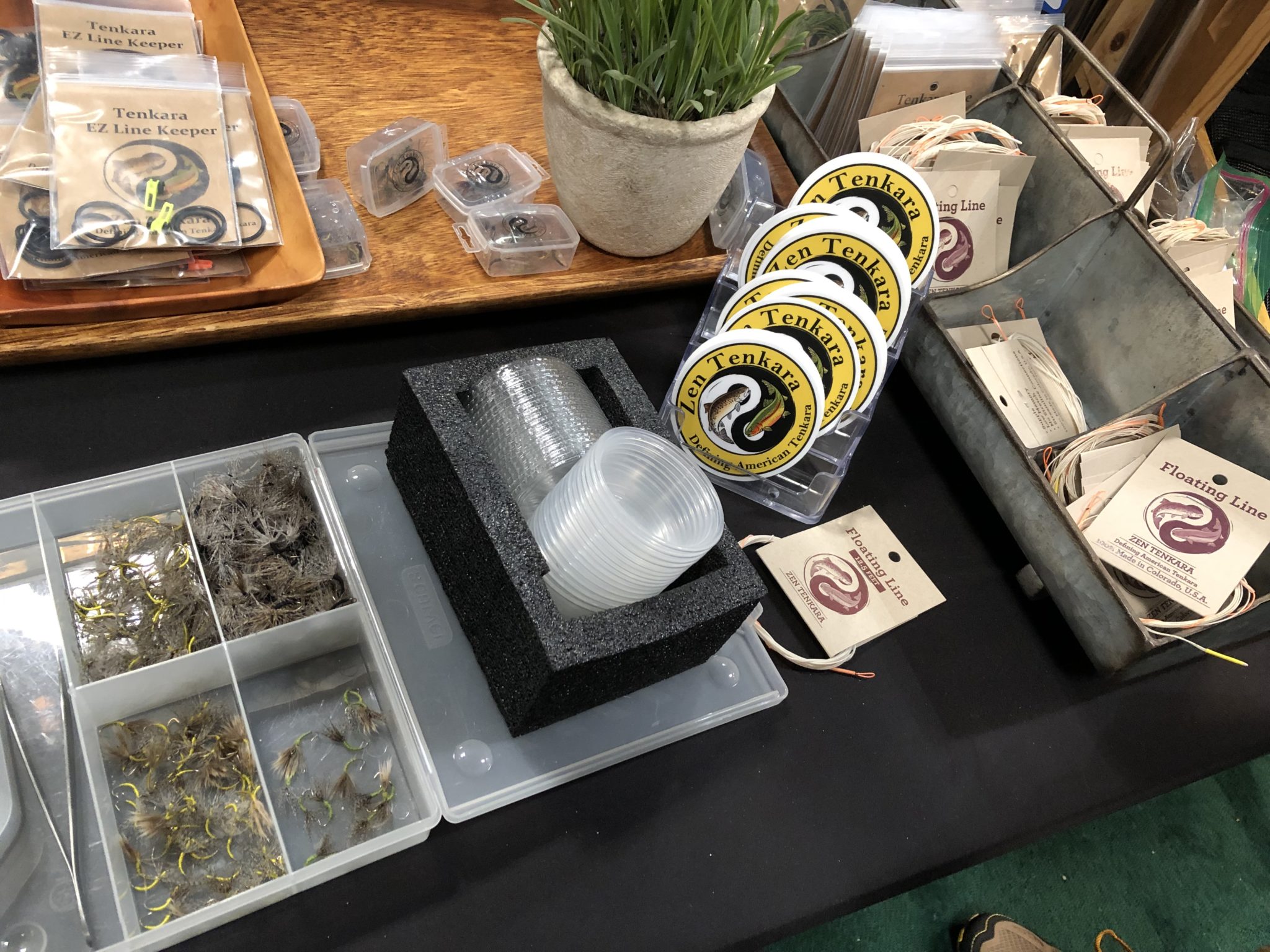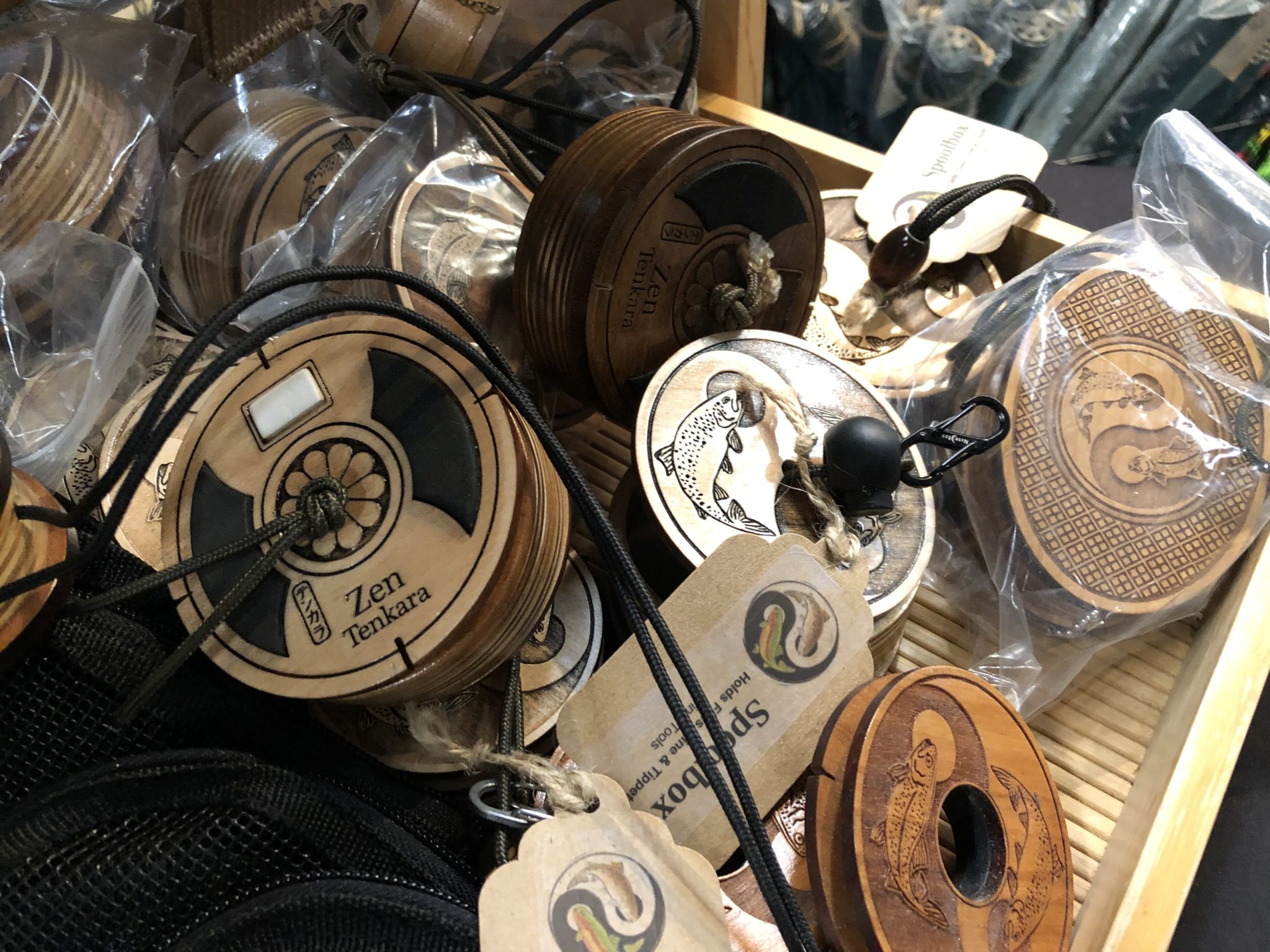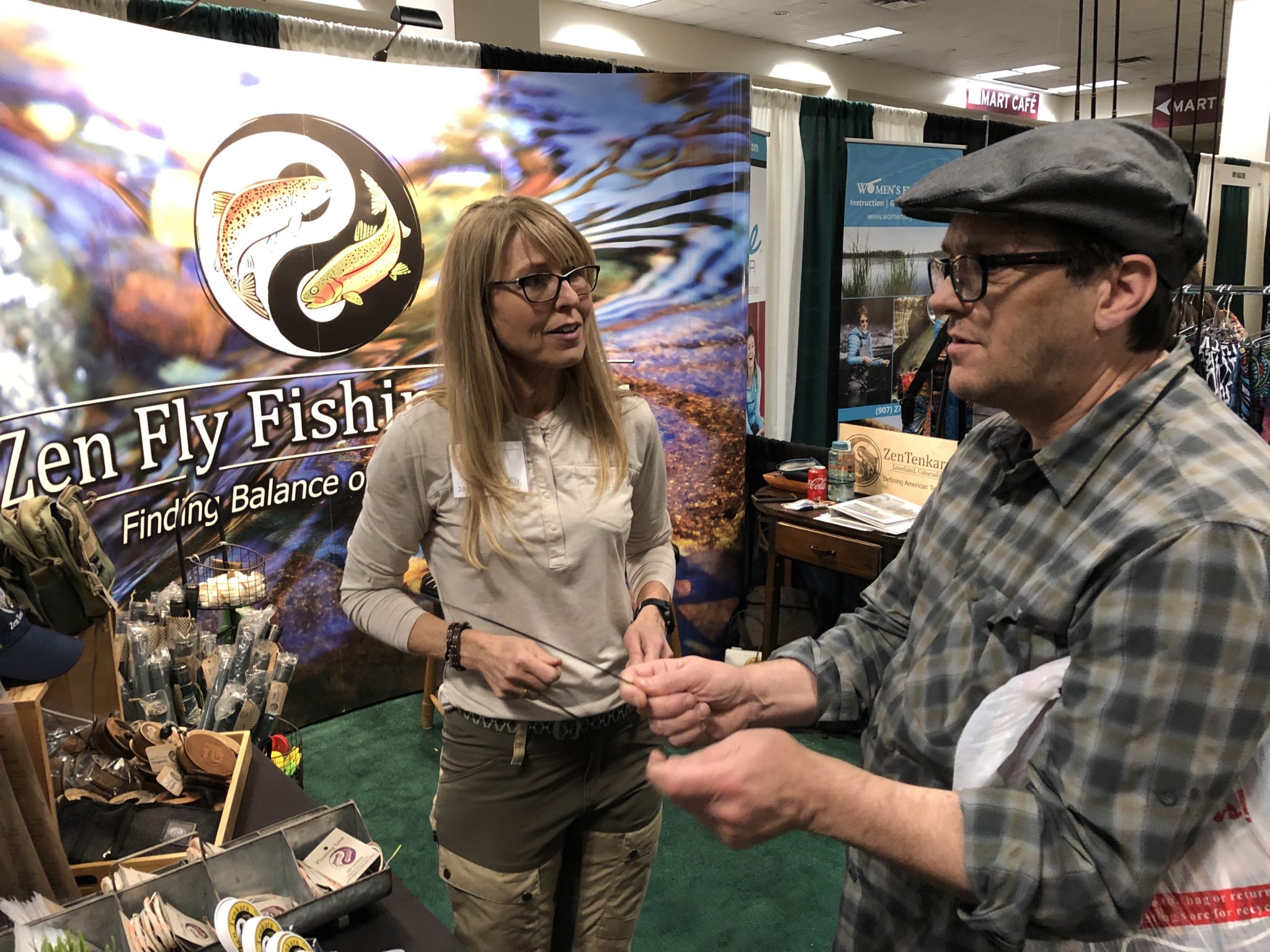 John Gierach
Outside the main entrance to the show and just to the right of the door, there's a little wall that's just the right height for sitting on to rest your trade-show-weary feet and, more importantly, an ashtray. And every year, I slip outside for a cigarette only to find none other than John Gierach sitting there–in my spot–almost as if he's waiting for me. I'm at the age now where I can engage with him on a curmudgeon level and we had a deep discussion about the lack of innovation in the fly fishing industry. I wish I had pulled out my camera sooner, but here is just a little taste of what we groaned about. My favorite moment is at 01:52 …
Most of my copies of John's books are on my iPad, but I did have one hard copy of "Sex, Death, and Fly Fishing" that I brought with me to get signed …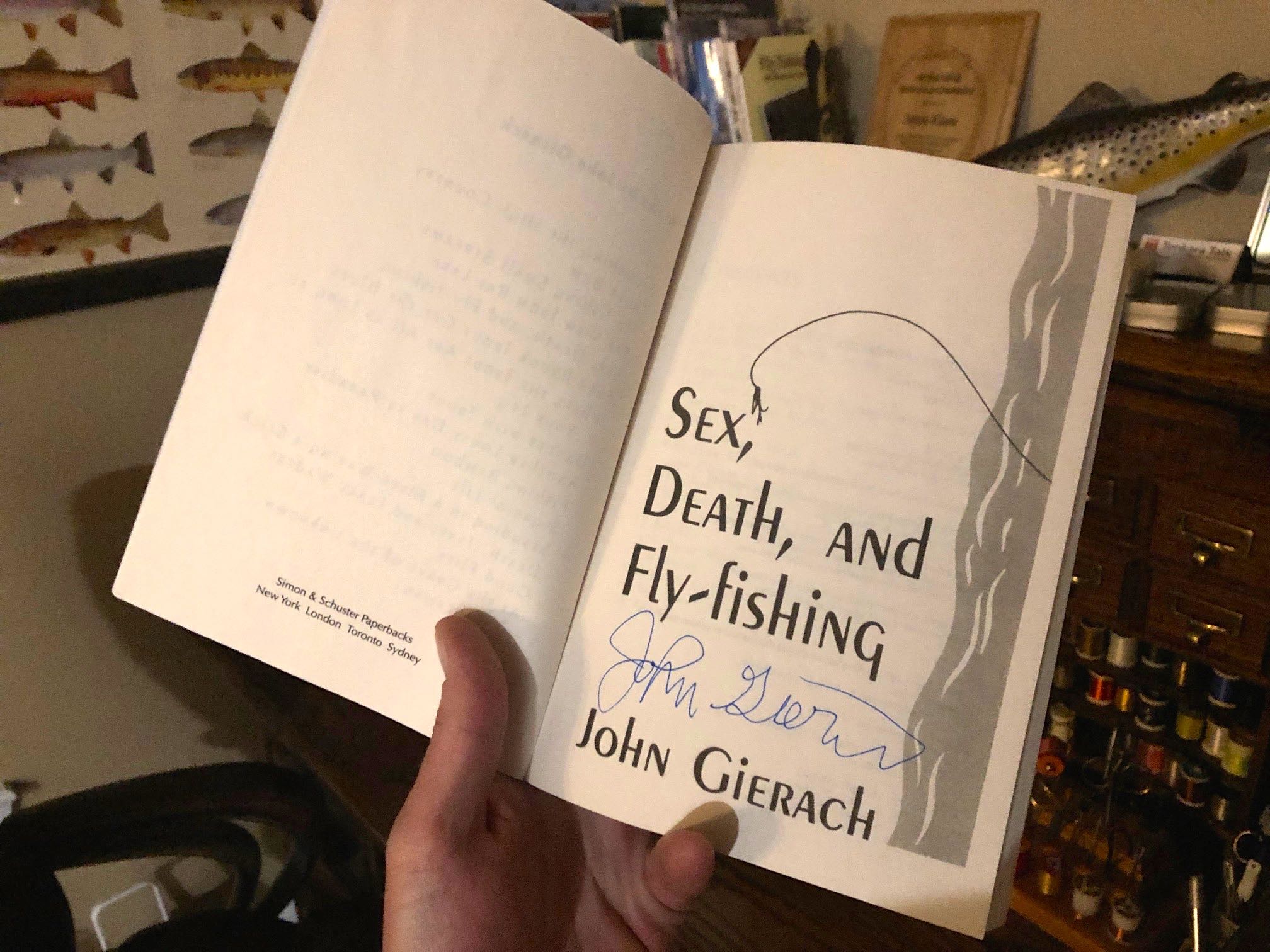 I literally talk to John once a year for about 15 minutes, but those few moments are special to me and the day when I slip out to my smoking spot to see that he isn't there will be a sad day indeed.
Dave Burchett & Colorado's Finest Fly Tying Benches
Probably one of the booths I look forward to most every year is Finest Fly Tying Benches of Colorado. They make some of the most unique wooden fly boxes and tying benches I've ever seen and I love to fondle the fine craftwork of his one-of-a-king masterpieces. The owner, Dave Burchett and I go back a long, long way. He used to make tenkara-specific fly boxes for me years ago when I had my own online tenkara shop. And since then, he's kept the momentum going with ever-more intricate fly box and tenkara rod case designs. Here are just a few …
And if that didn't make you drool, here is some more porn …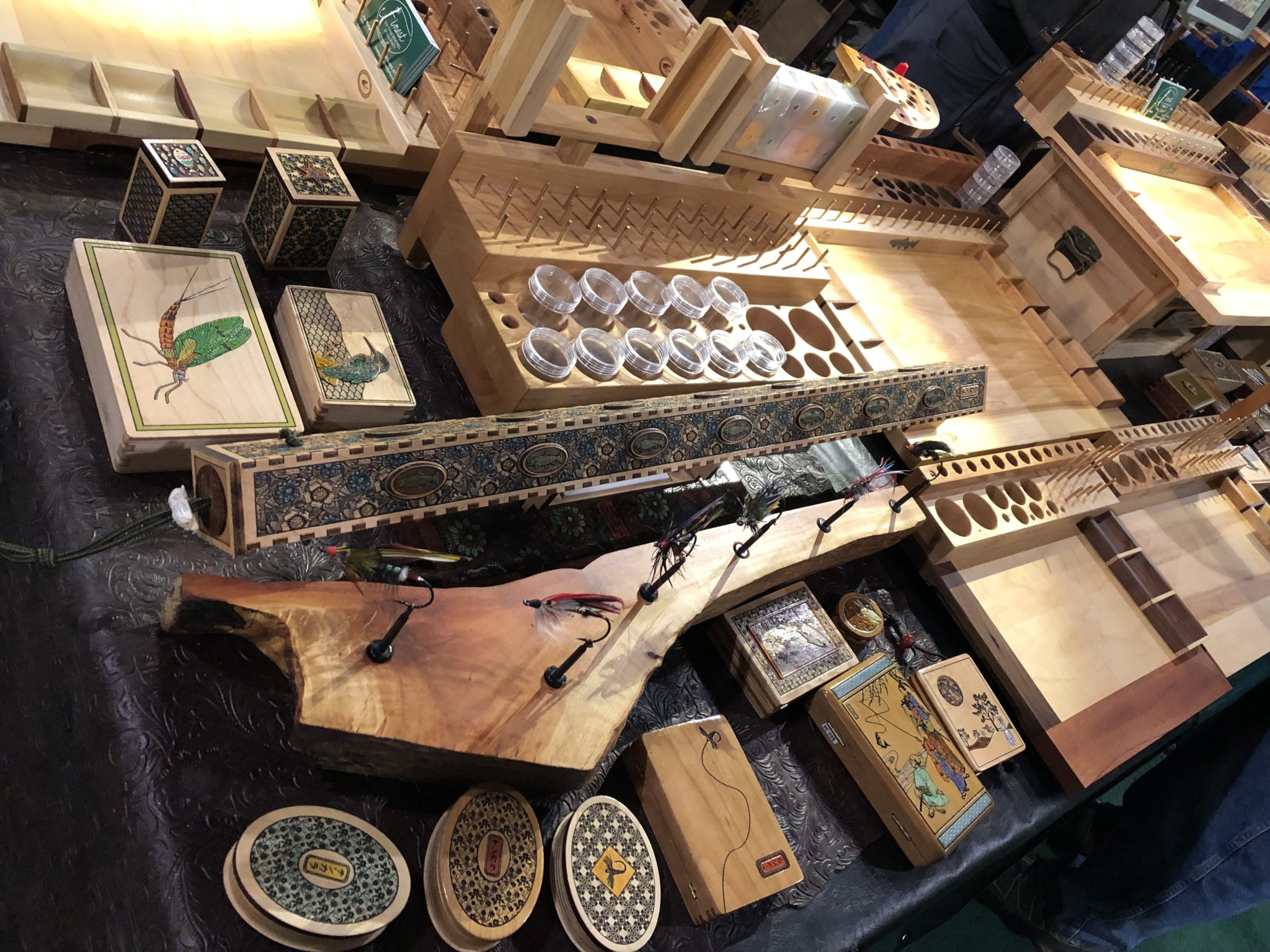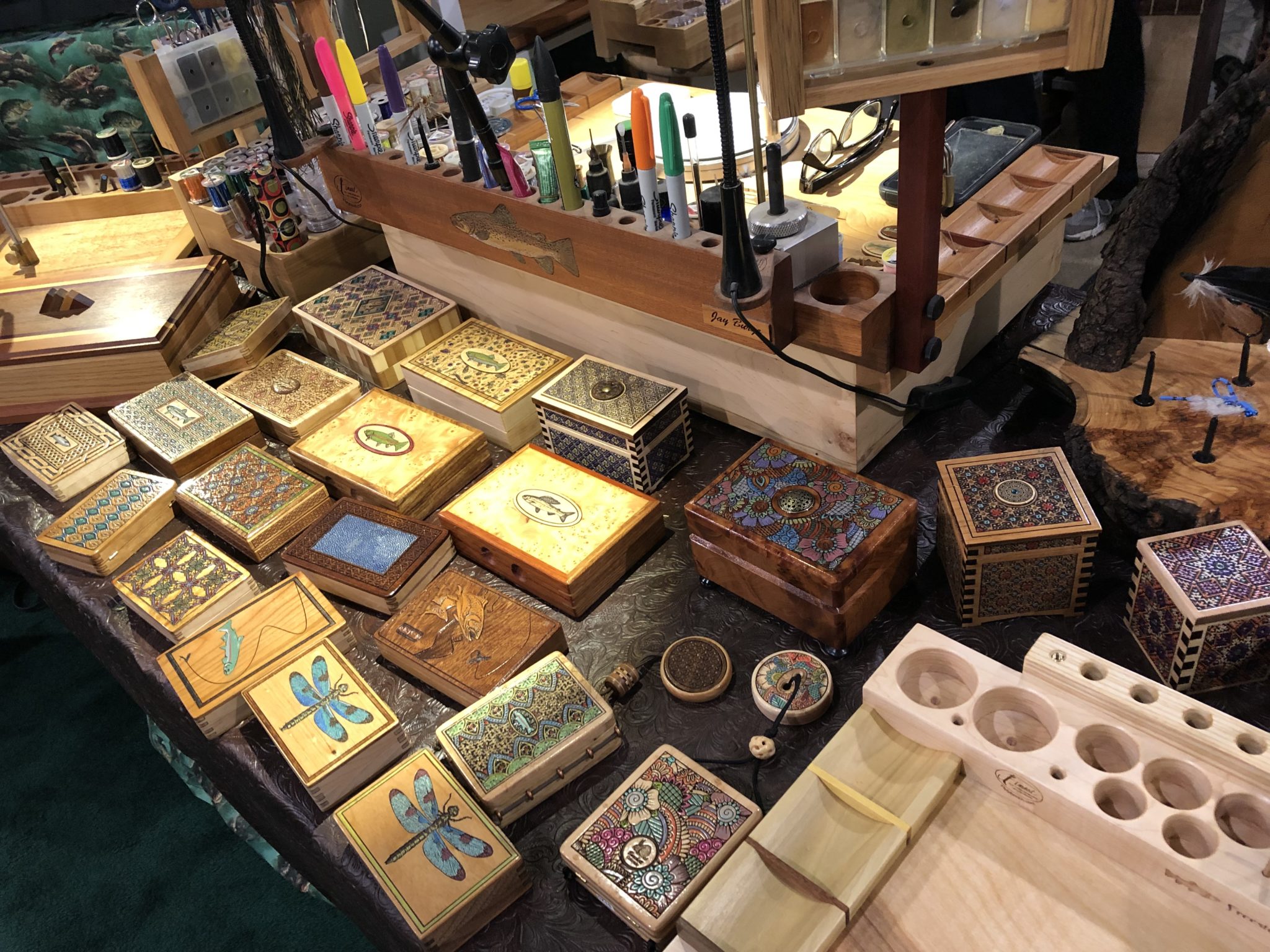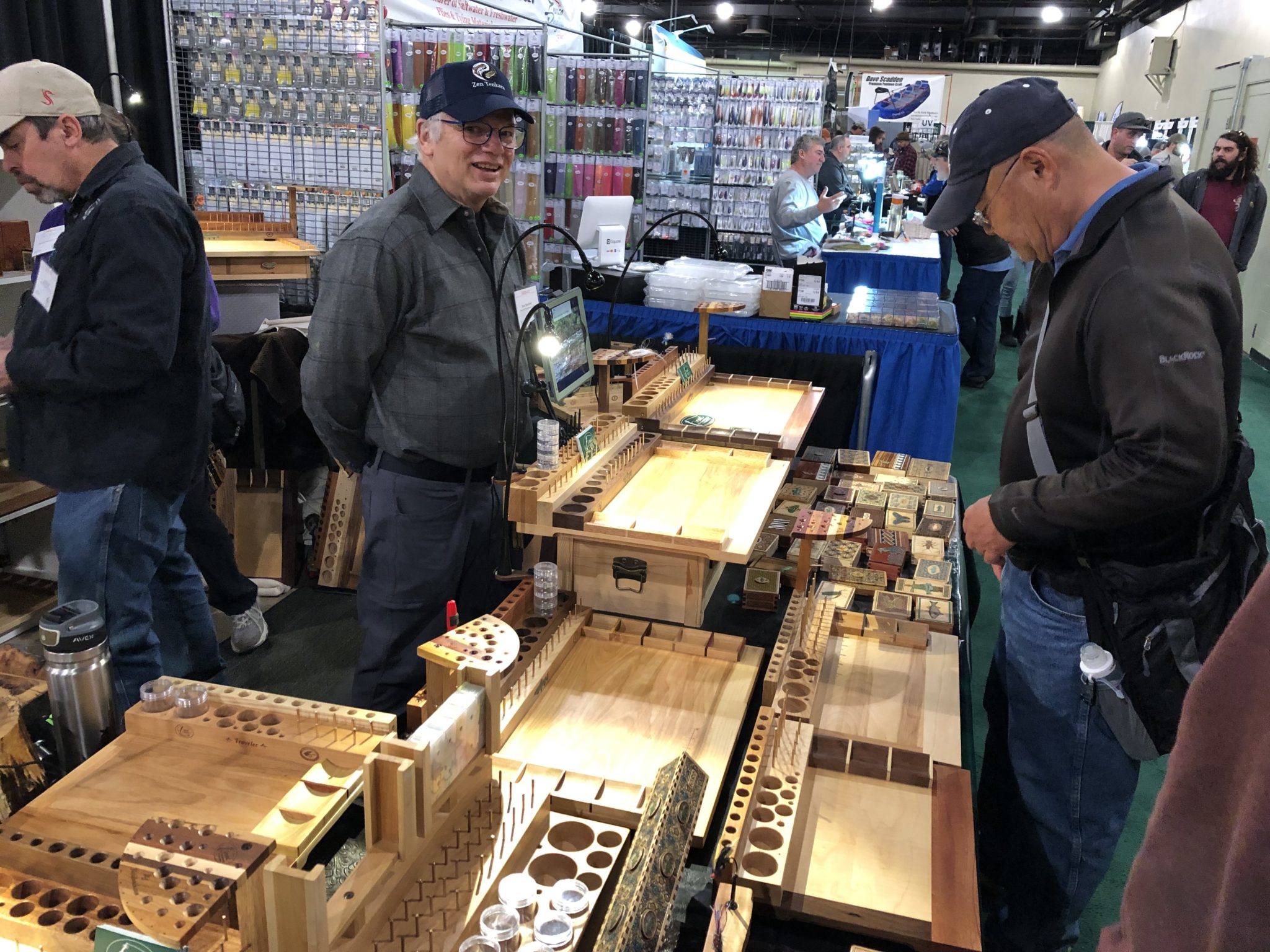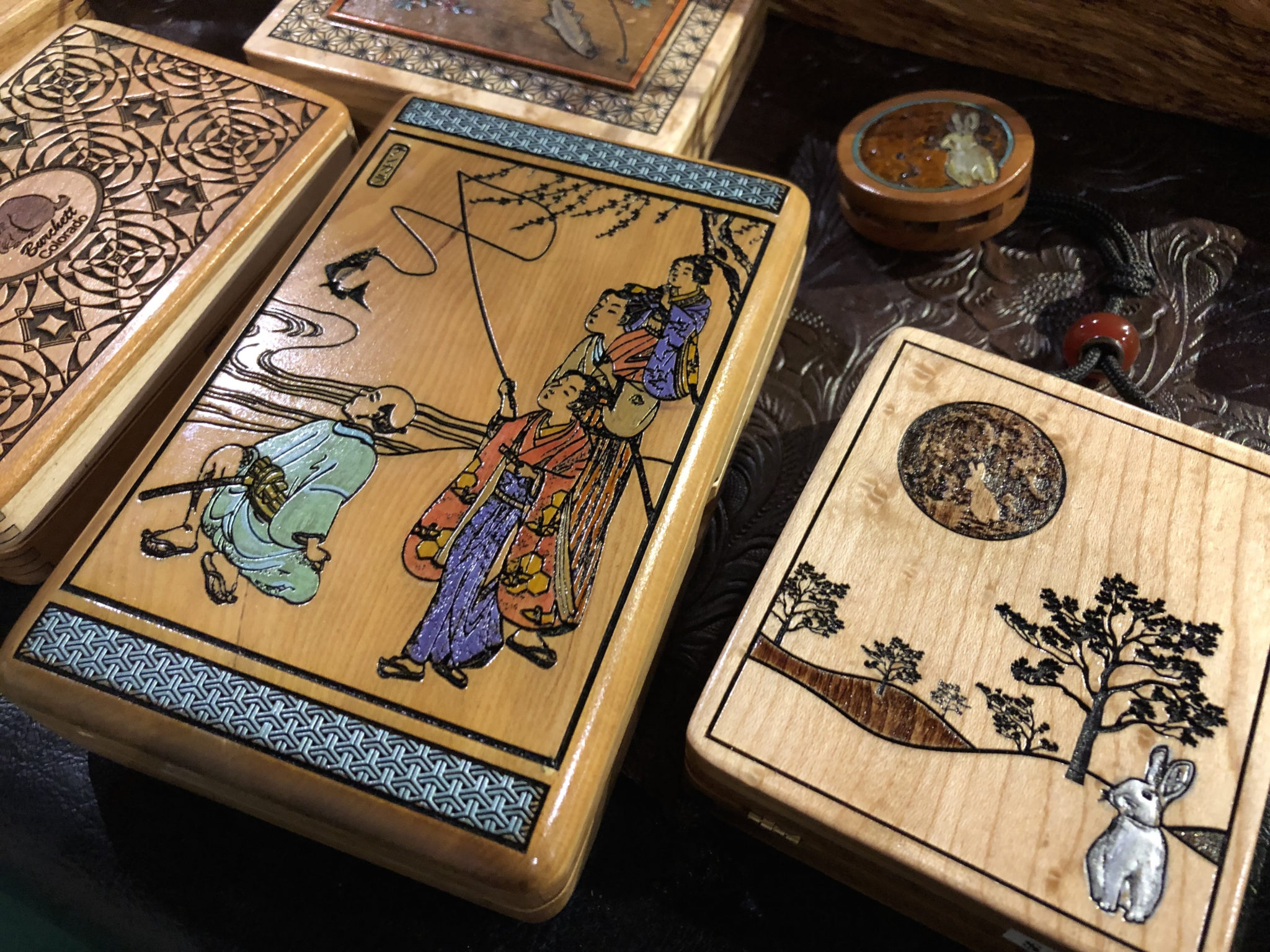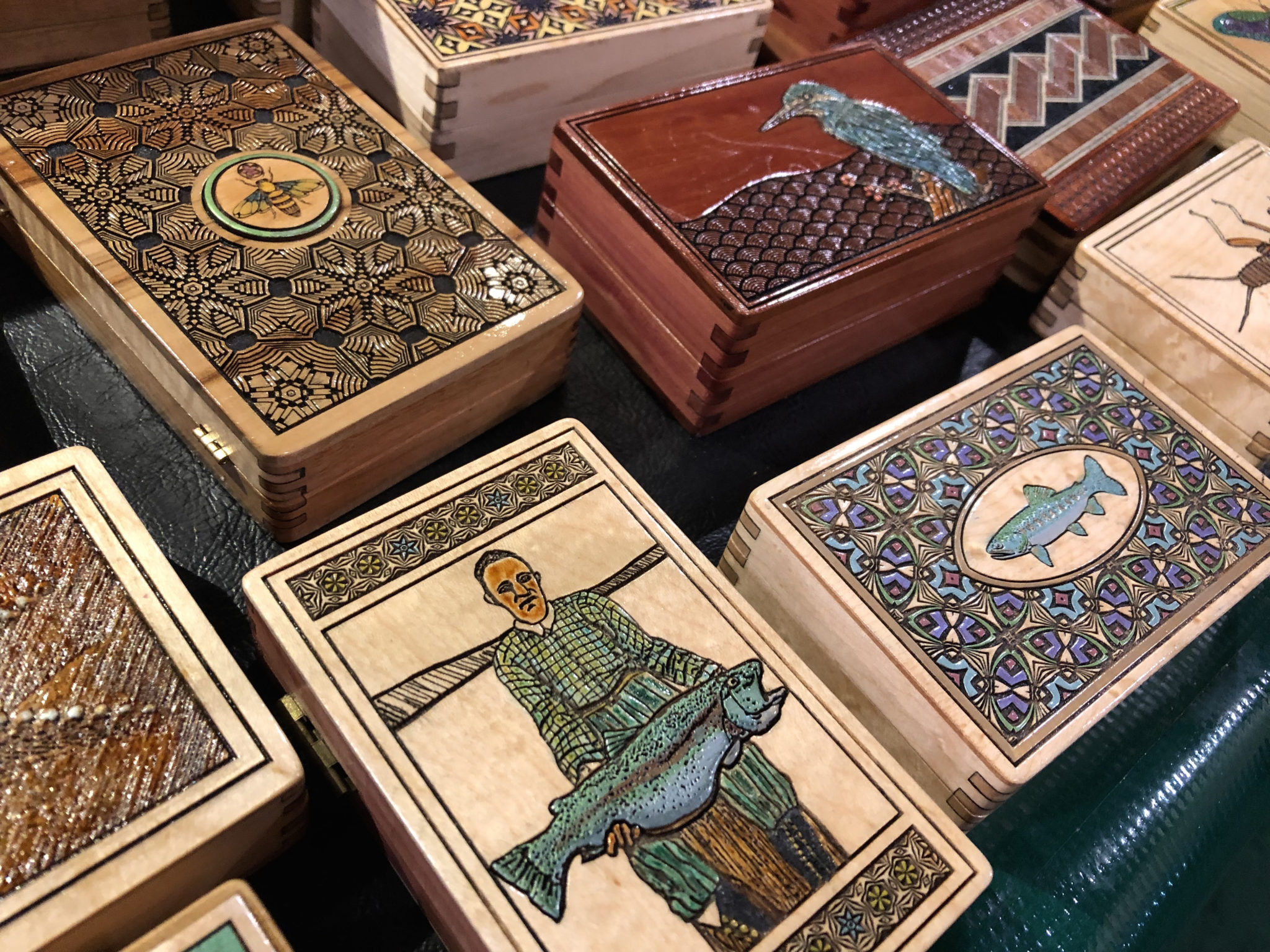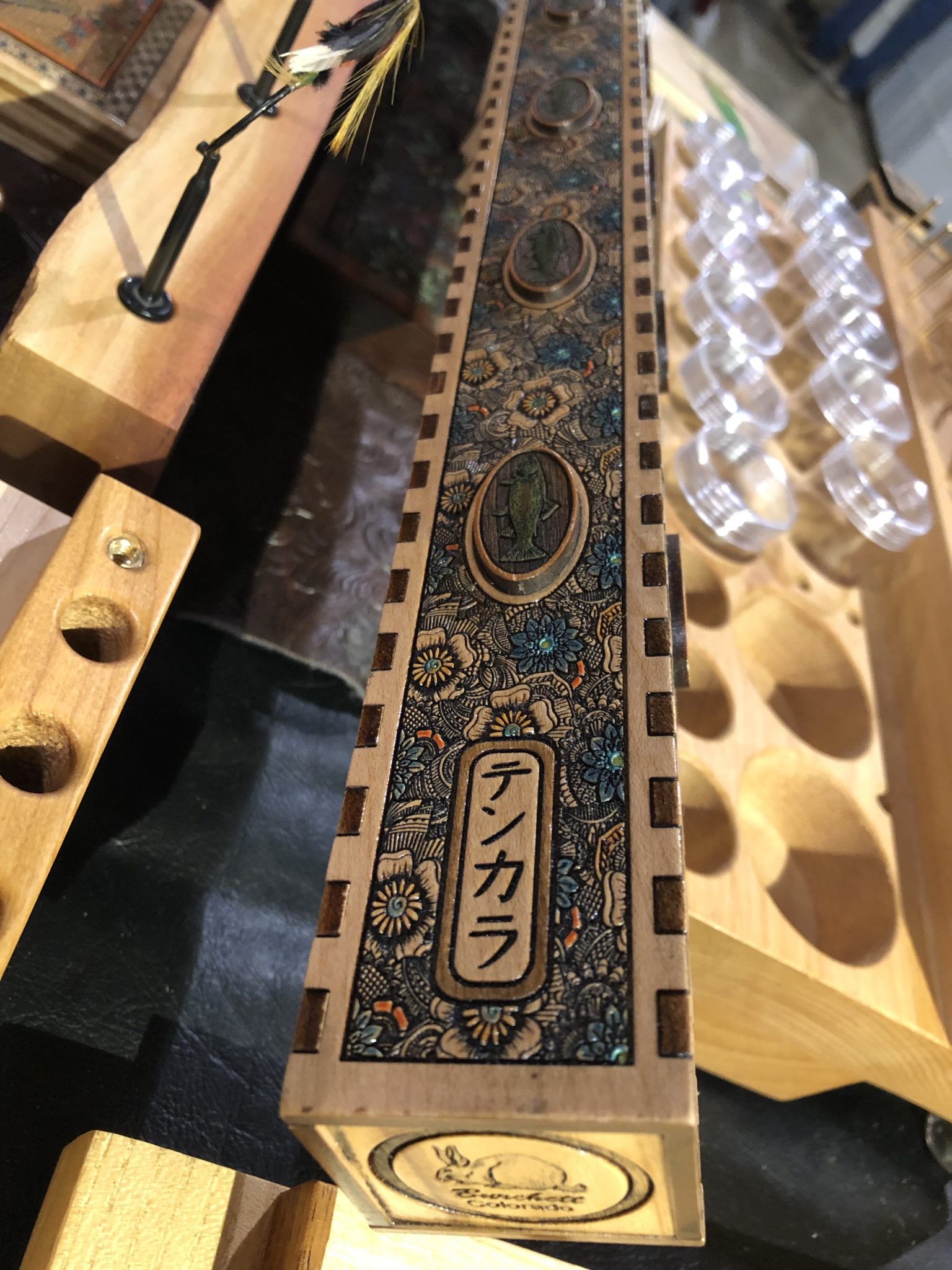 Joe Egry
Another staple that I always visit is my friend Joe Egry, predictably seated in his same spot in "Tyer's Alley". He's well-known in the tenkara community for his tenkara flies, but he also offers conventional saltwater flies, nymphs, dries, and custom flies on his site Dragon Fly Fishing.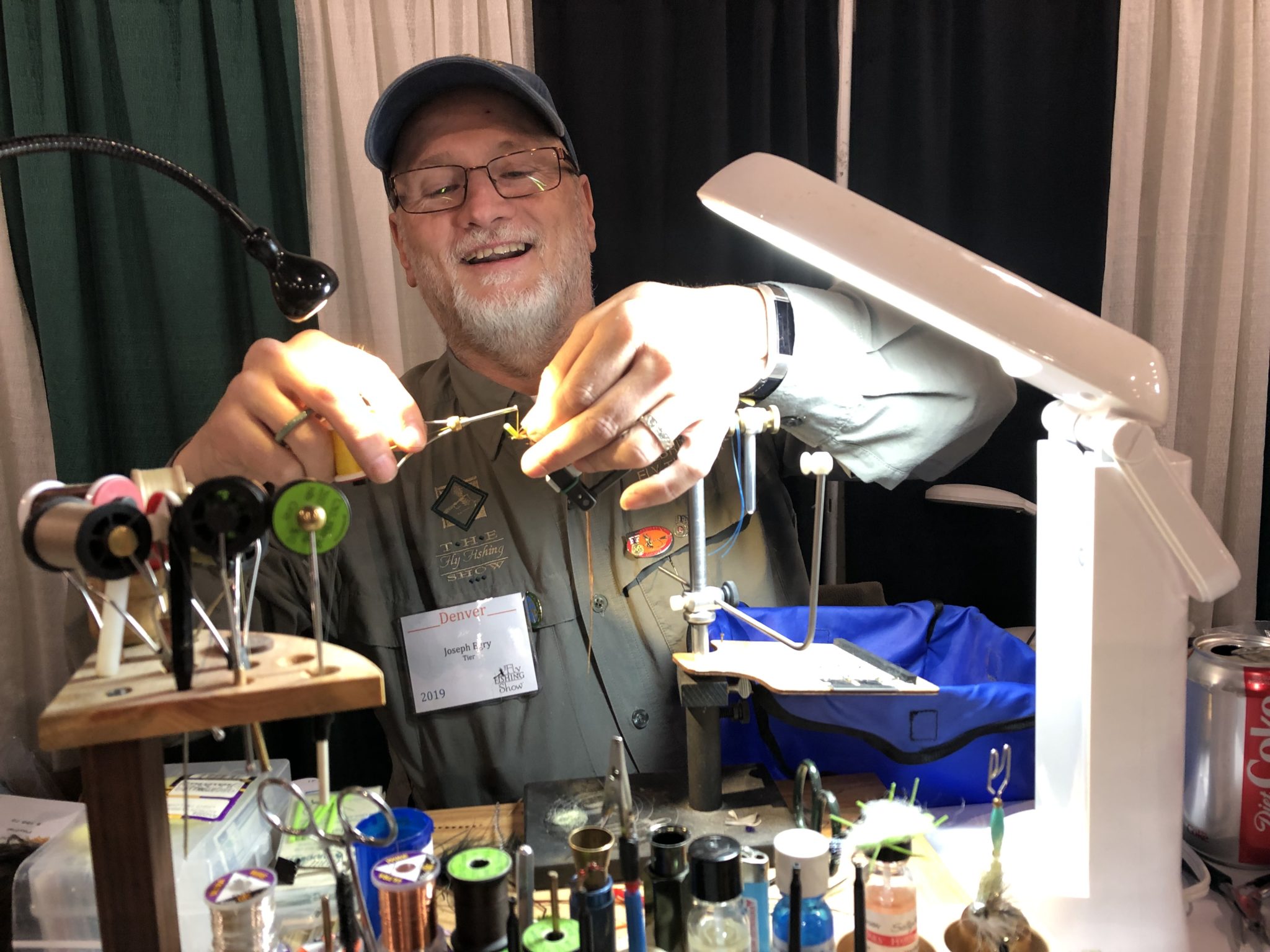 Joe was an early adopter of tenkara and another long-time friend I don't get to see enough of. If you're in the right circles, you'll see him at various fly-tying events around colorado and in the tenkara Facebook groups. Here's one of his sakasa kebari using a hook he fashioned from his wife's sewing needle …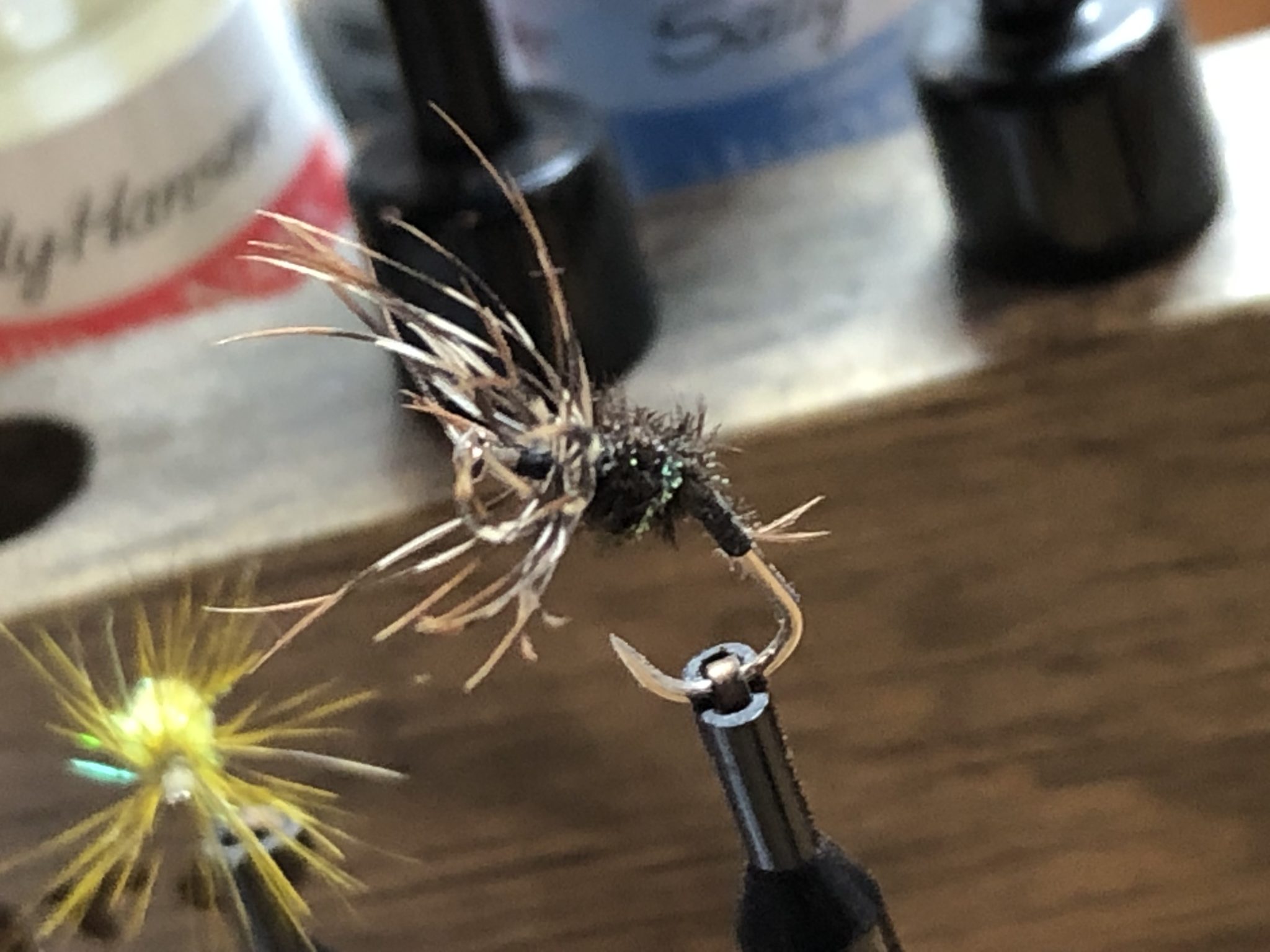 TenkaraTalk Fans
Now, I know what you're thinking … "Surely, someone like Jason Klass can't walk around a show like this without being mobbed by adoring fans begging for autographs and pearls of wisdom from his vast tenkara experience." And you'd be right if by "mobbed" you meant exactly one fan, and by "begging for pearls of wisdom", you meant that one person saying, "hey, are you Jason Klass?" I was "recognized" by TenkaraTalk reader Troy Woods and we had an interesting conversation about tenkara gear and techniques. He had just picked up a new Zen Tenkara rod from Karin's booth after being happy with his Suzume and it was great to see his passion and enthusiasm for tenkara in real life after only knowing him online. Quality over quantity, right?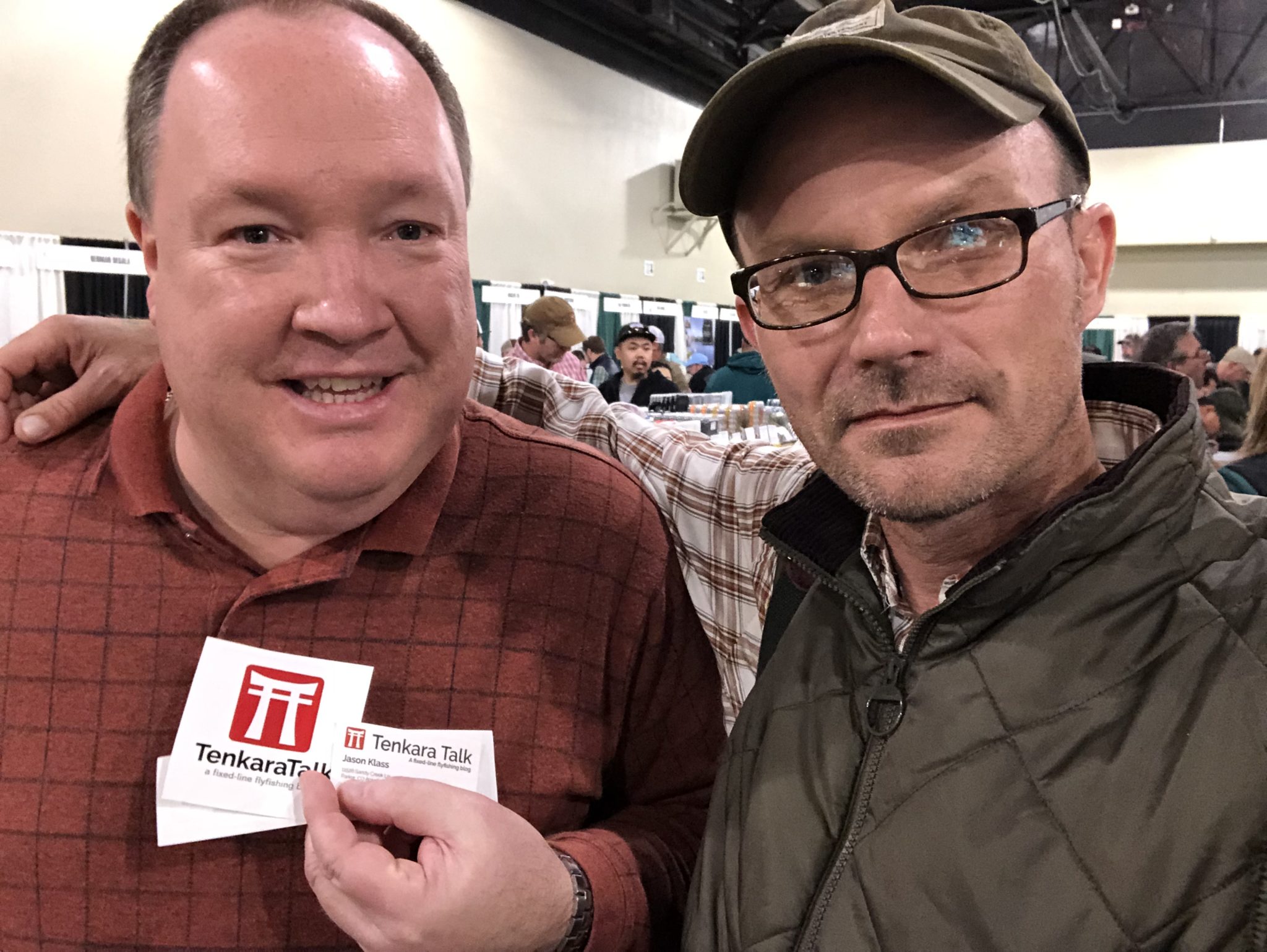 I slipped him a few TenkaraTalk stickers and we conspired to hit the water in the near future.
Takeaways from the 2019 Show
For the most part, it was the same as other years. I used to think this was a bad thing, but now, I actually look forward to the predictability. It's nice to know Joe will always be behind his vice against the back wall. John will always be sitting in my smoking spot looking devilishly pensive. Daniel will always draw a rockstar crowd at the casting pond with his demos.
I gave up on any hope of seeing anything groundbreaking from the exhibitors themselves long ago. There is so little innovation in the fly fishing industry right now that anything that even comes close to innovation is really just gimmick. So I don't look forward to seeing anything new anymore–in fact, I look forward to seeing the old. The people. And exchanging philosophies, exaggerations, and lies. That's what anglers are supposed to do, right?
It's really the people that make this show great. So if you haven't been to one, I highly recommend you check and see if The Fly Fishing Show comes to a town near you. It's a great place to meet new people, make soon-to-be old friends, and even pick up a deal or two on some gear. And if you're in Denver, I'll see you at next year's show!
The old tenkara gang re-banded: Jason Klass, Dennis Vander Houwen, Graham Moran, and Karin Miller …