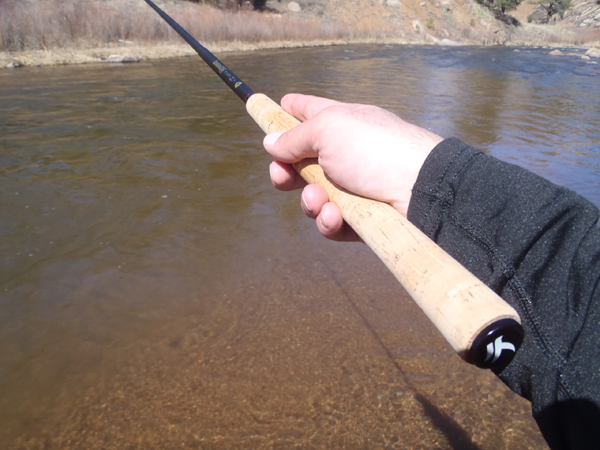 A while back, I wrote an initial review of the Tenkara USA Yamame.  But until now, I hadn't actually had a chance to fish it.  Now that I've had it on the water, I wanted to report back as promised.  To read my more detailed  review of the Yamame's features and design, read my initial review here.  This report is strictly about how the rod fishes.
I fished the Yamame on the S. Platte river about 10 miles outside of Deckers, CO using the new Tenkara USA #4.5 level line.  I figured the heavier line would load this stiff 7:3 action rod better.  At first, I had a little trouble casting the Yamame because I'm used to much softer rods like the Ito and Ayu.  However, after adjusting my casting stroke, I got the hang of it.
The rod casts well in the wind (especially with the heavier line) and the stiff tip is very sensitive, making it a great rod for nymphing.  It's also got a LOT of backbone.  I don't fish for bass much anymore, but if I were going after largemouths and needed to toss big flies and heft big fish out of the weeds, this would be the rod I would bring.  Hopefully, I'll get to test it out on some bass this summer.  I need to expand my tenkara fishing to different species.
One thing I noticed is that since the rod doen't flex much, it's not as easy to get it to load using the typical 10 O'clock / 12 O'clock tenkara cast.  Since it doesn't load as easily as a softer rod, I found it harder to keep my arm close to my body like I usually do and had to cast closer to what I would call a western style.  That's no fault of the rod.  If you want a stiff rod with a lot of backbone, then you have to cast in a way that will load it.  It's not my preferred style of casting but physics is physics.  This is about as stiff of a tenkara rod as I would ever want.  If anything, the Yamame convinced me that I would never want an 8:2 action rod.
While I prefer softer rods and the Yamame is overkill for most of my trout fishing, I can see it having a place in my arsenal. Especially for something I've been wanting to try for a long time:  saltwater tenkara.  Next Christmas, I'm going to Argentina and plan to do some saltwater fishing in Uruguay.  I'll definitely be taking the Yamame and some Crazy Charlies to see what I can get.