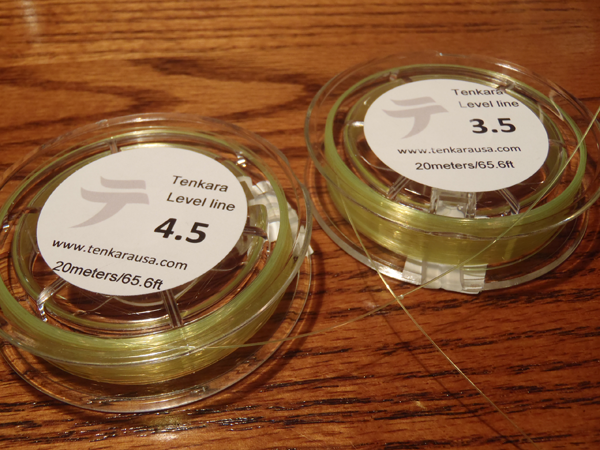 The big news this week for lovers of level tenkara lines is that Tenkara USA will be listing a new yellow fluorocarbon line on their website within the next few days.   I recently had a chance to field test the line and here is my initial review. Any discussion of tenkara level line inevitably involves mention of the orange hi-vis lines from Tenkara Bum.  These lines have obtained a cult following–and for good reason.  They've dominated the market as the easiest-to-see lines available and nearly every level line advocate I know favors them.  The previous level lines from Tenkara USA were a pale greenish/grey color that were visible, but not as visible as the bright orange Tenkara Bum lines and they were hard to see under certain light conditions.  Tenkara USA's introduction of a higher visibility line is an attempt to address that.
Tenkara Bum Lines vs. Tenkara USA Lines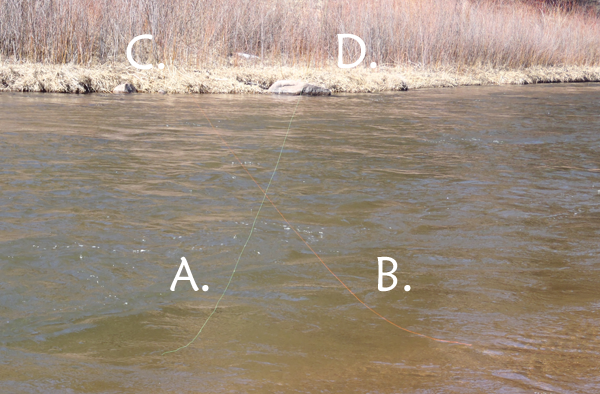 So, how do the two compare?  After a day of fishing on the South Platte with both lines, my conclusion is that both lines are highly visible, but each perform better in different conditions.  In the picture above, both the new Tenkara USA level line (A.) and the Tenkara Bum line (B.) look like they have about the same visibility on green, darker water.  But what I found was that the background and lighting conditions make a big difference.  For example, the orange Tenkara Bum lines show up better against a background of green vegetation than the yellow Tenkara USA line.  Note that against a brownish/tan background (C. and D.), neither line really stands out well.  Also, surface glare and time of day (dusk/dawn) will play a role.
So, if you had to choose, which line should you get?  My answer is both.  This might seem like a cop out but after having spent a decent amount of time on the water with both lines, I think they each have their place in a tenkara angler's arsenal.  There are simply going to be times when an orange line is more visible and others where a yellow line is going to be more visible.  They both cast well, but if you want to be able to adapt to different or changing  conditions, it's worth it to have two options in your kit.  It's the same reason they make strike indicators in different colors.  A chartreuse indicator is invisible on water with a lot of glare while an orange one stands out more.  Given the fact that you might face different surface glare, lighting, and background colors throughout the course of a day's fishing, it makes sense to carry two different colored lines to adapt.  And given the fact that tenkara lines are so easy to change, it almost seems remiss not to give yourself the option.
Reduced Line Memory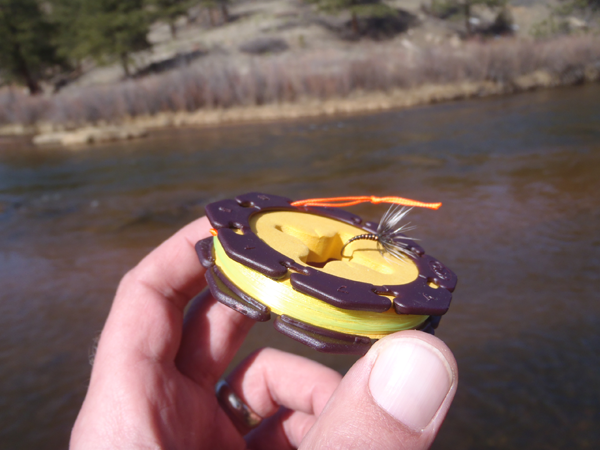 As a side note, I should mention that one claim of the new Tenakra USA line is that it has a low memory.  I can attest that when you pull the line off even a tightly coiled spool, there is noticeably less coil than other fluorocarbon lines I've used which reduces the amount of straightening you have to do.  I'm not sure about the engineering behind this or understand how that's accomplished, but it is noteworthy.
Conclusion
As someone who tends to cary a few level lines with me anyway, it's not a big deal for me to throw a few of these new Tenkara USA yellow lines in my pack alongside my Tenkara Bum lines.  Rather than seeing them as competing products, I actually see them as complimentary–each has their own advantage.   And without adding a lot of bulk or weight to my chest pack, I can be armed with a good selection of line colors and lengths to easily adapt to the conditions at hand.