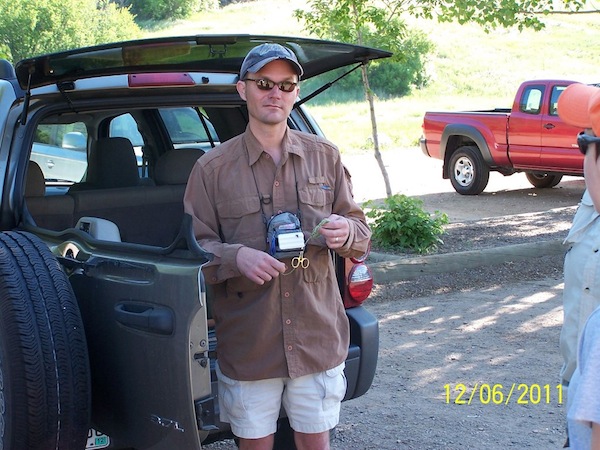 I'll admit it.  One of my pet peeves is standing in the parking lot ready to go while a fishing partner takes forever to get set up.  It's wasted time that I could be fishing.  I don't get to fish as much as I'd like so I like to maximize my time on the water as much as possible.  Tenkara rods are intrinsically faster to set up than Western rods but there are a few things you can to reduce your setup time even more.  If you want to spend more time in the water and less time in the parking lot, try these three simple tips.
1.  Prepare at Home
Probably the biggest time waster when getting rigged up is assembling all the gear you'll need for the day. I've seen people bring a huge gear bag with every fly box, tippet spool, and gadget they own and then select each item on by one in the parking lot.  They could probably shave 15 – 20 minutes off their setup time if they had organized their gear the night before.  Luckily, you don't need a lot of gear for tenkara.  I have all the gear I'll need for pretty much any given trip pre-assembled in my chest pack.  It's always ready to go.  If I feel I do need some specialized gear or flies for a particular trip, I will add it to my pack the night before.  The last thing I want to be doing is spending 20 minutes packing my chest pack while the fish are rising.
2.  Keep your Line Pre-rigged
Another nice time saving benefit of tenkara is that you can keep your line pre-rigged and ready to fish so you don't have to set it up on the stream.  I keep several spools with various line weights and lengths pre-rigged with tippet and fly so that I am ready to go the minute I arrive on the water without even tying one knot.
3.  Add Girth Hitch Connections to your Lines
If you're fishing furled tenkara lines, you most likely already have a loop at the end of the line that you attach to the lilian with a girth hitch connection.  And, you've probably noticed how fast the connection is.  The girth hitch connection is no doubt the fastest and easiest way to connect your line to you rod.  But if you're using level lines, you typcially have to use a knot that takes a little longer to connect.  So what I do is add loops to my level lines so that I can use the same girth hitch connection you would use with a furled line.  It's easy to do and is one more time saver that gets me to the water faster.  Click here to learn how to add a girth hitch connection to a tenkara level line.
While some of these tips might not seem that significant, remember that seconds add up to minutes.  I don't know about you but I'd rather have an extra 15 minutes on the water than standing in the parking lot.
What are your time saving tips?