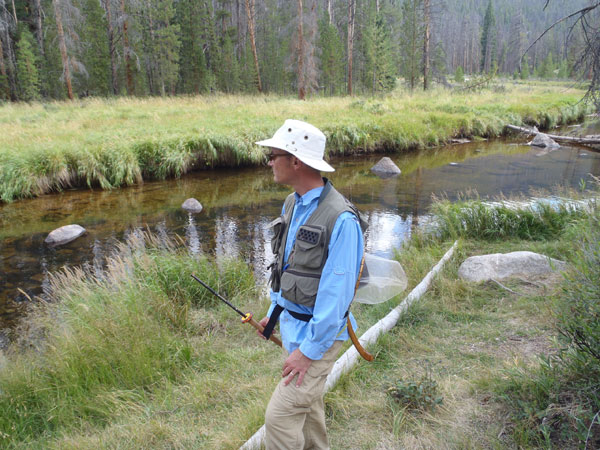 Long before I started fishing tenkara, I had given up on wearing a vest.  I guess one day I finally had enough of the heavy, bulky, and hot garment holding me back like a straightjacket.  I didn't use 90% of the stuff I carried in its multitude of pockets anyway so why carry it?  I decided to pare down to just a couple of fly boxes, a few tippet spools, and ditch anything that I didn't use on a regular basis and switched to a smaller chest pack.  It was liberating and didn't seem to have any impact on my ability to catch fish–only an impact on my comfort level.  And while it's been working well for me for several years, the other day, I decided it might be time to revisit the vest idea.  I often like to reexamine ideas or techniques I've discarded in the past because I feel in order to evolve as an angler, it's necessary to constantly reevaluate past experiences with fresh eyes and the benefit of new experiences.  So, on my last fishing trip, I decided to don the vest again and see if it was something worth reconsidering or not.
The Idea
While it might seem crazy for someone who has pared down their tackle to a more minimalist system to consider going back to a vest, I thought I had sound rationale.  If I now carried less gear, then my complaints about a heavy vest bogging me down would be eliminated.  When you've got more pockets than a Michael Jackson jacket, it's easy to fall into the temptation of filling them all up.  But I was confident enough in my new gear selection that I was sure that wouldn't happen to me.  Plus, the pockets might make it easier to access things and the large back pocket would be the perfect place to carry lunch, rain gear, and water without the need for a backpack–an all-in-one solution, right?
So, I took everything I normally carry in my chest pack, put it in the front pockets of my Simms Master Vest, and crammed my Golite rain jacket, bagel, power bars, and a bottle of Aqua Fina in the back and headed up the trail.
The Experience
The first thing I noticed was that I am not used to having a vest hanging off my shoulders.  It felt strange.  Not uncomfortable–just strange.  Funny because that used to be the norm for me but I think I've just become used to a chest pack.  It was a weird sensation.
The second thing I noticed was that too many pockets can be a bad thing.  I'm not sure how many pockets my vest has (I'd have to send it away to NASA to do the math), but it is way too many.  And to make matters worse, some of the pockets have more pockets inside of them!  I only had a few items in the front pockets but had a hard time remembering where I put what.  It was a little frustrating until I finally got it (at the end of the day of course).  Still, I couldn't help wonder how much time I wasted just trying to find which pocket I put my tippet vs. line spool in, etc.  I wore out a lor of zippers and Velcro that day.
The third thing I noticed was that my vest is pretty loose fitting.  While weight wasn't an issue, it still shifted and flopped around when I was climbing over rocks or bending over to land a fish.  It felt unwieldy.  Unfortunately, the vest I have isn't very adjustable so I couldn't really do anything to make it fit closer to my body to counteract this.  While I'm sure there are better vests than mine out there that you can dial in to fit more comfortably, this one just doesn't.  At worst, it was mildly annoying, but annoying nonetheless.
Finally, the seeming advantage of the back pocket didn't really pan out as I expected.  It's not a backpack and doesn't hold contents as well.  Since there's really no structure and it's essentially little more than a wide, open pouch, things settle in odd places creating a lumpy feeling against the back.  Plus, I still had to take off the entire vest to access my gear in the back pocket–the same thing I'd have to do with a more comfortable carrying backpack.  So I couldn't really see any advantage there.
The Conclusion
To me everything is worth a try and I'm glad I did this experiment.  If anything, it reaffirmed that my chest pack/backpack system is currently the best solution for me.  I'm not putting down vests in any way.  For many people, they're probably the best solution and I can see some applications where I might even dust mine off again every once in a while.  But I think I've pretty much confirmed that I'm a chest pack angler.  For the style of fishing I do most often, it just makes the most sense organizationally and ergonomically.  I must confess though, I've had my eye on the Tenkara Guide Sling from Zimmerbuilt for some time now and may give it a try.  But for now, I'm back to my good old Fishpond San Juan chest pack.
How do you carry your tenkara gear?
Like this article? You might also like these ...