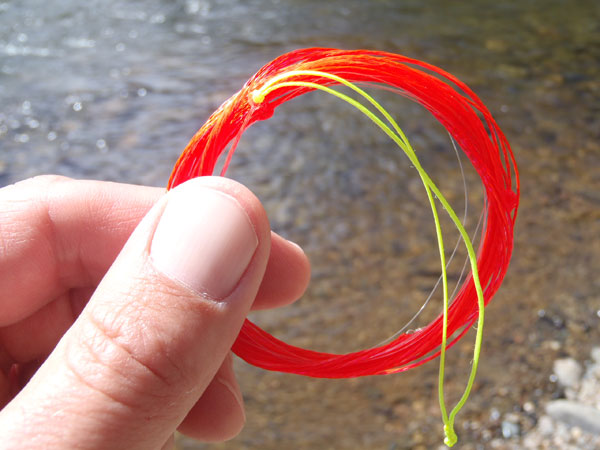 Recently, I tried out some red Amnesia for a tenkara level line.  I was impressed with its high visibility, but not so much with the way it cast.  Being nylon monofilament, it isn't as dense as the fluorocarbon level lines I'm used to fishing and didn't turn over as well.  It casts, but you have to adjust your casting stroke.  In that post, John Veterlli of Tenkara Guides suggested using Amenesia to make a furled line rather than a level line.  I pretty much fish level lines exclusively but though the idea was interesting and John was kind enough to send me one for testing.
The line is 16 ft. long and made from three snoods (sections) of twisted 10, 8, and 6 lb. red Amnesia.  The snoods are tied together with what looks like a simple overhand knot and the end is finished with a nice tippet ring.  On the butt end, the line is attached to the rod with a loop of dacron backing and a girth hitch connection (the way most traditional tenkara lines are connected).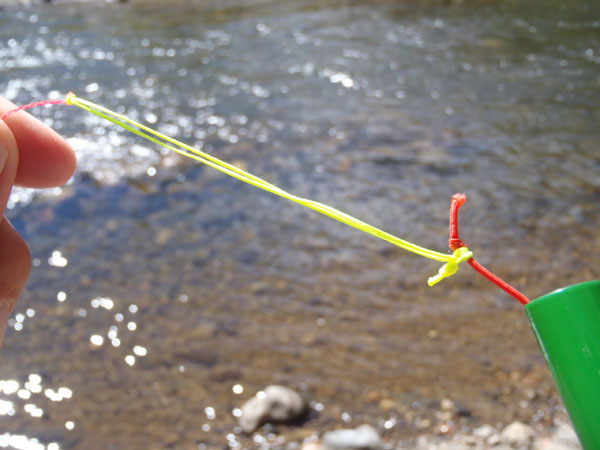 As expected, the line is high-vis to the extreme.  If you can't see this line on the water, leave the stream immediately and rush to the nearest opthamologist. The bright red almost glows neon in the sun and it's easy to see against both light and dark backgrounds (the picture below doesn't really capture how bright it is in real life).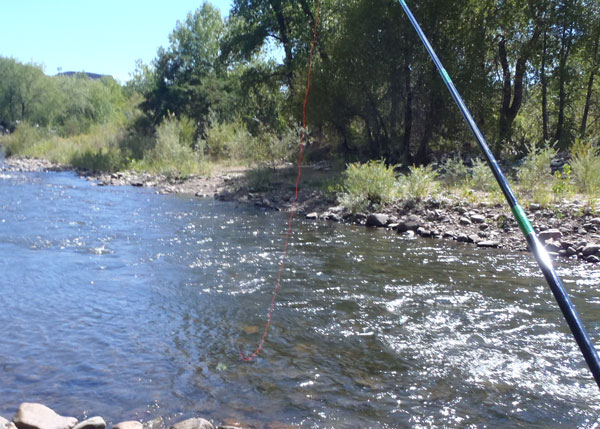 So how does it cast?  Beautifully!  This isn't a "power line" that will punch through high winds.  But furled lines generally aren't so that was no surprise.  Thanks to the taper, the line turns over very smoothly and delicately.  For those that like to fish dry flies with a tenkara rod, I think this line would be an excellent choice.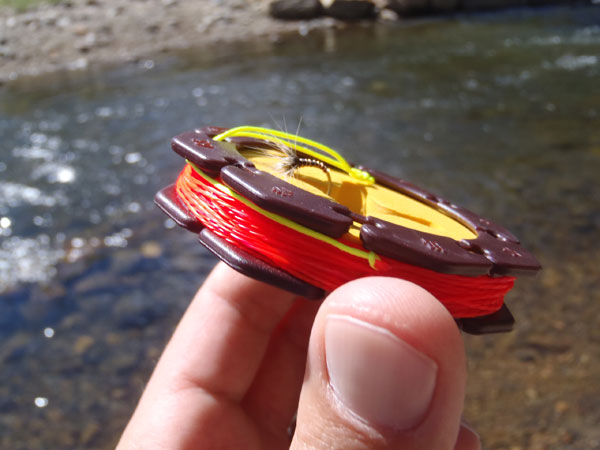 While I'm very happy with the way the line casts it still has the same Achilles' heel that all nylon furled lines have:  becoming tangled after being pulled out of a snag.  This phenomenon is intrinsic to nylon.  Any furled line made out of a material that has stretch (such as nylon) will do this.  Which is why the Kevlar lines by Tenkara USA are nice.  The Kevlar eliminates the stretch and you can pull the line out of the worst snag without ending up with a bird's next in your hand.  Unfortunately, Tenkara USA only makes them in 10.5 and 13 ft. lengths (at the time of this post anyway).  So casting John's longer 16 ft. furled line was a real treat.  But it would still be nice if someone made some longer Kevlar furled lines…
Like this article? You might also like these ...