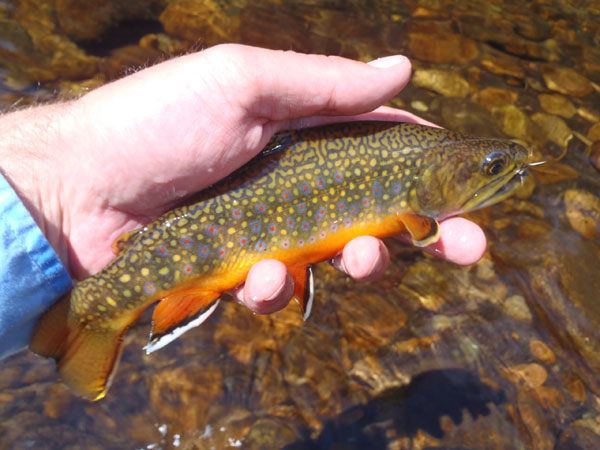 Today, Karel from Tenkara on the Fly, Joe from Dragon Fly Fishing and I headed up to the west side of Rocky Mountain National Park to fish North Inlet Creek just above Grand Lake.  I normally fish the east side of RMNP and haven't been to the west side in years so today was a real treat.  I not only got to go somewhere different, but the fishing, scenery, wildlife, and company were fantastic.  Here's my trip report…
The Creek
North Inlet Creek is a surprisingly diverse body of water that starts out near the parking lot as a slow, clear, meandering (almost spring-creek like) snake of a stream but then dramatically shape shifts into a wide variety of different forms including riffles, runs, pools, pocket water, and waterfalls.  The further you hike up, you never really know what to expect around the next corner and I really liked the challenge of consistently having to read different water types.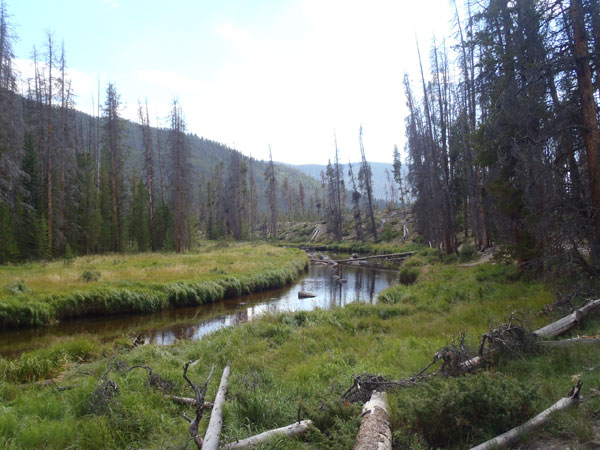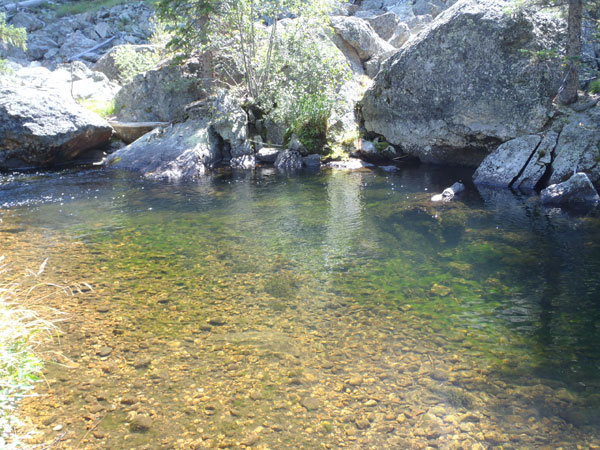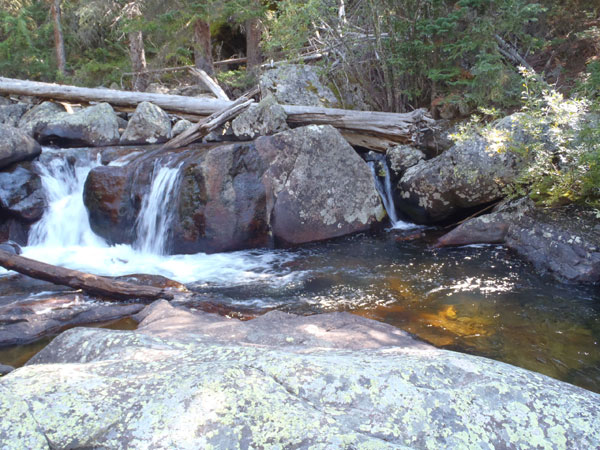 The beauty of the creek is framed by gorgeous vistas of mountains and interesting rock formations.  I should have taken more pictures as this one doesn't really do it justice.  But we were too focused on getting to the good water to take tourist photos.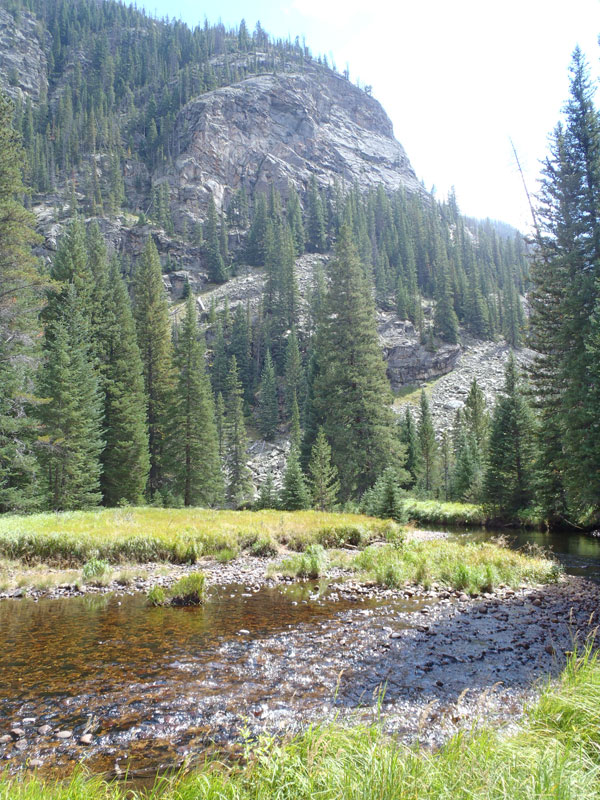 The Fish
Karel was on a mission to catch some Colorado cutthroat on this trip.  He thought he hooked one (because he saw the gold flash of a belly on one that got away) but none of us landed anything other than brook trout.  It wasn't a disappointment in my book because not only did we catch tons of brookies, but their colors were stunning!  I love the dark backs and red spots circled in blue halos that these high country trout have.  And they were pretty cooperative on a dark Kamikaze Kebari.  So now, here are a bunch of fish pictures that all look exactly the same.  Just be glad I didn't post all of the 20+ fish I caught today (I know, it's like baby pictures on Facebook)…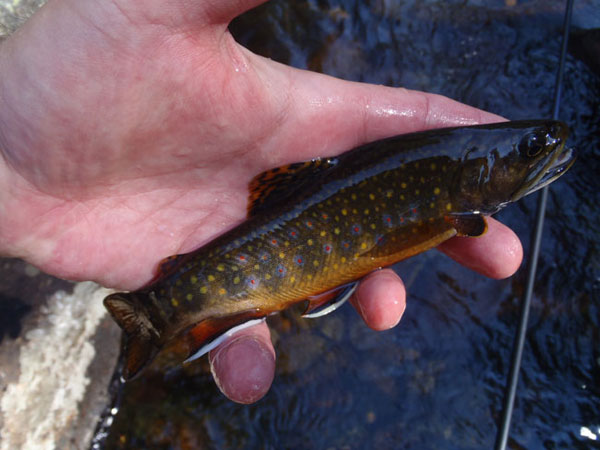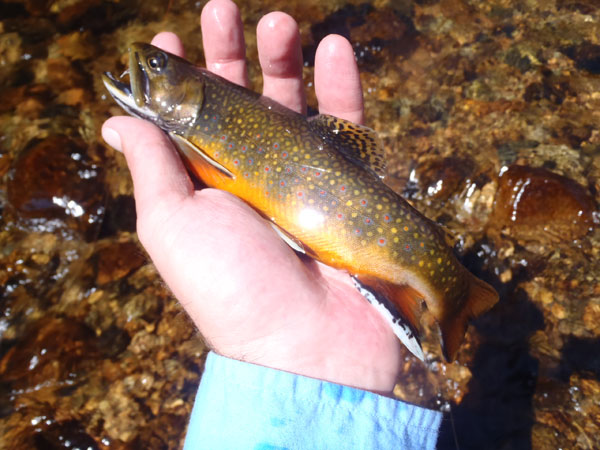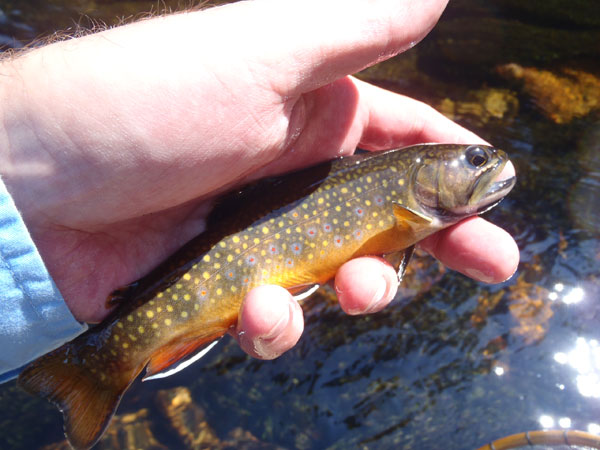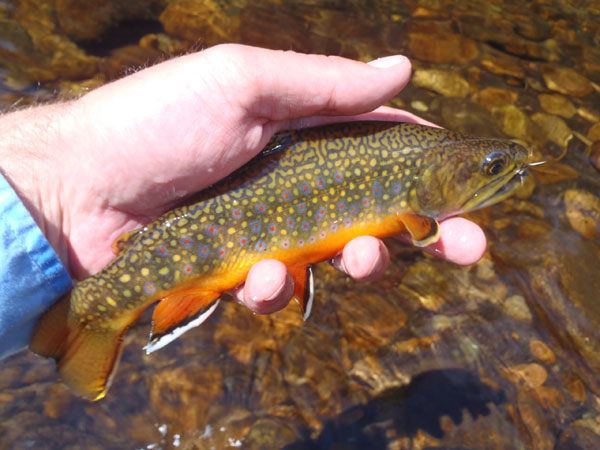 OK, enough.  I think you get the idea.
The Animals
Besides fish, we had some great animal sightings.  The first was fox I spotted on the drive in (didn't have time to get the camera out).  But early in our hike, we came across a garter snake.  He was right on the trail, sunbathing between two rocks.  I have to admit, for a second, potential mamushi kebari body material did cross my mind…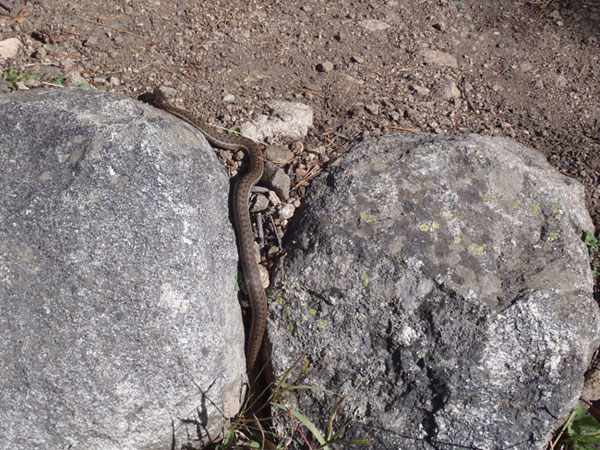 On the way back down, two large moose were just a few feet away from the trail munching on some trees.  They were pretty docile, but still.  They're Moose!  You can never be too careful so after snapping a few pics, we decided to literally take the high road and hike up and around them putting plenty of distance between us.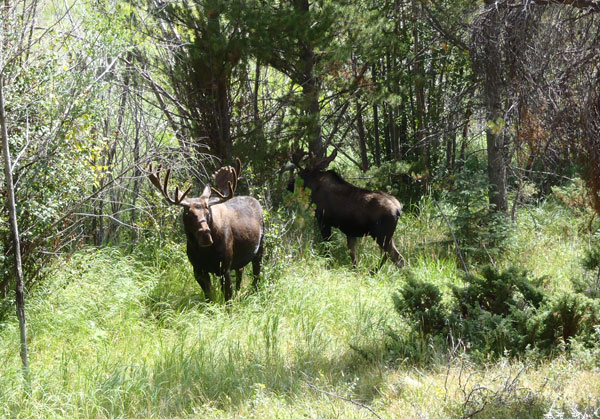 Little did we know, these would be only two of FIVE moose we would see along the trail.  Every time I've been to the west side of Rocky Mountain National Park, I've seen maybe one or two moose, but never five.  It was another first that just contributed to an already great day.
The Crew
Here's a picture of Joe getting in the zone with his 12 ft. Tenkara USA Iwana: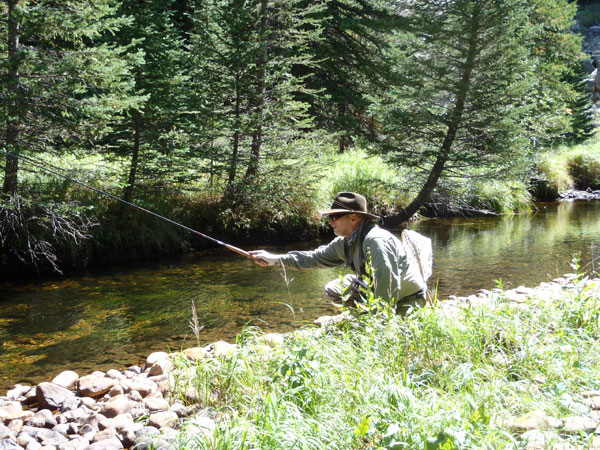 Karel Lansky choosing his next round of ammunition during a brief lunch break: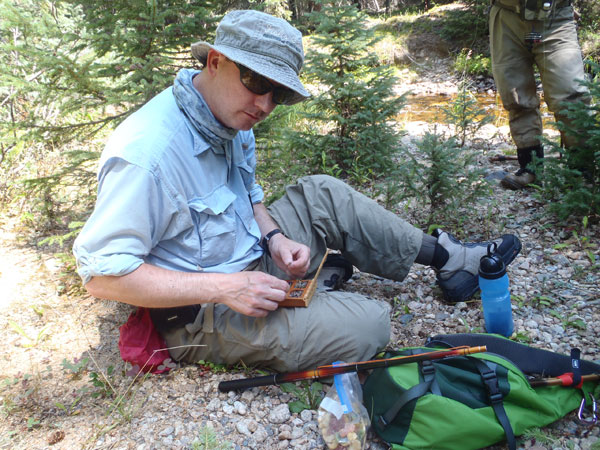 Moi, using a…wait…WHAT?  A VEST?  Yep, that's right.  After several years of ditching the vest, I decided to don it once more as a reevaluation of my system.  It was an interesting experiment and I'll have a blog post soon about my findings.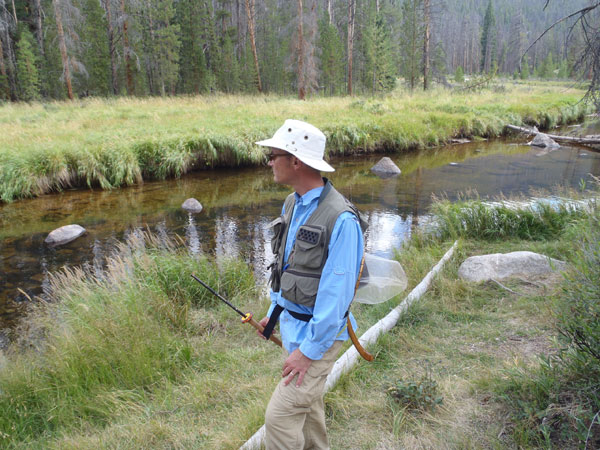 After the almost "too-good-to-be-true" day I had with Paul Vertrees on a secret spring creek last weekend, I honestly wasn't expecting another one so soon.  These things tend to go in cycles.  You have a great day, then get skunked, then have a mediocre day, then a good day again and the cycle continues its undulation.  But today kind of broke the cycle.  Either Ebisu (the Japanese patron of fishermen) is smiling down upon me lately or I've just got good karma.  Whatever it is, I'll take it.  And I'll take it with blisters on my feet and a smile on my face.