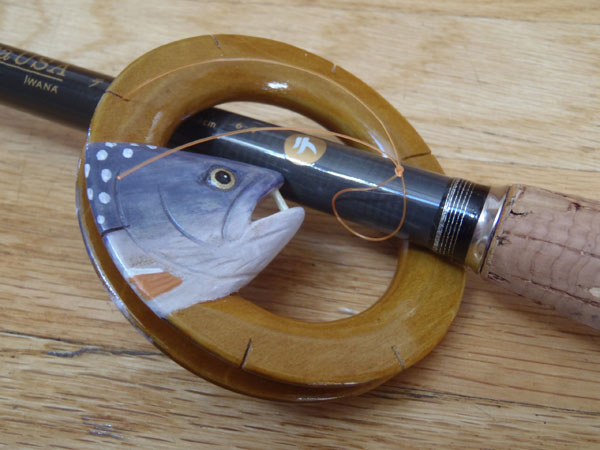 In tenkara, we talk a lot about level lines and tapered furled lines but there really isn't much discussion on "weight forward" lines.  Yes, I do mean "weight forward" in the western fly fishing sense.  In fact, I had never even considered it until Tenkara Talk reader Tony Wee mentioned it in the comments section on one of my recent posts.  The concept intrigued me, so I had to give it a try.  And, I think he's on to something…
The idea seemed like a good one.  Instead of using a level line with no taper or a furled line that tapers from a thick butt to a thinner tip, why not make more of a "shooting head" type of line with a thinner diameter line going from the rod tip with a section of thicker, heavier line at the end?  Western fly fishing has been doing this forever in order to load the rod more and punch through wind.  It seemed to me that the same principle could work tenkara.  Many new tenkara anglers struggle in high wind so a line like this might be a good choice when the gales pick up.
As an experiment, I made a 16 ft. line with 11 feet of #3 fluorocarbon "running line" attached to a 5 ft. section of #5 fluorocarbon line as the "shooting head".  I put shooting head in quotes only because you're not shooting line in tenkara but the physics behind having a section of heavier line behind a thinner line are the same.  In test casting, it proved to have a lot of punch.  A line like this would be able to power through strong winds no problem.  But it might have too much punch.  Which is why I then decided to try out a modified version that more closely resembles the taper of a western weight forward line.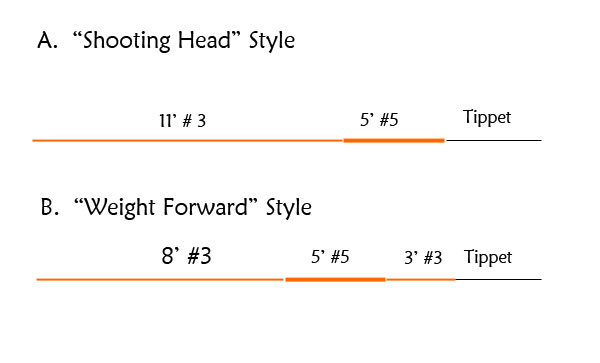 Line A would be great for high wind conditions but it doesn't exactly make what I'd call a delicate landing.  I rarely care much about delicacy because I usually cast far enough above the fish that it doesn't really matter.  But I realize that sometimes a delicate presentation is required.  So, I had the idea to attach a thinner #3 section between the thicker #5 section and tippet to allow for a gentler landing, yet still have the ability to cut through the wind better than a completely level line.  Line B does just that.
I like the weight forward taper for tenkara but obviously more experimentation is required.  If you think about all the different lengths and combinations of diameters, the possibilities are endless.  But I have to give a special thanks to Tony for bringing up the idea.  In the next few months, I'll be experimenting with  different formulas and will report back when I get some good ones dialed in.  It just goes to show you…even with only a rod, line, and fly, tenkara still offers limitless opportunities for experimentation and discovery.
Like this article? You might also like these ...