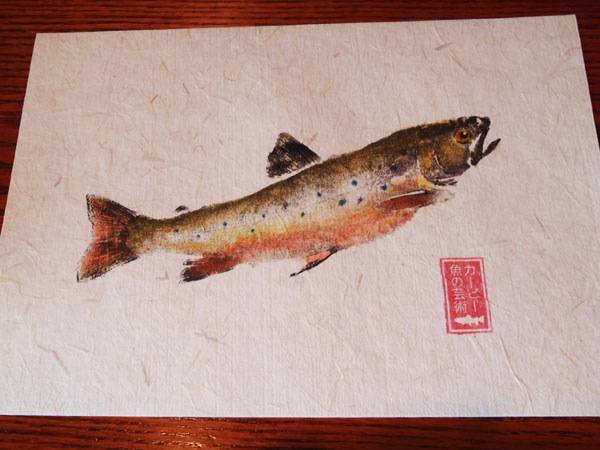 Today, I received my long awaited gyotaku print!  In Japanese, "gyo" means "fish" and "taku" roughly translates to "rubbing", so "gyotaku" could be translated as "fish rubbing".  Basically, the process involves painting a fish (literally), then laying a piece of washi paper over it, rubbing it to transfer the ink (or paint) to the paper, and finally touching it up (painting in the eye, adding a hanko, etc.).  In the early-to-mid 19th century, gyotaku was a merely a method for recording the size of fish caught by commercial fishermen.  It has since evolved into an art form and what I got today is truly a piece of art…
Over the years, fly fishing has given me a deeper appreciation of aesthetics.  It's taught me to recognize beauty in microscopic worlds that the casual passerby would miss–the backlit glow of a mayfly's wing drifting on the surface of the water at dusk, the seemingly impossible intricate engineering of a dried out stonefly shuck left behind on a rock, the warfare between prolifically hatching aquatic insects trying to escape both the fish and birds that seem to seal their fate but just happen to somehow win by numbers and make it to the trees to start the cycle of life all over again.  Most of these things are invisible to the uninitiated, but the fly angler sees the "invisible" world and that is one of the main reasons I love our sport.
Tenkara has helped me appreciate that sense of aesthetics even more.  Not only on the stream, but also in art.  Gyotaku prints are simple and focused.  Just the fish and the stamp of the artist that created it.  All handmade, in a simple process.  And an embrace of wabi-sabi.  When you paint a picture of a fish, you can make it look perfect–like a supermodel.  But real fish (and really beautiful fish) have flaws and imperfections.  Each imperfection is unique and doesn't betray their beauty, but enhances it.  Gyotaku captures the beautiful imperfection of each individual fish and turns it into art.  And that's why I cherish it.
Mine was made by Kirby Wilson, a Canadian tenkara angler and gyotaku artist living in Finland.  Kirby makes one-of-a-kind gyotaku prints in the traditional Japanese method.  If you like this style of art, then you should definitely check out his site Fresh Catch Gyotaku.  His work is amazing and his prices are unbelievably reasonable considering how much work goes into each one and the fact that each one is 100% unique.
Here are some more pictures of the piece I got: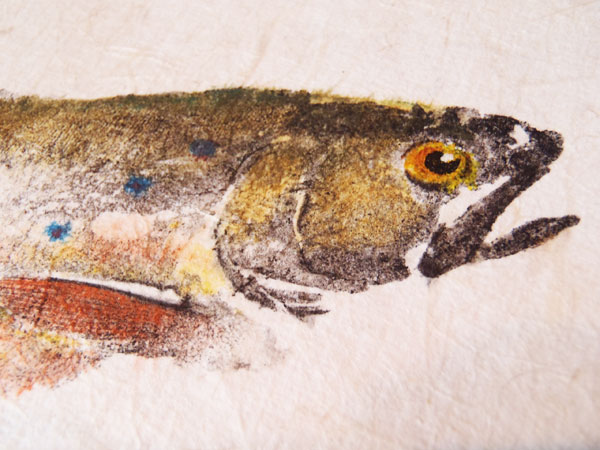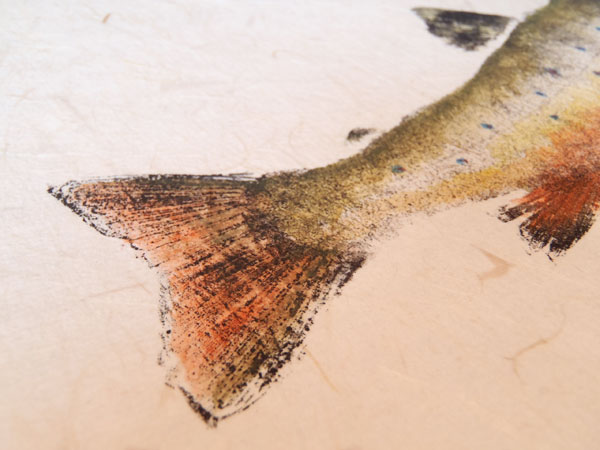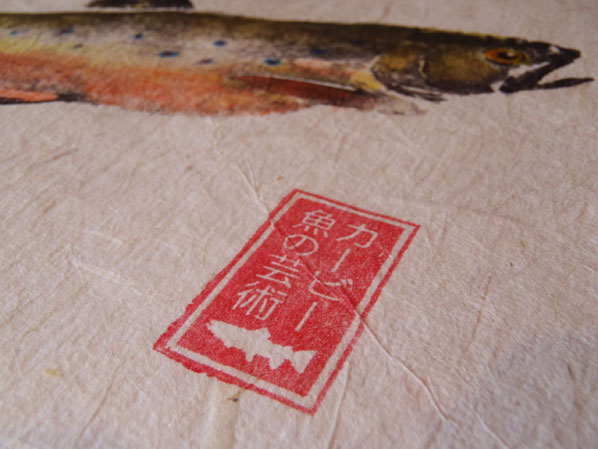 Like tenkara, gyotaku is very hands on and gives us a deeper connection to our sport.  I like the fact that I now have another piece of tenkara art to hang on the wall of my gear room.  I just have to get it framed.
What kind of tenkara art or fly fishing art do you have/love/enjoy?