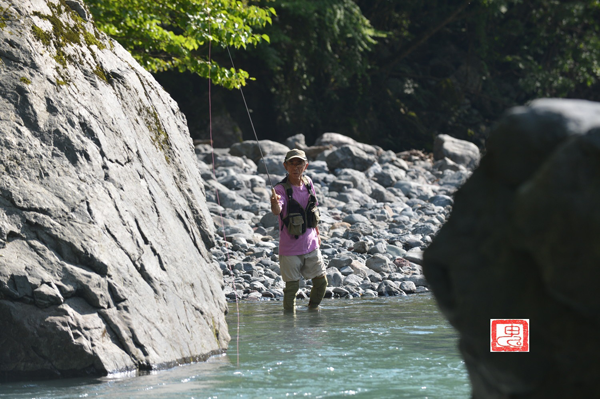 I was ecstatic when Masami Sakakibara (AKA, "Tenkara no Oni") recently agreed to do an interview with me.  Tenkara no Oni is not only a tenkara master but is known for his amazing casting style which is often referred to as "magical".  He recently put up an English language website called Masami Sakakibara's World of Tenkara which is an amazing resource filled with articles, blog posts, interviews, and videos on tenkara.  For anyone just getting started in tenkara, this website should be in your bookmarks.  I had a long list of questions prepared but at the last minute, decided to ask readers of the Tenkara Talk blog if they had any questions.  So, I picked a couple of mine, some of yours and sent them to the master.  Here are his answers…
Jason:  The first thing that comes to my mind when I hear the name "Tenkara no Oni" is casting.  I've watched many of your videos and am always amazed at how effortlessly you can cast a long line and how precise your casts are.  You seem to use very little movement, yet still get a lot of power behind your casts.  If someone wanted to learn to cast like you, what is the best piece of advice you could give them?  What should they focus on practicing?
Tenkara no Oni:  Thank you.  I take that as a complement.   One thing I can say about myself and casting is that I have probably spent more time and effort than anybody else, working to perfect the casting. I used to go out in a field, pick a specific plant as a target and tried to cast my tippet in between a set of leaves on that plant.  I focused on that small narrow seam, and tried to get my kebari in there.  I did this everyday for years. Everyday.  Just like anything else, you have to practice repetitively until it becomes natural.   I can talk forever but until you think through and realize the mechanism of tenkara casting with your body, what I say won't matter so much.  So, the best advice I usually give, is "practice".
Jason:  One of the great advantages of tenkara is that you can make multiple types of presentations without changing flies or re-rigging.  My favorite presentation is to slowly twitch the fly so the hackle moves in the water and makes the fly come alive.  I usually try this technique first and if it doesn't work try a different presentation. Do you have one particular favorite technique that you use as a default when approaching the water?  Or do you first read the water and then decide which presentation to make?  If you have one, can you describe your favorite presentation?
Tenkara no Oni:  I watch the river first.  You want to see how the fish respond generally and in order to do that you should drift your kebari naturally, and see the honest response from the fish.  If the fish are alert, they will not respond to a natural drift.  In Japan that usually means the river has already been fished that day.   If the river is fresh and the fish are not spooked, they should respond on a natural drift.  If the natural drift does not work and the river is so quiet it doesn't seem like there's life, you should assess that most fish have submerged and taken cover.  This is when you use aggressive techniques to "drag them out".
There are many techniques I like to use in this situation but unfortunately I don't think I can literally describe them.  Perhaps I will work with my peers to make a video of each technique so you can all watch on Youtube one day. 
Jason:  That would be great!  I'm sure many tenkara anglers here in the U.S. would love to see more instructional videos from you.  Some of my blog readers had some questions for you as well…
Michael:  As I understand, tenkara in Japan is fishing streams for trout. Here in the USA not everyone has access to trout. We use tenkara for Bass, Bluegills, and other warm water fish in streams and lakes. Do people use tenkara in Japan to fish for these warmwater fish? Do they use tenkara for just streams or do they also fish lakes with tenkara?
Tenkara no Oni:  Thank you for your question Michael.  In Japan, we have different kinds of traditional methods of fishing to catch just about anything we can fish for. Tenkara always have been a method to fish for trout in the mountains here and so the answer to your question is no.    Japanese do not use tenkara to fish for anything other than trout. 
There may be occasions where people here in Japan go out to a pond or the sea to fish with a tenkara rig, but that's usually for experimental fun or simply to goof off.  I believe you'd catch fish there though, because tenkara is an effective method of fishing.  Many tenkara anglers in Japan work hard during the day and at home to keep their families happy so they can drive many hours to get to these remote places to fish to satisfy their passion. 
I understand many countries (especially the US) have diverse landscapes and different natural settings in every region.   Tenkara is now gaining popularity in countries other than Japan.  I believe they should have the freedom to decide what to fish for and how.
Rick:  What do you see as the difference in tenkara in Japan vs. tenkara in the United States?
Tenkara no Oni:  Quite frankly, I am just not familiar with the tenkara scene in the United States, so I do not know how to answer this question.
Rick:  Are you pleased to see the method adapted to our fishing waters or is it advancing in the wrong direction (as in are the American tenkara anglers overcomplicating it)?
Tenkara no Oni:  Thank you for your question Rick.  So again, I do not know how tenkara is practiced in the US.  In Japan, tenkara was a method for professional mountains men to fish for our native trout such as Amago, Yamame, and Iwana.  Today it is a sport targeting the same species of fish.   There's a lot of history behind it and we're facing a new era with tenkara being practiced in many countries other than Japan.  I'm sure there will be a period of great excitement and confusion.  I think it will settle down once everyone becomes better informed and more experienced.
TJ:  Is there anything, say a technique or method or anything for that matter that is not being taught by the various worldwide tenkara companies that you wish would be promoted. Maybe something of great importance that no one seems to be selling, expressing, training, or showing that really should be. If there is, can you let us know what that is and how we can learn more about it.
Tenkara no Oni:  Thank you for your question TJ.  I have not seen all of the tenkara sites available in the world and might not be qualified to answer your question.  What I can say is that professional fisherman who fished tenkara in Japan knew how to preserve nature.  When they were hunting, they knew just how many to kill so there will be many to hunt for again the next year.  When they were collecting edible plants they knew to leave seeds behind, so they can be collected again.  And when fishing, they only fished for a certain size, because they could be sold easier that way and also left enough fish in the river.    All of this was done not based on preservation spirit or philosophy but practical logic.  
Tenkara to me is about communicating with nature.  Not just about catching fish.  Sometimes it seems like that very important thought is being dismissed in many aspects of fishing in general.
Ron:  While enjoying the tenkara methodology of fishing, I miss using a dry fly and seeing the fish rise to the take. Do you ever use any pattern as a dry?  If so could you share?
Tenkara no Oni:  Thank you for your question Ron.  I love tenkara and fishing on the surface is a great aspect of that.  I do not use western flies but tenkara kebari I tie myself.  I do use floatant at times.  I have my respect for the tradition, but nothing against using what's available today. You can also make your kebari float by not letting any of the tippet touch the surface. This is very difficult to do and requires a lot of practice. One of the most exciting experiences of fishing (I think you would agree) is when you see the fish rise from nowhere to pounce on your fly!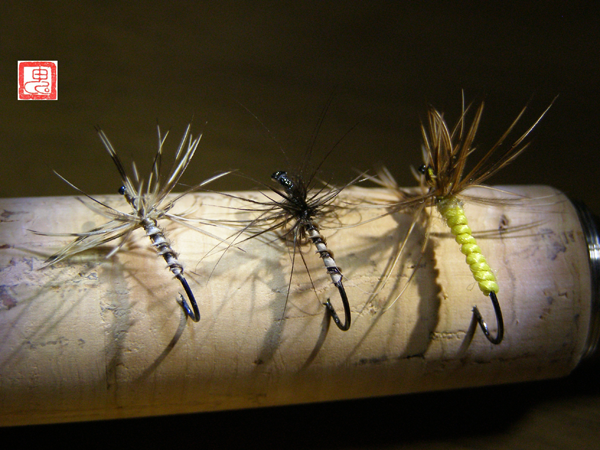 Jake:  My biggest issue when I'm tenkara fishing is keeping all the line except the tippet off the water. When I try to do this, the line "sags" back towards me and pulls the fly too quickly through the water. I can't seem to get a good drift unless I have alot of line on the water, which isn't what I want.
Tenkara no Oni:  Thank you for your question Jake.  I suggest you try using lighter lines. Have you tried fluorocarbon level lines between #2 and #3?  You ought to try, although those lines may be hard to find.  As long as they are "fluorocarbon", you can try any lines.  Many think they have to use "tenkara" lines, but you really should venture out to any line available in the market.  I spent a lot of time and, unfortunately, money doing just that.  I must remind you though, that lighter lines give you less drag, but are much more technical to cast with.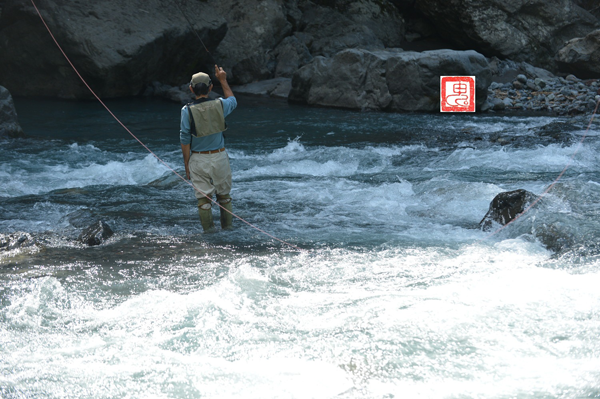 John:  Please describe the difference between the Oni tenkara rods and rods from other manufacturers.
Tenkara no Oni:  Thank you for your question John.  The biggest difference I'd say is the weight and balance.  My ideal rod is a rod you can cast an entire day without fatigue, regardless of your size, age or gender.  When I say weight, it is not the actual weight you get on a scale.  It is how it feels in your hand. 
Let's say there are three rods of the same length and the same scaled weight…
The first rod is top heavy and you will tire out quickly.  It is also difficult to cast with accuracy with such rods.
The second rod has its weight concentration in the middle.  Typically this should be a 40/60 or 50/50 action rod.   It is strong, but still does not allow you to fish with delicate techniques I prefer. When you know you will be catching a lot of very large fish, this might be ideal.  
The third rod has its weight distributed evenly throughout the rod, so when you hold the grip you actually don't "feel" any weight.  It has a very sensitive soft tip, allowing you to cast accurately, present kebari delicately, and softer tips also prevent harisu (tippet) from breaking when fighting a large fish.
So, as you may have realized,  the third rod is what I try to produce and only a few manufactures in Japan are capable of making such rods with material quality I demand.  Hence they are produced in small lots usually.
Lynn:  What was your most memorable battle with a fish on a tenkara rod?
Tenkara no Oni:  Thank you for your question Lynn.  I have caught many, many fish in my life but I'd say the most memorable one has always been my very first Amago I caught when I was still a youngster.  The fish was tiny! Probably no larger than 12 cm (4inches) but the little guy was aggressive.  He came to my kebari over and over but I couldn't hook him. I gave it some time to rest and for myself to think of other ways to present the kebari and finally got him.  I didn't change my kebari but changed my presentation technique.  It was a small but very satisfying fish to catch.  It's always been about "how" I caught the fish rather than the size of the catch.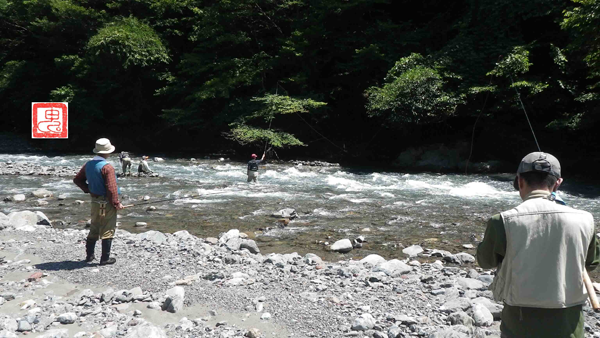 Tenkara no Oni:  I would like to thank Jason for giving me this opportunity and for those who came up with the questions.   I hope I was able to provide helpful information through my answers.  I have fished Tenkara for many years but I think of myself as a student still.  I believe there's much more I can do to perfect it.   I look forward to sharing more with you as well as learning from you in the future.
Jason:  Thank you!  I appreciate you taking the time to answer our questions and helping us understand more about tenkara in Japan.  I'm excited to see what's next for Team Oni and will definitely be keeping my eye out for those instructional videos!